Women who are overweight often look for ways to make themselves appear slimmer. One of the best ways to achieve this is to have the right hairstyle that frames your face well. There are several hairstyles for overweight women over 40 that can help you feel confident in their appearance.
Also, the majority of these hairstyles are easy to maintain, thus ensuring that you look your best with just minimum effort.
Trending Hairstyles for Overweight Women Over 40
Women who are overweight and in their 40s have the option to choose from several hairstyles that will make them look slimmer. To make it easier for you, we have created this list of the top 23 hairstyles for overweight women over 40.
1. Blonde Bob with Wispy Bangs
Starting off with this super cute and low-maintenance bob with wispy bangs. This short bob beautifully frames the face and takes the viewers attention away from its chubbiness. This hairstyle is ideal for women with round faces and is also a good option for those with thin hair.
2. Soft and Straight Lob
This soft and straight lob is perfect for women with fine to medium textured hair. You do not require much styling efforts to achieve this look. The length of the hair on the sides is longer and is a great way to make your face look slimmer.
3. Windswept Wavy Bob
Here's an ethereal hairstyle for overweight women over 40! This windswept wavy bob works well on all hair thicknesses and lets you flaunt your facial features. Overweight women with square face types must try this hairstyle.
4. Chic Bun
Buns are an all-time favorite hairstyle for most women. This simple bun is a quick, everyday style that can be whipped up in no time. To elevate your simple bun, ask your hairstylist to give you some layered razor bangs.
5. Natural Curly Bob
If you have curly hair, then leaving them naturally to fall over your shoulders is a great option. This wash-and-wear hairstyle is suitable for all occasions – from casual to professional. Whether you have thick or thin hair, this style would suit you perfectly.
6. Half-up, Half-down Corn Braids
Corn braids can completely transform the way you look. They are quite versatile in nature and can be styled in different ways. If you like to keep it simple, then this half-up and half-down corn braid hairstyle would suit you well.
7. Plum-colored Stylish Lob
Looking for a sophisticated and stylish hairstyle to flaunt in your 40s? Try this plum-colored lob which looks fantastic on women who are on the chubbier side. This simple yet stylish hairstyle with a slightly side partition creates a perfect professional look.
8. Shoulder-length Hair with Razor Bangs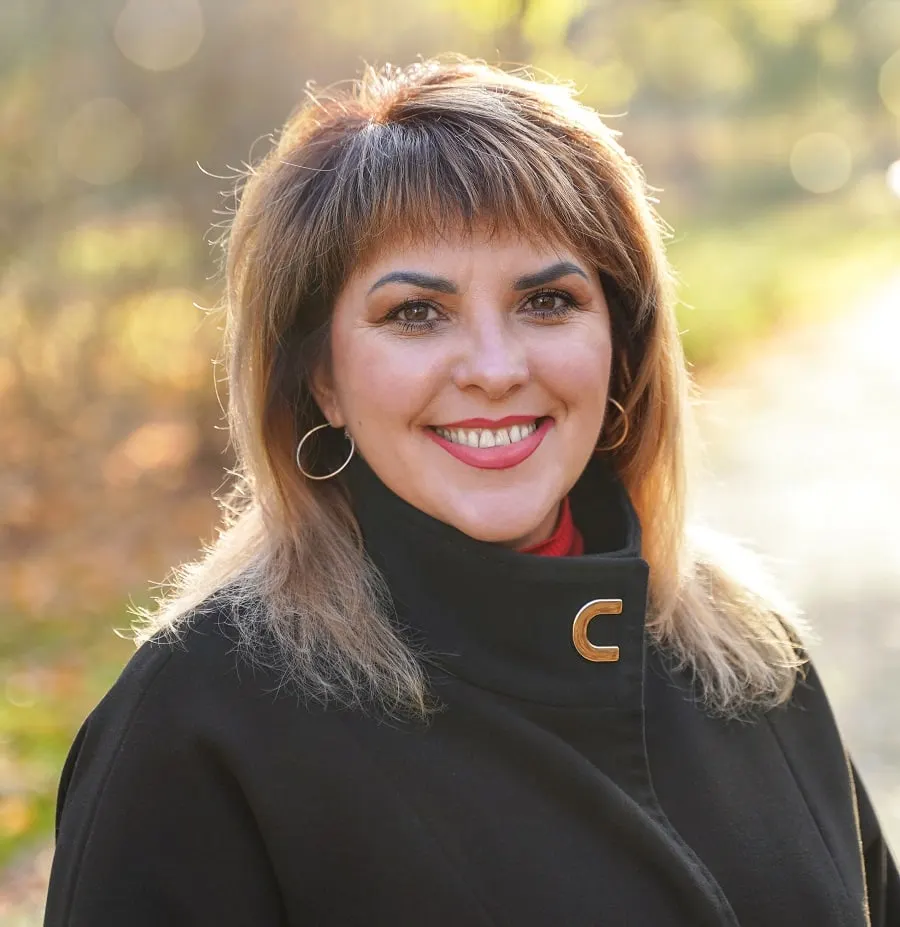 Shoulder-length hair looks really pretty on overweight women as it tends to make a face look slimmer. This hairstyle with razor bangs is a great way to cover up your large forehead, making your overall face appear toned down.
9. Classic Ponytail
Some hairstyles can never go out of style and the classic ponytail is at the top of that list. Just gather all your hair at the back and use a hair tie to secure it in a ponytail.
For a casual gathering, you can keep the ponytail slightly messy, whereas for a formal hairdo, you can opt for a sleek version of it.
10. Double-toned Pixie
Pixies are a great option for women who don't want to stress too much about their everyday hairstyle. This double-toned pixie hairstyle looks very elegant on women over 40 with the bangs covering their large forehead.
11. Inverted Bob with Side Partition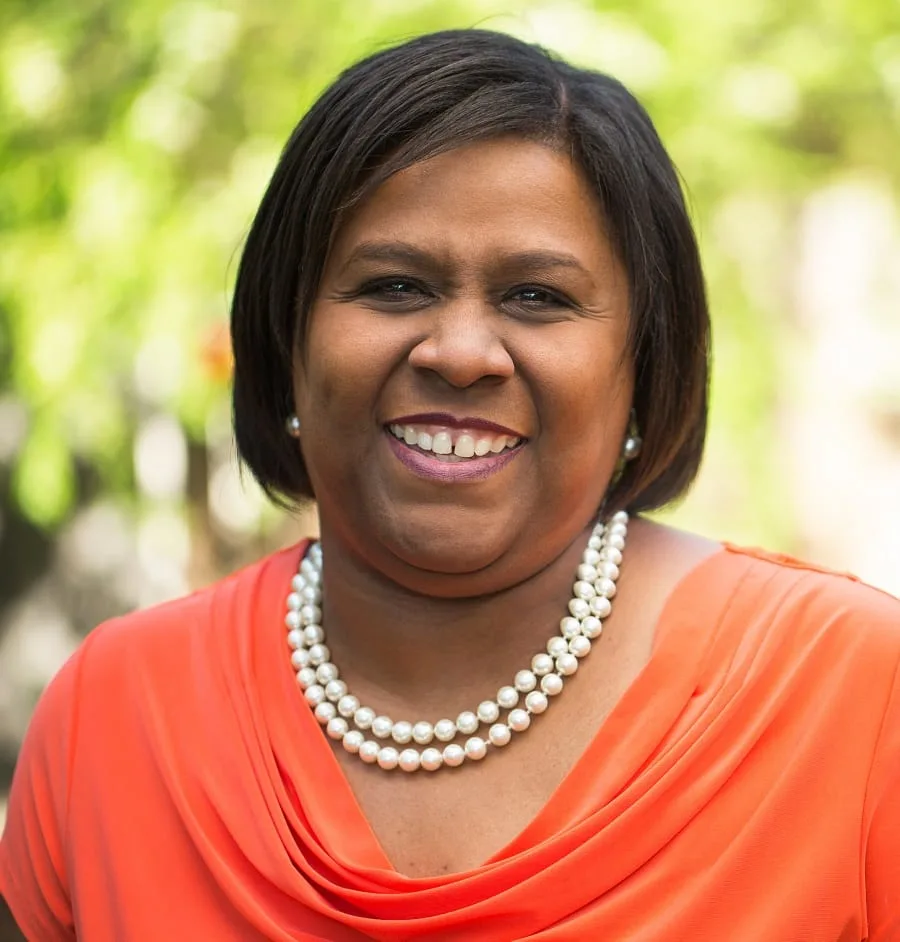 Bobs have become the go-to hairstyle for women across different age groups. The simple elegance of this hairstyle is what makes it so popular.
This side-parted inverted bob is the perfect hairstyle to cover your chubby cheeks while adding a touch of charm and elegance.
12. Feathered Blunt Cut
If you have been searching for the perfect blunt cut that would suit you, then this feathered version of this hairstyle is a must try. The beauty of this hairstyle is that you need zero effort to style it – just run your fingers through the hair and you are ready.
13. Long Blonde Tresses with Fringes
Want to flaunt a simple yet stylish hairstyle? Check out this really simple, long hairstyle for overweight women over 40. To achieve this style, brush your long tresses and let them sit gently over your shoulders. Adding some fringes can elevate this style further!
14. Puffed Half-up Half-down Hair
Overweight women with medium to long hair can try this puffed, half-up and half-down hairstyle. This hairstyle might seem common but when you style the hair on your crown in a gentle pouf, it makes you look taller and gives the impression of a leaner face.
15. Textured Thick Bob
If you have thick hair and want to adopt a hairstyle that doesn't make you look overweight and chubby, then opt for a simple textured bob like this. The different textures and hair lengths form a beautiful frame for your face.
16. Corn Braids Bun
Here is another corn braid hairstyle inspiration for overweight women! When you combine corn braids and buns, you have an elegant hairstyle to flaunt at any occasion. Try different variations of this style as well, such as a low or a high bun.
17. The Glam Look
Bring out your sexy side with this super simple yet stunning hairstyle. An ideal hairstyle for women with medium or thick hair, the long brown locks with loose waves and a side partition is a great way to make your face look slimmer; while exuding powerful, glam vibes.
18. Soft Pixie with Undercut
This combination of an edgy pixie with undercut looks beautiful on women with all face shapes. Ask your hairstylist to keep the undercut section in your natural hair color and the remaining hair in a shade that is a shade or two darker than your natural hair color.
19. Textured Short Shag
A textured short shag is a good choice for short-haired women who are above 40 and overweight. Shags are pretty easy to maintain and don't require a lot of styling effort. This short shag is perfect for women with all types of hair textures.
20. Voluminous Top Bun
Do you have medium or long thick hair? Tired of thinking of ways to style your hair every day?
Try this super fun, high bun hairstyle! This hairstyle looks fantastic on overweight women and is a great choice for an informal gathering with family and friends.
21. Messy Shag
A messy shag like this is ideal for women with thin, fine hair as it makes your hair look voluminous. It also gives the impression of a toned-down face. This shag hairstyle requires low maintenance and will help you achieve an easygoing, fun look.
22. Long Tight Curls
Having natural tight curls and maintaining them is not an easy thing which is why you need to look for hairstyles that will not require elaborate styling efforts. This simple hairstyle is easily achievable – just let those gorgeous curls frame your face and fall over your shoulders.
23. Short Bob with Textured Bangs
To finish off the list, we have this short bob with textured bangs. This hairstyle is ideal for women with fine or thick hair. The textured bangs along with the nape-length bob can make you look youthful and trimmed down.
So, there you have it – our top choices for the best hairstyles for overweight women over 40! As you can see, women have the option to choose from very short hairstyles to long hairstyles. Make sure to base your choice on your hair's texture and volume as well. If you are still unsure, then just select a couple of hairstyles from this list and ask your hairstylist to suggest the best one that would suit your hair, face, and overall appearance.