Oh, side part undercut hairstyles are just another millennial fad? Nope. Get out of here with that nonsense. Never mind all the blah blah blah people say about hipsters and their undercuts—this haircut popped up during the Victorian area, saw an enormous resurrection in the 1920s, showed up again during several years in the '30s and '40s, and now it's on-trend again.
Take advantage of its timelessness and step out with confidence, but feel free to breathe new life into your classic haircut, as well. All it takes is a comb and a willingness to change your part. You're willing to do that, right? It's so simple. Doesn't take any effort at all—but, man, the payoff is outta sight.
Best Side Part Undercut Styles for Men
A man—or a woman—in an undercut haircut is next-level sexy. There's something about the cut, the side-parted styling of it, and the way it draws attention to strong facial features that make it universally appealing. The good news is that, if you have an undercut, you can already pull off this style.
You just have to stop combing your hair straight back or letting it fall to both sides. Brush it to the left or the right, whichever flatters you the most—it doesn't matter. Add a swoop, shave in some designs—you'll see for yourself, there are several ways to style your undercut when you part it to the side.
It's entirely possible that this photo comes straight from the 1930s. Okay, it probably doesn't, but it looks like a soldier's photograph and the side part undercut hairstyle is everything. It's flawless, but it also proves that neat isn't boring.
2. With Flowers in His Hair
Parting your undercut to the side gives you the opportunity to show off your personality and signature style—right on the side of your head. Ask your barber to shave a design into your hair, then keep your undercut brushed over so the whole world can see it.
3. Subtle Side Part
If you're not crazy about the idea of an extreme part, then just keep it simple and subtle. As you brush or comb back your hair, give it a hint of a part. Don't style it all the way over to the side.
4. Long and Parted
Short cuts aren't necessary to rock a side part undercut. A long thatch of hair on top actually looks sexy and stylish when parted to the side. Hair this length means you can also wear an undercut man bun if you so desire.
5. A Little Attitude
This undercut is spot-on. Anytime you're eager to evoke a vintage vibe, steal this hairstyle. The side part has a little lift and the merest hint of a pompadour, but damn, does it ever work.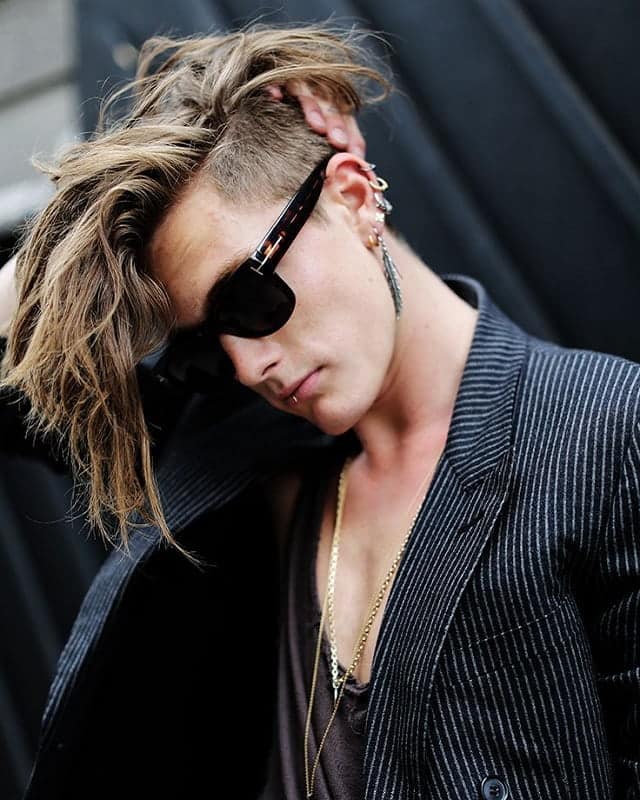 Change doesn't have to be huge to make a difference. Often, changing the way you style your hair lends an entirely new layer to your overall look. Your hair is there for your entertainment so play with it, experiment with it, and find a style that makes you feel like hot stuff. Who knows? A side part undercut might do the trick.