White hair and dark skin might not seem to match at the first glance. However, white locks on the tan skin can look fabulous. Not many women realize that the beauty is in the contrast.
It makes them forget how fabulous unexpected combinations may be. We are always ready to match white and black when it comes to clothing.
So why not do it with the hair? More and more dark-skinned people are trying lighter hair options. From light brown to honey blonde to silver and white, all of these combinations can look grand as long as you are brave enough to try them.
Sophisticated white Hair Ideas for Dark Skin
White hair ideas for dark skin can make you realize how much you have been missing out on when trying darker shades on your locks.
Of course, white hair may be harder to maintain than brown tresses, but the contrast it creates with dark skin is truly awesome.
Men and women all over the world are looking for new ways to experiment with hair color. After all, we only live once, and there are so many different hair shades to try! We collected 15 stunning options for you to enjoy.
1. White Box Braids
Going white all of a sudden might not be an option for many ladies with dark skin tone. In such a case, try box braids without second thoughts.
Incorporate white-blonde synthetic extensions when plaiting down the hair. Opt for a deep side parting and layer the knits to avoid a blunt look.
2. Milky Blonde Wavy Bob
Let your dark chocolaty skin complexion stand out with a milky blonde bob. It is the lightest tone of blonde that lacks any yellowness to give the tresses an icy appeal.
Try beach waves and tousle them for messy 'no care' vibes. Regular root touch-ups are a must.
3. Color Split Faux Locs
Another white hair idea for dark skin that is a must-try this season. Look like the all-time famous Cruella De Vil by experimenting with locks that are half white and half black.
Use faux locs for the white region to avoid bleaching the hair and show off your new look with space buns.
4. Short Fluffy Faux Hawk
Make use of your fluffy hair texture to rock a funky faux hawk without much effort. Maintain a long top that tapers towards the back with buzzed sides.
Coming toward the color, consider getting a warm vanilla blonde hair shade that'll pop beautifully against a melanin-rich skin tone.
5. Silver Wolf Cut
Add volume to a thin mane with a neck-length wolf cut. It features short choppy layers on top that elongate towards the sides and back.
Frame the face with bangs, preferably curtain fringes, and complete the look with a dramatic silvery gray nuance. Color the brows too!
6. Black-to-White Ombre Braids
Ombre braids look fascinating and are ideal for protecting the hair with style. Start plaiting the natural strands and add the synthetic white ones midway to the ends.
The trick lies in incorporating the extensions chunk by chunk rather than all at once to achieve a seamless color melt.
7. Frosted Ringlets
Show off both your dark skin and god-gifted ringlets by covering them in a creamy ash-blonde tinge. Bleaching is essential to strip the natural tresses of color and get a picture-perfect frosted mane.
Dark roots add up to the look making it an easy-to-maintain hairstyle. Gorgeous!
8. Platinum Pixie
A frosted pixie with sides that are just a tad bit shorter than the top is suitable for dark skinned women who want a break from long hair.
Also, refreshing the platinum blonde hair color at home is just a piece of cake. Create finger waves with a comb and hair mousse, and you'll love it!
9. Pearl White Afro Curls
Achieve a bold color contrast by opting for a pearl white hair shade adding a metallic shine to the tresses.
Layer the afro curls with side-swept bangs to frame the face and set the look on fire with matching eye makeup and bold lips.
10. Two-Toned Senegalese Twists
Recreate this white hair idea for dark skin without even adding a drop of chemical dye on the head.
Get periwinkle blonde and white blonde extensions and twist the chunks in the same direction before wrapping them around in the opposite way. Create a single jumbo twist across the forehead and voila!
11. Platinum blonde
Only a true professional can achieve a sparkling white color using a platinum blonde hair dye. This particular shiny shade is especially stunning when coupled with dark skin. This is an amazing option all women love.
Blonde Hair on Dark Skin- Yea or Nay?
12. White and Silver
White hair looks perfect on the dark skin when you use it as an ombre. White locks coupled with silver hues and dark roots create a very special hairstyle, which doesn't require frequent touch ups. A great low maintenance option!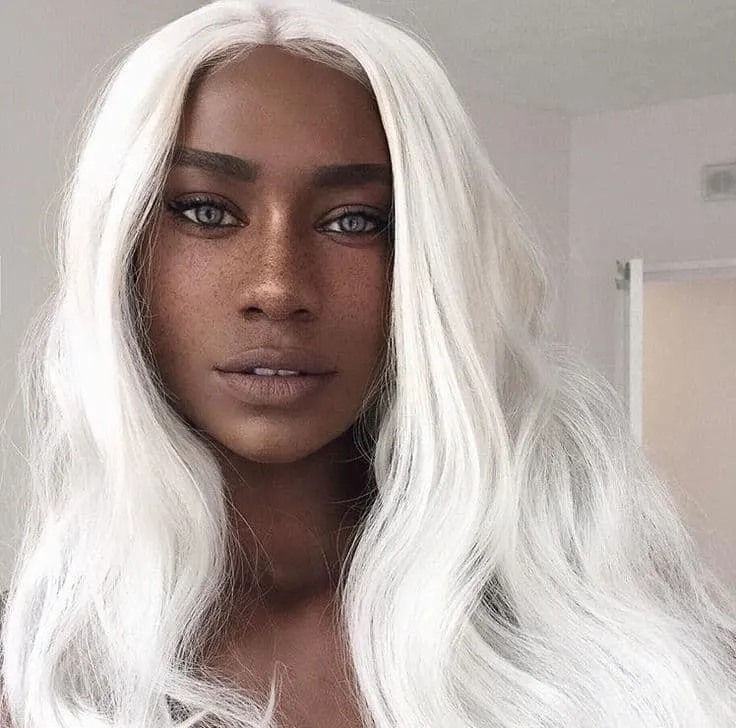 This is a fantastic mix of white and black. If you have really dark skin and a lot of courage, you can achieve this contrast, which is sure to stun anyone who looks at you. Such combination is truly priceless.
14. Color asymmetry
White hair looks amazing with purplish hues. If you add the dark skin and some black roots into the mix, you can get a great color asymmetry. Enjoy this easy to maintain hairstyle, which makes it easy to make a statement.
15. White and beautiful
If your black hair is about to start graying, prevent yourself from looking at the aging hair color. You can use light shades of blonde to create a fantastic contrast. Such yellowish blond tresses look great on the black skin!
Black People Confidently Flaunting Red Hair
Even if you still think that white hair and dark skin don't mix, consider going over these options one more time. The distinctive styles these women created for themselves are definitely worth the respect and maybe even warrant some thoughtful copying.