For many years dark-skinned girls didn't even dream about blonde locks. Today blonde hair color on the dark skin is taking their rightful place among the huge variety of hair colors. The mix of dark and light, black and white, blonde and brown has always been exciting.
Thankfully, contemporary women are readily taking advantage of this option. While some believe that platinum blonde is not suitable for black skin others try to create as much contrast as possible. There is no such thing as the wrong blonde shade for dark skin. It all depends on your mood at the moment.
How To Choose The Right Blonde Shade for Dark Skin
While you can use any blonde shade for your dark skin tone, there are some hues that suit it better than the others. If you don't want to create a drastic contrast, you may want to follow this simple advice.
Platinum blonde– Great idea for dark skin with a yellowish tint. It won't suit a very dark skin tone.
Light Ash Blonde– Good for contrast but not very suitable for dark skin while hard to achieve on black hair.
Natural Blonde– Hard to achieve but looks good on dark skin. It requires several bleaching sessions for the best results.
Beige Blonde – Good choice as highlights on darker hair. It can be an intriguing option for girls with dark skin.
Creamy Blonde – Can be considered one of the ideal shades for dark-skinned women with dark hair and brown eyes.
Honey Blonde – Great choice for women with medium to dark skin and dark eyes. It can be easy to achieve on darker hair.
Ash Blonde – Another wonderful option for women with dark skin tones. It looks great as highlights.
Bronde – Can look great with dark skin and won't create a drastic contrast.
Tips for Blonde Hair Dye
Now that you know which are the best shades of blonde for black women, the last step is to learn the 5 tips to keep your new look always beautiful and healthy. Here they are:
Take it easy! You can't become a luminous brown woman overnight and think your hair will look perfect. Dark hair takes about three months to become blonde, so you should bleach your hair partially to keep it healthy.
If your hair has already undergone some kind of chemical treatment, then it's certainly more fragile. In this case, the bleaching process deserves extra attention. The key is to lighten your locks in steps and resort to nutrition and reconstruction treatments to prevent any damage.
Another great tip is to avoid fading, which is common in this type of hair procedure! To this end, hairdressers recommend always using shampoos made specifically for blonde or dyed hair. If the color is turning yellow, try to apply a toner once a week to neutralize the hue.
To prevent hair loss or tear, you need to focus on weekly moisturizing sessions with a mask made of amino acids, proteins, keratin, and collagen.
When dyeing your hair, dye your eyebrows four shades below the color you're applying to your hair. Avoid using the exact same shade in both, as this may make you look "faded."
Brightly Contrasted Blonde Hairs on Dark Skin
If you are not sure whether or not a blonde hair will look good on your skin, take a peek at these 15 options. These blonde hairstyles for dark skin can help you realize how much you've been missing out on lately. While getting blonde locks might require bleaching, the effort is definitely worth the result.
If you are not sure you are ready for white blonde shades, start with honey or golden blonde and go from there. Some girls check out Auburn and brownish hues as a middle ground between black and blonde.
1. 3 C Curls
Coarse 3C curls hair can sometimes be a blessing or a great inconvenience. And you can turn the tables around to your advantage and get a super cool hairstyle that looks great and is low maintenance. Get a layered medium haircut and dye your locks in a ginger blonde color.
2. Honey Blonde
Depending on your skin's undertones, choose a hair color that suits you. In this case, caramel blonde hair is one of the best options for black women who need a dramatic change. If you don't feel confident about your choice, wear a wig and see how you fancy the new look.
3. Blonde Hair with Undercut
As a black woman, one of the greatest ways to highlight hair is to create contrast. And you can do that in so many ways. First, dye the hair and create an undercut or a high-top hairdo. Don't dye the trimmed areas if you want to gorgeously delimit the two colors and hair lengths.
4. Messy Ombre
A good old inverted bob haircut is the perfect canvas for a blonde ombre. Create bangs and flip them on one side. Use a rotative brush to style the longer hair sections inwards. Tousle the hair to get that messy look and wear flawless yet simple makeup.
5. Platinum Silver Blonde
You can't resist falling in love with this blonde hairstyle, right? The color is so eye-popping, and it creates a gorgeous contrast with dark skin that you just want to sit and admire. However, on dark hair, the effects of bleach can be irreversibly damaging, especially if you have coarse hair. So think twice before you switch to this color or invest in a high-quality wig.
6. Blonde Highlights on Short Hair
Blonde ocean waves look grand on dark-skinned girls especially if they are used as highlights. Such short hairstyles such as these often make an even bigger impression than long curly locks or complex braids.
7. Soft Curls
If your hair is not curling into tight curls but can allow you to sport soft curls, you can enjoy such close to natural hair color as a golden or honey blonde. You can even make blonde highlights on your naturally dark hair.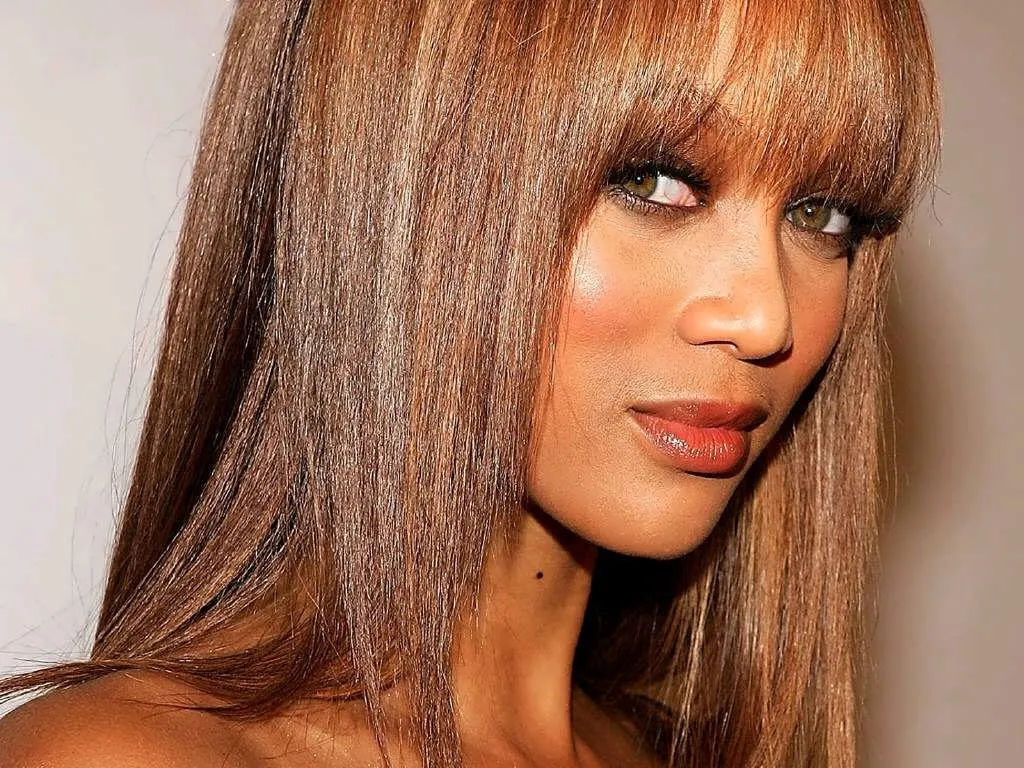 If you are thinking about straightening your hair, light blonde hues won't look very impressive. Meanwhile, golden auburn shades are exactly what you need. Don't hesitate to go a little darker while still being a blond.
9. Long Creamy Tresses
This is a wonderful example of a creamy blonde hair on dark skin. Creamy blonde locks look most natural around a dark-skinned face. You can try this color on curly and straight hair no matter how dark your skin is.
10. Dark Roots
When you are thinking of a blonde hairstyle, you must realize that black roots will become your favorite companion. You don't have to try and get rid of them the moment they appear. Girls with dark skin can enjoy dark roots coupled with blonde tresses.
11. Bright Golden Hues
Bright golden hues coupled with dark skin tone can create a stunning hairstyle you always dreamed off. If your skin has naturally yellowish or golden hues this blonde hairstyle for dark skin can become your favorite for years to come.
Golden Blonde Hairstyles for You
12. Medium Blonde Locks
Your long tresses can look amazing when arranged in curls. Meanwhile, using the medium blonde hair on dark skin is one of the most impressive options when you are ready to keep the colors bright.
13. Baby Feathery Look
This short blonde hair on dark skin is a wonderful choice for women who hate the hair hassle. If wearing a short hairstyle doesn't seem unique enough for you, take advantage of platinum blonde hair color.
14. Ash Blonde Pixie
An ash blonde pixie was created to conquer the world. So why shouldn't you use it to its fullest extent? Since ash blonde is one of the ideal blonde hair colors for dark skin, you'll look truly amazing without much effort.
15. Celebrity Blonde
Many dark-skinned celebrities experiment with blonde hairstyles. If you are not sure which hair color or style to choose, flip through their photos, find the skin tone closest to yours and become a smart copycat.
These blonde hairstyles for dark skin can make you stand out of the crowd while enjoying your bold new look. If you have black hair, the time has come for some good changes. Find out how it feels to be a blonde!