If there's any reason a wolf cut with curtain bangs should be at the top of your list of hairstyles to consider, it should be because it suits any texture and length of hair and can be styled in a variety of ways.
The wolf cut is a mix of shag and a mullet, boasting short, choppy layers up top and long layers on the bottom.
The cut is typically seen on long hair, but its versatility means you can try it on short hair too. For a spot of softness on the edgy haircut, just add curtain bangs.
Trendy Wolf Cuts with Curtain Bangs
Any one of these wolf haircuts with curtain bangs will make you feel like a brand-new woman!
1. Shoulder Length Wolf Cut
Shoulder-length hair is an easy length for any lady to manage and style. This wolf cut features plenty of shape to play with, and cute curtain bangs that keep the look soft.
2. Peach Hair with Feathery Curtain Bangs
If you have a light or pale skin tone and are looking for a bright pop of color, certainly opt for this peach-pink hair color.
The thin feathered curtain bangs are light and gorgeous, bringing lots of additional movement to the cut.
3. Thick Ginger Wolf Cut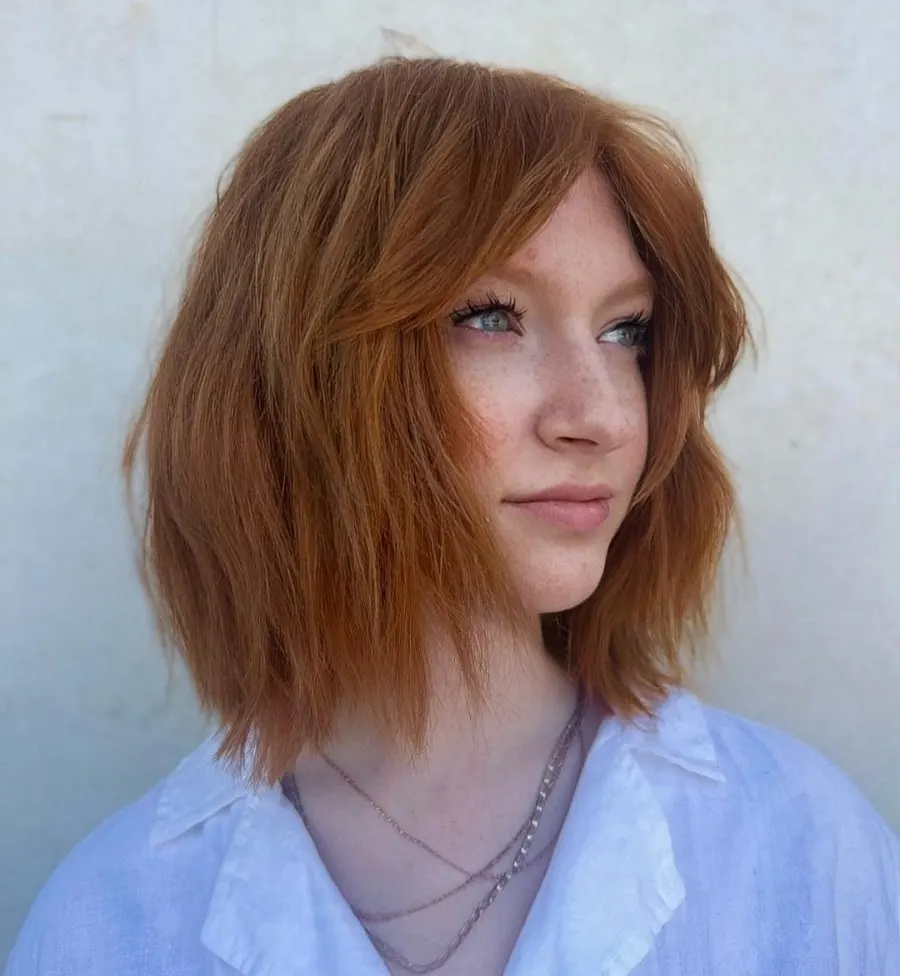 Any ginger-haired lady with a thick mane will look stunning in this mostly straight hairstyle. For a sleeker look, you can straighten all the hair. Otherwise, the half-straight look gives it more texture.
4. Wolf Cut Bob with Bangs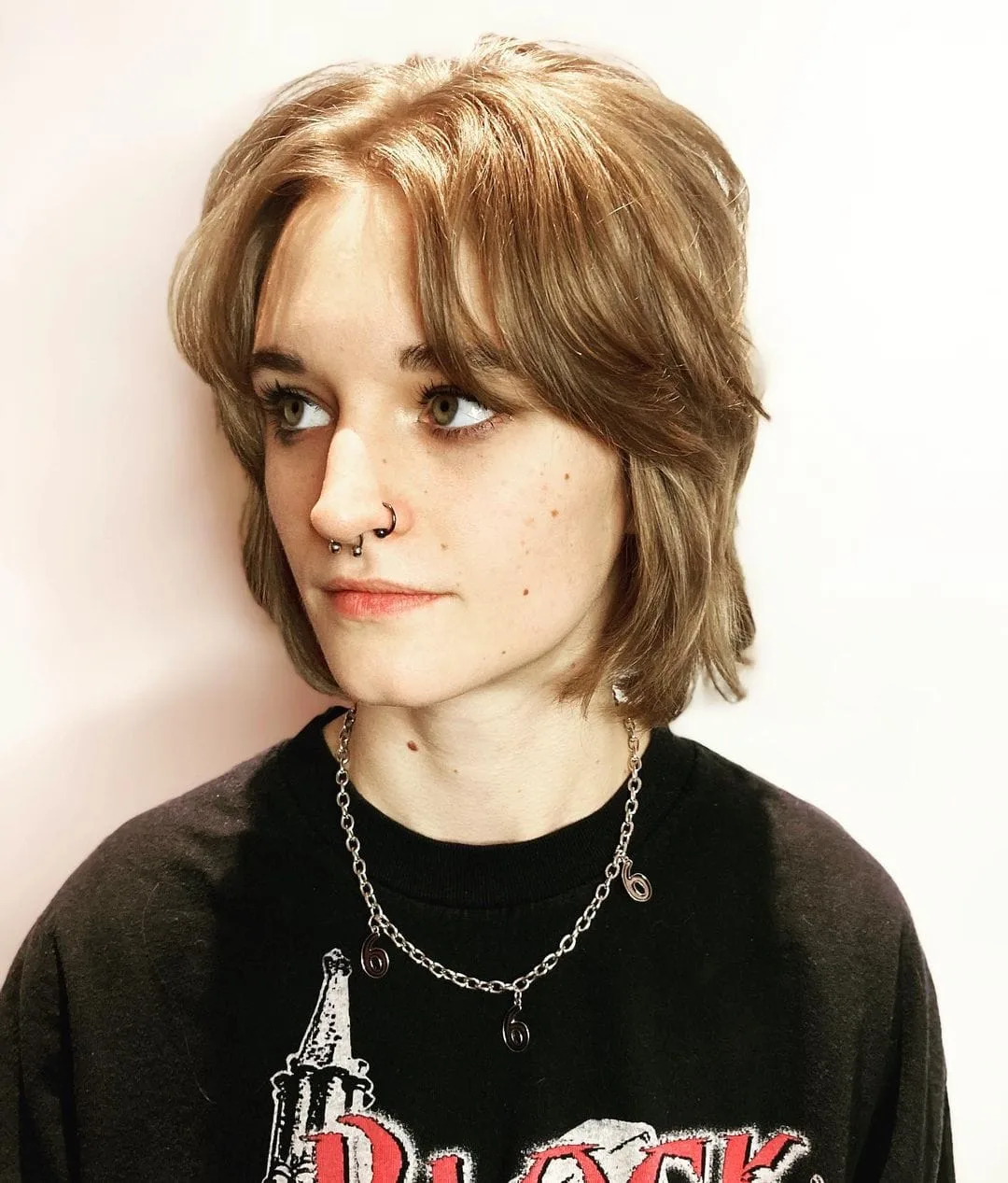 Prefer to keep your hair above your shoulders? You can do it in style with a wolf-cut bob with curtain bangs!
With a little bit of extra oomph on top at the crown, you'll have the perfect sexy bedhead look every morning without even trying.
5. Shaggy Haircut with Bangs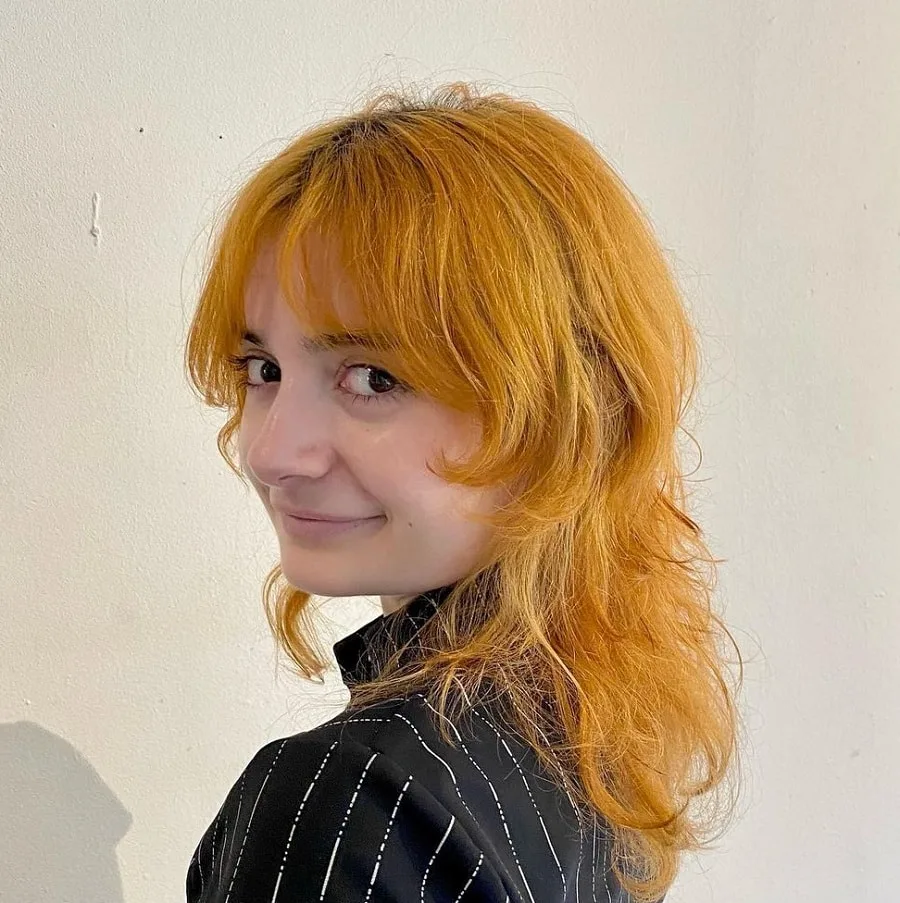 A shaggy wolf cut with long hair is a great choice for women with curly hair. The curtain bangs add extra movement.
If you love bright unusual colors, opt for this copper shade with your curly wolf cut hairstyle, which looks great against light skin tones.
6. Dipped in Red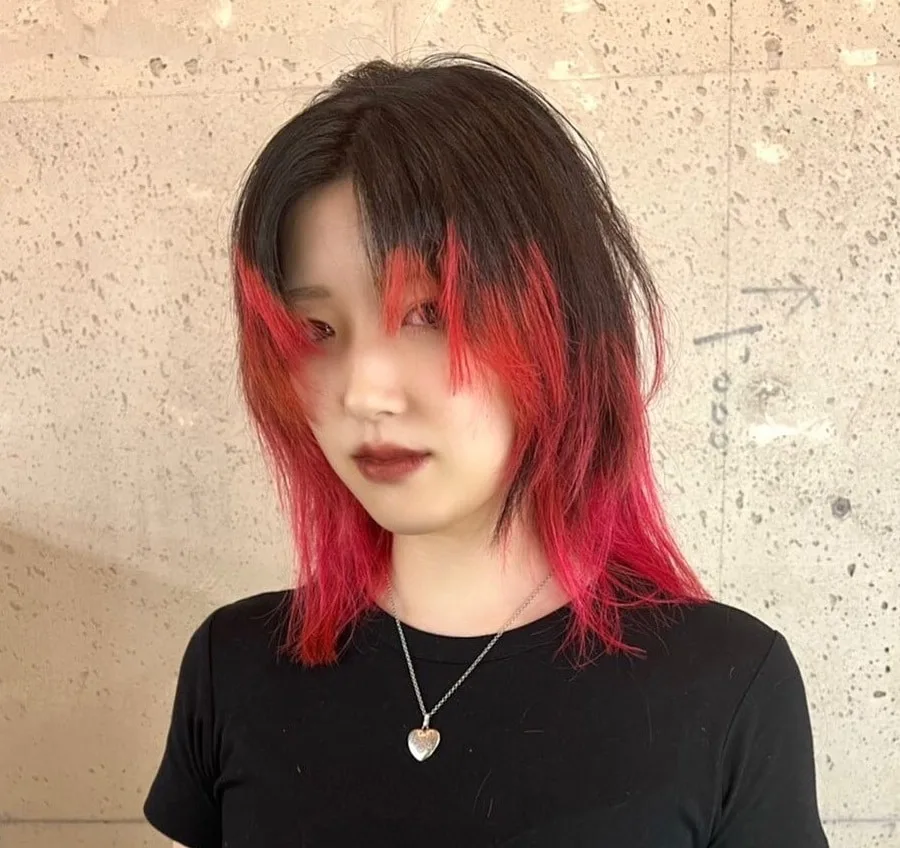 Asian women with black hair and a bit of edge will love this uniquely colored wolf cut. It features a deep red at the ends all around the front of the straightened cut.
Dipped ends like this will work on any short-length layered bob haircut – just take a risk and watch the results!
7. Short Wolf Cut
We love this contrast of light and dark colors on a short wolf cut with curtain bangs. The light blonde and platinum shade of blonde complements a pale skin tone, while the dark shade of red gives a pop of color.
8. Long and Curly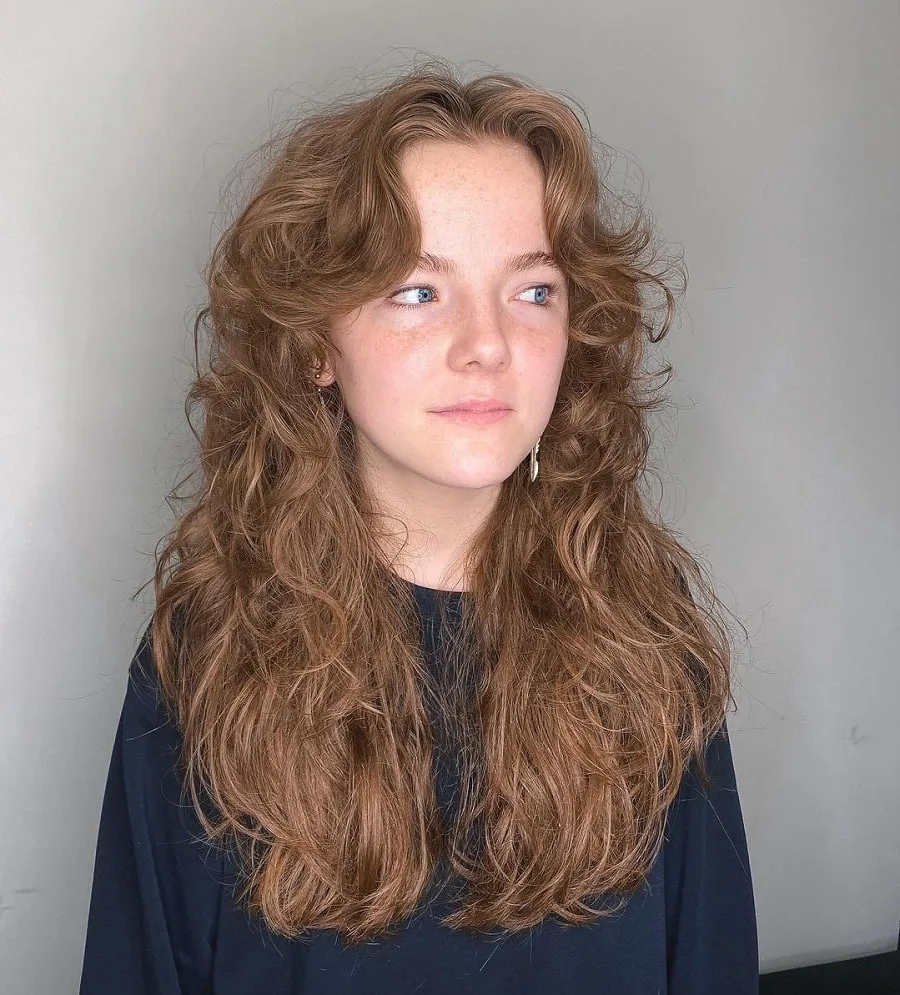 For women with long and curly hair, a wolf cut with curtain bangs is a nice option to take the bulk out of your mane. It thins things out, provides shape and structure, and puts the bounce back in those curls.
9. Blonde and Black
Do you have dark hair and need a total mane change? Get blonde peekaboo highlights, which a cool wolf cut will show off beautifully, and keep curtain bangs thin. Your color will be visible to everyone whether you wear your hair down or up.
10. Wolf Cut with Blonde Highlights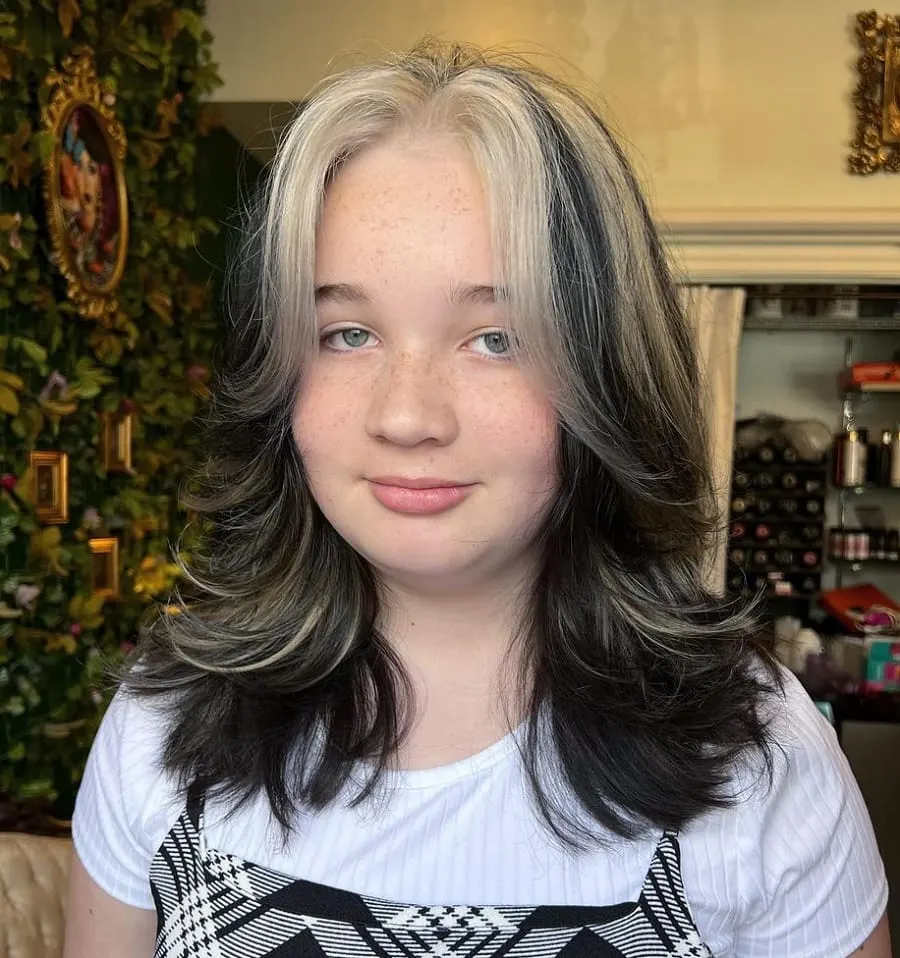 A combination of feathered haircutting on a long haircut with curtain bangs increases its movement and shape. A bit of light blonde highlighting over dark hair will warm up your overall look.
11. Thick Wolf Cut and Curtain Bangs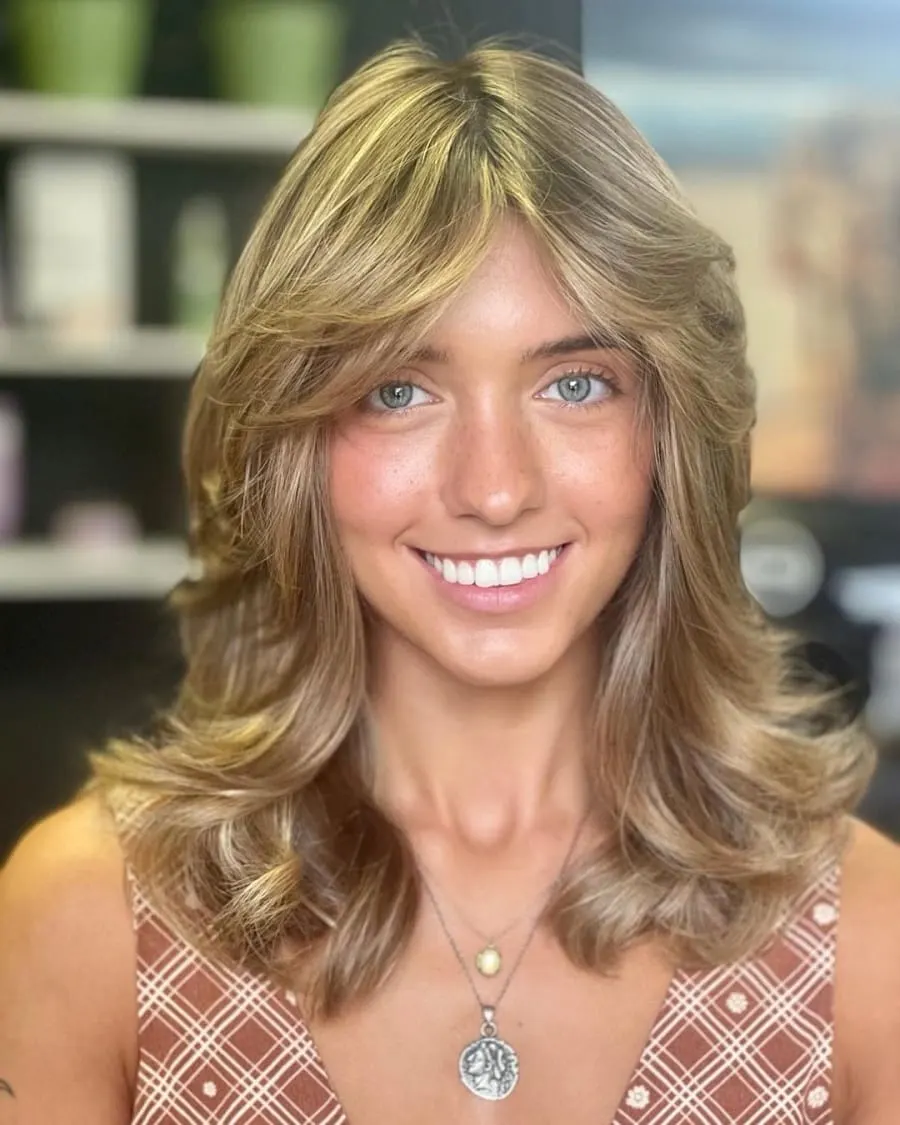 If your hair is as thick as this, you'll be giving off the ultimate Farrah Fawcett vibes. The actress was infamous for her shaggy blonde wolf cut and curtain bangs, so you know you'll have a winning look.
12. Thin Bangs with Wolf Cut
Women over 50 often realize their hair is thinning, but that's no need for concern when you have a guaranteed winning look by your side. Just ask your stylist for this long wavy style with thin curtain bangs that stop above your eyebrows.
13. Wavy Wolf Cut on Colored Hair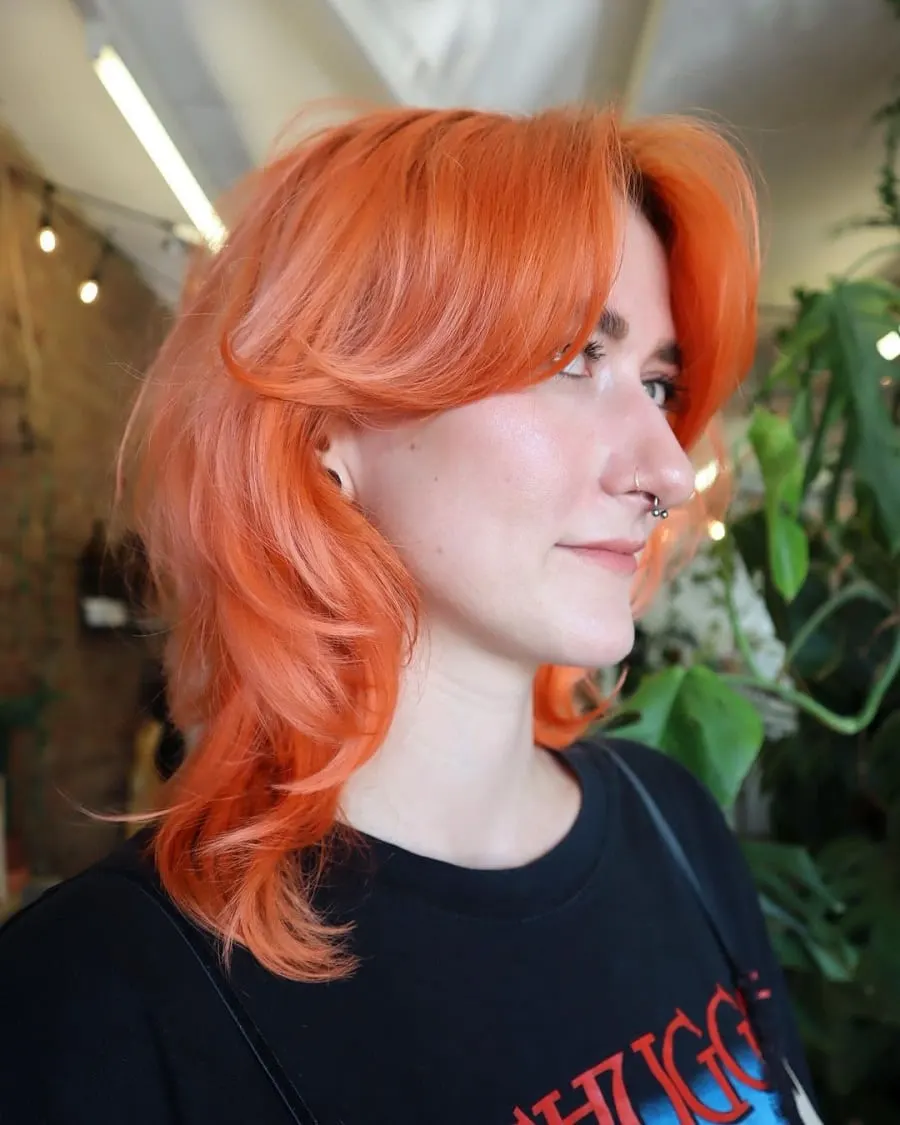 Between the light red coloring with a little pink and the long voluminous waves, there's no reason not to try this gorgeous look. The light and fluffy curtain bangs are the perfect soft for any occasion.
14. Medium Wavy Wolf Cut
A haircut that is medium-length is one of the easiest lengths to manage, and you can still put it up in cute updos while letting curtain bangs loose.
For ladies with a little curly or wavy texture, it'll show off in flattering framing around the face.
15. Thin Wolf Cut with Curtain Bangs
The best thing to do for your mane when you have thin hair is to give it some body and shape.
A wolf cut is the answer to your hair woes, as are the cute curtain bangs that are short and conveniently won't get in your eyes.
16. Pink Highlights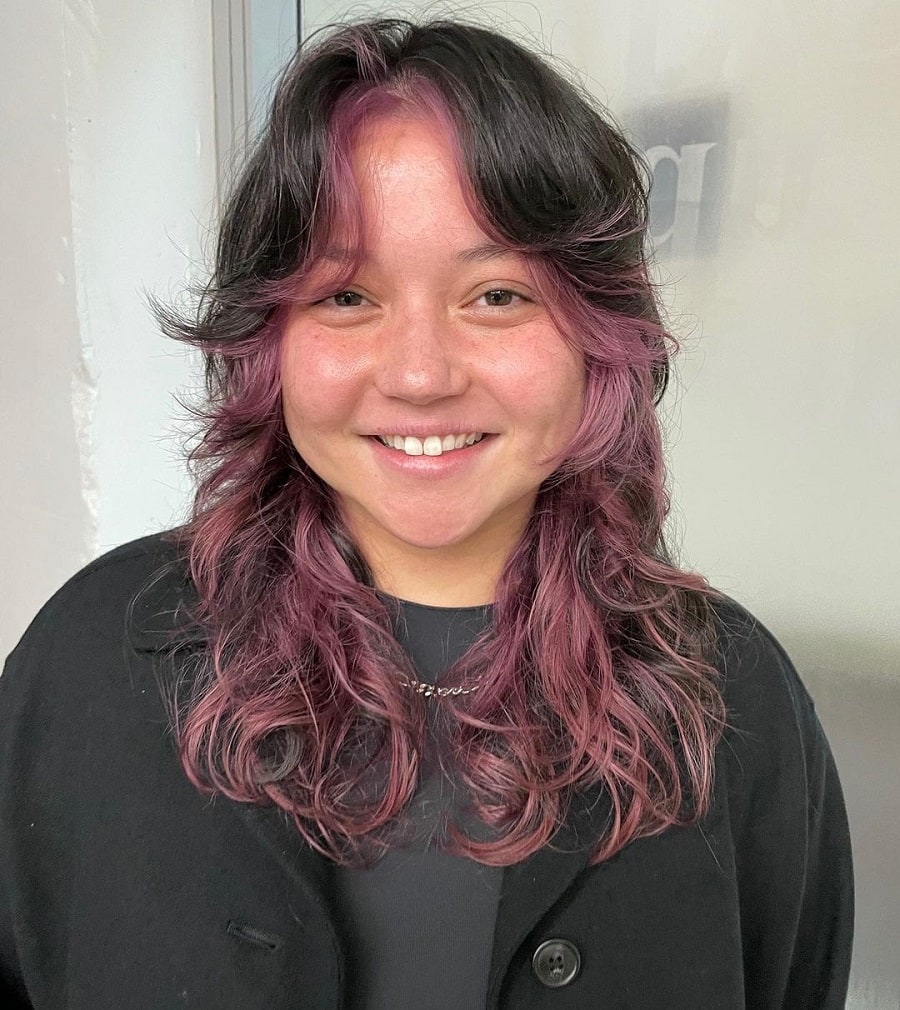 If you love having some color in your hair, front highlights are where it's at. These light pink streaks outline the face, as well as a shaggy shape.
Carry the color all the way up to your fringe for seamless beauty.
17. Platinum Blonde Wolf Cut with Bangs
There's no other word besides 'glam' to describe this platinum blonde hairstyle. This version is subtle yet classy on long hair with pronounced curtain bangs.
Lightly straighten it to let waves take hold and cascade over shoulders.
18. Layered Wolf Cut with Color
Adding layers to your hair on top of a wolf cut is a great way to amp up the volume and give yourself some tresses to play with.
On dark hair, consider adding dark purple front highlights for an edgy pop of color.
19. Straightened Wolf Cut with Curtain Bangs
Whether your hair is naturally straight or you prefer to wear it straightened, your locks will look sleek and shiny.
Add a gloss of bright color all over, or tease the hair for fluffiness… you have plenty of options to personalize it.
20. Black Wolf Cut and Curtain Bangs
For ladies with naturally black hair and a dark skin tone, don't underestimate the allure of curtain bangs. On a night out, create beautiful large waves that will emphasize the shape of your new 'do.
21. Red Medium Wolf Cut with Bangs
The wolf cut is quite versatile, as seen here on dark red short hair with curtain bangs. Wear your hair straight and part it off-center or in the middle – you'll look great either way.
After seeing 21 stunning ways to style a wolf cut with curtain bangs, we bet you're ready to call up your own stylist to jump on this hair trend.
With any version you choose, just make sure to put your own spin on it so it feels like you. Color, extra layers, or highlights will enhance its edgy effect.