Have you been looking for a way to add volume to your hairstyle? Short layered bob hairstyles will soon be your favorite look!
They feature the traditional look of a bob – short hair in the back, long hair in front – but with short layers all over that provide movement and body.
However, you should remember that if you have a larger head shape, a short bob may accentuate that, so you'll want a longer hairstyle.
These styles work better for women with smaller faces. Hair stays healthy longer and has an overall neater appearance.
Pair it with a bit of color, whether it's ombre, highlights, or an all-over treatment, and you've got a fashionable new look.
Short Layered Bob Haircuts
Below are 35 short layered bob hairstyles you're going to love!
1. Short Layered Bob with Bangs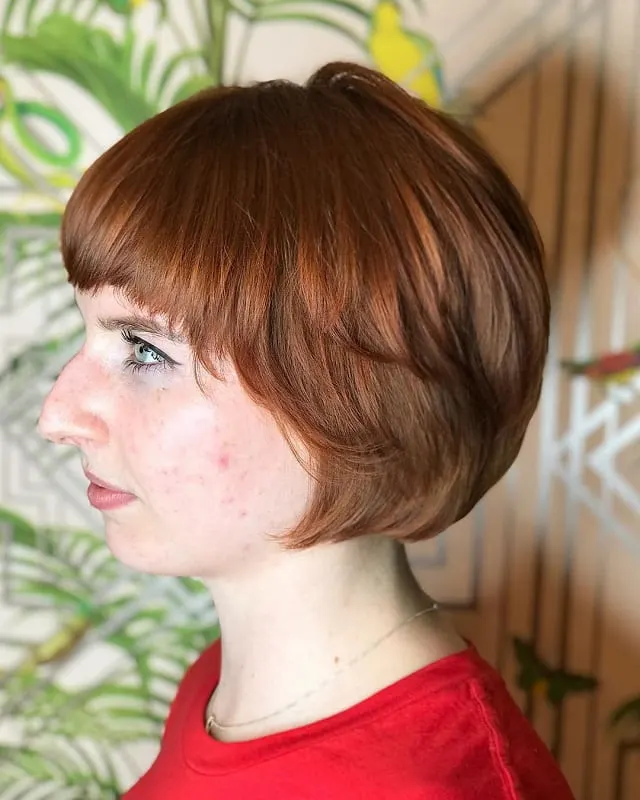 A ginger-colored short layered bob fits the head just perfectly with short bangs that make this style doll-like. Keep the hair covering the ears or brush behind them to show off that snazzy new pair of earrings.
2. Short-layered Inverted Bob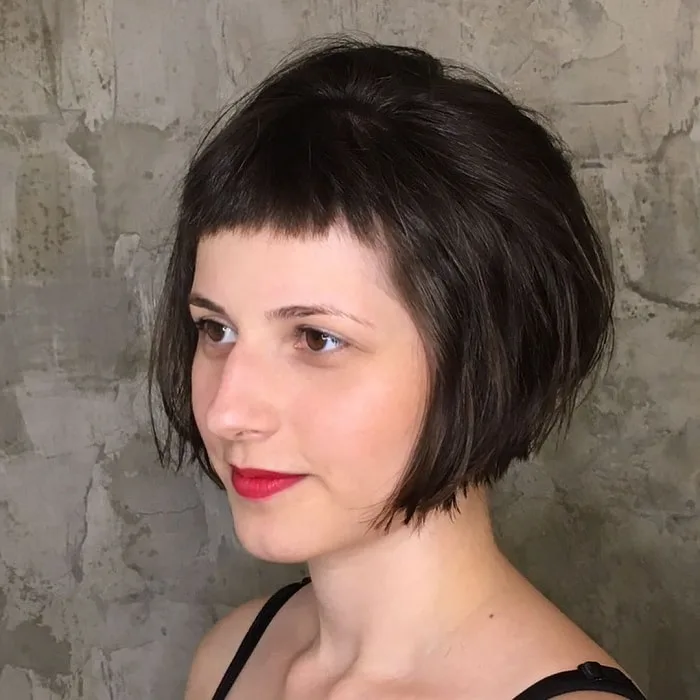 If you like the look of baby bangs – very short blunt cut fringe – they'll look super edgy with a teased short layered inverted bob. Opt for a dark color to keep the vibe edgy but choose blonde if you want a feminine feel.
3. Layered Bob For Fine Hair
You won't even notice thin hair when it's cut into a short layered bob. Choppy cut bangs that are unevenly cut mix up the vibe between edgy and chic. Pair it all with a bold red lip for date night.
4. Layered Bob For Thick Hair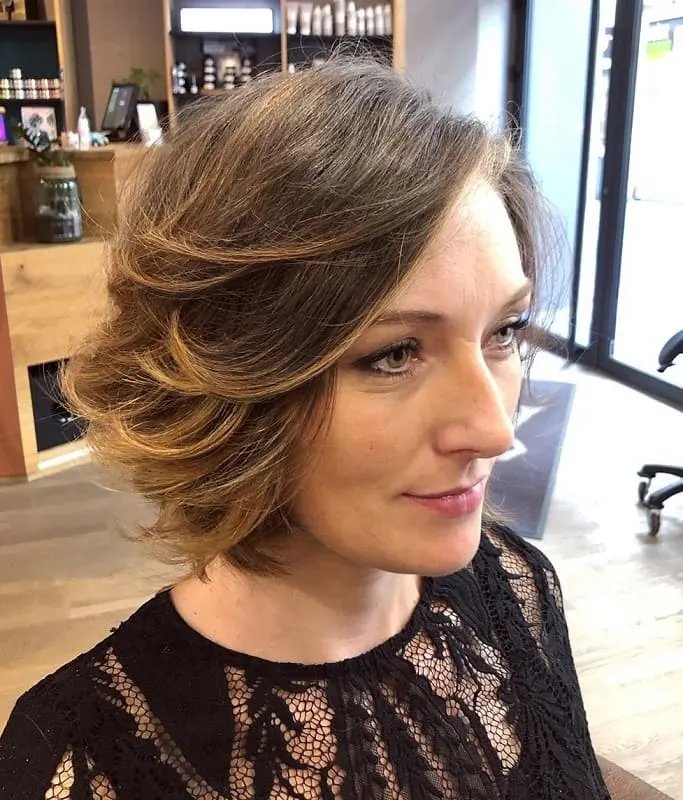 For thick hair, short layers on a caramel-highlighted bob are just the thing to cut down on bulk. Depending on your hair's structure, they may naturally fall in waves or they'll need a little help from a curling wand.
5. Short Layered Bob for Black Hair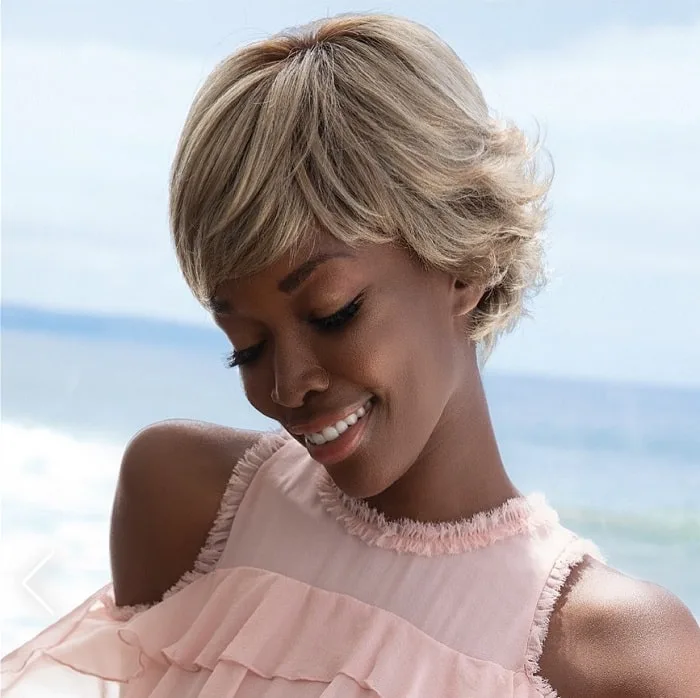 For natural black hair, while you're growing it out or in between hairstyles, this cute short blonde layered bob will have you styling! And the way the ends flip out is a fun way to express your perky side.
6. Short Waves
Accentuate the layers with loose waves adding some volume to your short mane with side-swept bangs at the front.
When choosing the hair color opt for dark ruby red roots that turn copper midway to ends and get ready to turn around some heads.
7. Carefree Appeal
Messy hairstyles have become quite a trend this year. Ask the hairdresser for choppy layers all over the head at chin length with curtain bangs falling along both sides of the face. Use a texturizing product before hand-tousled the strands for an undone appeal.
8. Angular Fringe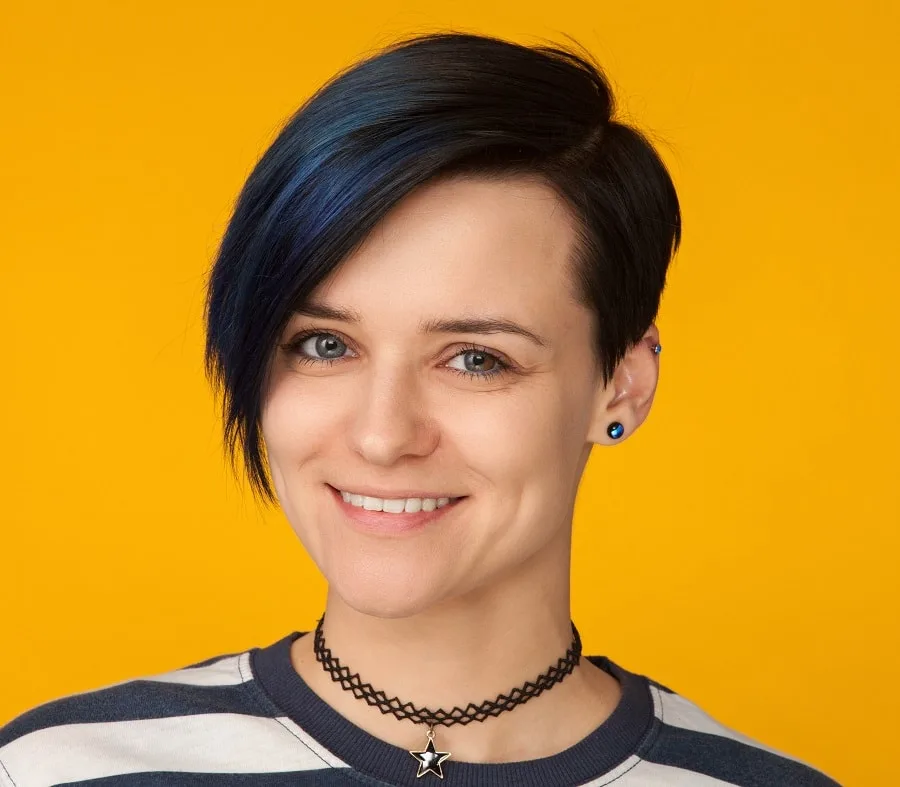 Start fresh by cutting off those long locks into an extra-short bob at ear length with an angular fringe reaching the lips.
Instead of keeping the look simple add streaks of dark midnight blue or any other color at the front. Simple and chic!
9. Ultra-Modern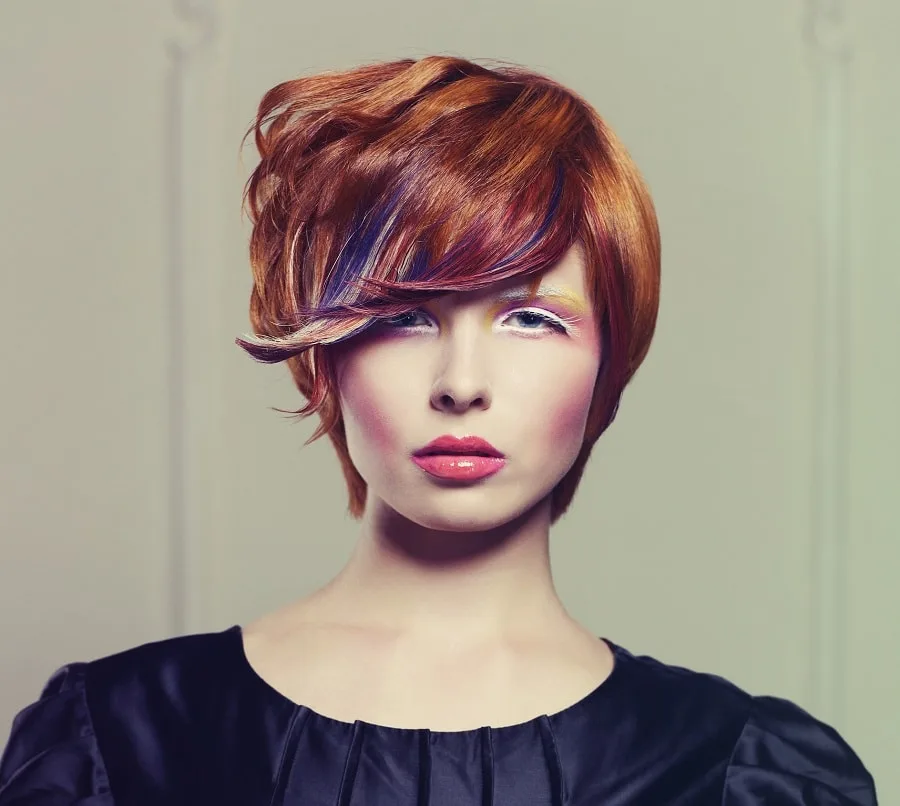 Play with different hair textures to turn your short layered bob haircut into a one-of-a-kind hairstyle. The top and sides are kept long enough to cover the ears with a shorter back.
Add waves on one side only with vibrant stripes of blue and white on the flipped-out bangs for an ultra-modern finish.
10. Gorgeous Curls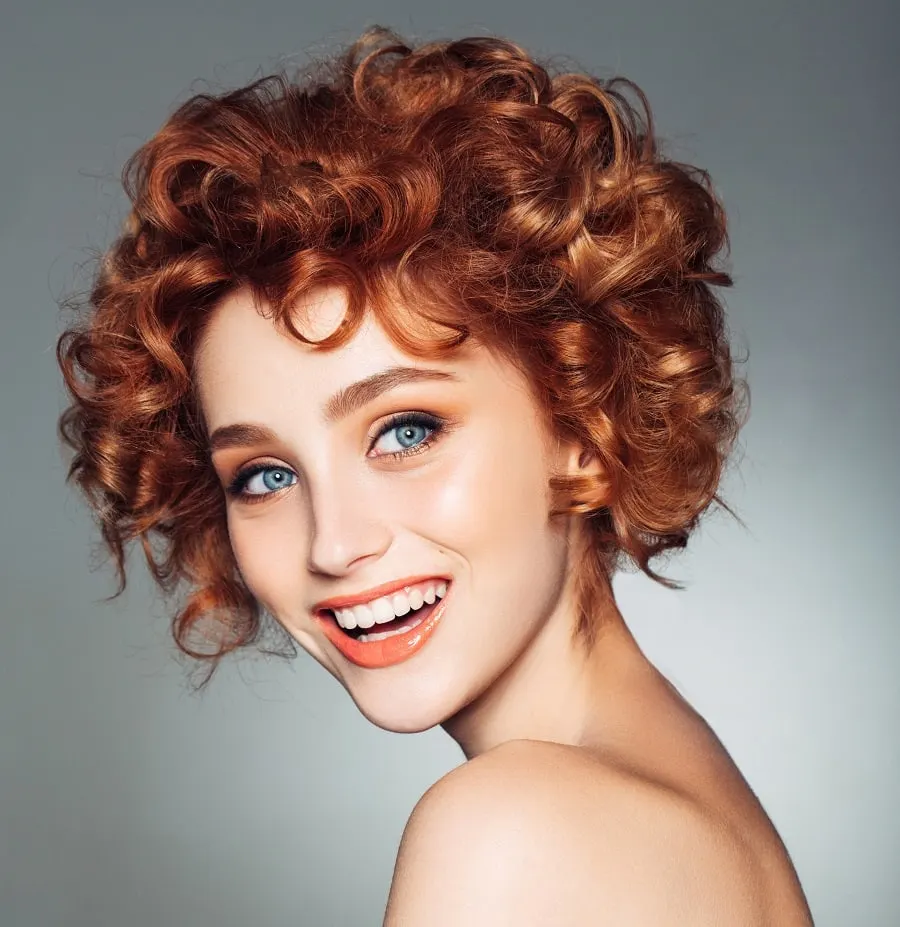 Blessed with natural curls? If not get a perm for a change and rock a light auburn to copper hair shade. Clip the strands at varying lengths to fall around the face flawlessly with or without bangs. This look is a must-try for redheads with blue eyes.
11. Extra Short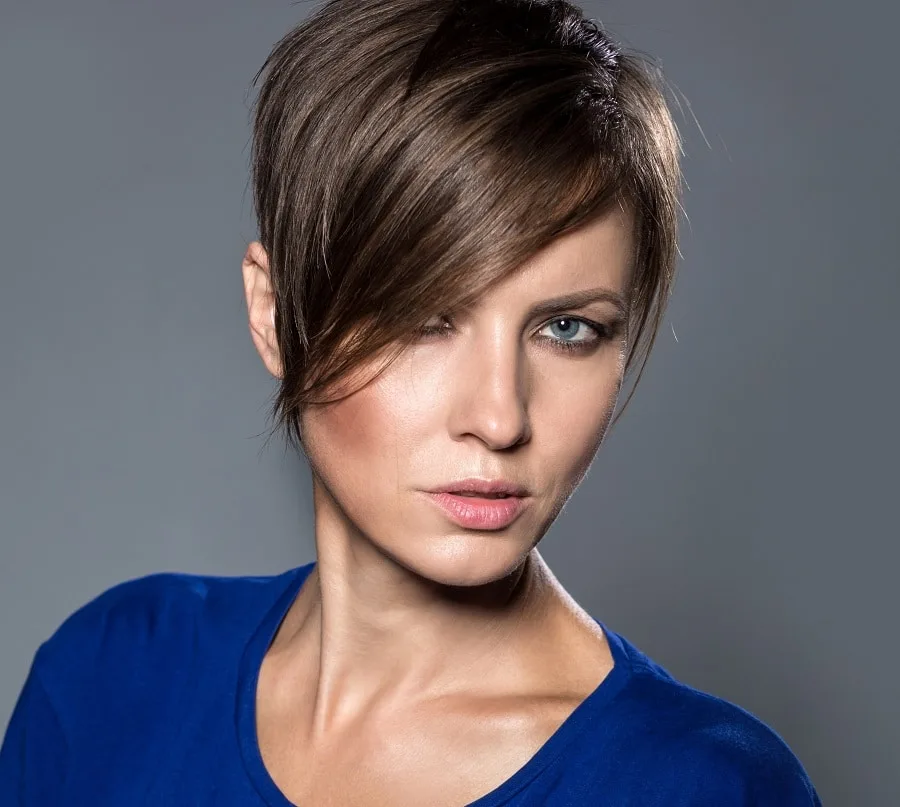 This bob is so short it just looks like a pixie cut. Office-going ladies with thin locks who don't have much time to style their hair can consider this style as their next look featuring soft layers and a long side-swept fringe covering an eye. Not enough? Add some highlights!
12. Choppy Haircut
When it comes to hairstyles, imperfections look chic too just like this choppy haircut. The chunks are cut asymmetrically with uneven bangs falling on the forehead from the center of the head giving off hipster vibes. Set the look on fire with a bright orange tinge and you won't regret it!
13. Hime Cut
A hime cut is characterized by cheek-length side locks and cropped bangs with long strands at the back. Cut off the long tresses just a bit longer than the side locks and you'll get a short bob that is sure to attract some attention. This style is ideal for Asian ladies with straight hair.
14. Bixie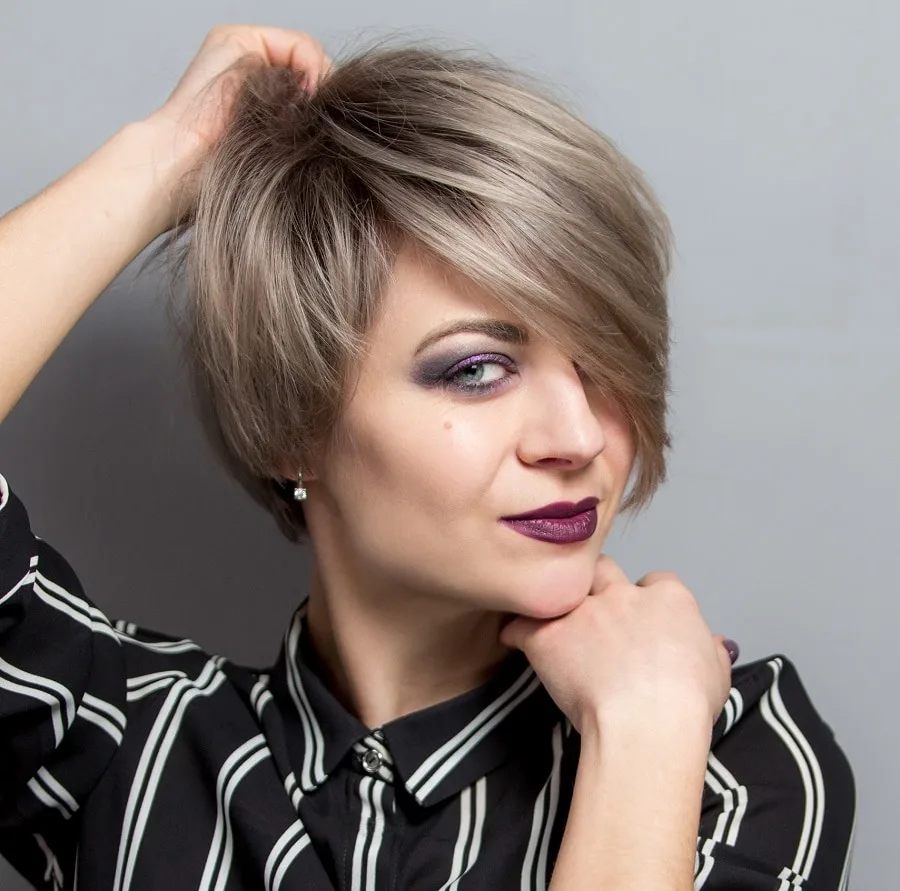 A bixie combines the shortness of a pixie with the roundness of a bob and hence the name. Couple the layers with side-swept feathered bangs covering an eye and dye the hair dirty blonde. Complete the look with some chic earrings and smoky eyes.
15. Messy Look
Messy is sexy! Don't believe it? Well here is a layered short bob to prove you wrong. Use hairspray while teasing and tousling the strands as much as you can without damaging them creating a gorgeous mess and push it away from the face with a headband for a sporty appeal.
16. Side-Swept
Whether you are a girly girl or more of a tomboy type this haircut is worth trying. The long top is layered and slicked down neatly with a deep side parting reaching the ears. Top off the style with a winged liner and red lips and get ready to rock.
17. Sexy Shag
Ladies with a thick mane can take off some weight with a short and sexy shag. It is characterized by unequal layers resulting in a fluffy top and longer sides dangling above the shoulders. Spice up the look with side-swept micro bangs and a dark teal hair color. Eye-catching!
18. Stacked Bob
Just as the name suggests this graduated bob has stacked layers at the back that elongate towards the front for an edgy look.
Dark-haired ladies can sport a blonde hair color with emerging roots creating a two-toned appeal. Flaunt the look with front-row twists or try braids instead.
19. Two-Toned
Make a style statement worth remembering by choosing a layered bob and face-framing bangs. The side locks fall just above the earlobes while the hair at the back reaches below it. Add a pop of color by dying the front fringe in a vibrant orange tinge that won't be ignored.
20. Swoop Bangs
African-American ladies can rock a short layered bob hairstyle using a weave. Opt for an inverted haircut and create some movement by cutting soft layers into the hair. Finish off with swoop bangs that completely cover the forehead and brows for a chic look.
21. Perfect Layers
Can't take your eyes off it, right? The key lies in perfectly cut layers that add a lot of body to the mane. Tousle the strands on one side and go for loose curls creating an instant on-the-beach look. Top off with a spritz of hairspray. Dreamy and romantic!
22. Asymmetrical Style
Play with the symmetry of your auburn brown locks to drop some jaws. The strands are cut shorter on one side with a well-defined layered fringe on the opposite side of the face creating a modern mullet like-hairstyle that is suitable for women with thick wavy hair.
23. Curtain Fringe
Curtain bangs look exceptional when paired with a short haircut. They are ideal to conceal a large forehead without completely covering it while framing the face elegantly along the sides. Complete the look with soft highlights for a glowy finish.
24. Blonde Moment
Elderly ladies can go for a lively appeal by chopping their gorgeous blonde locks into a feathered bob and wispy bangs.
Hide those grays with matching highlights all over the head or dye the side locks only for a unique hairdo. Whatever you like!
25. French Girl Bob
Talking about layered short bob haircuts, this French girl bob is the chicest among all. It is defined by chin-length layers and cropped bangs at the front.
Skip the bangs to recreate the look and add stripes of dark blue contrasting against a black base. Top off with loose waves and voila!
26. Vivid Streaks
Short haircuts make thin tresses look thick and healthy. Ask the hairstylist for stacked layers resulting in a short rounded back and a slightly longer front with straight bangs grazing the eyes. Add blonde highlights or copper lowlights creating the perfect light and dark interplay.
27. Pop of Color
Make your short A-line bob stand out from the crowd by painting it in a vibrant teal nuance with powder blue highlights in between and couple the style with bangs and waves.
Although the emerging dark roots add up to the look it requires regular touch-ups to keep the colors bright.
28. Platinum Charm
Blunt bobs and lobs have become quite popular and it is not difficult to understand why. Cut the strands straight across the back at chin or jaw length with minimal layering and color them in an icy platinum blonde hue. Simply wow!
29. Layered Short Stacked Bob
To get some lift out of your hair, choose a stacked layered bob. Lots of short layers at back will create volume while longer pieces at the front will still make you feel girly.
30. Asymmetrical Short Bob with Layers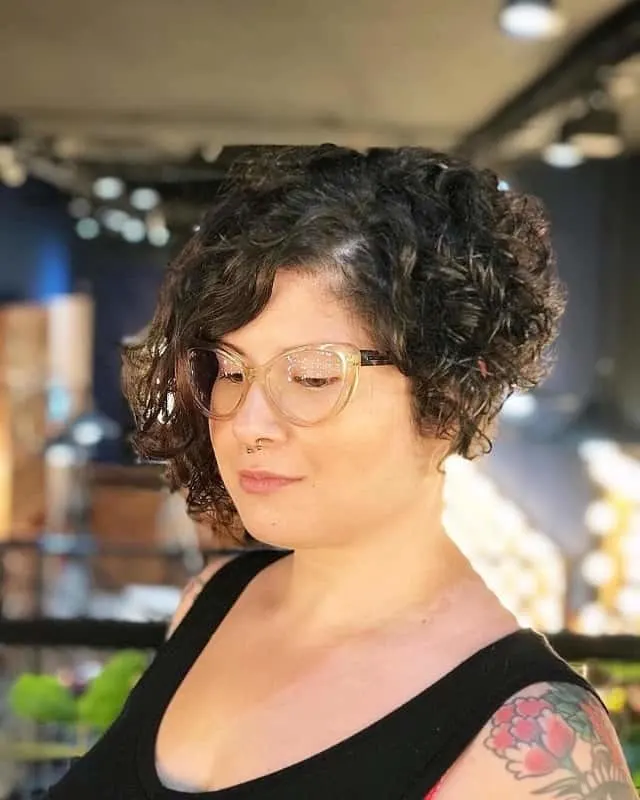 Asymmetrical short bobs suit any face shape but are especially flattering for round faces because the uneven balance is distracting. For curly hair, it's a good option for getting rid of bulk and heavy hair.
31. Short Choppy Layered Bob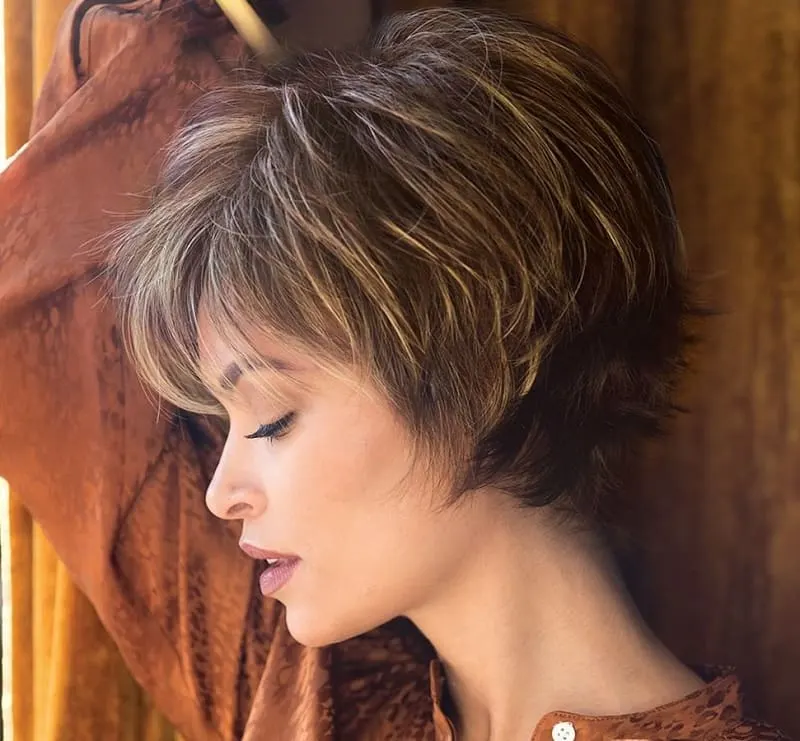 Women with thin hair will love the way a short choppy bob makes your hair feel fuller. A mix of caramel and blonde hair color will also play tricks on the eyes while a piecey bang finishes framing the face.
32. Layered Short Curly Bob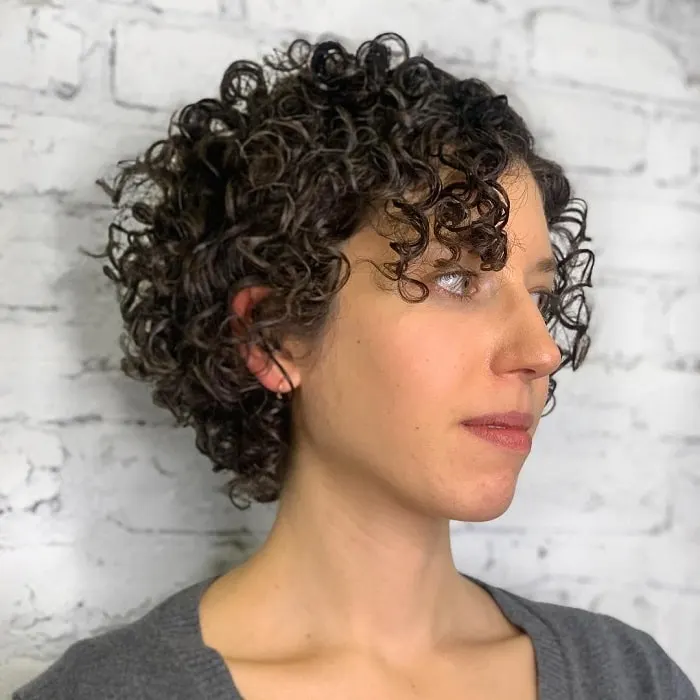 A layered short curly bob is a perfect balance between a pixie and a shoulder-length cut. You'll still have hair long enough to pull back for fancy occasions but it'll be out of the way and stylish even if you don't.
33. Layered Short Angled Bob
Fine or thin hair would do well with a short angled bob. Layers and a side part create a built-in style so all you'll have to do is run a brush through in the morning.
34. Short Layered Wavy Bob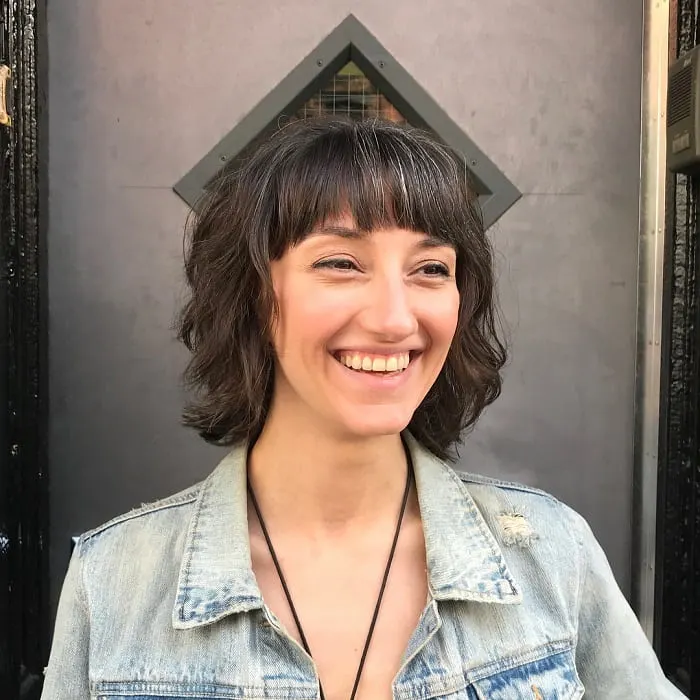 Combine straight bangs with the layered wavy body for a bob that'll have you feeling young and trendy no matter what. Quick trims for ends are all you'll need to maintain this style.
35. Short Layered Bob + Side Bangs
A layered bob with feathered bangs borders on pixie-like but you'll love how it makes you feel flirty and feminine. You'll dazzle at any outing, casual or upscale.
After seeing these 35 short layered bobs, you're bound to see a hairstyle you like. Pair your favorite one with side-swept bangs, baby fringe, or bangs that come straight down to meet your eyes for a look that's rounded out. Or, keep your bob bang-free and part hair in the center or at one side for a totally different take. The choices are all yours!