The curly wolf cut combines the edginess of a wolf cut with the natural beauty of curly hair. This low-maintenance style can be easily tailored to suit your unique curl pattern and texture.
Cutting curly hair is a delicate and tricky operation because you need to follow the pattern of the curl to achieve the best look for those ringlets. Layers are your best friend when aiming for a relaxed cool look that adds value to your ringlets. Wolf cut for curly hair will create a high curl definition, and you will end up with one of the most popular hairstyles from the past years.
Modern Wolf Cuts for Curly Hair
If you live and breathe fashion and love to be on top of trends, go see your hairstylist and ask for a sunning wolf cut for your curly hair. Take inspiration from the below list.
1. Teal Curls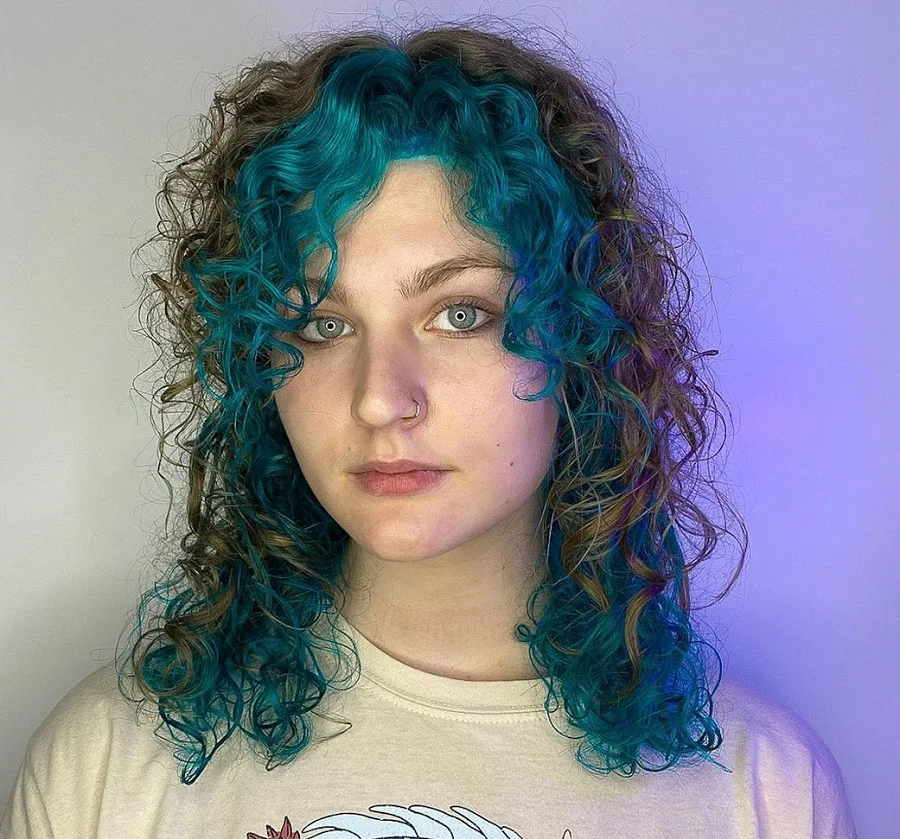 This curly wolf cut amazingly incorporates natural nuances and a striking teal color for the bangs. Those peek-a-boo lowlights beautifully pop on the sides and in the back, emphasizing the eye color.
Using styling foam is ideal when you want to make those ringlets look slightly wet and tight.
2. Soft Fine Curls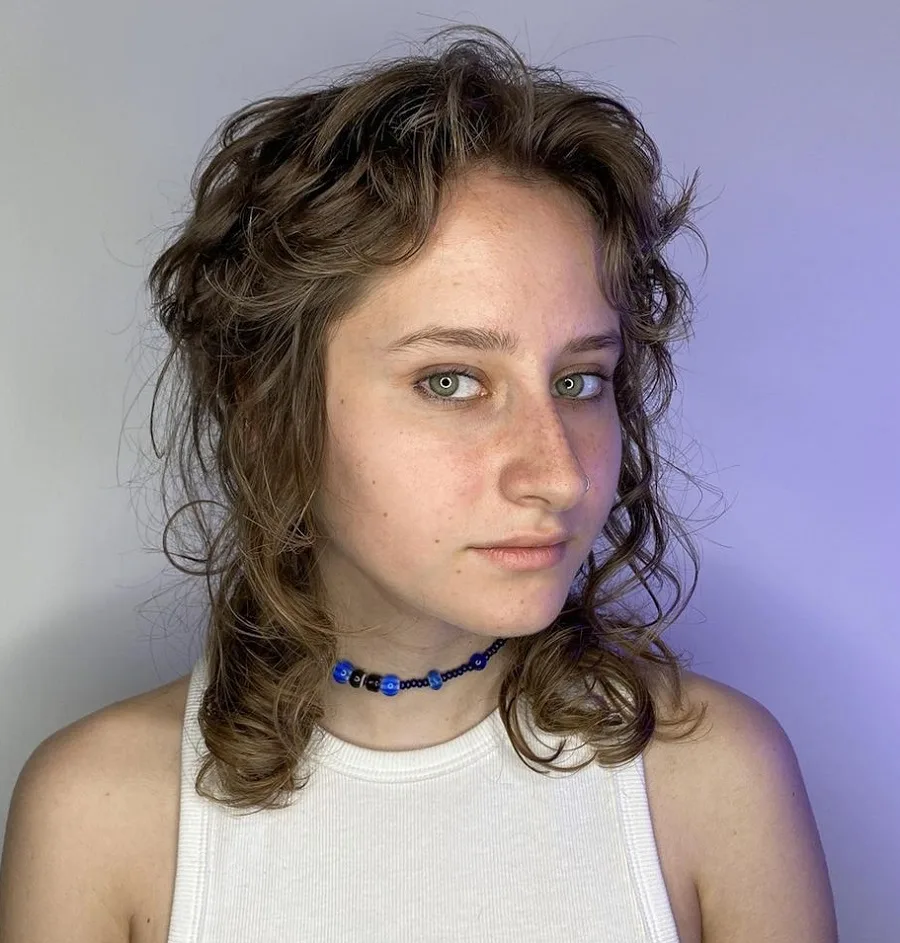 A shaggy wolf cut can totally transform the way your fine hair looks. It will provide more texture for the longer pieces and a volumizing look for the upper part. Short layers for the top can be tousled, and bangs will look fabulous if you split them in the middle.
3. Beachy Wolf Cut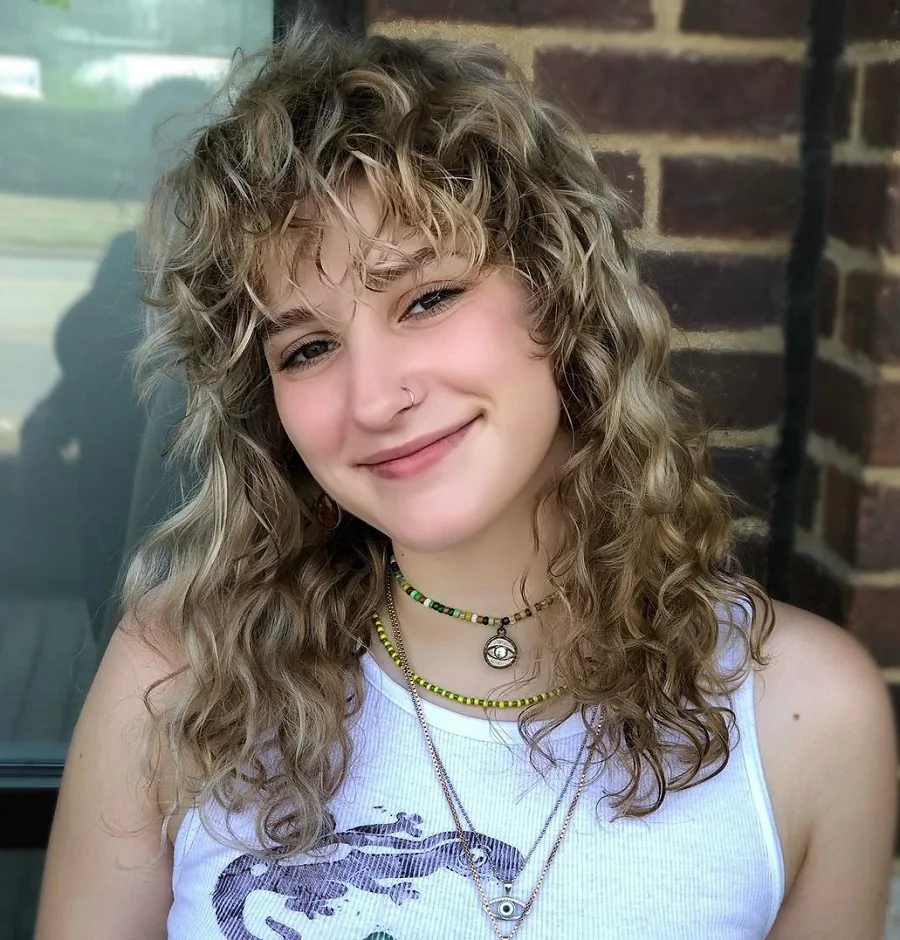 Warm blonde highlights look their best then you have a sandy brown natural color. They individually stand out and give you that beach vacation look that we all crave during summer.
The curly haircut is concentrated in the apex, with long bangs that cover the forehead and length for the back and laterals.
4. Short Bangs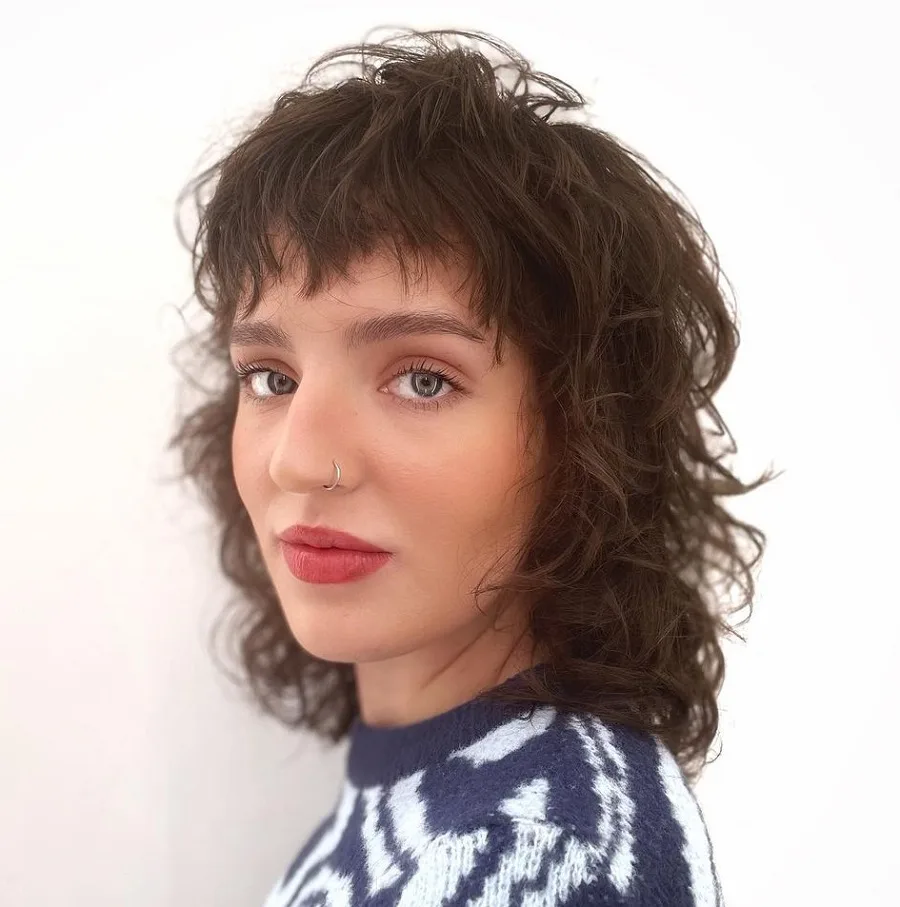 One of my favorite wolf cuts for curly-haired women. A great way to build a stunning face contour is by choosing a dark hair color that creates a great contrast between your skin tone and ringlets. Show off your beautiful facial features with short choppy bangs cut one inch above the eyebrows.
5. Shadow Roots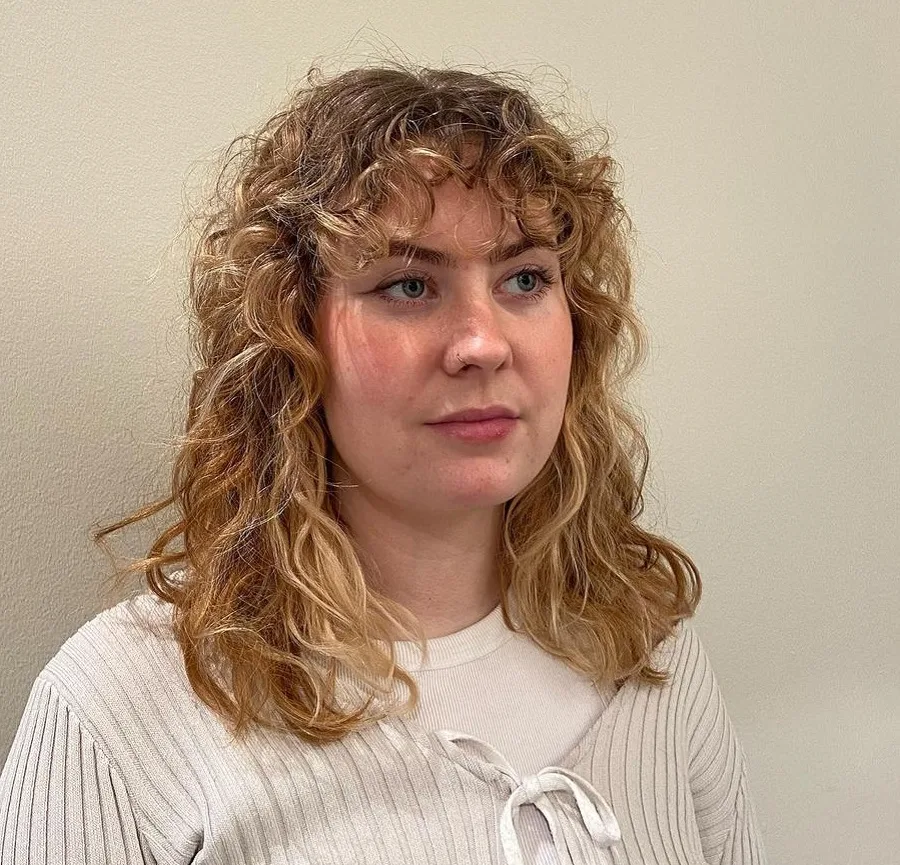 Such tight and loose curls work so well with a mix of blondes and warm browns, illuminating your face and adding that beachy vibe.
If you have a prominent jawline, we recommend you wear your wolf cut hair long, over-the-shoulder line. This trick will slimmer you and make your face look elongated.
6. Wolf Cut for Black Girls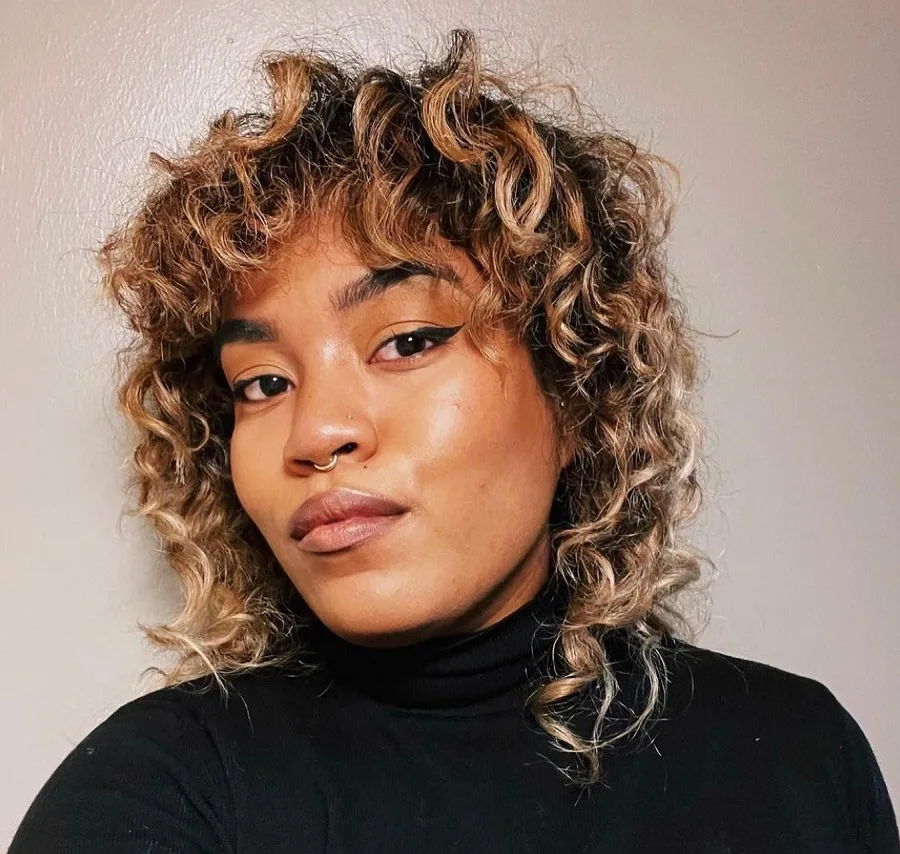 When you add such a beautiful caramel blonde hair color, you create a halo look that amazingly warms up your face. It also creates a beautiful contrast with rich melanin skin and gives each curl personality, more texture, and a piece of the spotlight.
7. Dark Copper Chop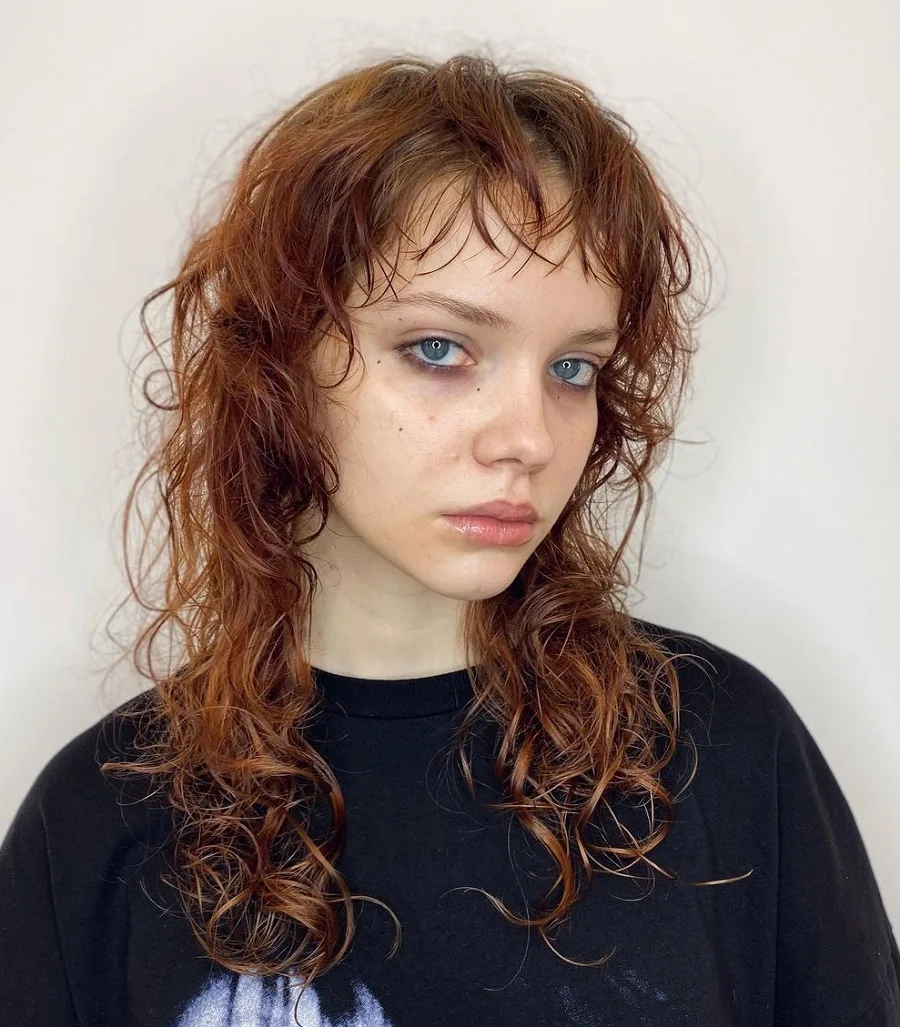 Curly wolf cuts amazingly define your waves and ringlets, even if you have thin hair. Use a curling mousse to give your tresses more texture and glamorously wear that wet look.
As for the bangs, part them in the middle and wear them on the forehead.
8. Asian Wolf Cut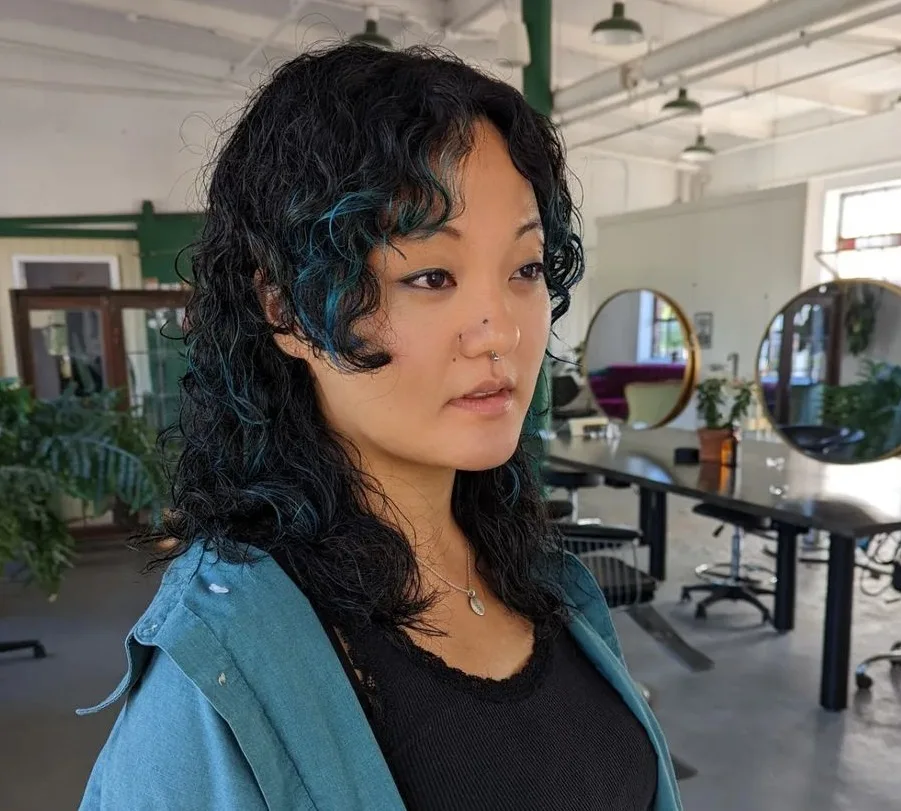 Getting vivid blue thin highlights is a great way to make your curly Asian hair look like it is glowing from within. Go for layered bangs that reach the cheekbones and part them in the middle. Define the waves with hair foam.
9. Half and Half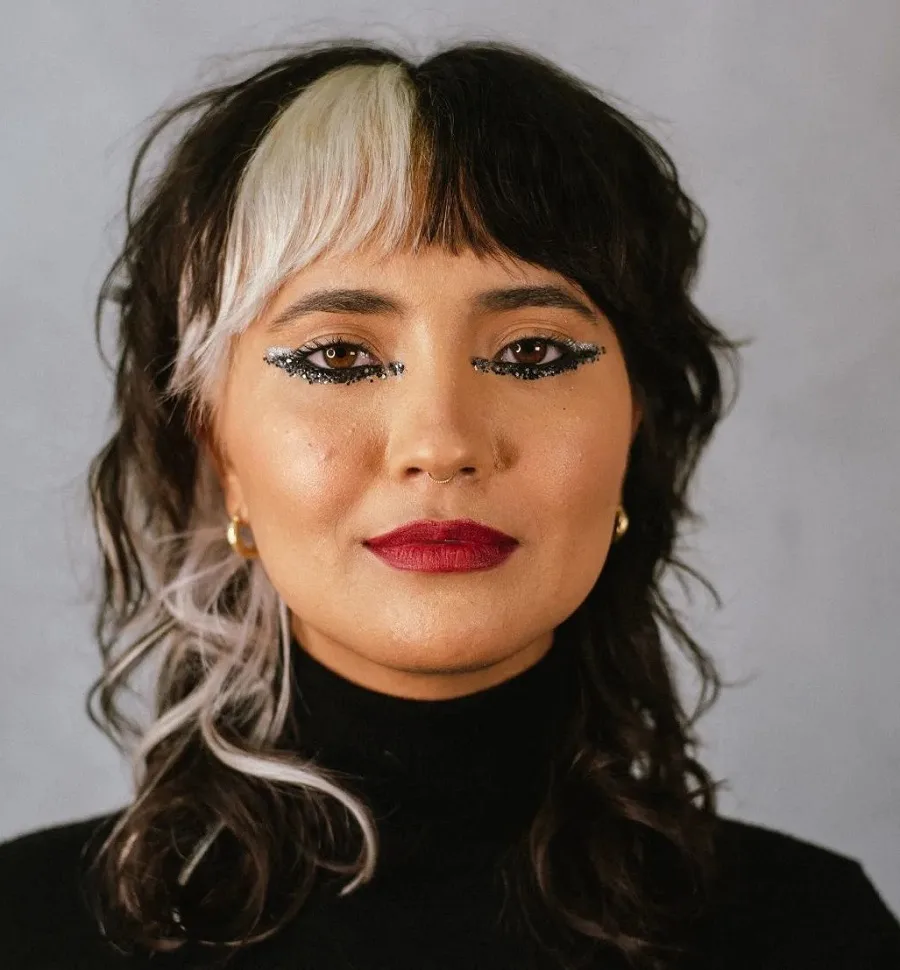 Bold girls who love being in the spotlight will definitely adore this duo-color wolf hairstyle. Section the bangs in two even pieces and select a small hairpiece from the corner of the forehead and sideburns.
Use bleach to strip all colors and a gray toner to obtain that white icy look. The contrast and extravagance are undeniable!
10. Face-framing Highlights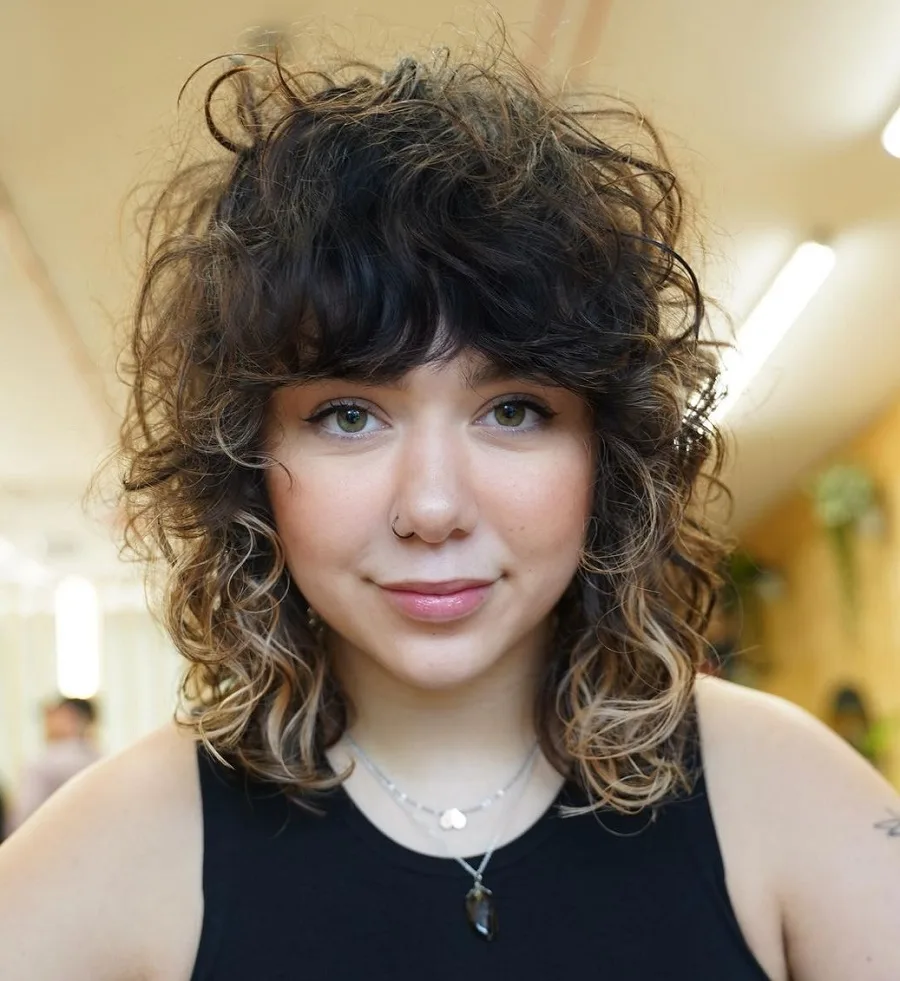 A curly wolf cut looks amazing at all lengths. Warm up your look with fine blonde highlights with bangs that cover the forehead. Add the color lower on the strands, just to add that glow.
11. Long Curly Layers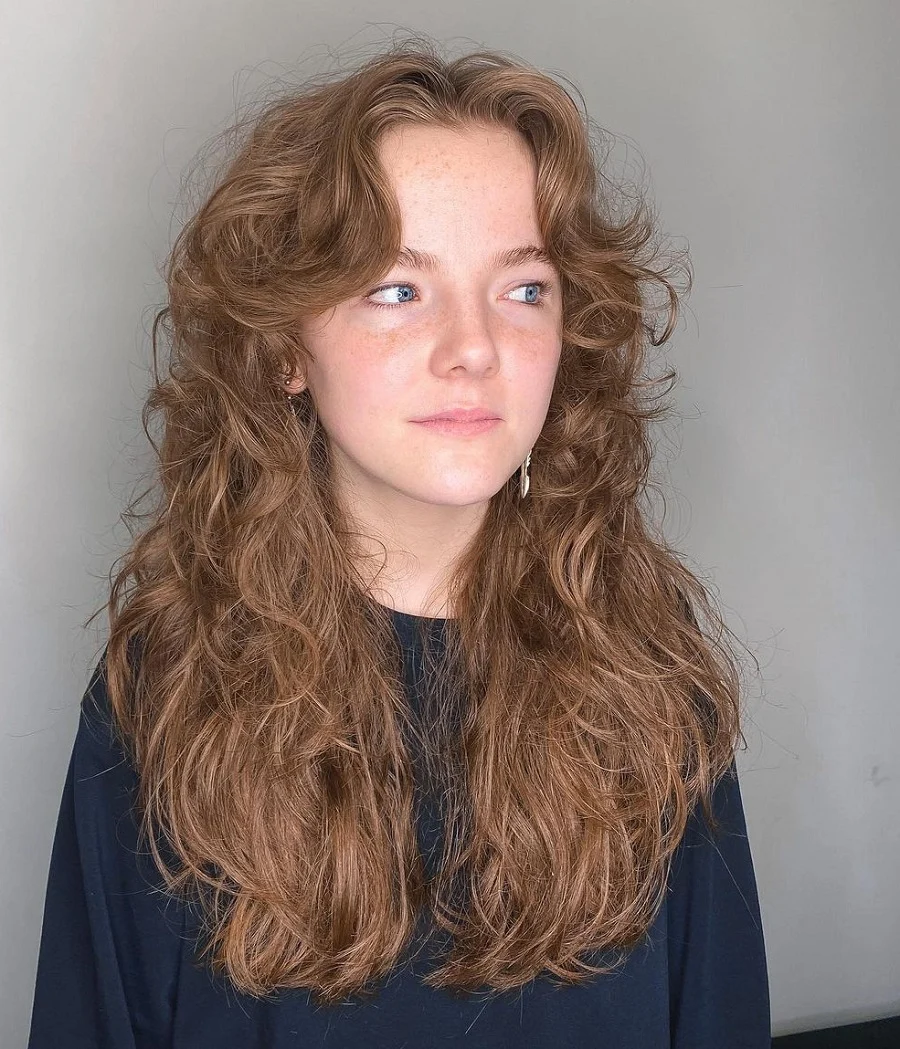 The bangs are one of the centerpieces of this wolf haircut, and you will need to make them look flawless every day. To achieve that S shape with tips going outwards, you can roll the fringe on a large rod and blowdry it.
It will have the desired texture and shape, matching the rest of your layered messy locks.
12. Bright Red Curls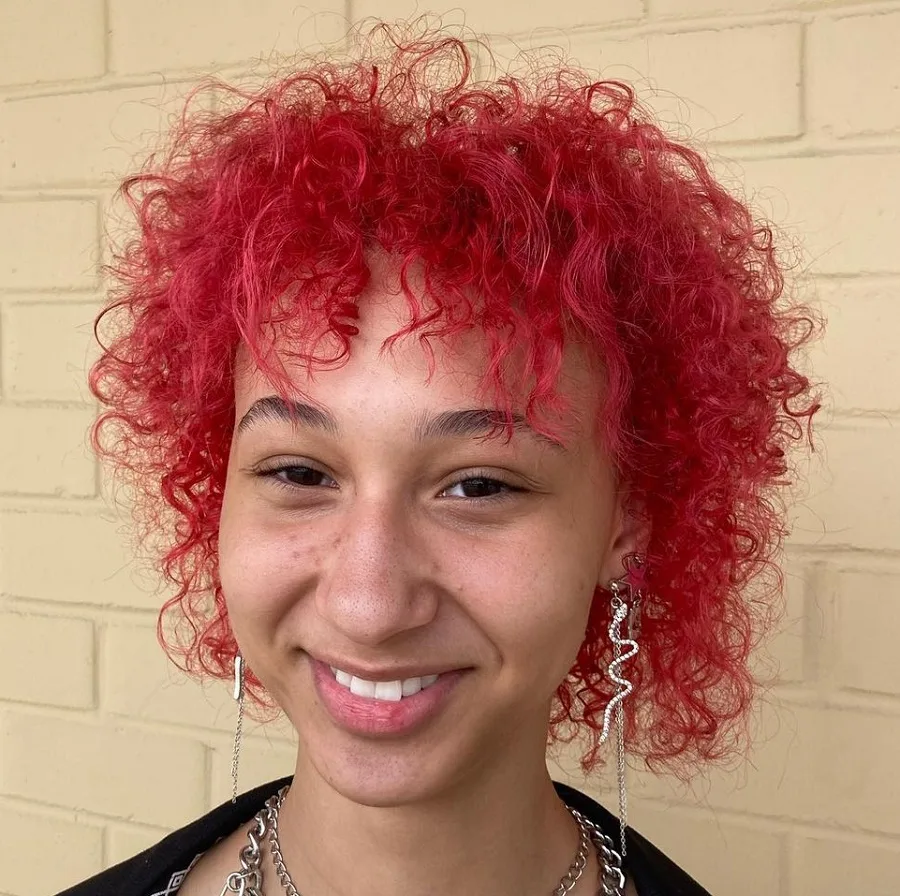 One of the most mind-blowing things about wolf cuts is you can adapt them to all types of hair. They look stunning on straight, curly strands and even coarse hair.
To obtain some definition, use a mousse that also nourishes your hair and gives it the shape you desire.
13. Shaggy Wolf Cut + Underdye
Those careless, casual shaggy waves will reach their full potential the moment you choose to get a wolf cut. If you love having all eyes on you, then you'll love a color combination between a pale gray and a coral nuance.
14. Extra Top Volume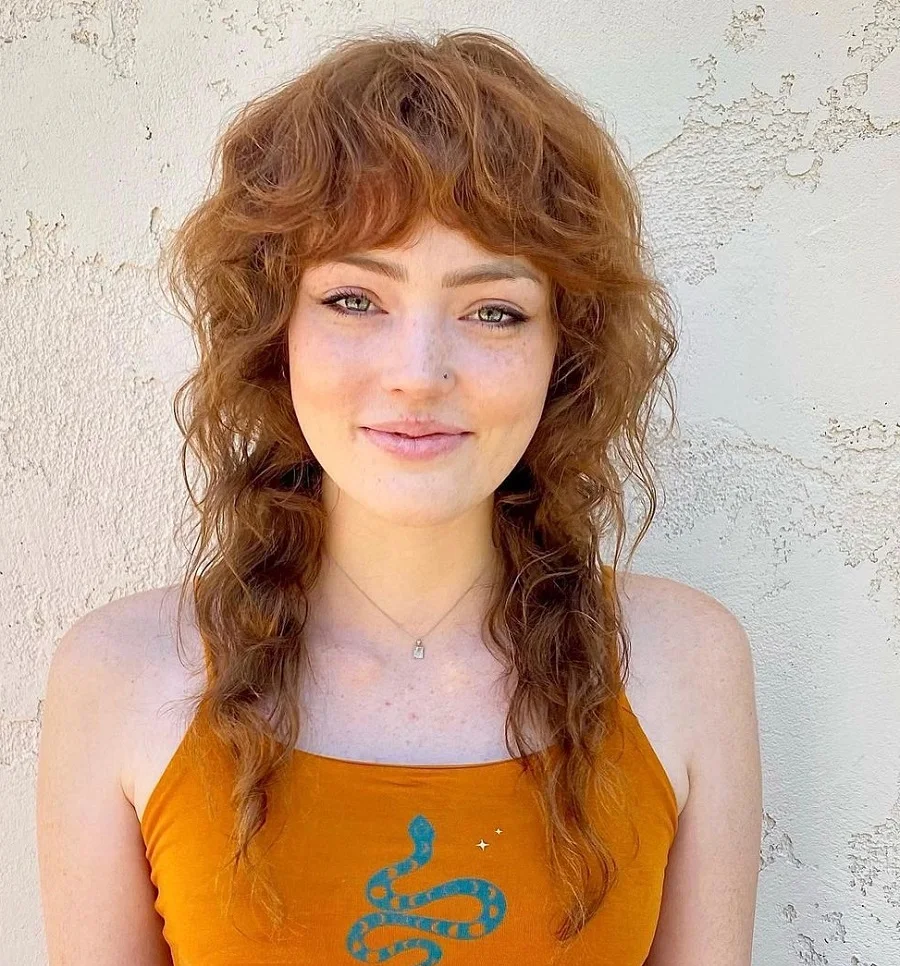 These layers add a volumizing effect to the top, while those long mullet pieces give you the desired length. The hair color is a mild copper brown, very natural and sweet.
To recreate this wolf cut on your curly hair, you should get bangs that you will part in the middle and wear on the forehead.
15. Messy Loose Curls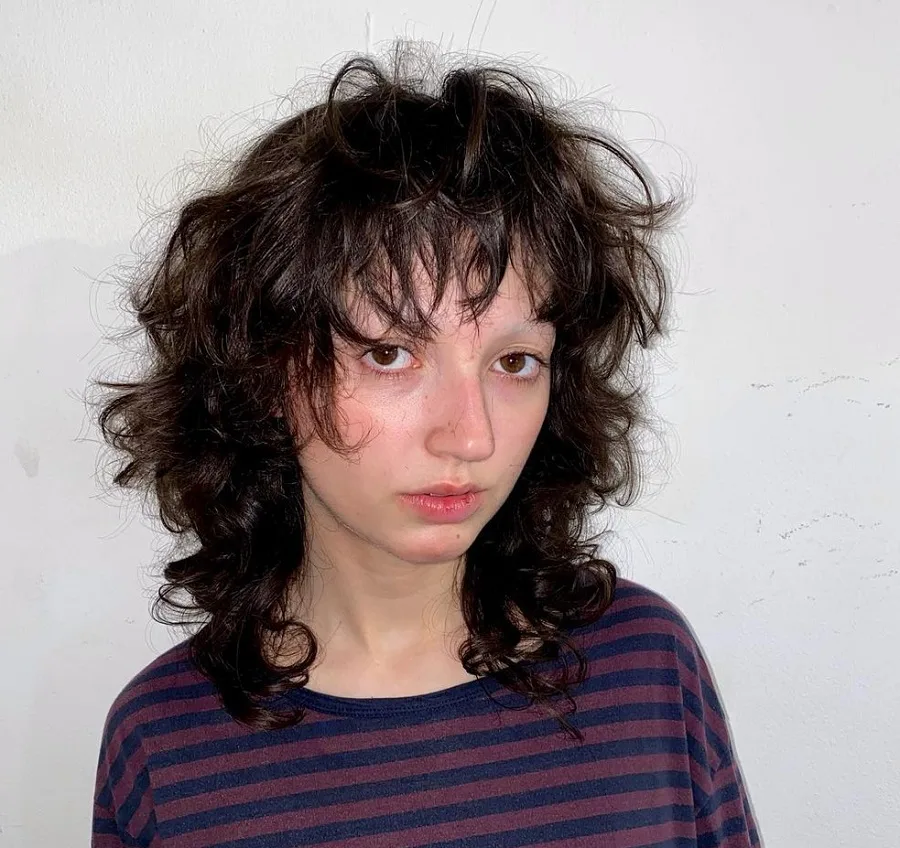 Feathered straight bangs make a fabulous team with messy curls and waves. They direct all the attention to your eyes, while those rebel curls do their job of creating more dimension and volume.
One of the perks of this haircut is that it doesn't require too much styling. Give it a tousle, spray some volumizing products, and you're good to go.
16. Short Curly Bangs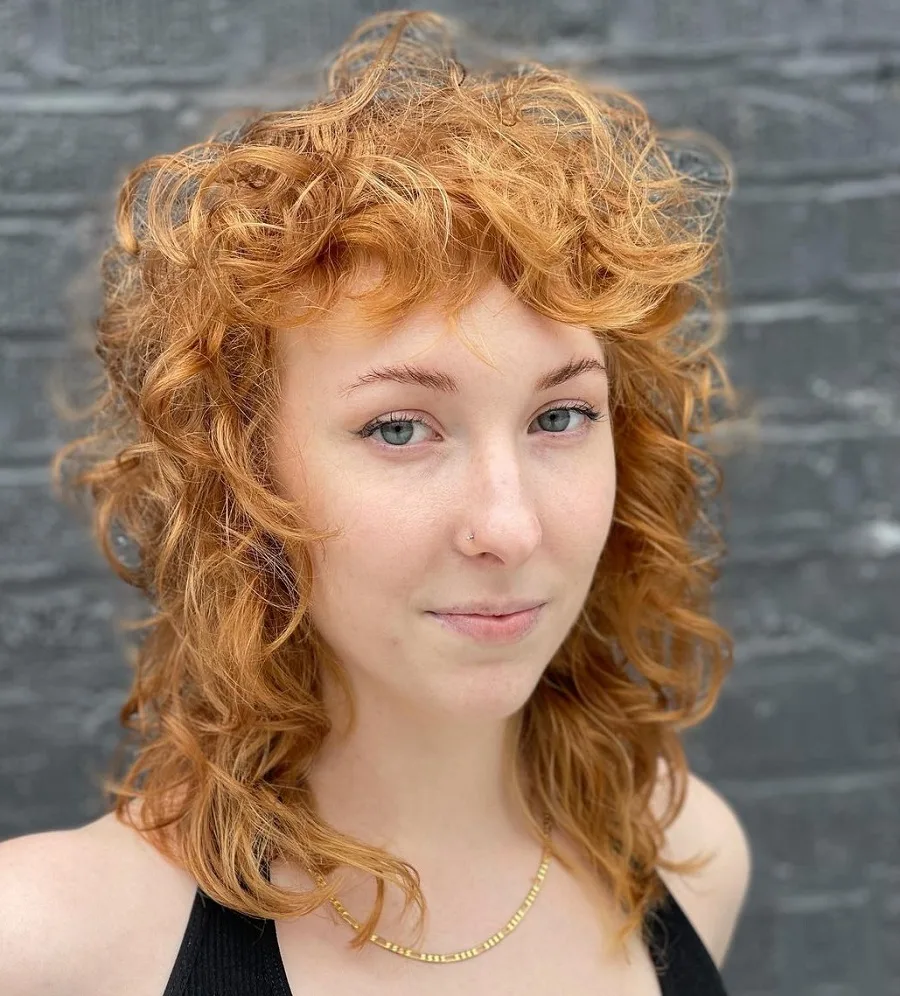 Your hair color plays such an important role, so if you have fair skin with pink undertones, choose this warm copper-blonde nuance.
Pair it with a wolf cut with short curly bangs that draw attention to those ocean-blue eyes.
17. Split Hair Color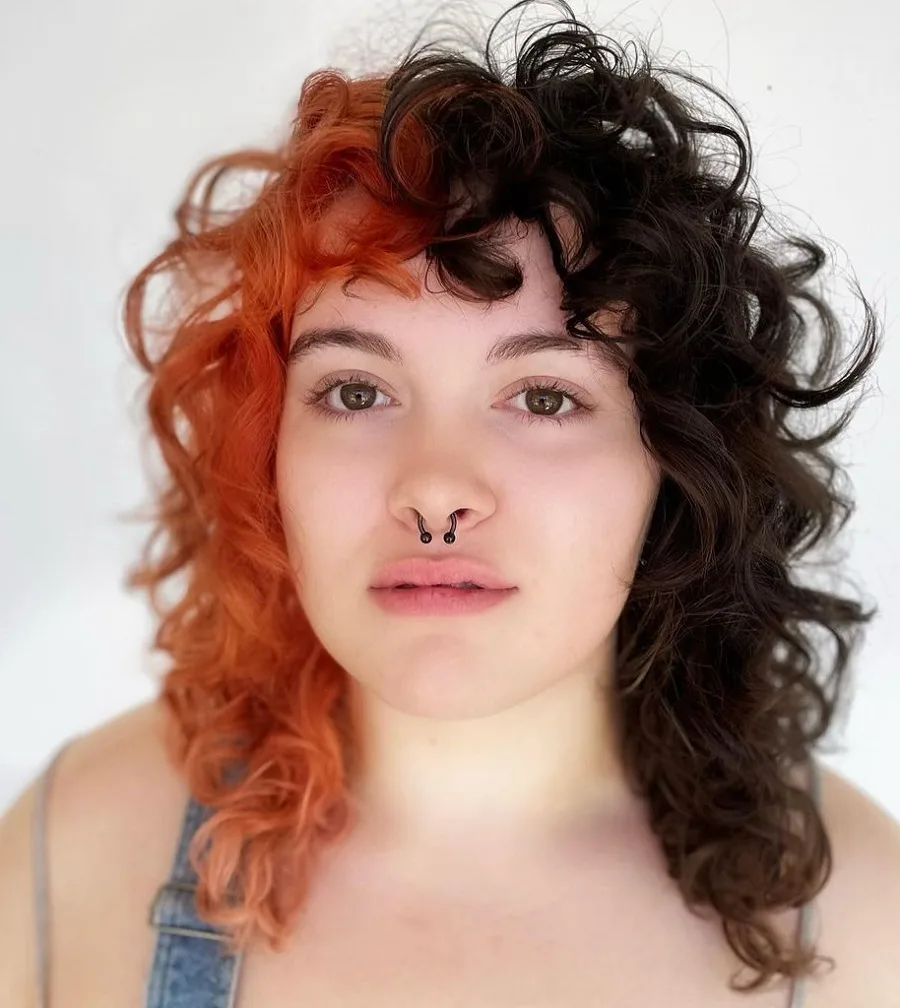 Duo-colored hairstyles are highly popular at the moment and so versatile since you can combine two lovely colors that suit you and fit together very well.
Build lots of layers to obtain that fantastic bounce for your ringlets.
18. Halo Curls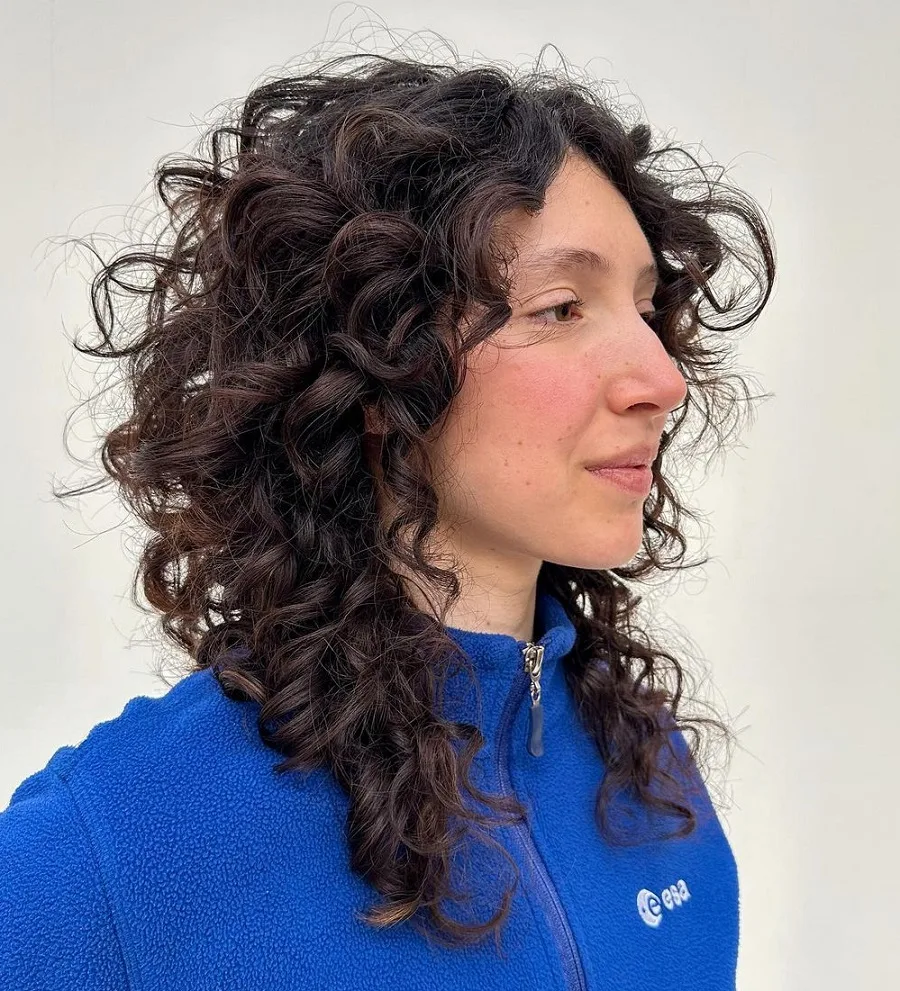 When you think about a combination between a shag and a mullet, you don't expect it to look this good, right? But the curly wolf cut never stops to amaze us, especially when chosen for very textured hair.
It has all the right ingredients, layers, great face-framing, and all the volume you can ask for.
19. Wolf Cut for Chubby Faces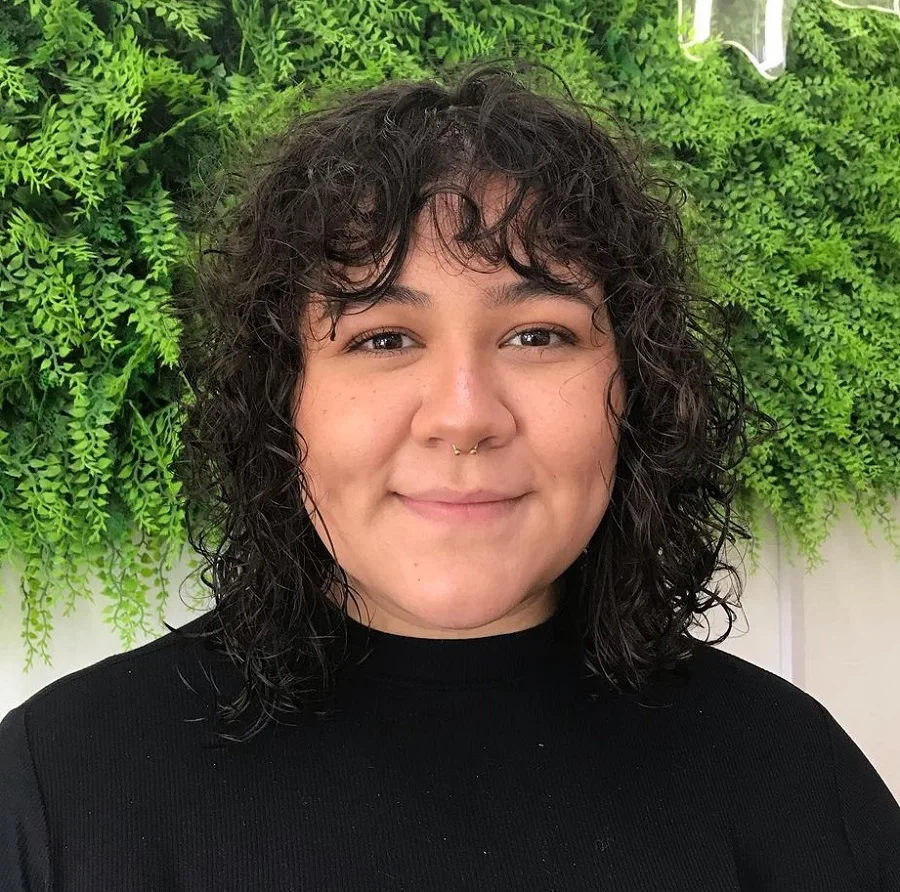 When dealing with a chubby face, make sure your curly haircut is longer than the jawline. It has a desirable elongating effect that diminishes those prominent cheekbones.
Use a curling mousse to give your ringlets a more texturized aspect. Make it looks messy by tousling your curls with your hands.
20. Shoulder Length Curls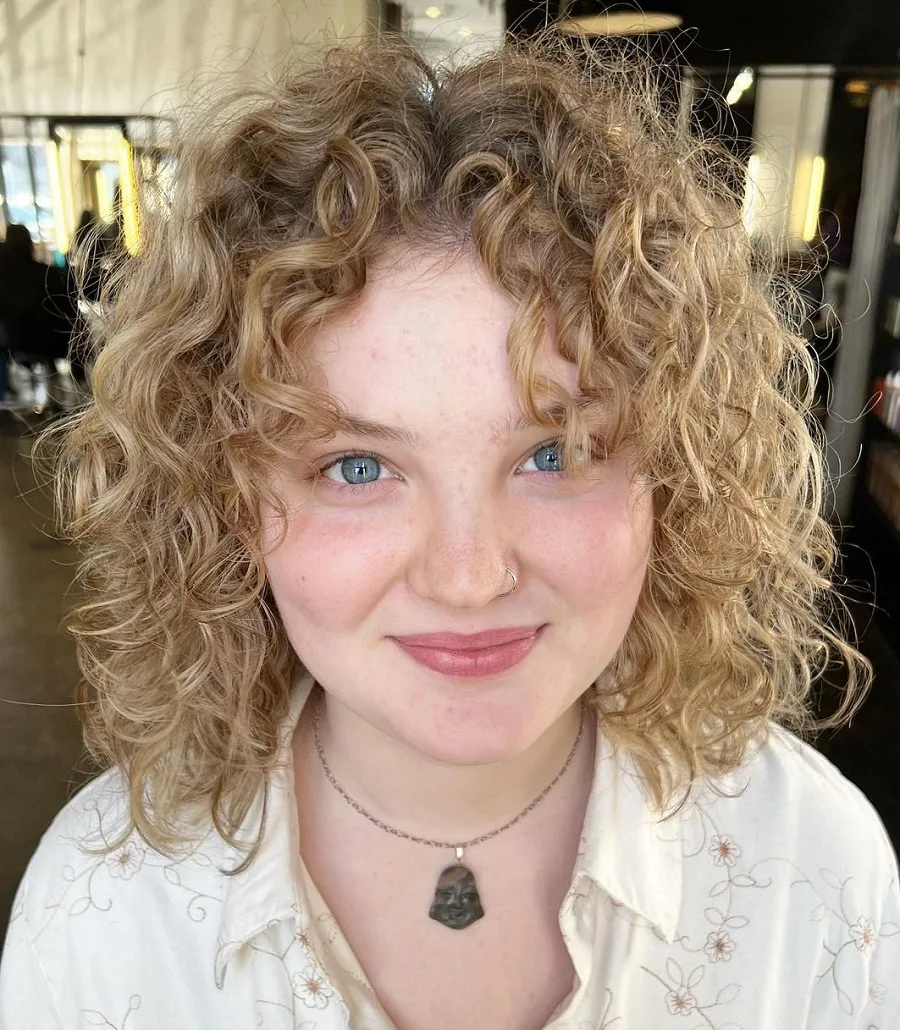 This combination between a bob haircut and a wolf cut is looking absolutely gorge! Layer those ringlets and work with their curling pattern.
If you have a round face, any bangs will suit you. Choose a middle-parted fringe with longer pieces in the corners of the forehead.
21. Blonde Highlights on Brown Curls
Opt for a brown base color for your curly wolf cut and warm it up with some blonde highlights. This way, your waves, curls, and layers will gain that gorgeous, emphasized look.
How to Maintain your Curly Wolf Cut
By following a few simple styling and maintenance tips, you can keep your curly wolf cut looking fresh and fabulous.
Find a skilled hairstylist who is an expert in cutting curly hair. They'll help you pick a curly wolf cut tailored to your curl pattern and texture.
Use sulfate-free shampoos and conditioners to preserve your hair's natural oils and hydrate your curls.
Invest in a high-quality leave-in conditioner or curl cream to enhance and define your curls.
Finger-comb your hair instead of using a brush or wide-tooth comb to prevent frizz and breakage.
Dry your hair using a microfiber towel or a cotton T-shirt to minimize frizz and protect your curls.
Incorporate regular deep conditioning treatments into your hair care routine to maintain moisture and hair health.
Get regular trims every 6-8 weeks to keep your curly wolf cut in shape and prevent split ends.
Experiment with different styling techniques, such as scrunching or twist-outs, to accentuate your curls and add texture to your wolf cut.
Use a silk or satin pillowcase to reduce friction and frizz while you sleep.
Curly wolf cut is still a sensation in 2023, and it would be a real shame not to take advantage of its numerous perks. It's very popular, gives your curls the bounce and attention they deserve, and requires minimal styling. Try it on; we guarantee you'll never get tired of it.