A bob cut with curtain bangs combines the classic bob's effortless elegance with the soft, face-framing appeal of curtain bangs.
For many fashionistas, framing the face with suitable bangs is a must when getting a classic bob haircut. And while there are so many fringe styles, curtain bangs have left all other types far behind.
These bangs fall on both sides of the face just like curtains on a window. They are long and tapered, blending seamlessly with the remaining hair. So if you are thinking of refreshing your look nothing can be better than combining a timeless short haircut with retro-chic fringes.
Although all the following styles feature bob with curtain bangs, each one is unique in its own way.
Modern Bob with Curtain Bangs
The key to achieving the perfect bob with curtain bangs look is in balancing out the lengths of your bangs and bob while highlighting your best facial features.
1. Middle-Parted Silver Bob
Straight bobs parted down the middle look flattering without a doubt. Still, in case you get bored, break down the bluntness by framing the face with a soft curtain fringe. A platinum silver hair color with pastel green roots is a must-try for those who love a frosted look.
2. Blunt Cut with Natural Ombre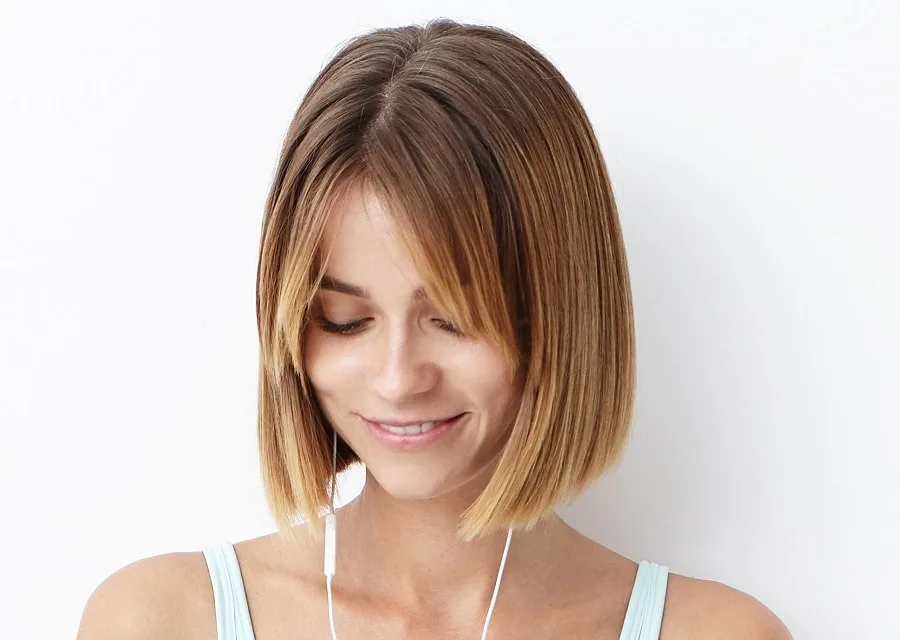 Say no to layers if you are blessed with silky straight tresses. Cut the strands uniformly at chin length and balance them out with layered bangs falling at cheek level. The key to achieving a seamless brown to blonde gradient lies in blending the colors perfectly together for a natural appeal.
3. Fully Feathered
70's volume-boosting feathered layers have made a strong comeback this year and it would be unfair not to try them when getting a bob with curtain bangs. This look is ideal for elderly ladies featuring short layers and wispy ends. A good blowout is all you need afterward.
4. Curly Curtain Bangs
Curly bobs don't surprise anymore but curly curtain bangs surely do! Opt for soft layers with brow-length coils at the front and let your curls bounce freely. Take a step ahead and lighten your mane into a warm blonde hue with shadow roots. You won't regret it!
5. Soft French Bob
French bobs are a cropped version of classic bobs with the hair falling anywhere between the chin and jawline. Consider getting sparse bangs to avoid a suffocated look. The short strands bend around the face naturally requiring no styling at all. Just brush your mane and you are ready to go!
6. Flip-Worthy Sides
Short strands elongating outward resulting in feathered sides are the best part of fringe bangs. Add them on a blunt chin-length bob with a soft texture to flaunt your best facial features. Flip the ends towards the back using a barrel brush when blow-drying the hair.
7. Flawless Swoops
Make your middle-parted fringe look like literal curtains draped away from a window by sweeping the strands across your brows. Set them in place with some gel keeping the remaining hair perfectly straight. A platinum blonde hair color takes the look to a completely different level.
8. Short Curtains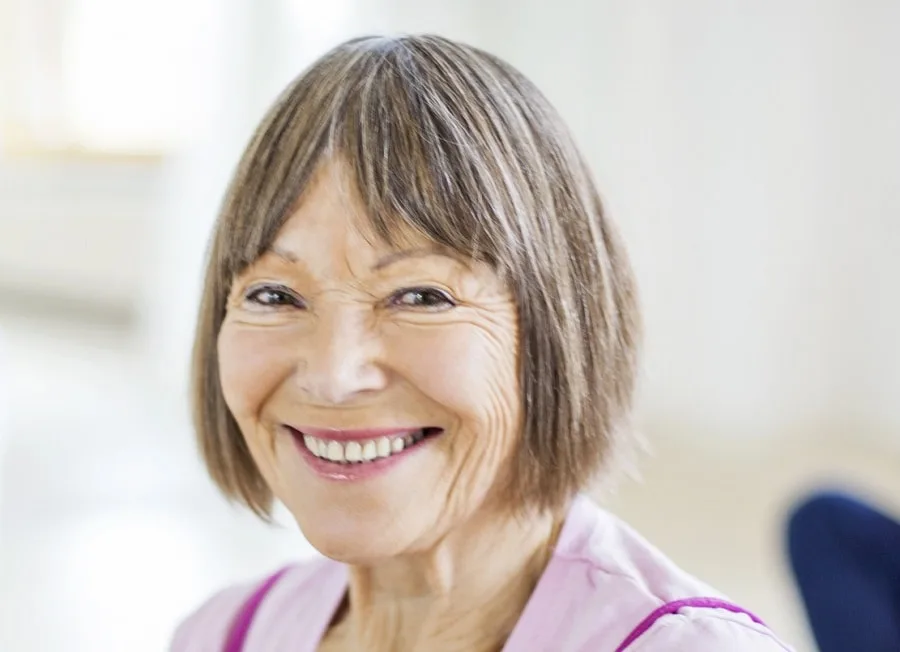 Bob with bangs is an ideal age-defying hairstyle for ladies getting on in years. Instead of going for a straight fringe, cut the strands slightly at an angle to frame the face while hiding those forehead wrinkles. Experiment with a stacked bob for an ultra-chic look.
9. Subtle Definition
Asian ladies can take a break from their thick dark tresses with a neck-length chop. Achieve soft definition with subtle texturizing layers and barely-there bangs. Tuck the tresses behind the ears sparing the front ones to frame the face flawlessly while hiding your chubby cheeks for an instantly smart look.
10. Sharp Disconnection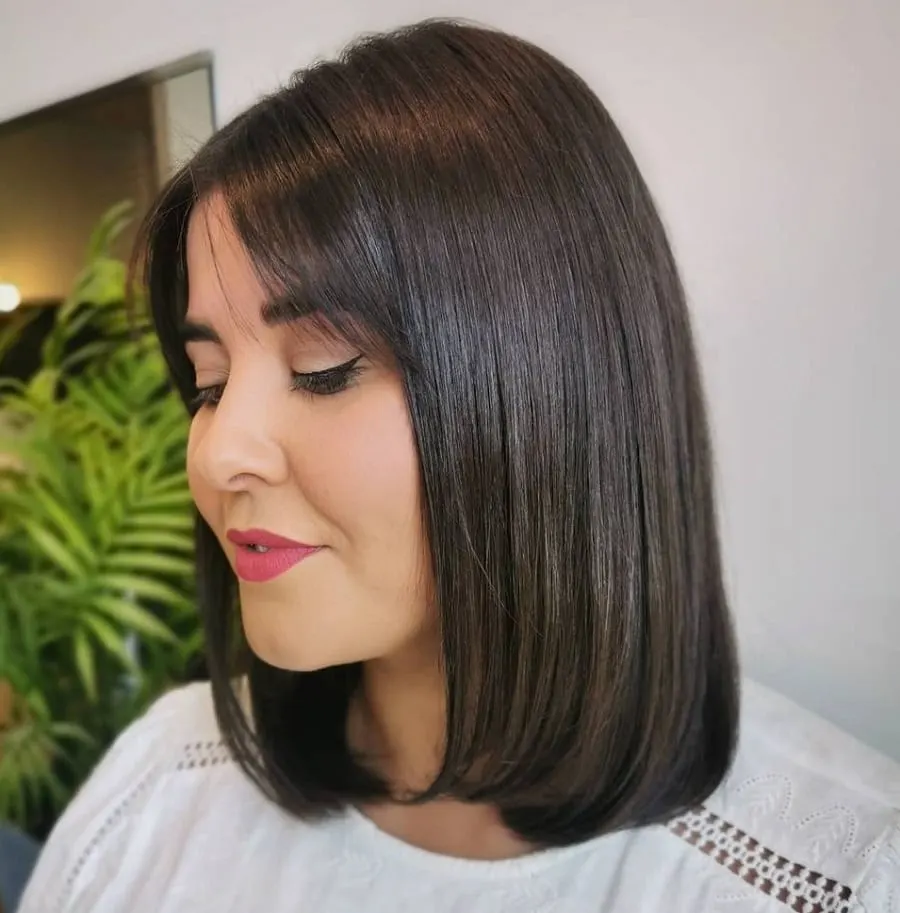 Bob with curtain bangs can either blend together seamlessly or stand prominently apart depending on the length you choose. To achieve a sharp disconnection, opt for a shoulder-length bob, commonly known as a lob, with angled bangs falling just above the eyes. The longer the bangs, the softer the look.
11. Half-Up Bun + Balayage
Balayage has left highlights and usual ombres far behind and for all the good reasons. Ask for hand-painted milky blonde streaks that concentrate towards the ends and let those dark roots emerge without worry. Show off your new look with a cute half-up bun hairstyle. Simply stunning!
12. Laid-Back Choppy Bob
Choppy bobs are a statement look for those who want to give off some strong 'short hair, don't care' vibes. The mane is broken down into chunky portions with uneven layers producing an edgy texture. Get your favorite brown shades and merge them together to get the perfect ombre effect.
13. Bardot Style
Brigitte Bardot is the true icon who set curtain bangs into trend hence they're also known as Bardot bangs. Here is a curly version of the fringes with the shortest pieces falling at eye level and elongating away from the face. Complete the look with some bouncy shoulder-length layers.
14. Two-Toned Beauty
Brighten up your face by coupling a classic bob with curtain bangs with a not-so-classic hair color. The bangs end between the brows and eyes with a blunt lob dangling above the shoulders. Lighten the hair midway to the ends only to create a two-toned mane that is impossible to ignore.
15. Medium-Length Fringe
Rather than dragging down your oblong face further with lengthy tresses balance it out with a mid-length bob. When trying out curtain fringes for the first time snip them at medium length to stay on the safer side. You can always trim them further or grow them out in a shorter period.
16. Wispy Layers
Wispy layers are suitable to take away excess bulk in the case of thick tresses making them appear light and airy. Cut the strands at an angle to achieve feathered tips with dramatic bangs at the front parted slightly in the middle. Finish off with soft waves.
17. Messy Razor Cut
Get a rock-n-roll look with a razored bob rather than a usual scissor cut to achieve jagged edges and wispy sections. Also, instead of a straight bob, consider getting an angled one with a short back and a long front. Throw in some beach waves and tousle them around for a messy yet sexy finish.
18. Color Split
Looking for something funkier? Here's a look that's definitely not for the weak-hearted. After getting a blunt bob with fringe bangs, ask the hairstylist for a color-blocked mane by highlighting the entire front using the brightest shades available including this eye-popping yellow with a hint of orange at the roots.
19. Highlighted Bottleneck Bob
Bottleneck bob is the perfect name for a bob with curtain bangs. The strands are short and slim in the middle, like a bottle's neck, and are layered to spread out farther around the face, the bottle's body, to merge gradually into a bob instead of a sharp transition. Toss in some ashy babylights and done!
20. Perfect Angle
Angled bobs are defined by a short back, with or without layers, that elongates towards the front. The graduation can be subtle or steep and while such cuts look best without bangs cutting the front strands at a similar angle can result in a completely new hairstyle.
21. Front Graduation
Want movement around the face without losing further length? Separate a bigger portion of the hair at the front and instead of cutting the strands at nose level continue snipping at an angle all the way to the end to achieve curtain bangs-cum-front layers in no time.
22. Barely-There Bangs
As mentioned earlier, the longer your fringe bangs, the less noticeable they become making them a safe play for women who are reluctant to step into the world of bangs. Soften the look further by snipping the hair at a smaller angle.
23. Tousled Texture
Ladies with a slightly wavy or curly hair pattern can maintain a lived-in look with a subtle texture achieved by cutting the ends softly rather than opting for full layers. Apply texturizing spray and scrunch the hair with your fingers. A bit of a mess is the ultimate objective here.
24. Shaggy Curtains
Turn your bob with curtain bangs into a super sexy shag with multiple choppy layers and blunt ends all over the head. Flip away the fringe parting it just above the brows to get an iconic Brigitte Bardot look and add curls to the remaining mane.
25. Dip-Dyed Bob with Curtain Bangs
Bobs are a lifesaver for women with thinning tresses. Turn yours into one of a kind by experimenting with the much-trending dip dye technique involving coloring the tips of the hair only for a funky two-toned look.
Both bobs and curtains bangs are said to be low-maintenance but still require considerable amount of styling to bring out their true beauty. Get a look that goes with your natural hair texture to minimize the use of heat tools. You've got countless options to choose from so what's the waiting for?