A beehive hairstyle appeared in the early 1960s. The first beehive hairdo was created by a respected hairstylist Margaret Vinci Heldt from Chicago. The editors of a popular Modern Beauty Salon magazine asked Margaret to come up with a special hairstyle that would reflect the 1960's decade.
So, Misses Heldt created a high hairstyle that resembled a beehive! The beehive hairdo gained a lot of popularity in the 1960s in and outside of the USA. It remains an extravagant style that reminds people of the 1960s era.
Beautiful Beehive Hairdos for Women
A classical beehive is very easy to make. The comb is run back and forward along the hair to create an effect of a large knot. Then the knot is slightly combed over in order to make the hairstyle neater. The size of the beehive hairdo depends on the length of the hair. Girls with long manes can create the most impressive beehive hairstyles.
But even if you have short hair, you can come up with a great low hairdo, that will look just as stunning. So, whether you are invited to a theme party or just want to impress your friends with an amazing hairstyle, the beehive is for you.
We have compiled a list of 40 beehive hairstyles to give you an idea of what this popular hairdo looks like. You can choose the one you like best and try it immediately.
1. Medium beehive with a ponytail
This beehive hairdo variation can even be worn nowadays. The upper part is not too high and is neatly arranged with the help of some hair gel. One strand is left down to make a thin ponytail, which is worn over one shoulder.
2. Modern beehive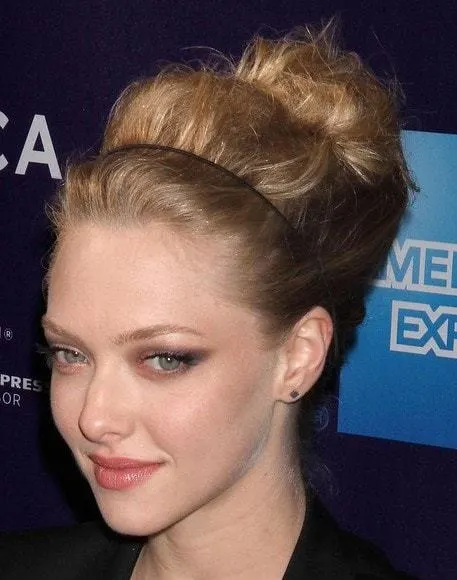 This modern beehive has 3 levels. When it is created, the hair is combed over backward and the front level is held by a headband. Such hairstyle can be made out of medium-sized or long hair. Attaching a weave can also be a good idea.
Staggering Teenage Girl Hairstyles We Love
3. High and curly
This high and curly hairdo reminds us of Marge Simpson from the popular cartoon show "The Simpsons". Women in the 1960's were trying to make their beehive hairdos as high as possible. And if the hair was long and curly, the effect was really voluminous and impressive.
4. Low beehive with bangs
This low beehive is created by running the comb from one side to another. The beehive will be low but very voluminous. Leaving bangs out is a smart idea since the hairstyle becomes much more interesting right away. This used to be a popular option for young women.
5. High hair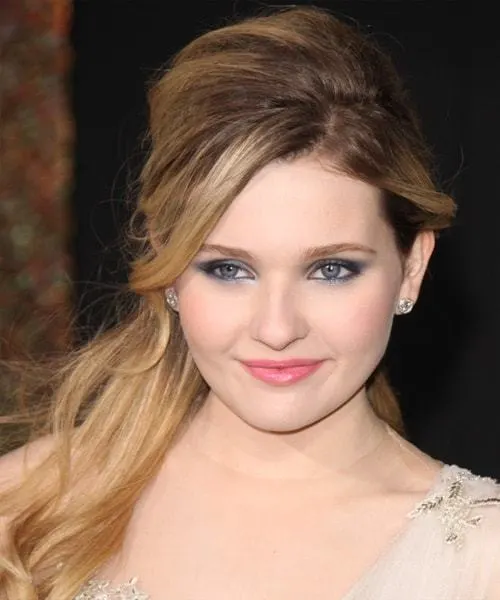 Another way to call a beehive hairstyle is "high" hair. This high hairdo is easily created by brushing just about 4 inches of the hair upwards and leaving the rest of the hair down. Such hairstyle will need some gel to stay intact.
6. Wedding beehive hairstyle
This amazing wedding hairstyle is something between a bun and a beehive. Women from the 1960s would have loved to sport such hairdo for their wedding. This beehive will need some professional help to make, but the result will be truly incredible.
7. The classics
Women with medium-length hair also sported beehive dos. In fact, they were considered the classics, since not many women usually have long locks to create something very high. The hair is brushed back and forth to create the volume. The bangs can be left out to make a contrast.
8. Amy Wine house beehive
Amy Winehouse made a beehive her signature hairstyle. She usually had something very exaggerated created on top of her head. Amy had really long hair, so she could experiment with making a high beehive and still leaving some locks hanging down.
9. Beehive replica
Women with short hair will appreciate this "copy" of the classical beehive hairstyle. In fact, it is a simple comb over style. The front part of the hair is brushed back and forth and combed back to create an impression of high hair.
10. Neat beehive hairstyle
The very method of the beehive hairdo making implies that it will be a messy style. However, there is a way to make it neat by arranging the upper layer of the hairstyle in a smooth way. Add a lot of hair gel and make a really stunning neat beehive.
11. Messy beehive
This messy beehive is great for women with short hair. The hair is swept upwards and only the top part is teased to create a beehive. The bottom and front are smoothed by hair gel. This hairstyle is great for special occasions where you need to make an impression.
12. Adele's beehive
This beehive is a great idea for girls with fine hair. The top part of the hair is brushed upwards and secured with hair gel. The rest of the hair is either left down or gathered up in a bun. The bangs are left loose and can be side swept.
13. Real mighty beehive
If you have really long hair, you can create a very mighty and impressive beehive. During the process you will need to use a lot of hair spray to keep each level intact. Most women would need professional help to make such a hairstyle.
14. Beehive wig
A real Marge Simpson's hairstyle is just impossible to create, even if your hair is really long. Great amounts of hair spray will not do the job holding it up. That's why women who need to look impressive, opt for beehive wigs. You can get one as high as you wish!
15. Blond and romantic
This blond beehive is a great idea for girls who want to make a romantic impression. The hairstyle shouldn't be too high. The beehive itself can be left messy. The bangs and the loose strands have to be curled up and made neat.
This awesome beehive blowout will look great nowadays. The secret to making a neat hairstyle is a lot of hair products. The headband is added to create an impression of a large bun. Such hairdo is great for special occasions.
17. Soft and low
A beehive can look neat and soft. All you'll have to do is use the blow dryer instead of a brush to make it. The hair is lifted about two inches above the hairline and arranged into a neat comb over. The bangs can also be lifted up a little to complete the image.
18. The real deal
If you want your hair to really look like a beehive, you will need to put in a lot of work. Such hairstyle is achieved by making a large bun and then arranging the teased hair around it. The longer your hair is, the larger your real beehive will be.
19. 1960s Beehive Hairstyle
If you want to look like a real 1960's diva, you can make this low and messy beehive on your own. The top part is teased and brushed upwards, then the hair is tied with an elastic band and the ponytail is swept over one shoulder.
20. The regal beehive
The regal beehive looks medium in height and is very neat. The upper part is arranged by working with each strand of hair to avoid messy appearance. The rest of the hair is left down. The bangs are long and side swept.
21. Simple beehive
This simple beehive will not have you teasing your hair with a brush. All you'll have to do is brush your main upwards, give it the shape you need and secure it with pins. If your hair is long enough, the result will look like a beehive.
22. Lifted beehive
This beehive is made by dividing your hair into two parts. Each part is lifted upwards and swept back to be clipped into a ponytail. The higher you make the ponytail, the higher the lifted hair will be. This hairdo is easy to keep intact since the height is natural.
23. Red beehive
Differently colored hair looks great when arranged into a beehive. Girls with red ombre will get an amazing effect from making a beehive. The front part will be dyed different color than the upper one. This will make an incredible impression.
24. Backward beehive
This backward beehive is perfect for women with short hair. The front and side parts are just swept backward and the ends are clipped together with pins. The hair gel allows the hairstyle to take shape in a small beehive.
25. Braided beehive
A braided beehive is not a classical beehive do, but it looks truly regal. The braid is arranged into a high bun on top of the head. Not too many women have long enough hair to create such a hairstyle, so most hairstylists will recommend a weave.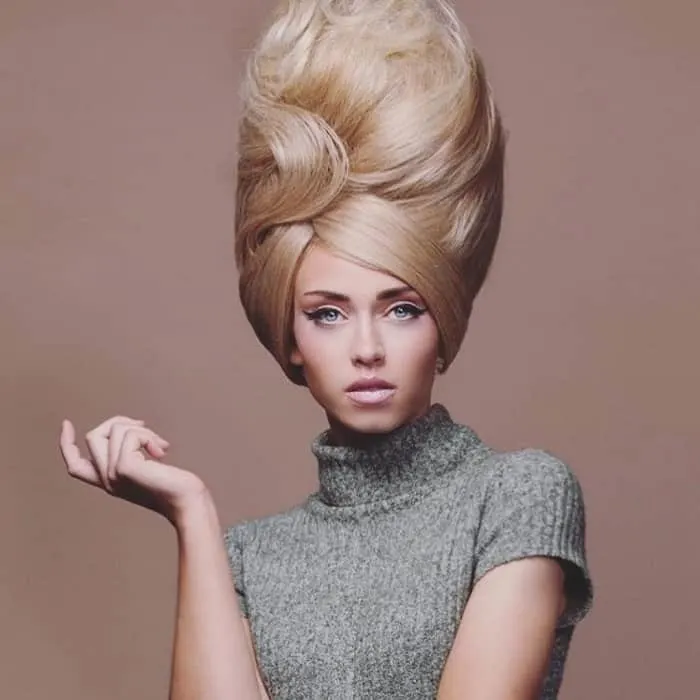 Now you know that beehive hairstyles can be used in the modern world. Some of these amazing options are very easy to make and don't require long hair. Modern women can easily sport one of these hairstyles for special occasions or even on a regular basis.