Mohawk with curls gives a more feminine or girlish look. You don't need to be black, a bloke or butch to rock the mohawk. You don't have to have naturally curly hair for most of these styles – but an inherent kink can help. The best thing that you can do to help any curl stay styled is to look after your hair because of good quality, healthy locks behave better!
How To Care For Your Hair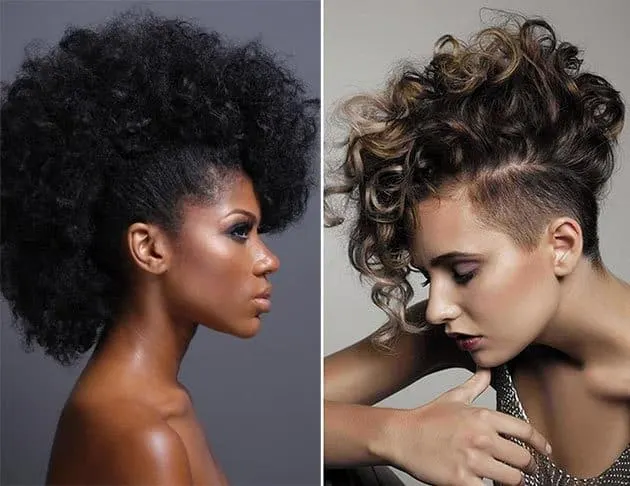 Dirty Girl: Over-washing hair can do more harm than good by stripping away natural oils. Rinsing away the oils can cause the hair to become brittle and sometimes greasy. Try to wash a maximum of every 2-3 days and opt for a dry shampoo on those in-between occasions.
Happy Hair: When you do shampoo your hair, choose a product that does not contain chemicals and are more natural by nature. Although a potentially expensive venture – buying shampoo can be very much about trial and error but when you find the right product you will know! Make sure you also purchase a product that is suitable for your hair type. Ask your stylist for recommendations if you are unsure.
Gently Does It: Yes, it's nice to have squeaky clean locks but being too rough can cause damage. Avoid scrubbing your hair too energetically and avoid overloading the hair with shampoo.
Keep It Cool: Heat from hot showers and hot baths can cause damage to your hair, so turn down the temperature when rinsing your roots! Cool water also softens the follicles of the hair which makes it shinier.
Top Condition: Most people know that hair is effectively dead and that the roots are the only living part. Therefore, when conditioning your locks, try to not be tempted to condition the roots as they often do not need it and it can cause a build-up of oil on the scalp.
Ban The Blower: It's not always practical to leave hair air dry but excessive heat can weaken it leaving it brittle. Do not rub your hair vigorously with a towel as this can also lead to split ends.
If possible use a microfiber towel and gently blot the hair before leaving to dry naturally.
So, if you are looking to opt for the chop, whether you want to be a punk princess or a Mohican majesty, there are plenty of different mohawk styles with curls that are certain to spark your imagination.
Mohawk with Curls for Stylish Women
Forget the pixie cut, or the 'pob', there are many more options available for women now who want to have the chop. Try out these beautiful curly hairstyles with a mohawk to get noticed by everyone.
1. Sharp and Clean Curly Mohawk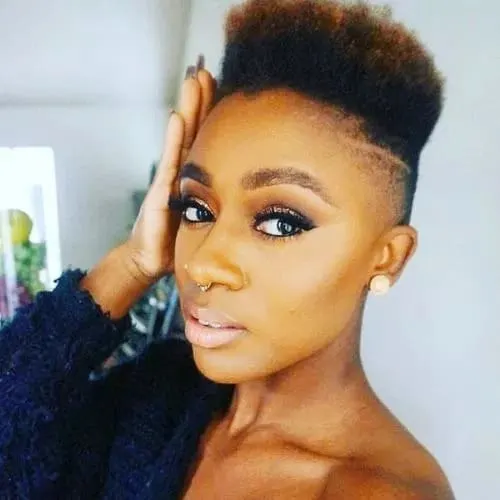 Although not as traditionally feminine as big bouncy hair, there is a lot to be said about a sharp and clean cut. Bold and beautiful in its own right, if you have afro-style hair then it will really sit dramatically against a sharp and clean mohawk cut.
2. Fierce Mohawk Style with Curly Hair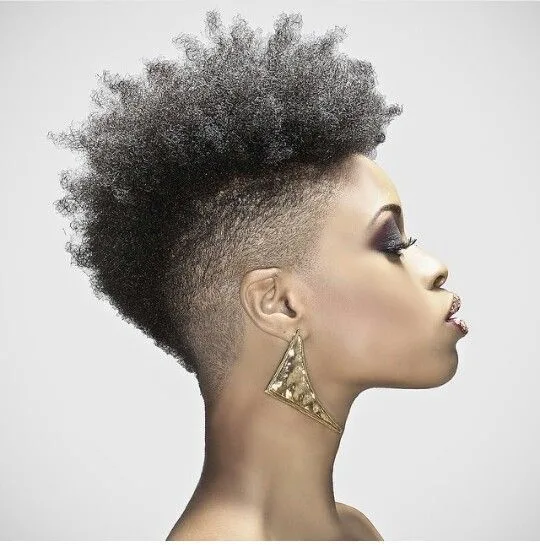 If you are fabulously fierce then this curly mohawk is for you. Not for the faint of heart as it is a bold but more relaxed look than the sharp and clean option above. The longer afro top is a distinctive addition and becomes even more dynamic when the curls reach dizzying heights.
3. Feminine Colors with Curly Mohawk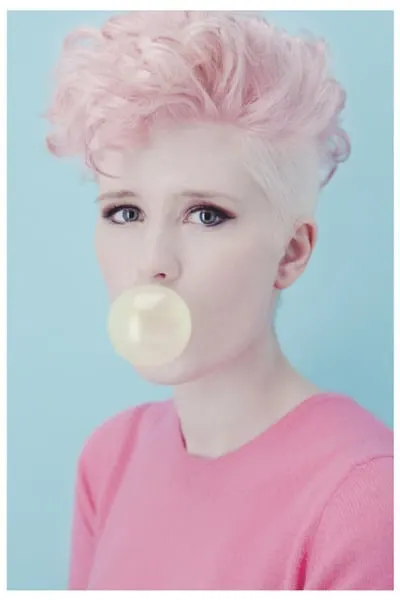 If you want a daring cut but still like to rock a more feminine style, then how about adding some pastel dye colors on the curls? Pastel colors, of every variety, are more available now and can be a great way to switch-up a short hairstyle very easily.
Think pink, pick peach or rock some rose, by adding a pastel palette you can be sure to turn some heads.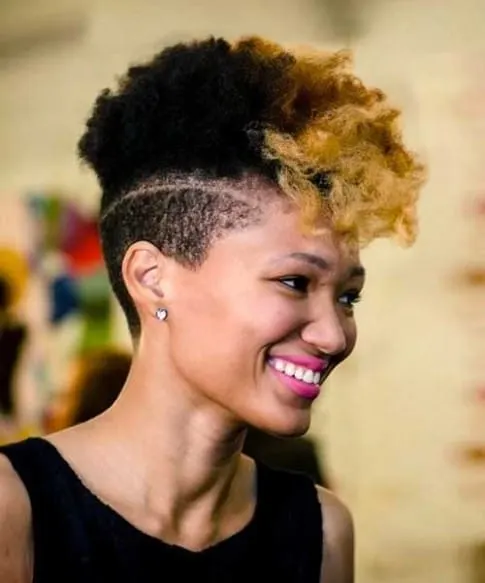 If you fancy something a little more brash than pastel coloring, then let your imagination run wild. Just because you have short hair it doesn't mean that you can't have fun with it.
Add some texture and added color to your curly mohawk style by including splashes of color in blocks or lightening the tips of the hair – the potential is endless, and the outcome can be beautiful.
5. Mohawk with Curls for A Feathered Bird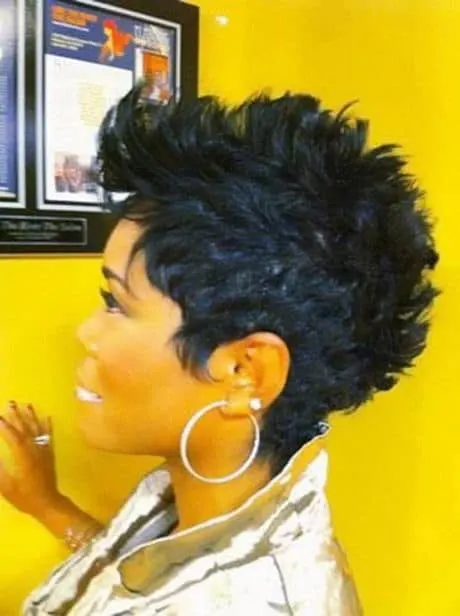 Curly doesn't have to mean sky-scraping or cascading ringlets, you can add a link to your mohawk by having a feathered or layered cut and then adding texture by curling the ends or using your straightening iron to add waves.
This can create a very soft and feminine look, or bold and brazen style depending on the cut you choose.
6. Go Grunge Girl with A Curled Mohawk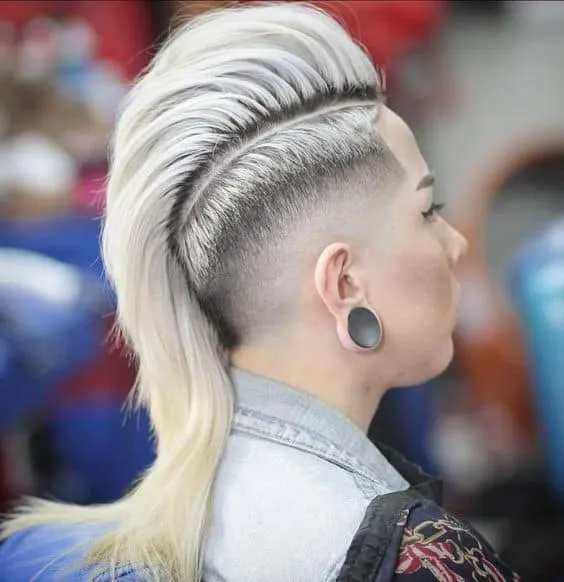 You do still need a certain amount of attitude to pull off a hardcore style such as this but when you've got that boldness it's up to you to make the most of it!
Long hair doesn't have to always be styled in the traditional and conventional way that most people do. If you are feeling brave, then choose a mohawk cut for your long curly hair that can accentuate your features and your personality.
By blow drying the hair into a quiff or using soft rollers to add texture and height at the root, you can achieve a subtle but glorious wave effect in the hair that will add to the drama and flair.
7. The Faux Hawk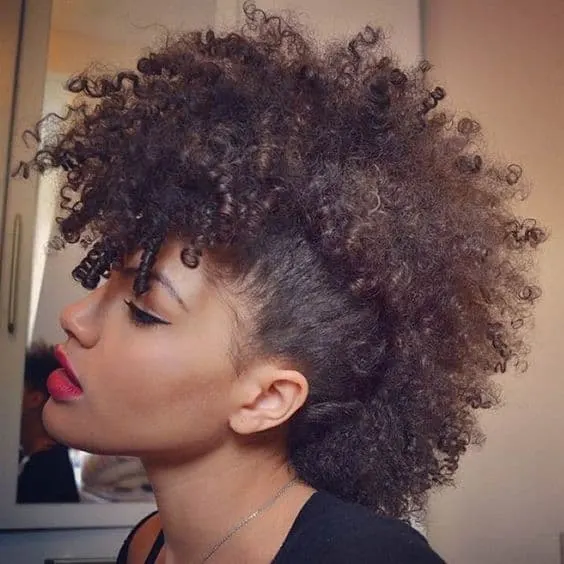 Ok so shaving part of your head isn't for everyone and can be a big commitment, but this doesn't mean you have to miss out on the Mohawk for your curls.
A faux hawk is a fantastic option for anyone not ready to take the plunge or for anyone who is growing out a mohawk and finds themselves in that 'in-between' stage.
You can ask your stylist to keep the sides of your hair longer until you decide whether to take the chop or keep the length and pin your hair back into a faux hawk 'do, with a tumbling tousled top, to rock the look anyway!
8. Waves for Days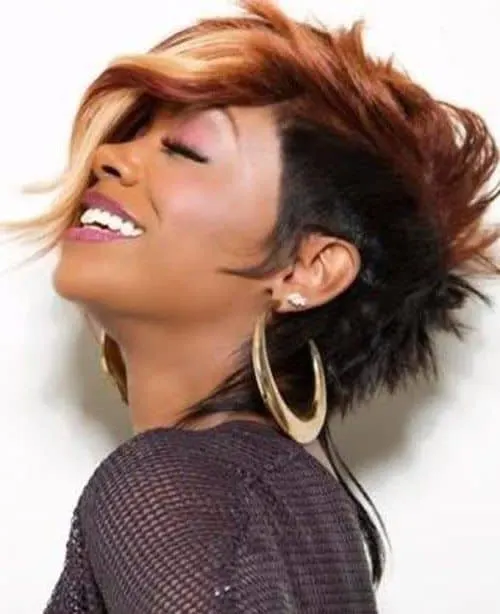 Wave goodbye to conventional hair and consider this heart-stopping ornate option.
The asymmetrical chop means that you can keep some length but have a cute and choppy cut that allows for ease of maintenance and makes for a very snappy style.
Add waves to the lengthier portion of hair to soften the blunt cut which adds a more feminine and flirty feel.
9. Long & Luscious Mohawk Style for Curly Hair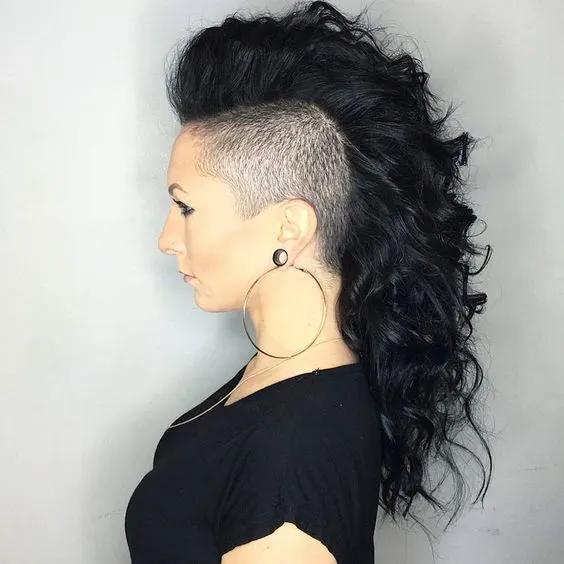 By keeping the main part of the hair long, you have the option of covering up the shaved sides of the hair should you wish. By leaving the hair loose and parting in the middle you can mask the mohawk.
Length with a mohawk can also give you added options with styling, so you can add a bountiful bounce with curls and create various up-do's with ease.
10. Chic and Curly Mohawk
This is a perfect example of how a mohawk doesn't have to be a masculine move. By adding soft and tumbling curls to the length of your hair you can still be edgy but endlessly feminine and chic all bundled into one style.
11. Long Curly Mohawk with Faux Hawk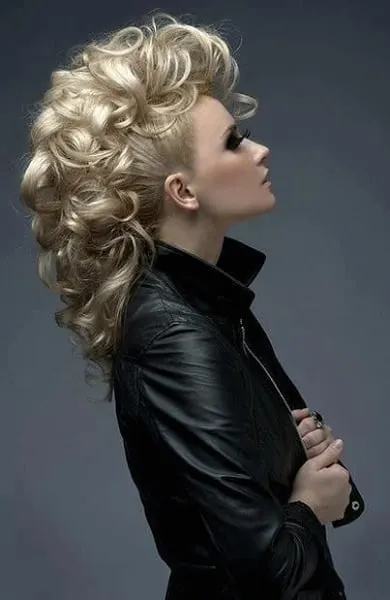 Another faux hawk but this one has its foot fully on the gas. Perfect for anyone who wants to make that statement without being permanently too extreme. It shows that women can flow easily between being edgy and feminine without having to commit to one particular look.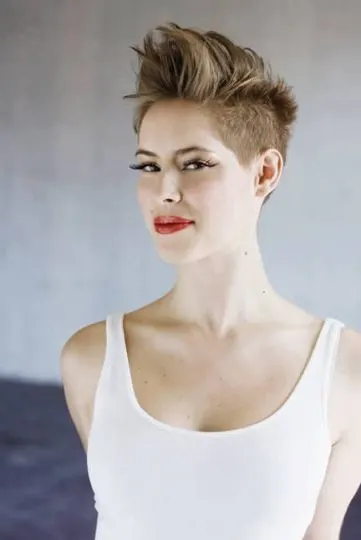 If you have small features or a small frame and are worried that a towering mohawk will swamp you, then combining it with a pixie cut may be a good option for you.
Less brash than a traditional mohawk style with curls, the additional length at the sides and the tapered cut allows for a perfectly petite version of this hairstyle. By adding waves and structure into the remaining length, you can achieve a very cute and easy to maintain the look.
13. Feminine Curls with Mohawk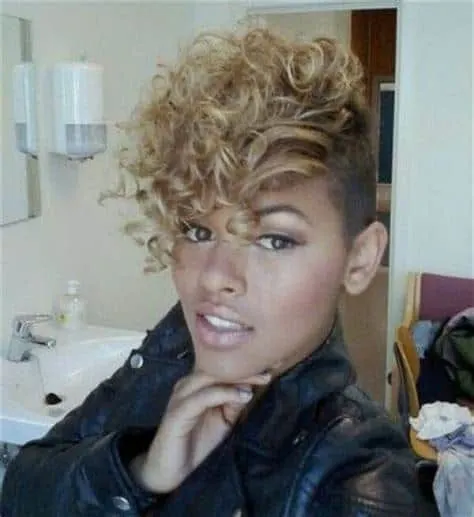 Beautifully sleek and tight curls always look feminine and soft and coupling this with the stark chop of a mohawk is a great way to create a very contrasting look.
Make sure you add a smoothing product to the curls to keep them looking glossy and tamed for that added chic shape.
14. Messy Curly Mohawk
If you like the bed-head look then adding a mop of relaxed and messy curls with Mohawk is a fun and flirty way of enhancing your style. Brush out the curls to make them more relaxed and casual and you can achieve a beautiful laid-back look.
15. Mohawk on Curls with Parting
A parting is a great way to add drama to any hairstyle and it can really help set off those sensational tumbling curls.
A mohawk doesn't have to necessarily run down the center of the head, so if you feel like pushing boundaries then try pushing your parting to be at the center of attention.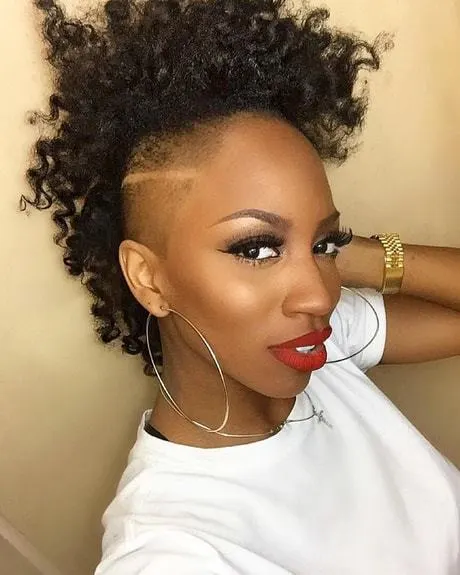 Lines and tramlines are not just for the fellas. Women can let their imaginations run wild and add exciting and decisive designs into the sides of their style to add texture, interest, and individuality.
The beauty of this curly mohawk style is also that the line can grow out quickly which means your look can be frequently interchangeable to keep it current and quirky.
17. Color Clash
Color can add interest and definition to any hairstyle and by clever choices can really set your style apart from the rest. The intricate shaved and colored pattern here is offset by the tall and bountiful icy curls which make for a dramatic but still soft style.
18. Middle-Aged Women Style
Edgy haircuts are not just for punks or kids who want to experiment with their personality.
Do not feel that because you are a more mature woman that your only choice is to start fading into the background. You can also have a mohawk with your curly hair.
If you are over 50 be the Queen that you are by delivering your own unique sense of style with a sharp cut and skyscraping silver crown.
19. The Braided Mohawk with Curls
Braiding is another classic way of achieving the mohawk look but without going full throttle with the shaved sides.
Don't be fooled into thinking that braids are only for black women – all women can have their hair braided into a variety of intrinsic and eye-catching designs and the tight crop of curls simply looks more striking in contrast.
20. Extreme Ends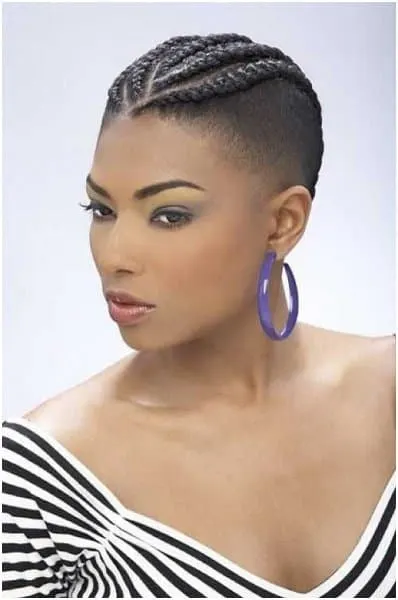 If all the other styles aren't doing it for you then maybe you need to be fair to your hair and go full-on extreme.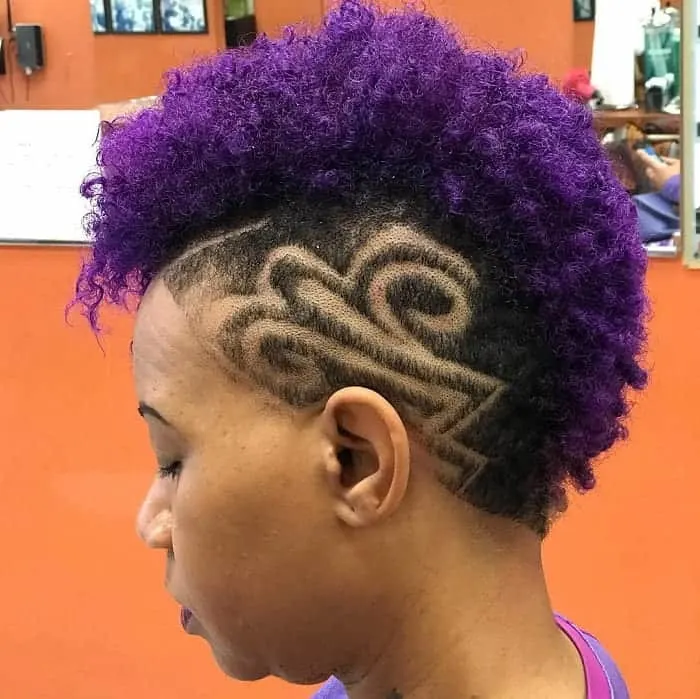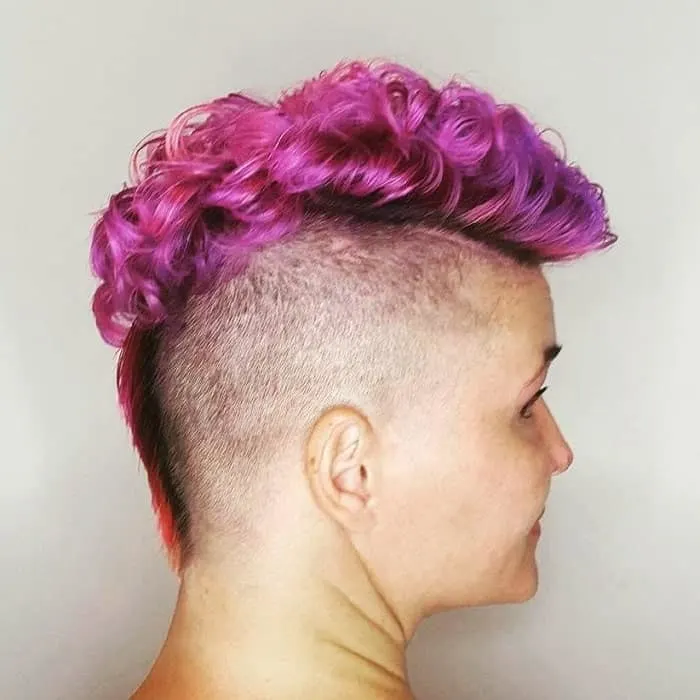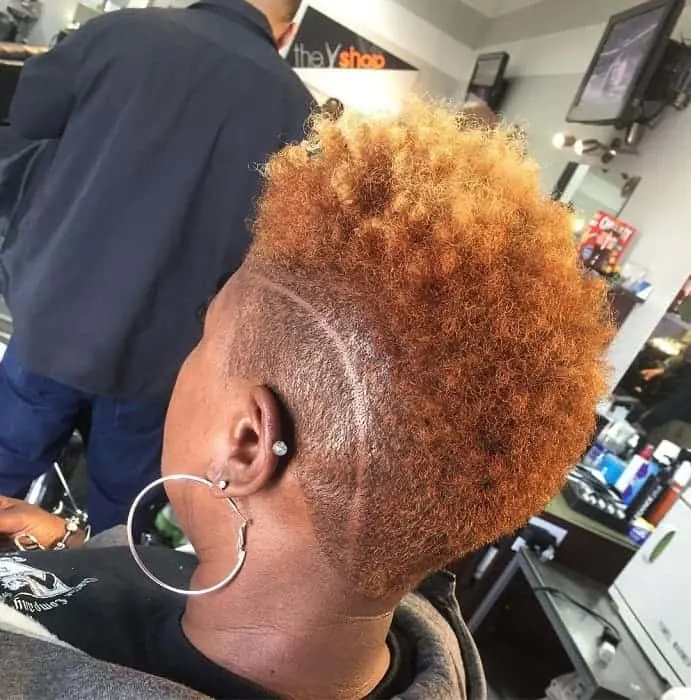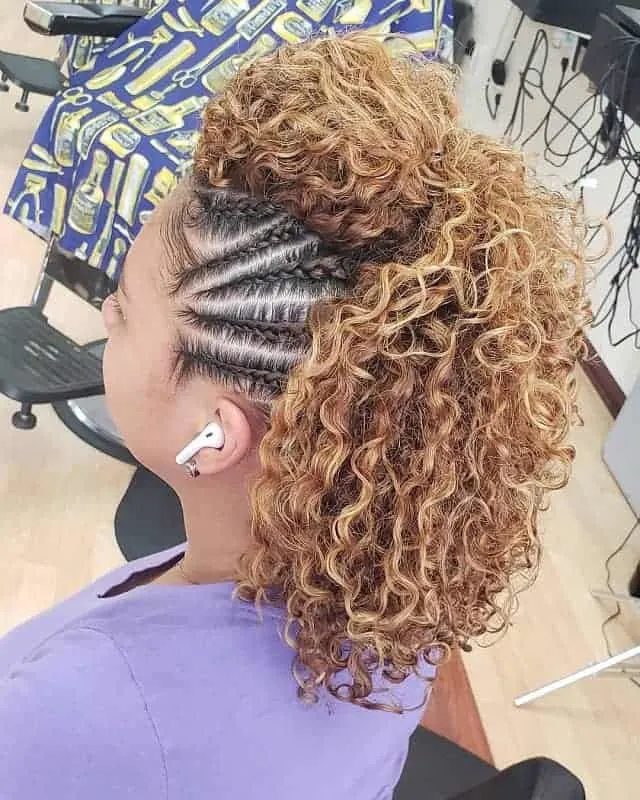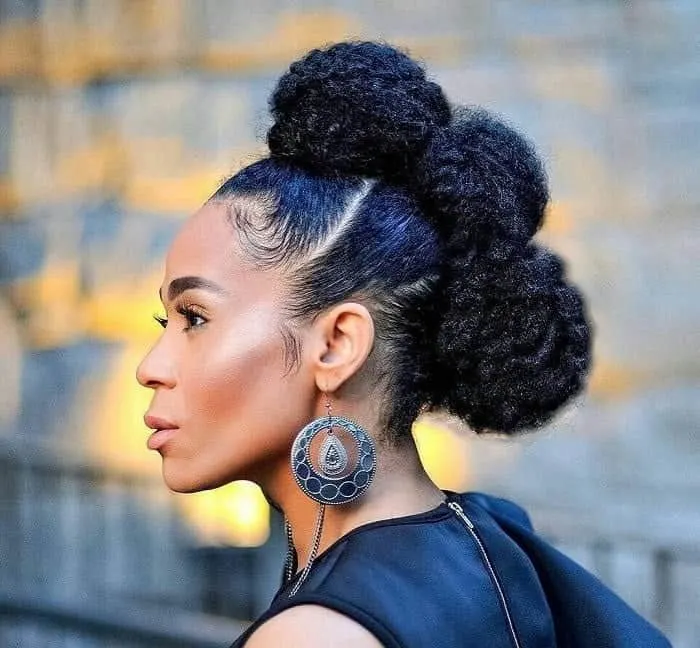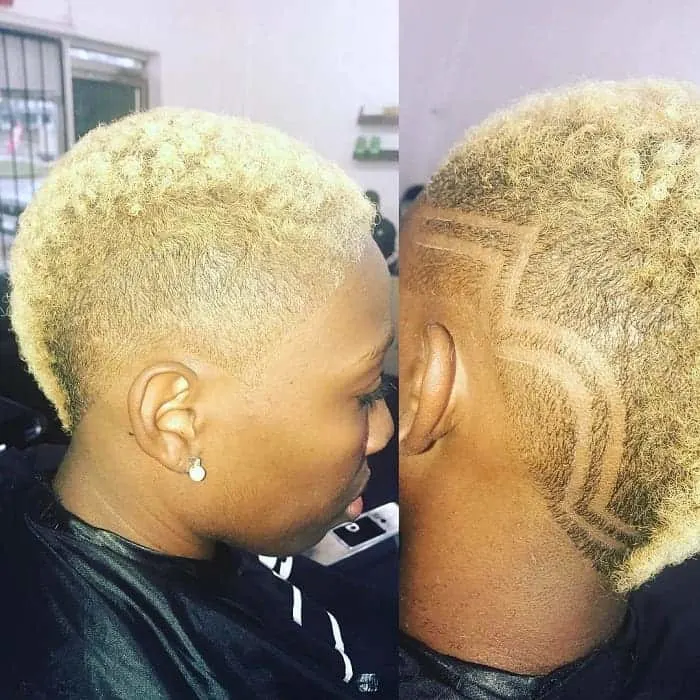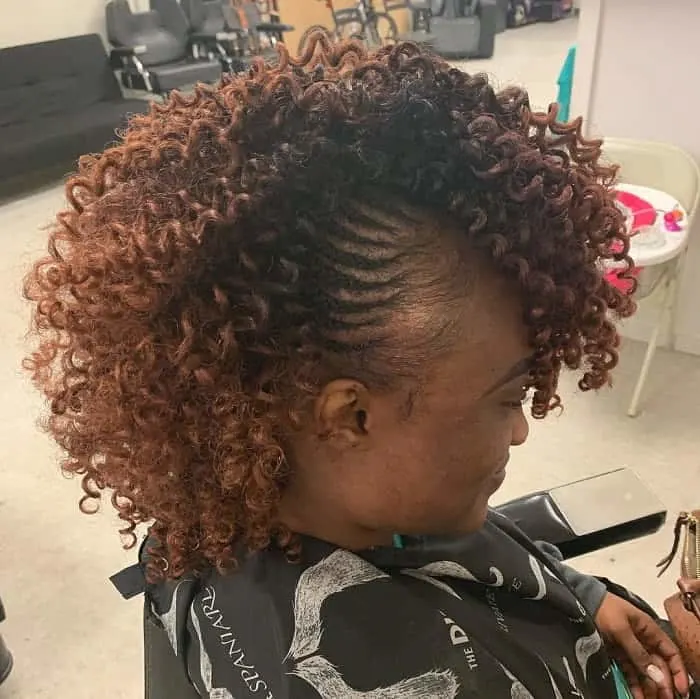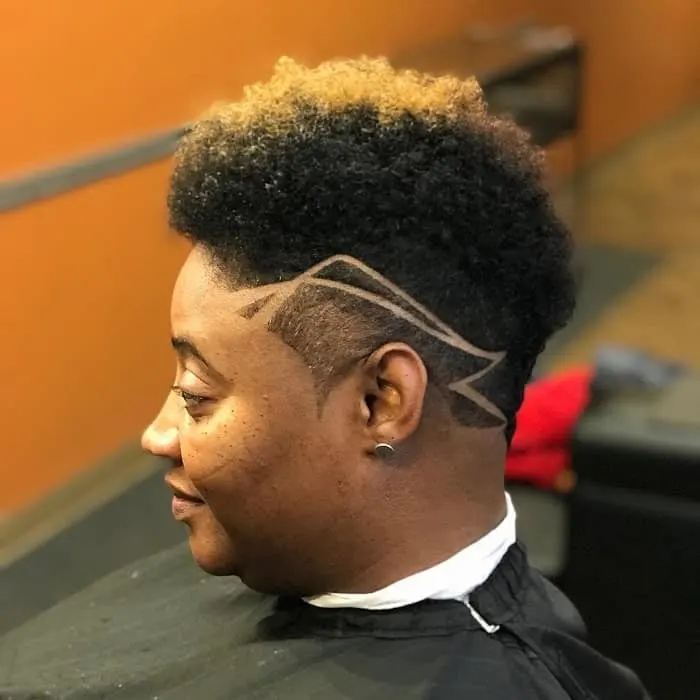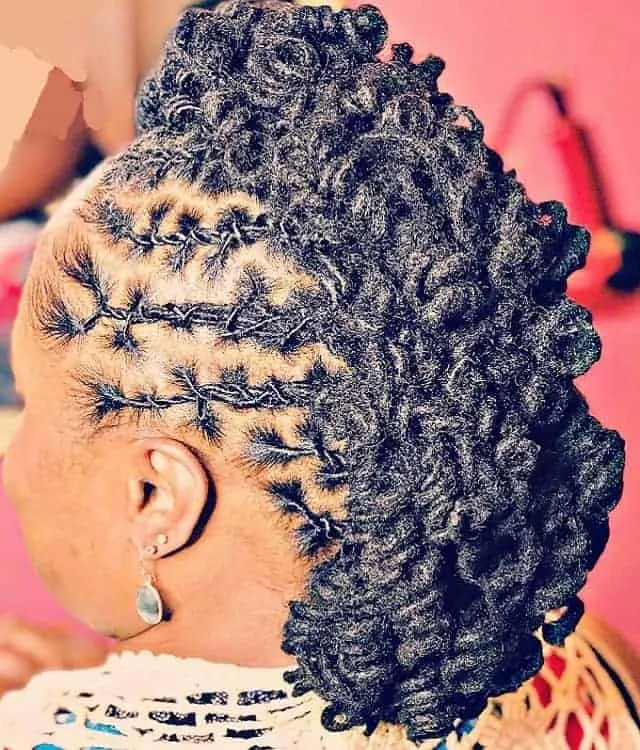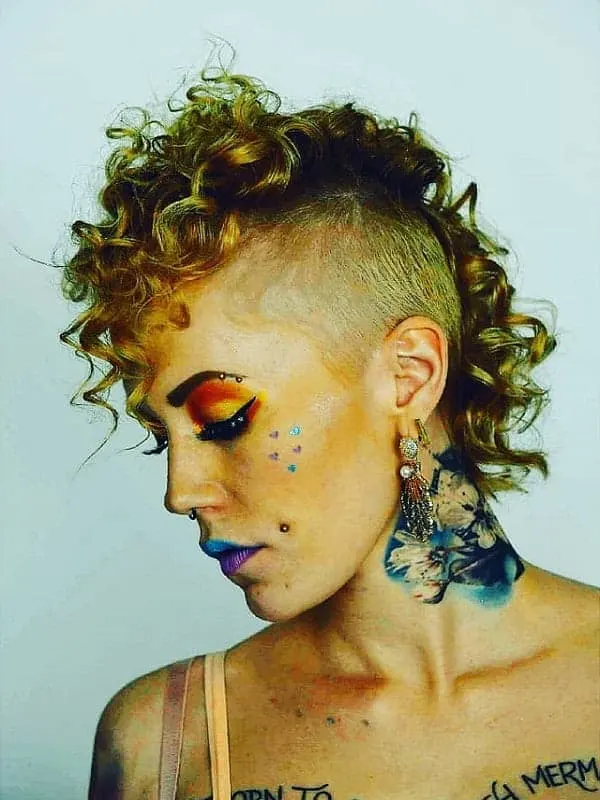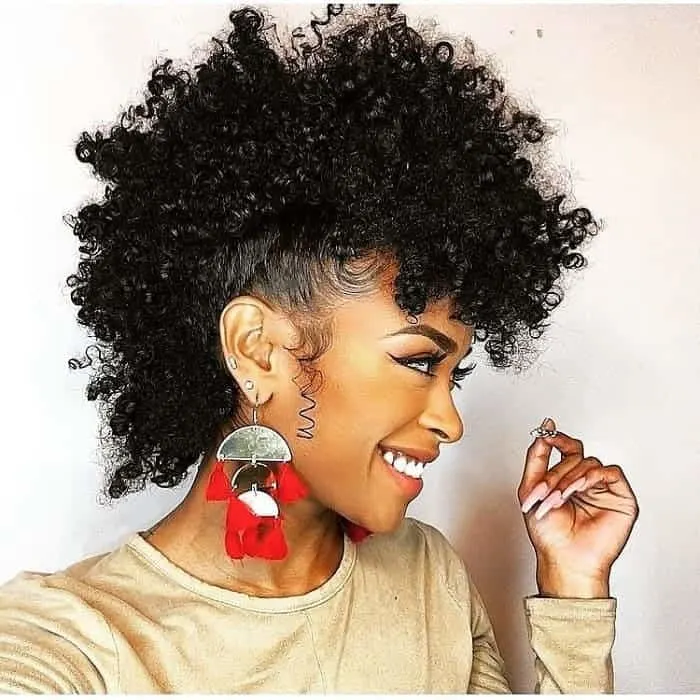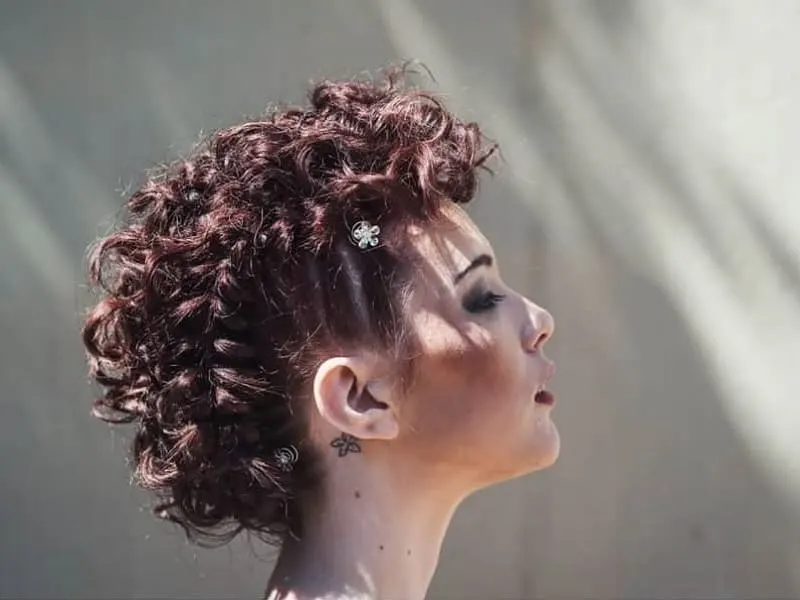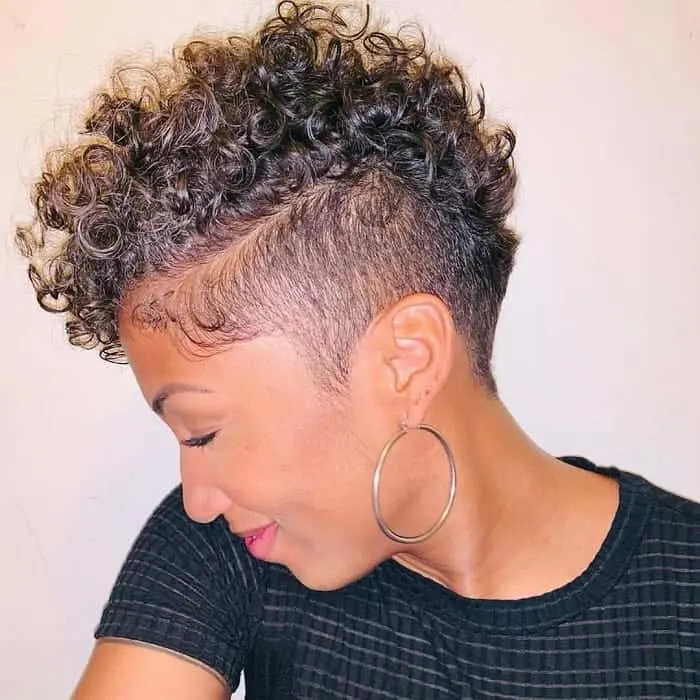 If you have naturally curly hair and are looking for something hyper-easy to maintain but still look fabulous, then a fully braided mohawk may be the answer. Simply stylish, suitable for all ages, and still very chic – this mohawk braids with curls is a great option if you find your countless curls too time-consuming.