Many women turn to hair extensions only when they need a long hairstyle. However, short weave hairstyles shouldn't be overlooked either. Short hair extensions can make a very impressive and fashionable style out of a simple haircut.
A well-chosen weave will add volume and length at all the right places and will allow any woman to feel like a star. Whether you've got a short pixie or a medium-sized bob, there is always room for improvement and a weave can do the job.
You've been contemplating a change, but don't want to cut your hair short or dye it, adding a weave is a great way out. It can turn short pixies into voluminous bobs and straight bobs into wavy hairstyles. Want curls? No problem! Your short haircut will become curly in no time. All you need to do is choose the right weave!
Quick Short Weave Hairstyles for Women
When you've got a short hairstyle, it is hard to imagine what can be done to make it look different, except for dyeing. A weave can do wonders for changing your image.
Since it is complicated to come up with an idea on your own, we prepared a shortlist of the most interesting ways to change your style with the help of hair extensions.
The advantage of such an approach is that it is temporary, but pretty long-lasting at the same time. You won't need to dye your hair or cut it. All you will need to do is get a weave that can last up to 6 weeks without a touch-up.
Take a look at these short weave hairstyles to help make your dream come true!
1. Short Curly Hair Weave
A weave with short tresses slightly curled or wavy is understated yet sexy. Keep the front longer so you can finger shape curls and manipulate them across the forehead.
2. Short Quick Weave Hairstyle
This textured weave may look like you just rolled out of bed, but messy hairstyles can be sexy on their own. With dark red hair color, a mix of straight and wavy locks is hot.
3. Short Bob Weave
An asymmetrical bob weave is covered in bright red hair color and looks fierce with a red lip. Use a flat iron to get these smooth tresses and make sure bangs are razor cut for the edgy vibe.
4. Sew-In Weave for Short Hair
Sew-in weaves can last about six months so you'll look amazing for a long time with these thick kinky curls adorning your head. Part hair at the side and watch volume take away the rest.
5. Half Up Half Down Short Quick Weave Hairstyle
Smooth hair hands over ears while choppy bangs and two small space buns are the focal point of this hairstyle. Go for bold color like turquoise and medium blue.
6. Quick Weave for Very Short Hair
If you're a woman who likes to keep her hair off her neck, you'll love this short pixie with burgundy hair color. The wavy locks and long bangs create workable body easily styled with fingers and hair product.
7. Short Weave Hair for Caucasian Women
Light and dark brown hair color mix for a melt that makes a long pixie pop. With a hairstyle like this, you can't have too much body so play it up with hair cream.
8. Short Curly Weave Style for Black Women
Burgundy is a popular color when it comes to hairstyles for black women and it's easy to see why. The way it flatters dark skin, you'll be dying to add it to short curly hair and pair it with a cute headband.
9. 27 Pieces Short Weave
With 27 pre-cut pieces, you can customize your weave hairstyle. This look is a mix of wavy short and long locks and colored with dark red and black.
10. Short Wavy Weave Hairstyle
The ginger thick waves on this look really stand out when they're cut to a short jaw-line length. To keep it from being too poofy, make sure the roots to mid-shaft are semi straight.
11. Short Weave Hairstyle for Round Face
The most flattering hairstyle for your round face is one that won't make it look even more round. Ask your stylist for choppy bangs, short layers up top, and longer pieces underneath down to the neck.
12. Center Parted Black Weave
It's simple yet stylish: a bob with soft waves and a center part. Keep hair off the face by nixing bangs so everyone can see your pretty eyes.
13. Short Curly Caramel Weave
On dark skin, a sweet caramel color is a must-try color. This short bob mixes it with a dark brown or black base to get kinky curls to stand out.
14. Turquoise Weave Bob
Even if it's not summer, try this beachy-colored bob with its bright colors. Turquoise and light green as unexpected colors on a curly bob with short face-framing bangs.
15. Short Kinky Hair Weave Style
These curls are coiled so tightly it's easy to think hair is actually thicker than it is. Part hair at the end of one side's eyebrow for a heavy, flattering part on all face shapes.
16. Bob extension
Don't like your simple bob and it takes too long to grow something more complicated? Use a weave to get an extension. You can get an amazing asymmetrical hairstyle to help you look really special. Don't want to make highlights by dyeing? Add a highlighted hair extension on top.
Top List: Weave Hairstyles With Straight Hair
17. Curls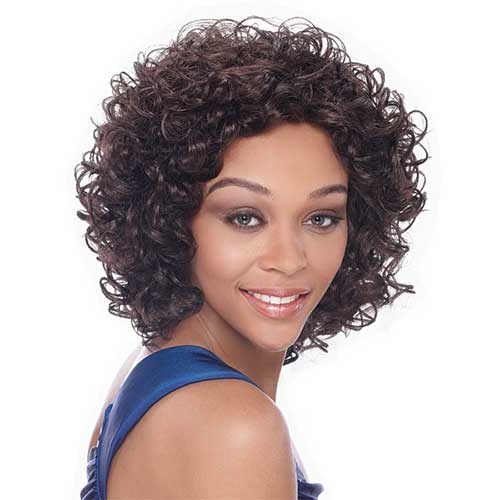 Always dreamed about neat curls, but all you've got is a simple straight-haired pixie? Get a short weave to help you sport an incredible curly bob. Make sure to take good care of these curls. Otherwise, they will lose their neat appearance.
18. High pixie
Opted for an undercut but miss the voluminous look? Add some strands on top to get a real fohawk appearance. If you are bold enough to have gotten an undercut in the first place, you will definitely appreciate the wild look hair extensions will give you.
19. Wild strands
Asymmetry is in style, so why not get some help from a short weave to sport it? Turn your simple bob or a pixie into a real unique hairstyle by adding several strands in front and in the back. This original appearance will surely score you some points.
20. Add some red
Weave hairstyles don't have to be long. Check out these weave bob haircuts. For many years women have been enjoying differently dyed locks with the help of hair extensions.
Want to add some color to your natural locks? Get a bright short weave on top. Go for wild colors you would have never allowed yourself to get with a dye.
Best Weave Haircuts & Hairstyles for Women
21. Lift it up
If the only way to get some volume to your hair used to be a complicated styling process, a weave will save your day. Add some strands to your bob to get some volume on top. Your hairstyle will look amazing. Think about getting different colors to make an ombre.
22. Straight and neat
If the problem of curly and unruly hair is much too familiar, then you can use the weave to make your mane straight. Attach hair extensions on top of your pixie to get a very neat and starlight look. Remember, keeping such weave hairstyle intact will require some work.
23. Stacked bob
Always wanted a stacked bob, but there is nothing to stack? No problem! Your fine hair will get help from a weave. Strands are carefully attached in the back to make a real stacked bob impression. You will surely love it!
24. Bangs
Sexy eye reaching bangs might be a hassle to grow. That's where hair extensions come in. A real professional hairstylist will not have any trouble attaching a weave to make your bangs as long as you wish. Now you've got them, flaunt them!
25. Quick Fix
Hate your short haircut? There is always a way out. Find a new hairstylist and ask him or her for a weave hairstyle. Many women wait for months for their hair to grow back. You can get the problem fixed in a matter of minutes by attaching the right short weave.
26. A-line bob
Hair extensions can help you turn a simple pixie or a short bob into an A-line bob your friends will envy. Don't wait for the hair to grow, get to your salon and attach hair extension in front. Make them as long as you wish!
27. Long strands
If your hairstyle is too short for your preferences and you want some long strands in front, the weave can help you do just that. Any short bob will benefit from long frontal strands. So, don't wait and make that appointment. Make sure not to overdo the strand thickness.
28. Wavy bob
For a textured wavy look your thin strands might not be enough. Add some hair extensions to pump up the volume. You can even make your bangs thicker by adding some short strands in front. Enjoy your new look, but don't forget about touch ups.
29. Go low
If you are tired of short haircuts and weave hairstyle means long hair for you, there is no need to hold yourself. Get a long weave to help you feel special. It can always be corrected later on. Girls with long hair need to remember about maintenance.
30. Windblown pixie
If your hair was never thick enough to make that windblown and sexy look, hair extensions will offer their help. Attach short strands on top to make the pixie look more voluminous. You can now ruffle your hair and go out to conquer the world!
31. Highlights
Want to have your cake and eat it too? Get hair extensions with highlights. You will not only add some much-needed volume to your fine hair, but you will also enjoy a color change with well chosen strands. Don't pass this opportunity by!
32. The longer, the prettier
Some girls can't stay with short hair too long. They start missing their locks very quickly. Hair extensions will help turn your short bob or even pixie into a long and impressive mane. Just don't forget to get a regular touch up.
33. Enjoy creativity
Sometimes weave hairstyles will allow you to get really creative. Simple short haircuts are trendy but there is just nothing unique about them. This particular hairstyle is not hard to make and easy to maintain while looking really impressive.
34. Wispy bangs
Using a short weave to create stylish bangs is a very popular way to change your hairstyle. If you are not ready to cut your hair to make bangs, try hair extensions first. They will allow you to get an idea of how well you will look with a fringe.
35. Wild ends
A weave can add a unique flair to your hairstyle by making long and wispy ends. Your bob will get a new life after you attach these incredible wispy strands on the bottom. You will immediately get a more romantic and even sexy look.
36. Fun bun
Always dreamed about long hair, but were never ready for the hassle? Get a high bun. It will make an impression of a long hairstyle while keeping the maintenance to a minimum. Surprise your friends with this short weave hairstyle!
37. Medium length bob
Turn your short bob into a medium length hairstyle by adding some strands on the sides and the back. If you want an A-line bob, add the strands in front only. In any case, your hairstyle will change dramatically without much effort.
38. Go asymmetrical
Asymmetry is very trendy nowadays and hair extensions are perfect for making it. You can choose whatever haircut you like, from an asymmetrical bob to a combed over undercut. Add more hair on one side and your stylish look is ready.
39. Pump up the volume
Your stacked bob doesn't look too voluminous? Pump up the volume to make it look really stacked. Add some highlights to make your appearance truly stylish. Highlighted short weave is a great way to change your image without much hassle.
40. Extend it
Women often become unsatisfied with their haircut right after getting out of that barber's chair. A weave can save your bob by extending the length a little bit. The advantage is that it can be changed in no time!
Hair extensions are designed to extend your hair. They do a perfect job on short hairstyles as well as on the long ones. If you are not satisfied with your length or volume, extending your hair might to the trick. Give a short weave hairstyle a try!