The straight weave hairstyles are a little less popular than the curly ones, however, they shouldn't be overlooked. Long straight hair is extremely beautiful. It is harder to keep neat than the curly mane, but the impression it makes is truly amazing.
Most Popular Straight Weave Hairstyle Ideas
Straight weaves can become a great help in different situations. Women use them to add length to their own hair on special occasions. Sometimes weaves are attached to change the color of the hairstyle or to create complicated braids.
Want to try weave on straight hair but don't know how to go about it? There are different ways to wear a weave regardless of their size. Knowing how to take care of such hair is very important in the way it looks. Regular brushing is a complete must. Messy straight hair doesn't look good at all. So, make sure to keep it neat.
Take a look at 35 different straight weave hairstyles. They will help you get an idea of what you want your hairstyle to look like.
1. Middle part

Long straight hair looks fantastic with a middle part. This is perfect for women with small foreheads and round faces. Such hairstyle will accentuate the forehead height and elongate the face. Add some hair gel to make your hair shine!
2. Layers

Layers are a great way to diversify your straight weave hairstyle. If your hair is not layered, but the weave is, no problem! It will look as though layers start a little lower. This hairstyle is great for women with naturally fine hair.
3. Bangs

When you are choosing a straight weave, think about adding side swept short bangs. Long hair looks wonderful with neat and short fringe. It will add your haircut a great amount of style. Make sure to keep the bangs straight as well.
4. Lift it up

Long straight hair looks truly fantastic but might seem a little dull. So, let's bring some zest into the picture. If your bangs are long, lift them up to create a little volume on top. Sweep the fringe to one side and add some hair gel to keep it in place.
5. Windblown style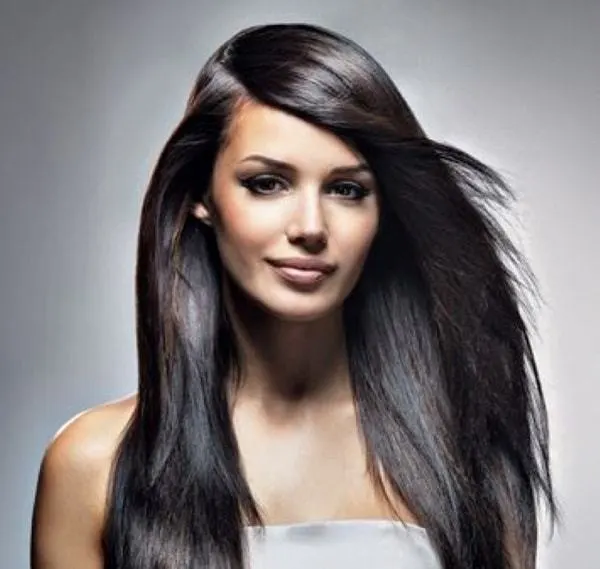 Windblown styles look as fantastic on straight weaves as they do on curly ones. In fact, this is a great way to avoid sleek looks which demand a lot of maintenance. Sweep your long bangs to one side and let them take a messy form.
6. Go medium

A weave doesn't necessarily mean a long haircut. If you want medium-sized hair, straight hair extensions will do the trick just as well. Blunt ends look great on heavy hairstyles. The shorter they are, the easier the hair care will be.
7. Asymmetrical and sleek

A weave doesn't necessarily have to be hidden. You can use hair extensions to create obvious asymmetry on your hair. Blunt ends of your natural hair can be mixed with wispy strands of the weave. Give it a try!
8. Ombre

If you want an ombre, a long straight weave is a big help. Leave your natural hair as it is and attach a weave with a darker color. There are different variations of this style depending on whether or not you are ready to dye your own hair.
9. Buns

Weaves are perfect for bun making. If your hair is not thick or long enough to make a voluminous bun, a weave will save your day. All you have to do is make sure that the hair extensions match your hair color.
10. Straight extensions

If your hair is naturally curly, don't be afraid of attaching straight extensions on top. They will create a great mix. Curly and straight will look fantastic, especially if the colors differ. Dye your natural hair lighter than the weave.
11. Black Weave

Women with dark hair color should definitely choose this hairstyle. The natural hair should be dyed as light as possible, while the attached weave is colored black. This mix is amazing since it seems so unique.
12. Highlights

Creating highlights with the help of a straight hair extension is a real art. If your hairstylist is up to it, you are in for a fun ride! Leave your natural hair dark and then attach lighter weave strands to create highlighted look.
13. Very long

If your natural hair is rather long, there is no reason to overlook the weave. It won't just make your hair longer, it will add some volume to create a really regal hairstyle. Use the weave for volume, not length.
14. Medium layers

Layers are great for medium-sized hair. Weave can be cut to follow your own natural layered style. Take a look at the way the highlights are made on the photo. Thinnest strands are dyed to make the color look very natural.
15. Light Ends

Usually, the straight weave is dyed with a darker color than the rest of the hair. However, lighter ends are also very stylish. Make sure the transition from dark to light is smooth, then the hair will look quite natural.
16. Creative strands

Weave doesn't always mean long hair extensions. If you want to diversify your hairstyle, but don't want serious change, creative strands are a way to go. Attaching different color strands in the most surprising places is a wonderful way to change your hairstyle.
17. Voluminous and sleek

If your strands lack volume, straight hair extensions will do a great job adding it. If you decided to go for a weave, don't forget to experiment with colors. The lighter the dye, the more volume you will get.
18. Messy volume

Straight and heavy hair is often hard to make voluminous and airy. The only way to go is to make it windblown and messy. This style is achieved by forgetting about hair gel and naturally drying the hair after washing.
Related Topics:
Try these new short haircuts for women
Trendiest weave haircuts and styles for women
19. Contrasts

If you want to keep some heads turning, contrasting colors are a way to go. A weave can really help you with that. Choose the hair extensions of any color, just make sure it is completely different from your own.
20. Long and silky

This straight weave hairstyle is a great choice for women who like a nice girl look. The hair looks very silky and light, which is often hard to achieve with natural hair. Give this style a try and you won't regret it!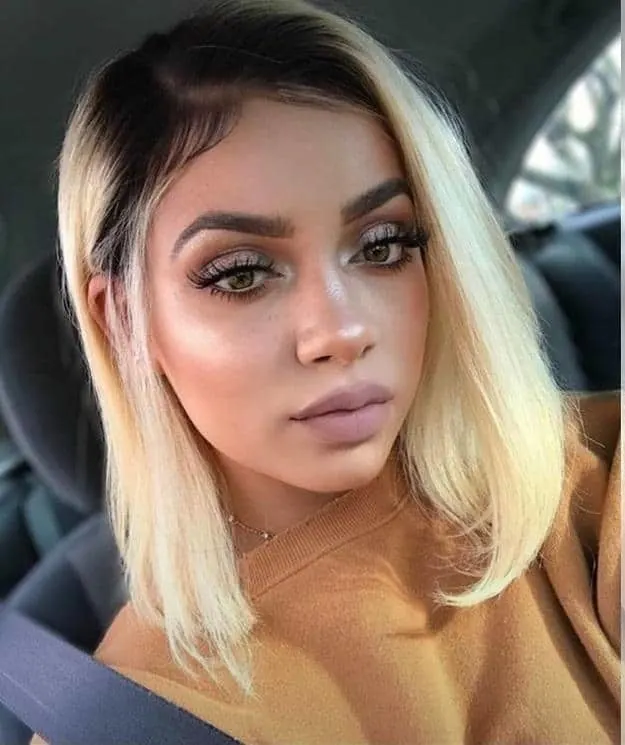 We hope you are now ready to try a long straight weave. Choose any hairstyle we have offered you. Play around with the length, the color and the texture. No matter which one you pick, you are sure to look amazing. Women who try hair extensions often continue using them for a long time.