Weave hairstyles are black women's best friends whenever they want a fabulous change of color and length. The bundles of hair come in so many textures and colors, and if you are a pro, you can get from a straight pixie hairstyle to long curly hair with just a few easy steps.
Weave Hairstyles
To master the perfect weave hairstyle, you need plenty of skill and attention to detail. You can make your new hairstyle look flawless if you carefully apply the hair extensions and blend them with your natural hair.
1. Two-Toned Shag
A weave dramatically enhances a short haircut. After adding the extensions the strands are chopped into shaggy layers with side-swept bangs. Color the top part in a dull red shade with black hair peeking underneath to create a rock star appeal.
2. Curly Dreadlocks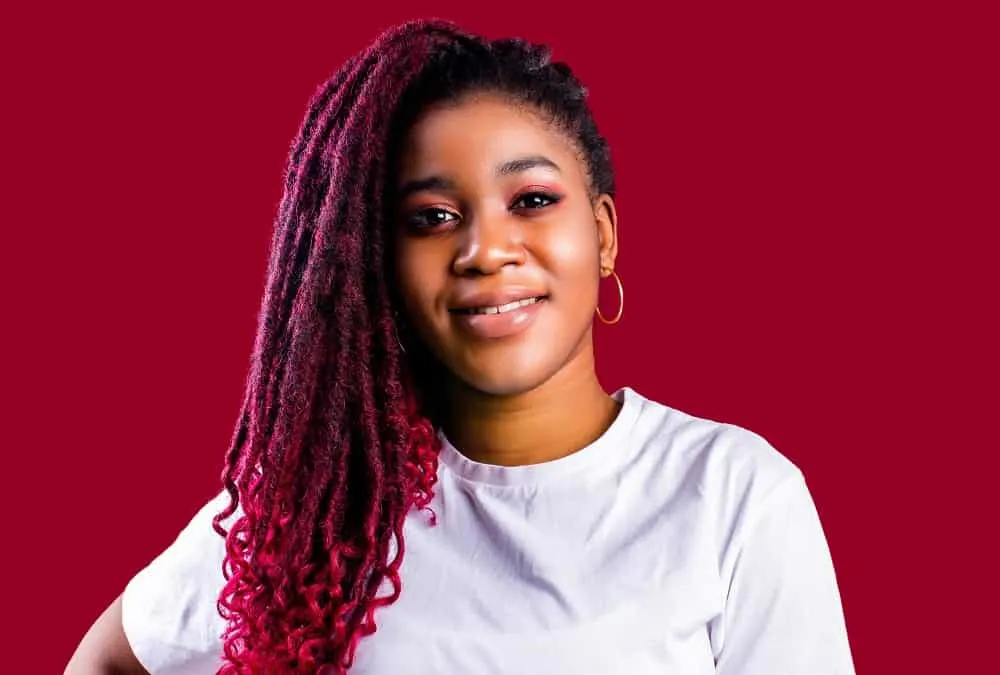 Bored of your dull black mane? Incorporate deep raspberry pink weaves in the natural strands and dread them down with curly ends. Pin-back the dreadlocks on one side. This fun look is ideal for young ladies.
3. Classic Parisian Bob
Achieve a classic Parisian bob haircut even with fine hair. The extensions are mixed with the natural strands and bluntly cut at jaw length. Sleek bangs reaching the eyes top off the chic style. Rock over-sized ear loops to complete the look.
4. Blonde Highlights
This look is easy to achieve. Select curly blonde strands matching the length and texture of the natural hair and add them to the head just like highlights. This look is suitable for women who don't want to overpower their natural hair shade.
5. Luscious Waves
Add a chocolate brown weave to enhance the volume of your natural hair. Remember to add some blonde strands too. Curl the hair loosely and brush it down to create luscious soft waves with a middle part.
6. Copper-Blonde Fringe
Those wishing for a lush front fringe buy a few packs of extensions and add them to the head focusing on the front. Chop down the hair in a layered shoulder-length haircut with a copper-blonde highlighted fringe swept sidewards to cover one eye.
7.Sleek Pixie Cut
Another way to enhance your short hair using extensions is by clipping it into a short pixie cut with subtle layers. Brush the hair with a side part and the look is done. This style is easy to handle.
8. Monochromatic Long Hair
One of the best weave hairstyles for 2023 that will work on anyone craving long hair. With the help of hair extensions, the length is achieved in a flick. Dye the hair in a soft blonde hue with eyebrow grazing bangs contrasting the long strands.
9. Bewitching Box Braids
Box braids require some hair extensions. The hair is divided into sections and braided down while incorporating blonde strands into it. The natural black hair goes against the sandy blonde hue splendidly.
10. Vintage Bob
Flaunt a vintage bob inspired by the 70's. The subtle light brown strands add a soft glow to the face while shining through the darker ones. Push back the front with a headband and curl up the ends to complete the look.
Whenever you want a significant change, choose an electric yellow color for the extensions and your natural hair. Create a uniform color, and while applying the weave, cover them with your own strands. Once you finished, cut all the hair in a short straight bob.
12. Medium Length Weave
Giving your hair volume and movement has become such an easy thing to do thanks to the curly weaves hairstyles. Use bundles that mix powerful blue reflexes and blend them with your naturally curly hair.
Apply these sew-in hair extensions and make a gorgeous pale red ombre that transits into a powerful electric shade. You won't have any problems reproducing this hairstyle even if your hair is short.
14. Weave Hairstyle for Kids
Kids love a fancy hairstyle, and you can very easily recreate this gorgeous weave with braids and twists. On one side, knit their natural hair and gradually blend the extensions. For the rest of the hairdo, knot the twists close to the little one's scalp.
This braided hair with weave is a brilliant idea for a wedding, gala, or an elegant event where you need to look ravishing. Use a few packs of already twisted hair and blend them with your own twists. Create a voluminous bun on the back of your hair and accessorize it with a piece of gorgeous hair jewelry.
If you are a rebel girl who adores crazy hairstyles with a weave for black women, you will undoubtedly love this hairdo. Braid your sides upwards, on your scalp, and add a short curly weave at the ends to create the mohawk.
17. Half Up Half Down Weave
For this hairstyle, you will only need a small weave that will give your bun dimension. Select two strands of hair from your sides and create braids that go upwards and meet in a big exquisite bun. Let the rest of your hair down, untied, and straighten it with an iron.
18. Prom Hairstyle with Weave
The prom is the most important event in adolescent life, and no wonder everybody wants to look sublime. Get a delightful look with a long, luxurious weave and a pony on top of your hair. Let your bangs cover your forehead and tousle them a little.
19. Wavy Weave
Go with a lighter shade for a change. Select a weave in a light lilac shade and dye the hair matching it exactly. Add mermaid waves to amp up the long locks with a middle part that can be shaved to make it more prominent.
20. Weave Hairstyle with Bangs
This hair look has the black shade melting into a medium golden brown hue. Half of the hair is tied up in a high ponytail and curled at the ends while the remaining falls over on the forehead as a blunt-cut thick fringe.
21. Cornrow Style
It isn't difficult to find a curly weave matching the texture of your hair. The one matching the hair length is selected and incorporated flawlessly. Style one side into fine cornrows and leave the remaining loose for a rebellious appeal.
Achieve a voluminous high ponytail using extensions. The strands are braided into three French braids while the remaining weave is tied on the top of the head. This look keeps hair away from the face while it sways wonderfully at the back.
23. Weave Updo for Black Hair
Add blood-red hair extensions to your locks for a fierce look. The hair is sectioned and twisted tightly from the front to back in a soft wavy pattern and secured into a low updo. This style is effortless to maintain.
24. Flat Twist Hairstyle
Here is another twisted hairstyle with strands matching the natural hair color. The side-parted hair is partitioned into sections and twisted all the way to the back and secured with bobby pins.
25. Weave Hairstyle with Shaved Sides
The sides are buzzed with bold shaved slits while the top is longer to create this striking hairstyle. Incorporate extensions on the top before twisting each section to create chunky coils. You can also add some hair chic accessories.
26. Blonde Waves
These alluring long waves will surely work on anyone and can be considered the best weave hairstyle for 2023. The hip-length mane is subtly layered and dyed in a blonde hue with light blonde highlights. Add loose waves to complete the look.
Most popular and trendy short length haircuts for girls
Get help from a weave to make your bob look completely different. You can either attach it to add some length to one or both sides, or thin strands can be added to create a highlighted look. Take your pick!
28. Highlighted waves
Take a look at this very neat quick weave hairstyle which is created by adding some wild highlights. If your hair is naturally wavy, this look will be very easy to achieve by attaching and curling a weave. You can change the highlights any time you wish.
29. The contrast
There is no reason to keep the weave the same color as your natural hair. In fact, the contrast the differently colored weave creates is amazing. Play around with various colors to find the combination which suits you best.
Tired of short or medium-length hair? Make it really long! Any woman should try this very long weave hairstyle at least once in her life. Long hair will make you look like a princess and will give you a regal feeling that you won't ever forget.
31. Chocolate and light brown waves
There is no need to make the weave and your hair the same color. So, if drastic contrasts are not your thing, you can go for soft color transitions. For example, you can try the chocolate and light brown mix. Don't forget the waves!
32. The perm
Perm is a little troublesome to make and might take some time to maintain, but it looks amazing. The perm doesn't always look great on short hair, but the long weave will fix this problem. Go for it and you might never go back to short again.
33. Curly blast
If your hair looks like Beyonce's on this photo, you can easily add some curly weave to make it look even hotter. Don't forget, small curls are pretty hard to maintain and when you have twice as much, you are out for twice as much work. But the result is so amazing, it is worth every minute of the hair struggle.
34. Black bob weave
Weave is not necessarily made to make your hair look longer. It can be used to make the hair thicker. Take a look at this short weave hairstyle. Looks very natural, doesn't it? Add some volume to your hair without much additional maintenance and enjoy!
35. Side part weave
Always dreamed about a side undercut but were never bold enough to try it? The time has come to make your dream come true with a side weave. Get a weave attached to just one side and make your short haircut into a sexy partial undercut.
36. Vibrant curls
Curls are always a hit and weave can make this hit real for you. Go for the vibrant curls hairstyle to feel magnificent and look like a queen. Remember, long hair needs to be taken care of daily. Otherwise, your weave will turn into a mess.
If you don't want to bother with maintenance, but still want to have long and sexy hair, go for the straight weave. If you want a natural look, choose one color for both your hair and the weave. If your heart wishes for something funkier, go ahead and try it!
38. Sleek raven black weave
If your skin is dark, you might enjoy a sleek raven black weave. Straight and thick hair is not a must here, all you need to do is choose the right weave. Weave can add volume, color, and length you always wished you had.
39. African American weave
Long and curly hair is a trademark of African American girls. But not everyone has enough hair to make such a hairstyle. Weave will save the day! Get a proper curly weave to make your hair shine the way it never did before.
40. Zebra weave
The white and black zebra look is a wonderful idea. But what do you do if you only have enough hair for the white stripes? No problem. Add some black strands to complete the look and you will feel fabulous without much effort.
41. Frontal weave
Tired of your old bob and want to go for something longer and asymmetrical, but the hair grows painfully slow? The weave will save you! Attach the strands in front to create a new and improved bob look.
42. Long, straight and black
If your curly hair is taking too much time and struggle to make it look neat, go for the straight style. A long and straight weave will motivate you to keep the rest of your hair straight and shiny and you will finally get a chance to make some large and neat curls.
43. Weave and fake lashes
If the weave made your hair so fabulous that your face is completely forgotten, do something about it. Bright makeup and long fake lashes will add some vibrancy to your look and will become a great addition to long hair.
44. African braids and a weave
Mix two hairstyles in one with the help of a spiral weave. You can make African braids on one side and attach a voluminous weave on another. This weave hairstyle will surely turn some heads, since it is truly unique.
45. Chocolate waves
If your skin is dark, make sure to try the chocolate waves weave hairstyle. Your own natural hair can be straight, so the weave alone will add some soft curls to your look. This hairstyle is easy to maintain and looks extremely vibrant.
46. Red weave hairstyle
If you already dyed your hair with outstanding color, there is no reason the weave can't be dyed the same way. Get you stylist to choose the appropriate weave and have it colored right away. You are bound to look amazing.
47. Perm volume
If you have always wanted a perm, went to the salon to do and found out that you just don't have enough hair to make it look perfect? The weave will be your savior. The hair professional will ad some strands to make your perm look voluminous and perfect.
48. Thick curls
Dreaming of thick curls, but all you can do with your thin hair is a dull ponytail or a short pixie? Try the thick curl weave. A real professional will make even the thinnest hair look amazingly thick with the help of a weave and no one will ever doubt the thickness of your hair.
49. Thin weave
There is no need to always go for voluminous and curly. The girls who are tired of large and curly hair can go for the straightening procedure and adding a thin and straight weave. You'll be surprised at how amazing the change will be.
50. Comb over
If comb over never looked good on you before, try it with a weave. Once there is some serious volume added to your hair, you can make a comb over, which will keep heads turning 180 degrees. Give it a try and you won't regret it.
51. Weave highlights
Tired of coloring your hair? Go for weave highlights. It is not an easy job, but a good stylist can make great looking highlights by attaching thin strands to your short hair. Experiment with the colors and the length.
52. Light weave
Add some volume to your hair by choosing a light colored weave hairstyle. The light colors are bound to make your hair look rich. And if you go for the curls, they will make the volume even more eye-catching.
53. The Barbie look
Nothing will help you look like a Barbie doll more than a good curly weave. Rich thick curls mixed together with vibrant color and some imagination will make this weave hairstyle worth flaunting at any podium.
If your ponytail is far from being long and thick, try a good weave and it will save the day. There are special hair extensions, which can be attached to create just the ponytail look you always wanted. Almost no maintenance is required. You can also try high ponytail with weave or weave ponytail with bangs.
55. Dark curls and waves
Long and wavy weave hairstyle is a great way to diversify the old and boring short and curly mane. Weaves do a great job of making women take more care of their new and improved hair, which leads to fabulous new looks.
56. Keep it straight
If you want to go for a straight-haired look, the straight weave is there to help. Remember, straight weave needs some careful maintenance and a good brushing. Otherwise, your head will be a mess. If you are not sure about your haircare skills, go for curls.
57. Creative weave
If you've tried regular weave and think you know all there is to know about it, the time has come to get creative. Choose several differently colored weaves to make your hairstyle look amazing and unique.
58. Accessorize
If you opted for a long and curly weave, you can experiment with large accessories. When your hair was short, there choice of accessories to wear was really different. Now you will need larger jewelry since smaller pieces will be lost.
59. Textured weave
A textured weave is one of the long weave hairstyles, which is quite popular and natural-looking. Play around with the length of your natural hair to create and impression of layers. The weave will deal with the volume.
60. Wave cascades
Wave cascades is one of the classical weave hairstyles. No matter how you call them or how long you make them, the waves will look absolutely amazing. You can't go wrong here. Just make sure to take good care of this hairstyle.
61. Short and messy
If you have always wanted a short and voluminous bob but are tired of the old and boring thin strands, try the short and messy weave. Your stylist can add some serious volume to your short hair by adding curly strands. It will look amazing!
62. Weave Bun with Bangs
No matter how hard you try, thin hair cannot be tied into a bun. Another special way to use a weave is to make neat hairstyles such as knots, braids and buns. It is a quick weave hairstyle which can easily be used for special occasions.
Women often dream about complicated braided hairstyles. A weave is a great way to have the dream come true in the shortest amount of time. Bring your stylist a picture of the complicated braid style and see it being created right in front of your eyes.
64. Chic weave
The chick weave is easily achieved by being creative with the colors. The weave can look natural even if it is dyed with a different color than your own hair. Just mix and match the colors and you'll get an amazing and fashionable hairstyle.
65. Quick fix
Weave can be a quick fix for any occasion. If you want to do something special with your hair but ran out of ideas, the stylist can quickly add some hair extensions to turn your stylish long bob into a curly cascade which will draw all the attention.
66. Short weave curls
If your hair is short, straight and thin, there is no need to go for long weave, which will look unnatural. Try adding some short curls to get the much-needed volume. The short weave is easier to maintain and brings just as much pleasure as the long one.
67. One strand
Often you don't need to go for a voluminous weave, which will take a lot of time to attach and require a ton of hair cosmetic and maintenance. You'll be surprised, but you can easily change your look with just one strand. Add an asymmetrical strand to the front, and you'll get a completely new hairstyle.
68. Intricate designs
Whether it is a wedding, a photoshoot or any other special occasion, the weave will allow you to make the most intricate designs with your hair. Take this one as an example of an amazingly looking long hairstyles and bring it to your hairstylist.
69. Creative mess
Make a creative mess on your head by adding a lot of volume with the help of a weave. This hairstyle can easily be called outrageous and will suit those women who like to stand out of the crowd. Experiment with wild colors!
70. Eye-catching side swept weave
Side-swept hairstyles always look great but they are often hard to maintain. If you make a side-swept style with your own hair and then add a weave, your effort will be minimal. Try an eye-catching side swept weave and you'll be amazed at how great it feels.
71. Back volume
Weaves are often added to create volume in the front, but they can do wonders for making the top of your head look voluminous and amazing. Try to add a shorter weave on top of your head and a longer one to the lower part of the hair.
72. The down under
Your bob has forgotten what volume means? Add some color and vibrancy to your short hair by attaching a weave underneath. You can play around with different colors or choose your natural one. In any case, you bob will get a new life.
Scarlett had dream hair. So why not look even better. Attach a weave to create a voluminous braid or a ponytail and curl your bangs to create a dreamy look, which will leave any guy breathless. You can choose any color you like, but red is sure to be a hit.
Ravishing Braided Updos To Try Right Now
74. Wavy and divine
Neat and long waves is what any girl wishes to have on top of her head. Everything is possible with the correctly chosen weave. Remember to keep the waves neat with some quality hair products and you are bound to look amazing all day long.
75. Messy strands
Weave usually needs a lot of care. If you want to avoid it, go for messy strands. You are sure to like the way differently colored strands look together with the rest of your hair. This punky style is a hit with high school and college girls.
76. Asymmetrical Weave
Create an outstanding weave hairstyle by attaching a differently dyed weave on top and adding some long strands in the back. The asymmetry, which will be created, will suit any woman with any hair type.
77. Short and neat curls
Make your short haircut look amazing with the short and curly weave. If your own hair is not very manageable, go for the weave that will help you deal with it. You'll be surprised at how neat your hair will become.
78. Yin Yang
If you are ready for something out of the ordinary take a look at this phone. Attach blond strands to your dark hair to create a mysterious yin yang look which is bound to give you an unbelievable feeling of vibrancy.
79. Amazing spirals
The longer your hair, the more amazing it looks. Forget large curls and waves and go for amazing spirals. This hairstyle is surprisingly easy to manage and won't require too much hair cosmetics to keep it intact.
80. Wet Weave
The weave is not your natural hair but you can do almost anything you wish with it. A wet wavy look is one of the most interesting choices for women with weave. Try it and you'll be amazed at the movie star look you'll get.
81. Braided Ponytail With Weave
For women with thick short hair, this weave hairstyle is a great choice. You can braid your own hair to lie neatly on top of your head and attach a ponytail weave to complete the look. Ponytail weave is very easy to maintain, so you won't have to spend much time on your hair in the morning.
82. A cherry on top
Make a creative hairstyle by adding a weave on top of your short hair. Mix and match different colors to make it look as outrageous as you wish. You'll really stand out of the crowd and feel fabulous!
83. A high bun
Buns are a great way to use a weave. In fact, it is one of the quick weave hairstyles, which you can easily use anytime you want. Make sure to get it fastened well and you can go around all day looking amazing and never giving it a second thought.
84. Goldilocks
If you always wanted golden locks but were afraid to try, a weave can you give you this opportunity with almost no effort involved. Add a blond weave to your dark hair and the result will exceed all expectations.
85.

The highlighted perm
Perm is a great idea for women with dark skin color. Another great advantage of the perm that it doesn't require much maintenance. In fact, all you need to do is spend some time in the salon attaching the weave and then you can forget about hairbrush for a long time.
Now you know at least 115 wonderful ways to deal with a weave. Attaching a weave might take a while, but wearing it is a lot of pleasure. We hope that you have chosen the weave hairstyle you like best and are heading to the salon to get the fantastic look you always wanted.