As any seasoned stylist will tell you, getting the hairstyle right for a wedding look is almost as essential as any other aspect of getting ready!
While the bride is the focal point of the wedding, one should not forget the junior bridesmaids as they are the bride's loved ones and need to look their best! So, we've rounded up the top 20 hairstyles for junior bridesmaids; they'll love these.
If there are several junior bridesmaids, you may be tempted to simply recreate the same hairstyle on all of them for purposes of simplicity and ease, but every girl has her own personality, and this power list will help you be creative and experimental.
Prettiest Hairstyles for Junior Bridesmaids
1. Feeling Like A Princess
Every junior bridesmaid deserves to feel like a princess if their older sister, cousin, or sister-in-law is getting married. It's a brilliant confidence booster for younger girls who are just figuring out dressing up for special events, and the right hairstyle can mean they will love hair and makeup for the rest of their lives.
This side part, achieved with a teasing comb and loose waves, is an understated glam hairstyle, especially with the statement bejeweled tiara glimmering center stage.
Since the tiara has such a powerful impact, you wouldn't need to convince the child to wear other heavy jewelry or an uncomfortably elaborate dress. A simple silk gown with ballet flats will do!
2. A Gone With The Wind Extravaganza
Being a junior bridesmaid or a young girl at a wedding is a superb opportunity to play dress up. This hairstyle is very 17th and 18th Century inspired with a low bun with loose curls in a vaguely V-shape. It is secured with a headband of silk rose buds as a finishing touch.
If the junior bridesmaid has longer hair, this low bun does not require a hair donut or bun maker and will sustain wonderfully on its own. A lace gown fitted with a corset and gloves could not be more fitting when it comes to the grandiosity of this regency hairstyle.
This is one of the best Hairstyles for Junior Bridesmaids.
3. Casual Top Bun For The Tomboy
Not all little girls are interested in girly girl pursuits, colors, or hairstyles. This casual 'cool girl' top bun will keep the hair away from the face and be a well-loved classic hairstyle that suits every type of dress, from a high-neck to a V-neck or off-shoulder gown.
To maximize the volume in the top bun, you can always use a hair donut, a type of puffy scrunchie that hairstylists wrap your natural hair around. Leaving a few strands in front loose or curling them slightly can add a feminine touch to the look.
4. A Double Crown Braid And Plenty Of Bling
Young bridesmaids love hair jewelry, gems, and everything that is blingy and shiny. This beautiful, regal hairstyle uses two crown braids entwined with plenty of hair jewelry with gems randomly placed.
The messier, the better! The hair has been loosely curled and then brushed out for a less-than-perfect look. Any young bridesmaid will love twirling on the dancefloor at the reception in this hairstyle!
5. Bohemian Flower Child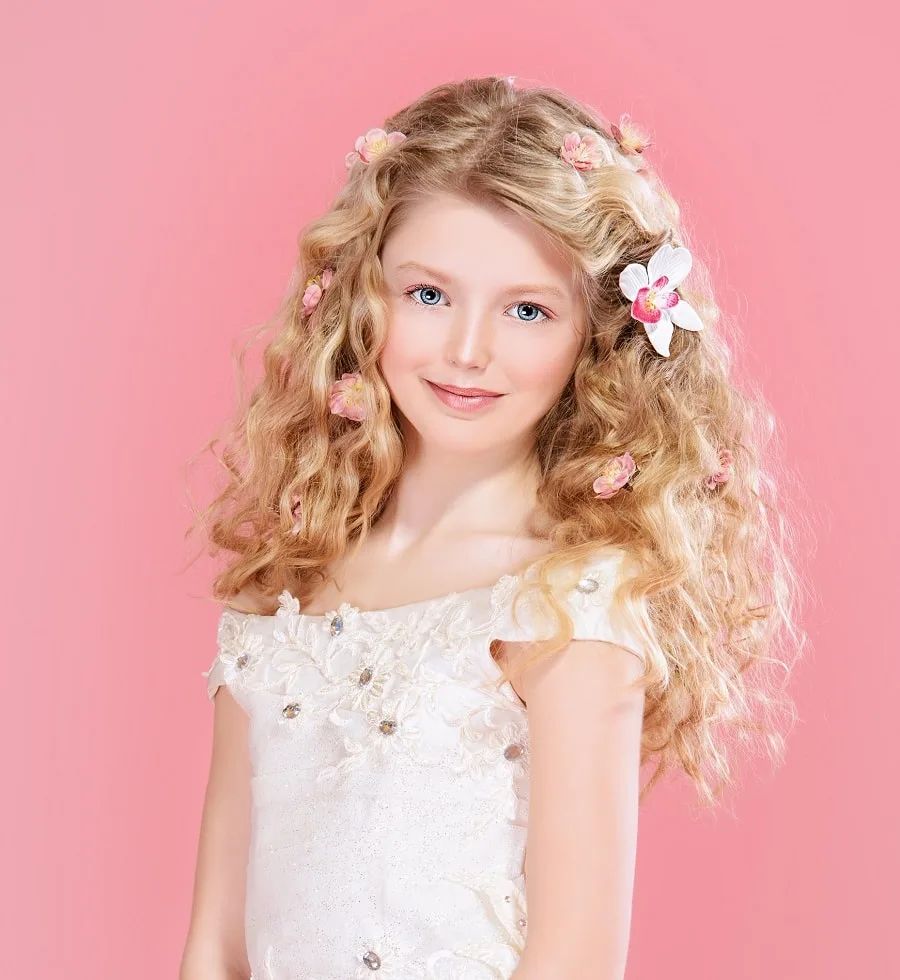 This hairstyle is a work of art. Use a volumizing shampoo and conditioner beforehand and then some great quality texturizing spray to get that beachy waves to texture going.
Use an iron to create some loose beach waves but don't worry about symmetry or making the hairstyle even on both sides.
Create some volume all the way from the back to the front with a volumizing spray or a regular hairspray and a teasing comb.
Last but not least, use some hair flower pins in the color of your choice (pink and white are immaculate choices) to scatter the flowery effect throughout the hair.
6. Braided Buns On Each Side With Wild Flowers
This hairstyle is along the same line as the Bohemian flower child one, and it uses two loose buns on both sides of the head with a few strands of hair pulled out for that girly, super feminine charm.
In this wedding hairstyle, the hair was loosely curled beforehand and then brushed out so that there is more definition and dimension to the buns, but not in a perfect structural way.
7. An 80s Side Bun
If you are a fan of the disco 80s dance era, this hairstyle encapsulates it immaculately, especially when paired with brightly colored green hair flowers! Teasing is done at the front section of hair before making a wavy, loose side bun.
8. Celebrating Natural
If the young bridesmaid has beautiful, long hair, arguably the best hairstyle is simply giving her a conditioning treatment the day before and then letting them shine at the wedding reception! You can add some hair flowers, hair jewelry, or even a small tiara if she insists.
9. Semi-Braided Messy Side Ponytail
Children often want to explore the venue and play hide-and-seek games with their friends at wedding receptions, so a ponytail is practical, but that's no reason why it should be boring! Add some casual waves, braid one thick chunk of hair, and wrap it around a low-hanging side ponytail and voila! Your junior bridesmaid is ready to hit the aisle or the dance floor.
10. Sleek And Short Bob Junior Bridesmaid Hairstyle
Most children sport a short haircut simply because it's easier for parents to maintain. This short haircut with a few added seasonal flowers is simple but adorable.
The Best Hairstyles For Junior Bridesmaids
11. Messy 90s Top Do With Bangs
We've all seen chick flicks with the main female character having a fringe or messy hairstyle. This bridesmaid hairstyle is a variation of that concept so create some curls and messily arrange them with pearl pins on the top of the head. Straighten the fringe to get out any kinks, add some tiny braids and a pair of clip-on earrings, and you are good to go!
12. Double Drama Fishtail Braid
Fishtails are gorgeous and always look like someone made a lot of effort to get them just right. Choose a hairstyle like this one where the hair is parted into two sections, two fishtail braids are made, and finally perfected by adding some tulips or roses or any flower the child loves. The head's top should be slick with a mousse or some hair wax to smooth out any baby hair.
13. A Pocahontas-Inspired Hairstyle
Most little girls want to emulate Pocahontas with her gorgeous straight hair and small braids sprinkled in them randomly. Flat iron the hair to create a sleek texture (if it is not naturally present) and make a few small braids.
14. Doll Curls Junior Bridesmaid Hairstyle
An easy and yet stunning hairstyle for shoulder-length hair is to use smaller rollers or a petite curling wand or barrel tong to make tighter, ringlet-type curls. Doll curls are very pretty and age-appropriate also.
15. Braided Top Bun For Natural Hair
A braided top bun, especially for natural hair, is a chic and beautiful hairstyle because it looks impactful and elaborate, even though it is easy to put together.
16. The Crown That Makes A Queen
One of the best ways to style a child's straight short hair is to add a magnificent tiara, you can buy it from a costume jewelry shop or any artificial jewelry outlet, but it will make her feel like a queen!
17. Sleek Side Ponytail With A Side Part
A side ponytail with a smart side parting of the hair is a universally beautifying, simple hairstyle. Secure a hair flower or barrette on the side, and you have a chic formal look ready for your little bridesmaid. Side ponytails are also a great way to accentuate the hair's length.
18. Junior Bridesmaid Hairstyle A Beautiful Botanical Crown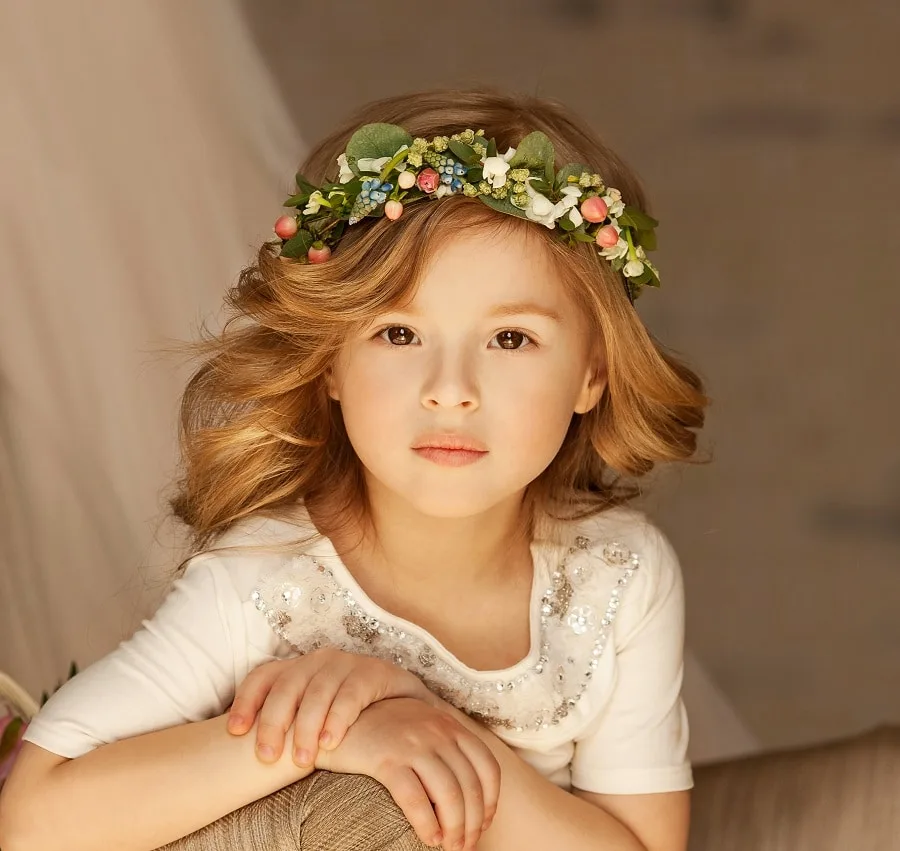 A botanical crown with faux fruits, foliage, and wildflowers is a unique and interesting headpiece to use for this bridesmaid hairstyle, coupled with some well-done waves moving away from the face. The crown really does most of the work for you!
19. Junior Bridesmaid Hairstyle With A Side Twist
A side ponytail looks very contemporary and chic, and you can take it further by having a semi-bun after the ponytail and some loose curls throughout the length. If you want to keep the curls under control on a windy day, twist them into a slight rope braid all the way through!
20. Pigtails With Pom Poms
Pigtails are always cute and adorable for young girls, especially if you pair them with fluffy pom poms for effect. Having a lovely fringe is an added bonus to the look!
Most parents struggle with finding hairstyles for their young daughters that are both stunning and easy to create and maintain.
However, the convenient options for special occasions like weddings should go out the window because being a junior bridesmaid is a huge honor, and finding a fitting hairstyle that communicates these ideals is very important.
This list of the best hairstyles for junior bridesmaids can be your arsenal in finding that one hairstyle that will make your little bridesmaid's entry nothing short of a show-stopping moment.