Looking for a cute hairstyle for your school girl? You aren't alone. Every morning millions of young girls and their mom think about what to do with their hair. No one wants to spend hours in front of the mirror, especially when they are about to be late for school. The time has come to check out some easy to do school girl hairstyles to avoid the painful morning choice.
Cute Hairstyles for School
Have you ever seen a girl with an amazing hairstyle and thought that you can never make one of those? Stop worrying. That girl didn't spend 3 hours in the hair salon before coming to school. She just chose one of the easy to do hairstyles for school girls. Nothing should stop you from doing the same.
Take a look at 91 wonderful easy to make hairstyles we have carefully chosen for you to make your mornings a little bit easier. Try them out and you will always be a star!
1. Simple braids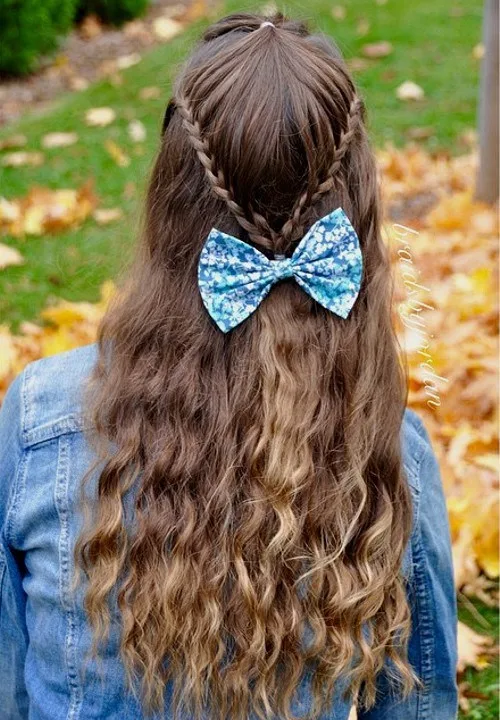 This hairstyle is creating by weaving two simple braids on two sides of the head and connecting them together with a pin in the back. Take a close look at the photo to understand how the braids are weaved into the rest of the hair.
2. Cute bun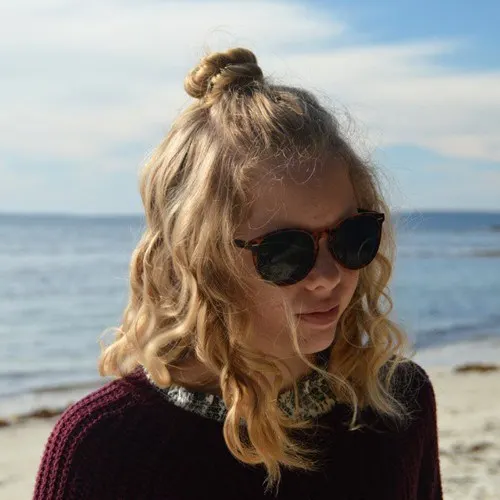 This bun is achieved by brushing up the bangs and mixing them together with some strands from the back. The mix gets tied into a bun and clipped with a pin or an elastic. This easy to make hairstyle will keep the hair from getting into your eyes.
3. The wet look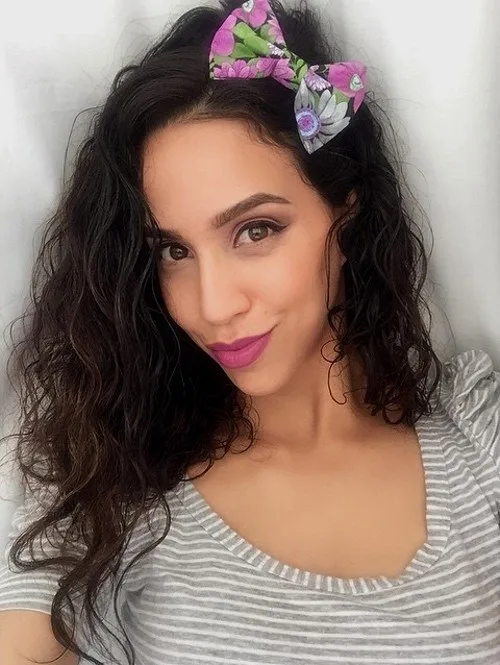 This look is easily achieved by some hair gel. It is a big savior for the days when there is no time to wash your hair. You can style your mane any way you wish. Just don't overdo the gel or the hair will become unmanageable.
4. Braided bun
This look is created by making two braids on the sides and bringing them together in the back to create a bun. The braids might be hard to make on your own at first. But over time it is sure to become your favorite east to do hairstyle.
5. Weaved bun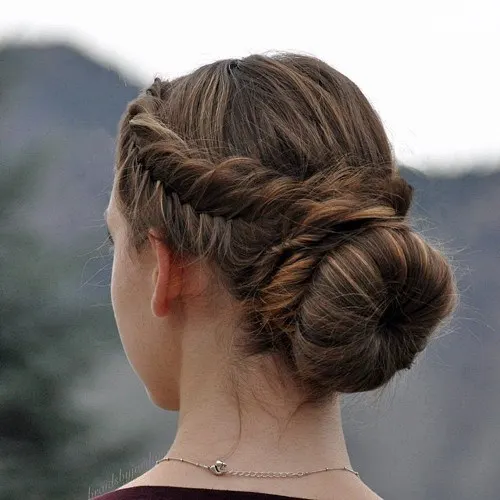 This style is created by weaving the braids into the rest of the hair on the sides and creating a simple bun in the back. This is a great way to keep long and thick hair neat. It might take a while to create, but the result will exceed all expectations.
The Best Short Hairstyles for Little Girls
6. Double Braided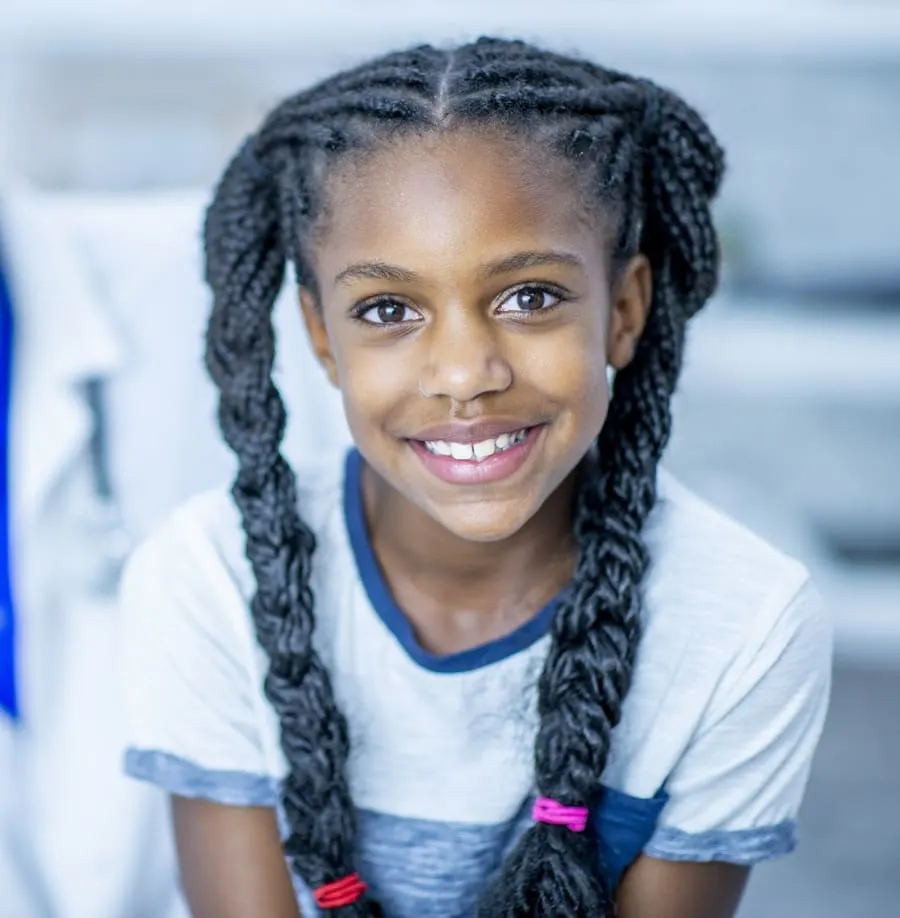 If you're rocking braids in your natural black hair, gather them up in two high pigtails and braid them too. Your hair will look twice as thick and luxurious.
7. Mini Ponytails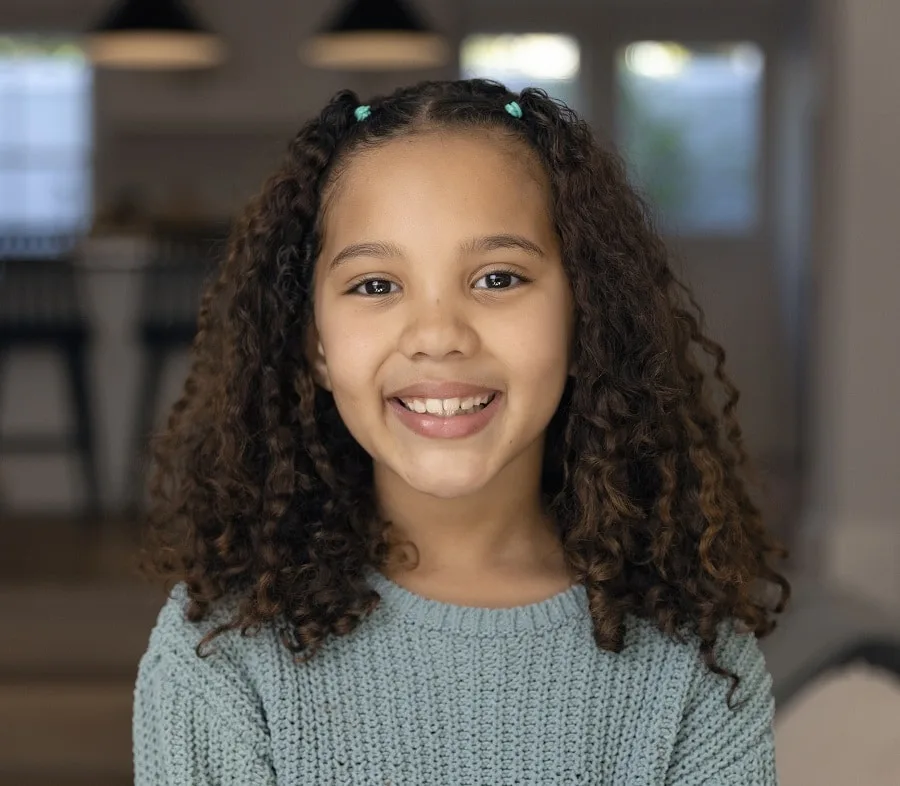 To best show off crazy curly hair, wear it mostly loose. You can make two small ponytails near the front of the face for a small touch of style.
8. Dutch Braids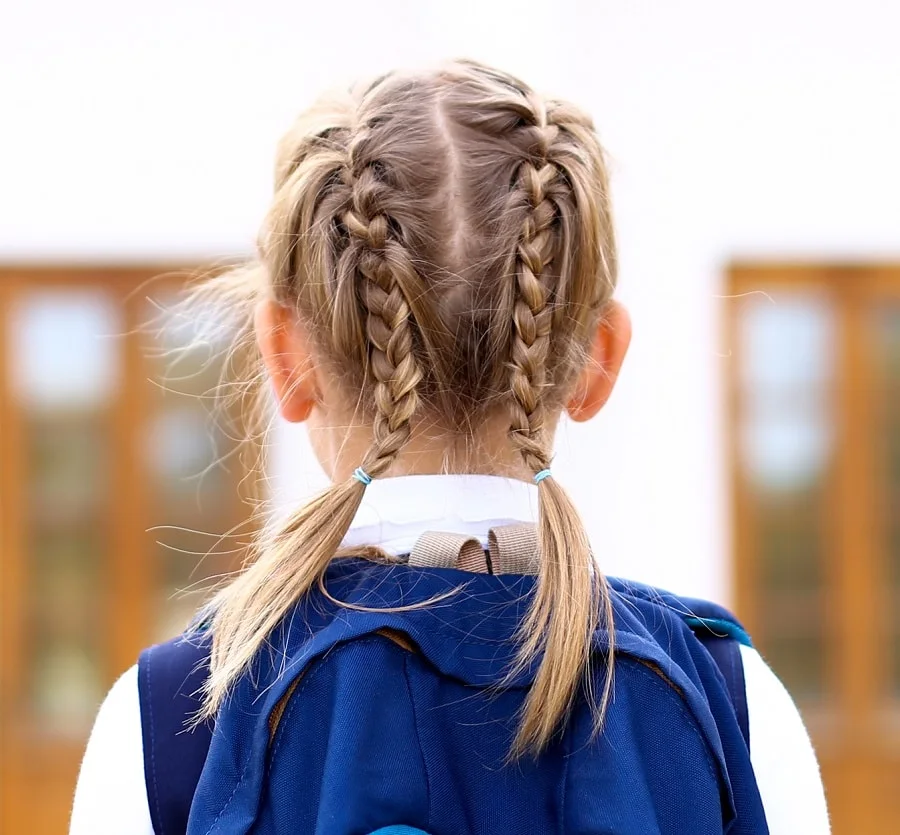 Dutch braids will never go out of style for school girls. The style doesn't require any particular hair texture and can be personalized with colorful hair ties and clips.
9. Cornrow Bun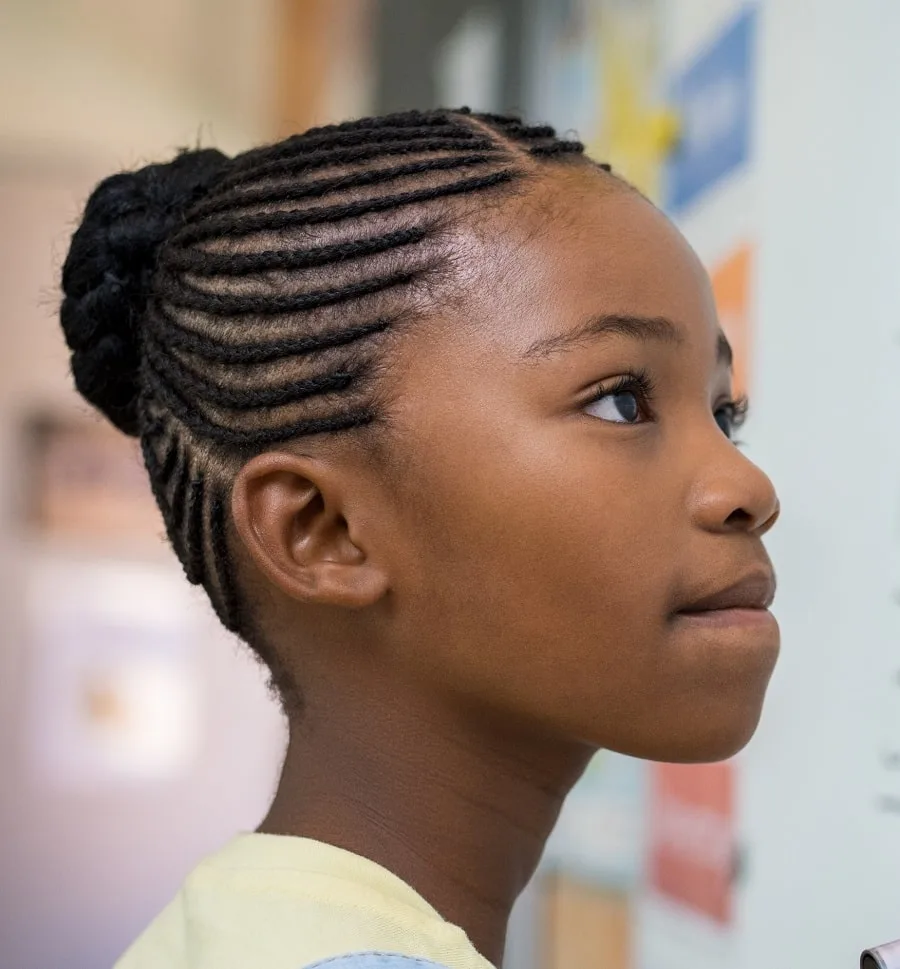 Cornrows are another beautiful hairstyle for Black school girls. Whether the hair is naturally long or you add extensions for length, it will take only a minute to gather it up in an easy braided ballerina bun.
10. Colorful Braids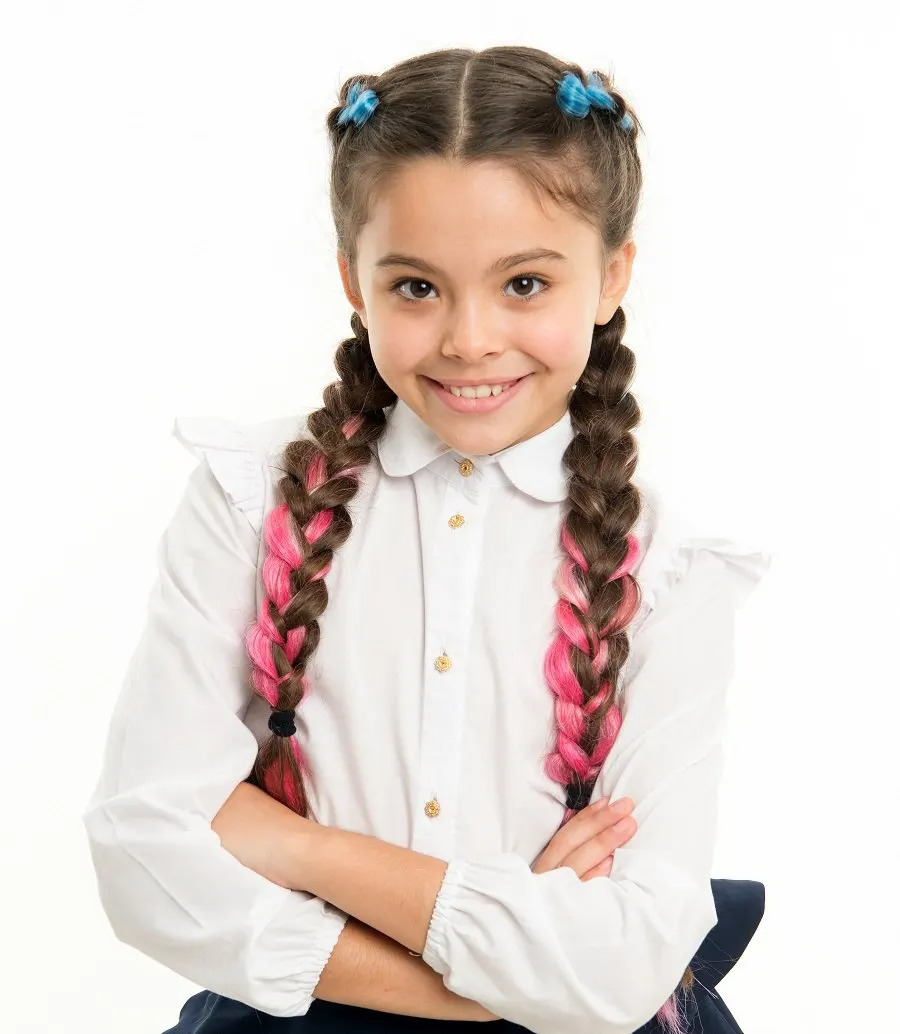 Young girls often love experimenting with fun hair colors and can do so without fear or judgment. Encourage your little girl to rock bright colors like pink and purple that will pop in braided updos.
11. Half Braids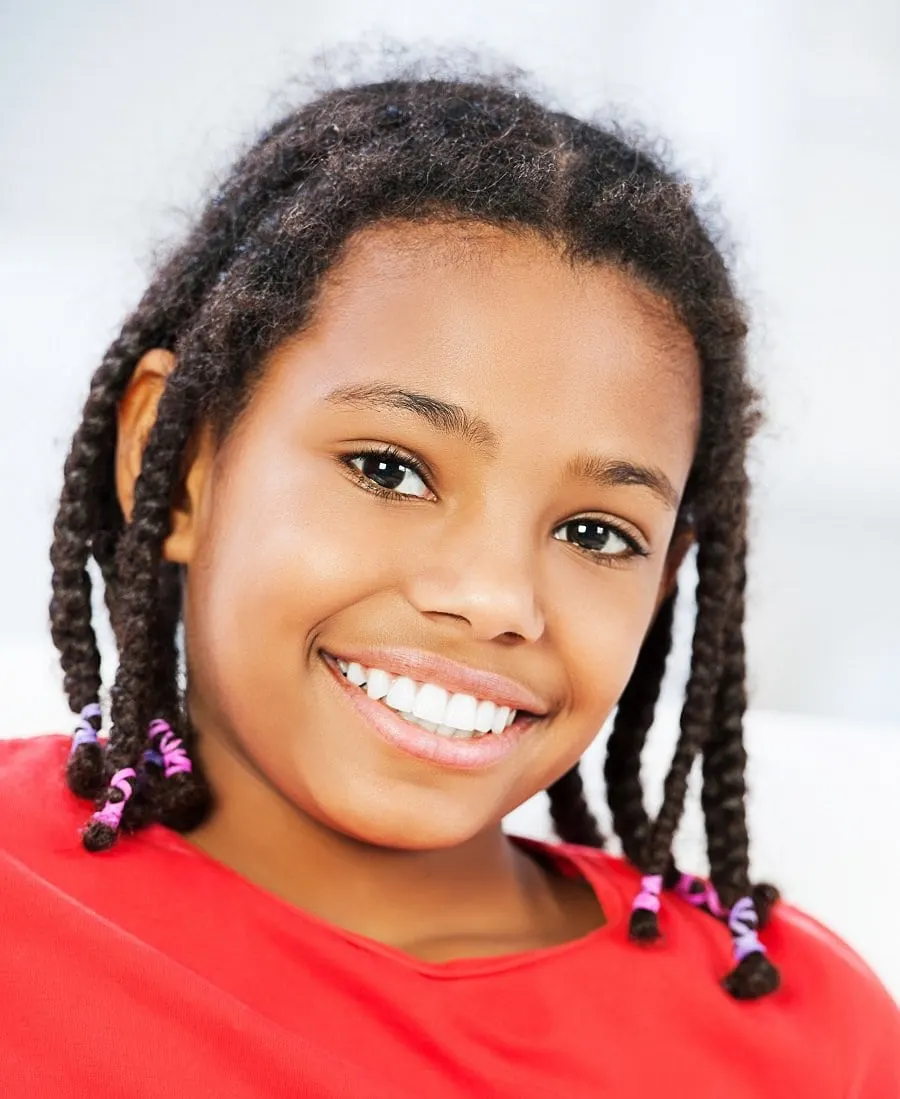 Does your little girl like to be active at school? These half braids are protective for black natural hair, stylish, and easy to maintain. She'll love using colorful hair ties to put her own touch on the look.
12. Natural Curls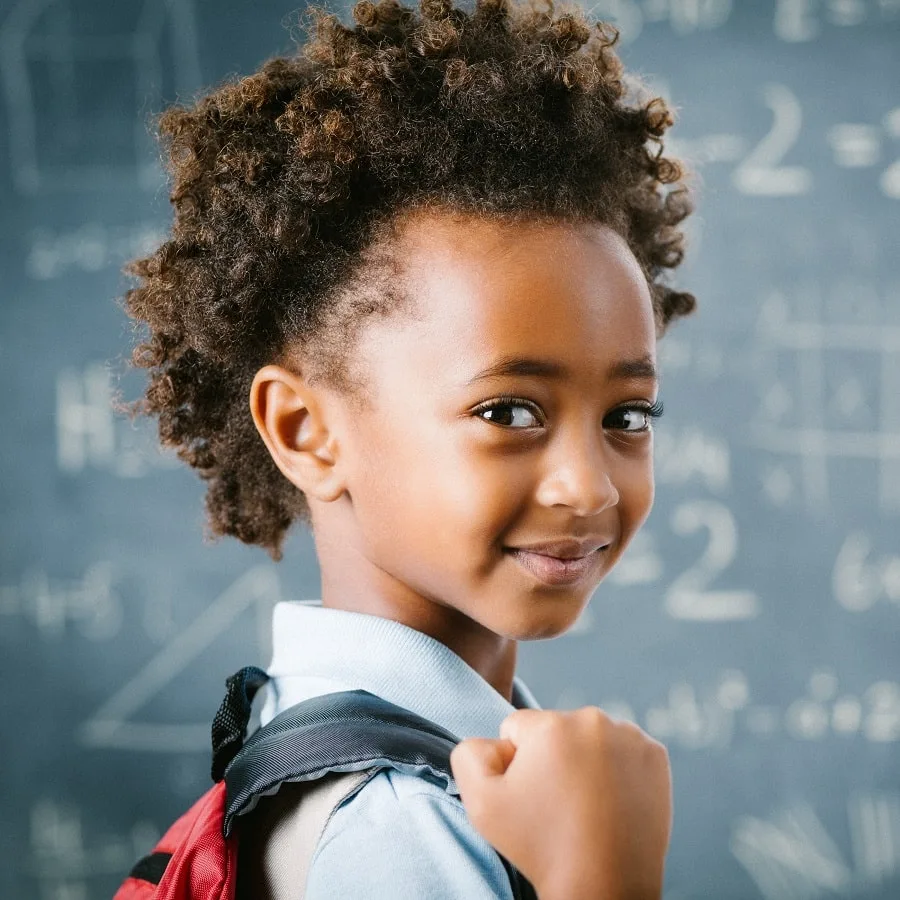 For thick black hair that has a lot of curl or wave to it, let it be natural to show off its beauty. A short haircut that keeps hair off the neck can be accessorized with a colorful headband.
13. Swept Back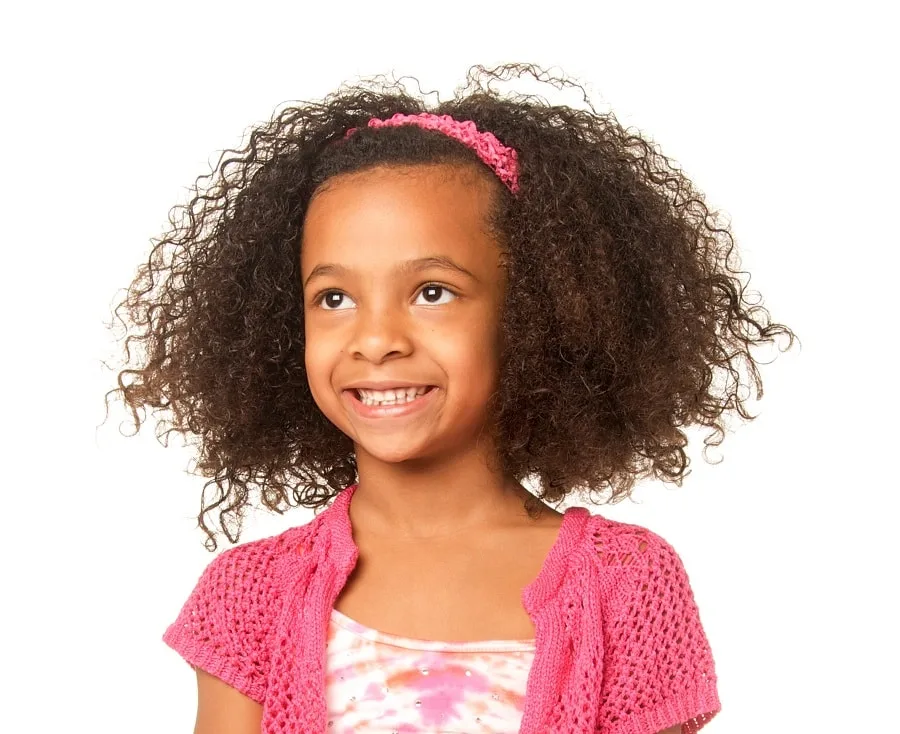 Little girls with long thick hair often get frustrated with styling it. One great look for quick school style is to simply sweep the hair back away from the face with a cute headband.
14. Dreads and Baby Bangs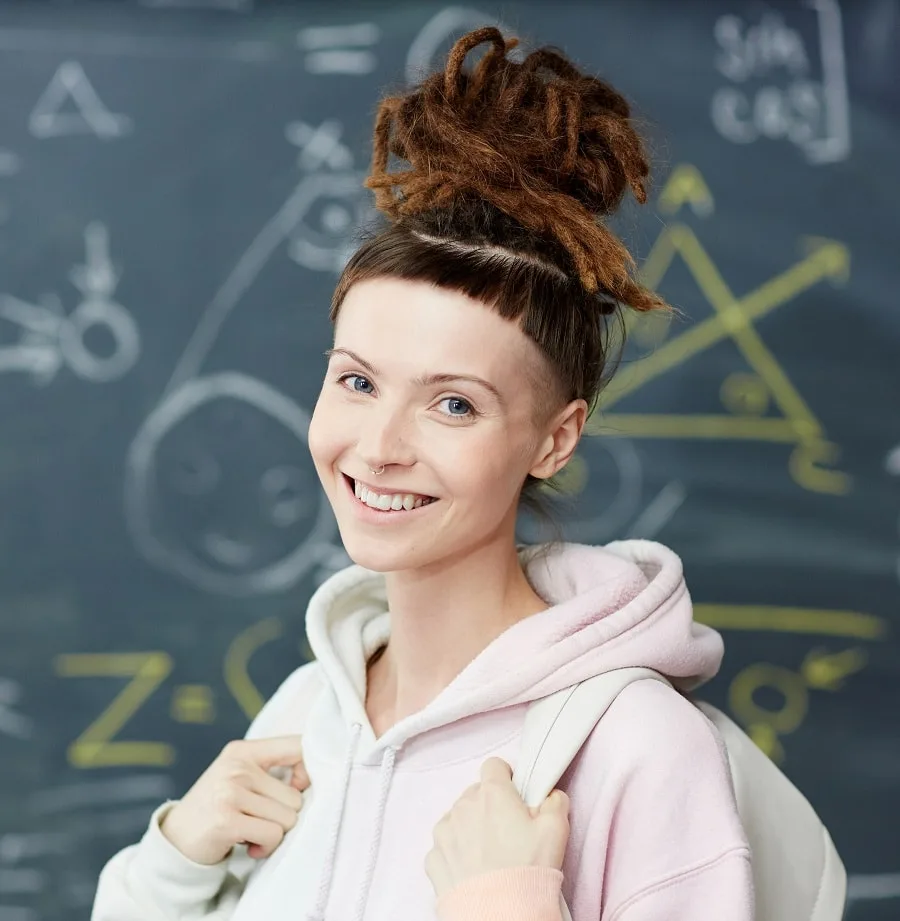 Older girls or young women in high school or college who are looking for an eclectic hairstyle should consider this unique combination of dreadlocks and baby bangs. Wear hair down or piled high in a bun.
15. Braid cascade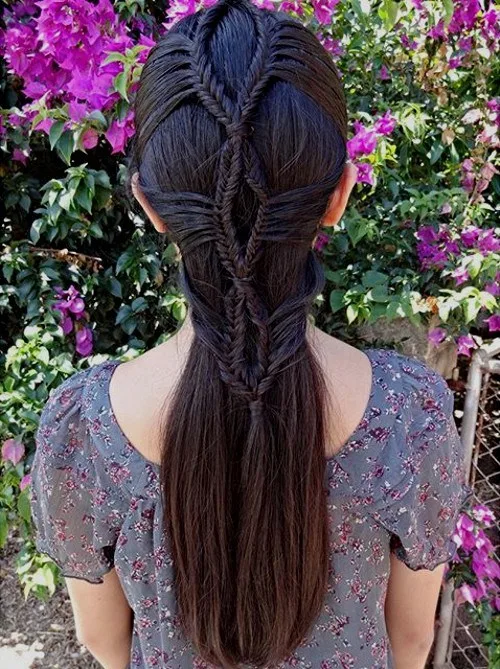 While this hairstyle might seem hard to create, there isn't much to it. However, you won't be able to create it on your own. It is achieved by making French braids with the use of several hair strands for each level.
16. Voluminous bun
This simple bun is achieved by tying the hair on top with an elastic and then pulling some strands out to create volume and cover the band. This is an easy to do hairstyle, which can be a real savior for girls with long hair.
17. Using the accessories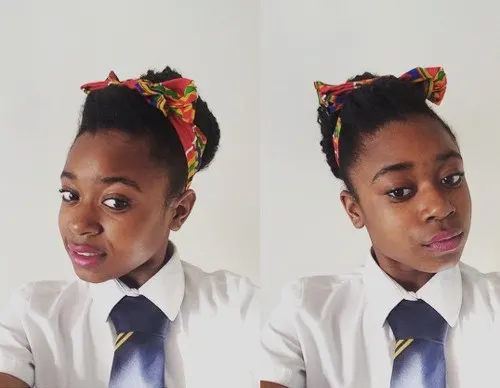 Accessories are a great way to diversify your haircut. Use a cotton scarf to tie your hair back and you will get a new and improved look in a matter of seconds. Experiment with different accessories and you are sure to look amazing.
18. Braided crown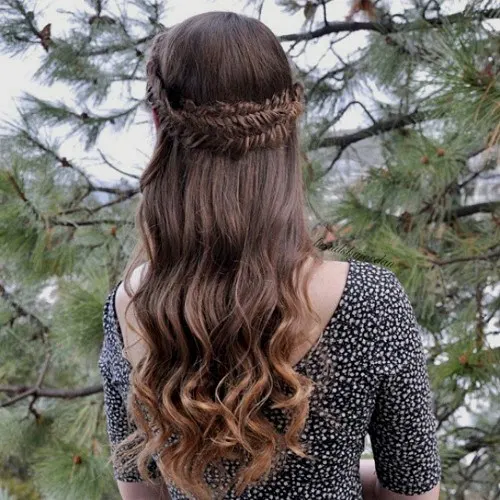 This is a great idea for girls with long and thick hair. Make several braids on the sides and interweave them together in the back to make an impression of a crown. Keep the braids together with thin black pins.
Perfect Hairstyles for Little Black Girls
19. Spiky braid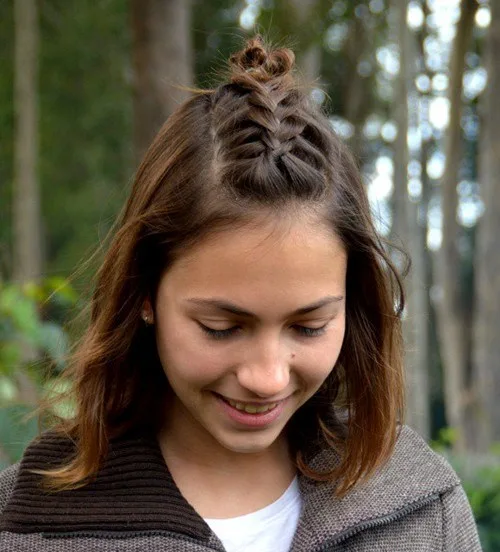 A creative school girl hairstyle that will become your favorite. It is so easy to make! All you need to do is just create a French braid which starts with your bangs and ends at the nape. The spiky result looks very adorable and will make you stand out of the crowd.
20. Entwined asymmetrical braid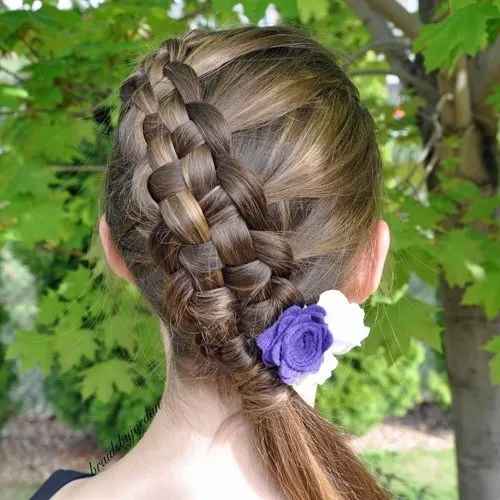 This braid might look hard to do, however, it is quite easy for girls with braid weaving experience. It is created by entwining separate strands of hair into the regular braid. In the end, it will look like a complicated design.
21. Asymmetrical back braid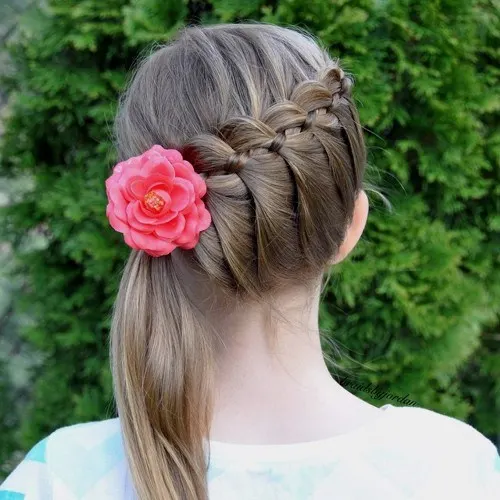 An easy to create braid hairstyle for little school girls. All you need to do is alternate the strands. Each new step of braid weaving will require a new strand. Pin the end with a bright accessory to complete the amazing look.
22. Hiding the bangs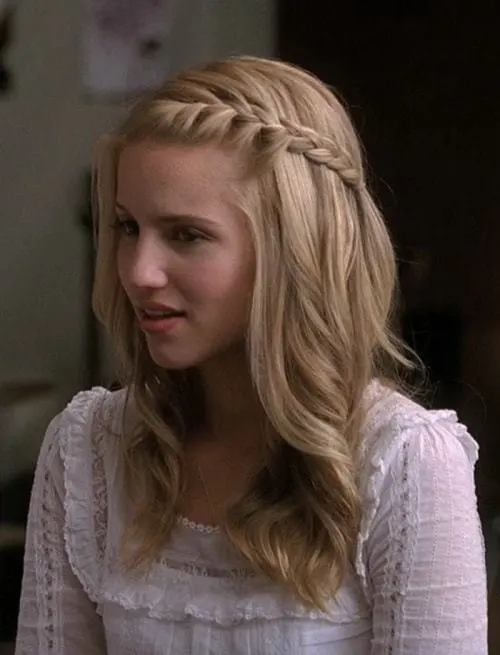 If you are tired of bangs, that get into your eyes, this creative school girl hairstyle will really make you happy. All you need to do is use your fringe to make a backward braid. Start with the strands from your bangs and weave them into the rest of the hair.
23. 4C Hairstyle for School
If your school girl has tightly coiled hair, then it's referred to as 4C. Bunch it up in two high poofs similar to space buns for a perky, fun hairstyle!
24. Bow Updo with Bangs
Thick straight bluntly cut bangs pair perfectly with this high updo. To fancy it up, it's given a bow shape. Wear it to those special occasions that call for a dramatic look.
25. Cornrow Hairstyle for School Girl
Thin cornrows curve in different directions on this school girl hairstyle. They're gathered up in a high ballerina bun and wrapped in a pretty colorful ribbon.
26. School Hairstyle for Black Girl
For little girls with especially thick hair will love how a couple small puffs centered around the head keep the hair out of the way in a super cute style.
27. Short Hairstyle for School Girl
If you can't begin experimenting with hairstyles when you're young, when can you? Encourage the school girl you know to be bold by chopping off her locks into a cute pixie hairstyle.
28. Updo for School Girl
For school dances or on days when you just feel like having a glam hairdo, try this chic style featuring a braid that is tucked into itself at the nape of the neck.
29. Afro Hair for School Girl
Afro hair is super gorgeous when left natural and loose. Encourage your school girl to keep her locks free-flowing; everyone will be jealous of her luscious curls.
30. Blonde Messy Curls
A slightly messy hairstyle full of loose curls doesn't look too haphazard when tamed with a bit of product. A school girl's blonde locks are sweet and adorable brushed over shoulders.
31. Small Ponytail for Box Braids
Box braids are another way to contain thick natural black hair. After forming the braids on your school girl, you can try one of these side ponytails with just a small section of hair secured back.
32. Side Bow Ponytail
For straightened hair, try a neat ponytail gathered low at the side of the head. A cute bow detail is the accent that sets it apart from any other low updo for school girls.
33. Diagonal Waterfall Braid
You've probably only seen waterfall braids as a side hairdo, but this half updo puts a twist on it by curving the braid from one side to the other. Fill the body with curls or leave straight.
34. Loose Waves and Balayage
Give the school girl you know something to have fun with by trying out purple and blonde balayage. Fill the body with soft waves or thick curls to take it the next level up.
35. Pinned Back Side Hairdo
Bright gold barrettes pin back one side of this long wavy hairdo for school girls. It works for birthday parties and for picture days, making for a truly versatile hairstyle.
36. Braided Pigtails
If a school girl you know doesn't wear pigtails starting when she's a little girl, she's missing a milestone! Gather two ponytails at each side of the head and braid to the ends for a quick cute hairstyle.
37. Box Braids with Colored Ends
White is gorgeous and edgy contrasting color for long black box braids. The ends ensure she can wear hair down or up and it'll look amazing.
38. Short Hairstyle with Orange Bangs
Whether it's orange or another fun color chosen to decorate the bangs and face-framing pieces of a short hairstyle, it'll add a cool contrast to brunette school girl hair.
39. Long Hairstyle for School Girl
For school girls with long hair – especially if it's thick and unruly at times – a pull-through ponytail is easy and super stylish. Top the end with a colorful hair tie or ribbon for finishing touches.
40. Medium Hairstyle for School Girl
Your little girl can still be your baby by pulling the back of her hair into a classic high ponytail and leaving bangs straight and softly swept over her forehead.
41. School Hairstyle for 7-Year-Old Girls
Sometimes simple is best and this short hairstyle with straight bangs proves it. It's easy and takes only minutes since all you need to do is run a comb through locks.
42. High ponytail bow
This bow is easily created by making a high ponytail. Tie the high ponytail with an elastic band, but don't let the end hang freely. Leave it tied together with the base of the ponytail. The pretty bow is ready! It will look best with thick African hair.
43. Comb over
This one of the easy hairstyles for little girls is great for any lady with long bangs. The bangs are combed backwards and tied to one of the back strands with an elastic band. This style takes seconds to make and looks neat all day.
44. Fishtail braids for school girls
Fishtails braids are a real hit and you can experiment with them any way you like. If your hair is not thick enough to make two voluminous braids, go for one. You can make it on one side and let one stray strand out on another.
45. Asymmetrical bob
This variation of the hairstyles for school girl looks great on ladies with oval or round faces. The back part is short and layered, while the front strands are made asymmetrical. The bangs are also without symmetry. This hairstyle really makes a statement.
46. Pretty scarf
Using different kinds of accessories is a great idea for easy to do school girl hairstyles. This style is one of the easiest out here. Tie your hair with a colorful scarf to keep it out of your face. The prettier the scarf, the more amazing the look!
47. Weaving experiments
Girls with long hair have a lot of styles to experiment with. Braids are very popular and always look amazing. Take a look at some options on the photo. They are easy to make and can become a great start for your weaving experiments.
48. Pretty bow
This school girl hairstyle is very easy to make. Take two strands from the sides and brush them carefully to the back. Tie them together with an elastic and create a bow. The bow should be tied with a band in the middle. Pull one of the strands over the elastic band to hide it.
49. Low braided bun
This great hairstyle might look hard to create, but it is actually very simple. Make three separate braids in the back and tie each of them to their bases with an elastic band. Pull strands out to create a unified look. Follow the instructions on the photo to make the job easier.
50. A braided knot
Take a look at the photo to learn how to create the braided knot. The distinctive feature of this hairstyle is the way it stays together. From the outside, it looks as though nothing is holding it in place except for the hair itself.
51. Twists
There is a lot of room for imagination with twisting your long hair. Make two twisted ponytails on each side of your head and tie them together in the back with a bow. This will make your hair look neat and prevent it from getting into your face.
52. Circling braid
This type of braid looks amazing and does wonder for outlining your bangs. Make a braid on one side of your face and stretch it to another. Clip it in between the strands to make the pins invisible. This is a truly regal hairstyle!
53. Inverted heart braid
This school girl hairstyle might look complicated, but all it really takes is some elastic bands and 5 minutes. Make a ponytail and divide it into sections. The first section should be tied with a band about one inch from the top. Then pull the rest of the ponytail through the top section. And repeat.
54. Natural curls
If your hair is not naturally curly, there is no reason to go for perms or flat irons. You can make curls overnight by using elastic bands. Twist your hair into small sections, as shown on the photo and secure it with elastic. Go to sleep. Wake up and remove the elastics. The curls are ready to use!
55. Thin strands
There are many interesting ways to work with thin strands. Take a look at the photo to find out about some of them. One of the more popular ways is to cover the elastic bands. Learn how to work your thin strands and all your hairstyles will look most natural.
56. Crisscross braids
These braids are a little complicated to make neat, so some help would be required. Start with separating your hair into two sets of about ten strands and start weaving at the sides. Each level will require a new strand. Meet in the middle and follow through to the opposite side.
57. Lateral French braid
French braids are fun, so why not experiment with them? Start at one side of your head and continue making the French braid laterally. The result will be truly amazing. If your hair is not too long, this braid will make a perfect crown.
58. Fringe braids
If your fringe is long, make a braid out of it! Braid your fringe into a standard braid and pin it inside the rest of the hair, as shown on the photo. This will make for a great school girl hairstyle and will keep the fringe from getting into your eyes.
59. Tight fishtail
Fishtail braids look complicated, but there is really nothing hard about them. There are several variations of this braid. One of them is a tightly weaved one. If your hair is long and thick, such tight fishtail will look amazing.
60. Milkmaid braid
There are many ways to create a milkmaid braid. All depends on how long and thick your hair is. The standard milkmaid braid is seen on the photo. It is created by circling the head with a simple braid. This school girl hairstyle is fantastic and comfortable to wear.
61. Halloween styles
Tired of old and boring hairstyles? Have some fun! Take a look at the 3 Halloween styles we have chosen for you. This school girl hairstyles are fun and easy to make. However, everyday wear might not be a good idea.
62. Reversed Heidi braids for School Girls
These Heidi braids look amazing on school girls with thick hair. Make a low Heidi braid in the back and secure it with some pins. Add some bows to make this hairstyle fit for any special occasion.
63. Transitions
Braid or ponytail? Why not both? Make two side braids and tie them into a ponytail in the back. This can be done with fringe braids as well. Such transitions are a good idea for women with fine hair since a braid would look too thin.
64. Messy braids
Older school girls will appreciate a sexy look created by making loose and messy braids. Some strands can be left out to make the style even more interesting. The only disadvantage is that such braids are sure to fall apart pretty fast.
If you don't have much time, go for these easy to do school girl hairstyles. Ponytails come in all shapes and sizes. Styles vary from simple to the most intricate. Check out the ponytail on the left. It is easily created by pinning wavy hair strands to one side.
66. Messy ponytail
This hairstyle is created by making a loose ponytail in the back and pining some strands to the side. While this style looks very intriguing, it will take some effort to make it stay intact. Use some hair spray to keep the strands in place.
67. Side ponytails
Side ponytails look extremely cute on school girls of all ages. They are easy to make and to keep in place. The mischievous look they give the girls who wear them is absolutely amazing. Don't know how to style your hair? Make some side ponytails.
68. Straight and fashionable
Keeping straight hair neat is not easy. So, many school girls go for braids and ponytails. However, leaving your hair straight is also a good idea, at least sometimes. Use some hair spray to avoid stray strands and flaunt your amazing locks!
69. High bun
This easy to do school girl hairstyle requires minimum effort. You need a special wide elastic band. Make a ponytail and tuck it into the elastic band to create a voluminous bun. Pull at some hair strands to neatly shape it.
70. Funny ponytails
This hairstyle is great for young school girls. The ends of the ponytails are held by the same elastic band that holds the base. Ribbons are wrapped around the upperr parts to create a very cute look. Give it a try!
71. The classics
When you think about a school girl hairstyle, what first comes to mind? Two simple braids, of course. This classic is timeless and never goes out of fashion. So, if you are out of ideas, go for the classical two-braided look!
72. Ribbon braid
The ribbon braid is easily made by using the ribbon as one of the hair strands. Weaving different bows and ribbonsinto braids is a great idea for any school girl. Play around with all kinds of colors and you are sure to create an amazingly unique hairstyle.
We hope you found what you've been looking for among these easy to do school girl hairstyles. We recommend you experiment with some of them, to create your own unique look. Don't forget that braids look great on medium sized hair as well as they do on long manes. Try them out!