Every morning millions of young girls think about what to do with their hair. No one wants to spend hours in front of the mirror, especially when they are about to be late for school. The time has come to check out some easy to do school girl hairstyles to avoid the painful morning choice.
Amazingly Easy School Girl Hairstyles
Have you ever seen a girl with an amazing hairstyle and thought that you can never make one of those? Stop worrying. That girl didn't spend 3 hours in the hair salon before coming to school. She just chose one of the easy to do hairstyles for school girls. Nothing should stop you from doing the same. Take a look at 50 wonderful easy to make hairstyles we have carefully chosen for you to make your mornings a little bit easier. Try them out and you will always be a star!
1. Simple braids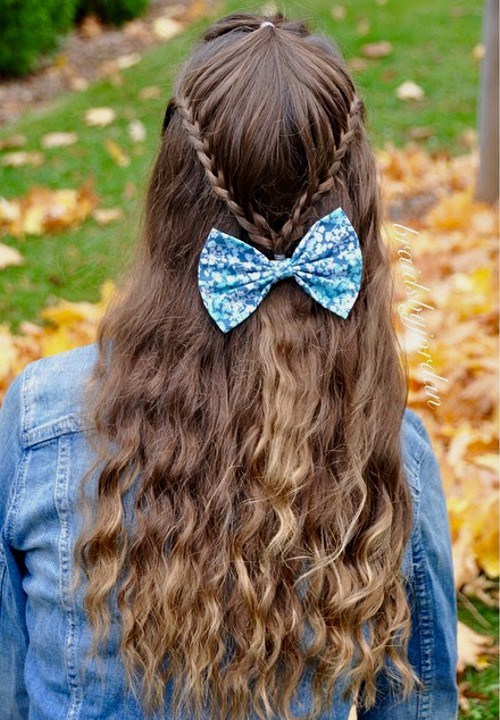 This hairstyle is creating by weaving two simple braids on two sides of the head and connecting them together with a pin in the back. Take a close look at the photo to understand how the braids are weaved into the rest of the hair.
2. Cute bun
This bun is achieved by brushing up the bangs and mixing them together with some strands from the back. The mix gets tied into a bun and clipped with a pin or an elastic. This easy to make hairstyle will keep the hair from getting into your eyes.
3. The wet look
This look is easily achieved by some hair gel. It is a big savior for the days when there is no time to wash your hair. You can style your mane any way you wish. Just don't overdo the gel or the hair will become unmanageable.
4. Braided bun
This look is created by making two braids on the sides and bringing them together in the back to create a bun. The braids might be hard to make on your own at first. But over time it is sure to become your favorite east to do hairstyle.
5. Weaved bun
This style is created by weaving the braids into the rest of the hair on the sides and creating a simple bun in the back. This is a great way to keep long and thick hair neat. It might take a while to create, but the result will exceed all expectations.