Heart shape might sound very cute and it often is, however, such face type is not considered the ideal one for hairstyling. More often than not, girls with heart-shaped faces forget about it and choose the wrong hairstyles. So, let's remember the basics.
The perfect face type is oval. Such a face shape looks great with any hairstyle. But that doesn't mean hear shaped face can't be looked stunning with a suitable hairstyle! The thing is – you'll have to pick carefully if you have a heart shape face.
Others need some help from the outside. If your face is shaped like a heart, you must be looking for a hairstyle to make it seem more oval. Now that you know this simple truth, the time has come to find a perfect heart shaped face haircut to make you look as stunning as possible. Lucky for you, the heart shape is often close to oval, so there won't be many restrictions.
Suitable Haircuts for Heart Shape Faces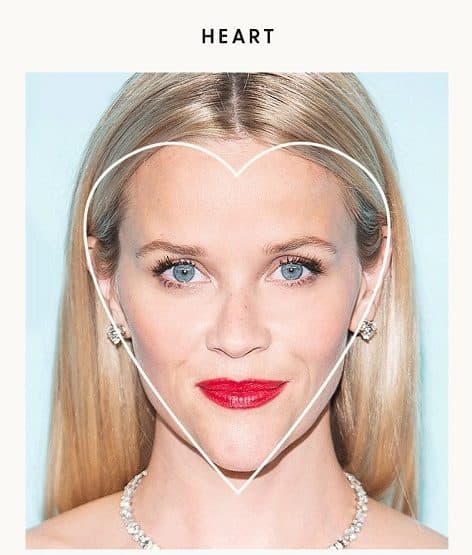 The perfect example of a woman with a heart-shaped face is the actress Reese Witherspoon. If you are not sure you have a heart-shaped face, take a look at her and check out if the forms are similar. Heart-shaped faces are wider on top and thinner on the bottom.
People with such faces usually have heavy foreheads. That's why most of the suitable haircuts for heart-shaped faces come with bangs. The perfect choice of bangs is the long and side swept ones.
Pixies are great for this face shape since they outline the cheekbones and draw the attention from the pointed chin. A pixie with bangs is a great way to go. However, such short pixies require frequent maintenance.
A-line bobs with the front strands reaching the chin is another wonderful option that smooths out the transition of a heavy forehead to a thin chin.
For girls with curly hair, short voluminous bobs is a great way to go. It can be layered.
Long waves are another wonderful way to soften the chin
Incredible Heart Shaped Face Hairstyles for Women
If you identified your face type as heart shaped, you are ready to choose the right hairstyle for yourself. Relax, it won't be hard. Most of the popular haircuts will look wonderful on a heart-shaped face, which means you won't have to put in too much effort.
However, in order to look fantastic, you need to know exactly which hairstyle looks good on you and which one is absolutely wrong. We prepared a list of 70 hairstyles which perfectly suit girls with heart face types. Take a look!
1. Wavy Red Pixie
Boost your charm with a short pixie hairstyle that will make any heart-shaped face look wonderful. Because bangs are on the must-have list when you have a wide forehead, wave your fringe and boost your roots to gain more fullness.
2. Caramel Curls
An iron can help you master a curly hairstyle that is just perfect for women with heart shaped faces. The color will impose its softness to those pointy featured, while the ringlets add more volume.
3. Long Straight Hairstyle
A stunning mahogany color will mesmerizingly suit a long hairstyle for heart shaped faces. Those long tresses make a face look elongated, diminishing those prominent cheekbones.
4. Wavy Hairstyle for Women with Glasses
A wavy hairstyle is just what you need if having a heart-shaped face. Get a layered haircut and toss your bangs on one side to half cover that extra forehead area. Your glasses are also a plus because they will make you look both sexy and smart.
5. Choppy Hairstyle
When having a heart shaped face and fine hair, you must find the most flattering hairstyle to work for your features. Hide that big forehead with some choppy bangs and opt for a dark color. Black hair creates a better frame and slimmers your face.
6. Shoulder Length with Side-Swept Bangs
If you want to emphasize your heart shape, then you can go for a long haircut. Sometimes it is a good idea to flaunt your face type when the heart (or triangle as others call it) is not too obvious. Make sure to create bangs to hide a high forehead.
7. Bob with an ombre
A long bob will make a girl look fantastic, if she adds something special to it. This type of bob does a good job softening the triangular features. But it would look too boring just on its own. So, why not add an ombre?
8. Chin length
When you are trying to make your heart shaped face look more oval, consider getting chin-length haircuts. The volume doesn't always matter. You can just make a simple bob, which is shorter in the back and longer in front.
9. Style the ends
If you are going for a simple chin-length bob, consider styling the ends to be curled inwards. This will do a good job making your face seem more oval. At the same time, it will add your bob some diversity and style.
10. Long and blond
Straight blond hair is always a good idea for a girl who cares about her face shape. Long hair elongates the face, so make sure it has a little volume. It doesn't necessarily need to be curled. Just blow dry your long locks to fluff them up.
11. A pixie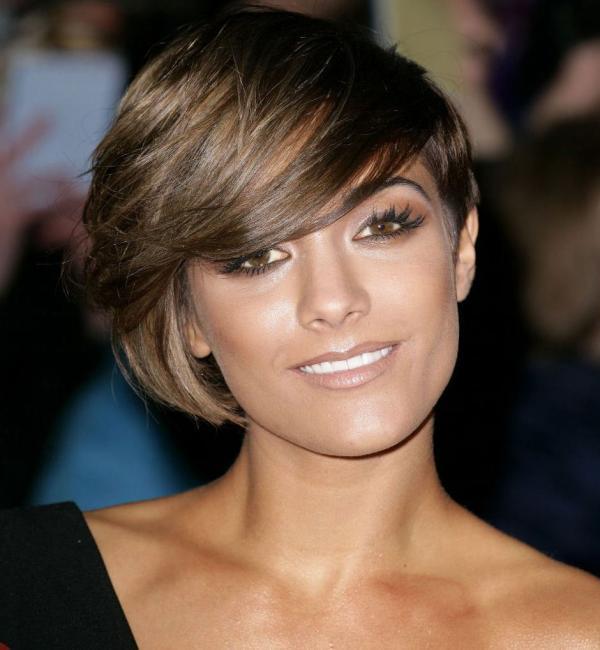 A pixie is a great hairstyle, however, if your heart shape is too obvious, it will play a joke on you. So, you should be choosing pixies only if your face type is somewhere in between heart shaped and oval. Otherwise, you won't like the result.
12. Emphasize the eyes
Another great way to keep attention away from any face shape is to emphasize other features. Girls like to draw attention to their eyes, so why not do two things at a time? Choose the right hair color and bright make up to make your eyes stand out.
13. Wavy and messy
Messy waves make a perfect heart shaped face hairstyle if you style them right. This look is very easy to achieve. All you need to do is make some braids and leave them overnight. When you unbraid them in the morning, the result will look perfect.
14. Asymmetrical ends
Your heart face type will look amazing with a bob that has asymmetrical ends. Asymmetry is in style, so do what you can to get it! Make sure to keep the rest of the hair very neat. Messy asymmetry is not good.
15. Blunt bangs
Blunt bangs are an amazing idea for heart types. The fringe will do the job of drawing attention from the pointed chin. If your hair is thick enough, make the blunt bangs as low as possible. The look will be amazing.