Heart shape might sound very cute and it often is, however, such face type is not considered the ideal one for hairstyling. More often than not, girls with heart-shaped faces forget about it and choose the wrong hairstyles. So, let's remember the basics.
The perfect face type is oval. Such a face shape looks great with any hairstyle. But that doesn't mean hear shaped face can't be looked stunning with a suitable hairstyle! The thing is – you'll have to pick carefully if you have a heart shape face.
Others need some help from the outside. If your face is shaped like a heart, you must be looking for a hairstyle to make it seem more oval. Now that you know this simple truth, the time has come to find a perfect heart shaped face haircut to make you look as stunning as possible. Lucky for you, the heart shape is often close to oval, so there won't be many restrictions.
Suitable Haircuts for Heart Shape Faces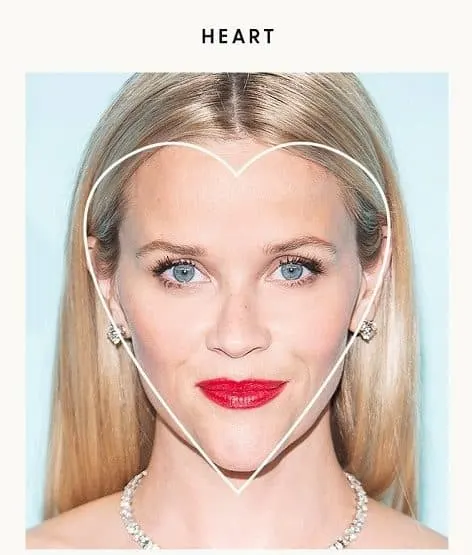 The perfect example of a woman with a heart-shaped face is the actress Reese Witherspoon. If you are not sure you have a heart-shaped face, take a look at her and check out if the forms are similar. Heart-shaped faces are wider on top and thinner on the bottom.
People with such faces usually have heavy foreheads. That's why most suitable haircuts for heart-shaped faces come with bangs. The perfect choice of bangs is the long and side swept ones.
Pixies are great for this face shape since they outline the cheekbones and draw attention to the pointed chin. A pixie with bangs is a great way to go. However, such short pixies require frequent maintenance.
A-line bobs with the front strands reaching the chin is another wonderful option that smooths out the transition of a heavy forehead to a thin chin.
For girls with curly hair, short voluminous bobs are a great way to go. It can be layered.
Long waves are another wonderful way to soften the chin
Incredible Heart-Shaped Face Hairstyles for Women
If you identified your face type as heart-shaped, you are ready to choose the right hairstyle for yourself. Relax, it won't be hard. Most of the popular haircuts will look wonderful on a heart-shaped face, which means you won't have to put in too much effort.
However, in order to look fantastic, you need to know exactly which hairstyle looks good on you and which one is absolutely wrong. We prepared a list of 70 hairstyles that perfectly suit girls with heart face types. Take a look!
1. Wavy Red Pixie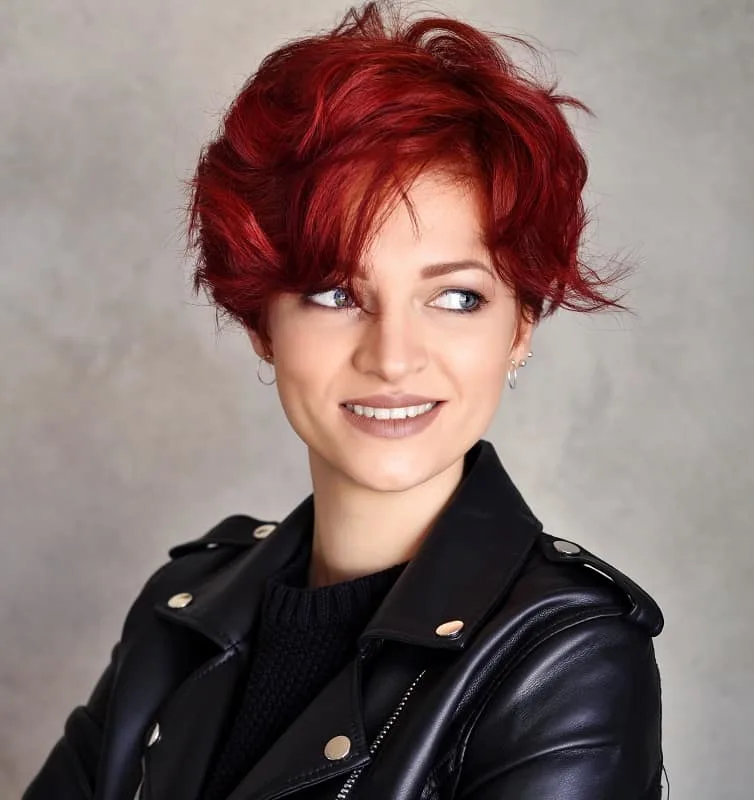 Boost your charm with a short pixie hairstyle that will make any heart-shaped face look wonderful. Because bangs are on the must-have list when you have a wide forehead, wave your fringe and boost your roots to gain more fullness.
2. Caramel Curls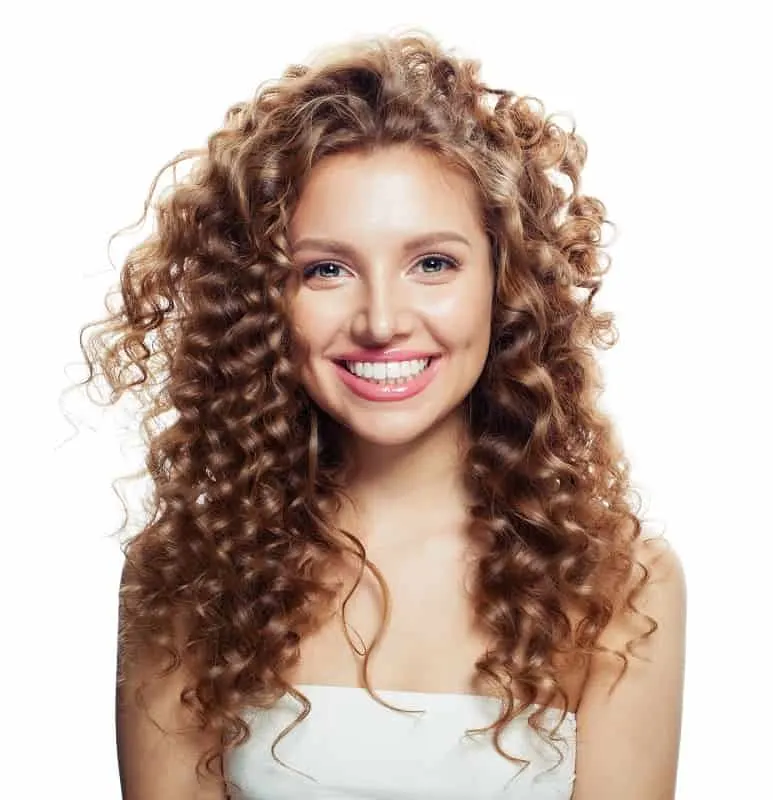 An iron can help you master a curly hairstyle that is just perfect for women with heart shaped faces. The color will impose its softness to those pointy featured, while the ringlets add more volume.
3. Long Straight Hairstyle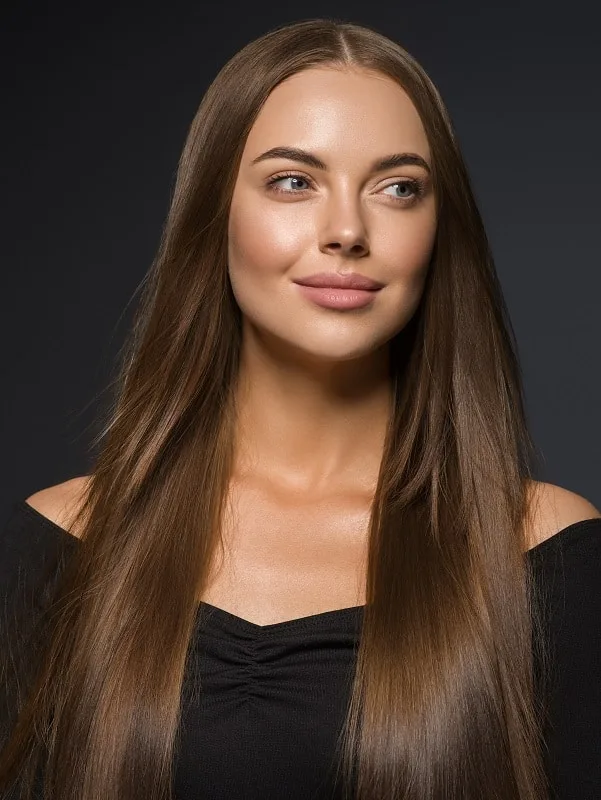 A stunning mahogany color will mesmerizingly suit a long hairstyle for heart shaped faces. Those long tresses make a face look elongated, diminishing those prominent cheekbones.
4. Wavy Hairstyle for Women with Glasses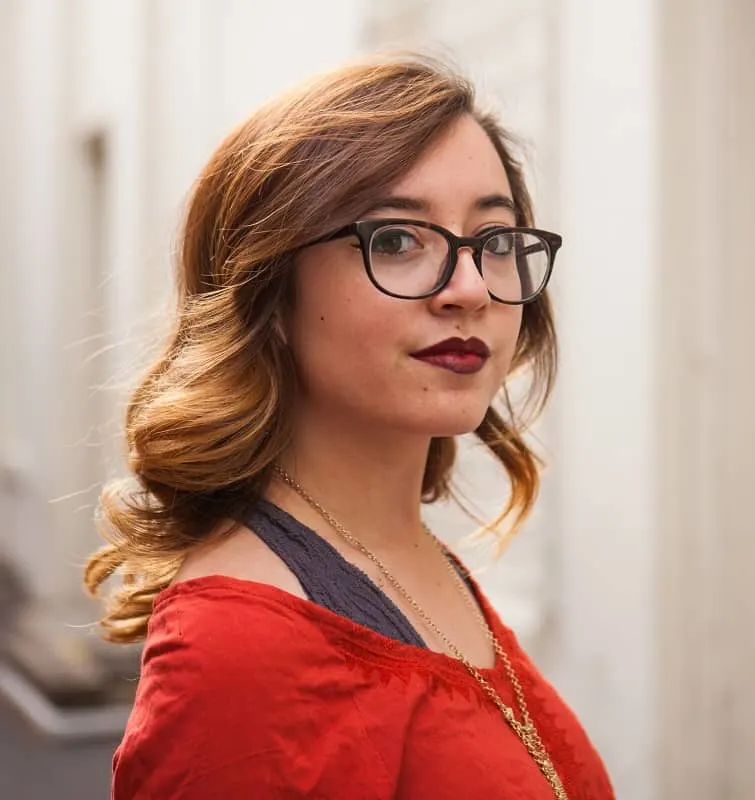 A wavy hairstyle is just what you need if your face shape is heart-shaped. Get a layered haircut and toss your bangs on one side to half cover that extra forehead area. Your glasses are also a plus because they will make you look both sexy and smart.
5. Choppy Hairstyle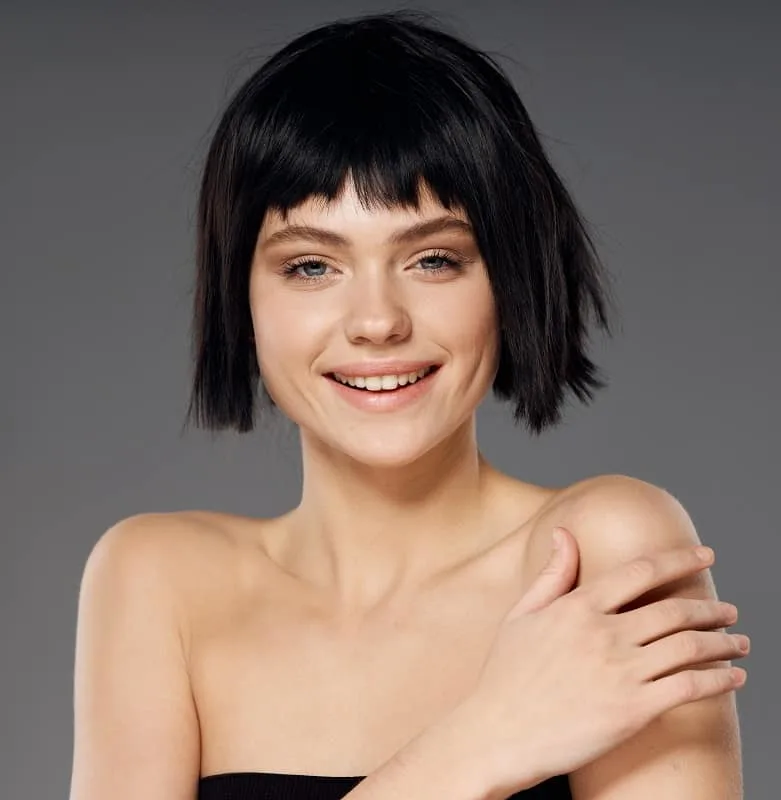 If you have a heart face and fine hair, you must find the most flattering hairstyle to work for your features. Hide that big forehead with some choppy bangs and opt for a dark color. Black hair creates a better frame and slimmers your face.
6. Bouncy Curls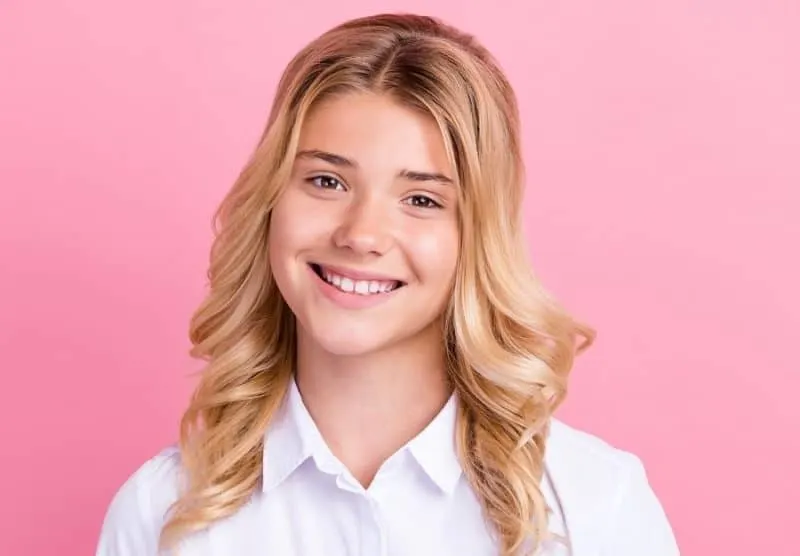 If you have medium-length hair, you will rock bouncy curls with strawberry blonde highlights. It is perfect for any professional meeting as it gives a decent look to your heart-shaped face.
Just part your hair from the middle for a more professional look, and you are all set. Using a hair spray will allow your curls to stay locked for a long time.
7. Thick Spiral Curls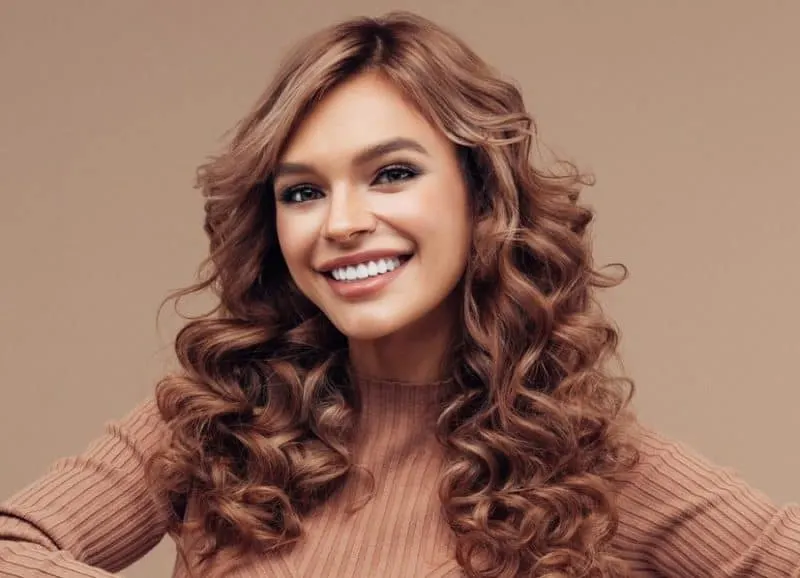 Spiral curls are one of the perfect hairstyles for heart-shaped faces. Adding cinnamon highlights will make your hair look more beautiful. Anyone with long hair can rock this hairstyle on any casual outfit.
If you plan to go on a picnic or any other casual event, do not forget to style your hair with spiral curls. Overall, this hairstyle best goes with light clothing and makeup.
8. Middle Part Blonde Hair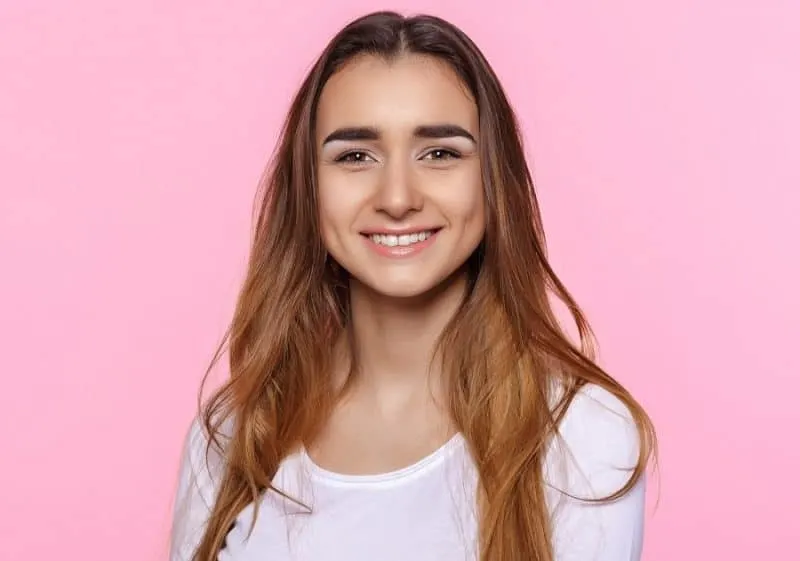 If you have blonde hair with a little shade of brown, you should try the middle part hair. Middle part hair goes with any dress you wear for any occasion.
The best look you can create with this hairstyle is a professional look. You will look neat, focused, and smart. Such hairstyles for heart-shaped faces go with any hair length.
9. Sleek Wavy Ponytail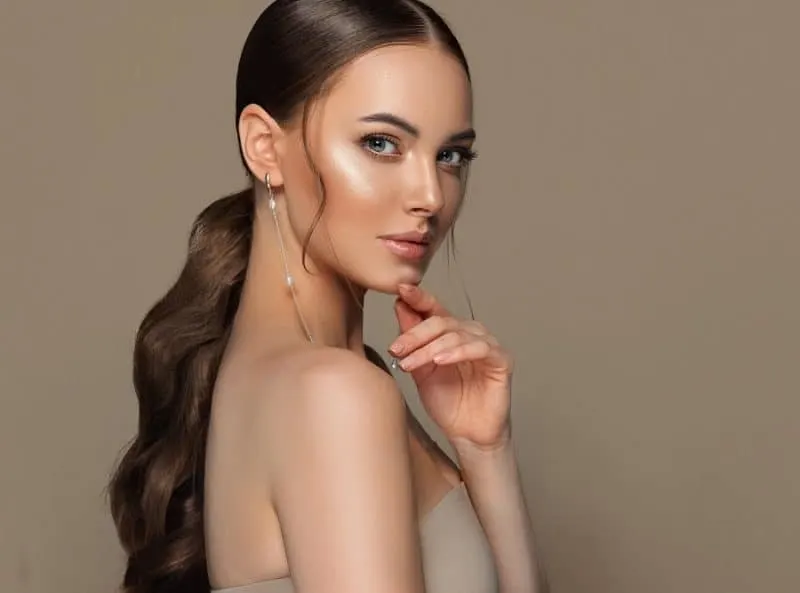 You must be thinking about how sleek curls can go together. To be clear, your hair will be tied sleekly on the front, and your ponytail in the back will be curled.
It's very easy to make- just straighten your hair from the front, tie it up nicely and then curl your ponytail. This look goes with any occasion, whether a date or a wedding.
10. Decent Pink Hair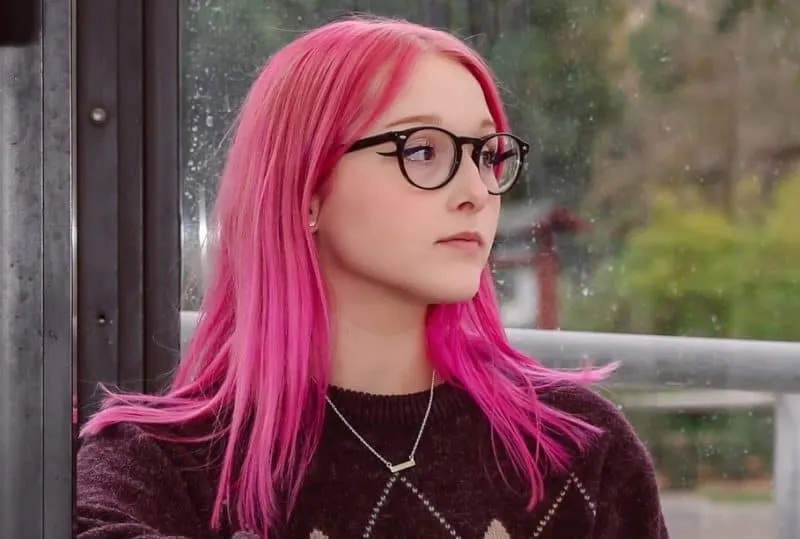 If you have pink-colored hair and looking for haircuts for heart-shaped faces, then you should try keeping your hair straight. Though straight hair looks good in every hair length, you should try to keep the length of your hair middle.
Overall, you will have a decent look. Try wearing accessories like funky specs or a unique ring if you want to combine this decency with some funkiness.
11. A pixie
A pixie is a great hairstyle, however, if your heart shape is too obvious, it will play a joke on you. So, you should be choosing pixies only if your face type is somewhere in between heart shaped and oval. Otherwise, you won't like the result.
12. Emphasize the eyes
Another great way to keep attention away from any face shape is to emphasize other features. Girls like to draw attention to their eyes, so why not do two things at a time? Choose the right hair color and bright make up to make your eyes stand out.
13. Wavy and messy
Messy waves make a perfect heart shaped face hairstyle if you style them right. This look is very easy to achieve. All you need to do is make some braids and leave them overnight. When you unbraid them in the morning, the result will look perfect.
14. Asymmetrical ends
Your heart face type will look amazing with a bob that has asymmetrical ends. Asymmetry is in style, so do what you can to get it! Make sure to keep the rest of the hair very neat. Messy asymmetry is not good.
15. Blunt bangs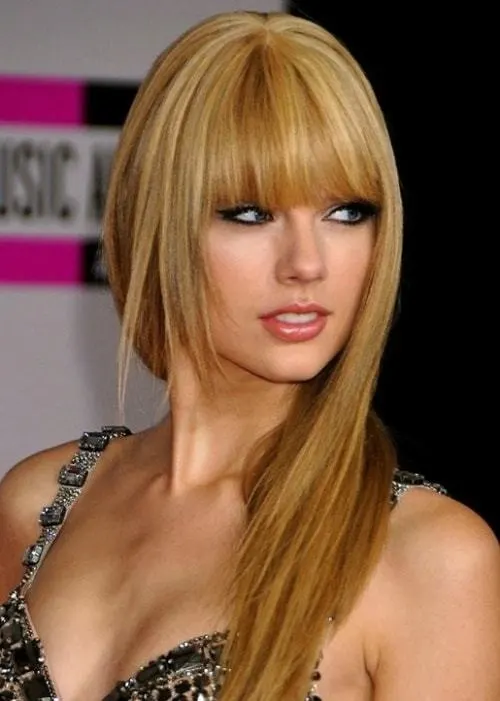 Blunt bangs are an amazing idea for heart types. The fringe will do the job of drawing attention from the pointed chin. If your hair is thick enough, make the blunt bangs as low as possible. The look will be amazing.
16. Long hair with accessories
Accessories can become a wonderful addition to a long hairstyle for girls with triamgular face type. If you like to keep your ears open, choose long earings. They will help make the face shape seem much more oval.
17. Asymmetrical side swept bangs
Girls with heart face types must remember to wear bangs. They are considered to be the compulsory part of hairstyles. You can choose any type of bangs you like, just make sure they are there. Side swept fringe looks modern and is very popular.
18. Levels
Blunt haircuts should be forgotten. The levels are in style and girls with most face types will appreciate them. These haircuts do wonders for creating the much needed volume and don't require too much maintenance.
19. Curly ends
Long voluminous hair is a way to go for girls who care about making an oval face shape. You can leave the top part straight and just curl the ends. This way of going about curls is quite popular nowadays. Be stylish!
20. Long and straight
This is an example of a hairstyle you shouldn't be making if your face is heart shaped. Just long and straight hair elongates your face and makes the heart much too obvious. Opt for something else. This is a "don't do".
21. Grombre Hairstyle
The grombre is a celebration of switching to gray hair and will match any woman over 40. One of the best hairstyles for heart-shaped faces will be a long straight hair with side-swept bangs that will make the forehead look smaller.
22. Top Bun with Bangs
Avoid width on your big forehead with one-sided bangs that are beautifully spread on your face. This hairstyle for heart-shaped faces will create a great balance between the upper part and the chin. Create a bun on top if you want your face to look elongated.
23. Auburn Ombre
Long bobs are probably the best hairstyles for Asian women with heart shaped faces. In this case, the problem is not with the wide forehead but with the pointy chin. To make it look less prominent, you should consider adding more volume in that area. Opt for an auburn ombre and wave just half of your tresses.
24. Wavy Blonde Hairstyle
Medium hairstyles are also suitable for heart shaped faces, especially if they come with bouncy waves, lifted roots and one-sided bangs. As for the color, become a real modern diva with a sunflower blonde hair color.
25. Strawberry Blonde Pixie
When you have a chubby cheeks, you need a hairstyle that works with those heart-shaped lines. The problem seems to be with those prominent cheekbones that stand out too much, so you will need to create an illusion for a more elongated look. Use your pixie haircut to build height and if you want to look cool, pick a strawberry blonde shade.
26. Blond and amazing
Choosing the right hair color is a must-do for girls of any face shape. Blond usually looks most stunning. A blond voluminous bob with eye-covering side swept bangs will really make you stand out from the crowd.
27. Short and Boyish
Some heart shaped faces look truly amazing and need to be flaunted. The best way to do that makes a short bob, which ends near your cheekbones. By tucking hair behind your ears you can achieve a spunky boyish look, that many men can't pass by.
28. Creative and smoky
This creative heart shaped face haircut is bound to look wonderful on girls who like looking unique. While this haircut will do nothing for making your face look oval, it will surely draw a lot of attention to your eyes and mouth.
29. Eye covering bangs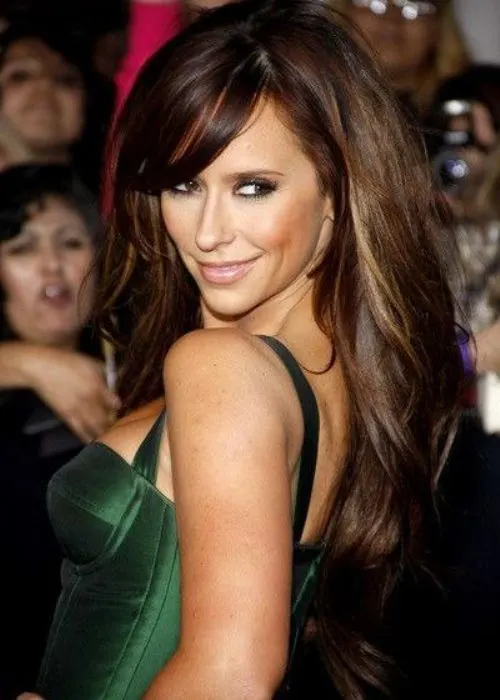 No doubt about it. Eye covering bangs are sexy. They draw attention to your eyes and away from your chin. The perfect solution for a triangular face type. Whatever your bangs might look like, make sure not to cut the rest of your hair too short.
30. Don't do it
Forget about it. This hairstyle is big "don't" for girls with triangular faces. All it will do is make your face look longer and your chin appears larger. No one wants that, do you? Try to avoid pixies altogether.
31. Pixie with long bangs
A pixie with long bangs looks great on a triangular face, if the chin is not sticking out too far. The longer the bangs are, the better the hairstyle will look. You can even go further and make them lower than your cheekbones.
32. Side bun
Buns look great on triangular faces, but don't forget to make them on one side. If you create a bun in the back, it will not be visible in front and will not do its job of creating enough volume to make your face look more oval.
33. Textured mess
Shoulder-length hair is great for girls whose face is heart-shaped. However, don't leave it straight and neat. Add some messiness to create volume, which will help your face look more oval. Play around with the bangs as well.
34. Middle part
If you listened to our advice and got long bangs, the time has come to experiment. If you don't have a high forehead, make a middle part. It will add some much-needed volume. However, opt for side swept bangs if your forehead is too large.
35. Weave
Want an amazing hairstyle? Get a weave. This hairstyle will look great on women with triangular face shape only if the ponytail is voluminous enough. Such incredible hair will shift all the focus away from the face.
36. Wispy ends
Bobs with wispy ends are perfect for heart-shaped faces. They make the top part appear thinner and keep the attention away from the prominent chin. Add side swept bangs and you can get a perfect hairstyle.
37.Wavy bob
A short wavy bob adds volume to the bottom part of your face. You can opt for waves of any size. It's up to you to keep the waves voluminous. This hairstyle is a great choice for women with naturally wavy locks.
38. Long bangs
If you decide to wear your long hair down, you should consider creating long bangs. Short bangs or absence of them might amplify the size of your forehead. Meanwhile, if the bangs are in place, you can easily experiment with the rest of the hair.
39. Comb over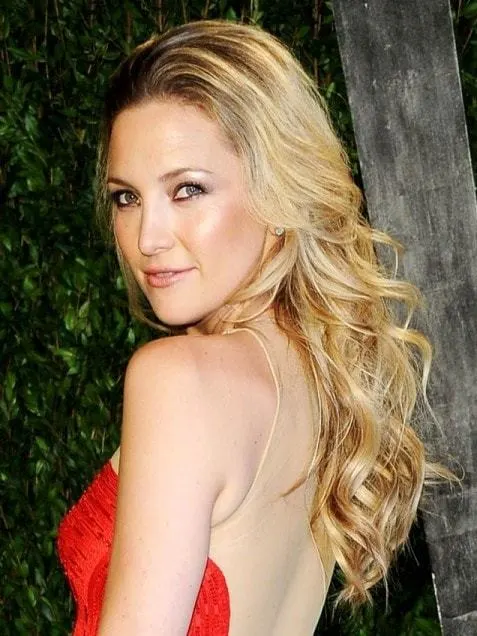 If you are one of those girls who like to flaunt their fabulous heart-shaped faces, this hairstyle is for you. The top part of the hair is combed over the back in order to create a high hairstyle, which opens up the forehead.
40. Medium wavy bob
Medium length wavy bob is one of the best options for girls with heart shaped faces. The waves make the face appear more round while the bangs cover up the forehead. This hairstyle is easy to maintain too.
41. Shoulder Length with Side-Swept Bangs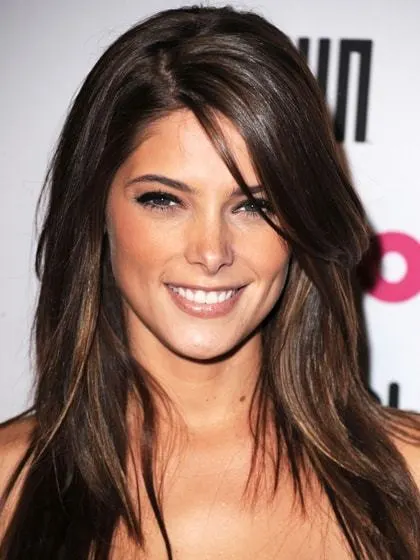 If you want to emphasize your heart shape, then you can go for a long haircut. Sometimes it is a good idea to flaunt your face type when the heart (or triangle as others call it) is not too obvious. Make sure to create bangs to hide a high forehead.
42. Bob with an ombre
A long bob will make a girl look fantastic if she adds something special to it. This type of bob does a good job softening the triangular features. But it would look too boring just on its own. So, why not add an ombre?
43. Chin length
When you are trying to make your heart-shaped face look more oval, consider getting chin-length haircuts. The volume doesn't always matter. You can just make a simple bob, which is shorter in the back and longer in front.
44. Style the ends
If you are going for a simple chin-length bob, consider styling the ends to be curled inwards. This will do a good job making your face seem more oval. At the same time, it will add your bob some diversity and style.
45. Long and blond
Straight blond hair is always a good idea for a girl who cares about her face shape. Long hair elongates the face, so make sure it has a little volume. It doesn't necessarily need to be curled. Just blow dry your long locks to fluff them up.
46. Red Layered Hairstyle
Layers are exactly what you need when you have thick hair and a heart-shaped face. By building them, you will add fullness to your hairstyle and that faded red shade will marvelously compliment your slightly dark skin tone.
47.Platinum Blue Pixie
If you want an eye-popping color, go for a silver-blue shade for your pixie cut. Feather those bangs and you will obtain the perfect hairstyle for your heart-shaped face. That small forehead won't be a problem because you will build your fringe from the top of the head.
48. Retro Wavy Hairstyle
As a bride, you need a hairstyle that is both good looking and works with your features. Get a blonde ombre, layers, create curls and you'll have the best bridal hairstyle for a heart-shaped face. Style a wave using those bangs and place a jeweled headband on the forehead.
49. Long Dark Hair with Glasses
When having a heart-shaped face, one of the most common problems is those prominent cheeks. A dark hair color for your long hair will not only boost your charm but also hide those imperfections. Create a middle part and you'll get the perfect hairstyle for your features. Also, it perfectly works with glasses.
50. French Bob
If you adore that French vibe with gorgeous bonnets and red lips, you need a matching straight hairstyle. It is perfect for heart-shaped faces because you can use the beret to cover that extra area from the forehead.
51. Creative bob
Get creative with your bob hairstyle. Make a prominent side part and keep the two sides of the bob in different length. This is a great haircut for girls with straight hair that lack volume.
52. Blunt ends
If you want to minimize the mess appearance of your wavy locks, you can go for blunt ends. Blunt ends give your hairstyle a neat appearance while keeping your heart shaped face looking fabulous.
53. Be simple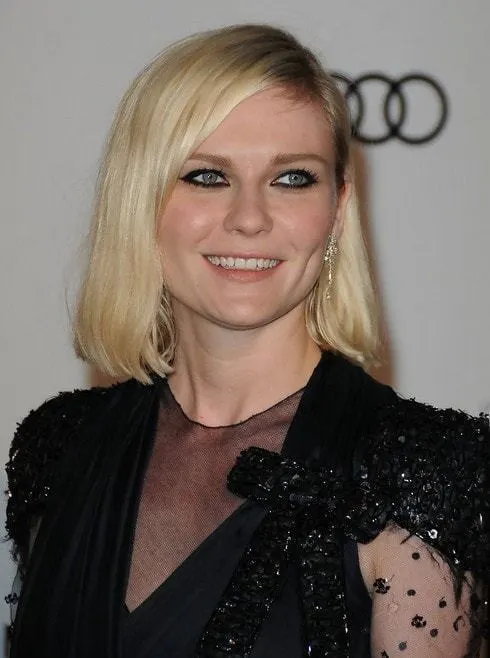 A simple medium length bob with side swept bangs is a perfect haircut for heart shaped face. You don't need to go all out coming up with something special. A neat bob does a great job making you look awesome.
54. Side sweeping
A messy side swept hairstyle is exactly what you need to make an impression especially if your hair lacks volume. Such side swept haircuts can benefit your overall appearance while smoothing the shape of your face.
55. Ombre
When creating special haircuts for heart shaped faces don't forget about hair coloring technique. The right approach to hair dye can make your heart shaped face look closer to oval. Consider an ombre.
56. Low waves
If you want to slightly emphasize your heart-shaped face, consider making the waves just on the bottom part of your bob. They look fantastic. Meanwhile, they are easy to create and need less care than full-blown waves or curls.
57. Long bob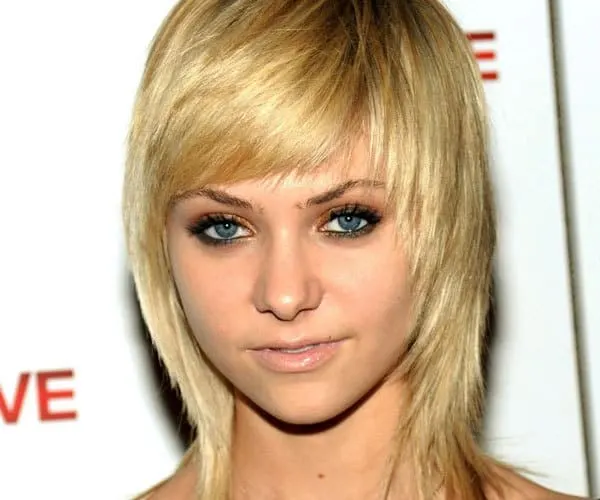 A long and layered bob with blunt bangs can perfectly hide the disadvantages of a heart shaped face. At the same time, the hairstyle looks amazing and doesn't require too much maintenance on a daily basis.
58. A High Top Knot
Top knots look good on everyone but is just a perfect hairstyle for heart-shaped faces. Such faces have the fortune of having a wonderful hairline that elongates and gives more structure to their faces when shown off.
59. Grunge Layered Side Shave
A unique hairstyle that combines the aesthetics of a side shave and a feminine color. A must try for those willing to do something out of the world with their hair. The right person can carry this hairstyle easily.
60. Bangs with Shoulder-Length Waves
A simple and really basic look for any heart-shaped face is bangs that frame the face well. It gives a beautifully structured look to your whole face within seconds. You can have short shoulder length hair to enhance the charm this style brings.
61. Slick Back Sleek Ponytail
Heart-shaped faces are gorgeous in structure and worth showing off. A cute way to do it on a day you've not washed your hair is, slick it back into a sleek low ponytail like the one Kourtney's wearing here.
62. Pigtails with Flicks
This cute girly hairstyle is a must for those spring or summer days on the beach. Keep some baby hair and short strands into cute flicks of hair on the forehead and braid the rest of your hair into two pigtails. There! You've got this look down.
63. Side Part Mid Ponytail
Reese Witherspoon is an icon for heart-shaped faces and all that could be done with them. This mid-high ponytail is a perfect example of that. To achieve this simple but gorgeous hairstyle all you have to do is create a side part to your wavy hair leaving some strands framing your face.
64. Long Weave Bun
When it comes to heart-shaped faces, they can work really well with all kinds of weaves pulled back looks. Adding in a shaved and design side is a fun and edgy way to bring the whole look together.
65. Space Buns
Space buns are in a big time right now. All you have to do is make a middle partition, roll your hair into buns on each side. You can also pull out some strands that can frame your face and give a messy look as well.
66. Natural Afro with a Side Part
These lovely tight curls are put into a side part are a brilliant hairstyle to frame a heart-shaped face perfectly. If you want to keep your afro all out, then the trick is to go big with it. Keep it as full and voluminous as possible and decide on a side part that can suit your face the best.
67. A Blunt Chop with Edgy Bangs
A blunt chop with bangs is the best way to have easy maintenance-free hair. If you want no hassle in getting ready every morning, then this look is perfect for you. A blunt chop with edgy bangs gives the heart-shaped face a fiercer edge.
68. Edgy Hair Pulled Up Style
If you're sure of your face and have the confidence, then this edgy look is the one for you. The hair is piled on top of the head to create this fierce finish.
69. Cropped Hair with Braid
Who said heart-shaped faces couldn't have bold chopped hair? Short chops can make your face the center of attention. You can always bring that attention back to your hair by adding in details like front braids and side parts.
70. Blonde Windswept Short Hair
This amazing hairstyle pulled off by Scarlett Johansen is stunningly iconic. It uses different shades to create textures in the sides and the frontal hair. This kind of hairstyle would look amazing on heart-shaped faces that are fuller and rounder.
71. Bang twists
Girls who want to emphasize their forehead can take advantage of this quick and easy hairstyle. The hair is twisted or braided and clipped under the side strands. This is a great idea for girls with unruly wavy or curly hair.
72. Ponytail
This is another one of the haircuts for heart faces that can make you look fabulous. All you have to do is brush the bangs upwards and back and tie it into a ponytail. The look is priceless!
73. Round bob with side swept bangs
Round bob with side swept bangs is a winning deal for women with heart-shaped faces. It makes the face appear more oval while keeping the large forehead hidden under the bangs.
74. Beautiful Bangs
Since bangs are an imperative part of most haircuts for round faces, you need to learn how to experiment with them. Take a look at how the bangs are cut in the photo. The result is fantastic!
75. Smart Layers
An asymmetrical layered bob can become your favorite hairstyle. The best part about is the lack of maintenance. The layers create a little volume while looking neat without too much daily styling.
Girls with triangular face types have a lot of options to choose from. We hope these hairstyles gave you a good idea of what you can do with your hair. We recommend to start with longer cuts and be very careful about getting pixies. Good luck!
Trending Topic