Fringe hairstyles are much appreciated in 2023, and if you want to look modern, you should get one too. However, the fringe is not only a simple haircut because it can be used to hide or emphasize certain face features.
For example, it beautifully frames the face and looks so stylish at the same time. More than this, there are many types of bangs out there: asymmetrical, wispy, blunt and you just need to find the one that suits you.
Who Should Try A Fringe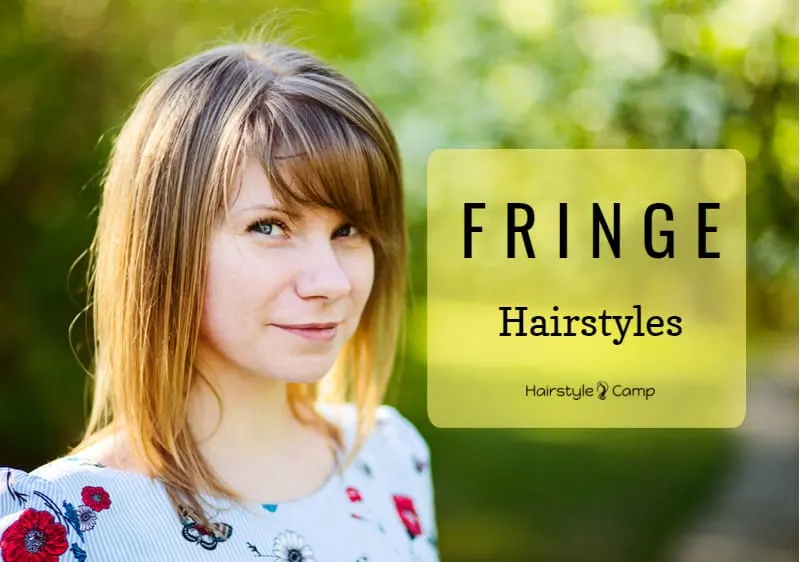 Unfortunately, not everybody looks good with all types of bangs. To establish which ones suit you, you need to know your face type. Only after that, you can find the ideal bangs. To help you get the perfect cut, here are a few tricks for each face shape:
Fringe hairstyles for Oval face – it's the best face shape if you want bangs. Opt for long and thick bangs that go just above the eyebrows
Fringe hairstyles for Square face – if you have this shape, it's recommended to choose long, layered, and thin bangs.
Fringe hairstyles for Round face – the best option for you, when you have this face type, is to choose a long fringe that is side swept and beautifully blends with your hair
Fringe hairstyles for Heart-shaped face – the bangs must be slightly shorter in the center and longer on the sides
Fringe hairstyles for Long face – you will need to shorten the length of your face and a well-placed fringe will help you do that. Get straight bangs that cover your eyebrows and end just above the eyes.
Fringe Hairstyles
Now that you know what kind of bangs you need let's discover the best fringe hairstyles for 2023. We have options for long or short hair, dyed or natural, curly, or straight. Scroll down to see them!
#1. Blunt Blonde Fringe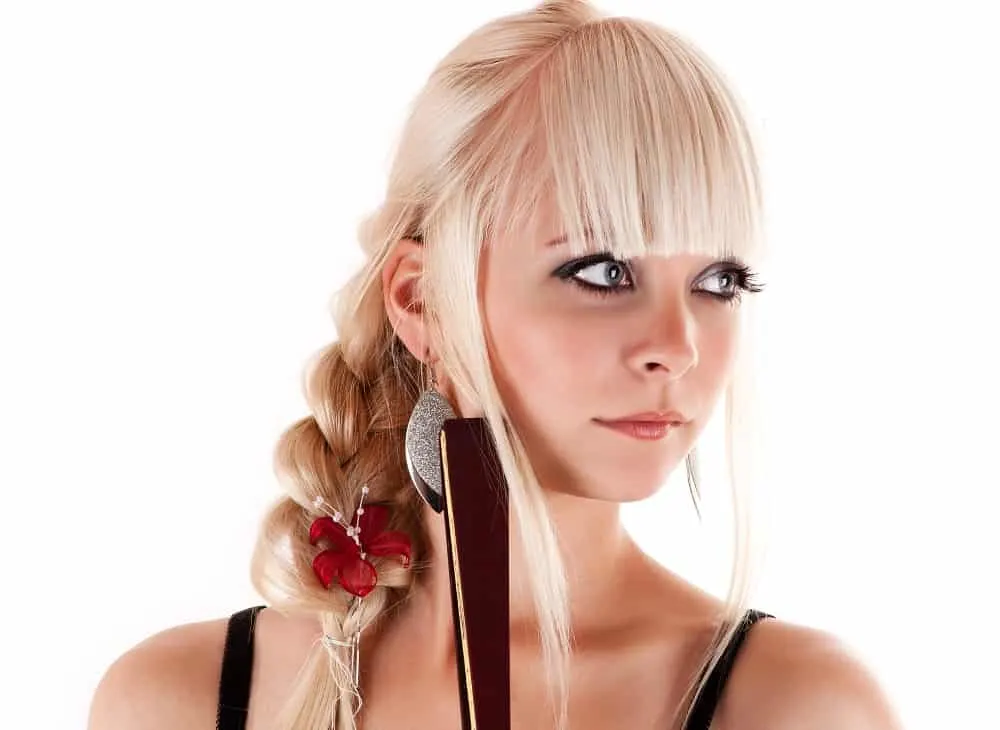 Blunt fringe hairstyles can be a real statement. They are edgy and elegant, and suitable for most activities. If you want your look to be flawless, use a brush and hair products that smoothen and straighten your hair when drying it out. Of course, you can always choose the quickest option, the iron.
#2. Wispy Asymmetrical Fringe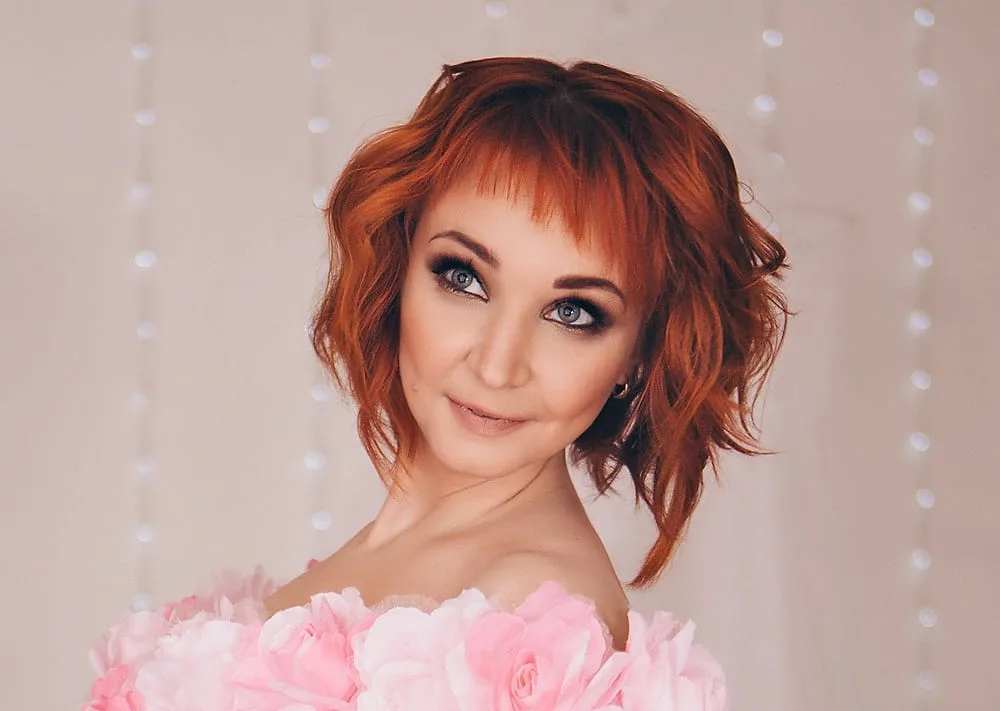 Bobs and fringes make such a great team, especially when waves and layers are involved. If you feel you need it, opt for asymmetry if you want to draw attention away from some features like a prominent jawline or cheekbones.
#3. Big Bow with Bangs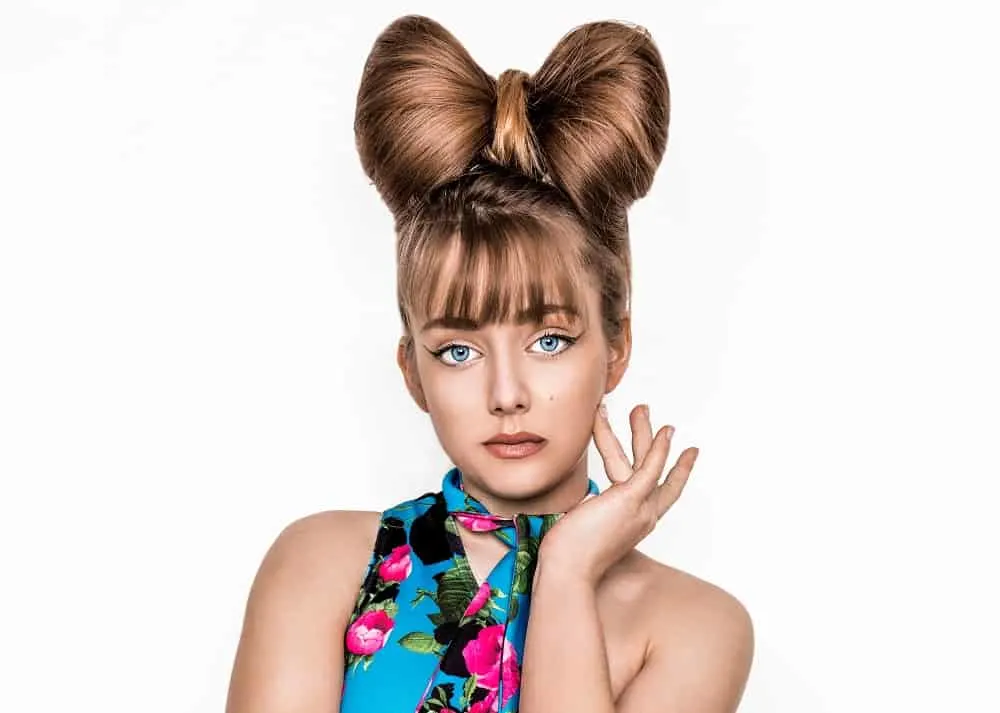 When volume and style combine, there's certainly going to be an impressive hairdo that makes everyone say WOW. You don't need an actual bow to recreate this hairstyle with bangs; just use your own hair.
#4. Fringe and Headband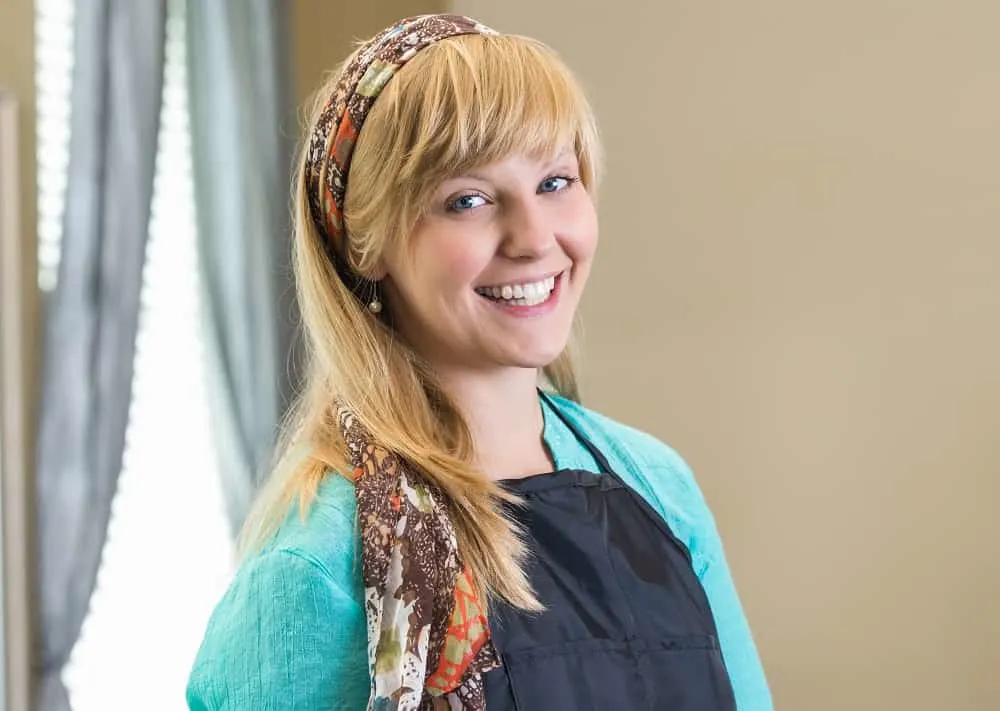 You can use a scarf in so many cute ways if you have a hairstyle with a fringe. For example, you can use it as a headband to keep away the longer tresses and highlight the bangs. The hairdo is both cute and practical, especially when you have a busy day.
#5. Fringe for Big Forehead
When having a large forehead, you must be careful and pick the right fringe hairstyle. Not all bangs are suitable for this face shape, so consult your stylist about the length. We recommend some straight wispy bangs that cover both the forehead and eyebrows.
#6. Uneven Bangs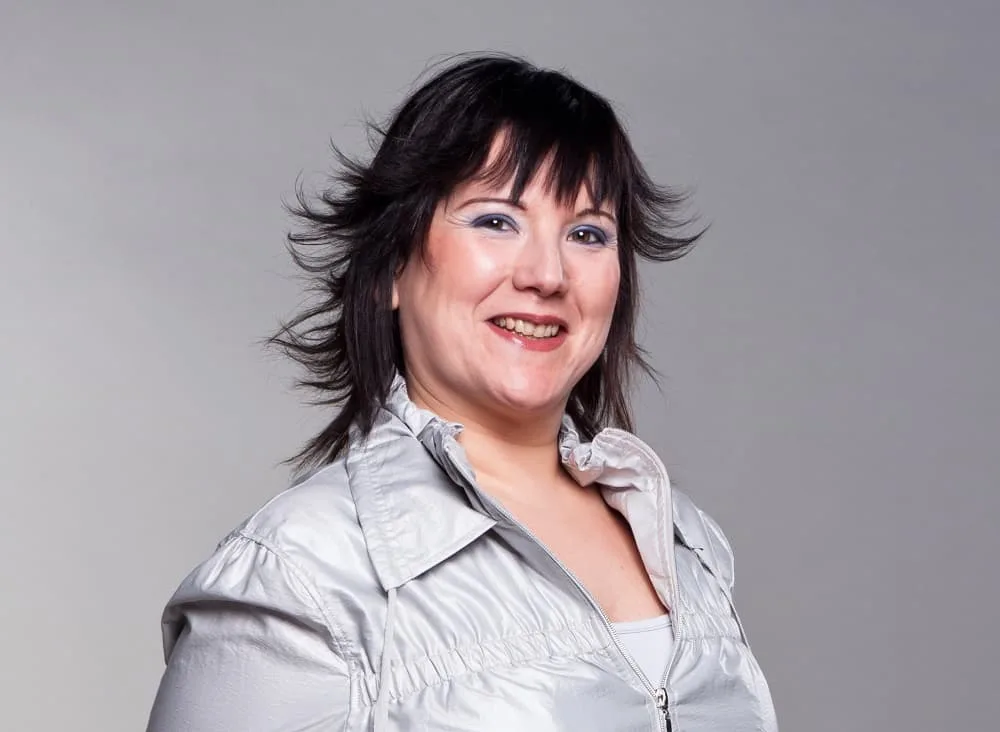 It takes some courage for an older woman to style a hairdo with such a young vibe and messiness. To recreate it, you need loads of layers, including for your bangs. Style some of the tips outwards and spread that uneven fringe on the forehead.
#7. Wavy Curtain Bangs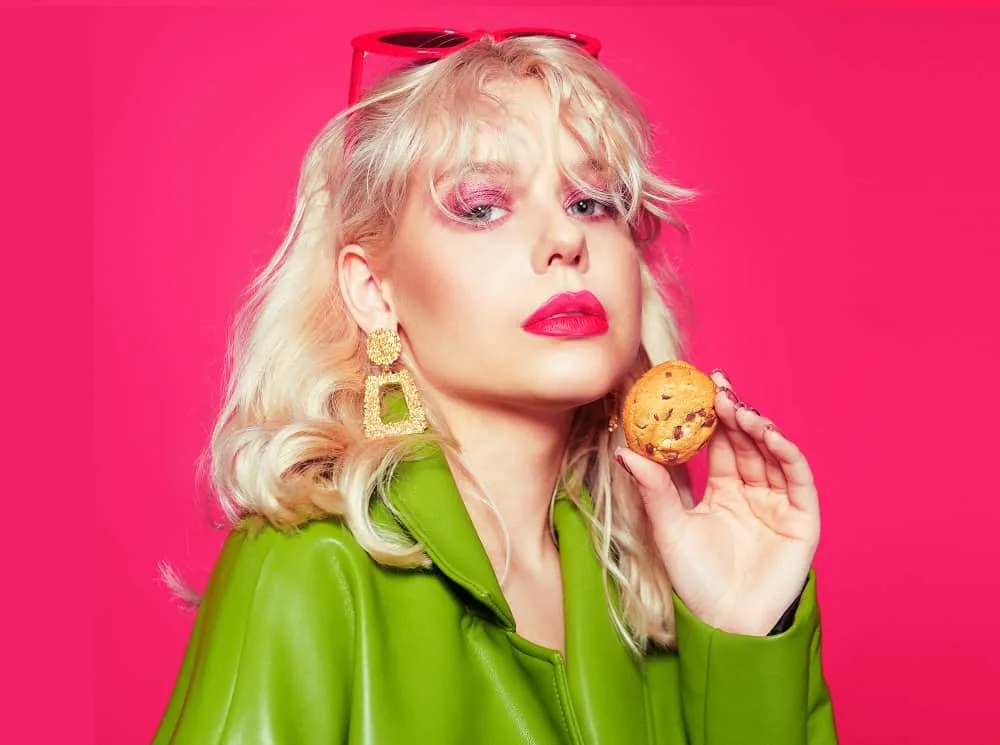 This retro-inspired look features casually waved curtain bangs that are longer than usual and overrun the eyes. The look is a combination of colors, and that perfectly dyed hair is one of the centerpieces. To recreate it, make sure you include the bling-bling and the pop of color.
#8. Longer Corner Fringe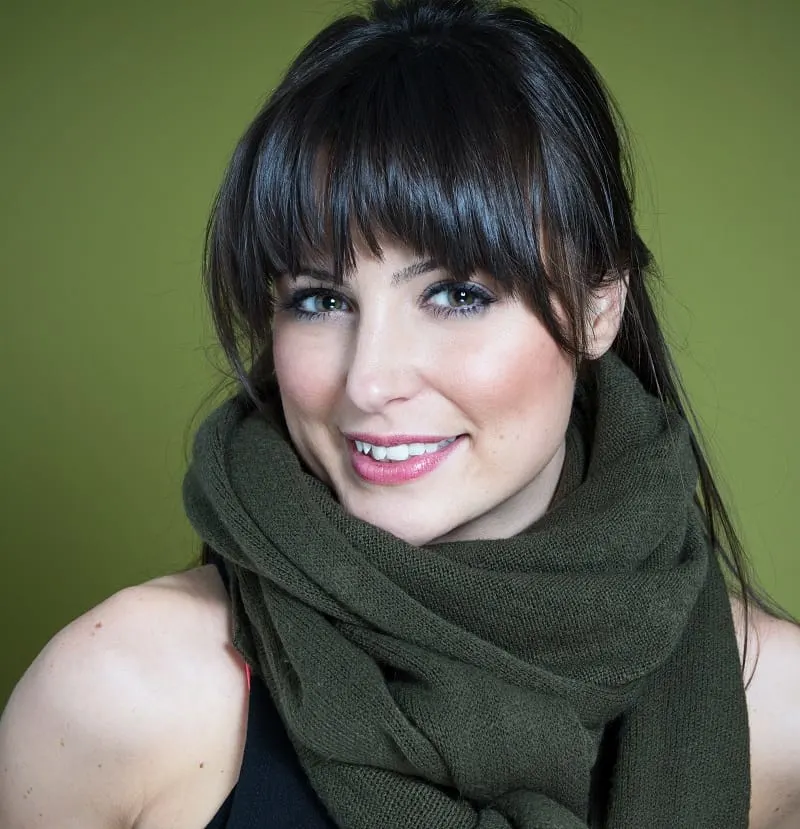 Slightly rounded fringe hairstyles will uncover the eyebrows and create a contour. Going for darker hair is fabulous, especially when you have green eyes. It will create a great contrast and your eye color will stand out no matter what.
#9. Voluminous Bangs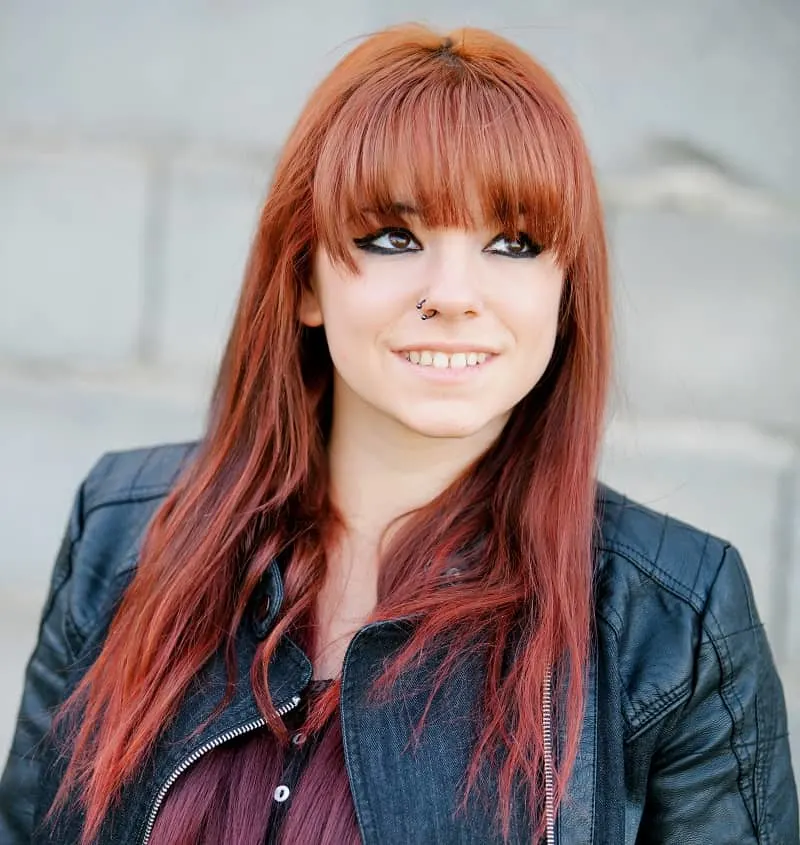 If you ask a woman what she wants for her hair, she will probably reply thickness and volume. So thank's God for all these devices and styling options! They can really provide as with anything, even in terms of giving volume to your simple short bangs.
#10. Thick Bangs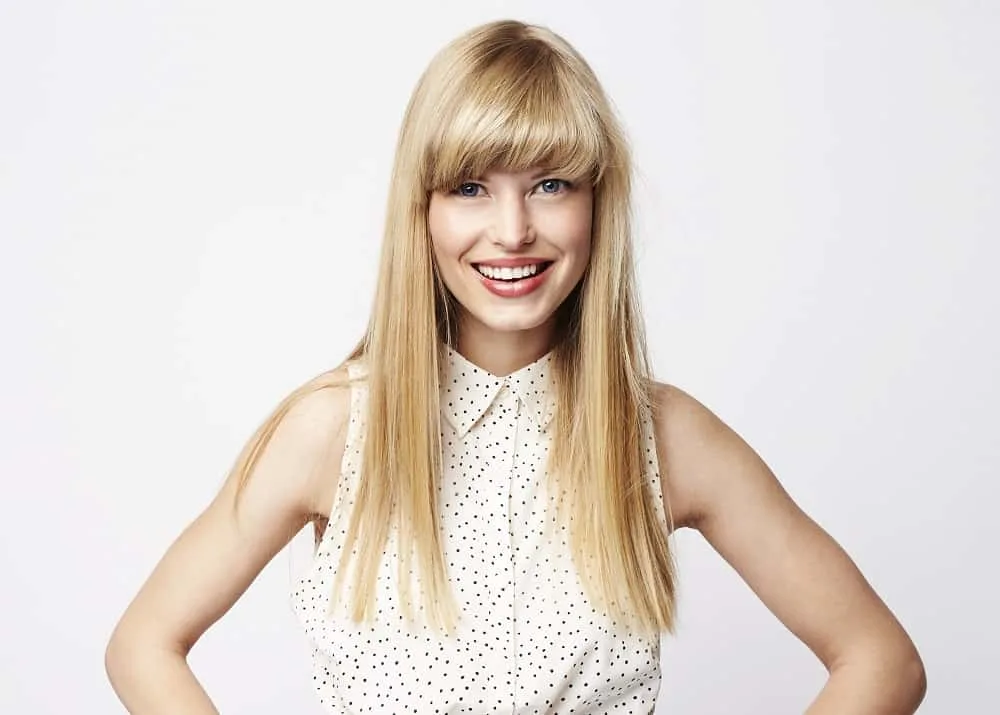 Fringe hairstyles can come in various shapes. But if your bangs have this perfect thickness, you must find a hairdo that makes them stand out. So give them some volume with a rounded brush or an iron and flawlessly straighten your hair.
#11. Curtain Fringe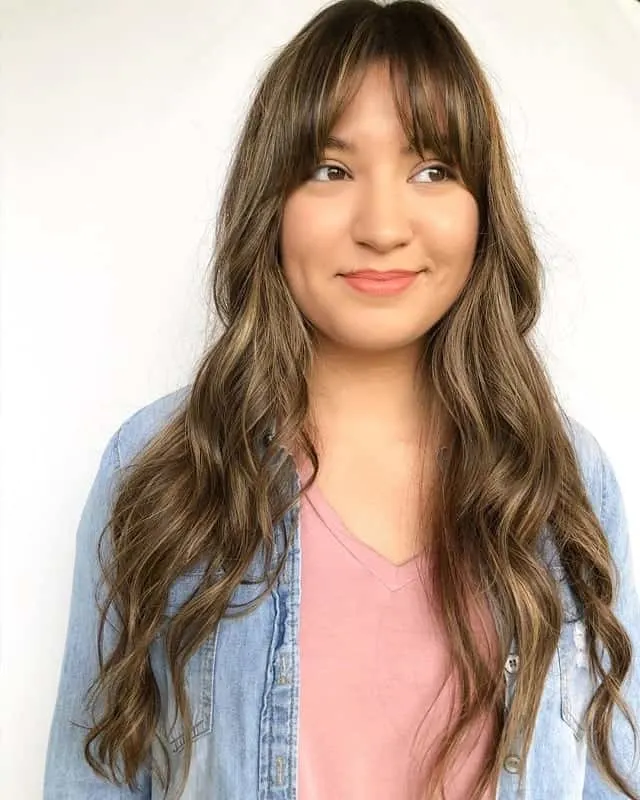 Curtain bangs that are longer on sides will astonishingly frame your face and will gorgeously blend with your long mane. If you choose to make highlights, use them on your bangs too. Also, to give the hair more volume, style a few easy waves.
#12. Wispy Fringe
A wispy fringe will beautifully spread on your forehead. Keep the bangs long, covering your forehead and eyebrows. Keep the whole mane flawlessly straightened and get a braid on one side.
#13. Fringe for Thin Hair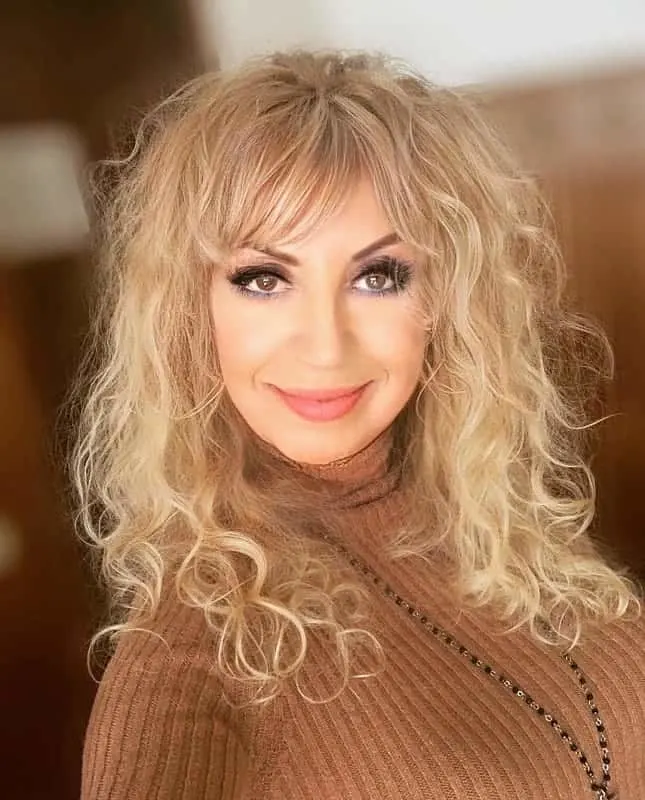 If you have thin hair, a fringe that goes just above the eyebrows and is longer on sides will look astonishing. Keep the bangs straight and split in two and make curls for the rest of the mane.
#14. 70s Fringe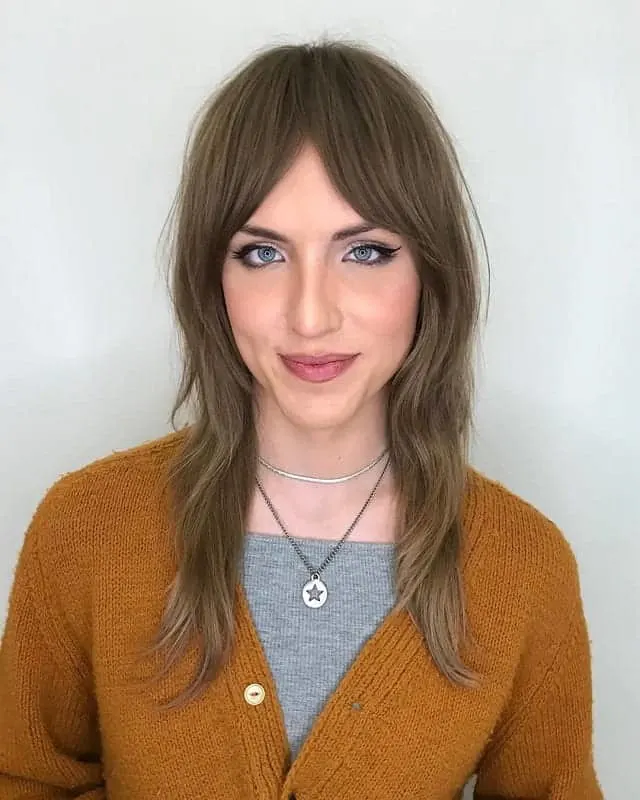 This hairstyle is ideal for women with big foreheads and long faces. Opt for curtain bangs and layered hair. Also, a dark ashy blonde hair color will fabulously work with your blue eyes.
#15. Fringe for Round Face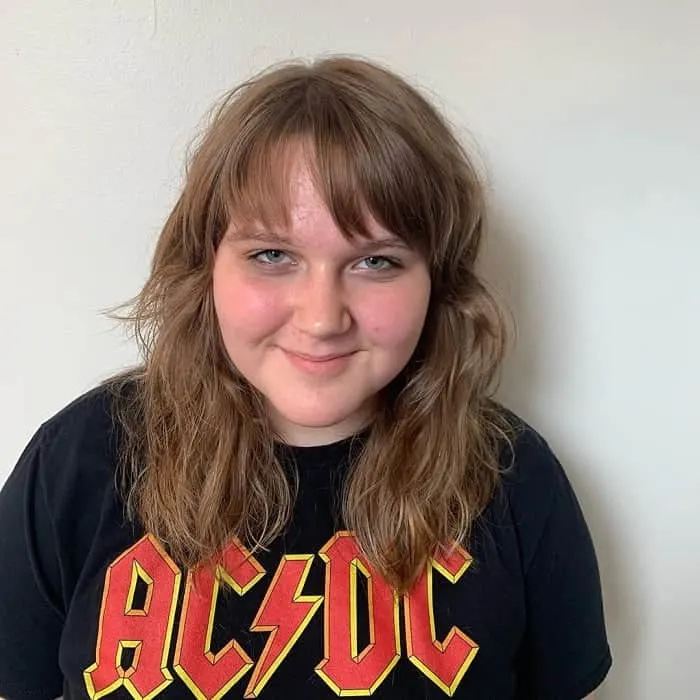 Wave your hair and choose for a fringe that goes just above the eyebrows. Spread it on your forehead and tousle the hair to create a messy look.
#16. Sew in Fringe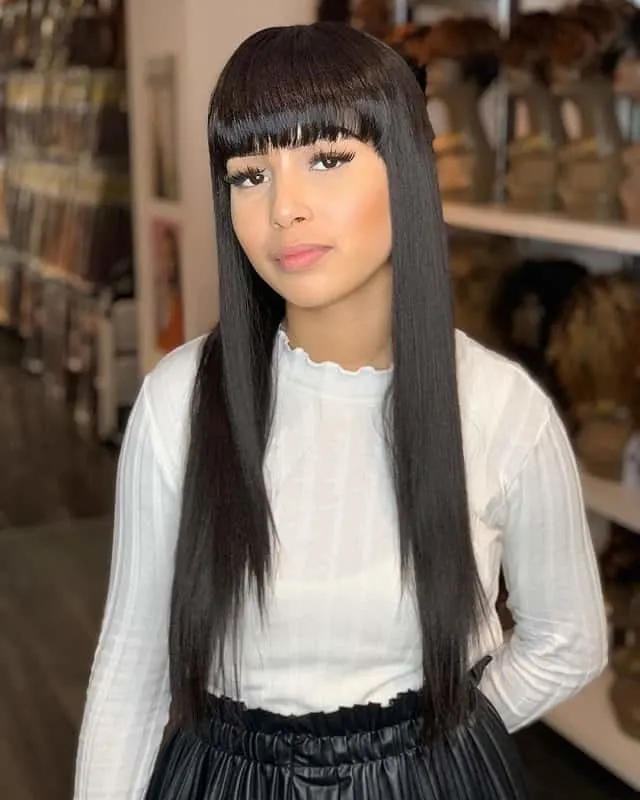 If you are too afraid to get a fringe or simply just don't want to cut your hair, there is always an option. Faux bangs that can be sewed in or bangs with clip-in devices can help you get the look you wanted.
#17. Fringe with Ponytail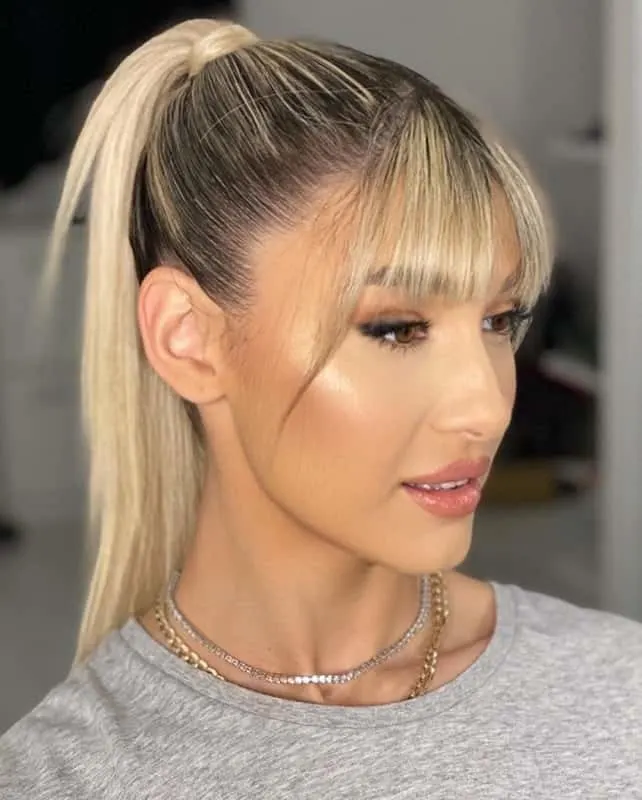 Create wispy bangs that cover the eyebrows and make the fringe longer on sides. Use hair gel to glue the hair to your scalp and pin the whole mane in a high ponytail on top of the head.
#18. Asian Fringe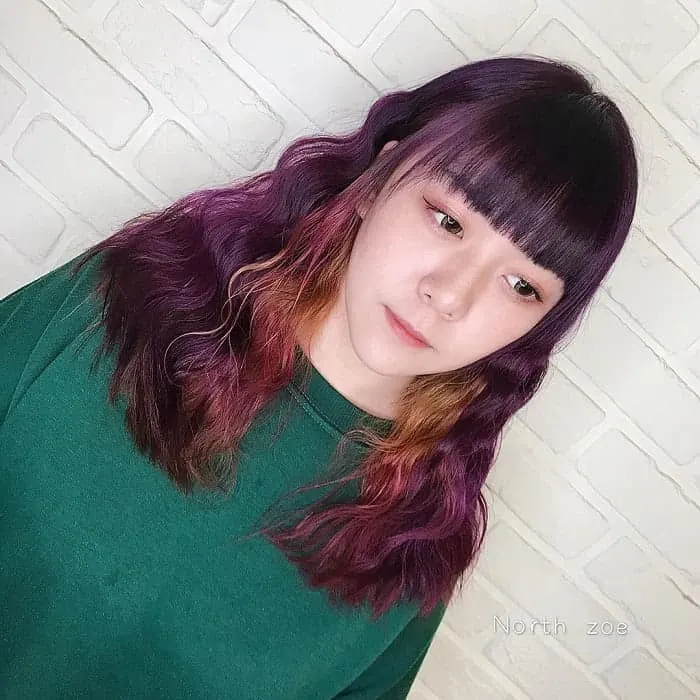 Asian fringe or Chinese bangs are perfectly straight and cover the forehead and eyebrows. To create this hairstyle, use a dark purple shade for your hair and make two bright blonde highlights.
#19. Messy Fringe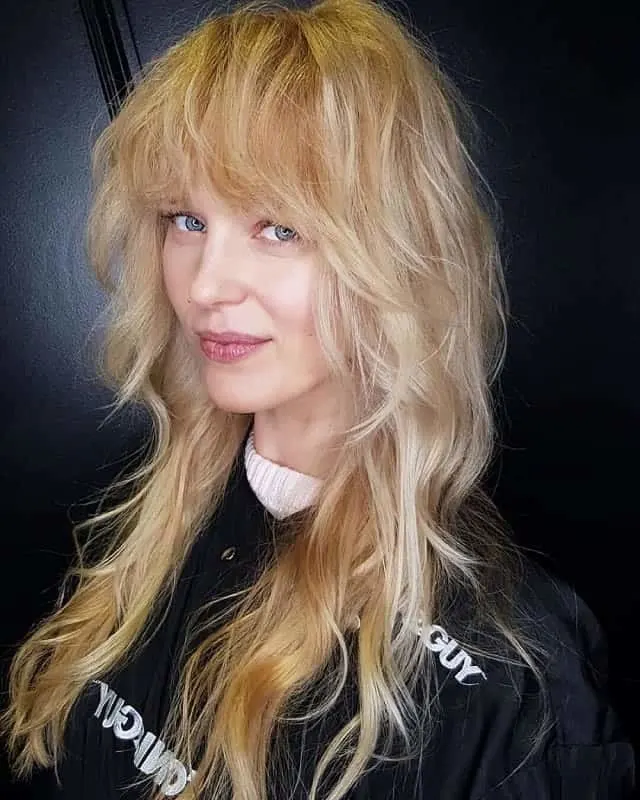 Layered choppy bangs go hand in hand with a shaggy haircut. Opt for a blonde shade for your hair and some platinum blonde highlights. Tousle the hair before you go out.
#20. Choppy Fringe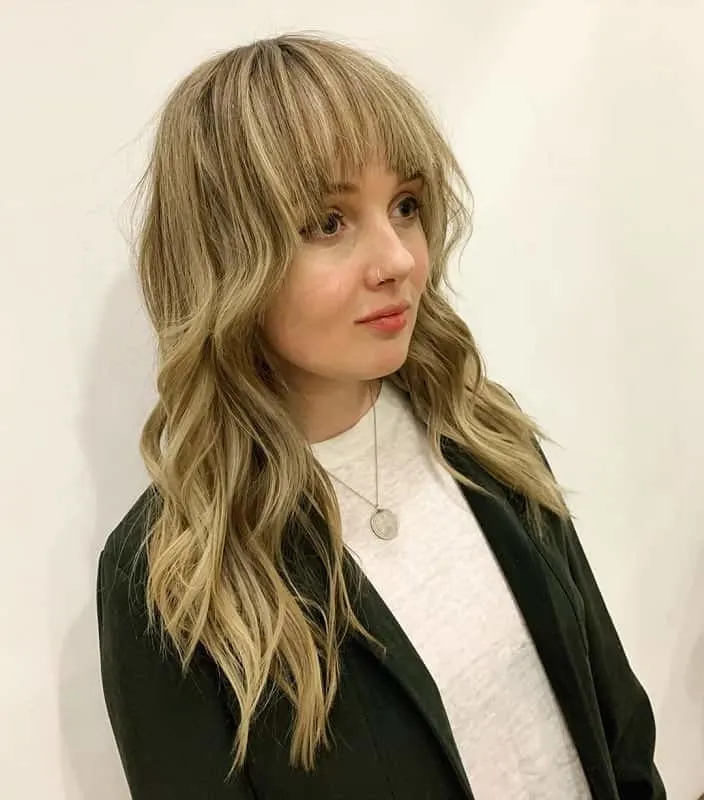 Create a choppy fringe that has a round shape and keep the rest of your mane long. Style layers and opt for thin blonde highlights. You can also wave and curl the hair to pull off this fabulous look.
#21. Curly Fringe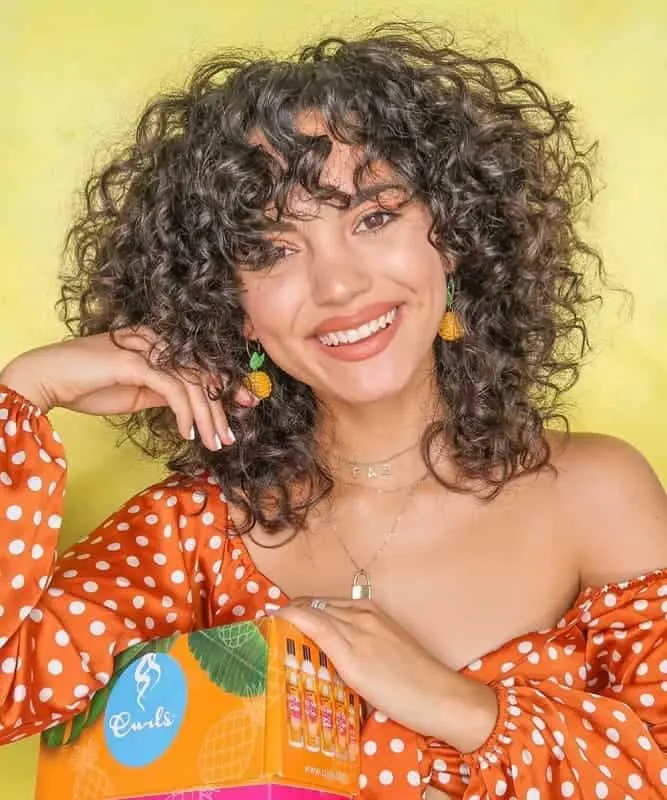 Even if you have curly hair, a fringe will look fabulous on you. Create loads of layers and opt for bangs that are longer on sides. We advise you to visit a hair salon to get the fringe because it is quite challenging to pull off at home.
#22. Fringe with Glasses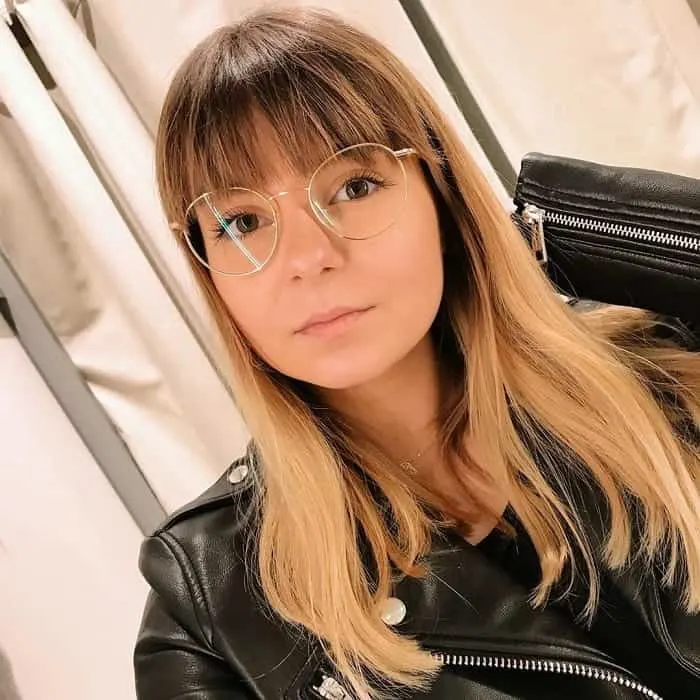 A fringe that covers the forehead and eyebrows goes so well with big rounded glasses. Create an ombre and straighten the bangs if you want to recreate this look.
#23. Shaggy Fringe
Shaggy curtain bangs will complete this rebellious hairdo. Get loads of layers and give the mane a big tousle.
#24. Asymmetrical Fringe Bangs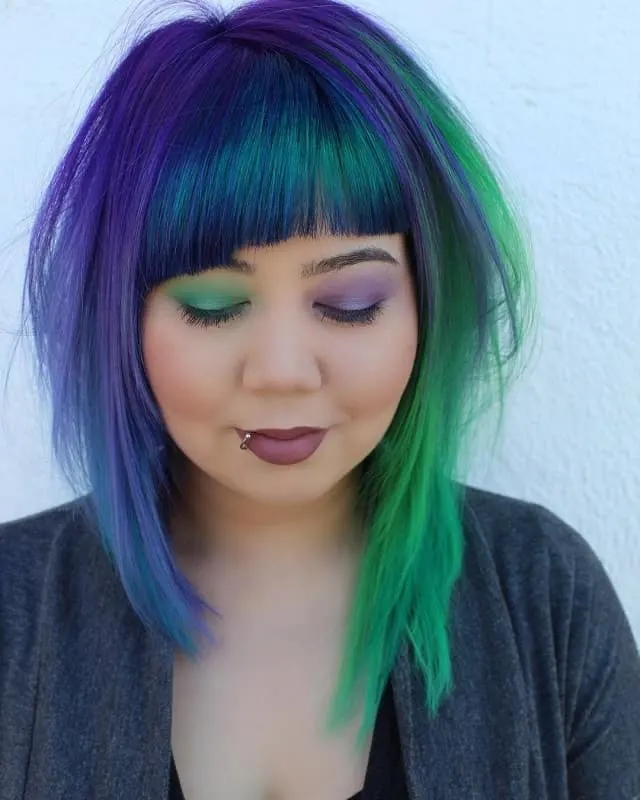 If you are a bold woman, you will adore this look. Get asymmetrical bangs and combine purple and green shades. Also, keep the hair longer on one side and colored differently. The hairstyle should be a beautiful blend of uneven cuts and two eye-popping colors.
#25. French Fringe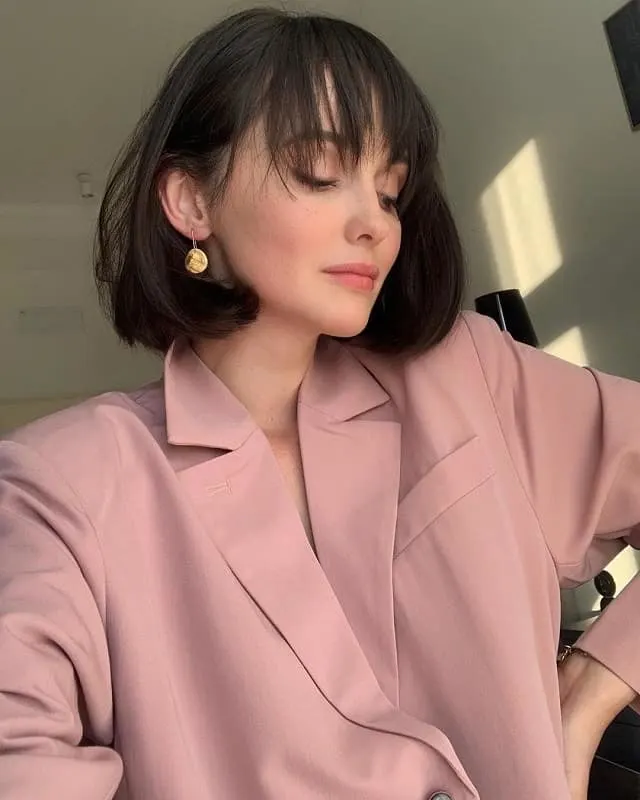 This French fringe is long, feathered, and extremely glamorous. It's ideal for women who love elegant looks, and it beautifully goes with a short bob haircut and a pair of golden earrings.
#26. Tapered Cut with Fringe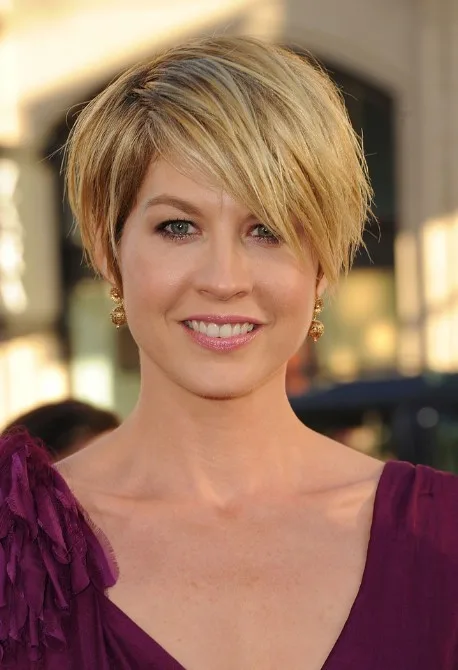 This modern tapered cut features a side-swept bangs that frame the face. The versatility of fringe leaves much to the imagination, ranging from sleek, blunt cuts to very natural-looking layered cuts.
The hair is layered in order to give the hair more height and body, while the bangs have been left long in the front in order to give the style a little more edge.
#27. Sweet Pixie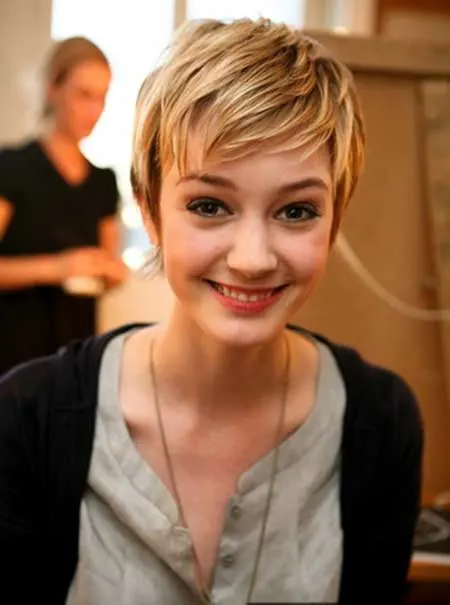 This adorable haircut is a very dramatically layered pixie cut. You can't help but to imagine Julia Roberts as Peter Pan when looking at this style! The bangs are swept to the side and cut to just above eyebrow level.
#28. Side Fringe Bangs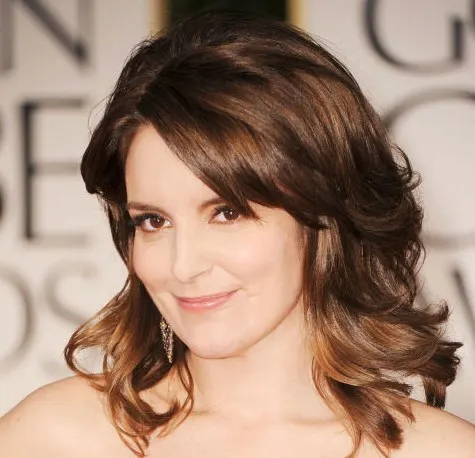 Tina Fey rocks a side swept fringe which compliments her ever so elegant brunette locks. Not only does the bangs offer a sense of class, but it also gives the hair more movement and draws more attention to the eyes.
Best fringe hairstyles for women
#29. Short Sexy Fringe
This haircut is tapered and layered in order to give the hair a fuller look. Coupled with a side swept fringe, this short style is giving a new definition to "bringing sexy back."
Best short hairstyles for girls
#30. Soft and Sultry
Style icon, Rihanna, is rocking a very edgy yet sultry look with this tapered haircut. The bangs were left relatively long and styled to the side which softens the features and brings more focus to the eyes.
#31. Blonde Layered Fringe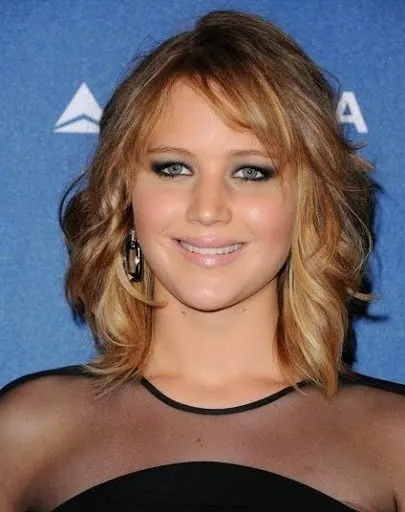 This style, rocked by the very beautiful Jennifer Lawrence, features natural-looking layers which have been coupled with a subtle bang that has been styled to the side. What sets this style apart from the rest is the fact that the layers have been colored in an almost reversed ombre type fashion, going from dark brown to blonde.
#32. bangs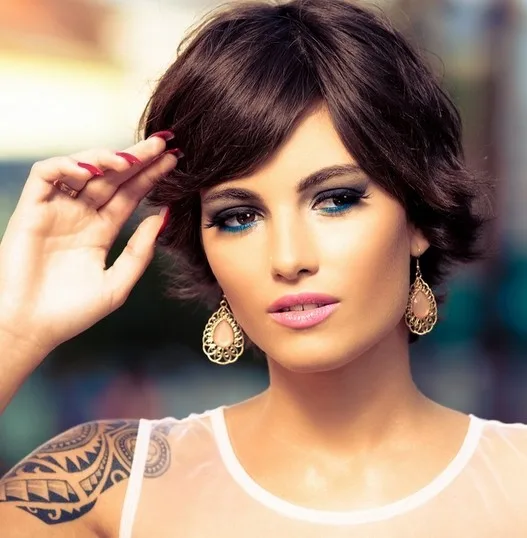 This style features a fringe that is a more prominent part of the style. The hair has been cut short, while the bangs have been left relatively long in order to frame the face.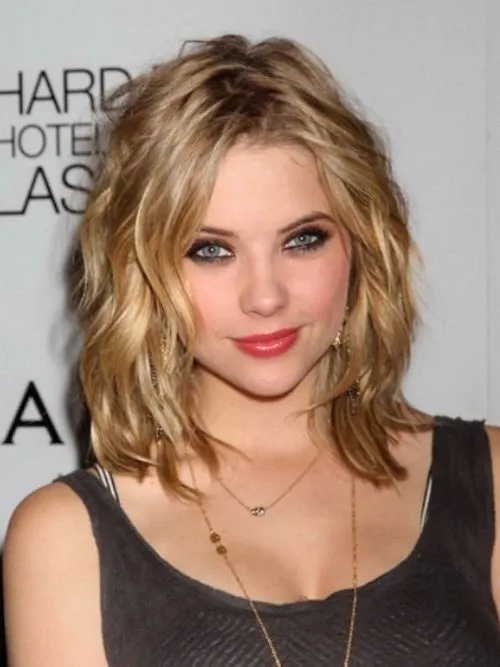 Here's a carefree look featuring hair that has been tousled, layered and highlighted to give the hair more body and dimension. These bangs have been left relatively long as well, which allows them to basically be camouflaged within the hairstyle so that they aren't as noticeable. This is a perfect option for those who like to go back and forth from wearing bangs to having no hair in the face at all.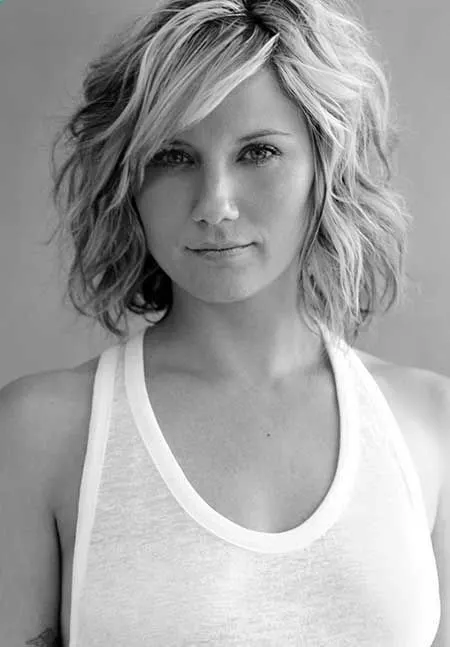 This fringe has been paired with the model's natural wave pattern. The hair has been layered in order to give the hair more movement, while highlights and lowlights have been added to give the hair more dimension. The bangs is styled straight which adds a great variety of texture around the face.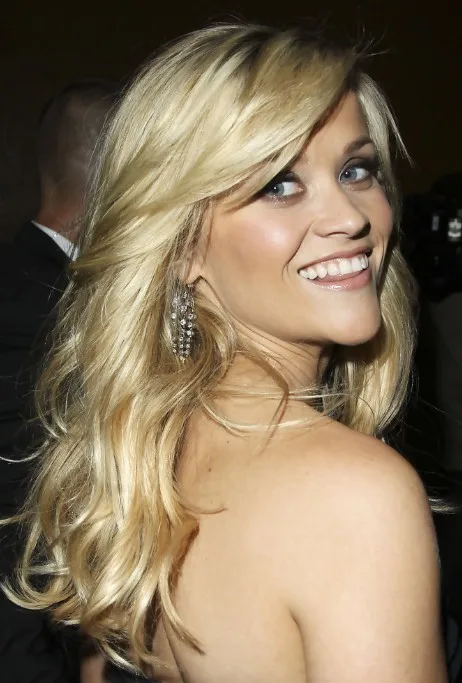 Reese Witherspoon is sporting this beautiful look that features a side swept fringe bangs with long flowing curls. This bangs is semi-layered, giving it a more natural look.
Coolest Short Hairstyles for Teenage Girls
#36. Traditional Fringe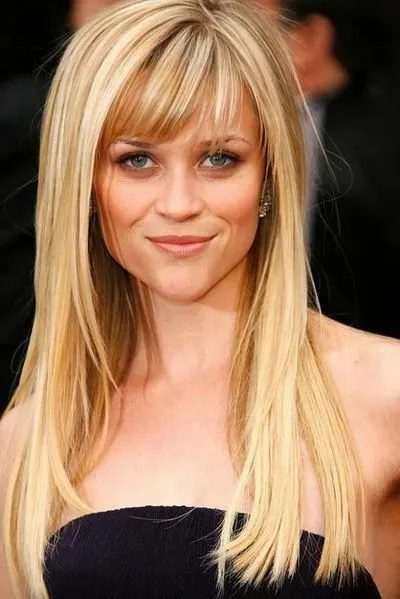 In this fringe hairstyle, Resse is rocking a traditional version of the fringe bangs. The hair has been straightened and the bangs have been cut into a uniform length right above the eyebrows.
#37. Wild and Free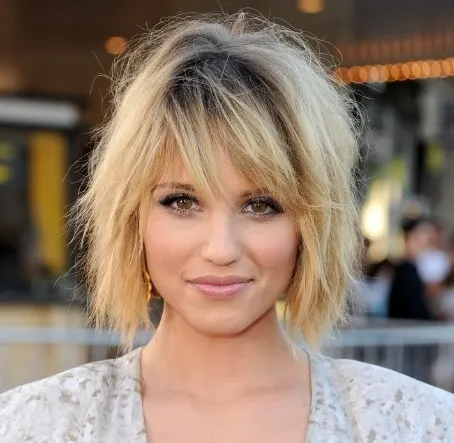 This short hairstyle is a very carefree look, featuring a style that can be comparable to how every girl looks the morning after a night out on the town. The fringe is left relatively straight, while the rest of the style has been teased and tousled, giving the look a variety of texture.
#38. Pixie
Here's another adorable pixie cut to fawn over. The hair has been tapered, leaving the bangs longer so that they can partially cover the forehead. The bangs can also be styled up into a funky spiked style if you're looking for a way to incorporate and edgier look.
#39. Sleek Bob with Fringed bangs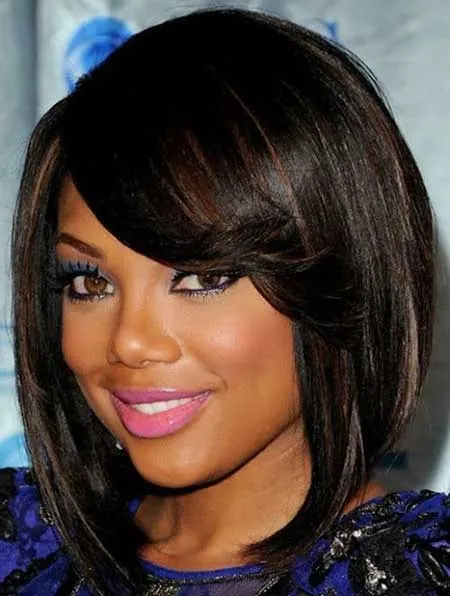 This fringe haircut has been coupled with a stylish asymmetrical bob. The bangs is styled to the side and feathered in order to give the look a little bit of movement and personality.
#40. Fringe Bangs for Long Hair
Here's a version of the traditionally cut bangs that have simply been styled straight. The main difference with this bangs is the fact that it has been left a little bit longer than usual, which is perfect for women who don't care for a bangs that hit right above the eyebrows. If you don't mind longer bangs, then this simple look may be a good option for you.
#41. Textured Bob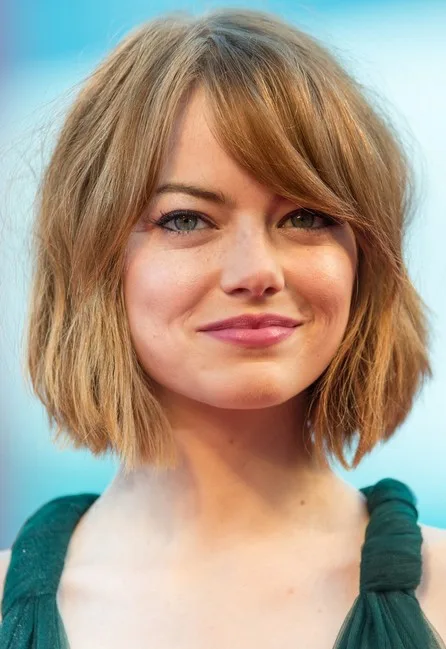 Emma Stone is rocking this adorable bob, featuring a longer bangs that has been styled to the side. The key to this style is achieving body and texture by layering and tousling the hair to give it a more natural look.
#42. Feathered
Here's a bangs that has been layered dramatically, giving it a feathered look that flows with the rest of the hairstyle. If you're looking for a style that features a lot of movement and personality, this may be the perfect look for you.
#43. Wild and Wavy
This fringe has been left in its natural wavy texture and styled to the side for a more elegant look. By allowing the hair to act as it naturally does, it gives the style a unique texture and a bit of effortless drama.
#44. Medium Length Fringe bangs
Here's a fringe hairstyle that has been left longer than the rest of the hair, giving the style a sleek, edgy look. This style is perfect for women who aren't interested in committing to cutting short bangs and is a great way to add some variation to your shorter style.
Must see braid hairstyles for black Afro-American women
#45. Tapered bangs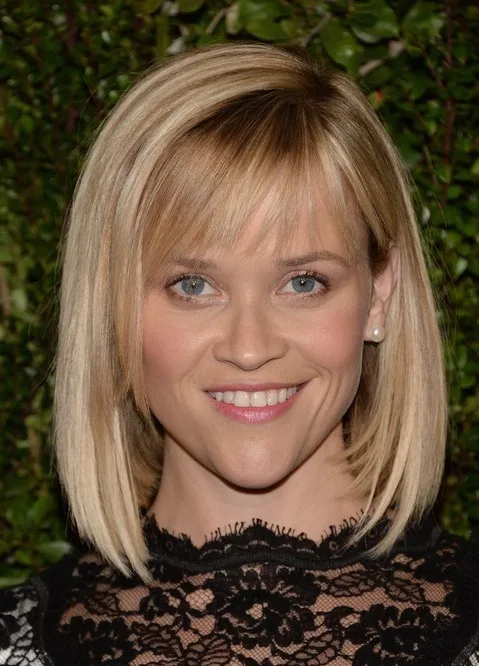 In this style, the bangs have been tapered, leaving them short across the forehead and gradually longer as they extend toward the ears. This look is a great choice for those who don't like a blunt cut on their bangs.
#46. Face Framing
Here, the bangs have been left long so that they frame the entire face. Coupled with long, flowing curls, this option is perfect for women who aren't looking for the traditionally styled fringe.
#47. Layered Waves
Reese Witherspoon is rocking another set of fringe that has been layered into her naturally wavy hair. This styling option makes the bangs look a bit more natural and subtle as opposed to a more blunt look.
#48. Long and Tapered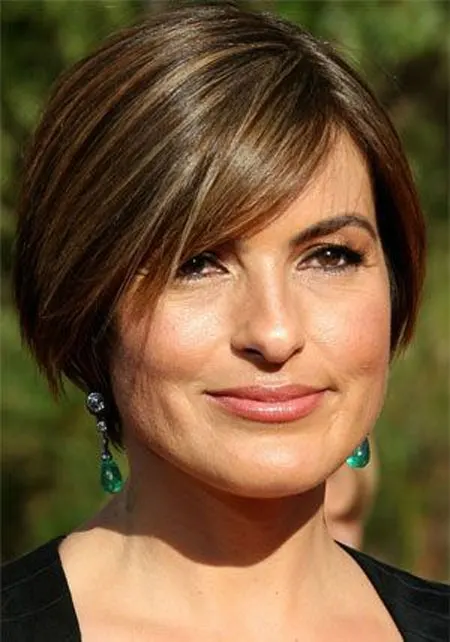 This tapered cut worn by the lovely Mariska Hartigay is another variation of this bangs style. The bangs have been left significantly longer than the rest of the hair so that it can be swept to the side in a more uniform manner.
#49. Traditional with Long Waves
This traditional version of the fringe has been coupled with long, flowing waves. The bangs have been tapered slightly so that they're longer on the sides and shorter above the eyes which is perfect for those who don't like for their bangs to cover their eyes.
#50. Classic Side Sweep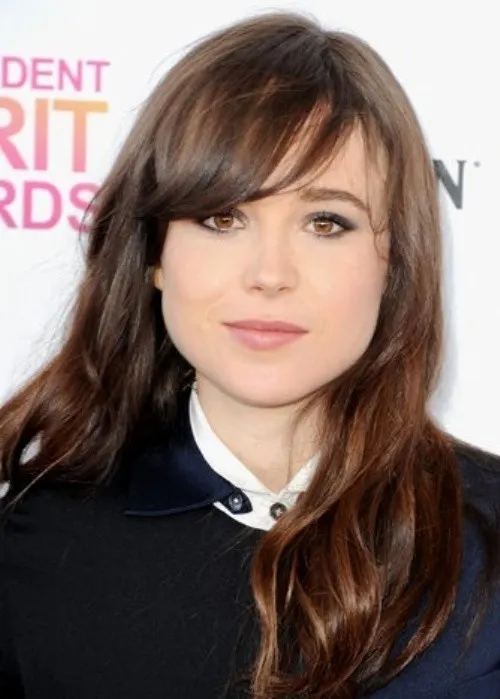 Here's another side swept style that is coupled with naturally occurring waves. The simplicity of this classic style makes it perfect to wear for all occasions while still harboring a sense of elegance.
#51. Long and Lovely
These face-framing bangs have been left in their wavy state and coupled with a very high pompadour. While longer bangs aren't traditional, they're a perfect way to dress up any style that may need some added drama around the face.
#52. Sleek and Straight Fringe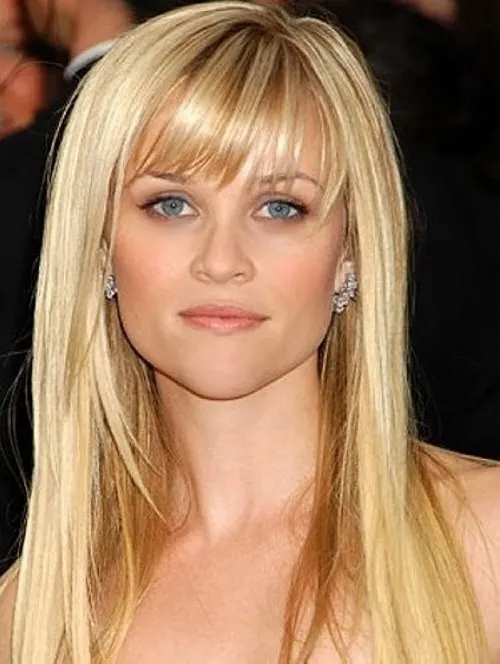 This fringe bangs have been layered and straightened so that the look is given more movement. Although the rest of the style is all one length, the layering of the bangs offers some much-needed variety.
#53. Carefree Edge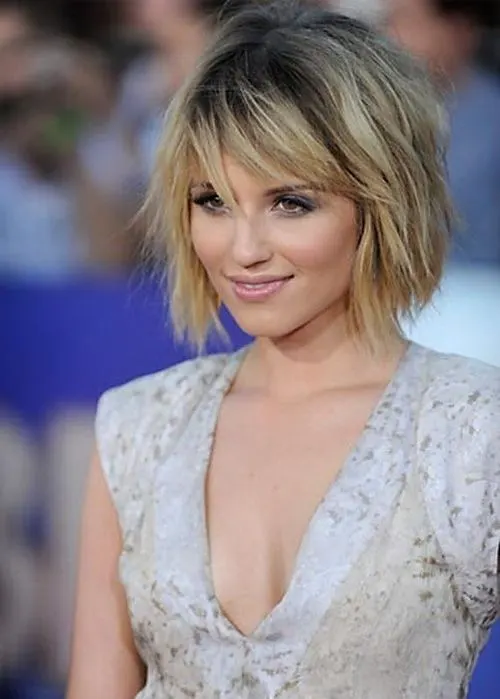 This tousled bob offers a great deal of personality and edge, featuring asymmetric layers and a dramatic side swept bangs. The bangs are left relatively long, but still shorter than the rest of the style, giving the look a great deal of movement and dimension.
#54. Blunt Fringe
In this style, the bangs have been cut very bluntly, leaving the hair all one length and fully covering the forehead. These fringe have also been cut a little shorter than normal, which is rather reminiscent of the pin-up look, which is perfect for women who are looking for an awesome retro-type style to wear.
#55. Fringe for Short Hair
This hairstyle features a tapered look with a side swept fringe that has been layered and highlighted for dimension and movement. This fringe hairstyle is a little shorter than normal, leaving it relatively uniform in length with the rest of the style which is great for women who like a more polished look.
#56. Side Fringe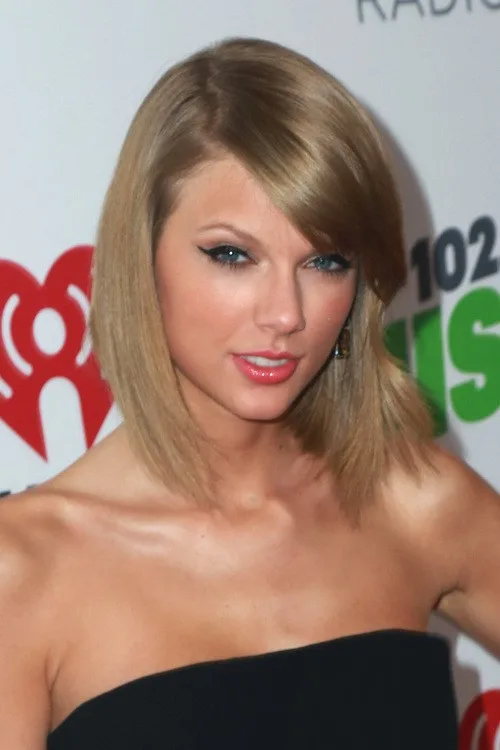 This is an amazing fringe hairstyle that you can observe with many celebrities. This haircut gives you a new and fresh look. If your hair reaches your shoulder, then this is the best haircut that you can apply to add beauty to your face.
#57. Parted fringe updo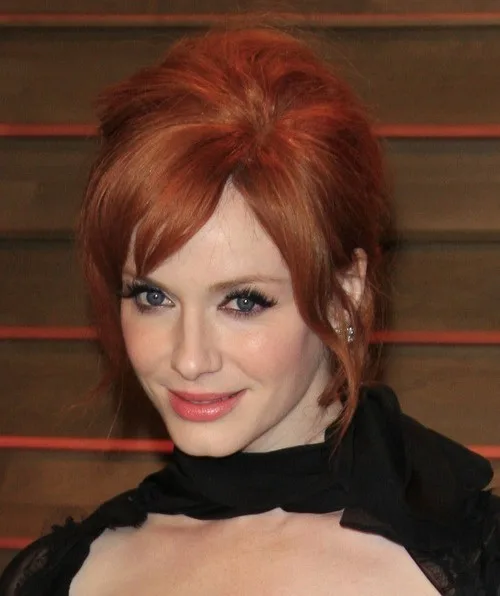 If you are wearing an updo with large bouffant, then you can combine it with a fringe hairstyle which gives you a totally new look. If you want to look gorgeous with your updo bouffant, then you can add fringe with your existing haircut.
Most adorable baby girl haircuts
#58. Forehead Fringe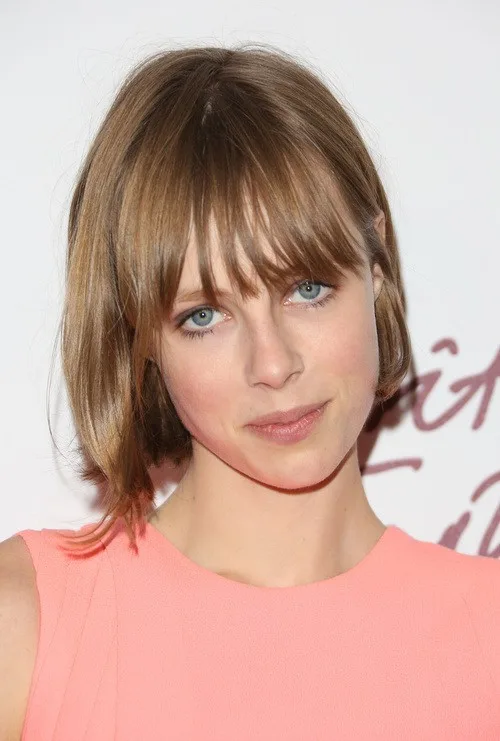 In this fringe hairstyle, your forehead is totally covered with your beautiful hair and all the attention goes towards your eyes. This haircut gives your face an oval shape and increases your beauty. If you have a long face, then a fringe is an amazing option for you.
#59. Edgy Fringe
Which type of haircut do you want for your short length hair? Obviously, you want a fringe that adds to the charm of your short length hair along with style. An Edgy fringe hairstyle can be the best option for you if you love short hair. This is the most suitable haircut for girls with thick hair.
#60. Full Fringe with Pony
This is the cutest fringe hairstyle for the oval face as well as a rounded face. This beautiful haircut makes your face slim and gives your face an oval shape with face-framing. If you don't feel easy with open hair, then you can cover your rest of hair with a pony.
#61. Long Hair with Fringe
The main reason for fringe hairstyles being so popular is that everyone can wear this haircut as there are many versions for everyone. No matter your hair is long, medium or short, you can apply this haircut. The above fringe style suits better on girls who have high cheekbones and beautiful, attractive eyes.
#62. Elongated Horizontal Fringe
One of the most common versions of a fringe hairstyle is forehead fringe. When you decide for a forehead fringe, then you must notice the length of the forehead fringe which plays a vital role in your haircut. This haircut makes you look cute and innocent.
#63. Extra Short Fringe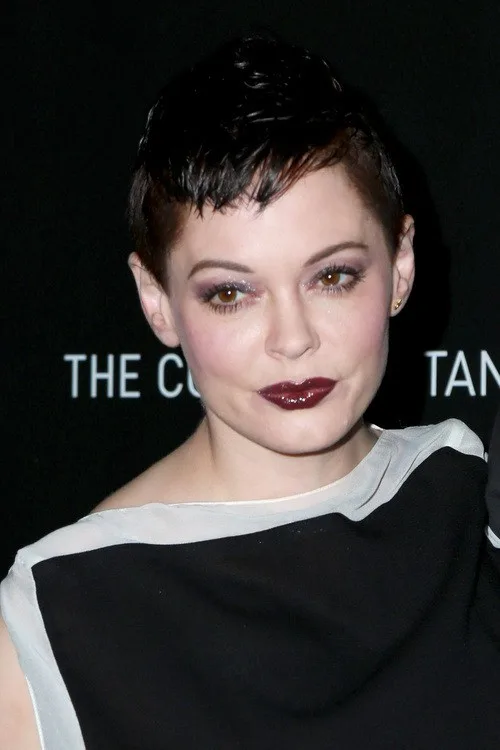 Neat cropped fringe hairstyles will give you a sexy look with your short hair. This is the best haircut for evening and night parties.
#64. Short Fringe for Curly Hair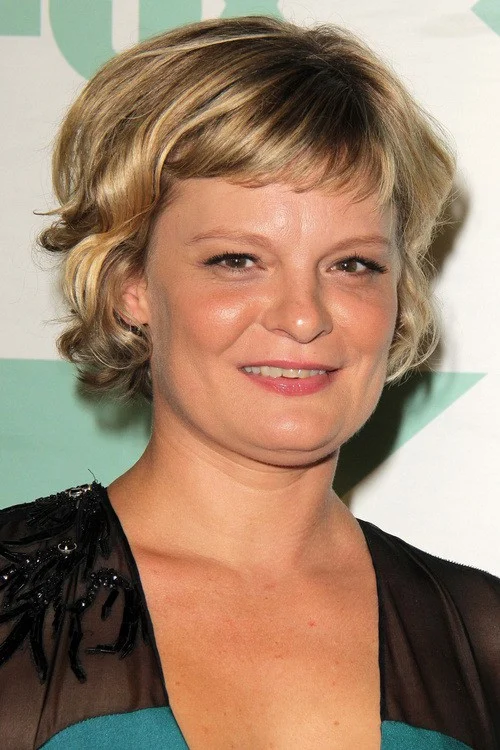 Curly hair has its charm. You can also opt fringe hairstyle on your short curly hair. Short fringe covering half of your forehead looks very beautiful and at the same time, it is easy to handle.
#65. Side Wispy Fringe
To increase the feminine appeal of your short hair, you can opt for side wispy fringe. This haircut reflects longs waves that give a unique look.
#66. Fringe with Curls
For long hair, this is one of the best haircuts that you can opt. The forehead is hidden with straight fringes while the hair touching the shoulder is curled. So with your fringe hairstyle you can add curls that enhance the beauty of your haircut.
#67. Long Swoopy Fringe
This long swoopy fringe suits on the girls who have a long face with a pointy chin. Long swoopy fringe haircut with the combination of small bouffant gives you an attractive look.
#68. Faux Fringe
If it is difficult for you to manage your fringe hairstyle, you can opt faux fringe which is easy to manage. The sleek wave covering your forehead looks very graceful.
#69. Mid-Length Hair with Fringe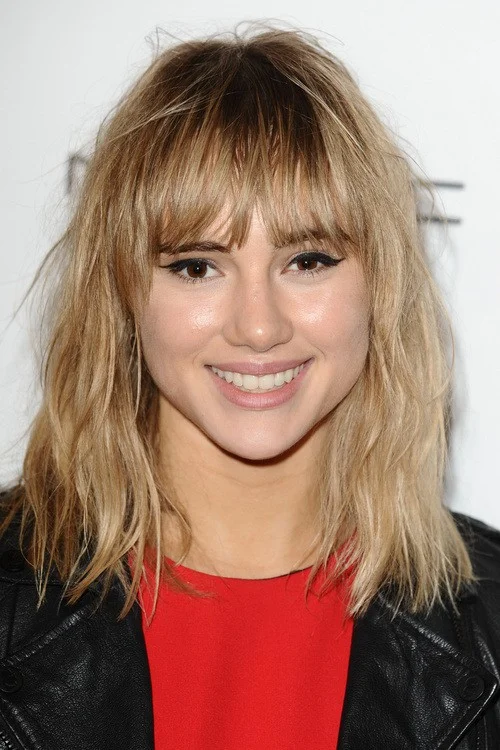 On your mid-length hair, try the above fringe hairstyle. This haircut gives your hair the shape of scattering waves and enhances your personality with an elegant haircut.
#70. Blunt Horizontal Fringe
In this haircut, the straight front hair covers your forehead totally and then the front hair is turned to blend with the layers of the side of the head. This is an elegant fringe haircut that everyone can opt.
#71. Side Forehead-Framing Fringe
You can keep your fringe away from your face on one side of the head to add a classy look. This gives you a romantic look and suitable particularly for evening functions with the bright-colored dress.
#72. Fringe for Straight Hair
This hairstyle looks gorgeous with the girls who have straight and silky hair. The straight hair covers the forehead while the layers on the sides of the head look wonderful.
#73. Cropped Slanted Fringe
Cropped slanted fringe looks amazing with all girls. The small front hair bends on one side of the head covering the forehead.
Most Popular Black Sew-In Haircuts
#74. Ponytail with Parted Fringe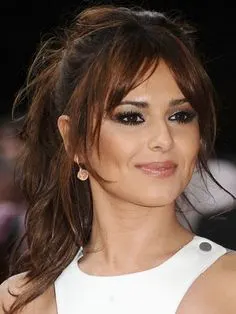 This one is another example of a fabulous fringe hairstyle. You can carry this haircut with a ponytail. In this beautiful hairstyle, the front hair is cut sharply and then parted. The fringe covers your forehead and falls free around your face to give you a cute look.
#75. Choppy Fringe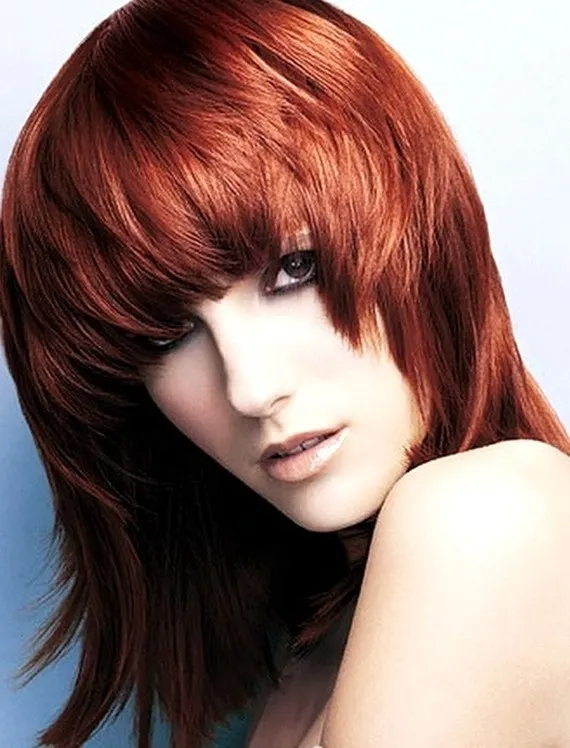 An elegant bangs haircut for thick hair. You can apply it to all the colors of hair. The bangs are very edgy and gives you a sexy look particularly with red hair.
#76. Rounded Fringe
This is one of the old-fashioned haircuts which you can apply with the feathered haircut and fringe haircut. This haircut is again becoming popular with little changes and combinations.
#77. Short Curly Hair with Fringe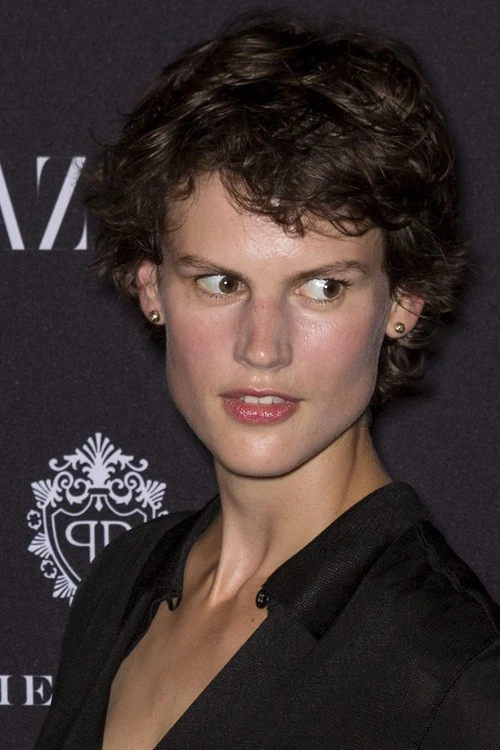 Short curly hair can be styled into a fringe which gives you an adorable look and makes you look pretty.
#78. Short Layered Fringe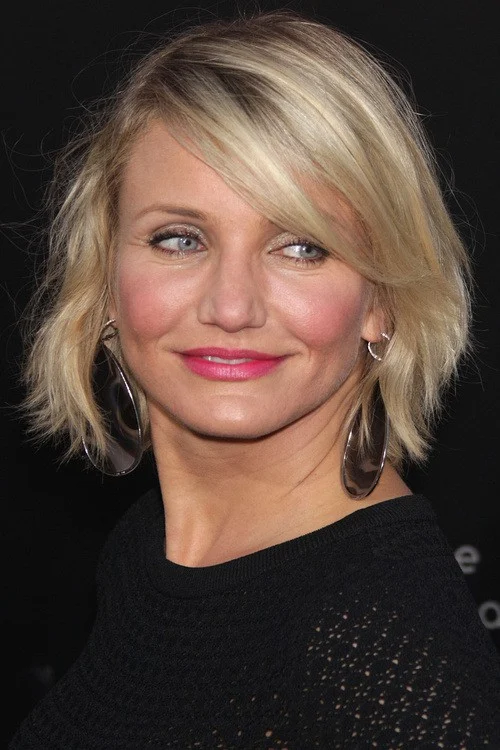 If you love short bob, you can combine it with short and long fringes. The length of fringes is decided just according to your face. This is an elegant haircut for every girl who wants short hair. You can also try inverted bob hairstyles.
#79. Extra Short Fringe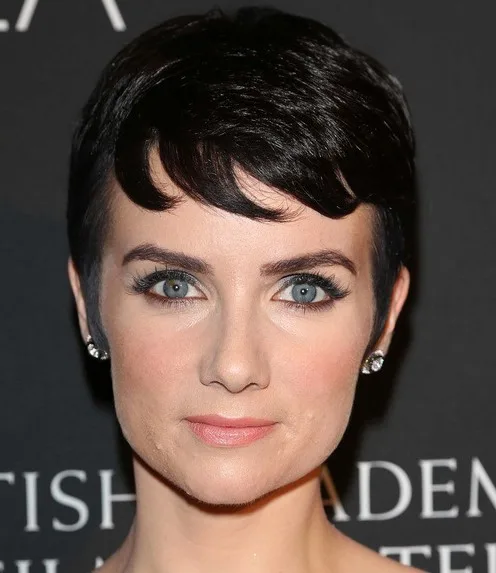 You can apply fringe even on your extra short hair like the above. This haircut highlights the beauty of your face and enhances your personality.
#80. Fringe With Headscarf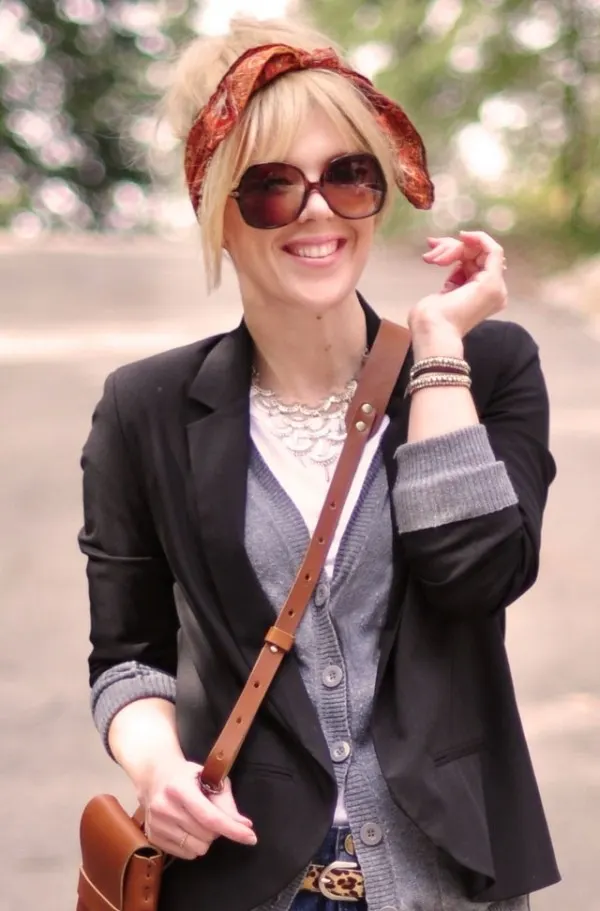 This haircut is very easy to carry for the beginners. If you are new at the fringe hairstyle and want to experience a lighter version of fringe, then you should select fringe bangs haircut.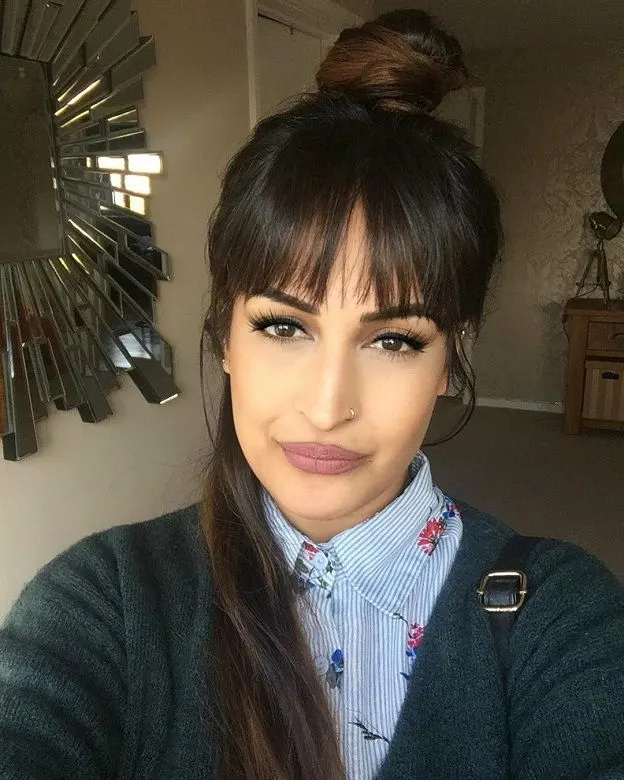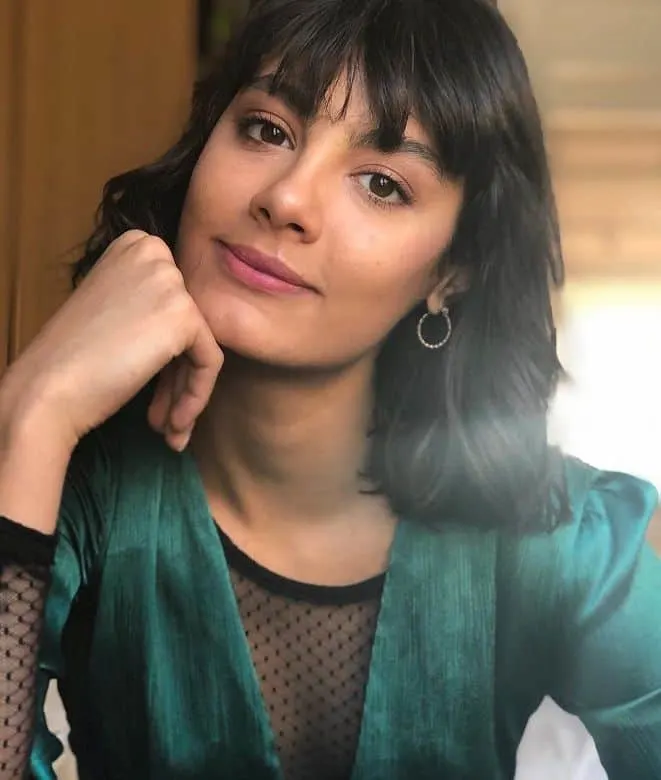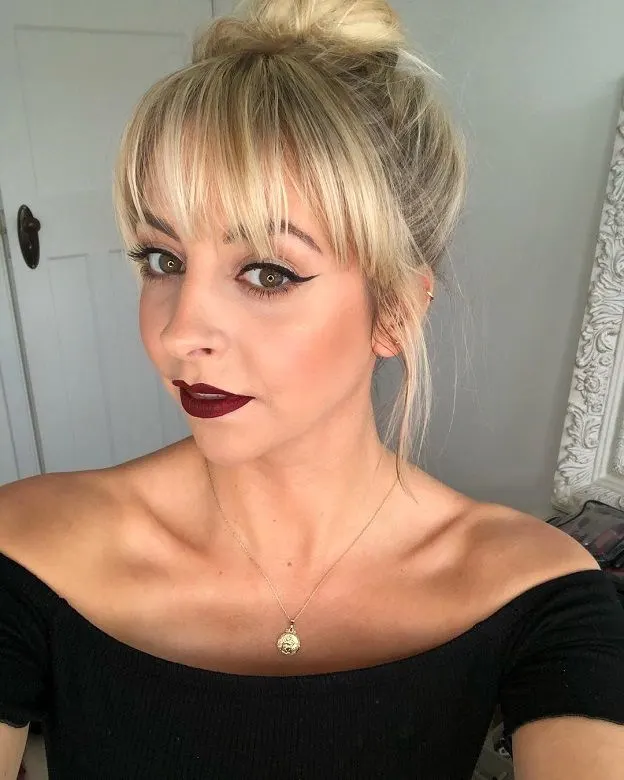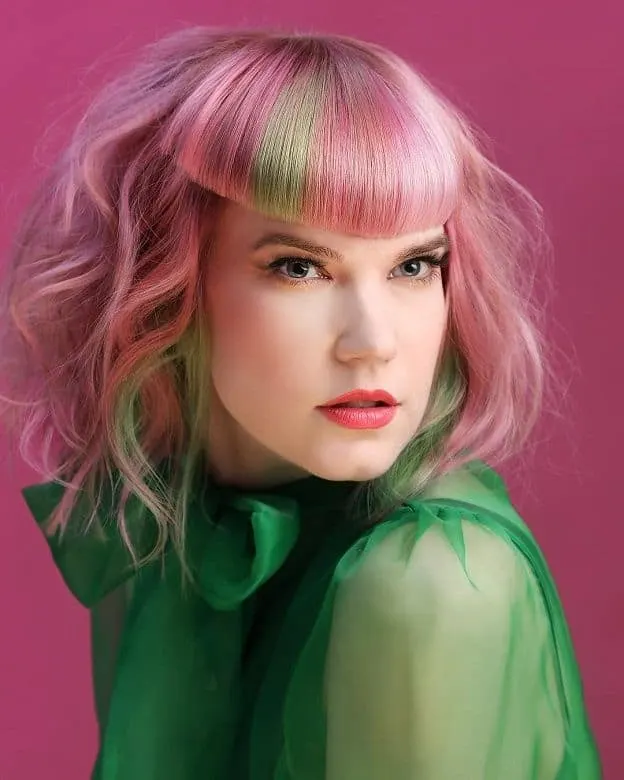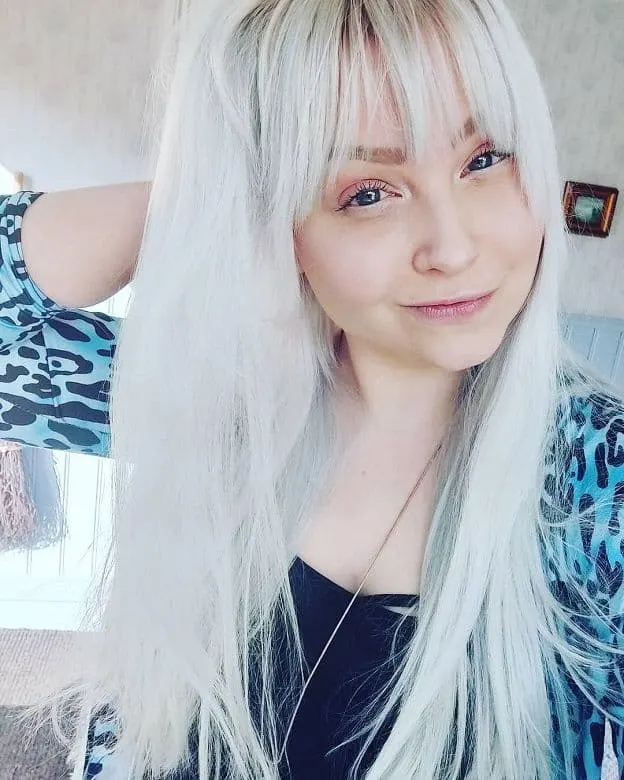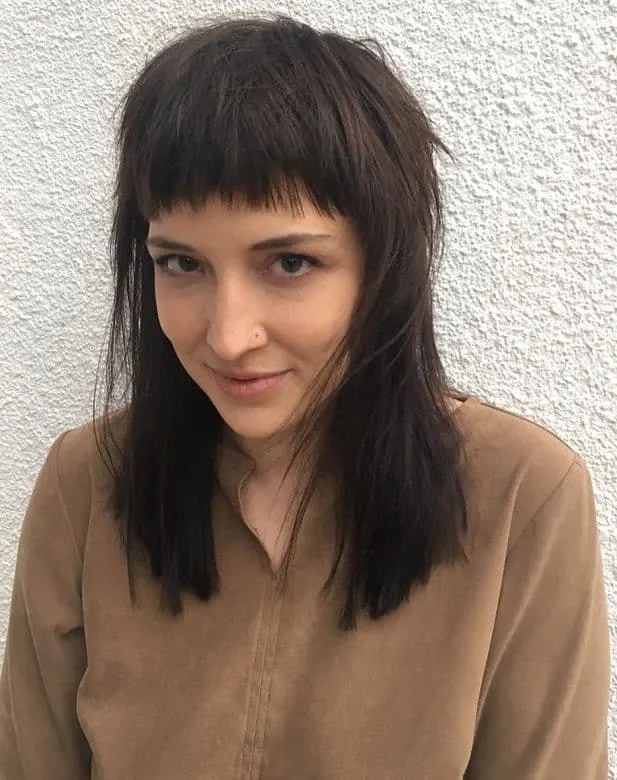 Hope you enjoyed our list of the most popular fringe hairstyles. We will be glad to know which fringe hairstyle you like the most and intend to try.