Most of us have experienced having our hair cut too short at some point in our lives. It can seem like the end of the world in the moment, and oftentimes that panic can cause us to make rash decisions that can make the whole situation worse.
Whether you saw a new stylist who didn't quite understand what you asked for or you had a weak moment and took the scissors to your hair yourself, we're here to reassure you that mistake of having your hair cut too short is fixable!
The next time (knock on wood) that this happens to you, breathe and remember that there is more than one fix to take your too short haircut to too cute.
How to Fix If Hair Cut Too Short
Here are 4 simple fixes:
Try hair color
Embrace new haircut
Part Hair in the Middle
Wait for It To Grow Out
You don't have to worry about what to do if/when you have your hair cut too short when you have these fixes to resort to!
#1. Try Hair Color
If you've always wanted to play with bold or simply different hair colors, interpret your short haircut as a great opportunity. Distract from your short haircut with bright colors like blue or hot pink in highlights, partial color jobs, or all-over applications.
It's a well-known fact that dark colors make hair look longer, so consider a rich chocolate brown or enhance your naturally black hair.
You can also try 3D balayage, a technique that caught on in 2019 because of its ability to make hair look longer. It consists of 'painting' on both light and dark hair colors in multiple shades. The result is a beautiful three-dimensional effect on hair that makes our eyes think the hair is longer.
#2. Embrace the New Cut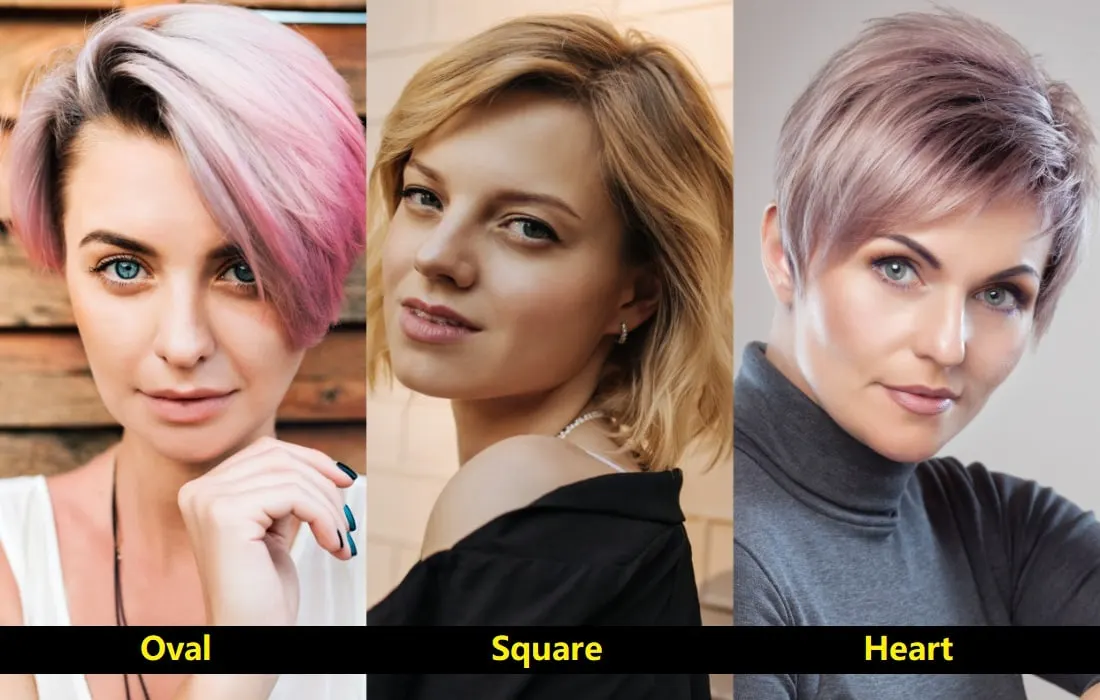 Take a few minutes to look at your new haircut and see what its positives are. Is there still texture? Work in a little mousse with your fingers to scrunch up waves and curls.
If there's still a couple inches to work with, try using a straightener to lengthen your hair as much as possible.
If you decide to take this route, here's a guide to which styles suit which face shapes:
#3. Part Hair in the Middle
A center part is a commonly used styling technique for its ability to make hair look longer. We all know that an off-center part creates lift and volume, right? So it makes sense that a center part could create the illusion of long hair since you're taking off height from the top of your head.
Additionally, scientifically speaking, a center part tricks our eyes into seeing a person's face more narrowly. It's a bonus if you have a round face because your face shape will also seem more slender.
#4. Wait for It To Grow Out
Waiting for new growth in your hair can be a long and excruciating process. On average, it takes about a month for our hair to grow back even just half an inch. There are a few things you can use or do to encourage faster growth, though.
Working nutrients like protein and vitamin C into your diet has been known to promote hair growth. Stimulating your scalp while washing your hair (with your fingertips, not fingernails) and reducing your use of hot styling tools will also help hair grow faster.
Preventing a Too Short Haircut
Even if it was your hair stylist who cut your hair too short, we still recommend leaving the trimming to a professional. Unless you're skilled in hair cutting, it's way too easy to make a mistake and cut off more hair than you'd like. To prevent this little snafu from happening again, remember these tips:
Bring a picture of the style you want to show your hairdresser
Ask your stylist to pause fairly often to check in with you about how your hair is looking
Minimize distractions! Avoid being on your phone the entire time you have your hair cut.
Check yourself before getting a haircut. Women often make big decisions about their hair when they're in transition or have had some major event happen. Take a day or two to sleep on your decision to prevent a potential hair faux pas.
It's worth noting that if you had a stylist who cut your hair too short, you should tell them you're unhappy with the way it turned out, preferably before you leave the salon. Avoid going home thinking you'll change your mind about it. Give your hairdresser a chance to fix the cut.
Aside from finding a wig to wear, the five fixes above are your best bet for dealing with a haircut that is too short.
Cutting hair too short is something that can happen even when a stylist is trying their hardest to give you the cut you want. The better stylists will do their best to fix the mistake, but in case you go home, and you still hate the way your hair turned out, give one of the tricks above a try. Who knows, you might even end up with a cuter hairstyle than you started with!