When we think of bob hairstyles sleek and shiny haircuts come to mind, but what about wavy bob? After all, bob doesn't necessarily have to be sleek and strict. You can pull off a cheerful, vibrant, and playful hairstyle with ease. Scroll down to see how to get wavy bob haircut as well as 25 amazing styles to rock this spring and summer.
How to Get A Wavy Bob Haircut
Laid-back yet polished style such as wavy bob haircut is easy to achieve. The first thing you need in order to create wavy hair bob is a curling wand but bear in mind the bigger, the better. Bigger wands are easier to control, and they'll give you nicer, sexier curls.
Before you start styling your hair make sure you apply heat protectant then start curling your hair in small sections. With each strand strive to change the direction of the curl for a messy style. But if you want a sleek and polished look then curl hair in the same direction.
For girls and women who want to achieve tousled, relaxed hair the secret is in sea salt spray. Spritz a little bit of spray throughout your hair and using your fingers mess it up until you get desired texture and look.
How to Style Wavy Bob Hair
Bob is a convenient hairstyle although many women don't think of it that way at the beginning. You can style it in different ways, and wavy bob is not the exception. So, how to style this type of haircut? Options are endless; you can opt for looser or larger curls, but also for smaller locks depending on your personal preferences.
Length of your wavy hair bob is also up to you. Short bob, middle-length, or even long bob, regardless of what style you choose it still looks awesome with sexy waves. When styling this haircut always bear in mind products you choose need to be effective meaning you need to be cautious when buying sprays, curlers, and other stuff. Put quality first.
Wear a bandana or headpiece and bobby pins to style your bob, but you can also opt for extensions for volume. If you prefer edgy looks, then highlights are always a good way to go.
Watch The Following Video to Learn How to Style Wavy Lob Haircut
Amazing Wavy Bob Hairstyles
Are you ready to rock wavy bob haircut? These 25 ideas will make it easier for you to get ready for work, school, wedding, you name it. Scroll down and check them out.

One of the cutest ways to style medium wavy bob is to pair it with bangs. There's a lot of things you can do with this combination. For instance, you can use a nice curler to make lovely locks and sweep your bangs aside for a beyond adorable style.
2. Classic Wavy Bob
Gorgeous locks on short hair are super sexy. You have the freedom to choose whether you'd like smaller or bigger curls. Wavy bob haircut looks both classy and relaxed. Curls frame your face perfectly and accentuate the fullness of your cheeks which is exactly what we always want to achieve with makeup.
Here's a chic hairstyle you can rock for any occasion. Combine cute choppy bangs with short, but wavy bob that creates the messy or bed head look. Not only will you boost fullness of your hair, but at the same time, you'll achieve that Parisian chic effect all girls want to emulate.
4. Wavy Graduated Bob
Girls and women with short wavy bob will be happy to know that sleek style is not the only way to rock this haircut. You can throw some sexy waves into the combination. In fact, waves will give your graduated bob more volume, but make sure you use a nice mousse.
5. Wavy Bob with Highlights
Add a new dimension to your bob haircut by making subtle waves and adding highlights. For instance, blondish highlights add more structure to brunette hair thus making your wavy haircut even more structure. This is particularly beneficial if you add highlights on each side of your face. Super cute!
A common myth that most girls and women believe in is that bob isn't suitable for curly hair. But, that's not quite correct. In fact, if you have curly hair, you can achieve this wavy bob hairstyle without even having to use a curler or any other product unless you want to. Try it out.

Long bob, waves, bangs, and two colors make this hairstyle both chic and edgy at the same time. For the best effects make sure, your bangs are on the shorter side, i.e. above your eyebrows.
8. Glamorous Bob
Here's a great wavy hairstyle with bangs for all ladies who want to achieve that glamorous feel. What makes this wavy bob style so amazing? Well, it's wavy but also sleek, cute but playful, and delicate but empowering. If you're looking for a hairstyle that will help you ooze confidence at work, this is the one.
9. Long Bob with Highlights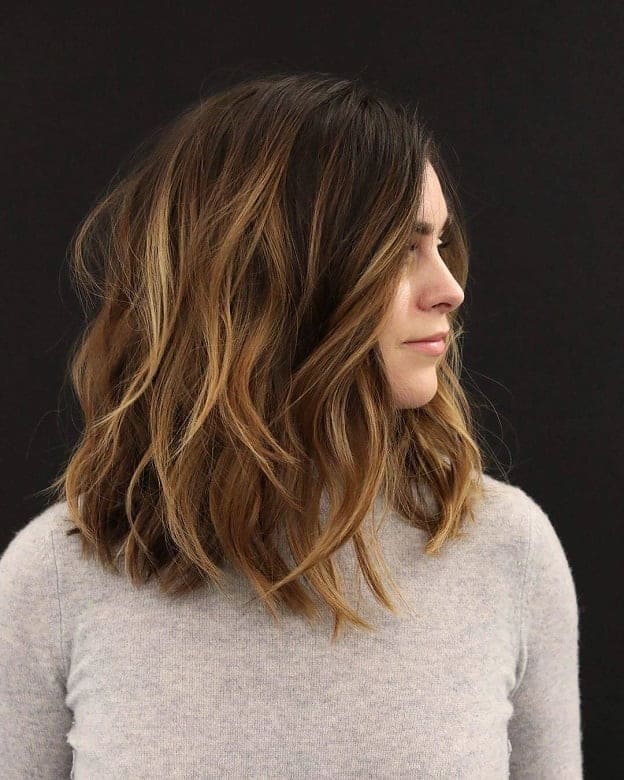 Sometimes you want shorter hair, but you don't want it to be super short. In those cases, long bob is the solution. Go one step further and get a long wavy bob using a good curler and mousse that will allow you to shape luscious locks and enhance the volume of your hair.
10. Platinum Bob with Waves
For an elegant new look, you may want to try medium wavy bob styled asymmetrically. Part your hair in a manner that one side is more voluminous than the other. Create gentle waves near the ends of your hair strands for a cute and elegant image.
11. Fiery Red Bob
Red orange hair is playful, vibrant, and chic at the same time. Instead of sleek bob, you can opt for a wavy bob hairstyle that will make you look like you've just stepped out of some romantic movie. Waves, in this case, are formed in the lower part to add more drama to your look.
Are you a fan of edgy hairstyles? If so, then you may want to try out this one. Dye your hair pink and get a cute, short, wavy bob parted asymmetrically. All adventurous girls will look absolutely amazing with this hairstyle. Don't miss out.
13. Textured Bob

Bob is the hottest hairstyle trend this year. Celebrities are rocking it, influences on social media networks are flaunting their bobs, and now it's time for you to do the same. Your wavy bob haircut and textured look coupled with loose waves will boost the volume of your hair instantly for amazing results.
Debating whether to get bangs or not? You should definitely try them out and combine with a short bob. Add more edge to your hairstyle by mixing sleek and messy look. It's easy; get sleek and straight bangs but make sure your bob is wavy. This combination of strict and relaxed styles gives you a unique vibe.
Girls and women with bob haircut have plenty of styling options at their disposal. Basically, all you need is a little bit of creativity to get a breathtaking look. For instance, combine medium wavy bob with a braid that acts like a headpiece and gives you a more sophisticated vibe fit even for the most formal occasions.
Spring and summer are just around the corner, and you're probably looking for a hairstyle that will introduce more playfulness to your appearance. Beachy locks of a long wavy bob and nice blonde hue are going to the hottest summer hair trend for sure.
Girls with thin hair may want to add extensions that would increase the volume of their mid-length bob with waves. That way, wavy hairstyle would be even more luxurious and feminine.
Short haircuts such as bob are a perfect platform for balayage, in this case, purple or violet. This particular coloring technique adds a unique dimension to your hair and makes it appear lightweight and edgy. At the same time, balayage accentuates those cute waves on bob cut.
19. Bob and Top Knot
Speaking of colorful hairstyles, another option is to go for a grey, violet, or dye of some other color. Add more volume to your long bob by creating waves. To finish off the look, make a messy top knot for a casual style.
20. Brunette Hair Highlights and Waves
If you have dark hair and are thinking about making subtle changes, then you can just go for chocolate highlights on your wavy bob cut. They will make wavy strands even more noticeable. Make longer curls for a sophisticated look that you can also translate to casual occasions whenever necessary.
21. Choppy Neck-Length Bob
Choppy, wavy bob haircut is ideal for girls and women with oval face due to the fact that effortless texture creates a slimming effect. Plus, wavy strands frame your face and have a youthful impact.
22. Shaggy Bob

You can look and feel like an It-girl with this one length bob with an internal texture that enhances the natural movement of the hair. Bangs add more structure and frame. Plus, you can style bangs any way you want depending on the preferences and mood.

Long inverted bob with long layers in the front and stacked in the back is yet another amazing option for women and girls who want to try out wavy bob styles. This style has texture, but without choppiness.
24. Bouncy Bob

Loose curls aren't the only option for women who want to try wavy hair bob, and you can go for tighter curls too. In fact, tight curls add more movement and make your style bouncy.

You know, there's no rule which says you need to opt just for tight or loose waves. You can add both in the mix. Waves are tighter on the top and loosen up as they reach the ends for a carefree and chic wavy bob style.
Ready to bring more playfulness to your sleek bob? Wavy bob is one of the most adorable hairstyles that girls and women can easily rock. Now that you know how to achieve this look all you need is to start working on it. Thankfully, our 25 hairstyle ideas can help you out to get inspired.