In recent years, fashion and styling are not anymore limited to women only but the guys are also running towards the crazy new trends.
Men are also becoming aware of what looks good on them or not. Old school haircuts and hairstyles are becoming a trend again in 2023 because of their versatility.
Men mostly like stylish undercut hairstyles but combining it with a little vintage barbering style makes it even more macho.
Because of their carefree nature, most men prefer to have short hair that doesn't take all their time for styling. They want to put a little product in their hair and be good to go.
Although shoulder-length hair and man buns have their popularity, still short hair gives a very neat and smart look on dudes and it comes with the bonus of trouble-free and effortless styling.
Men's Old School Haircuts
Hair is said to be the frame of your face. If you don't style it properly then you won't be able to carry your personality with confidence in public. Although old-fashioned, some old school hairstyles are durable for every season.
Check out these amazing old school haircuts for men that are easy to style and have a great strike on your entire personality.
1. Old School Middle Part Haircut
The middle part is probably the most low-maintenance haircut for men, second to the crew cut. No matter your hair length, comb in a center part to be on your way to classiness. The sideburns here are longer as well, which helps in framing the face.
2. Slicked Back Old School Hairstyle
Slicked back hairstyles are best for when you have somewhere fancy to go, such as a gala or date with your lady. This one features short sides and long top. The result is suave.
3. Old School Pompadour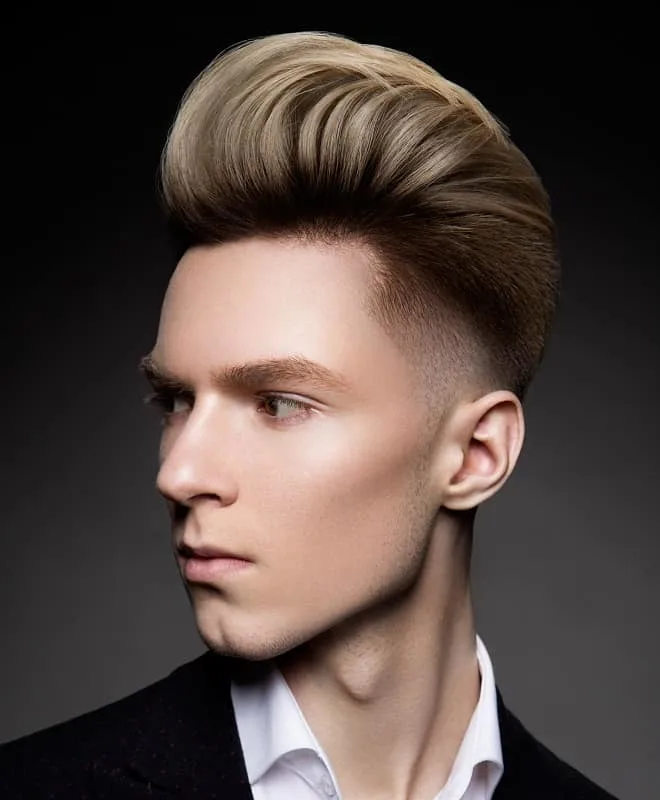 Prefer eccentric hairstyles? A pompadour for your luscious locks is a thrill. Using hairspray or mousse, tease the hair to get volume and pair with a blow-dryer to shape it. Keep sides short.
4. Old School Hipster Haircut
Does your daily outfit consist of dapper ties and vests? Then an old school hipster haircut will fit right in. Give hair a deep part and smooth down both sides. A handlebar mustache will add to the character.
5. Old School Bob
If you thought bobs were just for women, you'll love the way this men's cut pulls one over on you. Hair comes past ears and this style features a side part. If you opt for layers, they'll create an easy fanning out of ends.
6. Old School Rockabilly Hairstyle
Men who like a little rock edge to their hairstyle will prefer this rockabilly hairdo. Just like in Grease, you can comb your hair up to the middle to create a mohawk shape, pulling front bangs forward and down over the forehead.
7. Old School Greaser Hairstyle
To get a greaser haircut, your hair should be several inches in length first for styling. A side part is needed so that the opposite side's smooth combed back hair is noticeable. Prepare for the ladies to swoon!
8. Old School Afro Haircut
For your natural black hair, a short do with a trim beard will create a snazzy, old school feel. Buzz cut or clipper hair around the ears for a shapely style.
9. Old School Mullet
Despite its reputation, the mullet can look good! It looks best if you have thick hair and should be tamed with product for the old school vibes. While hair can come past shoulders, this one stops at the nape of the neck.
10. Old School Side Part Haircut
Again, a haircut for men with several inches of hair length: the side part haircut. Create a heavy part, making one side super short to contrast with the other's long locks.
11. Smooth Old School Haircut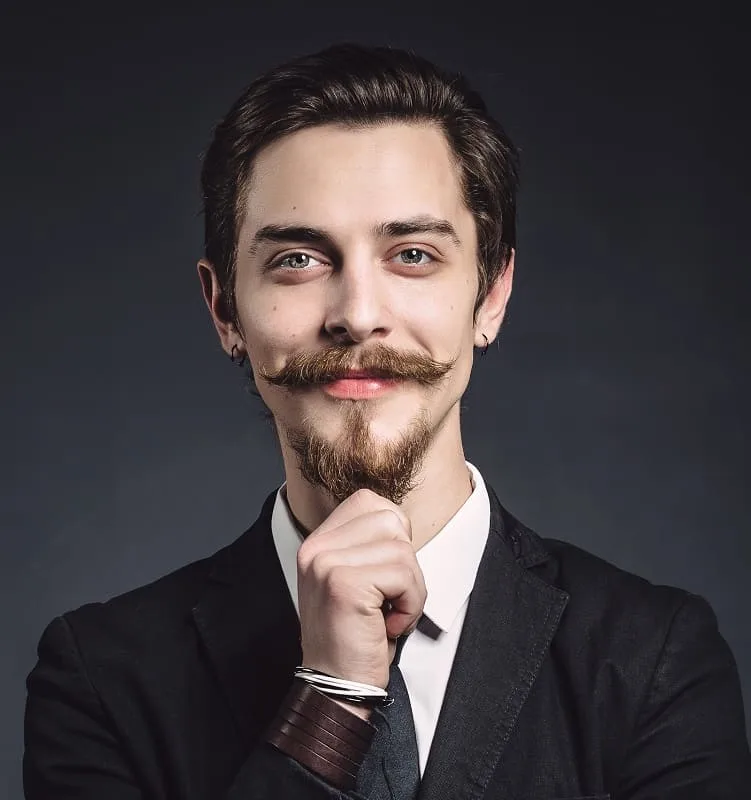 An old school hairstyle like this has major Clue vibes. Comb your hair straight back and smooth so it's free of fly-aways. With the right beard hair, you're a model!
12. Round Old School Haircut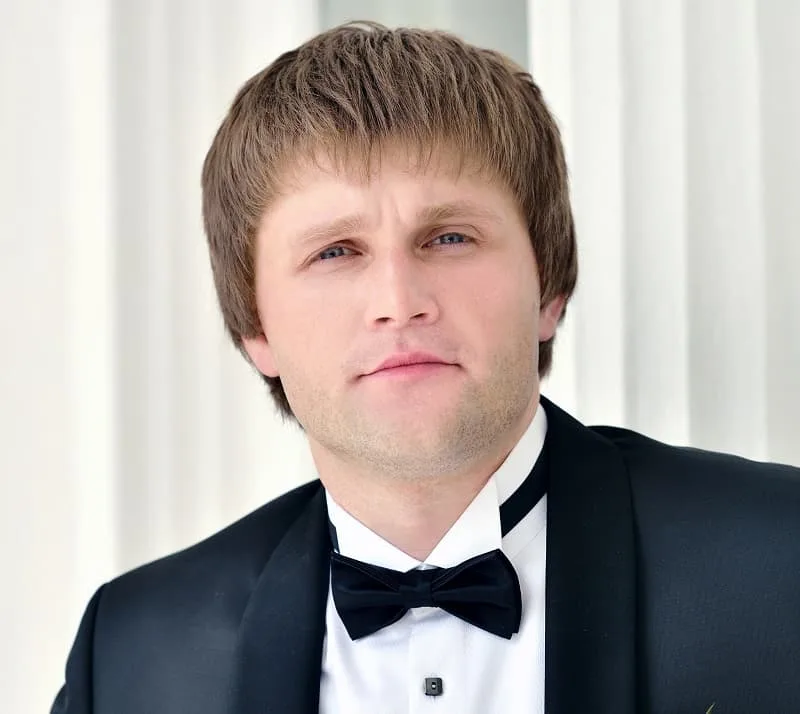 It's not quite a bowl cut because the hair is longer but the shape is still round. This style requires combing the hair straight down from the scalp to maintain an evenness.
13. Elvis Old School Haircut
With thick or thin hair, playing up your locks with product will create Elvis' coveted hairstyle. Brush hair straight back on sides to focus all the attention on the long voluminous top.
14. Faux Hawk with a Slight Undercut
This haircut is one of the gems it is particularly always in a fashion never gets old while the best thing about it is that a very decent and groomed look is given out to your face. While slight shorter layers at the back can give a voluminous look to your hair.
15. Old School Textured Cut and Blend of Highlights
This old school haircut mostly suits the oval or square shaped face cut. It allows creating a puffy look above the crown area and with a little hint of highlight blended properly with your hair color creates even a classier look. The best thing about this haircut is that it doesn't require a lot of product to style.
16. Pompadour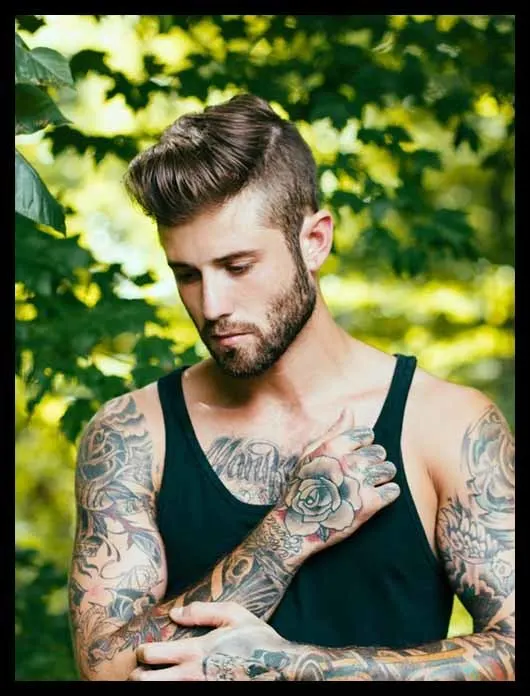 Pompadour is the best of all it looks great on almost every face cut. You can also alternate it by having a side Pompadour it will look absolutely awesome.
It is a classic haircut for men and has been in fashion for many years. The best think about Pompadour hairstyle is that it can be done with varied length and still looks great.
17. Crazy Smart Layers Cut
This Pompadour old school haircut has random layers in it making it extremely easy to style in no time; it even looks great if you do not want to use any product in your hair giving it a little messier look. Also, a defined arch over the ear gives it a very neat look overall.
18. Classy Faux Hawk
This hairstyle gives out a very tough masculine look usually suits more on the square-shaped faces. It has long length on the front while short on the back making it easy to style in limited time. An undercut on the side makes it even better. This old school haircut is also popular among black men.
19. Combed backward cuts
This particular haircut varies in length from all sides, so when you comb it backward it gives a very clean look to your face. Creating a little highlight or low light to the cut gives it more, subtle look altogether.
20. Spikes Combo Haircut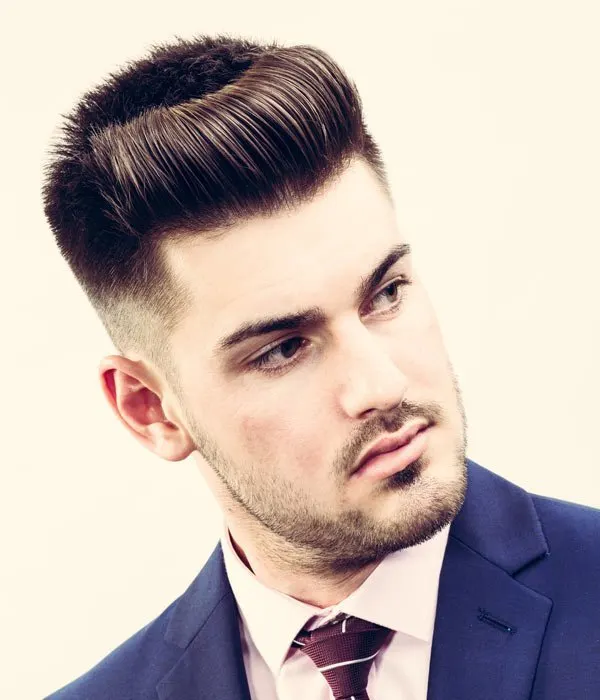 The hairstyle is unique and unusual; giving the best of both worlds you can make variation only by going with spikes or just come the front back with a little use of the product and holla! You are ready to make an appearance. A little addition of highlights on the front can make it look sleek.
21. Side Parted Haircut
This old school hairstyle is the desired look of every man, extremely easy going, and you even do not have to use the product in your hair, if you are sensitive towards hair product then this look is for you, this cut brings out decorousness in you.
22. Curly Bangs
This haircut is with varied length and one of the most unique old school haircuts. If you have curls or coils naturally then this might look great on you. The crown has longer length hair making curls just above the forehead while at the back there is shorter hair to give it a small volume in the back.
23. Wild Hawk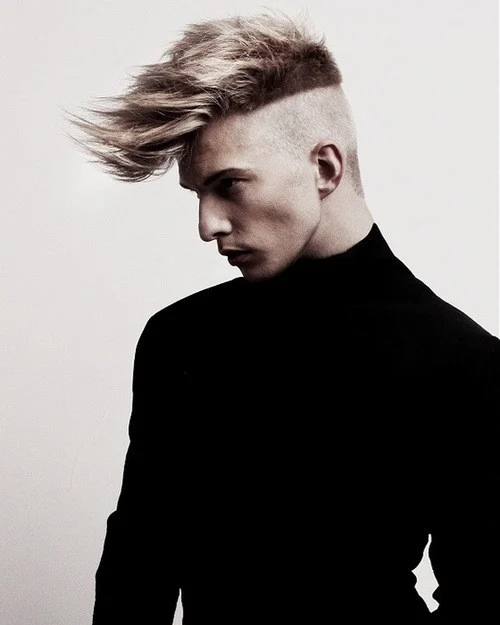 Haircut only looks great when with proper time they are styled and care and this particular needs proper styling to have wild touch in it. It also has a varied length from front to back. It also has a clear white wall look on the nape and the sides giving it a very neat appearance.
24. Side Parted Undercut with Highlights
It suits mostly on the oval face cuts as it gives a little broader look at the face with the help of undercuts. To give it light, sleek look you can add up highlights on the front making it look even better.
25. Long Layers
This cut has long layers starting from front to the back, and light undercut on the side giving out a bad boy look to whom ladies can't help but stare. So you better not forget to style it up properly making it classier.
26. Side Parted Faux Hawk
Some styles never get old this is one of those classic cuts because it suits every face cut. Style it proper with a bit of product and you're all set.
27. Crazy Wild Layers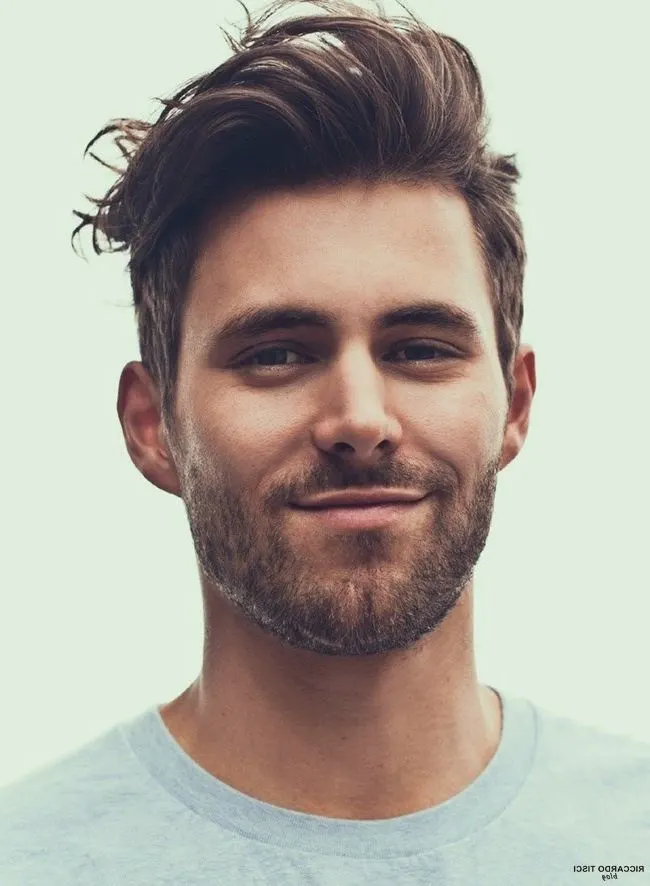 This cut is a total classic smart look; with random layers cut look goes great with tan color. This style is one of the cuts that never gets old and has been an ongoing style throughout fashion history.
28. Sexy yet Subtle Old School Hair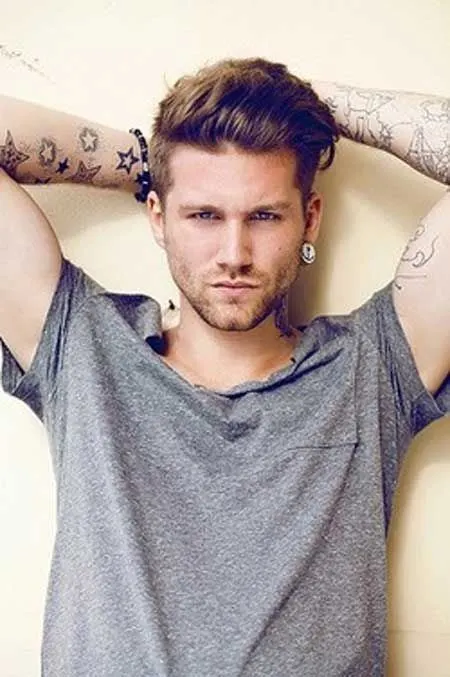 Some cuts look great no matter how you style them or no matter in what time this particular style is a typical look never gets boring you don't even need time to style it, it looks great even if you keep it as it is.
29. Sleek Combed Back Style
An extremely decent and neat look, without any trouble of spending time for styling. Most of the classic old-school looks that didn't disappear through time still exist because of their easy-going look, and this is one of those looks.
30. Multi-Layered Side Hawk
This old school haircut mostly suits on the younger boys tends to give out a very subtle and decent look making it a perfect boyfriend look, so obviously, there's no way that this look can ever get old sometime soon.
31. Sleek Angled Style
Now, this old school hairstyle is one of the looks of ladies favorites David Beckham's style, so this has to be classic royal haircuts. It is much sleek but angled style adding up with right highlights, and styling gives out an extremely rowdy look.
32. Old School Angled Hair with Short Sides
Younger Boys still prefer this haircut, and this style never gets old. It brings out very civilized and innocence look. Long layers on the front with a short hair on the side and back, front layers styled to extreme diagonal looks great on every face cut.
33. Faux Hawk and Highlights
There are many ways styling this old school haircut and adding up highlights can make it magnanimousness, also shows off cool faded sides. If your hair is thick enough then you don't even need to style it a lot it with look great as it is.
34. Sleek and a Beam of Highlights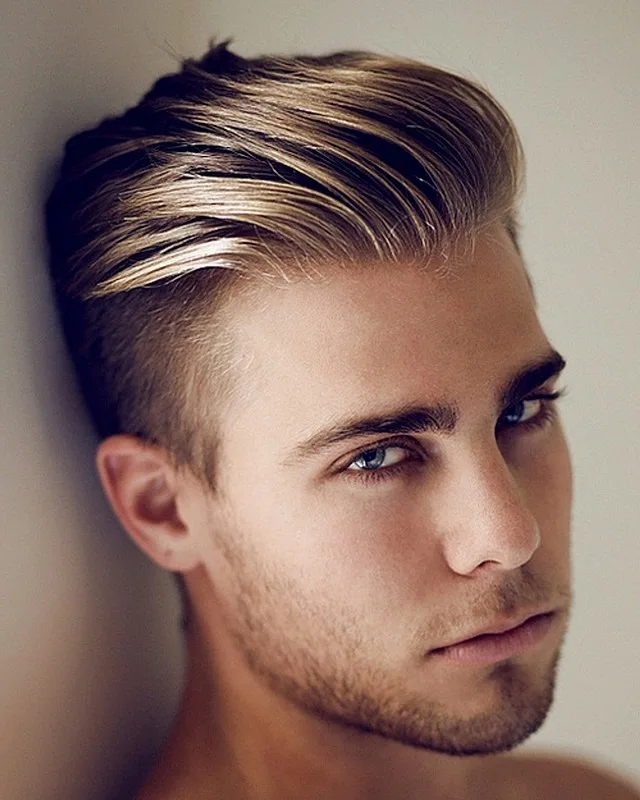 It has been the most ongoing style guys love to adopt irrespective of time or seasons. Combining it with highlights adds absolute greatness in the style. Suits mostly on the oval or round shaped face.
It also includes multi-length layers adding a puff above the crown, so if you have thick hair, then this should be your choice.
35. Old School Fade Haircut with Tramlines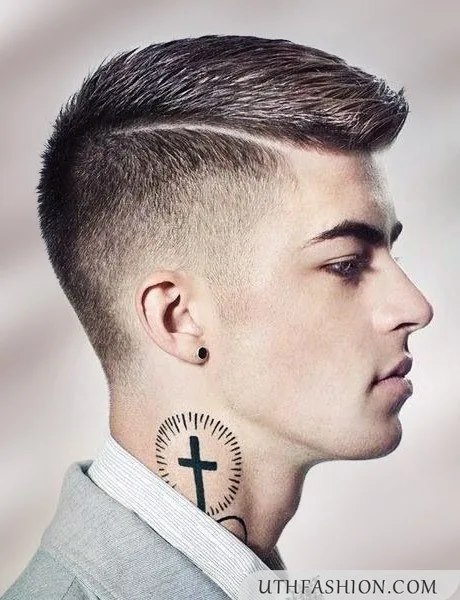 Adding tramlines in a fade haircut makes a great combo that gives it, more dignified look. This style looks great with every face cut but particularly on the round face, it looks splendid if you have thin hair and don't know how to style them then this is what you need.
36. Wild Mane
It is truly wild haircut as it has so many random layers in it and it doesn't even require styling for this particular look you can say " the messier, the better." Got more sensitive skin towards hair product then this is got to be the style you can pull off anytime anywhere.
37. Smartly Wild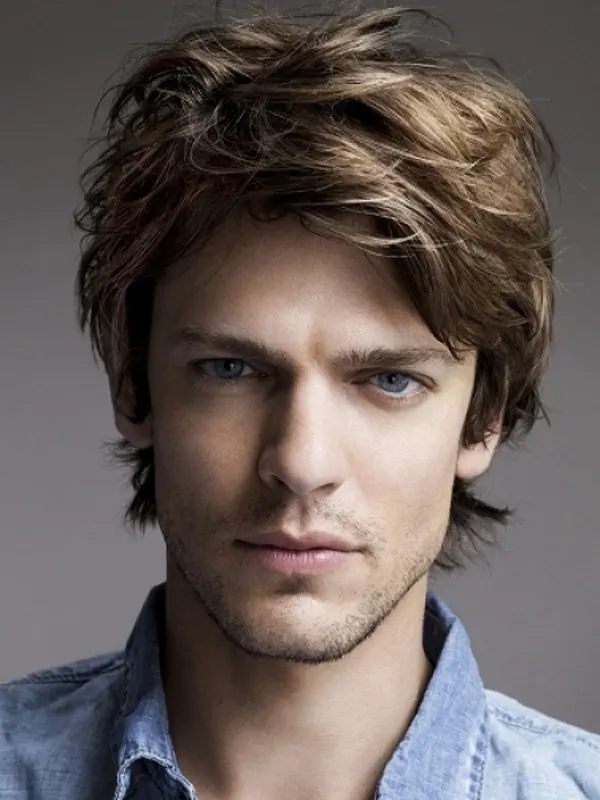 Talk about the messy and sexy look, this old school hairstyle is surely one of those. It looks great on thick hair shows off a little more of the layers but creating a puff on the crown can make it go for thin hair as well.
38. Extreme Layers
Wow! This style is the look guys better never get rid of; it gives out an amazing and confident personality. A truly magnificent haircut but it looks better with the exact styling; it has a look of the staircase of layered hair.
39. Sleek Chic with Undercut
Undercut your hair at the back and at the sides of your style. Run a little bit of gel through your hair to give it some hold and then style it down into a sleek style using a comb. This is the perfect look for people who like to be in control.
40. Strong Side Parting with Curled Back Fringe
Make your parting look even more pronounced by using a razor to cut a thick curving tramline into the section of your head where your parting would be. Use gel and a comb to slick back your fringe into a gently curving style. The coolness has been added to this look by the signature curves.
41. Simple Soldier Style
This Old School look is inspired by the classic American military style. It is essentially a short back and sides with a little more styling on the top.
Run your fingers backwards through your hair to help to spice it up. Don't let the top section grow too long or it will ruin the simplicity of your style.
42. Quiff
Quiff styles draw their inspiration from the '40s and 50's Rock and Roll stars like Elvis. For a quiff style, you will need to tease your hair forwards and then use a comb to create a fringe that rolls up and over. You can go with a big and bold quiff, or something a little more subtle.
43. Simple Line-Up
With a simple line-up style, you can take control of all of your hairline by using a razor or a beard trimmer to give yourself neat, clean lines and angles. In this style, the hairline has been shaped with a very angular line close to the temple and then smooth curved lines around the facial hair.
44. Posh School Boy
The posh school boy look is one that can still look great on adult men if they know how to wear it. It is a classic style for those who think that their hair looks much better a few days after they have washed it.
45. Face-Lengthening Spikes
Make your face look longer and thinner by styling straight up spike into your hair. This is an easy hairstyle for men to do. All that you need is a little bit of hair gel and a comb.
46. Very Short Back and Side with Voluminous Top
A voluminous style on the top of your head will look even thicker and more touchable if the back and sides of your hair are stubble short. Use a beard trimmer to get your back, sides and beard to a uniform length.
47. Volume
Voluminous hair is a classic men's hairstyle for a reason. This style looks soft and touchable, as girls will want to run their hands through it!
48. Classic Side Parting
A classic side parting look is perfect for people who want a simple and inoffensive hairstyle. Its a great choice for the beach or for the office.
49. Distressed Spikes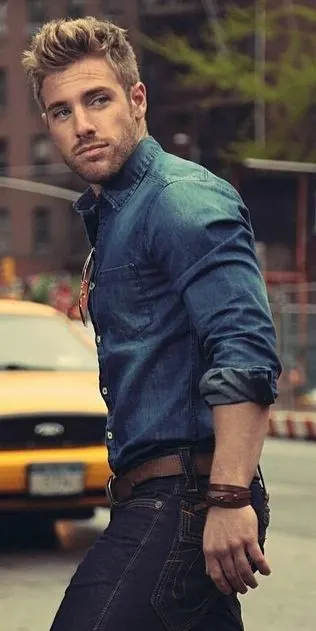 To give your style a little bit of rough and ready charm for the ladies, give your hair a bit of a distressed look. Run your hands through your spikes to give them a cool look.
50. Hair-Raising Cool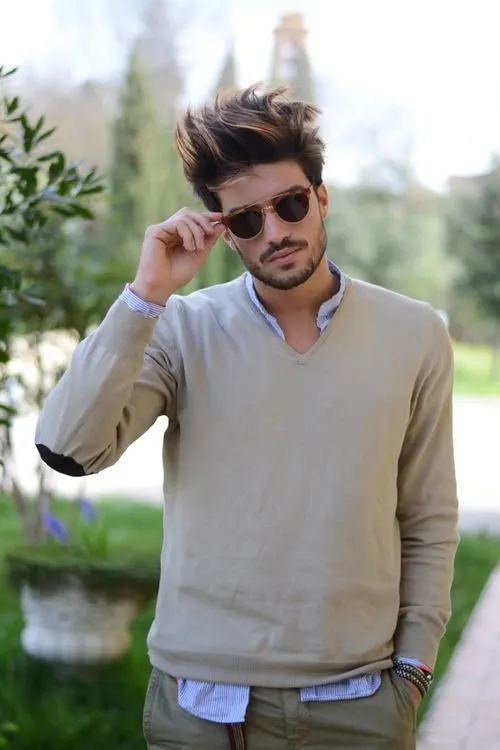 In many things, bigger is better. Whilst that is not always the case with hairstyles for men, this look is certainly a very appealing one. Pull your hair upwards from the roots with your hands to achieve maximum volume.
51. Signature Highlights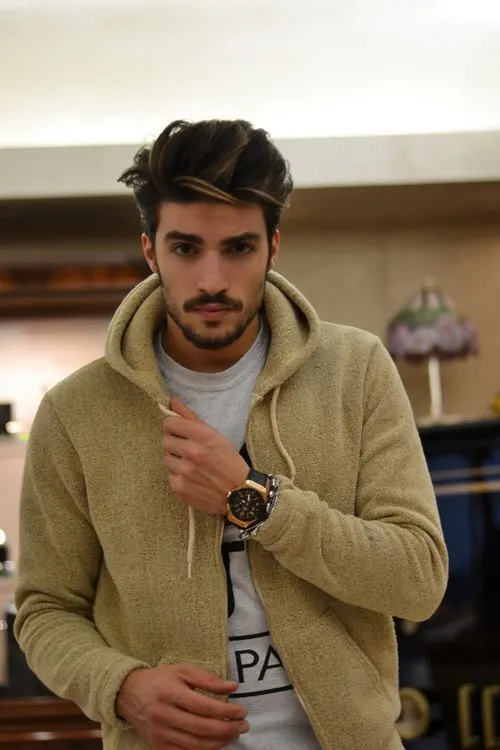 Highlights have been popular since the early '90s. Add a few sun-bleached strands to set your hairstyle alight. Unique highlights will help to make your style your own.
52. Diagonal Cool
Swept back hair is a totally classic hairstyle for men, but you can add a few more modern dimensions to the look. Instead of sweeping it straight back, sweep your haircut back on a diagonal.
53. Mid-length spikes with Stubble
Stubble can give a manly edge to any old school hairstyle. Although mid-length spikes have been fashionable for a very long time, teaming your look up with a stubbly beard can give your look a modern edge.
54. Widow's Peak with a Spiked Fringe
A widow's peak is a recessive trait, so not all that many men have them. If you are lucky enough to sport a widow's peak, then make the most of it by giving yourself a spiked up fringe hairstyle.
55. Greaser Line-Up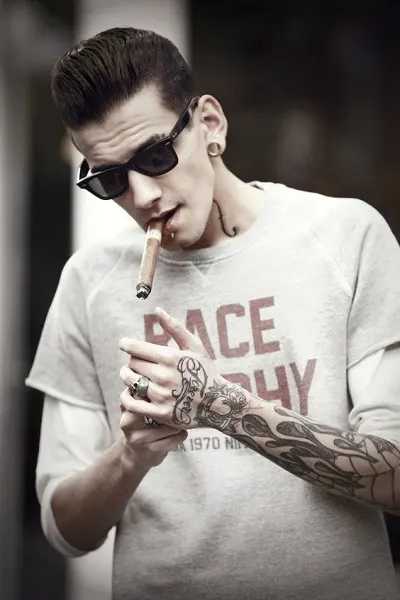 This style mixes lots of Old School elements with a few modern men's hairstyle ideas. Greased back styles were made popular by stars like Elvis, but Line-Up cuts are far more popular with hip-hop stars.
56. Diminishing Pompadour
Pompadour hairstyles can diminish (get shorter) towards the back of the cut. A high fringe like this one is the perfect way to make a round face look narrower and longer.
57. Lego Man
Lego Man hair is named because it is so perfectly molded that it looks like it came straight off of a Lego toy. Nonetheless, this hairstyle for men is a classic look; Lego had to get their inspiration from somewhere.
58. Micro Fringe
If you want a look that is really subtle, choose a micro fringe style. Put a little bit of styling gel into your hair and then pinch your hair between your thumb and finger.
59. Uneven Spikes
Spiked-up men's hairstyles will never get old. Choppy and uneven spikes are an old school hairstyle that was fashionable during the '90s. Give the look a modern twist with a bold beard.
60. Style with a short tail
A short tail is an Old School look which is making it's way back into fashion thanks to some contemporary sportsmen. A tail hairstyle is one where a small section of hair at the back of the head is longer than the rest of the style.
These are some of the most amazing old school haircuts and hairstyles that have never got old through the entire history of fashion and look great on guys with short hair. Before choosing a hairstyle for yourself, you better keep in mind your face shape and cut so you carry a look for a longer period.
Also, you should be able to style the look properly to make it look even better. Do let us know your opinion about these attractive old school hairstyles.