Hey, guys, we get it! Brides aren't the only ones that want to look their best on their wedding day, groom's do too! It's a big day, and getting a little pampering beforehand, including a dapper manly wedding hairstyle, will have you at the top of your game.
Whether you want something clean and close-cut or something more casual, we have men's wedding hairstyles we know you'll love.
Pick The Groom's Look
When it's time to choose how you will wear your hair at your wedding, our biggest tip is to choose a hairstyle that makes you feel confident.
Hairstyles can be one of the most fun ways to express your personality, so feel free to get creative.
There are many things to consider; something crazy looking or classic, should it be long or short, with gel or without? Curly or straight, bangs or no bangs, shaved, toned, or faded, whew!
You can try millions of combinations to find your perfect style.
But we suggest you work with a wedding hairstylist or barber to create the perfect wedding day look.
Just make sure you don't wait until the last minute because if you cut or dye your hair too close to the wedding for a new hairstyle and you hate it…you might be stuck with it.
So, prep accordingly: plan for regular trim cuts leading up to the big day and maintain your hair care routine.
Here are the top 30 wedding hairstyles for men that surely have you rocking the style game. If you're the groom, stop overthinking and pick the one you like. Ready to get started?
Stylish and Trendy Wedding Hairstyles for Men
1. Natural Long Hair Curls
If your hairstyle has a natural curliness that many people are searching for, a hairstyle that makes all the ladies go nuts, then you must use that in your favor.
Let this hairstyle be your wedding hairstyle. The natural curls with side bangs go fantastically with a longer face shape.
2. The Regular Fade
This is probably one of the most common hairstyles for grooms, yet always stylish. You can not make a mistake if you choose this one. The faded sides and the beautiful top looks tidy, and it is, without fail, a classic.
3. Spiky With Hair Gel
Most men feel intimidated when they say that they are using hair gel. This is just a great presentation and an example of how hair gel makes you look awesome, even with a simple spiky hairstyle!
4. Short Natural Curls
Curls all the way! I am a big fan of the curls, once I had them myself, and I was rocking them constantly.
People always react amazed when they see someone with natural curls, whether shorter or longer. Just keep up the vibe.
5. Medium-length Man Bun
Nowadays, it is really modern for men to have buns, or what some may call a knot, and many people find it very attractive.
Having the opportunity to have long and thick hair is a gift that some men would envy. Why not rock this groom's hairstyle on your wedding day? It's stylish, trendy, and allows your personality to shine.
6. Mini Natural African American Curls
Are you an African-American groom looking for a short hairstyle? Try this one!
What I love about this afro men's hairstyle is that it is very hard to pull it out if you do not have it naturally. So if you have the blessing of having these African American natural curls, you should definitely rock them for a wedding.
7. Crew Cut
Simple yet always a great choice. If you firmly like having a short hairstyle, do not compromise it for the wedding day. Enjoy your wedding hairstyle because it will give you the confidence you need.
8. Long Emo Hair on the Side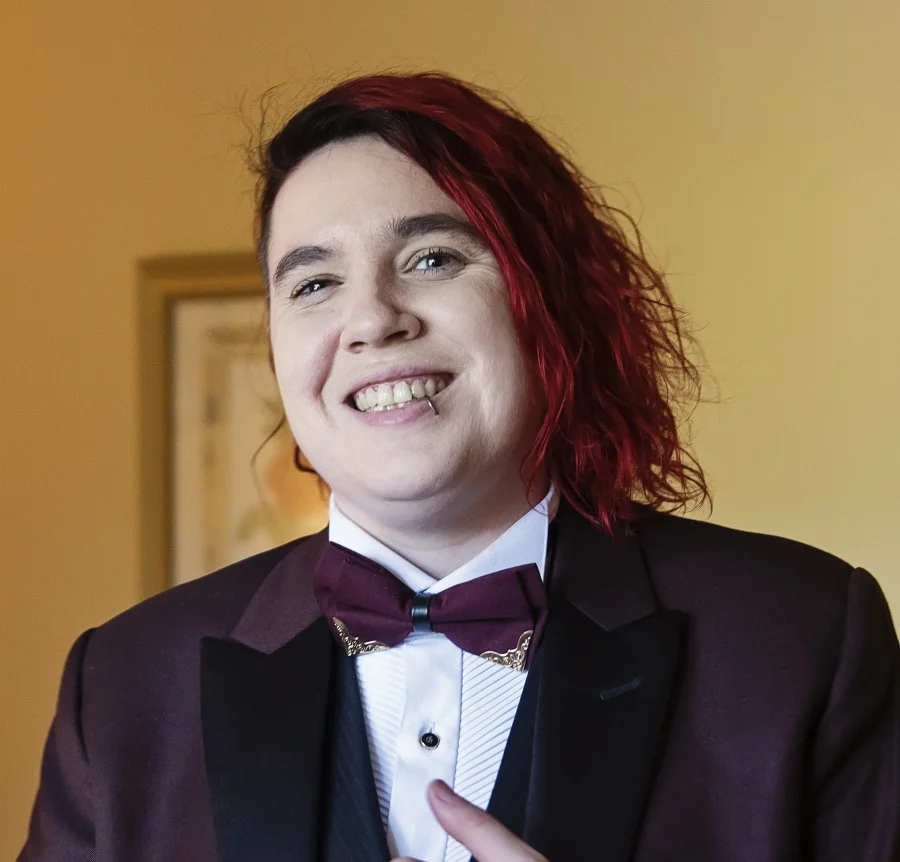 Why not incorporate your lifestyle into your wedding hairstyle? Always be honest and truthful with yourself.
This example is great for grooms who are having second thoughts about it and having doubts but don't think about it too much; just do it!
9. The Half Ponytail
Iconic hairstyle of the rock and rollers from the 80s. If you have perfect long dark hair and do not know what to do with it, this is probably one of the best options for you. Different yet still looks classy.
10. Long, Shoulder-Length Natural Curls
If long curly locks are your staple, embrace them on your wedding day. Some guys may have it natural, but you can also accomplish this by going to your hairstylist and explaining to him what kind of hairstyle you want. I am sure he will be happy to make your dream come true and put a smile on your face.
11. Wavy Side Sweep
This hairstyle, with the combination of a well-cared beard 99% of the time, looks astonishing.
You definitely have a style if you are going to choose this for your wedding. It is so trendy at the moment that you will maybe regret it if you do not just simply go for it. Can you only imagine wedding photographs?
12. Side Brush Stylish Hairstyle
A wavy hairstyle for grooms that speaks for itself. Confidence, class, royalty, old money aesthetic. It is probably one of the top-rated men's hairstyles ever worn by numerous famous people, and that's why it is always a nice view for everyone's eyes.
13. High Top with Buzz Cut On The Sides
Your outfit and this hairstyle will be perfect for your wedding day. But don't be mistaken, not everyone can carry out this hairstyle for their wedding. Precisely brushed and tidy.
You should be a little precautious with it if you see yourself as a clumsy person because you wouldn't want to ruin it by falling down or hitting your head somewhere. You wouldn't want any hair sticking out.
All in all, it is definitely a cool hairstyle for guys to attend any kind of formal ceremony, especially for weddings.
14. Brushed on The Side
It is always a safe option for you to brush it on the side. When in doubt or you lack confidence, brush it on the side, and you will be grateful that you have done that. You will gain the confidence of "Johnny Bravo," the most iconic cartoon.
15. Side Fade with an Upward Fringe
Side Fade with a Fringe is a great choice for men with longer faces. If you have slightly longer hair on your top, you can try it out and see how it turns out. If you like it, I think you just got yourself a new hairstyle.
16. Short But Spiky Hair
The short spiky hairstyle was popular between 1990 and 2000 when most football players and pop stars wore it as a brand image. It is always a nice moment to see someone still consider this hairstyle that brings back the 1990-2000 vibes.
17. Gentleman's Haircut
This hairstyle strikes with confidence and elegance. The skin fade on the side with perfectly brushed hair backward gives you the looks of a true gentleman.
What better way to present yourself at a wedding if not as a gentleman? So be the gentleman of the wedding.
18. Neatly Done Dreads In Ponytail With Shaved Sides
Every dreaded hairstyle has its own beauty. Who says that you cannot combine your lifestyle with your hairstyle?
If you want your hairstyle to represent your image of yourself, do not hesitate to express yourself, and do not be intimidated by what others may say.
Remember, this is your wedding, and the main goal is for you to be utterly happy and satisfied.
19. Brushed Up and Back Waves For Grooms
You have thick, naturally curly hair but do not know how to set it up. This is your perfect example of what you can do with your hair.
Brush it up and back and make this wonderful hairstyle that is perfect for wedding ceremonies.
20. Slightly Curly Natural Gray Hairstyle For Senior Grooms
If you're a senior guy with gray hair getting married, try this groom's hairstyle.
I love the mixture of naturally curly hair and straight hair. They just complement each other and look different from various points of view. That is what makes this hairstyle great and its diversity.
21. The Undercut Quiff
A great option for grooms with thick and wavy hair. Buzz cut on the side waves on the top.
Gives out great symmetry and great first impressions too. Go impress everyone around you and come back to say thank you.
22. 90's Movie Star Hair with Undercut
This was Leo Di Caprio when he was young! Yep, he was rocking this gorgeous hairstyle when he was at the start of his Holywood career. Why not make this formal hairstyle a start for your wedded life?
23. Slick Back With Flow
The faded sides, the natural thickness, and the backflow make this hairstyle look majestic. This is one of the wedding hairstyles for men that gives us the vibes of the 90s, something like Elvis Presley or Frank Sinatra.
Combined with an elegant tuxedo, you will have the perfect combination for your wedding, and you are definitely going to make it hard for people because they "Can't Stop Falling In Love With You."
24. Man Bob
If you have long, straight hair but do not know how to get the best of it, it is always a great solution to go with the Man Bob. This hairstyle is a classic, and you can not get it wrong here.
25. The Low Formal Man Bun
This hairstyle gives me the vibes of Gareth Bale, the iconic football player of Wales and Real Madrid.
So if he can have this hairstyle, that means it is confirmed by the elites. Grow your hair, put it in a bun, and go slay.
26. The (2009) Justin Bieber Hair
One of the most popular men's hairstyles in the 2000s. The teenage icon Justin Bieber made this hairstyle a classic. It is not a problem if you still wear this style or want to try it out for your wedding. He was the dream for most girls so.
27. Dreadlock/Braided Hair with an Undercut
Neatly styled thin dreads pulled back in a high ponytail with shaved sides create a super-stylish wedding day look.
This men's wedding hairstyle looks good with the formal tuxedo, a trendy suit, or even a more relaxed outfit.
Of course, this is one of the groom's hairstyles that isn't for everyone, but when done right, it looks incredible.
28. Colored Bowl Cut
If you see yourself as a sassy person, why not go for something crazy like changing the color of your hair?
Try it out whichever color suits you best; it can be blue, red, or maybe platinum blonde. As long as you and your partner agree, you have nothing to be concerned about.
29. Side Part Undercut Hairstyle
One of the most common hairstyles nowadays. Not too crazy nor too classy. You do not need to do something extreme just because it's your wedding and you want it to be the most special day of your life.
Remember, you need to be the best version of yourself; sometimes, staying in the box rather than outside is better.
30. Long Spiky Downward Fringe
This is definitely a classic one! Spiky downward fringe is an oldtimer and always a great option for people that tend to look classy and elegant. Do not overlook this hairstyle but try to pull it out!
So, Pick The Style For Your Big Day!
Gentlemen, we all know that your hairstyle is one of the most important parts of our image. We must tend to keep it tidy and stylish.
The above hairstyles give the vibes that probably nothing else can. It has the same energy as makeup for women, but a fresh cut does the trick for gentlemen.
Some of you that have had chances to take on a variety of hairstyles know that the hairstyles define you, so try to pick the one that suits you best!
It's crucial to keep in mind that less is more while selecting a men's hairstyle. There are no set rules regarding wedding hairstyles for men, so stick with what you know flatters your looks and personality the best. However, have fun with it nonetheless.
One last piece of advice: Don't fade the sides down to the skin. It appears softer and more timeless to leave some hair on. Skin fades are a trend that may appear harsh in wedding photos years from now.
We made every effort to give you a glimpse of the coolest hairstyles for your big day, and I hope we helped you even just a little.
Feel more confident if you ever were in any doubt about a certain hairstyle. Don't forget one thing, you rock!