With the first day of school just around the corner, chances are your son will want a cool new hairstyle. Not just any hairstyle will do, however. It's important to find a haircut that you love, your kid loves, and that will be appropriate for school.
Luckily, we've pulled together some seriously adorable school haircuts that every boy will crave, regardless of length, texture, and color.
Finding The Coolest School Haircuts for Boys
Take a look at our 35 versatile hairstyles for every school-age boy out there.
1. Shiny Comb over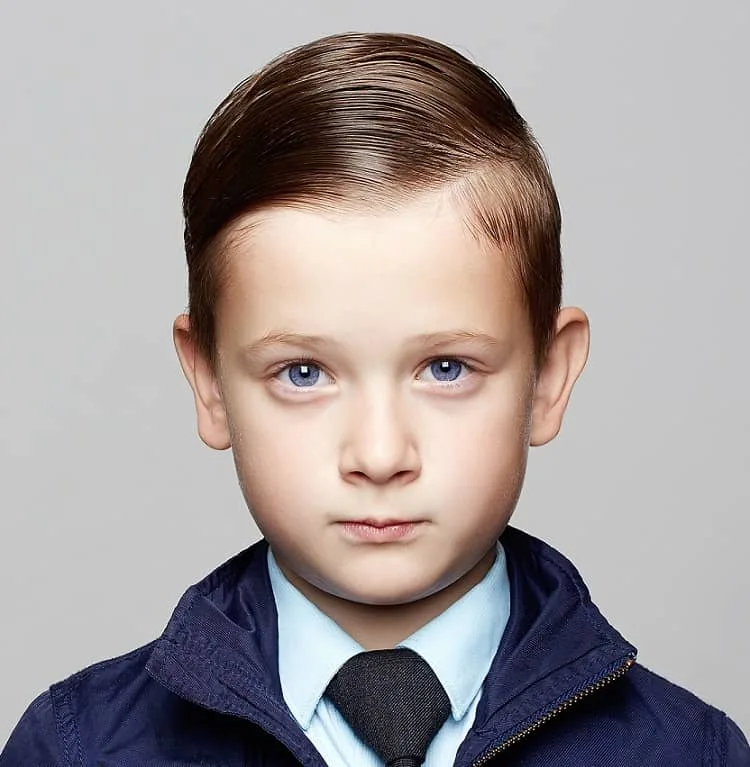 Perfect for prep schools, a comb over keeps every single hair in place while showing off a pretty adorable face. The more symmetrical the face, the deeper your side part can go.
2. Quiff Hairstyle
Nothing frames a face quite like a simple quiff haircut. Short layers styled with a few strokes of a brush is cool yet very much suitable for school hours.
3. Medium Length for Body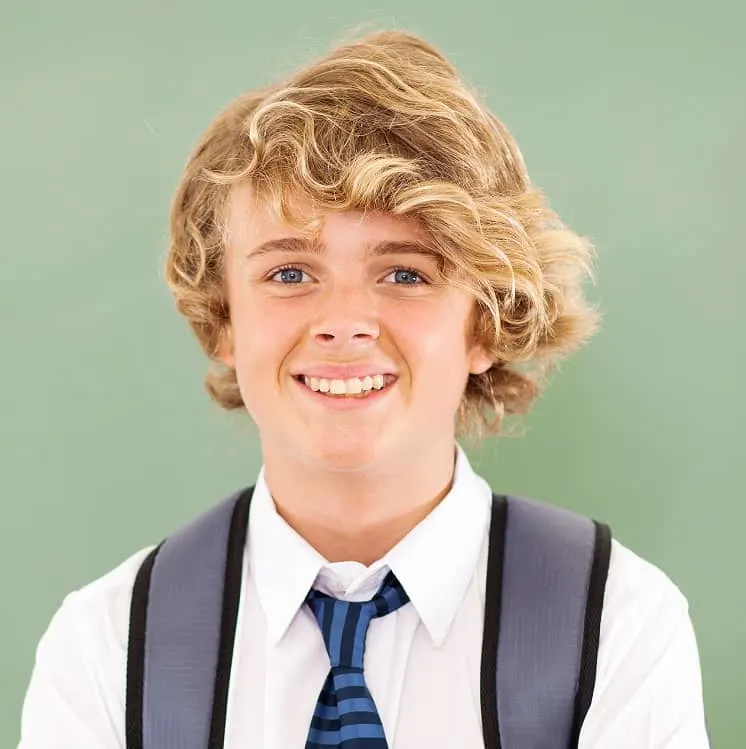 Gorgeous hair with texture should always be emphasized. Try a medium length haircut with side bangs to highlight hair's natural body and wave. This sandy hair is perfect for the surfer or skateboarder who has to hits the books as well.
4. Medium Fade and Funky Bangs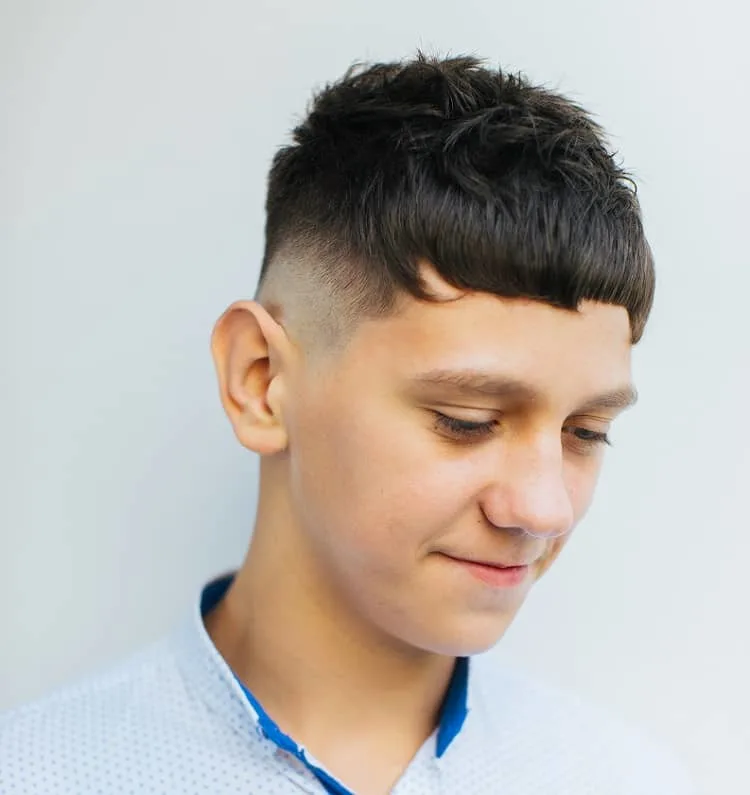 Most boys are looking to fit in at school, so a fade haircut is usually perfect and right on-trend. They look neat and tidy but can be personalized. These funky bangs show off tons of personal style, so don't be afraid to play around.
5. Undercut Style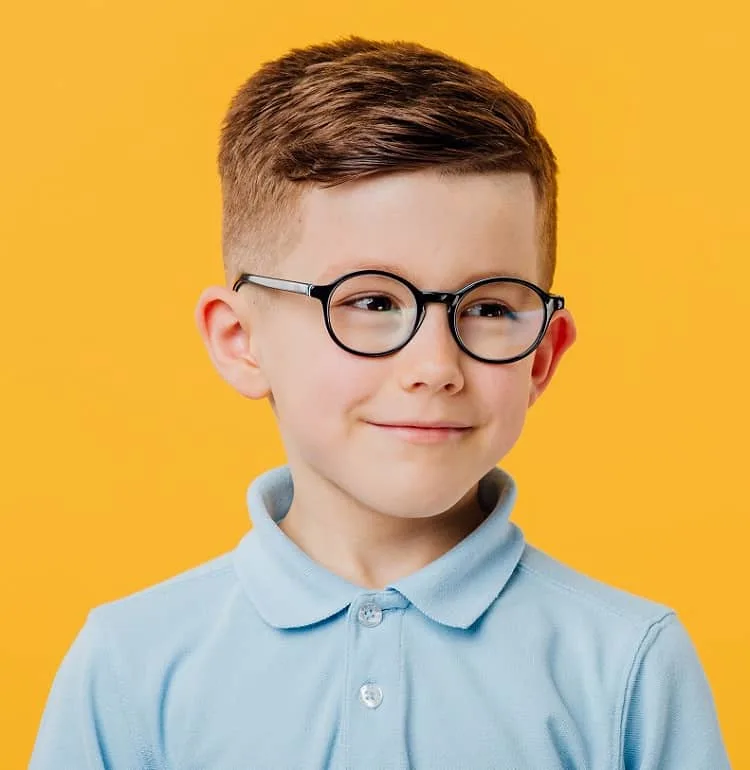 One of the most common school haircuts for boys. An undercut is the perfect clean-cut look for trendy kids. Lots of short layers up top gradually fade into an undercut style so the sweet face underneath doesn't have to hide.
6. Slicked Back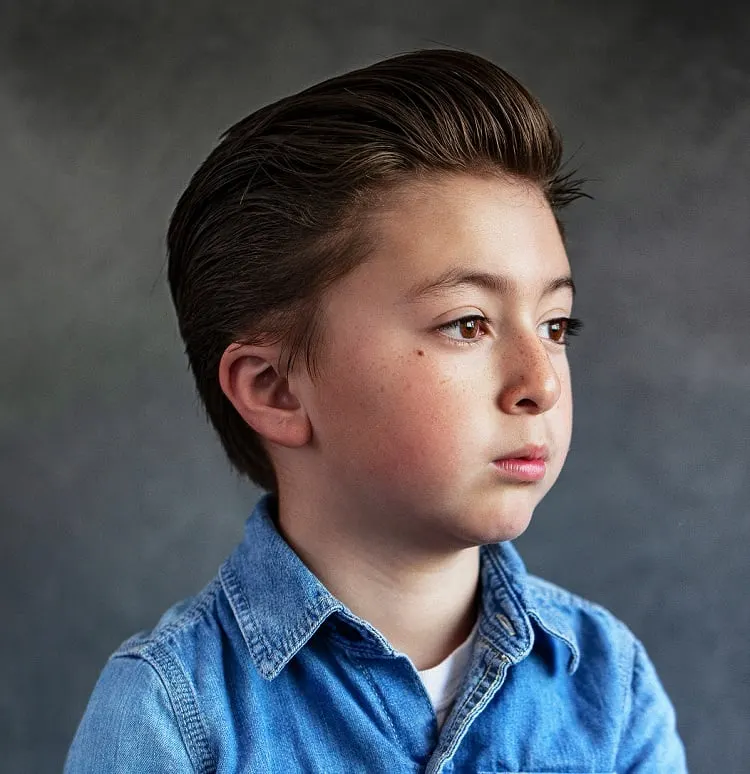 There is something so cute about young kids with mature hairstyles. For a fresh, polished style, slick back the hair from the forehead. This look works best on hair with longer layers closer to the face.
7. Bowl Cut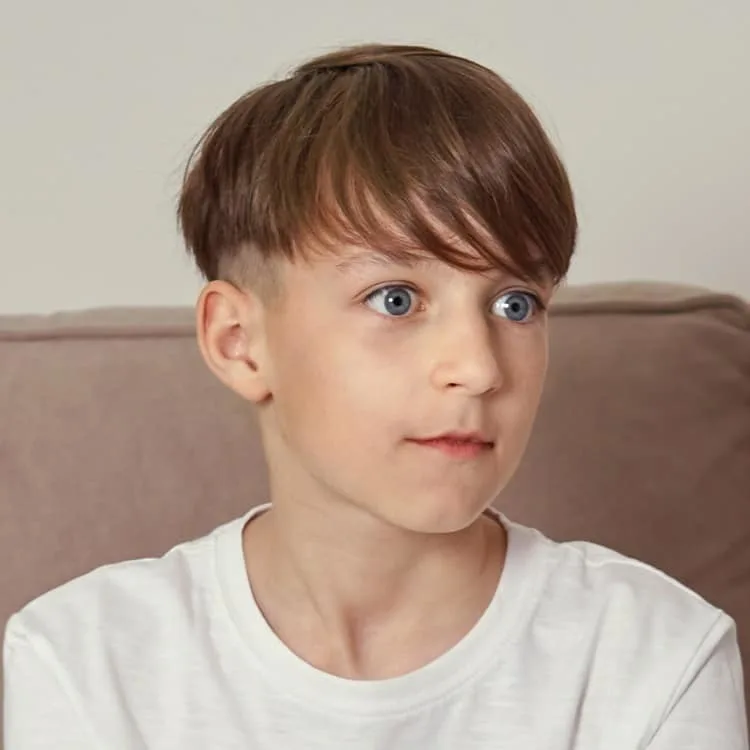 This isn't your average bowl haircut! A shaved undercut portion takes this classic 90s style and makes it hip and cool. Don't go for perfection, choppy layers and longer side-swept bangs provide the perfect update.
8. Side Part with Gradual Fade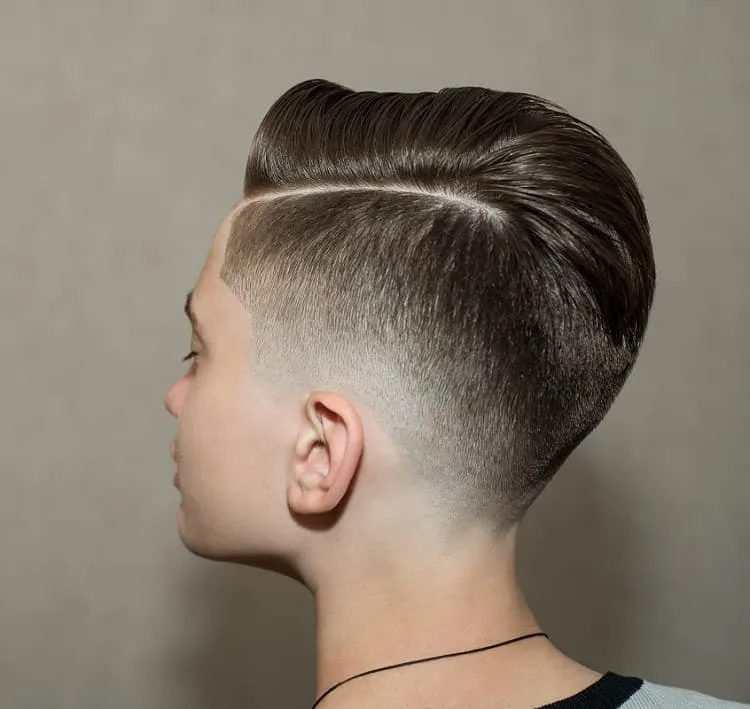 Don't settle for just any side part. Add irresistible height with a sleek pompadour and a tapered fade that gradually grows longer as you move closer to the part.
9. Disconnected Undercut
Even simple styles can be cool and perfect for school. For an easy Black boy haircut, try a disconnected undercut. With this cut, styling is a breeze. A bald fade is ideal for warmer months and hotter climates.
10. Spiky Hair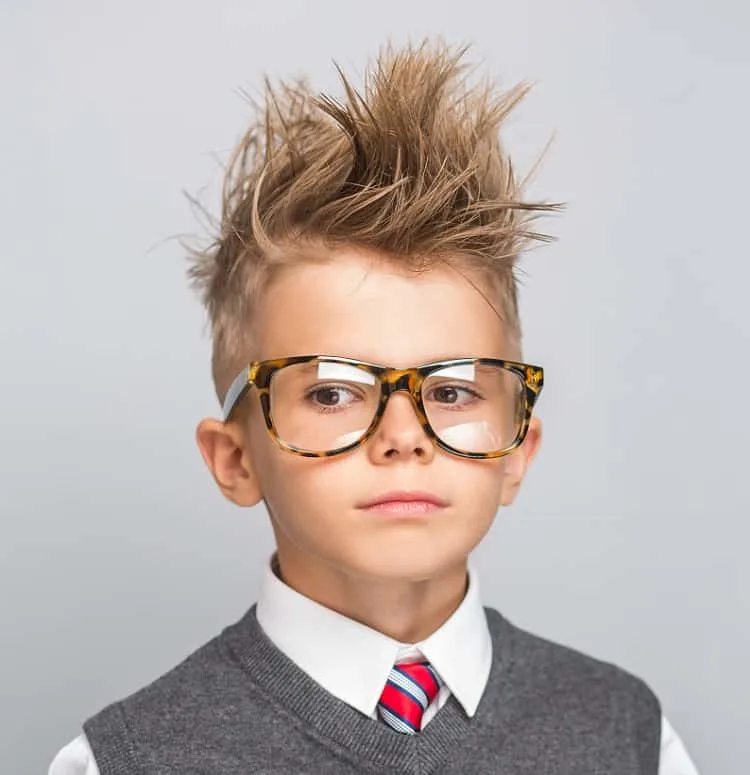 Who doesn't love funky, spiky hair? Whether hair is just an inch or two short or several inches long, try spiking it up with a bit of pomade for a totally cool style. The shorter sides make it appropriate for school environments, too. A cool look to try if you're a young boy with glasses.
11. Medium Round Cut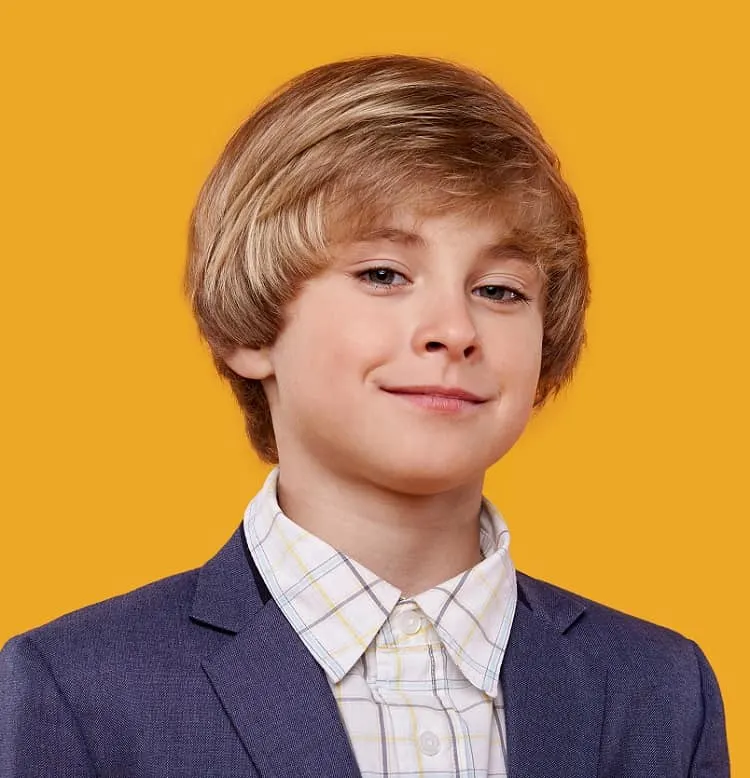 There is a reason why we see so many tween boy haircuts that look like this one. Boys seem to love flipping their shaggy bangs and rocking a slightly longer length as they mature.
12. Tousled Curls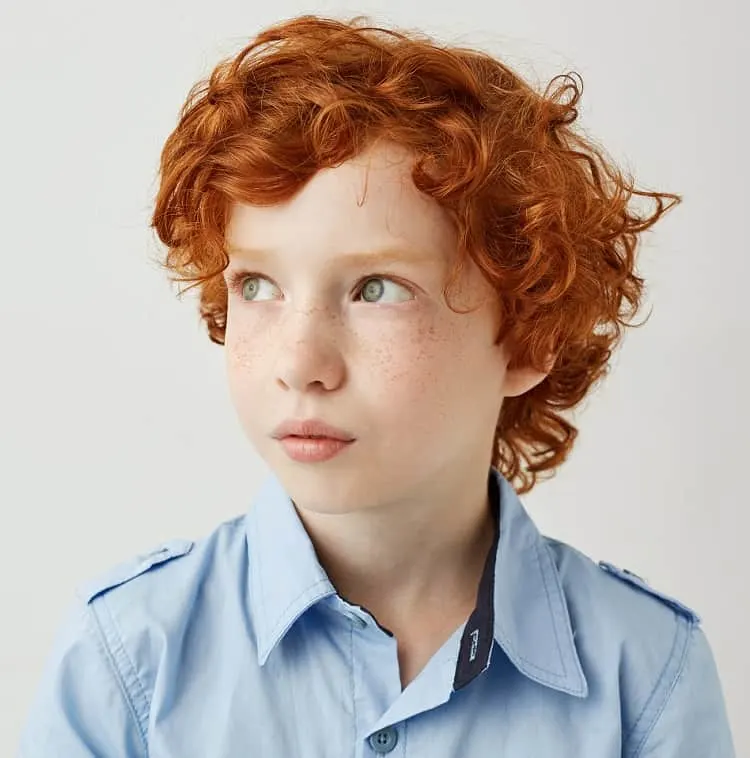 Sometimes, there is no point in taming curly hair on young boys. It's better to work with the texture rather than fight it, so a simple cut that lets loose curls fall naturally is ideal.
13. Asymmetrical Cut
Straight hair can be a little boring, but an asymmetrical cut switches things up. Create a deep side part, shave the smaller portion of hair and cut short layers on the other side of the head to fall over into side bangs.
14. Spiky Faux Hawk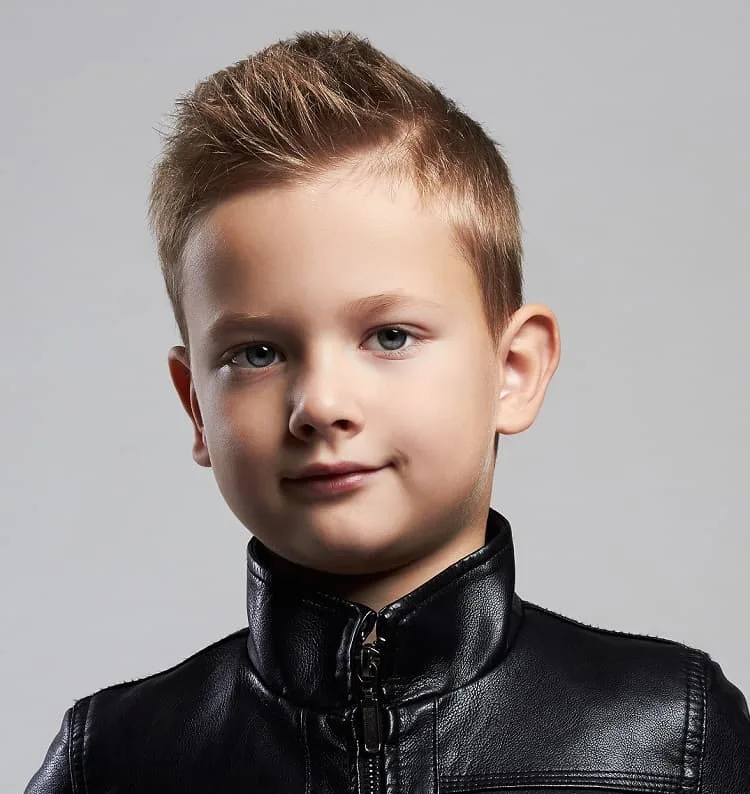 Looking for something sophisticated yet sweet for school picture day? A faux hawk is awesome on short hair and easy to style during your morning routine.
15. Crew Cut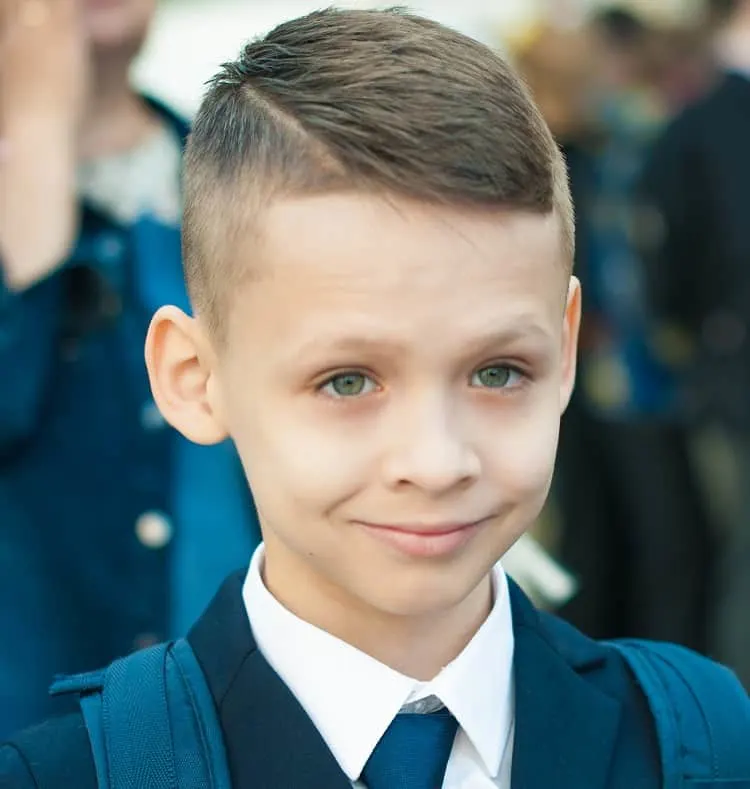 Crew cuts are beloved by parents around the world because of their low-maintenance nature. Buzzed sides require no styling and keeps boys cool while at play. Try a hard part detail for a little extra fun.
16. High and Tight Style
Parents and kids alike love the ease of a long on top short on sides haircut. To style, comb hair over to one side and secure with a touch of wax or pomade.
17. Textured Surfer Bangs
A short hairstyle with wavy, surfer bangs is perfect for the outdoorsy kid. Bangs can be styled or worn whichever way is comfortable, but this side faux hawk is pretty unique.
18. Pompadour Comb over
Nothing about this little boy hairstyle is basic! This gorgeous pompadour shows off tons of personality. It may look complicated, but all that it requires is styling with gel and wide-tooth comb in the morning. A tapered fade keeps it fresh.
19. Natural Hair Mohawk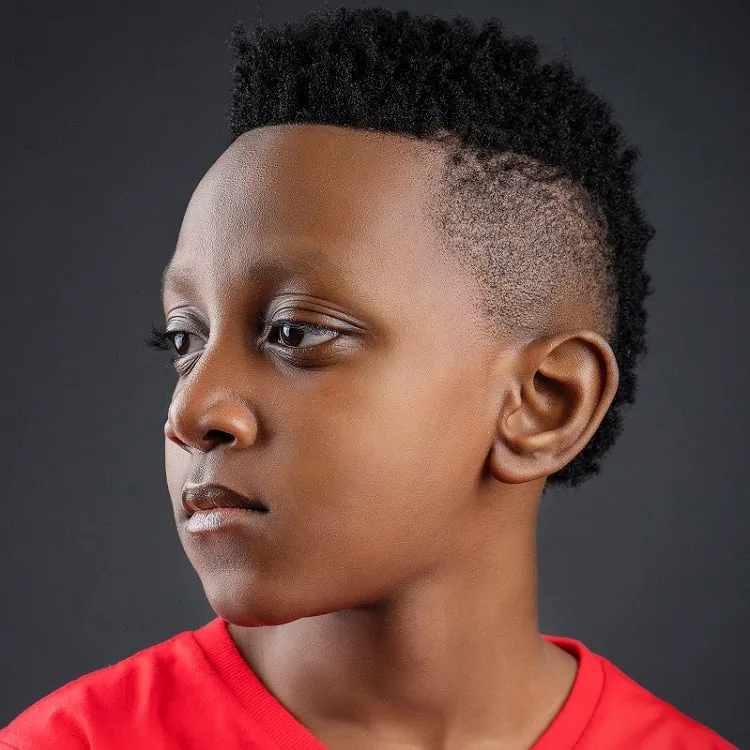 Enhancing beautiful, natural curls is trendy these days, so there is no reason why boys shouldn't do the same. This fun mohawk is short enough for the classroom but long enough to reveal that gorgeous natural texture.
20. Casual Faded Cut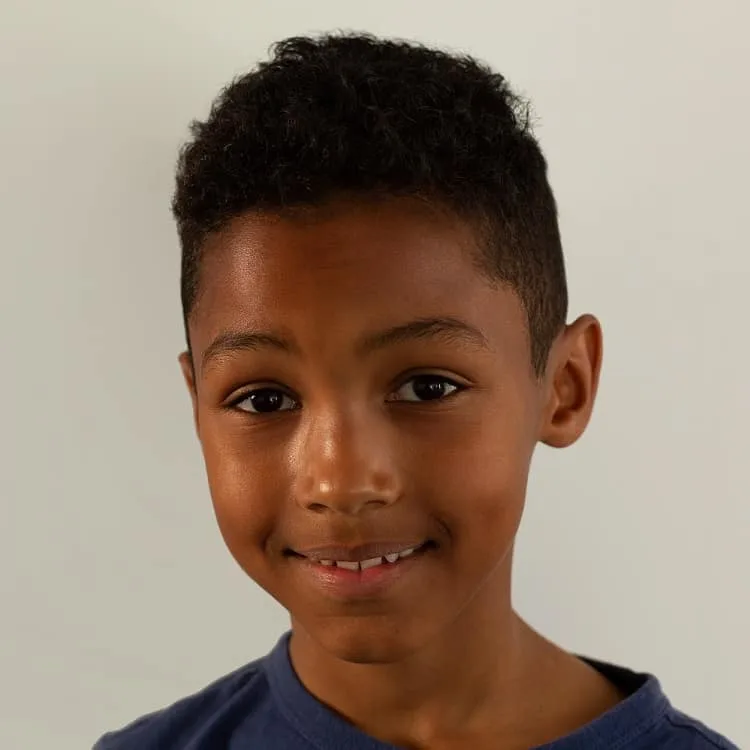 Fades are probably the most functional mixed boy haircut if you're working with lots of texture. Groom the sides of the hair but maintain a little more curly length up top to frame the face.
21. Choppy Bangs on Straight Hair
Because straight hair tends to fall limp, it can be hard to style. Cool choppy bangs add instant texture if you're looking for a fun Asian boy haircut. Hair should be cut in short layers all around the head starting from a back center point.
22. Fade with Shaved Detail
Shaved details are very popular among young men. This side zig-zag line is just noticeable enough to stand out but is subtle enough for stricter school environments.
23. Curly Disconnected Undercut
When left on its own, very curly hair can grow frizzy or appear too rounded. This can be too much if your kid has cute full cheeks. A disconnected undercut cleans up the look and shapes curly hair beautifully.
24. Faux Hawk Hair with Line
Faux hawks have been hip for a while and young boys especially love them. For a unique edge, try a school haircut with line. It can be added anywhere, but looks great on the side of the head for balance.
25. Mohawk for Straight Hair
It takes a truly adventurous kid to rock a mohawk, but if they're willing to rock it, why not go for it? This square-shaped hawk is reminiscent of Ice T and looks great on a sweet face.
26. Short Messy Texture
This haircut may seem messy, but the placement of the hair is actually strategic. Create loosely defined shape for relaxed movement but focus on maintaining the structure of the face for optimal balance.
27. Side Part with Sweeping Bangs
This haircut is suitable for middle school boys. Side bangs on a medium round cut make for a timeless style for a reason. It easily suits most hair types and requires little to no daily styling. We happen to love it on this sandy blonde hair.
28. Kids Shag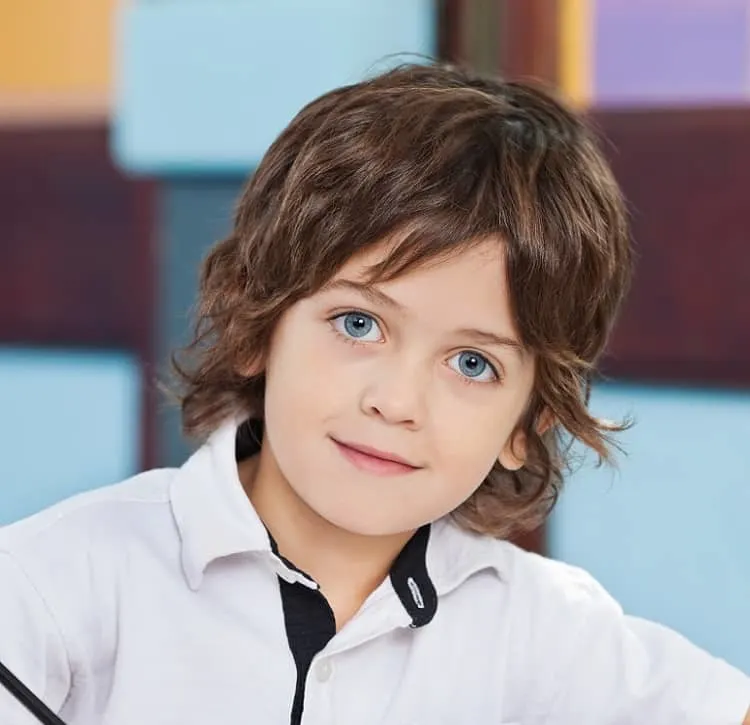 Medium and long hairstyles on school-going boys have become more and more popular these days. A shag cut is for the cool kid. Lots of layers break up the bulk on thick hair and a center part is perfect for a soft and rounded chin.
29. Short Cut with Flipped Side Bangs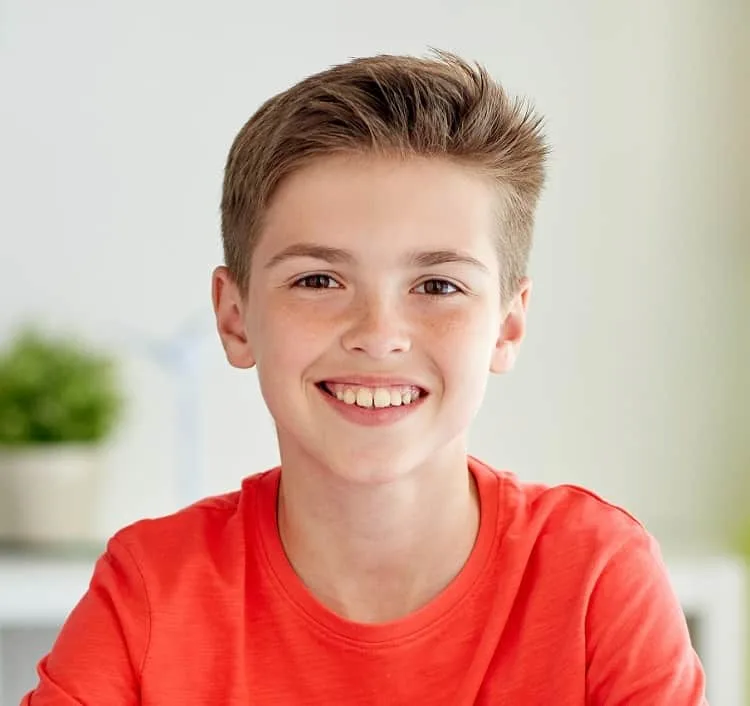 A little asymmetrical style is perfect for adding balance to an otherwise basic hairstyle. This flipped up look is also perfect for cowlicks, so don't bother fighting it and instead, embrace it.
30. Short Hair with Line Up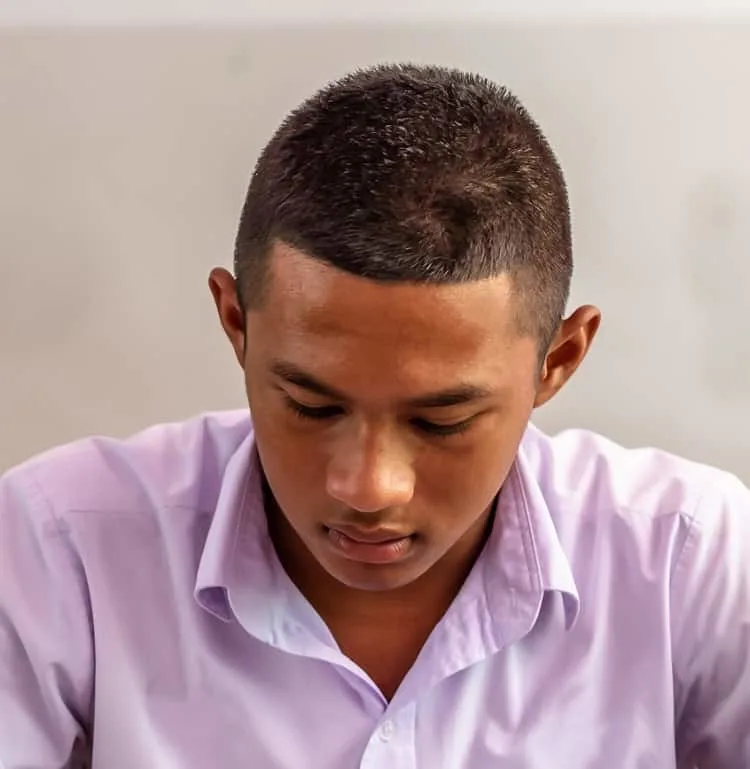 Line ups create a fresh, crisp feeling that looks great on short styles like crew cuts. Naturally, this look is perfect for formal settings like school.
31. Comb over with Undercut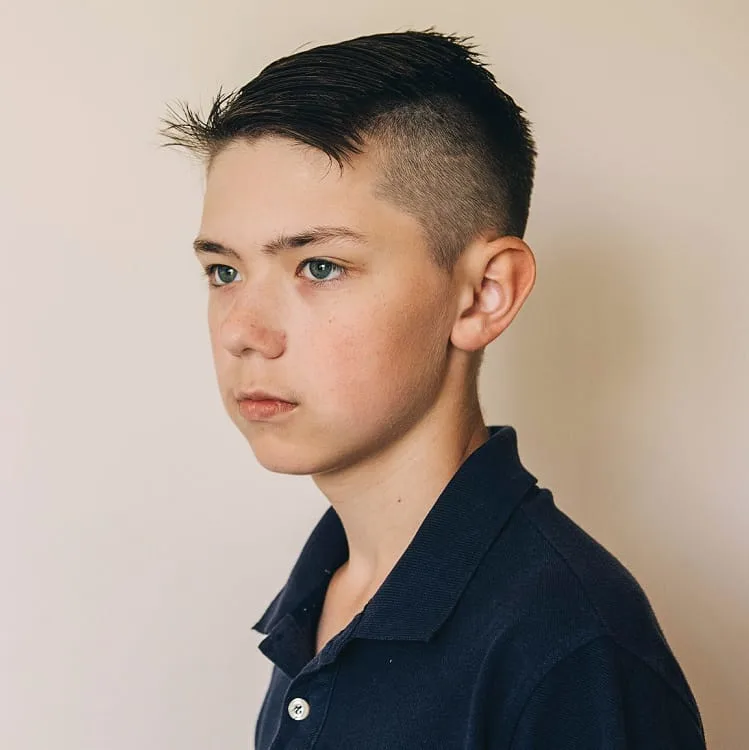 To create this chic look, the comb over should be centered between the eyebrows on the top of head. Shaved undercut sides make the whole look fresh and appropriate for school.
32. Low Fade Hair with Comb over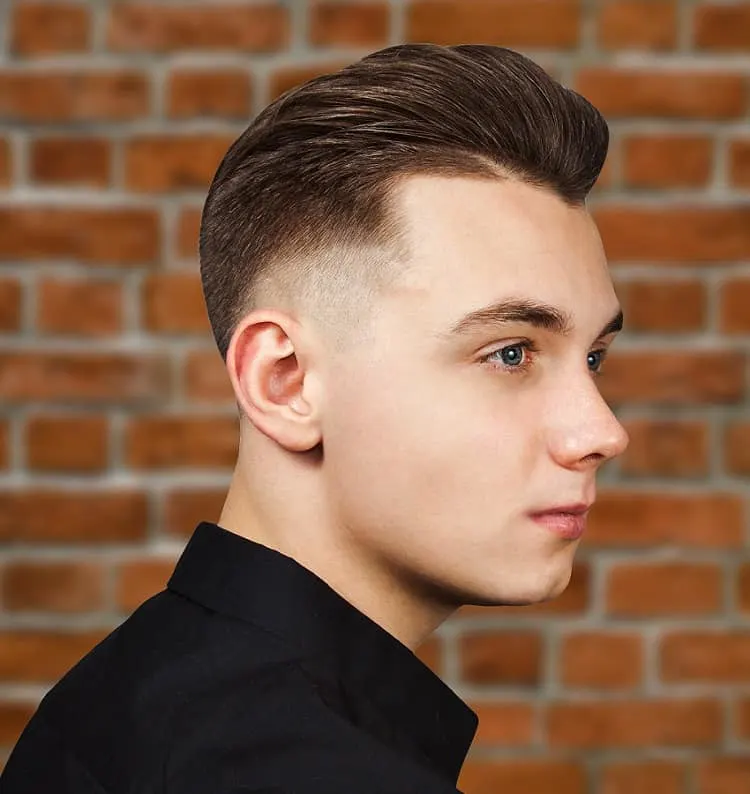 Just because you're hitting the books, doesn't mean your style shouldn't be cool! A low fade allows you to maintain longer hair up top, which is perfect for a crisp comb over style.
33. Short Hair with Star Design
If you want your boy to look punk, try this school hairstyle with design. Adding fun details to buzzed hair lets the boy in your life use his imagination, within reason of course. Try a star haircut with design and spike hair on top of the head for added texture and balance.
34. Faux Hawk with Medium Fade
This big faux hawk hair has been styled to perfection. If you're craving this look, remember that a little product goes a long way. You'll want to avoid that wet look. A medium fade keeps it all relevant.
35. Curly High and Tight Hair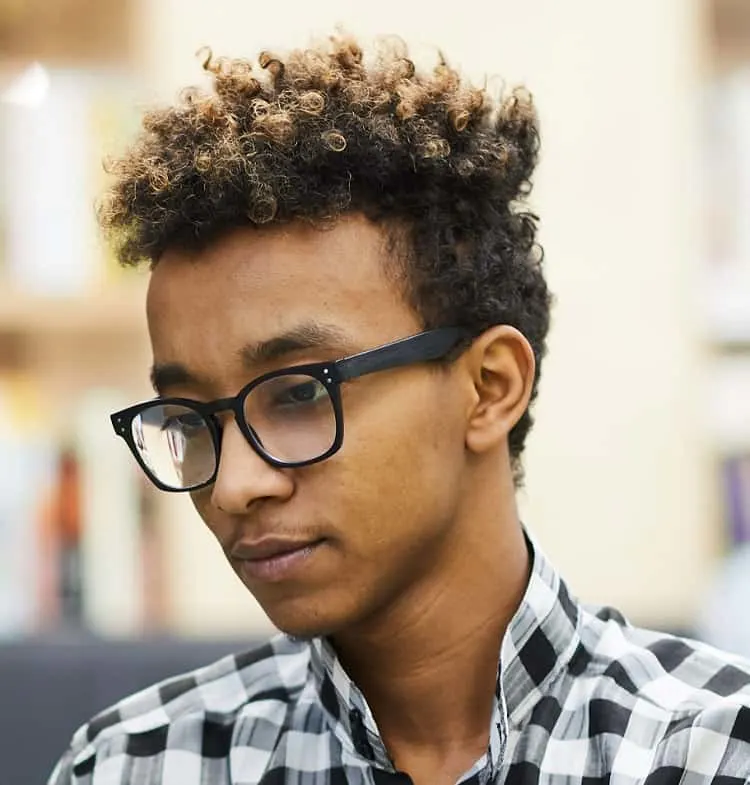 Looking for school boy hairstyles for curly hair? It goes without saying that a high and tight style is on-trend, even for curly hair. Add a pop of color, like warm caramel, to the tips of hair for a touch of playfulness.
Just like adults, school boys crave styles that make them feel and look cool. Fades, undercuts, fun details, and pompadours are all age-appropriate and suitable for the classroom. Which of the above school haircut tops your list?