The legendary football star, David Beckham has turned into the most sought-after style icon these days. Apart from his impeccable dressing sense, David's hairstyles are always on point. Although it is difficult to keep track of his ever-changing looks we have brought together 20 of the best David Beckham hairstyles that you can wear yourself.
David Beckham Hairstyles
Which hairstyle do you think he wore best? Here are 20 of David Beckham's most popular hairstyles.
1. Blended Fade
No one rocks a blended fade like David Beckham. The long top is brushed up into short yet razor-sharp spikes and tapers towards the sides and back ultimately fusing with the facial hair. Some gel or pomade is all you need when styling these short tresses with your fingers.
2. Modern Quiff
The football star knows how to keep his looks up to date. He opts for a modern quiff every now and then. It is defined by a long top with precisely trimmed sides that are combed down. Use a round brush and a hairdryer to achieve the puff of your dreams. Chic!
3. Blonde Moment
When his sons dyed their hair in vibrant hues the previous year, the former English footballer turned to a platinum blonde shade to prove his boys he rocked it better. He coupled his light hair with a buzz cut and a medium facial stubble that reminded everyone of his 90's look.
4. Crew Cut
Every guy rocks a classic crew cut once in a while and so does David Beckham. The strands at the top are kept at uniform length to contrast against the even shorter sides. David is often spotted with his short British haircut combed forward and looks exceptional as always. Easy breezy!
5. Brushed Up Spikes
This look can be regarded as one of David Beckham's best hairstyles without a doubt. Call it spikes, a pompadour, or a modern fauxhawk, the football star looks like a gentleman even with a bad boy style. The top is textured and brushed up while it shortens towards the sides and back.
6. David Beckham's

Long Hair
If you want to copy a long hairstyle, this David Beckham hairstyle will be best. There's still some maintenance required with this style, but not so much that it crashes the happy vibe. For those looking to project a carefree image or contemplating ways to transition between short and long hair, this hairstyle may work in their favor.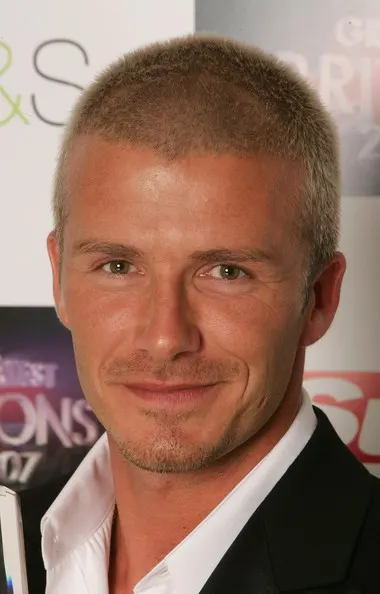 During 2007, David Beckham's Buzz Cut hairstyle turned a few heads as this style added another complementary element to David Beckham's style on and off the field. This buzz cut style is timeless and effortless maintenance, though it may require frequent visits to the barber.
Neymar's Most Popular Hairstyles
David Beckham's this short haircut is a formal or casual look that is wearable in just about any setting.
9. Classy
Mohawk Pompadour
This one is one of the most popular hairstyles by David Beckham. In 2015, David Beckham styled his hair with this edgy but classy mohawk pompadour. This hairstyle was rugged enough to be worn on the field but versatile enough to be fashionable for a night on the town. For those seeking stylish versatility, this style might be for you.
David Beckham's faux hawk demonstrates that a transition between a shaven or buzz cut hairstyle and a new style doesn't have to be a traumatic experience but instead demonstrates how to make a hairstyle transition look and feel seamless.
David Beckham's comb over hairstyle is perhaps the easiest to replicate for the everyday businessman. However, for those who seek a professional image, David Beckham's comb over hairstyle is a plausible style to complete the look.
The Best Creative Haircuts by Football Stars
12. Short-Medium Straight Casual Haircut
David Beckham's Short-medium hairstyle is tame in this photo and perhaps sports-friendly for those seeking a basic look.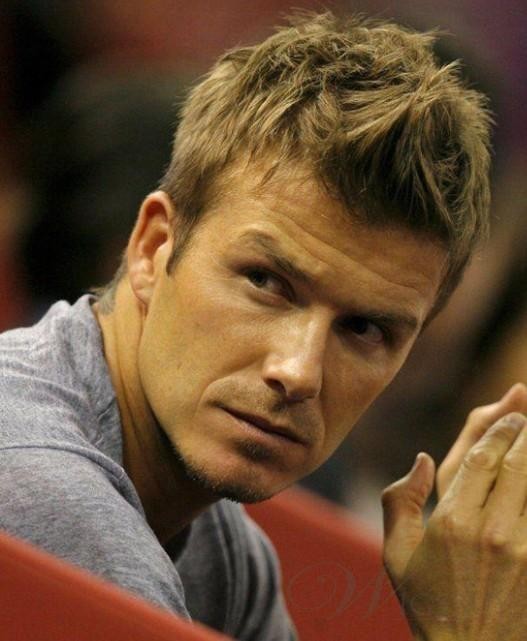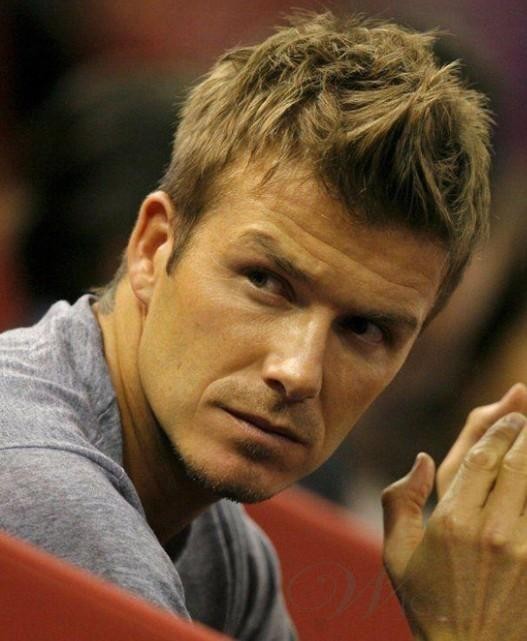 Sometimes a good hairstyle has nothing to do with the cut but instead has everything to do with the color. David Beckham's blonde hairstyle in this photo is eye-catching. If you want to change your looks drastically, do not be afraid to dabble with hair color.
14. Popular Beckham Spike
Spiky hair seems to come and go as a style of choice for men. David Beckham's spiky hair is not a simple look. Look carefully, and note a few layers within these platinum locks.
15. Beckham's Mohawk
David Beckham wore this sporty Mohawk crew cut style well. It is best known as the Beckham Mohawk; it offers an excellent edge and distinct depth in appearance.
16. Slicked Back Hair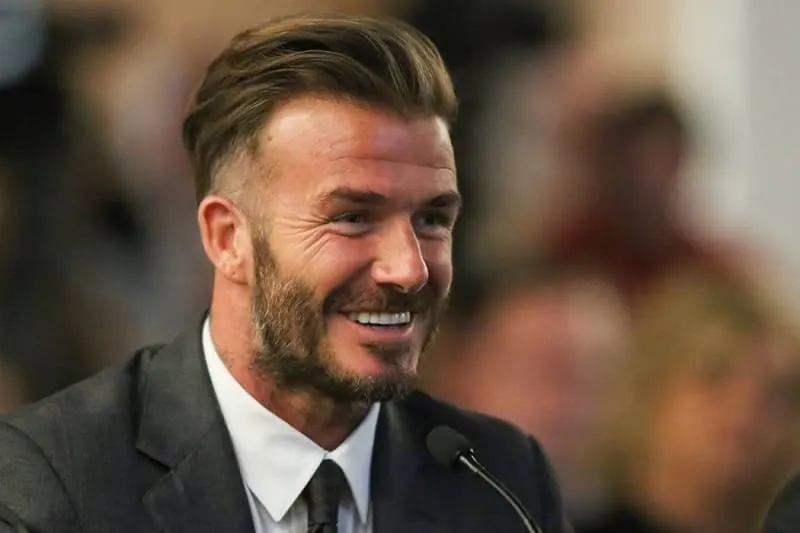 David's square face appears much slimmer when he couples a long top with a chic temple fade. The strands are slicked back using a styling product without a parting and topped off with a spritz of hairspray to keep the look intact all day long. Simply dashing!
17. Salt and Pepper Look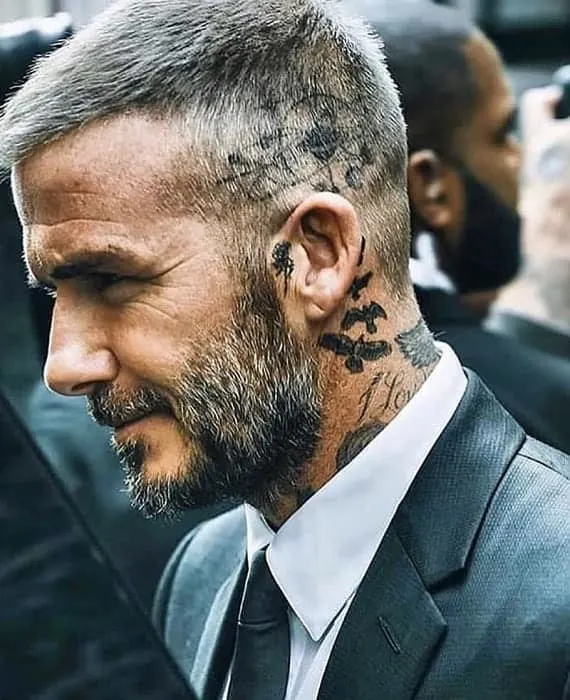 The Inter Miami CF president is never afraid to flaunt his salt and pepper hair just as he has never bothered to hide his widow's peak. The short top is accentuated by buzzed sides and back revealing his tattoos. A short yet full beard sets off this rugged hairstyle.
18. Extra-Short Caesar Cut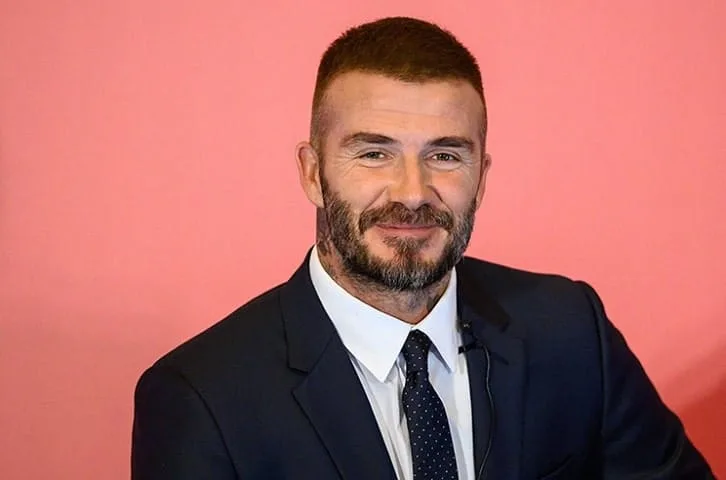 This Caesar cut is so short it looks like a classic buzz. David shaved his sides with a slightly longer top and completed the style with an unkempt beard. The look is perfect for the lazy ones as it demands almost no styling at all. Can't get any easier!
19. Layered Lob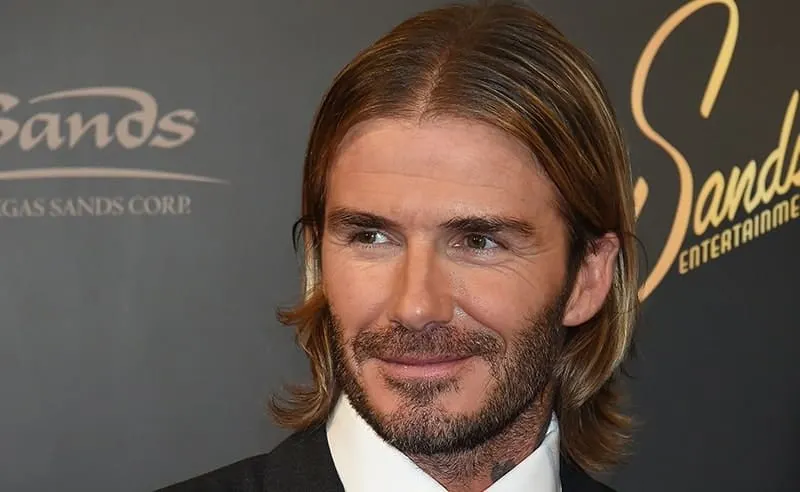 Who says lob haircuts are for women only? Men can rock them equally well and Beckham has proved it. While attending the Las Vegas Sands event in Tokyo he sported a shoulder-length lob with soft layers, blonde highlights, and an undercut while the middle-parted strands were tucked neatly behind his ears.
20. The Man Bun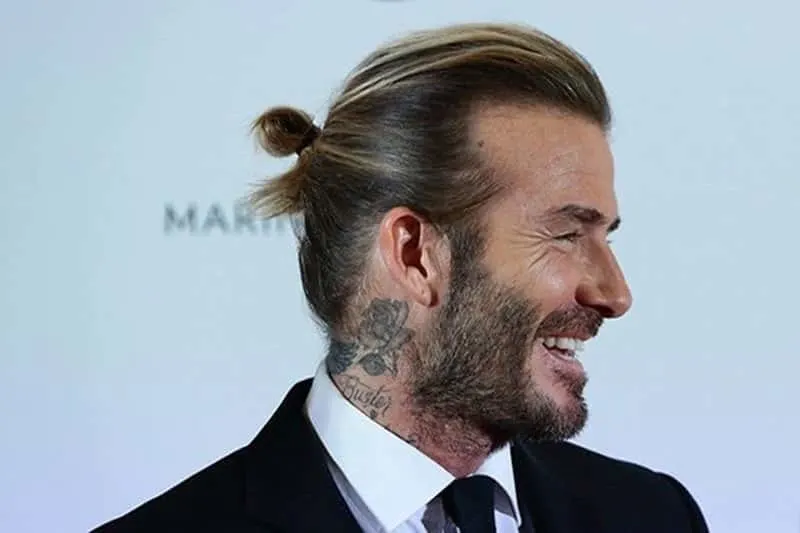 David Beckham's hairstyle was worth remembering at the Spanish soccer club Real Madrid. The football legend is one of the first men to rock a classic bun. He went for blonde highlights and secured his hair in a looped bun at the back. Casual and carefree!
David Beckham has a great taste in styling hair, and that's why most of Beckham's hairstyles create a buzz among youngsters. They are attractive and will look if you can choose the one according to your face shape.
Trending Topics