The 80s era brought some of the most iconic fashion trends. And while everything was big, bold, and dramatic back then so were the hairstyles.
From voluminous feathered layers to messed-up perms, everyone managed to sport some statement over-the-top hairdos with pride. Many of these hairstyles are making a strong come-back and so is the glamorous 80s pixie cut!
That's right! The edgy rock'n'roll short crop full of volume and height is making its place once again amongst other sleek contemporary haircuts and can be anything from bold to blunt depending on your preference.
What Is an 80s Pixie Cut?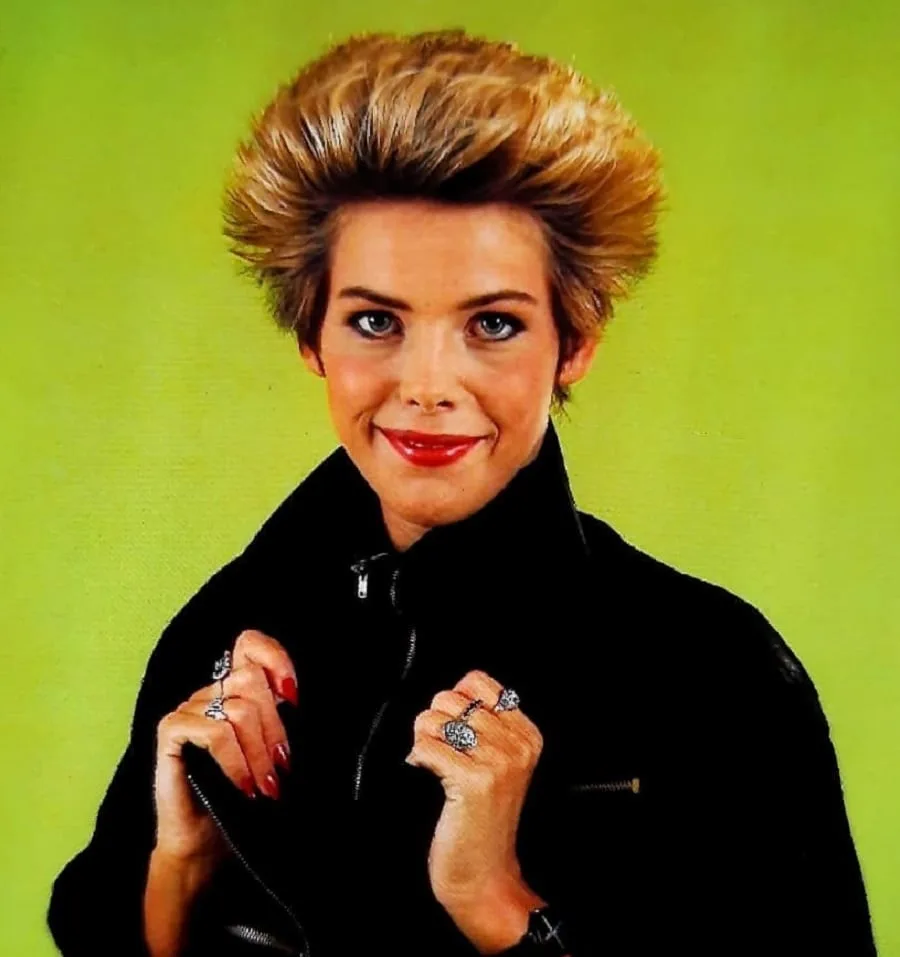 A pixie cut is a short women's hairstyle where the hair is short on the sides and the back, and long in the front, typically with a short fringe.
The 80s hairstyles completely revolutionized the short haircut. Keeping with the loud nature of the decade, the 80s made the pixie cut big, messy, and most importantly, edgy.
The 80s pixie cut was typically bleached, and spiky. Numerous female celebrities popularized the hair-do.
For example, Cyndi Lauper and Annie Lennox's platinum blonde pixie cuts are still an inspiration to women looking to chop their locs.
80s icon Cher even sported a frosted-tip pixie cut in 1984, proving that the hairstyle is an 80s stable. Still, the pixie cut wasn't just the edgy hairstyle for rockstars.
In 1989, Linda Evangelista got the hairstyle of the era. She flaunted the androgynous cut in platinum blonde, fiery red, and classic brown. Then, women everywhere followed.
Why You Should Get an 80s Pixie Cut
Short hair suits everyone, helping people show off their faces and bone structure. Furthermore, the 80s cemented the pixie cut as one of the most fashionable hairstyles.
That said, letting go of your locs might be difficult. If you're second-guessing making this huge decision, here are some reasons that might convince you to give pixie cuts a go:
Make a Bold Statement
One of the first things people notice about you is your haircut. A pixie cut is the best way to express yourself and showcase your bold personality.
The best part is that pixie cuts can be feminine, punk, elegant, or laid-back.
Give Your Hair a Break
Regular haircuts are crucial for healthy hair. Naturally, a drastic chop such as the pixie cut can have plenty of benefits.
Not only will you get rid of damaged hair and split ends, but the hairstyle will also prompt you to ditch heat and harsh styling products.
Keep It Effortless
Maintaining healthy, long hair takes a lot of time, effort, and money. In contrast, a pixie cut is the best hairstyle for busy women wanting to spend less time on their hair.
Beat the Heat
Short hair makes you cooler, literally! Though chopping your hair to cool off might seem unorthodox, people who value their comfort will love a summertime pixie cut.
Iconic 80s Pixie Haircuts
You don't need to spend hundreds of hours and dollars styling your pixie cut. Instead, the laid-back hair-do looks like you spent hours on it, even if you've just woken up.
Still, if you're unsure what look to go for, we've got you covered. Here are three contemporary ways to style an 80s pixie cut:
1. Voluminous Pixie Cut
Embrace the alternative punk style by rocking a pompadour pixie cut. The voluminous 80s cut has made a comeback, so you'll look as modern and stylish as ever.
What's more, is that the voluminous cut works with different styles. For instance, it looks exceptional if you have platinum hair color with buzzed sides.
How to Style:
Simply follow these steps for a head-turning voluminous 80s pixie:
Start with a day-old hair for extra grip, or rub some holding mousse through your hair.
Next, using a teasing comb, push your hair towards the back.
Softly tease the roots of your hair using the comb so that it spikes up.
Once your hair is up, curl the ends of the hair towards the back using a flat iron.
Then, shape your hair using the teasing comb and hair gel and spray generously with hair spray.
For extra shine, run a small amount of argan oil through your hair.
2. Sleek Pixie Cut
For a feminine twist on the androgynous hairstyle, part your hair to the side and sleek it down. The sleek pixie cut can be your everyday go-to or an elegant approach to the laid-back haircut.
While a pompadour doesn't work with a fringe, you can achieve this hairstyle no matter how short, or long your pixie cut is.
How to Style:
To sleek your pixie, do the following:
First, mist your hair with water and create a deep side part.
Secondly, apply gel to your hair and brush it down.
The amount of gel you apply determines how wet the style is. For a casual sleek pixie, use little gel.
Let your hair air dry, or use a blow dryer on cool to hold the style in place.
3. Textured Low-Maintenance Pixie Cut
As the name implies, you don't need to do much to achieve a textured pixie cut. This is, by far, the easiest pixie look to have.
How to Style:
All you need to do to achieve an effortless pixie is to run some gel through the ends of your hair and scrunch it. Avoid using a comb or a brush, as this will flatten your hair.
The 80s pixie cut has stood the test of time. That's because the hair-do isn't limited to one look. Instead, it can be feminine, punk, or chic.
The potentials of the 80s pixie are endless. The great thing is you'll barely need to style it!
Trending Topic