The warmer months are fast approaching and now is the perfect time to cut your hair short and sport one of the hottest colored pixie cuts of the season—the platinum pixie.
And you know what's the best part? Although it seems intimidating, the pixie cut is highly customizable since it can be styled to suit all face shapes.
Not only that, but the platinum color also comes in a lot of warm and icy shades that work well on all types of skin tones.
Best Platinum Pixie Cuts
Here are some of the best ideas for platinum pixie hairstyles that you can try:
1. Platinum Choppy Pixie + Dark Roots
Got thin hair? No problem! Choppy pixie is the perfect hairstyle for you because it's packed with tons of piece-y and choppy layers that will create volume and add fullness to your hair.
The dark roots not only add dimension to your platinum hair color but also make it easy to maintain.
2. Side-parted Waves + Blonde Roots
Do you want to let your wavy hair run wild but don't want it to get in the way of your face?
A side-parted pixie is the way to go. With its short length, you can enjoy your hair's natural texture but in a more structured way.
The side part gives you that "messy hair, don't care" vibe, while the low-maintenance warm blonde roots give it that carefree touch.
3. Platinum Pixie + Undercut
What else do you need to complete your edgy pixie cut and the eye-catching platinum shade? A cool undercut, of course!
It is the best way to show off your rebellious spirit. But that's not all. An undercut also takes some weight off your hair and helps keep its shape clean and structured.
4. Asymmetrical Pixie + Side-swept Bangs
Do you wish to enjoy the fashion-forward vibe of a short hairstyle but the face-framing benefits of long hair? This asymmetrical platinum pixie with long bangs will definitely give you the best of both worlds.
The side-swept bangs will draw attention to your cheekbones and give your face a more angular shape.
5. Messy Pixie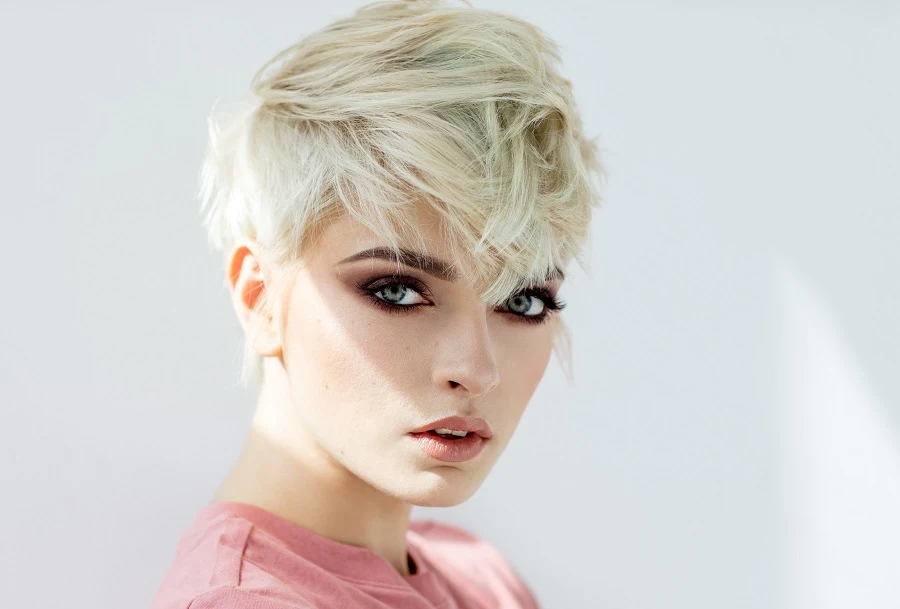 If you love to sport a messy look and a carefree vibe, then keep the top layers as long as you want. The long layers won't just frame your face but conceal your forehead as well.
Pro Tip: You can keep the layers from becoming too messy with a good styling mousse.
6. Wavy Piecey Pixie + Side Part
Keep your wavy pixie looking sleek with the perfect side part. Leaving the top layers long and the back and sides tapered is a sure way to give it that polished look too. The ashy platinum shade also gives this perfectly structured pixie an edgy touch.
That's not all. Icy shades look much better on cool skin tones, so it's the best option for porcelain-skinned ladies.
7. Asymmetrical Layered Pixie
With its uneven length and all the feathery layers, an asymmetrical pixie is not the easiest style to maintain.
But since it allows you to enjoy an ultra-short back and sides and still have enough layers to frame your face, it's definitely worth the work!
The key here is to just keep the long sides at the right length—not too long so that they will get all over your face.
8. Pearl Blonde Hair + Shaved Sides
Take your already-edgy short haircut for a bolder spin with a shaved side. The result is a colored pixie that looks both mysterious and rebellious.
Luckily, you can tame it down or balance it out with a stunning and feminine pearl platinum shade.
9. Platinum Blonde Afro
Have you always dreamt of getting a pixie cut, but your type 4c hair is preventing you from doing so?
This is the hairstyle to try. With the sides close-cropped and a thicker and longer top, you allow your dyed curls to take the center stage without them running wild.
10. Light Blonde Bixie
A pixie bob will give you the best of both worlds. It's short enough to be called a pixie and still long enough that you can enjoy some of the face-framing layers you get from a bob.
The thicker layers at the top give your hair more volume and conceal your forehead, while the thinner ends give the hairstyle more structure and a softer look.
11. Classic White Pixie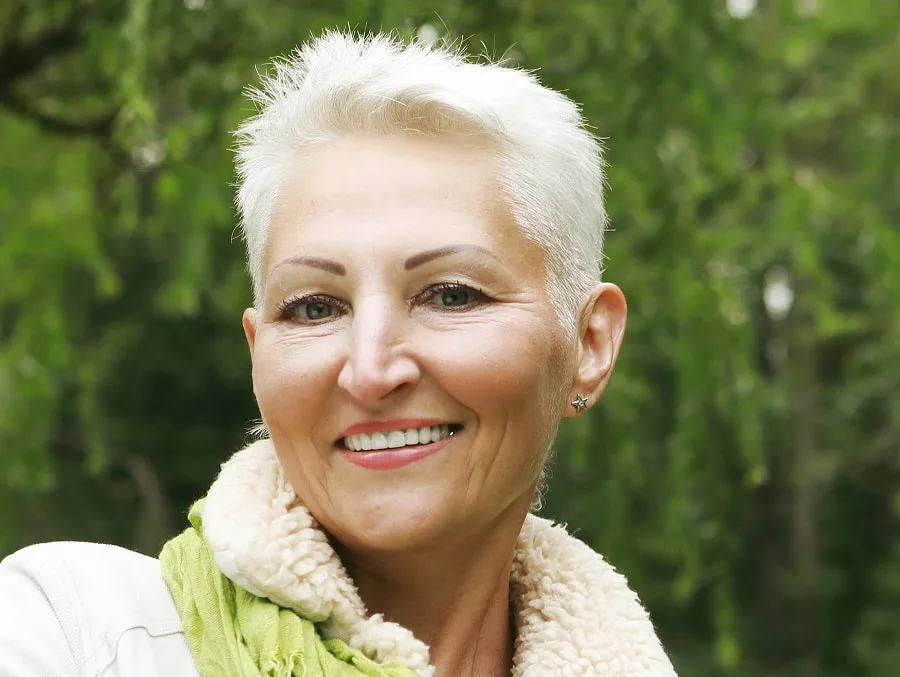 Are you looking for the perfect platinum pixie cut for older women?
This might just be what you're looking for, and it's all because of its short front layers. You can style it upwards for a more youthful look, or you can comb it down to create a softer look.
12. Messy Spiky Layers
Here's the secret for a more feminine version of a spiky pixie: long piece-y layers. Spike them up to create an illusion of height and volume. But make sure to leave the front layers down so you can soften your look and highlight your beautiful jawline.
13. Close-cropped Metallic Pixie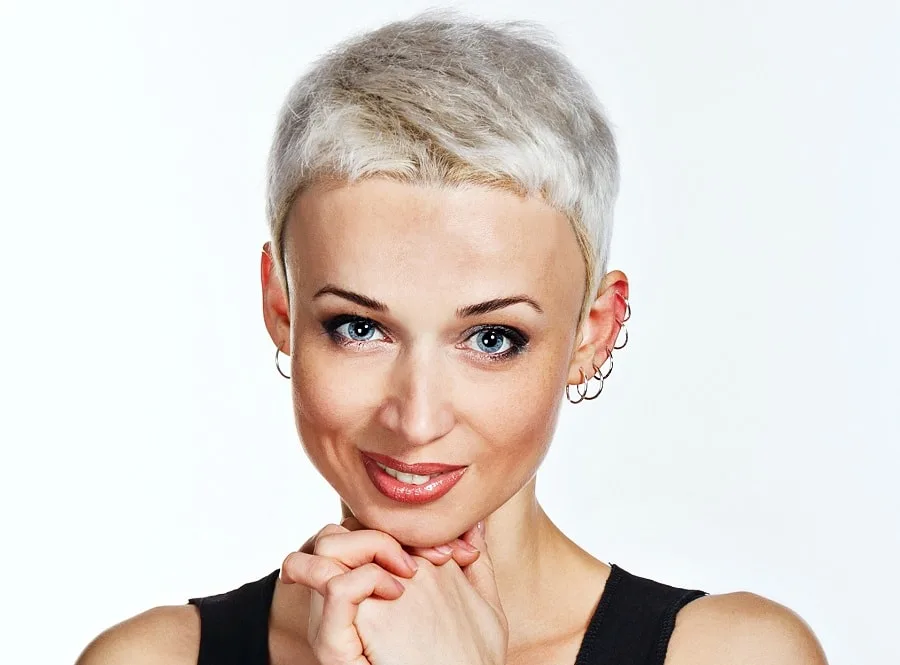 A close-cropped pixie cut will give you that fashion-forward look with little to no maintenance needed. If it seems too simple for you, the key is to give it a metallic platinum color that will literally make it shine!
14. Faux Hawk
Give your platinum pixie cut a dramatic makeover with a faux hawk. It may seem intimidating, but it's actually quite easy to make.
All you need to do is create a spiky upsweep in the middle of your hair. Keep the sides short to allow the faux hawk to take center stage.
15. Long Spikes
If you have thick hair, you're the perfect candidate for this androgynous cut. When asking for this haircut, ask your hairstylist to give the ends some texture so you can enjoy the long layers without the bulk.
16. Tapered Pixie + Swoop Bangs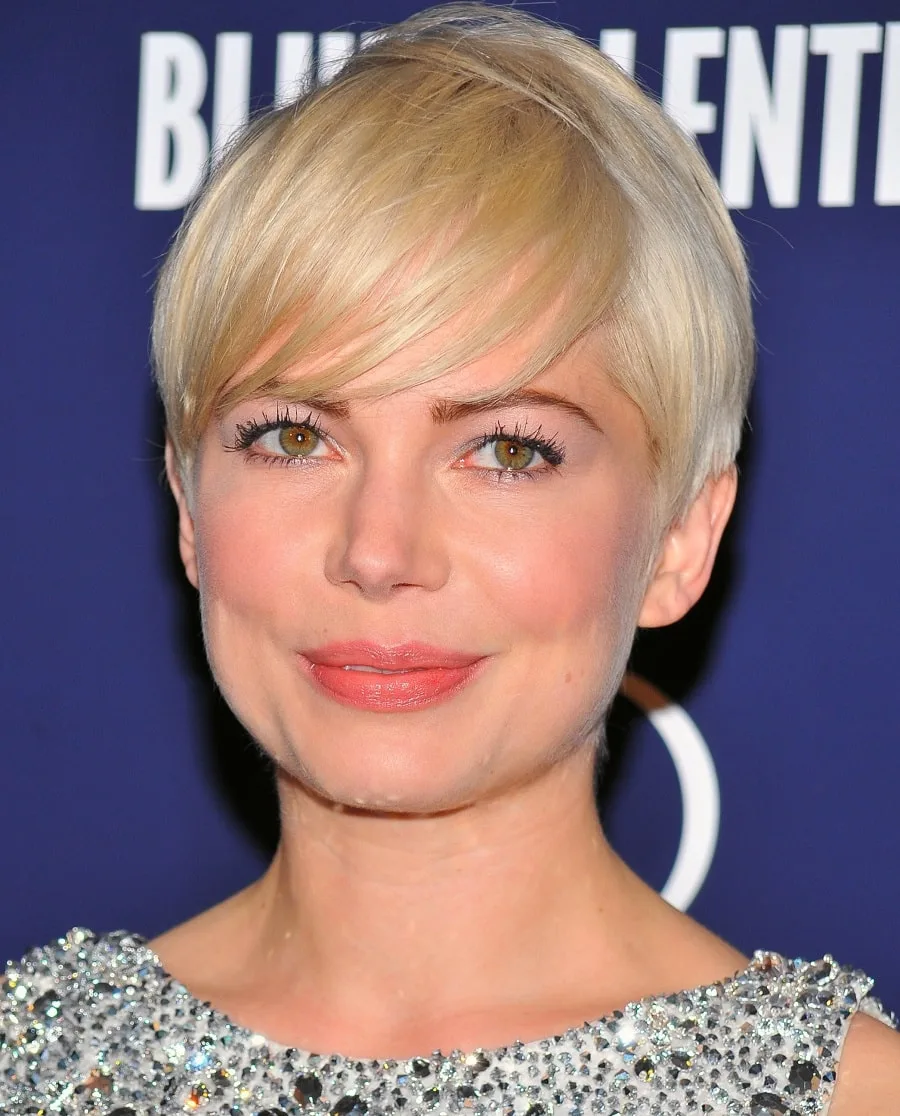 Good news– pixie cut will look amazing on round faces too! The key is to play with the cut's angles and layers.
With that said, a side-swept fringe can be your best friend because it can conceal most of your face. Its angular layers can also draw attention to your jawline.
17. Platinum Pompadour Pixie
Look every inch like the powerful woman that you are by copping one of the most famous gentleman hairstyles- a pompadour. Its height and unique appearance can definitely command everyone's attention and literally make you stand out.
18. Edgy Tousled Pixie
Are you getting tired of sleek and polished hairstyles? Well, here's your permission to go crazy with layers and spikes. Instead of the usual upward spike, spike your hair in different directions to give your platinum pixie extra depth and movement.
19. Icy Curls + Finger Waves
Are you one of those incredibly blessed women who has highly textured hair? Well, you can put that gift to good use by styling it into sleek finger waves.
This simple step will tame your wild curls while adding a fabulous retro-glamor twist to your simple pixie cut.
20. Butter Blonde Pixie + Peek-a-Bangs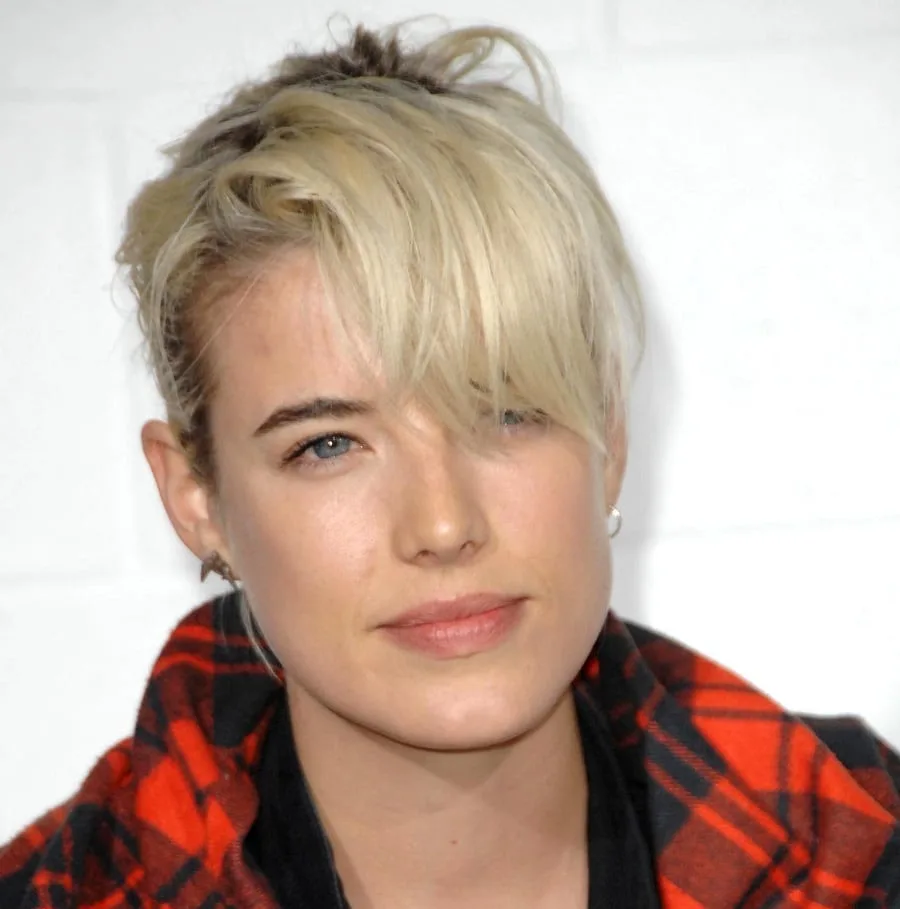 Here's another trendy hairstyle that would go well with a pixie cut: peek-a-bangs! It's a type of bangs that drapes over one eye and is the perfect way to give your hairstyle a sultry and mysterious look.
21. Baby bangs
A pixie haircut with baby bangs is not for everyone. The good news is, you can easily pull off micro bangs if you have an oval face and perfectly chiseled cheekbones.
22. Pixie Mullet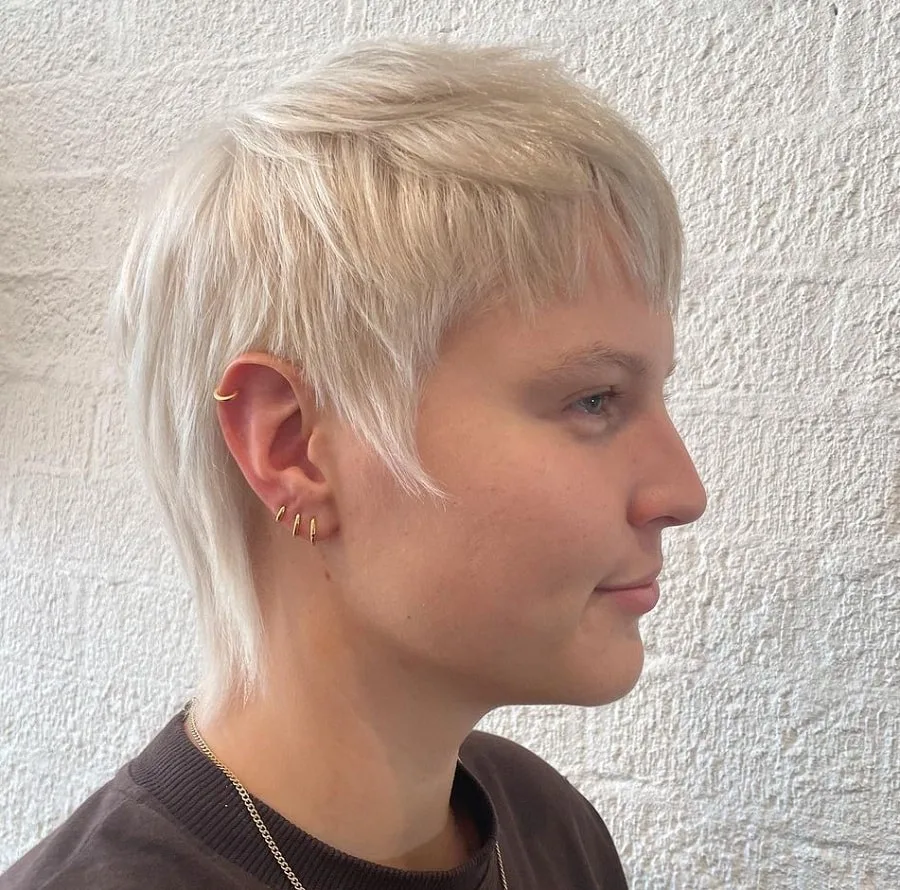 Give your platinum pixie cut a retro spin with a mullet which is a hairstyle with the side and front layers shorter and the back layers a lot longer—enough to cover your nape.
Paired with a white platinum blonde shade, it will add a softer and whimsical touch to it.
23. Icy Blonde Waves + Fade
The volume and thickness of waves can easily get out of hand. Fortunately, there's one cool way to keep it in check—a fade! Not only will you have less hair to deal with, but this simple addition will also take your pixie to a whole new level.
Platinum pixie is the ultimate rocker chic hairstyle. So if you want to finally show off your inner rebel, just choose from any of these hairstyles and color ideas with your face shape and skin tone in mind.