These days, anything goes, especially 80s short hairstyles. When we think of this era, big, teased volume comes to mind, but the look that you crave can be created on short hairstyles. Whether you have a curly bob or a short pixie cut, we have the 80s look for you!
80s Hairstyles for Short Hair
Take a look at the below 15 funky short hairstyles for women inspired from the 80s.
1. Pixie with Long Bangs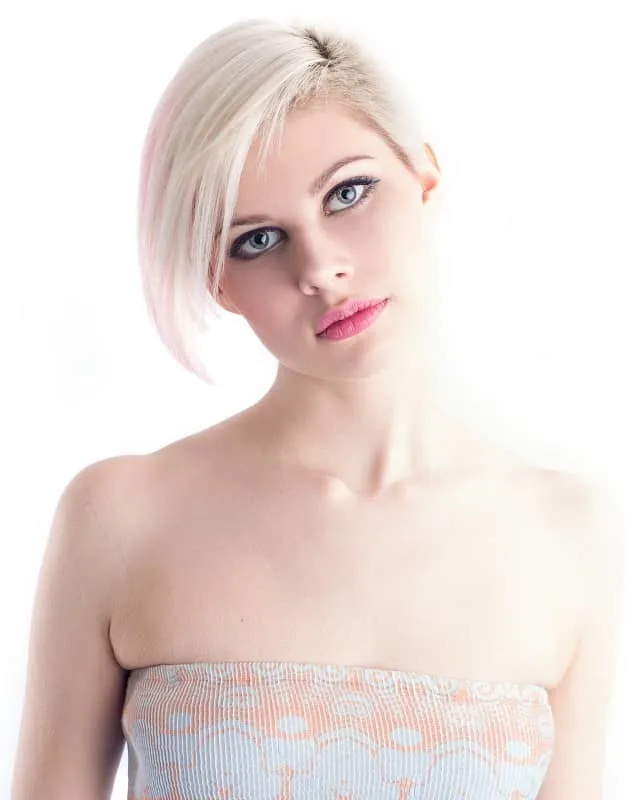 Edgy layers were just as popular then as they are now. Make your short hair interesting with long side bangs cut on an angle. This look suits every face shape and works for a short pixie or pixie bob. We can't resist the icy blonde color, either!
2. Frizzy Texture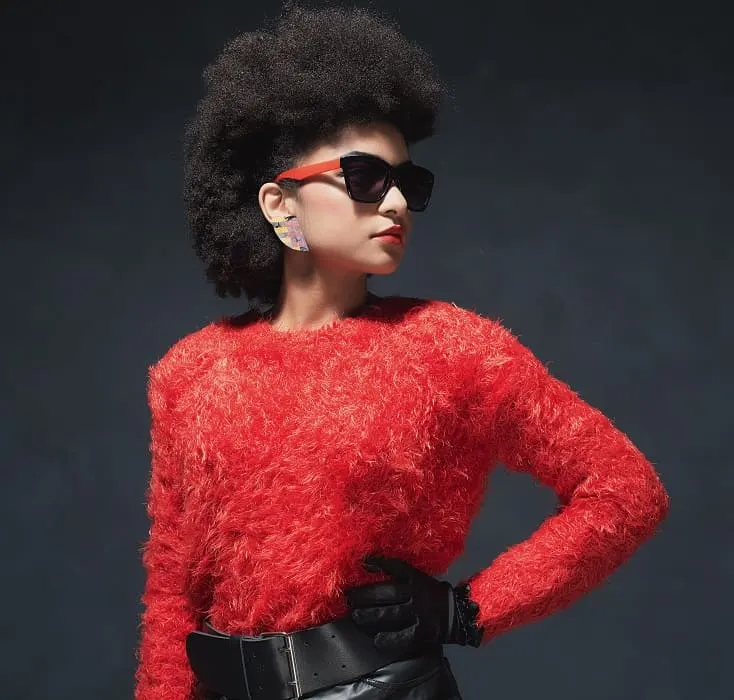 Evoking this decade is all about creating bold volume. For gorgeous, natural hair, create height but keep the style tight by cropping hair close over the ears. This vintage hairstyle is also easy to braid if you feel like switching it up.
3. Icy Pixie Cut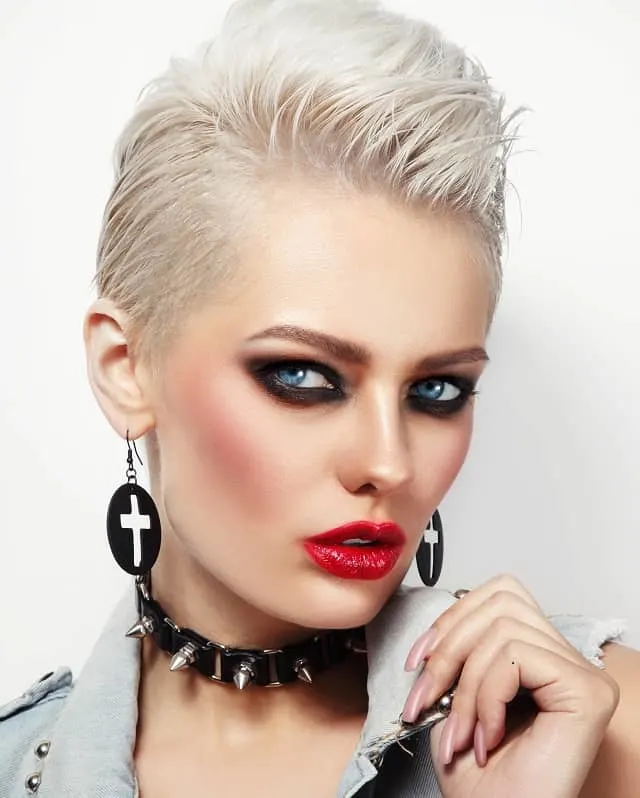 The key to 80s short hair was volume and height. All you need is an inch or two to coiff your pixie locks. Separate strands with a gel and comb for a look that is perfect for a night out.
4. Curly Bob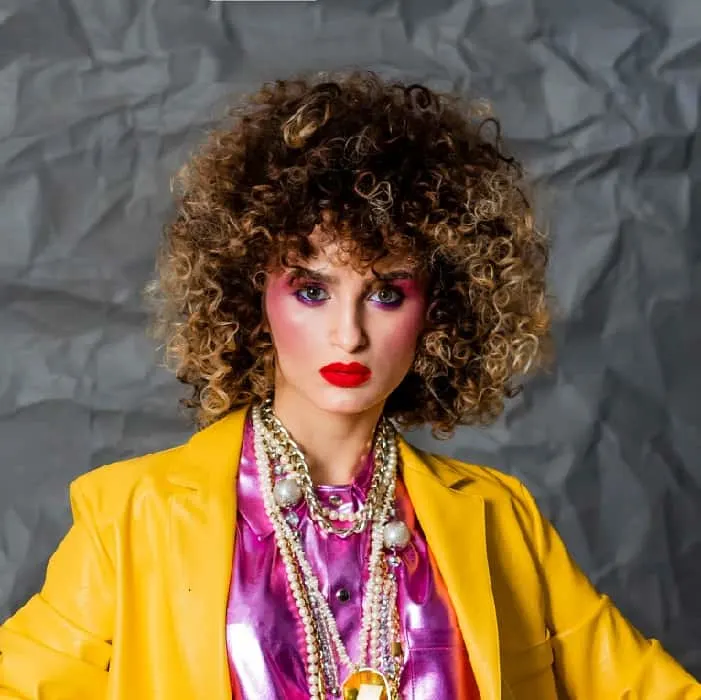 Flashdance, anyone? A big bob with a thick fringe is the perfect way to rock short, curly hair. To give hair this rounded effect, cut short layers at the top of the head and slightly throughout the length of the hair.
5. Voluminous Bob For Fine Hair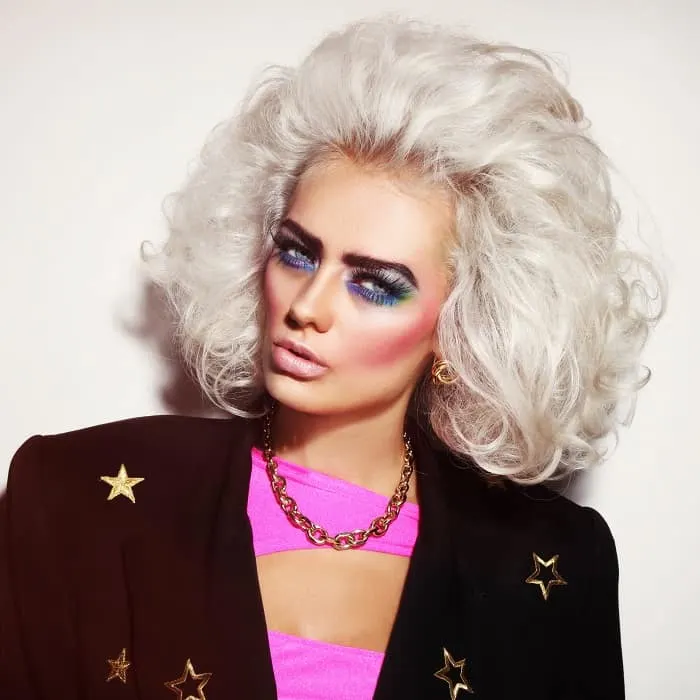 You don't have to have tons of hair to get the iconic look of the 1980s. Think height and volume as you tease and spray your short tresses. This look is great for oval face shapes.
6. Loud and Wild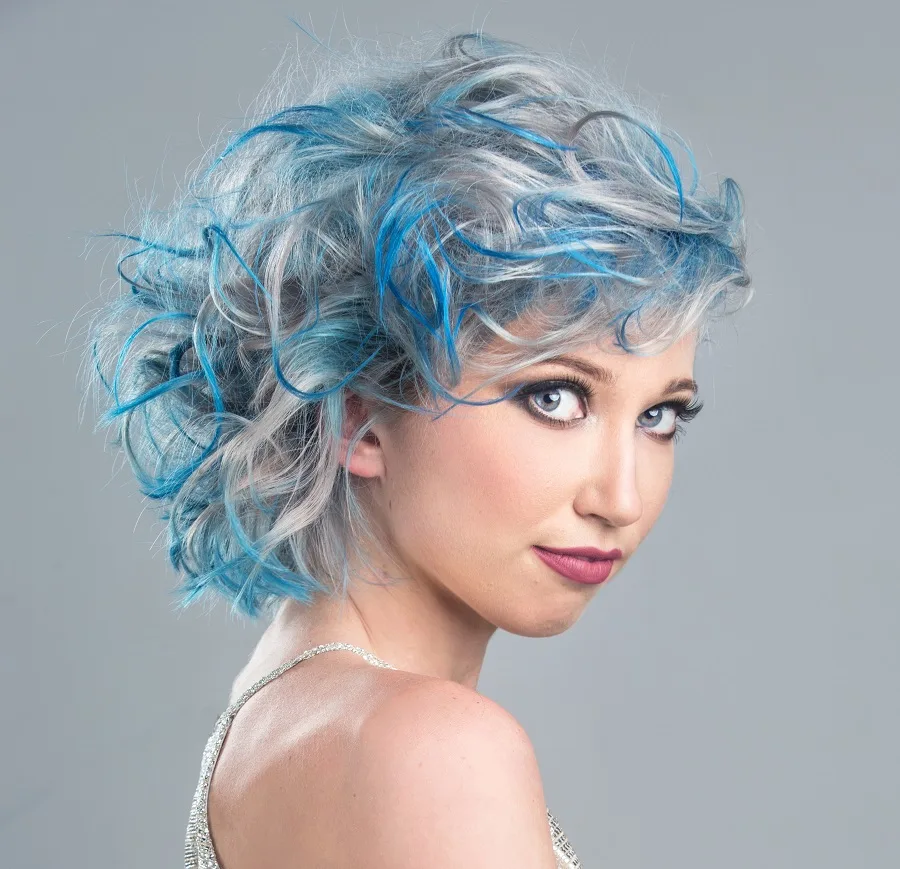 The '80s was the time for big, bold, and bright hairstyles, and this wild curls with a streak of vibrant turquoise color are just the perfect example. The combination of the bright blue shade and platinum blonde is just an eye-catching color combination.
Now that the world has been bit by the hair color bug once again, now's the perfect time for you to try any of these electric hair shades.
7. Top Knot Pony
If you're a fan of Madonna, the best 80's hairstyle to relive her younger years would be to sport this tousled-up top knot pony. Make sure to accentuate it with a big bow– just the way Madonna did it.
8. Short and Spiky
Spiky short hairstyles are perfect for women too. Case in point: this gorgeous spiky hairstyle will make anyone look like a rock star.
9. Asymmetrical Messy Hair
A deep side part and gorgeously messy hair– what more can you ask for? If you already have naturally textured hair, you can achieve this style by simply sweeping your hair to the side for a slightly angled look.
There's no denying that a wavy bob looks cute and charming. Adding an asymmetrical shape to the haircut can make it look more chic and mature.
10. Curly Mullet
The mullet may have been popular because of Prince, but this unisex hairstyle is also the perfect option for funky and trendy women with naturally beautiful curls. This hairstyle is cut short at the front and the crown and left a bit longer at the back.
11. Shaggy Mullet
Bring out your inner pop star with this shaggy mullet. Ask your stylist to use the dry cutting method as it's the perfect technique to seamlessly blend the shorter layers of hair into the longer ones.
Pro Tip: Add curtain bangs that will beautifully frame your face.
12. Contrast Mullet
Playing with hair colors is the best way to amp up your mullet game. Add a deep contrast of light and darker hair colors by mixing blonde with black hues.
Pro Tip: If you don't have the heart to don a full hair color, you can simply opt to play with the color of your bangs instead.
13. Pixie with Puff
Puff is the name of the short '80s hairstyles game, and this is the best way to take your pixie haircut to a whole new level. Just take a look at how elegant and classy this beautiful platinum blonde hair looks.
14. Mini Mullet
These days, mullets are actually cool, especially if your hair is straight, rather than puffy and curly. Create lots of texture with short layers and a short, piecey fringe. Your hair shouldn't reach farther than the nape of your neck.
Other vintage hairstyles to try:
15. Flat Top Pixie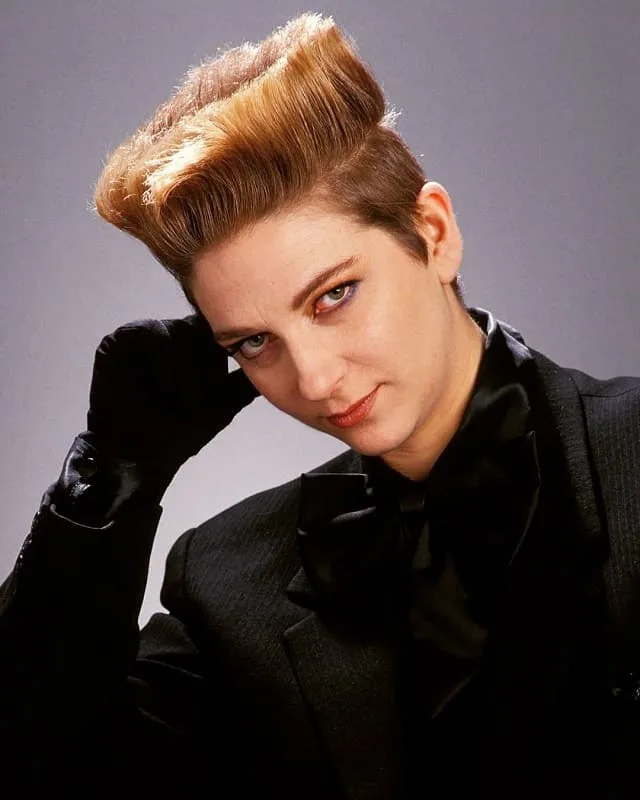 This hairstyle was also popular in the 90s! This literal take on 80s hairstyle involves lots of mousse or gel to get hair to stand up straight. Hair should be worn down and flat on the sides of the head to make this style shine.
It's easy to rock the best looks from the 80s, even if your hair is short! In fact, less hair means less to work with for easier and quicker styling. Will you be trying any of these looks?