You're ready to change your hair color to rock a fierce new look. As you compare the different brands of coloring kits on the market, those with the word "ammonia" send you running for the hills. You've heard some hair care experts swear by ammonia-based hair dyes and others recommending the ammonia-free route.
With so much conflicting information out there, what exactly is the truth about ammonia-free hair color? What are the pros and cons? Here's everything you need to know.
How Does Ammonia-Based Hair Color Work
Hair dyes rely on a series of chemical reactions to color the hair. Some of the ingredients in the dye cause the hair cuticle to swell up, allowing the hair follicle to absorb the dye. Ammonia is used as the swelling agent in most color treatments.
One of the main benefits of ammonia-based hair colors is their long-lasting properties and vivid color results. This has a lot to do with ammonia reacting with the melanin – the hair's natural color – in the strands to lift it to make the hair lighter before depositing the dye's color pigment.
Despite those positive attributes, ammonia-based hair color has its fair share of side effects, which we shall explore later in this guide.
How Does Ammonia-Free Hair Color Work
As the name suggests, ammonia-free hair coloring products do not contain ammonia. They use a different chemical reaction to impart color pigment to the hair.
An ammonia-free dye usually contains ingredients like emollient oils to seal the hair's cuticle and minimize moisture and protein loss during the dyeing process. As a result, they are gentler compared to ammonia-based products and rarely cause hair damage to colored hair.
Pros and Cons of Ammonia-Free Hair Color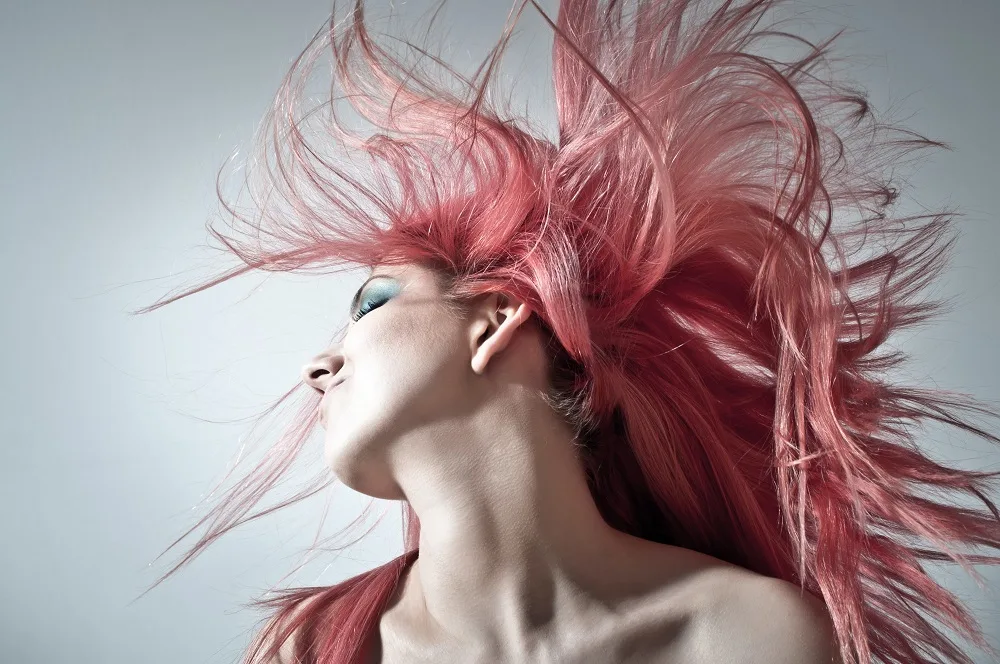 Is there such a thing as the perfect hair color? Below are the pros and cons of ammonia-free dyes.
Pros
Here's why you should opt for ammonia-free hair color.
It doesn't cause itchiness: Ammonia molecules are notorious for causing scalp irritation, often leading to a burning or itching sensation. If you have a sensitive scalp or have previously suffered severe reactions to hair products that contain the ingredient, ammonia-free hair dye would be a better alternative.
Promotes healthy hair: A major drawback of ammonia-based hair color is that it interferes with the hair's pH balance and also causes moisture and protein loss. The hair becomes brittle and prone to breakage in the long term, causing hair to thin out. Ammonia-free hair color is safe for long-term use, making it perfect for maintaining healthy hair.
No pungent odor: Ammonia has tiny molecules that start to evaporate the moment you apply hair color. This explains the strong, pungent smell you experience when using it. These vapors can be extremely irritating to your senses, making it difficult to breathe. You don't have to worry about this when using ammonia-free hair color.
Works at a lower pH: While ammonia-free hair dye also raises the hair's pH level to create an alkaline environment, this pH value is significantly lower compared to that of ammonia-based dyes. Its mechanism of action also softens the cuticle to allow the color pigment to penetrate the hair shaft without opening it up all the way. This keeps the hair from losing protein and other critical nutrients during the coloring process.
Cons
Here's why ammonia-free hair color may not be the best option.
It may still contain damaging ingredients: Just because a particular brand of hair color does not contain ammonia doesn't mean it is less damaging to your hair. Common ammonia substitutes like Aminomethyl propanol (AMEA), Cocamide MEA, and Ethanolamine (also known as monoethanolamine) work the same way as ammonia, but without the characteristic pungent smell.
It may not work on gray hairs: Depending on the brand you use, ammonia-free hair color may not be strong enough to provide 100% coverage of gray hair, particularly in individuals with coarse hair texture.
Less vivid color results: One of the main reasons many people still choose ammonia-based dyes over their ammonia-free counterparts is the color results. Dyes containing ammonia deliver more vivid and vibrant colors that last relatively long before needing a touch-up than ammonia-free colors.
So, Should You Use Ammonia-Free Hair Dyes?
Is it better? Based on the pros and cons of ammonia-free hair color, the short answer is – yes. If you have a sensitive scalp or you find the pungent ammonia vapors irritating to your eyes, nose, throat, or lungs, the decision is a no-brainer.
Ensure you examine the ingredients, though. Some of the chemical substitutes for ammonia are equally (if not more) damaging to the hair. Just because a product is labeled – "ammonia-free" doesn't mean it is 100% natural. Do your due diligence before settling on a particular brand.
Are you confused about the various hair dyes on the market? Read about the differences between permanent, semi or demi-permanent, temporary, and organic dyes.