When you buy through links on our site, we may earn an affiliate commission.
Anyone can easily look good with blonde or brunette hair, but there's something inspiring about people who have the guts to sport more vibrant, unique, and vivid hair colors—purple, green, orange, pink, and many more!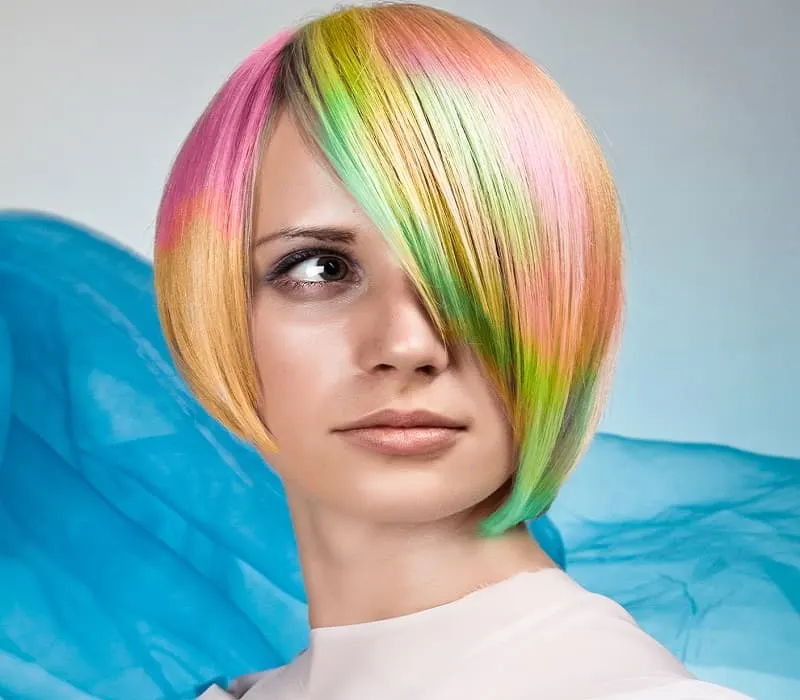 If you're all about expressing yourself, these unnatural shades are truly your best bet! While these hair colors will make you stand out, you should also know that having such hair color comes with a few downsides.
One of which is longevity because bright hair colors are prone to fading. In just a few weeks, your once vibrant blue hair color will already look dull and lifeless.
Of course, your hair care routine has something to do with this, but the type of hair dye you use plays a more significant role in your hair color's longevity.
With that in mind, you should first learn how to choose a hair color, then pick a long-lasting hair dye. To make your quest easier we've compiled a list here.
Title
Pravana Chromasilk Vivids Vibrant Color
Punky Semi Permanent Conditioning Hair Color
Revlon Colorsilk Hair Dye with Keratin
L'Oreal Paris Feria Multi-Faceted Shimmering Hair Color
Editor's Ranking
Best Conditioning Hair Dye
Most manufacturers have claims on how long the dye's color will last, but of course, not all lives up to their promise.
Best Long-Lasting Hair Dyes for Unnatural Color Shades
To help you end your hunt for long-lasting hair dyes that will allow you to show off your style for longer, we've compiled all of the longest-lasting dyes for unnatural colors below.
Sale
The Pravana Chromasilk Vivids Vibrant Color is widely used by professional hairstylists worldwide because of its long-lasting results. When you use this dye, the resulting hair color can last for 6 to 8 weeks.
Aside from imparting deep and highly pigmented color on the hair, the dye is also smudge- and bleed- proof, so it's not messy to use.
The dye comes in 10 bright and vibrant shades—magenta, pink, purple, green, blue, Wild Orchid, violet, red, orange, and yellow.
Pros:
This doesn't bleed as much as the other dyes.
You don't have to bleach your hair to achieve your desired color.
It doesn't produce a stinging sensation.
No developer needed.
The dye comes in XL size, which contains 3x more color than other tubes.
Cons:
It has a strong and unpleasant smell.
The dye is difficult to remove.
Punky Plum Semi Permanent Conditioning Hair Color, Vegan, PPD and Paraben Free,...
Semi Permanent Conditioning Hair Dye: Pull off whimsical purple plum sweetness with Punky Colour Plum hair dye! Stand out of...
Non-Damaging & Conditions Hair: Achieve vibrant color and condition as it transforms! No need to add peroxide so this hair...
Long-Lasting & Vibrant Hair Color: With color-enhancing Keratin Complex for a more lasting intense, vivid color. It fades in...
The Punky Hair Color is different from the other dyes because it doesn't just color your hair—it conditions it as well!
This vegan formulation is considered to be one of the gentles hair colors on the market because it doesn't need peroxide and contain sulfates and harmful chemicals. With this, you'll end up with bright, healthy, and soft hair.
That's not all. This dye is long-lasting and can withstand fade for up to 25 washes.
Pros:
The dye is available 23 different colors.
It comes in a handy leak-free tub that is perfect for traveling.
This is also formulated to boost hair shine.
You can mix different shades to get the color that you want.
It can be used on both black and bleached hair.
Cons:
This bleeds for weeks.
* Some people complained about inaccurate color description.
No products found.
If you want to stand out, the Arctic Fox Hair Color Dye may just be the best hair dye for you.
This hair dye comes in 17 rainbow color options and a diluting solution so you can achieve a lighter pastel shade. That's not all! You can even mix and match different colors to achieve unique shades!
Another great thing is this dye fades into the same color spectrum so that you can avoid the awkward hair shades in between touch-ups.
Pros:
The formulation is vegan and cruelty-free.
The company donates 15% of its profits to organizations that prevent animal abuse.
It lasts for 4 to 8 weeks.
This works well on black, bleached, or gray hair.
It has a fantastic scent.
Cons:
The stains are difficult to remove.
It's not as pigmented and vivid as other hair colors.
REVLON Colorsilk Beautiful Color Permanent Hair Color with 3D Gel Technology...
PERMANENT AT-HOME HAIR DYE: Convenient hair color kit for at-home use co-developed with salon experts for long-lasting gray...
KERATIN ENRICHED HAIR COLOR: Nourishing, ammonia-free hair color formula is infused with Keratin and Silk Amino Acid to leave...
100% GRAY COVERAGE: Revlon's 3D Color Gel Technology delivers rich, natural-looking, multidimensional color with shine that...
Revlon is known to be one of the industry's leading companies because of their advanced technologies and developments, and this product is one good example of it. Featuring Revlon's 3D Color Gel Technology, you can achieve more natural-looking and multi-tonal hair color.
The formulation is infused with silk amino acids and keratin, which deeply nourishes the hair, leaving it shinier, smoother, and healthier.
Pros:
The hair dye delivers long-lasting shades with 100% gray coverage.
This is the perfect solution for graying hair.
It doesn't contain ammonia, so it's gentle on the hair.
The liquid gel consistency of the dye minimizes mess.
You can choose from up to 41 hues.
Cons:
The color options are more on the neutral side.
It has a strong chemical smell.
L'Oreal Paris Feria Multi-Faceted Shimmering Permanent Hair Color, 517 Tropical...
Multi-Faceted Permanent Hair Color: This shimmering teal blue color with 3X highlights delivers intensified, brilliant...
Nourishing Formula: Seals and smooths, never leaving hair dull or flat; Kit includes Conditioning Colour Crème, Conditioning...
Bold Shades: Inspired by cutting-edge fashion and the latest trends, our multi-tonal, shimmering colors come in bold shades...
L'Oreal is taking unusual hair color to a whole new level with this shimmering hair color. Claiming to be a multi-faceted and multi-tonal hair color, the L'Oreal Feria will give you not just bright but also shimmering and edgy colors.
The dye comes in over 50 shimmering shades that will allow you to show off your personality in the most colorful way possible. The hair color contains three times more highlights in different shades to achieve that eye-catching prismatic color.
Pros:
You can choose from bold and fashion-inspired hues.
The hair color also conditions and seals hair strands.
It doesn't produce a brassy look.
The cream consistency facilitates easy application.
Cons:
The color doesn't come out as expected.
This is also not as long-lasting as the other dyes in the list.
Original Complete Kit with Bleach (Lusty Lavender)
Contains a unique formula that will give your hair vivid, long lasting color.
This is a one application kit for all hair colors. It can provide subtle hints of color to unbleached or dark hair or...
With just one application, express yourself with semi-permanent hair paint.
Do you have brown, black, or blonde hair? Regardless of your original hair color, the Splat Rebellious Fantasy Complete Hair Color Kit can help you get the hair you want!
The great thing about this hair dye is it already comes with everything you need for the hair coloring process. The kit already includes bleach, color, and hydrogen peroxide so you can achieve the hair color you need.
Pros:
There are 20 color options available.
The color can last for up to 30 washes.
It contains Baobab seed oil, which nourishes hair follicles.
The dye also has Quinoa seed extracts, which fortifies the hair.
Cons:
This contains parabens.
With its liquid consistency, the hair dye is a bit messy to apply.
The Special Effects Blood red Hair Dye is another 2-in-1 hair color because it conditions the hair while dyeing it. This semi-permanent hair color is formulated to last for 3 to 6 weeks. The good news is it may last longer on pre-lightened or bleached hair!
This hair dye got its name because some of its shades glow under black light. Now, that will surely make you stand out!
Pros:
It comes in 12 different shades.
Since it comes in the form of a cream, it's easier to apply.
This creates the most vivid hair color.
The coloring process is fast and easy.
Cons:
Some people don't like its scent, similar to burning rubber.
It stains a lot.
The Verdict
If there's one thing more difficult than choosing the right long-lasting hair dye for unnatural colors, it's finding the right shade for your hair. Fortunately, most of these hair dyes come in a wide range of shades.
When it comes to longevity and versatility, we have an eye on only one hair color, and that's no other than the Arctic Fox Vegan and Cruelty-Free Semi-Permanent Hair Color Dye. We chose this hair dye because of how versatile it is.
While it doesn't have the widest color selection, it allows you to mix and match colors. The availability of the diluter even will enable you to turn the color selection into lighter shades or their pastel version, which is a big plus!
Frequently Asked Questions
Here are answers to some of the most frequently asked questions about long-lasting hair dyes for unnatural hair colors.
How long do hair dyes stay on hair?
The amount of time hair dye stays in your hair depends on the type of dye you use. If you dye your hair with permanent dye, the color will stay in your forever, or until it grows out and you cut it off.

On the other hand, semi-permanent hair dye will gradually be stripped down when you wash your hair. If you use shampoo every single day, your semi-permanent hair dye may only last a month. However, if you shampoo less often, the dye could last for a few months.
Do permanent hair dyes last forever?
No, permanent hair dye does not last forever. Unlike semi-permanent hair dye, permanent hair dye penetrates through the outermost layer of the hair strand. Therefore, no matter how much you shampoo your hair, the pigment from the hair dye will still stay absorbed in your hair.

The only way to fully get rid of a permanent dye job is to wait for it to grow out and then cut the dyed hair off. You can dye your hair a different color, but you will want to consult your hair colorist to ensure that this won't damage your hair.
Do salon hair dyes last longer than box dyes?
There isn't a significant difference in how long salon hair dye lasts when compared to box dye. However, salon hair dye is far better for your hair health, as a professional colorist mixes the dye for your hair type.
What type of hair dye lasts the longest?
Permanent hair dyes last the longest. As previously mentioned, permanent hair dye penetrates through the hair shaft, causing the color to be permanently absorbed into your hair. Semi-permanent dyes will be stripped away over time by shampoo.
Can I make my hair dye last longer?
Yes, you can prevent your hair dye from fading by taking special care of your hair. Avoid overexposure to sunlight and protect your hair if you swim in a pool with chlorine. Look for hair products designed for dyed hair, and be conservative with how often you use shampoo.
Which hair colors fade the fastest?
The hair dye color that fades the fastest is any bright red shade. Red hair dye molecules are larger than molecules in other color dyes, making it more difficult for your hair to absorb 100% of the color.
What hair color lasts longest?
For a long-lasting hair dye color, consider dark brown or black. Unlike red dye, dark brown and black dye is composed of small molecules that are easily absorbed by your hair shaft, causing the hair color to last a long time, even after multiple washes.
You May Also Like