The Balbo is a beard style made popular by Italian Dictator Mussolini. But in the last 50 years, the Balbo has certainly transcended its questionable beginnings, with many celebrities sporting handsome variations.
The Balbo is easily identified by its look, the mustache separated from the beard. It is a versatile beard style with many variations. It can work on nearly any face shape but is especially flattering on men with a weak chin in that it camouflages that area and adds fullness.
Whether you like a long beard, full beard, sparse beard or neatly trimmed beard, there is a Balbo for you.
What Is a Balbo Beard?
A Balbo Beard is an inverted "T" beard closely related to a box or anchor beard. The Balbo beard does not connect to the mustache, and there are no sideburns.
The beard became famous in the 1920s and 1930s after Italo Balbo wore the style. However, the Balbo is still widely renowned today, and Robert Downer Jr. famously rocks the look.
Who Should Try a Balbo Beard?
Balbo beards are most popular on round faces, but it is a versatile beard type that works great for most face shapes. Since a Balbo beard adds mass and draws attention to the chin, a Balbo beard can lengthen and thin a round face.
The lack of sideburns associated with a Balbo beard makes the cut look good on those with square face shapes. Heart and oblong faces receive defined bone structure and jaw definition from the cut. Triangular faces can look good with a Balbo beard, but it's vital that the cut not go too far up the jawline and hide the already narrowed bone structure.
How To Shape Balbo Beard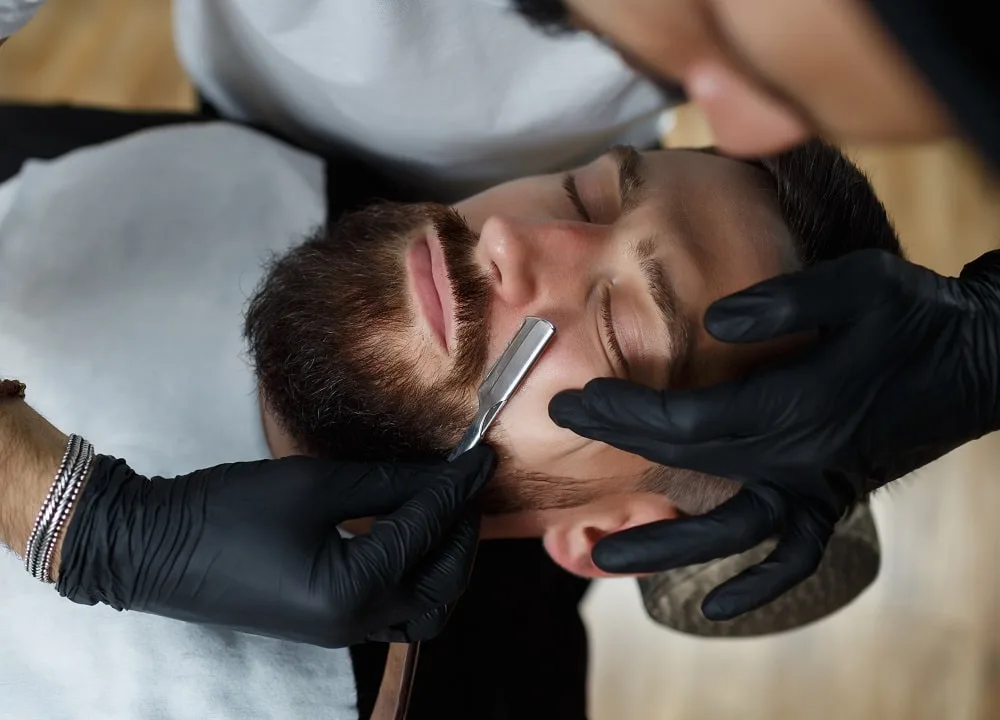 Balbo beards are very easy to do at home. The goal is to be as symmetrical as possible, but you don't need to be perfect. Since none of the pieces touch each other, there is a small margin for error.
If you want a Balbo beard of your own, follow these steps:
You will need at least four weeks' worth of beard growth to have a Balbo beard.
You must shave everything down to approximately one and a half inches if you have long beard hair.
Before you start, ensure that your beard is clean, dry, and moisturized.
Begin with an unguarded razor and remove the hair on your cheeks, starting under your ears.
Shave top to bottom and inwards.
Leave the hair above your lip.
Do not shave half-inch of hair from either side above your lip (so you have plenty of room to shape a mustache).
Do not shave hair below your lips.
Now you will have a solid base from which to shape your Balbo beard.
Carefully shape your mustache from the hair above your lip, ensuring that all skin between your mustache and lower lip line is gone. Remember, in the end, your mustache and beard should not touch.
Shave the remainder of your beard into your desired shape. One of the most common is to leave one half to one inch of hair along the jawline and to cover the chin fully, but your stylistic choices are up to you!
Edge the look with a precision trimmer.
After your beard is in the shape you want, trim your beard every four weeks or as needed.
Try These 15 Balbo Beards
Growing and shaping a Balbo beard style isn't terribly complicated. Let your facial hair grow out, especially your mustache.
This beard style is distinctive in that the mustache has some delineation from the rest of your facial hair, so depending on how short you want the rest of your beard to be, let it all grow long enough so that you'll have plenty of fullness in the mustache and trim the rest to your desired length.
This can be done easily at home with a beard trimmer, although it may be more convenient to allow a professional to trim and shape for you the first time and maintain it on your own from there.
#1: The Classic Balbo
Here, we see a classic take on the Balbo. Although Mussolini wore less hair on his cheek area, the classic Balbo is marked by hair on the chin, the "soul patch" area below the lower lip and a mustache that is visually distinguishable from the remainder of the facial hair.
This Balbo is relatively low maintenance and works for many face shapes and styles. It's handsome, masculine and not overly-groomed looking.
#2: The Balbo With a Shaped Mustache
You can take your Balbo beard to the next level by pairing it with a more shaped mustache and trimming the cheek area. This makes the Balbo distinct from a full beard and mustache.
Also, don't be hesitant to let it grow long and full if that's the look you desire. Here we see a mustache that is thick, adding a sense of whimsy to a classic style.
25 Ultimate Goatee Beard Styles
#3: The Balbo with a Waxed Mustache
If you wear your Balbo beard with a shaped mustache, go ahead a break out the wax. You can shape your mustache into a charming handlebar style, bumping up your look to a new level.
Although this is not an overly professional look, simply omit the wax for weekdays at the office and bust it out for nights on the town. It's a way to add versatility to your look without having to shave or reshape.
#4: The Office-Friendly Balbo Beard
If you need a more professional, office-friendly look, the Balbo can still work for you. Wear both your beard and mustache neatly trimmed, but make sure the mustache is separated from the rest of your beard. This gives you a beard style that is Balbo but also works appropriate all at once.
#5: Jawline Balbo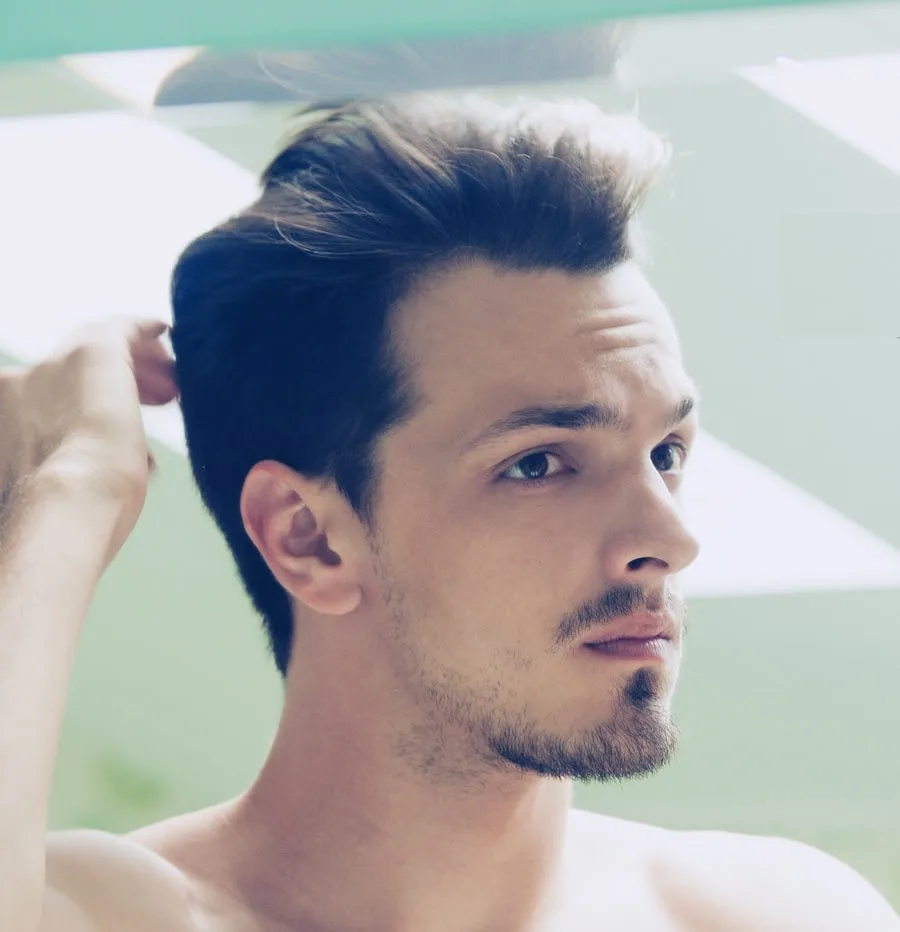 It is a great look for men with oval or round faces, as it helps to make the face appear more structured and defined. Start by trimming the beard with a pair of scissors or trimmer. Make sure to leave some length on the chin and jawline. This should look like a triangle at the chin.
#6: Curls at the Chin
It is best suited to those with softer facial features, such as oval or triangle-shaped faces will find this balbo style to be flattering. Comb your beard to remove knots and tangles. Then trim to the desired length, making sure to use the right length guard on your trimmer. Follow the natural line of your cheekbones and jawline when shaping the sides of your beard.
#7: Handlebar Mustache + Stubble Balbo
It's a classic, masculine look great for guys with a wider face and a rounder jawline. To achieve this look, trim the beard using a 1/8" guard and define the shape of the chin and cheeks. For the handlebar mustache, use your fingers for a round shape on both sides of the lip.
#8: Thick Jaw Strap
This beard style is well suited to those with strong jawlines, as it helps to emphasize the jawline and make it appear more prominent. Trim the beard to the desired length and line up starting from the ear by shaving the cheeks.
#9: Anchored Balbo
This balbo beard style requires shaving the sides while keeping some hair on the chin. The jawline should be kept clean and crisp. This will help create the illusion of a more rectangle-shaped face.
#10: The Mid-Length, Natural Balbo
Maybe you are more of a full, natural beard guy. The Balbo can still be tweaked to suit your style. Let your beard and mustache shine in their naturally full glory, while maintaining a delineation between the two.
#11: The Natural, Full Balbo with a Mid-Length Beard
Some men look great in a mid-length to a longer beard style. Don't be afraid to let your beard, especially the area on your chin, grow out to a full mid-length style. Even longer can work. As long as you keep that mustache visually separate, you'll still have a handsome Balbo style.
You may want to keep the facial hair on your cheeks trimmed a bit shorter than that on your chin area to maintain a style that is a bit more true to the traditional Balbo, but you can truly take this beard style in nearly any direction that suits you.
#12: The Balbo With a Longer, Full Beard, and Shaped Mustache
A shaped mustache is a way to emphasize that your mustache is distinct from the rest of your facial hair, which is really what defines a Balbo. An intentionally shaped mustache, worn with or without wax, is especially stunning when paired with a full mid-length beard. This look reads as vaguely hipster without going too far.
#13: The Neat and Clean Balbo
Maybe you aren't ready to be totally clean-shaven but need a look that presents as neat and clean. Trim all your facial hair to a very short length, again keeping the mustache distinct rather than letting it blend in. You'll have a Balbo that gives you a very clean look.
#14: The Mustache Matches The Beard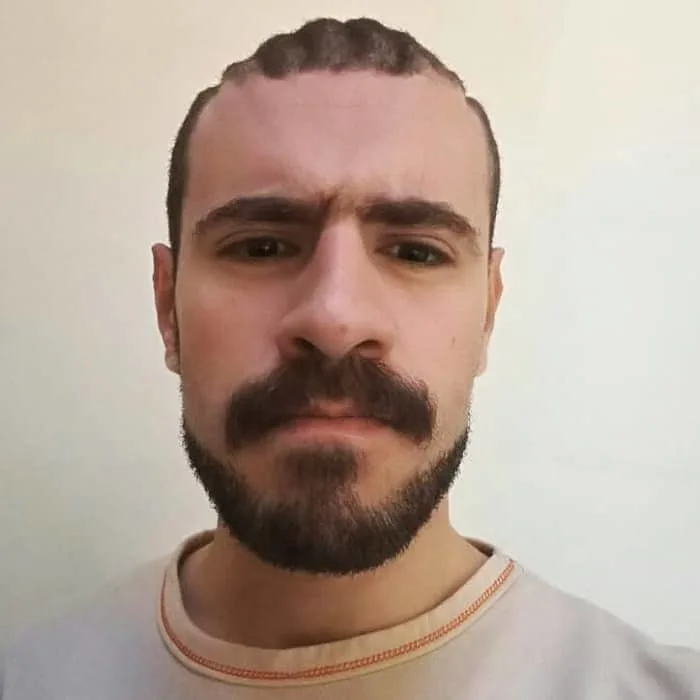 Although to have a Balbo, your mustache should be distinct from the rest of your facial hair, you can certainly wear everything at the same length. This creates an easy, effortless style, one that requires relatively little daily maintenance.
#15: The Jawline Balbo
This handsome Balbo retains very little facial hair on the cheeks, just enough to emphasize the jaw. This style creates the illusion of a defined jawline, even on men whose jawline is relatively weak.
Stylish Full Beard Ideas Worth Giving A Shot
Balbo Beard vs. Anchor Beard
Balbo beards are very similar to anchor beards. While both are inverted "T" beards, both eschew sideburns, and both feature a mustache that doesn't touch the beard, several key differences exist.
The Balbo beard can be thinner or thicker and can span the entire jawline.
The Anchor is always pointed and slightly thinner away from the chin, coming up to cover the entire chin. The anchor beard always looks like an anchor and doesn't extend across the whole jawline.
The Balbo is a classic beard style that can be updated in many ways. No matter your sense of style or face shape, there's certainly a Balbo for you.
FAQs
Read through these frequently asked questions to learn more about Balbo beard styles.
Where did the Balbo beard come from?
The Balbo beard first gained popularity in Italy after infamous fascist, and aviator Italo Balbo wore the look.

While Balbo might not be the best person to copy morally, he had excellent taste in beards, and the style is flourishing today.
Do Balbo beards have sideburns?
No, Balbo beards do not have sideburns. Balbo beards consist of only a mustache and a beard; neither is connected to each other or to scalp hair.

However, if you prefer sideburns, you can always create a hybrid style of your own that is similar to a Balbo beard but with sideburns.
What is the Balbo beard length?
Balbo beards vary in length from four weeks of growth up to three inches in length. While, in theory, it is possible to grow it longer, it would become very difficult to style and maintain the look so that it still appeared neat and clean.