If your hair is medium-length, then you must have thought about various hairstyles that involved a fringe. Medium haircuts with bangs look especially inviting.
Women's popular bangs hairstyles serve various purposes. For example, they can hide your forehead wrinkles, while adding your hair extra style. The bangs have a life on their own and can be styled in many different ways.
Did you know that bangs make many women look younger? The power of bangs can't be underestimated. So, why not take advantage of it? Think about the types of bangs you'd like to sport and go for it.
Which Bangs Style Will Suit My Medium Length Hair?
What medium hairstyles do you want to wear with bangs? Surprisingly enough, most of the hairstyles you choose look amazing with bangs. Be it a stylish bob, a long pixie, or various braids and ponytails, they look terrific with a well-shaped fringe.
The only downside of the bangs is maintenance. Most of the time they won't oblige you by looking perfect the moment you get out of bed. You need to make friends with a curling iron and a brush to straighten out your bangs and make them look appealing.
Popular Medium Hair with Bangs
Medium haircuts with bangs are exactly what you need when you wish to look younger and more attractive. Bangs are a wonderful addition to any hairstyle you choose for yourself.
There are many types of bangs to be used with medium hair. You can create wispy or blunt bangs or go for long eye-covering bangs. Some women prefer long bangs that can be incorporated into the rest of the hair when needed. Take a look at the 70 various medium bangs hairstyles we came up with to give you some inspiration.
1. Up-do with Bangs
A fringe is perfect for framing the face when all of your hair is worn up. This medium hair updo with bangs is a simple classic that can be worn everyday or polished for special occasions. Wear bangs straight and somewhat piecey or delicately swept to one side. You decide!
2. Center Part Bangs on Long Bob
The center part style works like magic on medium hair with bangs for round face. The curtain-like effect opens up and elongates a circular face and lengths the appearance of a shorter chin. It looks so cute on a short and thick bob as well.
3. See-through Bangs
Thinning, aging hair, have no fear! See-through medium hair bangs for women over 50 add loads of style and flair to your life. Create contrast on straight bangs with soft waves throughout the rest of your hair.
4. Wispy Bangs and Short Layers
Hair with lots of layers and movement deserves bangs that convey the same mood! Ask your stylist to cut your fringe so that it feeds into the shorter layers of a medium-length hairstyle.
5. Sweet Side Bangs
A well-balanced face looks divine with medium hair with side bangs. Perfect for thick or thin hair, these bangs are easy to wear, style, and even pin up if you need to get them out of your face for awhile.
6. Shag with Thick Layered Bangs
A heavy fringe is perfect for thick hair. This medium cut has taken on shag-like qualities with lots of thinning layers. These bangs add softness to a long and angular face shape.
7. Short, Choppy Fringe
Another great option for a round, square or even heart-shaped face is medium length hair with choppy bangs. Cut shorter, just above the eyebrow, creates the elongating effect you're looking for.
8. Thick Straight Fringe with Ponytail
Because these bangs are long and hang over the eyebrows, medium hair looks great swept back to reveal more of your lovely face! Layers cut around the face look great on a more casual, messier ponytail, like this one.
9. Sleek Bangs for Elegant Up-do
Even though hair has been curled, sleek bangs contrast perfectly on this fancy style. Try this mid length hair with bangs for wedding and add a tiara or your favorite accessory to add separation between both textures.
10. Medium Hair and French Bangs
There is something about shoulder length hair with curtain bangs that seems so effortlessly stylish. Also known as French bangs, these are cut on an angle with a center part, giving the face a beautiful symmetry. The rest of your hair should be worn down and straight with a few slight bends.
11. Blunt ends with blunt bangs
If you are going for a long bob with blunt ends consider adding blunt bangs into the picture. The ends of the bangs don't have to be even. You might want to consider a rounded style with longer strands on the sides and shorter in the middle.
12. A-line bob with long bangs
Long length a-line bob is a wonderful hairstyle for women with medium hair. Adding some bangs can make the hairstyle even more appealing. Consider long side swept bangs that you can hide at any time.
Bob With Bangs Hairstyles to Grab Attention
13. Wavy bangs
Wavy medium hair with bangs is hard to style but it looks amazing. You can leave your hair looking natural without trying to style the waves. Meanwhile, you'll need to take special care of your bangs by straightening them slightly.
Watch – Medium and short haircuts with bangs
14. Highlighted bangs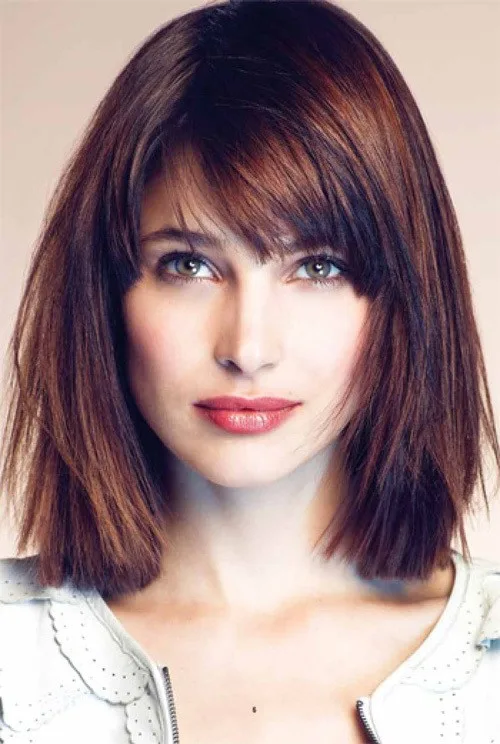 No matter what type of bangs you choose for yourself, don't forget that they need as much color care as the rest of your locks. Never forget to pay attention to highlighting the bangs so they look as good as the other strands.
Long and side-swept bangs are the most versatile choice for any medium hairstyle. You can either wear them down to create a sexy eye-reaching effect or brush them sideways to keep them out of your face.
16. Wild waves
While styling medium hair with bangs is tough when you have to deal with curls, you might want to consider a wild image. Leave your bangs long enough to reach your eyebrows and keep the styling to a minimum.
17. Eye-reaching bangs
Straight eye-reaching bangs look perfect with medium hairstyles. They create a romantic appearance by focusing the attention on your eyes. The only downside of such a style is daily maintenance.
18. Ombre bangs
When you choose to dye your medium hair with bangs, don't forget that bangs should be part of the ombre. No matter how long they are, keep them the same color as the top part of your stylish ombre.
19. Half and half
Take a look at this amazing asymmetrical hairstyle. One part is dyed honey blonde, while the other one has as substantially lighter shade. The bangs give this hairstyle even more asymmetrical look.
20. Eye-covering bangs
Compliment your cute and wavy bob with eye-covering wispy bangs. Even though such bangs are long, they require much less maintenance than the blunt ones. You can avoid styling them at all.
21. Asymmetrical bangs
Add some asymmetry to your medium hair with bangs and your hairstyle will truly shine. The bangs asymmetry is especially pleasing since you don't need too much styling to keep it looking perfect.
22. Straight classics
If you have medium-length hair, you can create long and blunt bangs. This classic look is timeless. If you don't know which way to go, choose this hairstyle. You can't do wrong with the classics.
23. Edgy blonde bangs
These edgy blonde bangs are for the lively and free-spirited women who are up for stylish and youthful medium hair with bangs. The front is cropped in a way that it sweeps covering the eyes while the rest of the hair is trimmed in fun layers.
24. Stylish curved bangs
If you have a funny and zealous side to your personality and you want to show it then this stylish hairstyle is for you. The ends of the bangs are curved inwards to give a polished and well put together feel to your look. The bang at the front covers the forehead nicely while avoiding covering the eyes.
25. Fiery red bangs
This fiery red bangs medium length hairstyle is among the best ones on the list. The front is cut short to give an intense look while the sides are kept at the same length to ensure that you do not look too wild. The overall feel of this style is very attractive and impressive.
26. Fun wavy bangs
If you have natural loose curl and want to flaunt them in stylish and undulating waves down the sides of your face then this medium hairstyle with bangs is totally your thing. It brings out your natural hair color, even more, making you look like a young pop star.
27. Sleek stylish bangs
What could be a better way to show off your stylish shiny blond hair than medium bangs? This sleek and modern look helps you appear ever-ready and needs minimal time in setting up. Just brush your hair gently and you are all set to go and rock your corporate meetings.
28. Curly black waves
This one is the perfect party look for young women who want to be always ready to go out and have fun. The fun and carefree bangs look stylish and cover the sides of your head so well that you won't ever want to tie them up.
29. Wild red bangs
This is one of the wild medium hairstyles with bangs, which only confident and lovely women can rock. You can have your hair dyed in all the shades of red and orange you like to give it high and low lights.
30. Cool black edges
If you are done with old boring hairstyles and want to get a cool and wild one while keeping your hair black then this one is perfect for you. The hair is on the shorter side of medium and has cool spiky edges in all directions which show that you are not to be messed with.
31. Sophisticated reddish-golden bangs
This is perfect for elegant and sophisticated ladies who want to up their style game, but do not want to go too reckless. The hair falls gently down the sides making you look impressive and practical while ensuring that your style is lovely at the same time.
32. Gentle airy waves
If you want to impress your co-workers with a sophisticated and lovely style update then you should definitely go for this one. The nice gentle waves fall down caressing the sides of your face in a trendy and fashionable way.
33. Subtle Balayage with Tapered Bangs
The blended hairstyle is all about soft transitions and light, natural colors. Try subtle balayage medium hair with bangs and taper them at the sides for a more laidback, cohesive feeling. The look is perfect for straight hair textures.
34. Romantic Braided Up-do
It's all about earthy romance with this braided medium hair with bangs. Keep bangs peicey, tendrils loose and down around the face, and lots of volume concentrated at the bun at the nape of the neck. Push braid forward on the crown of the head and add height at the back.
35. Rounded Bangs on Up-do
Add some 80s flair to your medium hair bangs for prom with a handy round brush. Blow out bangs and curl them under at the ends for a sleek and shiny vibe. Hair can be a little more tousled at the back of the head. This look is ideal for straight hair.
36. Long Blunt Cut Bangs and Soft Curls
Contrast is the name of the game for medium hair with Korean bangs. Blown out locks with soft, curled ends to provide the perfect opposition for long and perfectly cut blunt bangs.
37. Pin-Up Bangs on Medium Hair
Medium-length hair is the most ideal for a sexy, pin-up style like this one because most mid-century women sported this length. These rounded bangs may take some practice, but tons of Youtube videos out there can be your guide. Don't forget your winged eyeliner and red lip!
38. Funky vibrant hair
If you cannot decide, which color to dye your hair in then why not go all in? You can have as many hair dyes as you want with this vibrant and funky medium bangs hairstyle. The hair can do without layers too, just give it a regular trim and it will be great.
39. Blond ombre bangs
Ombre is now back ladies! You can have your hair dyed in a lovely blonde ombre and see how all of your gal pals come running to get style advice from you. You can manage this hair without much effort too as it doesn't need excessive styling or pinning every day.
40. Shiny brunette curls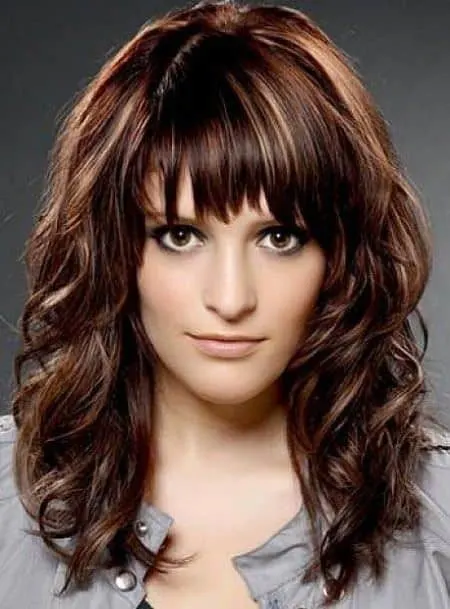 Bangs are lovely and fun even for brunettes who have brunette curls. You can simply rock your natural hair after cutting it up to your shoulders and cropping the front to give a dramatic and fashionable look.
41. Easy natural bangs
You just have to trim your hair to a medium length once and are all set to rock it in its natural form wherever you go. It helps you stay prepared for parties and hangouts all the time. If you give your high or low lights with this easygoing style then you can make it even better.
42. Sleek ginger bangs
Who said that ginger hair is always meant to be wild and vibrant? You can give your ginger hair an elegant and professional feel by having it straightened and swept to a side in medium bangs. This hairstyle is particularly great for young women who have a very lively personality.
43. Metallic violet hair
Life is too short for boring hair, isn't it? You can own your lovely metallic violet hair and have it styled in this manner. The side is gently curled inwards while the front bang increases in length as it goes to another side.
44. Messy curls
Easygoing and natural hairstyles are best as they let you be YOU and you get to be comfortable with your hair wherever you go. These easy curls are cut to a middle length and have been parted from a side to give your bang a more stylish and adorable look.
45. Smooth ginger curls
All the lovely ladies with redhead and curly hair are blessed beyond measure s they can style it in the best ways possible. These natural ginger curls are all you need to look exquisite and well prepared all the time. You do not even have to put expensive products to keep it in place.
46. Layered golden bangs
Golden hair and layers are best friends when it comes to medium hair with bangs. The lovely golden hair is given a lot of professional layers and falls about your neck and face nicely. The front bang too covers the face in a stylish curve making sure that everybody knows that you mean business.
47. Thick burgundy hair
Burgundy is a favorite of most young ladies who want to dye their hair. This hairstyle helps them go for the vibrant color while making sure that they do not look too bold as the hair is cut naturally to a long-medium length. There is minimum layering and even the front bang keeps thongs low profile.
48. Flamboyant orange hairstyle
If you are a confident woman who wants to go for unconventional and bold fashion statements then you should try this hairstyle when you get your next style update. The orange shades help you highlight your beliefs and colorful imagination which refuses to be suppressed.
49. Funky youthful bangs
If you want to stand out from the crowd but do not want to look too wild then this innocent and adorable look is totally your thing. The front band is dyed pink and just a small portion of the other side's end is dyed in similar shades. This is a nice and youthful look for young adult women.
50. Lovely red hair with bangs
Many ladies out there love to dye their hair red but are unsure of the style for it. They can try this medium hairstyle with bangs as it gives them a natural yet highly elegant and friendly vibe. They can keep things simple by keeping their hair on the longer side of medium and by having no layering.
51. Stylish curly layers
These lovely curls are classic Hollywood as many celebrities of past and present have proudly nailed this look. You can add your special touch to this style by having the high or low lights of your liking done by your stylist.
52. Blue and black bangs
Who doesn't love blue? Blue is one of the coolest colors for hair, especially bangs as it makes them look more vibrant and energetic. You can have the front of your medium bangs dyed electric blue to show the world that you have this unbeatable energy trapped inside of you which keeps you going through thick and thin.
53. Adorable side swept bangs with curled edges
Bangs are not meant to be strictly straight or curly, you can have a mixture of both in one hairstyle too. You can have your medium bangs styled in this lovely fashion by keeping them straight while curling just the ends. The front bang also grows longer as it reaches the side in the direction of which it is swept.
54. Yellow and purple hues
Are you looking for an undeniably cool medium hair with bangs? Then this is where your search culminates as the attractive yellow top and lovely purple sides here are the perfect way of showing your cool and funky side. The sunny top with a vibrant purple is just too good to be resisted or ignored, isn't it?
55. Dark ginger hair with bangs
If you are aiming at a lovely soft and delicate look then this red hairstyle is perfect for you. The front bang is stylish yet youthful and innocence exuding. The rest of the hair is kept long and un-layered to make sure that you look as young as you are deep down in your heart.
56. Sleek natural bangs
If you want to keep things natural and low profile while still looking hot and sexy then this style is made just for you. The bangs are medium length with sharp edges trimmed neatly to uplift your appeal and attractiveness. You are sure to turn heads with this one wherever you go.
57. Multi-colored twisted bangs
Are you a free-spirited soul who want to scream it out to the world with your style? Then this lovely multi-colored hair is the perfect hairdo for you this season as it has the bangs gently twisted as they fall down your face showing that you are sensitive and lovely. While the vibrancy of color shows that, you are one of those birds who love soaring high and free.
58. Easy black waves
Black hair can be extremely sexy too when it has easy waves in it. To uplift your appeal this season all you need to do is to cut your black curls to a medium length and part it to a side in lush wavy bangs. Do this and see how many appreciative looks you get in all the gatherings.
59. Sharp blond hair
This sharp and sleek blond medium hair with bangs is one of the modern and professional styles that you can go for this year. Have it low or highlighted to add more details to this exquisite and practical hairstyle.
60. Two-toned hair with bangs
These long beach waves are just the right thing to have the best hairstyle this season. The hair should have two colors, darker one at the top while a lighter shade at the bottom. Avoid getting too many layers with this one as it is highly stylish and attractive on its own.
61. Grey and black ombre
Grey and black is no longer a color combination for the elderly only. This stylish and modern look is all that you need to have everyone's attention without even speaking. The front is left black while the sides are dyed grey ombre to make you look chic and attractive.
62. Cute red curls
These loose and broad curls are exquisite and utterly fashionable. You can rock them in all events just as well as in your daily routine. They are very easy to set and brush, so you can go for them if you do not have too much time to spend on your hair in the mornings.
63. Lively natural bangs
These lively and natural bangs are the ultimate go-to style for women who love medium hair with bangs. The hair falls is gentle and easy curls down your neck and looks adorable.
64. Chic black hair
This chic black hairstyle is absolutely impressive and lovely as it makes sure that you look well put together and stylish at the same time.
65. Elegant red ombre
This elegant red ombre is a unique and fashionable way of styling your medium bangs. The edges have sharp trimming and a lot of layers that need professional cutting.
66. Natural Hair Faux Bangs
The first babe who thought of this hairstyle is a total genius! Even if you don't have black medium hair with bangs, you can make them. Push the ends of your hair forward onto the forehead out of a bun style. Just make sure those ends are hydrated! Hair should barely skim the eyebrows for fresh and youthful effect.
67. Perfect Bow and Sleek Bangs
A perfect bow deserves perfectly smooth and straight bangs. This highly feminine and preppy style will take time to accomplish, but the results are clearly worth the energy. Bangs should we worn long so that they skim the browbone.
68. Tendrils on Puffy Space Buns
A style as cute as this shouldn't be so easy to create, but it is! Create a center part, leave a few gorgeous tendrils forward on the forehead and make two pigtails high on the head. Gently fluff and tease your natural curls for a funky, puffy look.
69. Bold Top Knot and Curly Bangs
This thick and curly medium hair bun with bangs is the envy of hair all over! Make a statement with a trendy top knot and a beautifully defined curly fringe. If this is your hair texture, then you're not a stranger to curl cream, and you should load it on with this style.
70. Color Weave Style with Straight Bangs
Afraid to cut your hair into a fringe for the first time? Weaves and wigs make trying new hairstyles fun and easy, so get your hands on your favorite color (or colors) and experiment with lengths and textures.
Medium hair with bangs can look beautiful no matter which style of the bangs you choose. Browse through the above options to get an idea about what kind of bangs suit your style the most.