As women age, they often think of ways to retain their youthful look while ensuring that they look age-appropriate and graceful. One of the best ways to do this is to experiment with your hairstyle. Today, women over 50 have the option to choose from a wide range of haircuts and hairstyles including bangs which suit their age and enhance their beauty.
One key thing to remember is that as you age, your hair changes in terms of volume, thickness, and density. So, it is important that you choose a hairstyle which brings out the best in you and your hair! In this post, we have listed 30 best bangs hairstyles for women over 50.
Graceful Bangs for Women Over 50
Bangs are quite versatile as depending upon how they are styled, they can either give you a very soft, feminine vibe or an edgy, rock-n-roll look as well.
1. Shoulder Length Wispy Bangs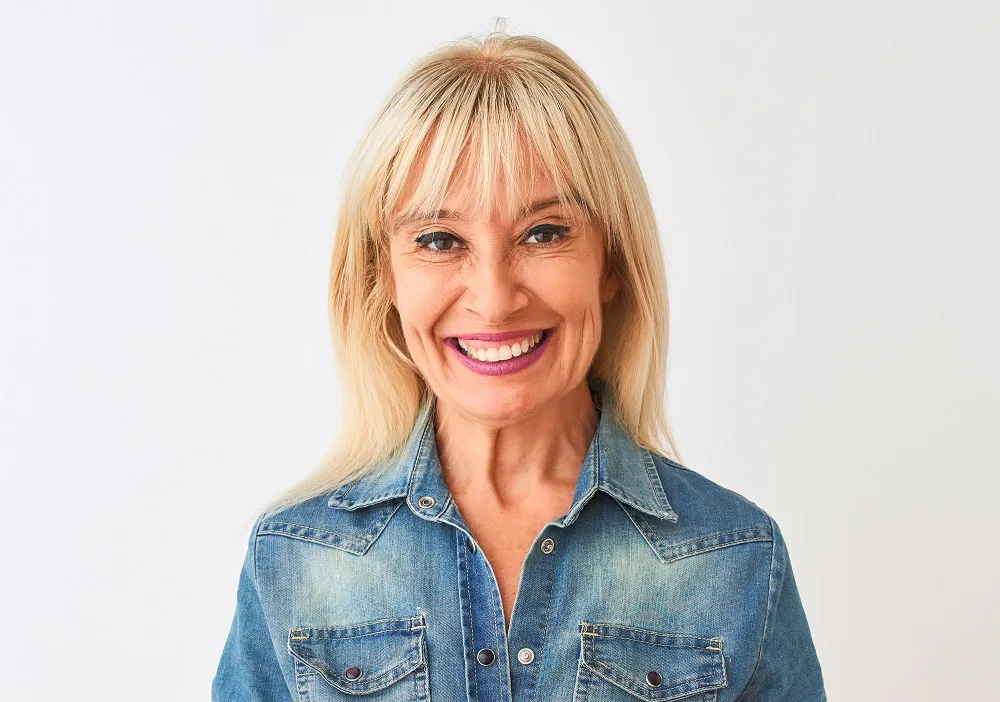 If you have shoulder-length hair, you can ask your hairstylist to add some wispy bangs to gently fall over your forehead. This is a great hairstyle for women over 50 with thin hair. This is an effortless look that can be further enhanced by adding some layers at the back to create volume.
2. Curls and Bangs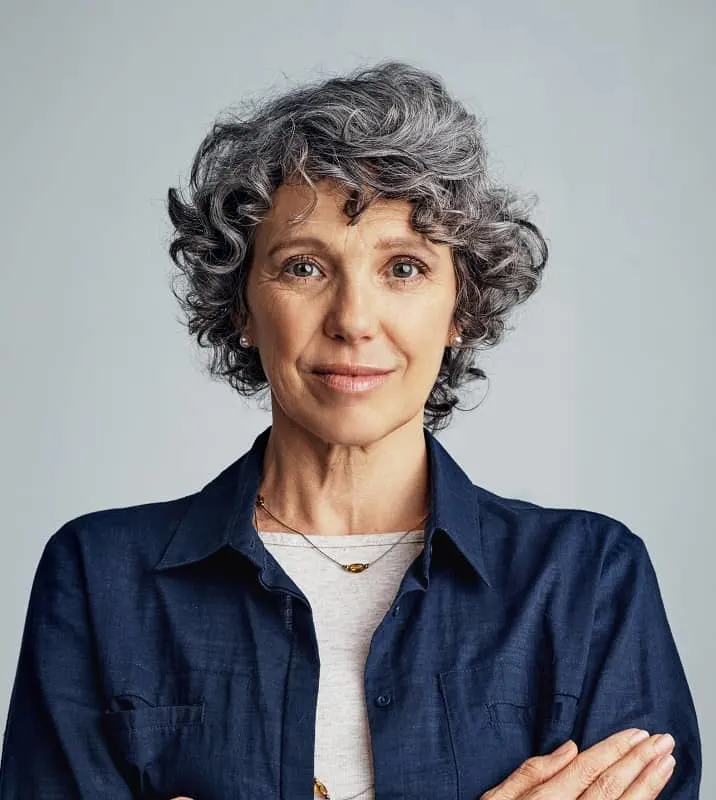 If you have curly hair and have embraced your salt and pepper look, we recommend this short and simple hairstyle. It is a beautiful combination of curls and bangs!
This hairstyle requires hardly any maintenance and can be set in place quickly with just a few strokes of your hair brush.
3. Straight Hair with Short Bangs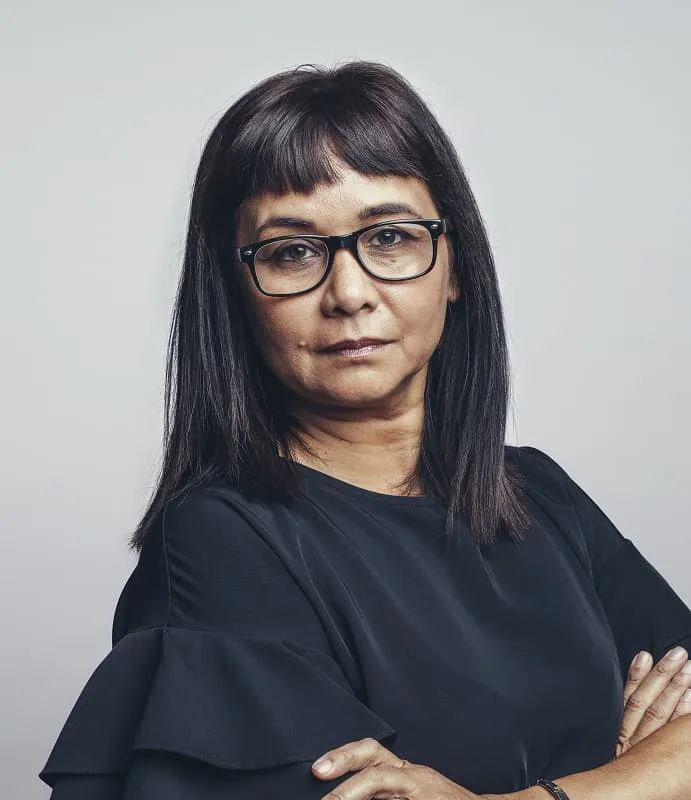 If you have beautiful, straight, and shoulder-length hair, ask your hairstylist to jazz it up with short bangs. Overall, this hairstyle looks absolutely stunning and elegant, and is well-suited for women over the age of 50. The short bangs bring just the right amount of focus to your facial features.
4. Loose Wavy Hair with Bangs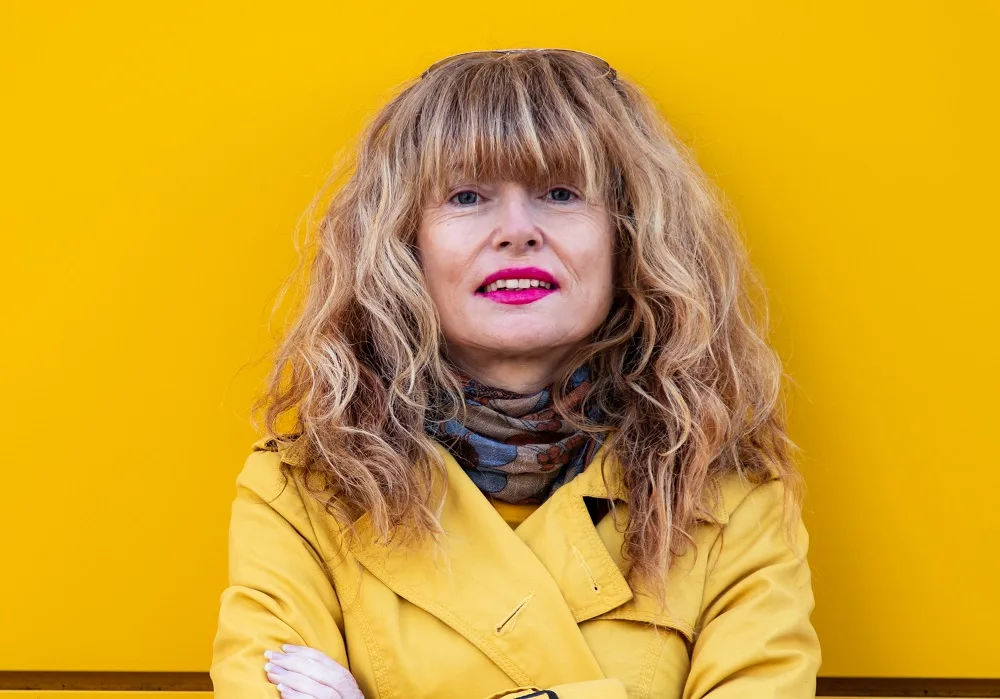 This is a fun and casual look for women over 50 with wavy hair. As you can see, the bangs are longer, going beyond the forehead and up to the eyebrows. This bangs hairstyle is a good option if you have thick hair and want to flaunt some bangs. You can further enhance the hairstyle by adding some highlights, especially in the bangs.
5. Short Blonde Hair with Feathered Bangs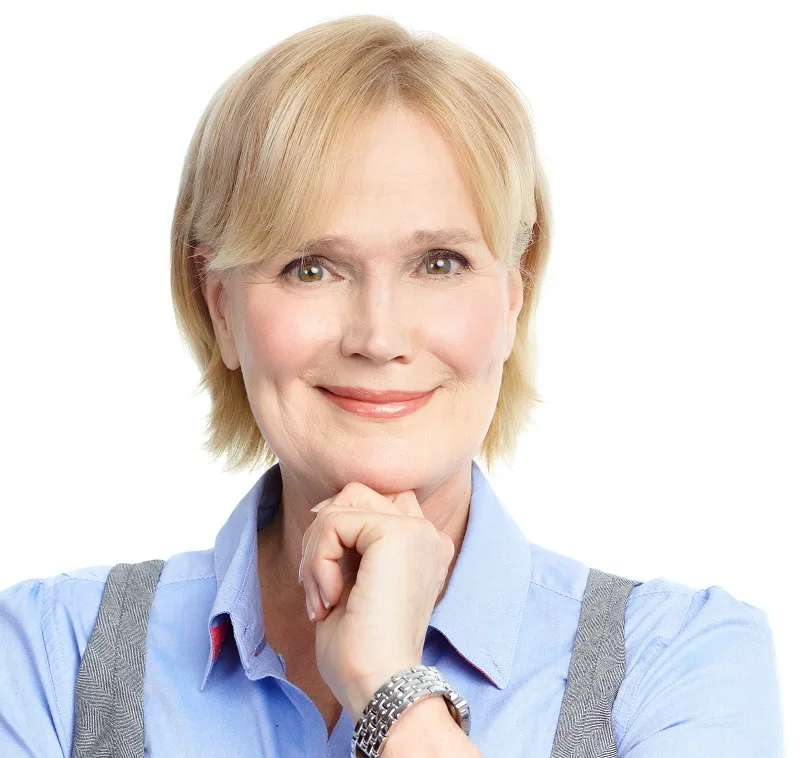 If a sophisticated hairstyle is what you want to flaunt in your 50s, then this is an ideal hairstyle for you. The short length hairstyle with feathered bangs will look stunning on women with long or heart-shaped faces. It is a fairly easy-to-maintain hairstyle and you just need to make sure to maintain the length.
6. Brown Bangs with a Dash of Grey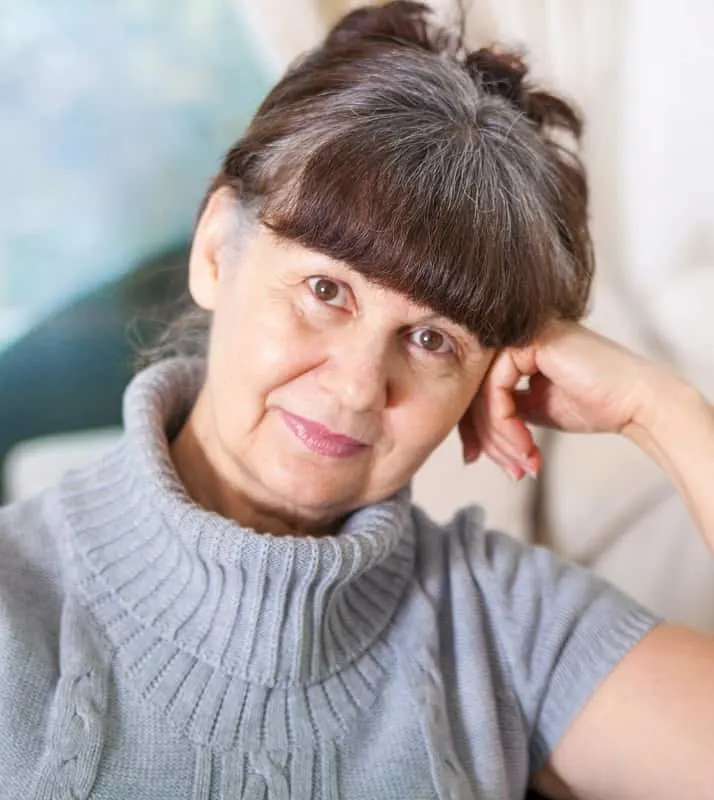 This is one of the cutest hairstyles in our list of top 30 bangs hairstyles for women over 50! This hairstyle will work perfectly for women who have just started showing some grey hair. To get this look, just make a slightly loose bun and get blunt bangs that completely cover your forehead.
7. Class Lob with Wispy Bangs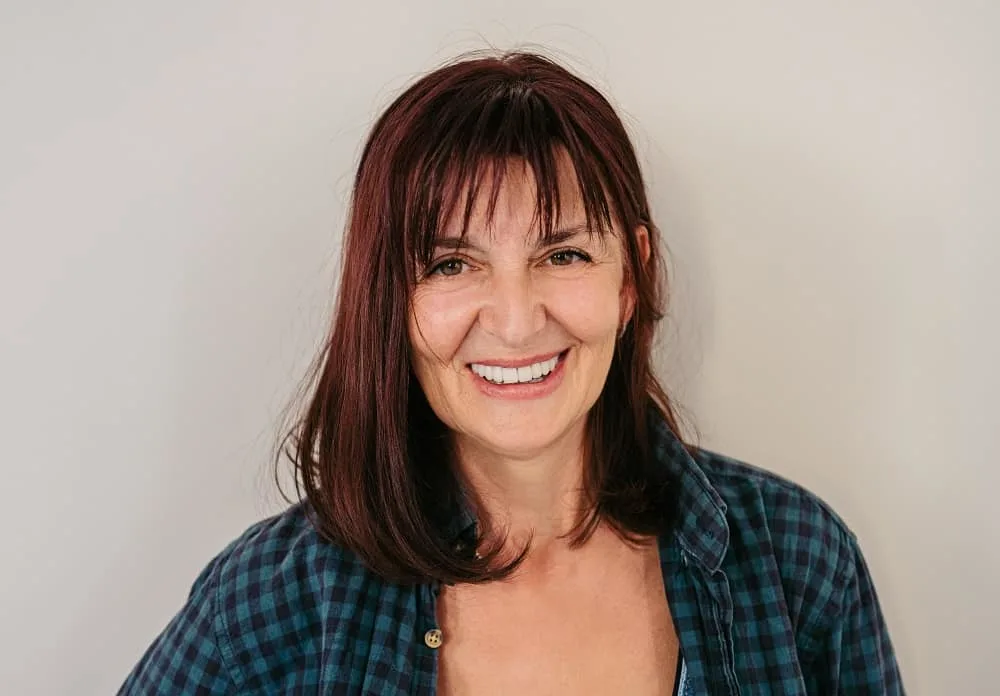 When it comes to classic hairstyles, you can never go wrong with a lob – irrespective of your age and hair texture. Here is a simple and pretty hairstyle which features the classic lob with rounded ends and some wispy bangs to finish off the look. This is a great hairstyle for a chic everyday look!
8. Chic Pixie Cut with Feathered Bangs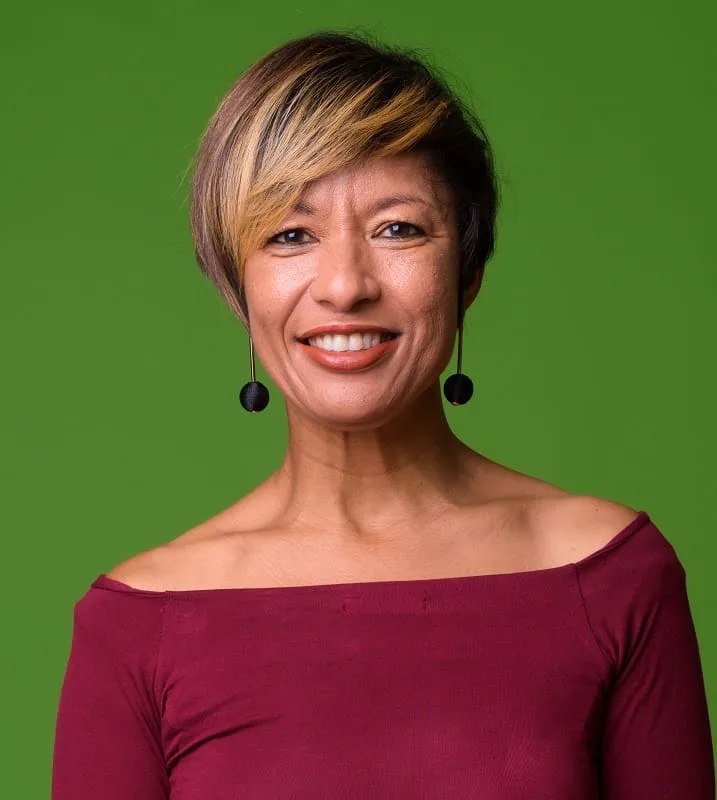 If you are looking for a complete makeover, we suggest you go bold and chic with this stylish pixie cut with feathered bangs. This is a really sophisticated and elegant bangs hairstyle that suits women with all hair types. For this colorful short hairstyle, you will need to put in some effort to ensure that it looks as good as it should, every time. See more hair color ideas for women over 50.
9. Long and Straight Hairstyle with Bangs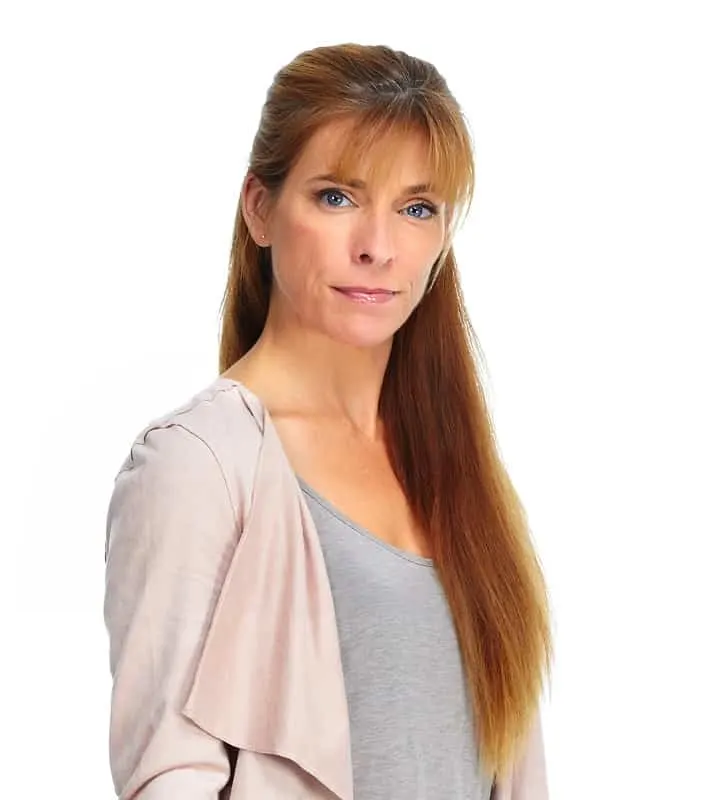 Women over 50 with long and straight hair can definitely try this effortless hairstyle. Ask your hairstylist to give you some light layers and let a few bangs fall over your forehead.
Because of the length, you can try different hairstyles, such as messy buns, half-up half-down, and a simple ponytail. All of them will work well with your whimsical bangs!
10. Feathered Side Bangs for Thin Hair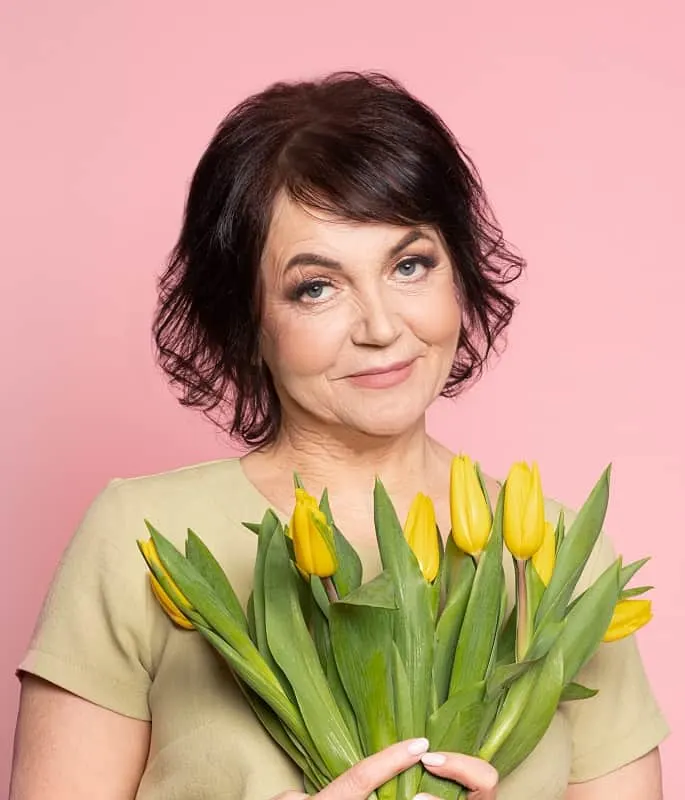 Many women end up losing their hair volume as they age. If you are one among them and are looking for a low-maintenance hairstyle for women over 50, you should try this hairstyle.
It is a simple bob with feathered side bangs and wavy, rounded ends. The lack of volume with thin hair can easily be camouflaged with this bangs hairstyle.
11. Professional and Elegant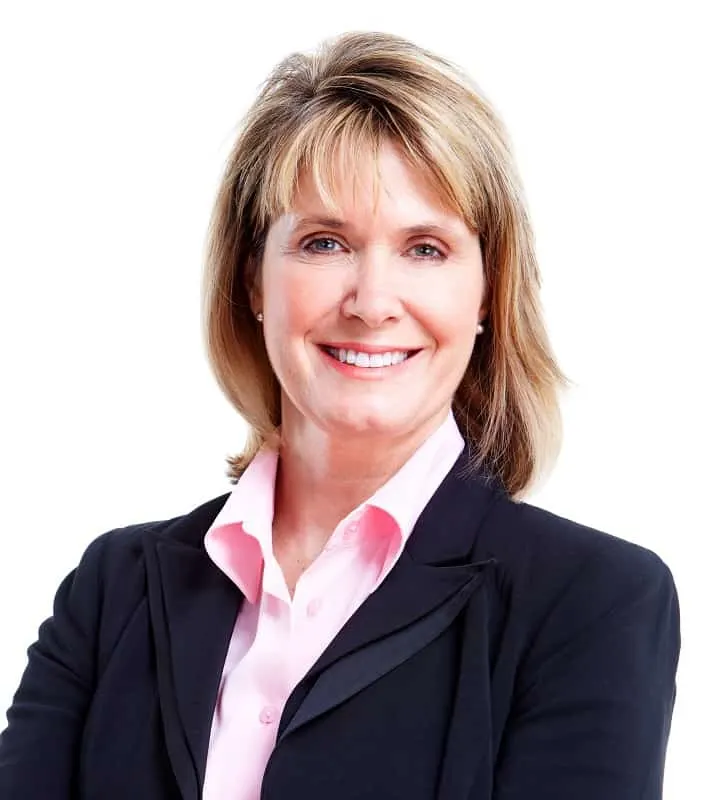 There are several hairstyles that women professionals over the age of 50 can sport, such as this sophisticated lob with feathery bangs. This is a stunning and practical hairstyle which requires very little effort on an everyday basis from your side. Bonus – it will look beautiful with professional as well as casual outfits.
12. Choppy Bob with Bangs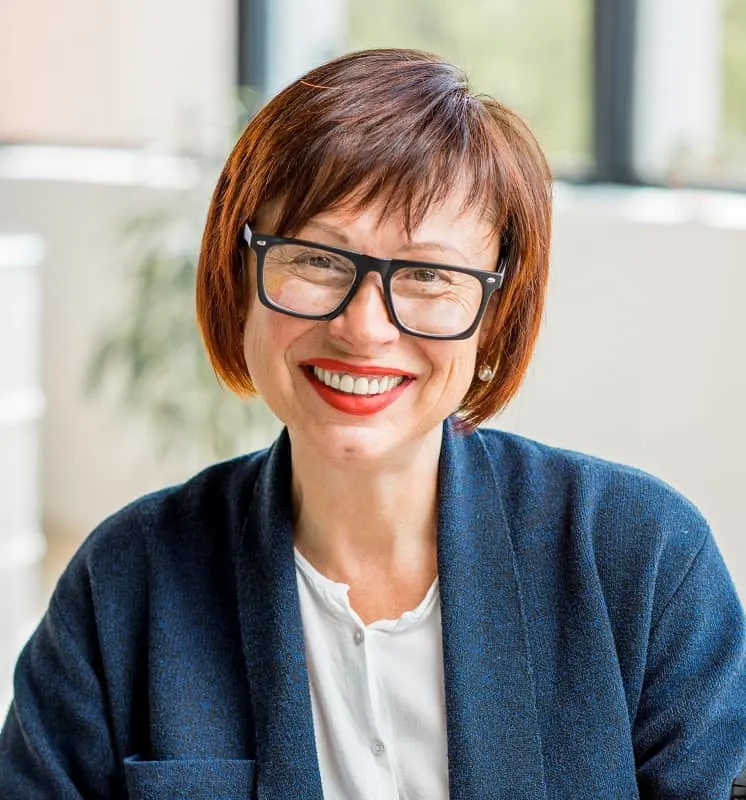 If you have thin hair and want to give an illusion of voluminous hair, you should try this choppy bob hairstyle with asymmetrical bangs. This choppy look suits all face types and is a very easy-to-maintain hairstyle. This is another one of our favorite bangs hairstyles for women over 50.
13. Bangs with Ponytail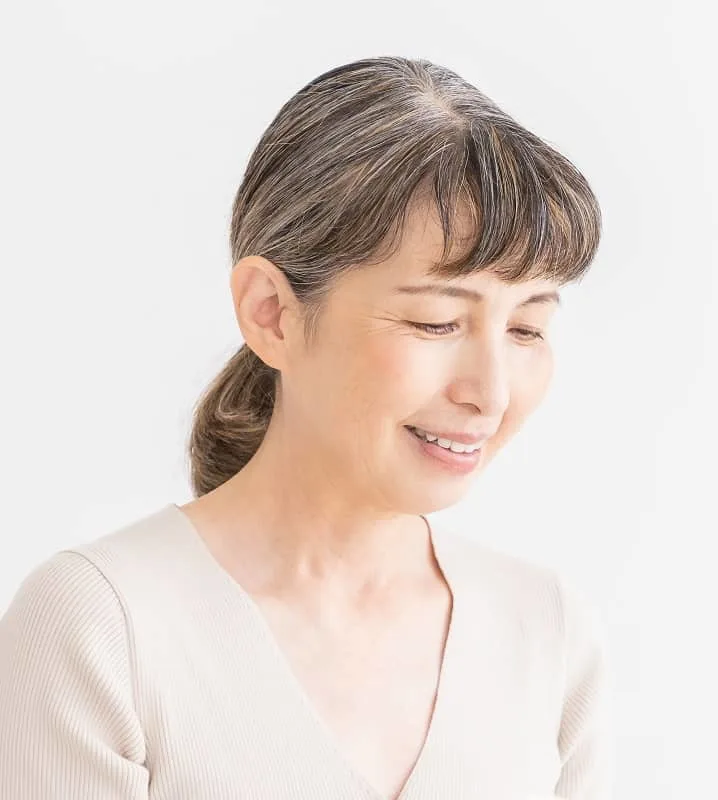 Ponytails are the go-to hairstyle for women of all ages and hair types. Whether you have thick, voluminous hair or fine hair, ponytails are the best way to keep the hair together and in place. You can scale up this simple hairstyle by adding some cute, blunt bangs.
14. Side Bangs with Layered Bob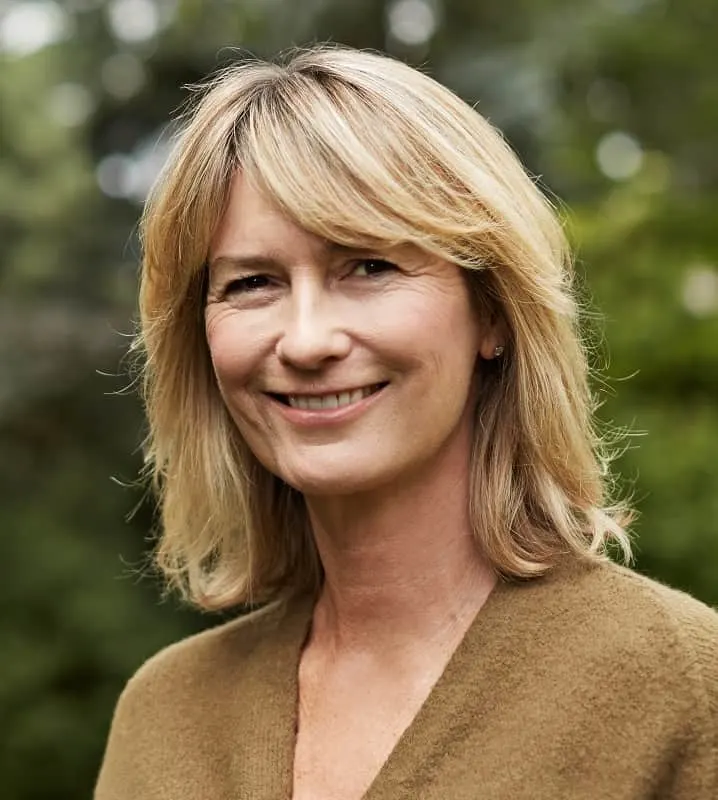 Another great hairstyle that will suit older women with fine hair as well as thick hair. Women over 50 who are looking for a soft, feminine look can try this layered bob hairstyle with side bangs. You will not need to spend hours on setting this hairstyle in place – just comb through your hair and make sure that the bangs are well placed.
15. Short Bob with Short Bangs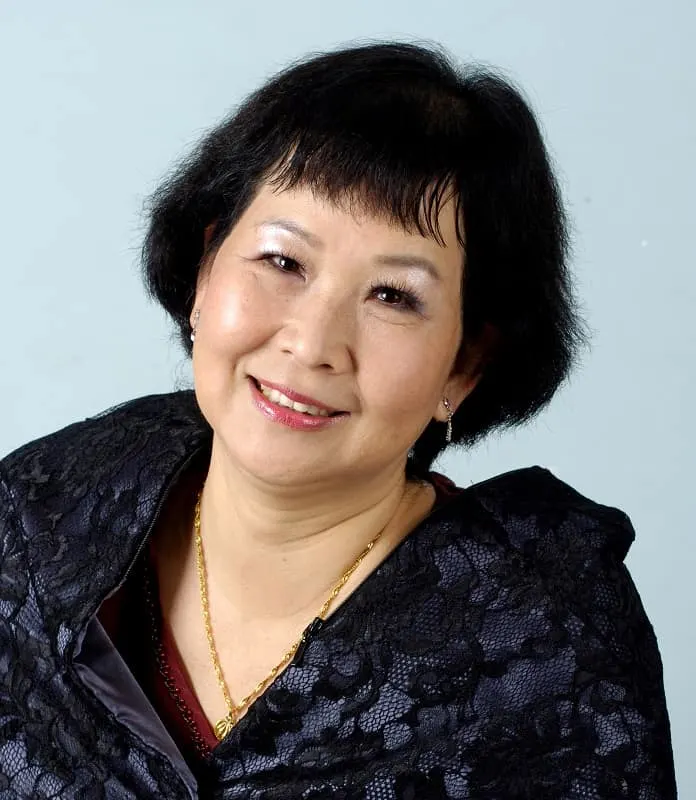 Short bobs are considered as one of the best hairstyles as they require minimal efforts to style. Here is a cute short bob hairstyle with short bangs which definitely radiates a vibe of simplicity with sophistication. This is an ideal hairstyle for women over 50 with thick hair.
16. Curl Them Down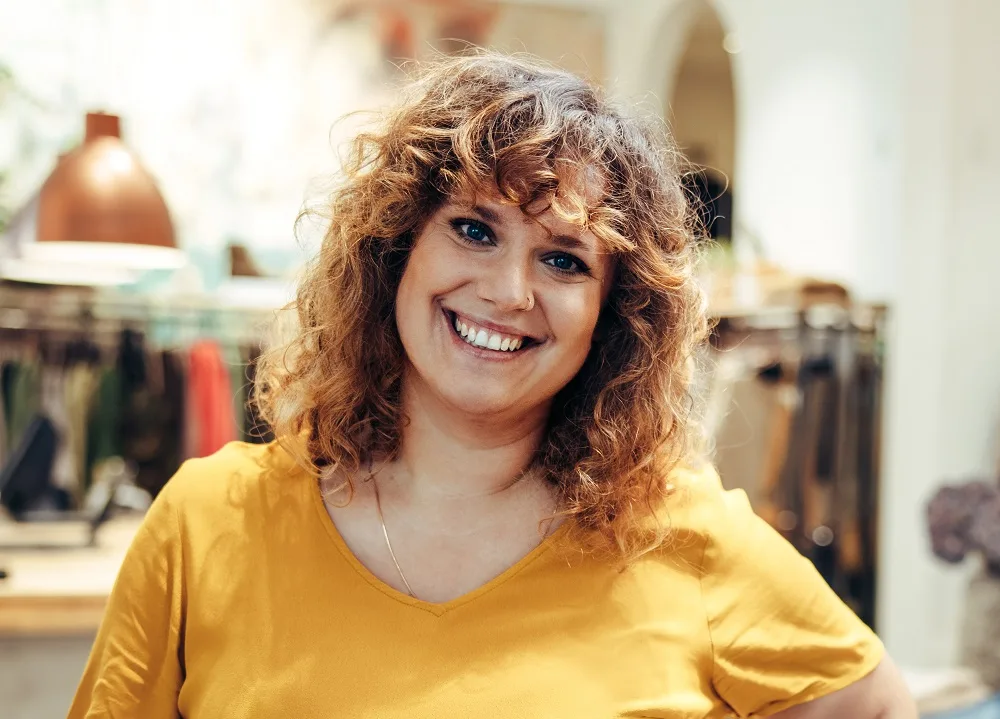 Curly hair is often considered difficult to tame and maintain. However, there are several curly hairstyles that you can opt for which require less effort. This medium curly hairstyle is quite common but it has been enhanced with cute bangs. Overall, the hairstyle looks fun and perky.
17. Long Platinum Blonde with Bangs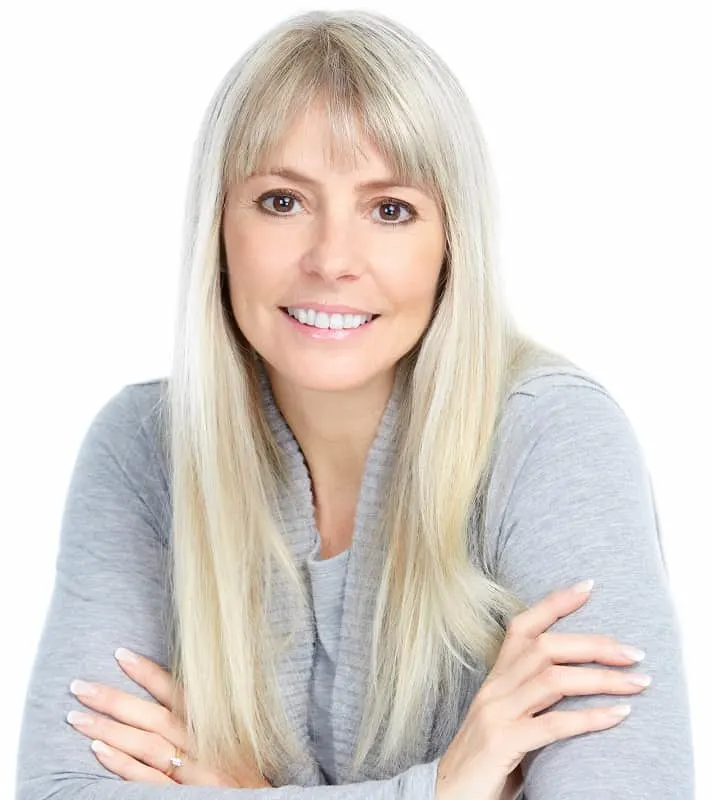 Having long, platinum blonde hair looks absolutely stunning on women over 50. Pair this hairstyle with some cute bangs and you have a beautiful hairstyle to flaunt. You can either let your long hair cascade over your shoulders or try some simple hairstyles which will put focus on your bangs.
18. Vintage Hairstyle with Bangs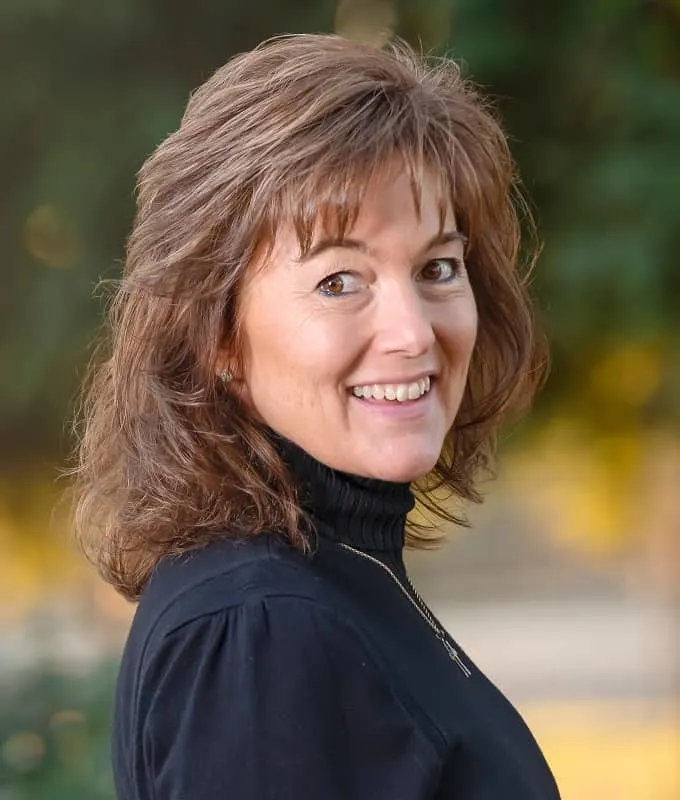 Vintage hairstyles are always a favorite with women over the age of 50. This simple, messy shag proves why vintage hairstyles are always in demand. An easy to maintain hairstyle, this looks amazing on all face types and suits all occasions – formal and casual.
19. Sleek Inverted Bob with Bangs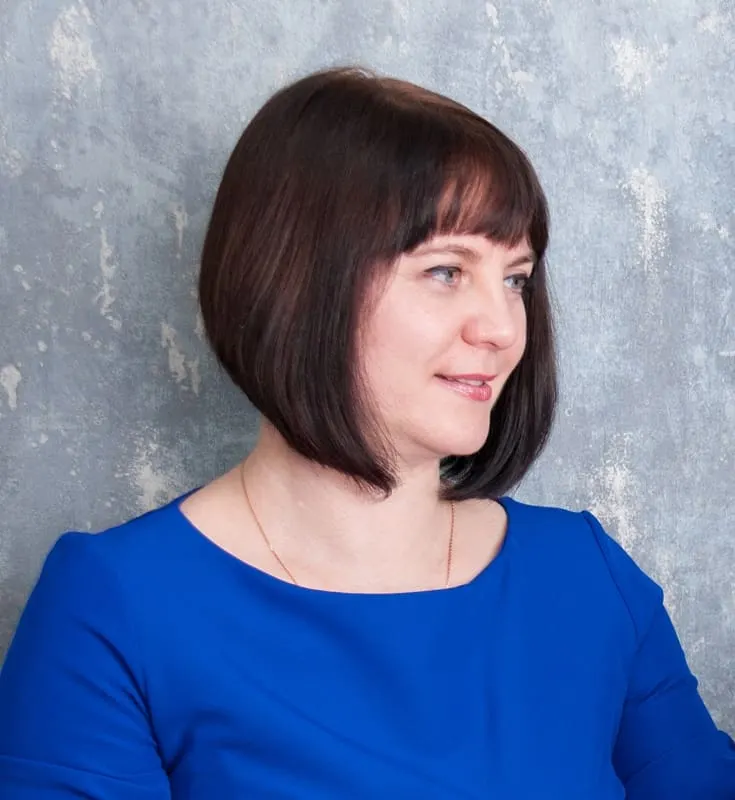 Women over 50 with short hair can opt for this super cool, sleek, inverted bob hairstyle with blunt bangs. In this look, the hair on the sides are slightly longer than the hair at the back of the head. This inverted bob is quite a popular choice and we have often seen several older celebrities flaunting it with grace and style.
20. Tight Curls with Bangs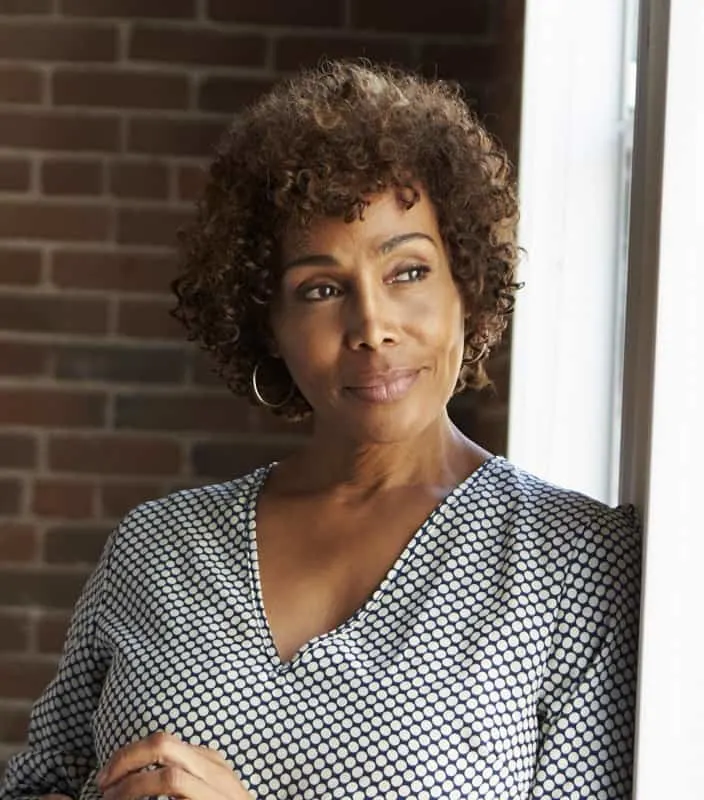 Women over 50 with curly hair should opt for simple and natural hairstyles, such as this one. To maintain this hairstyle, you will need to ensure that you get regular trims to maintain the length of the hair. Also, let your curls on the forehead grow a bit so that they appear as natural bangs.
21. Side Swept Bangs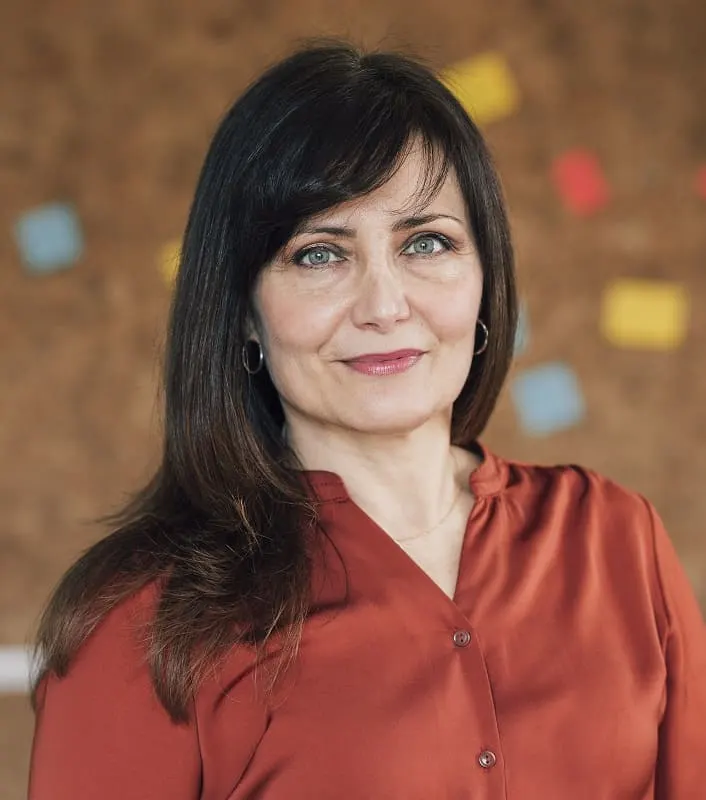 Many women, as they age, prefer to sport a more elegant and sober hairstyle. If you are also looking for a simple yet elegant hairstyle, this is an ideal option for you. To achieve this look, just ask your hairstylist to give you some side swept bangs which can cover half of your forehead.
22. Voluminous Bob with Bangs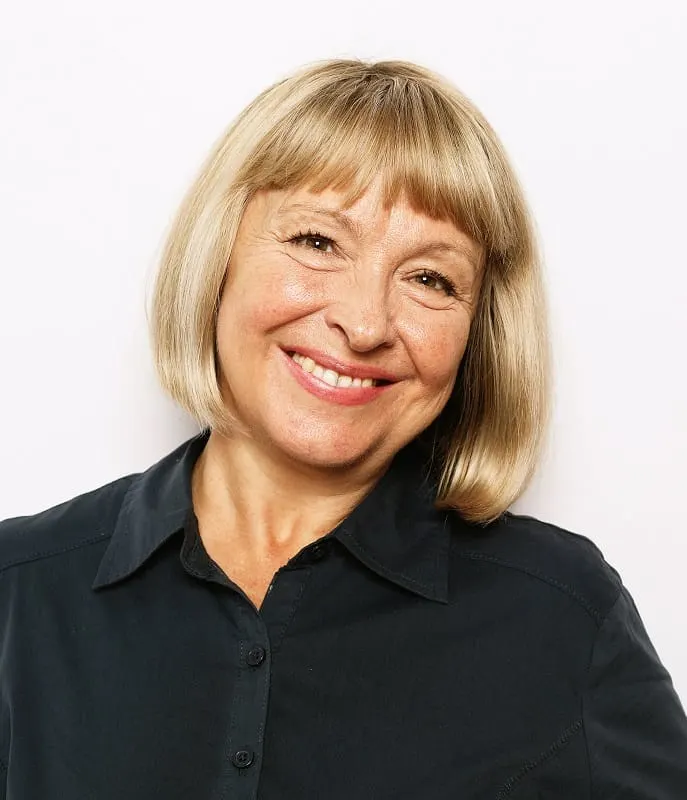 If you are blessed with a thick crop of hair even in your 50s, you should definitely try this voluminous bob and glam it up with some cute blunt bangs. This golden bob with bangs hairstyle suits women with all face types and can be easily set in place. While blow drying, roll the hair brush towards your face to get the rounded edges.
23. Thick Layered Hairstyle with Feathered Bangs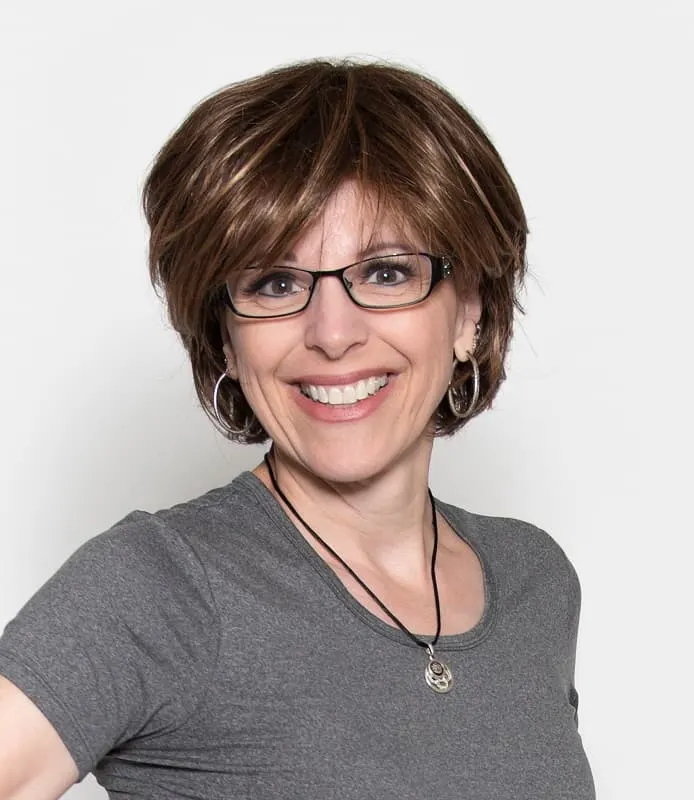 Bangs are quite versatile in nature and you can play around a lot with it in terms of its styling and cuts. Here is one such versatile look where the hair is kept short, at nape length, and the bangs have been styled to fall freely over the forehead in a slightly messy way. This creates a fun and cool look!
24. Loose Bun with Bangs Hairstyle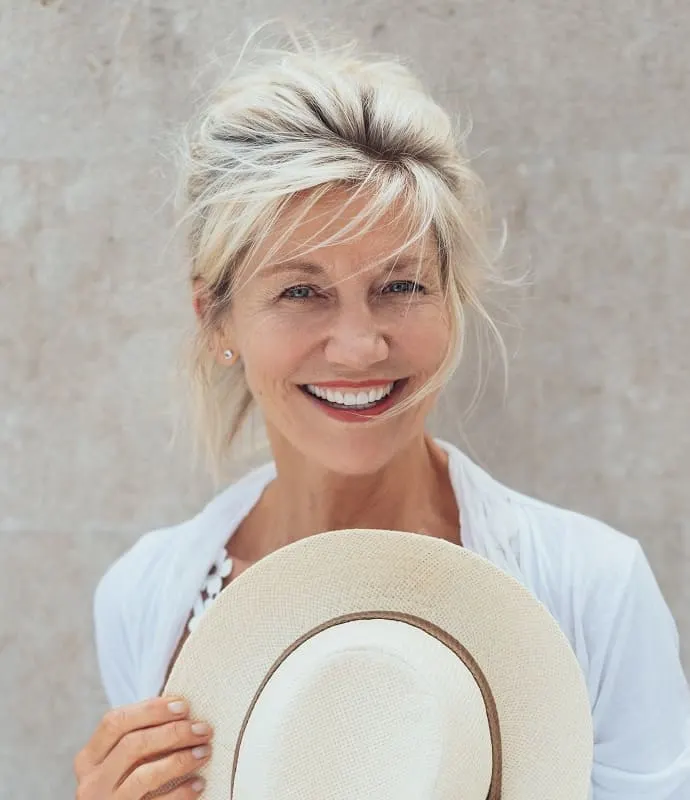 If you have shoulder-length or long hair, you can ask your hairstylist to give you some wispy bangs. You can, then, style this cutely into a loose bun hairstyle with the bangs falling naturally. It is a fun hairstyle to try out for your next casual outing or beach outing. Ensure that you avoid tying a tight bun.
25. Layered Haircut with Long Bangs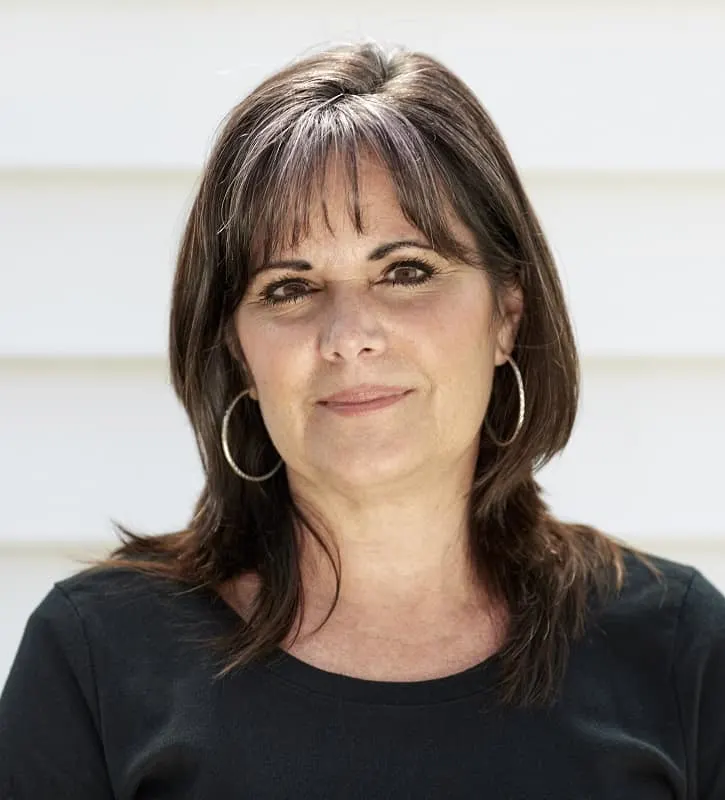 It is highly recommended that women over 50 with thin, fine hair should opt for hairstyles which will give an illusion that you have thick hair. Here is an example of how you should style your thin hair to make it look elegant, sophisticated, and voluminous. The layers and textures provide the required volume and the long bangs add a touch of grace and femininity.
26. Short Shag with Bangs Hairstyle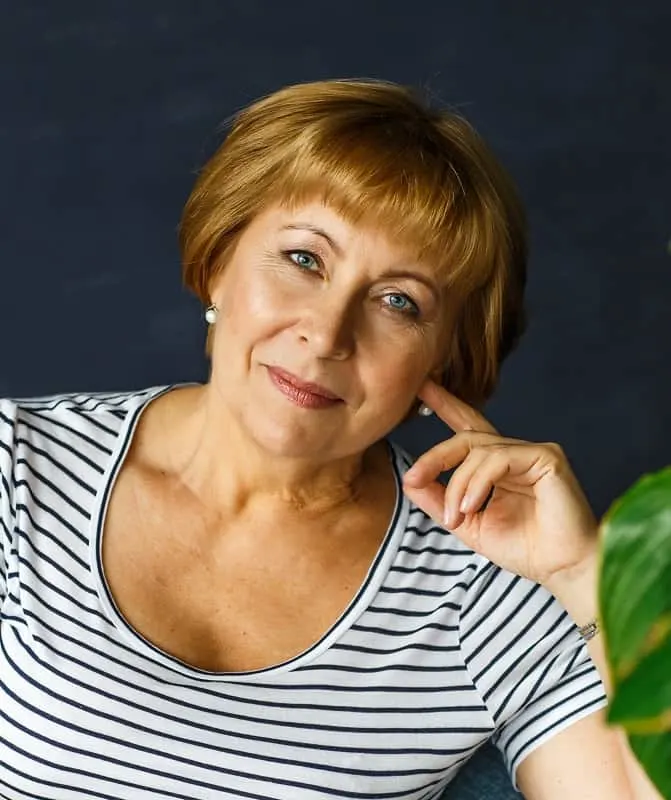 Shags are a modern hairstyle which look great on older women as well. You can play around with the length of the shag and make it more attractive by adding some cute, short bangs. It is a low-maintenance hairstyle making it ideal for women over 50.
27. Long Two-toned Hair with Razor Sharp Bangs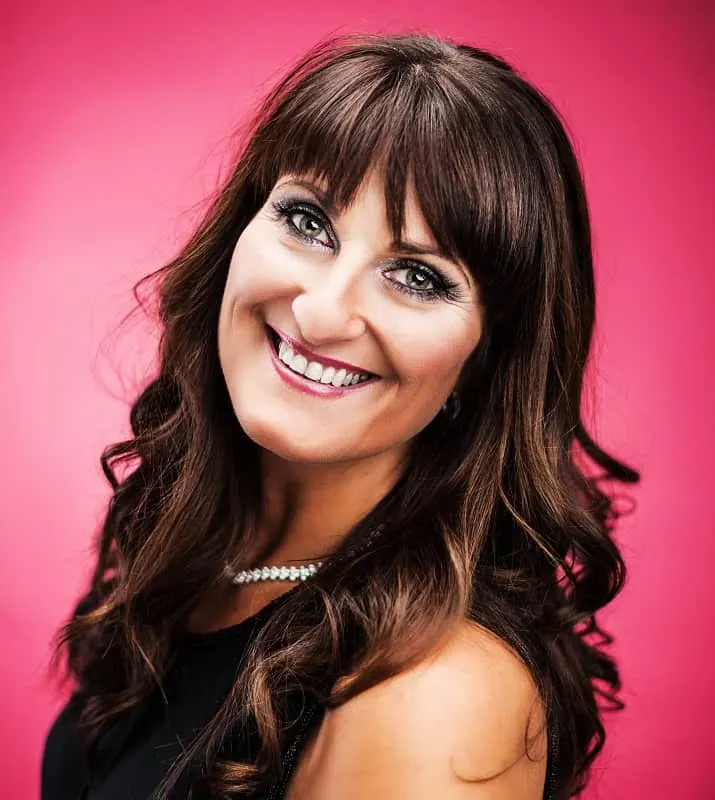 If you are looking for a long, sleek, and sexy bangs hairstyle for women over 50, this is a must-try! The razor cut bangs coupled with loose wavy hair is a fun hairstyle to sport at your next night out with family and friends. To glam up the hairstyle, get some highlights that will go well with your natural hair color.
28. Curly Shag with Side Swept Bangs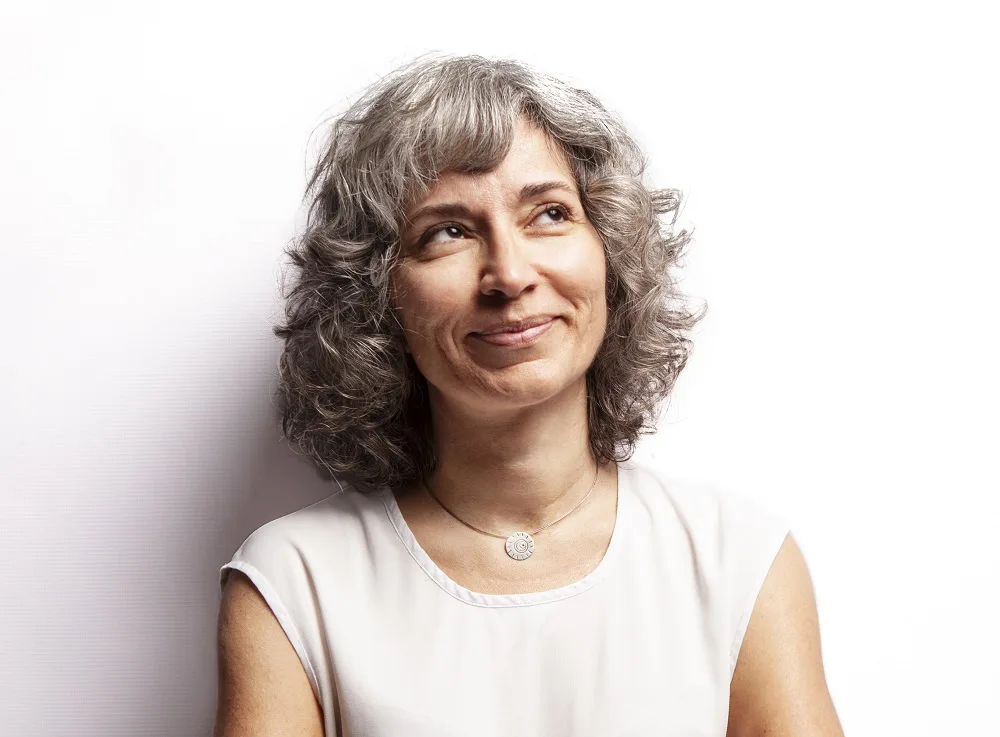 There is no dearth of hairstyle options for older women with natural curls. From styling it into a pixie cut to keeping it simple with a messy shag, there is a lot you can do with it. Add in some side swept bangs and your elegant shag with bangs look is ready!
29. The Classic Nape Length with Bangs Hairstyle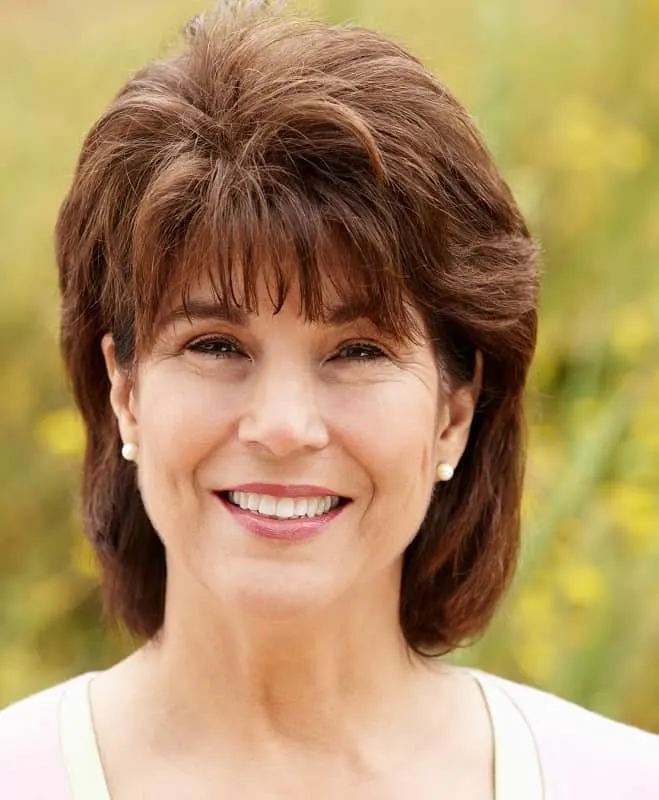 Here is another classic and vintage hairstyle that women over 50 with thick hair can try out. This beautiful, nape-length hair with bangs is giving off major Lady Diana vibes! It is undoubtedly one of the most sophisticated and elegant bangs hairstyles on our list. Get regular trims to maintain the length of this hairstyle and you are good to go.
30. Flicked Out Bob Hairstyle with Long Bangs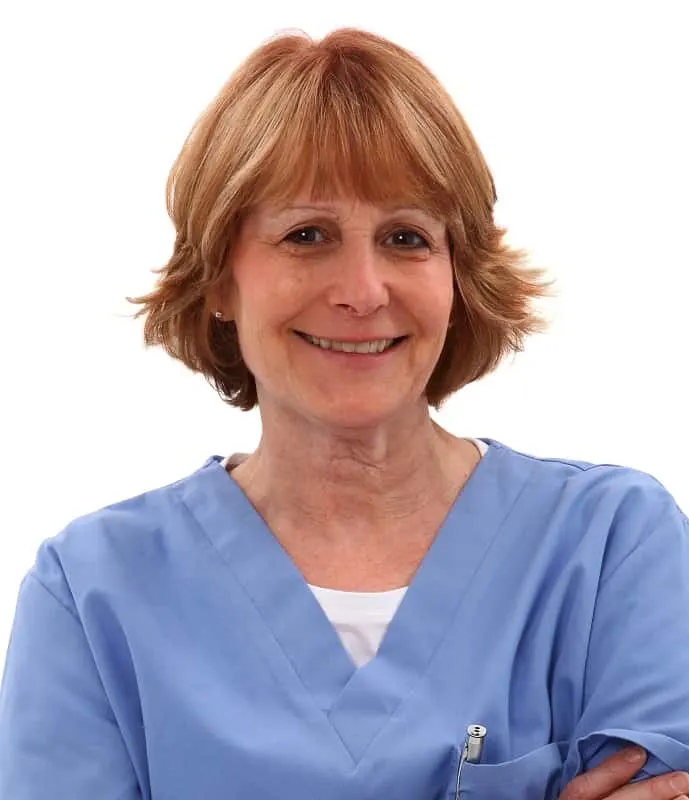 The last and final look in our list is this cute, no-fuss, flicked-out bob with long bangs. This is a fun hairstyle that will suit women with both thick as well as fine hair. It is an effortless hairstyle that will allow you to get ready in a jiffy!
From coloring your hair, adding layers and textures to going bold with some edgy hairstyles – there is a lot that women over 50 can do with their hair. When you add in some bangs, it can elevate any hairstyle to a different level. Hope we inspired you enough to try out something new during your next hair stylist appointment.