The popularity of getting bangs for older women is increasing because bangs can help to soften the look of wrinkles on the forehead.
But not only this, there are many other reasons behind getting bangs, such as they might want to try something new or they might want to add some personality to their look.
In this article, we'll discuss 15 bangs hairstyles for women above 60 that look excellent so that you don't have to do too much guesswork. Get inspired by these looks and try one out for yourself!
Bangs Hairstyles for Women Above 60
Bangs are an intriguing choice because older women get them for many different reasons. If you're a woman over 60 and considering getting bangs, you may want to talk to your stylist about what type of bangs will work best with your face shape.
But first, you may find it helpful to check out this list of some of the most popular bangs hairstyles for ladies above 60.
1. Half-Up Half-Down with Bangs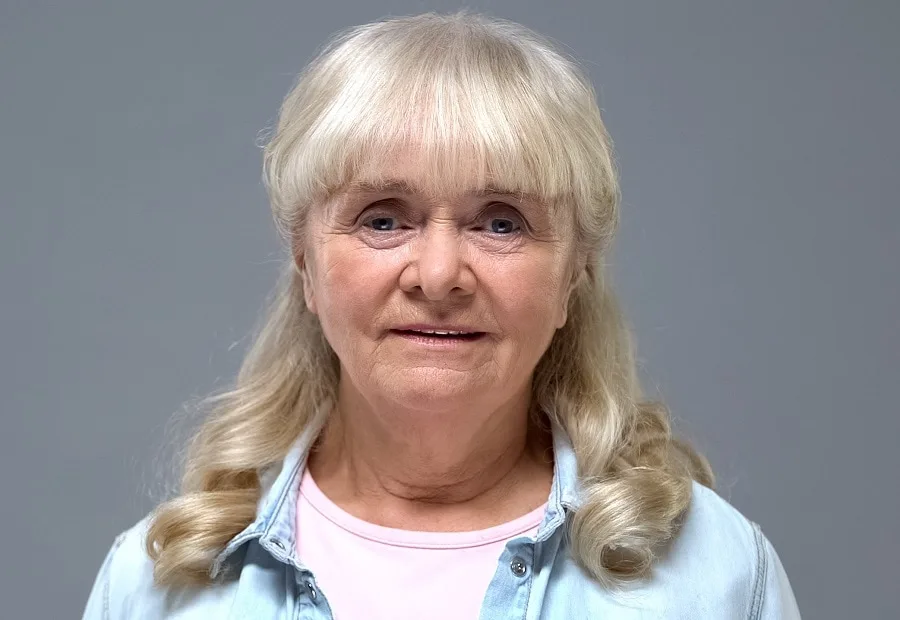 A half-up, half-down look with bangs is lovely for mature women who want to hide some forehead wrinkles but still show off their beautiful facial features.
It also looks sprightly, especially if the hair has curly or wavy ends.
2. Curly Bixie With Matching Bangs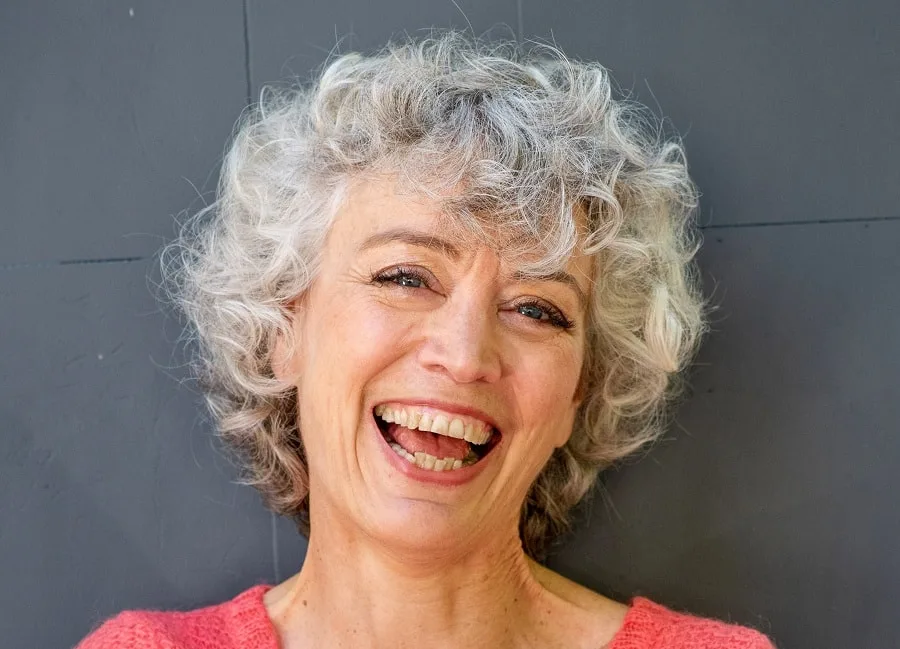 A "bixie" is halfway between a bob and a pixie cut. This look is closer to a pixie, but the slightly longer length and the addition of curly bangs give it a feminine flair.
It's an excellent choice for older women with fuller faces, as the curls will help balance the roundness.
3. Shoulder Length Curtain Drapes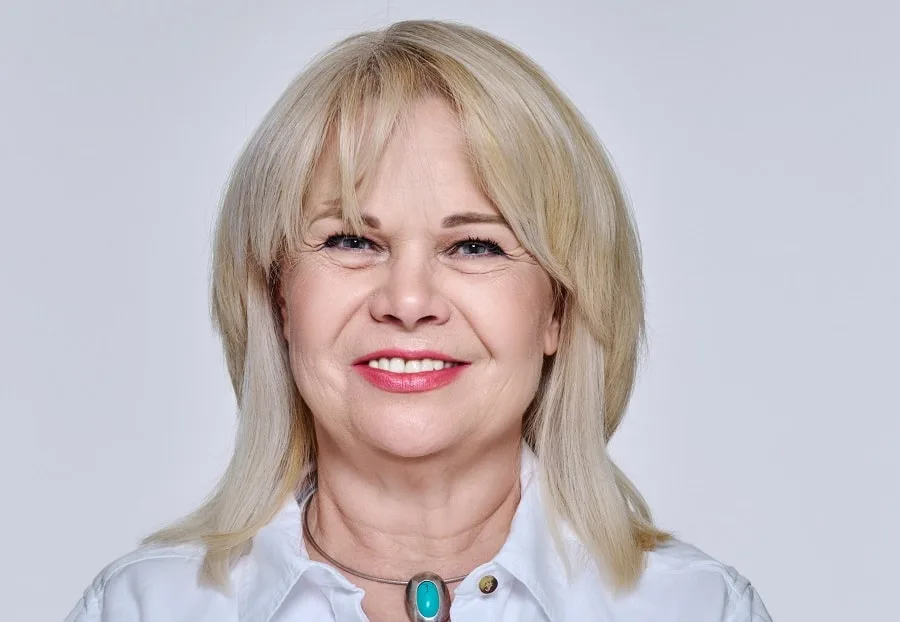 This style is one of the best bangs hairstyles for women above 60 whose hair is getting thinner with age but who don't want to maintain waves or curls.
The layered bangs — swept on each side — provide a sense of fullness.
4. Fluffy Short Bob and Bangs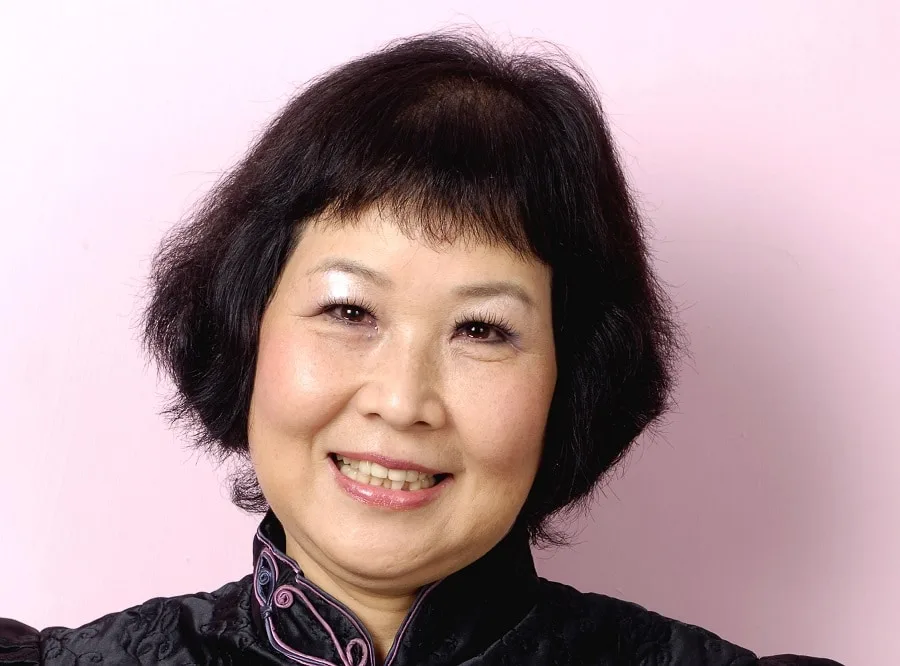 The fluffy, cute hairstyle is perfect for those who want a girlish look. This is also one of the best hairstyles for older women with thinning hair because it will add volume, texture, and depth.
The bangs are shorter than the other styles on this list, so it does not hide wrinkles as well.
5. Medium Soft Waves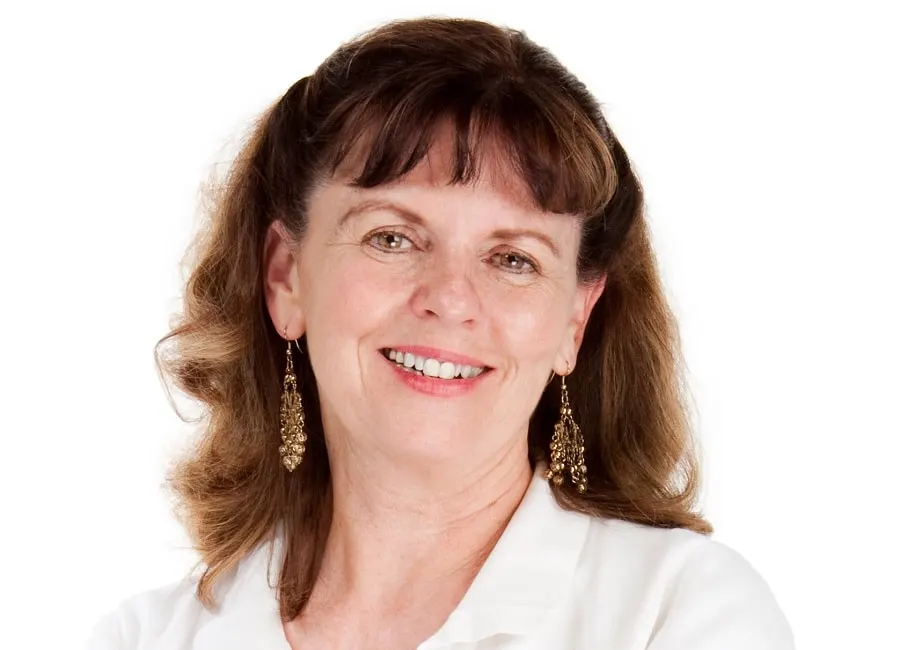 These mid-length bangs with a rounded curl are a classic, traditional style that gives off a welcoming and homey look.
The soft waves are ideal for hair that isn't too straight or too textured but somewhere in the middle.
6. Scattered Bangs on Straight Bob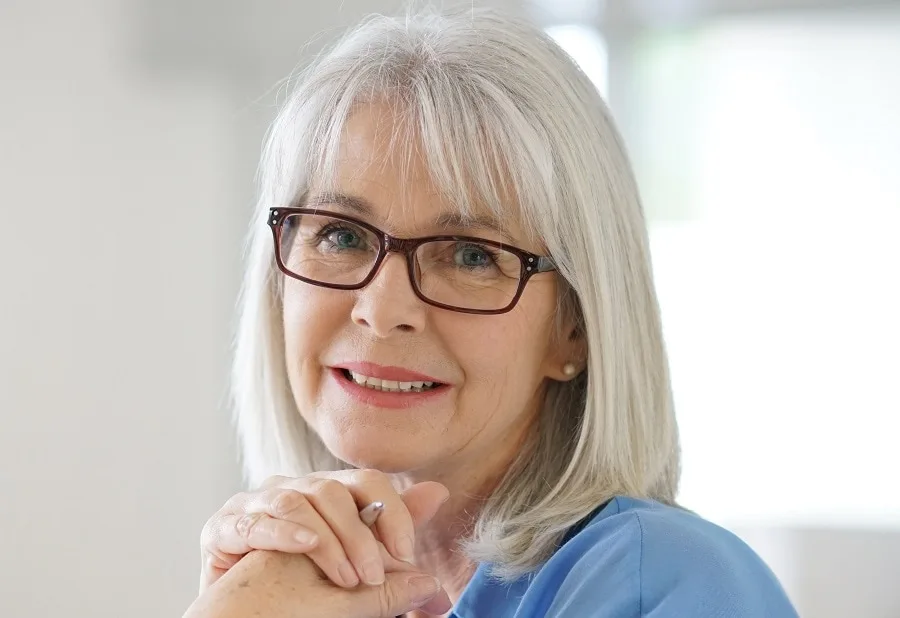 Straight bobs with straight bangs may seem dull, but all you have to do is scatter the bangs a bit for a more relaxed and inviting look. Plus, this style looks great with glasses and white or platinum hair.
7. Short Waves With Highlights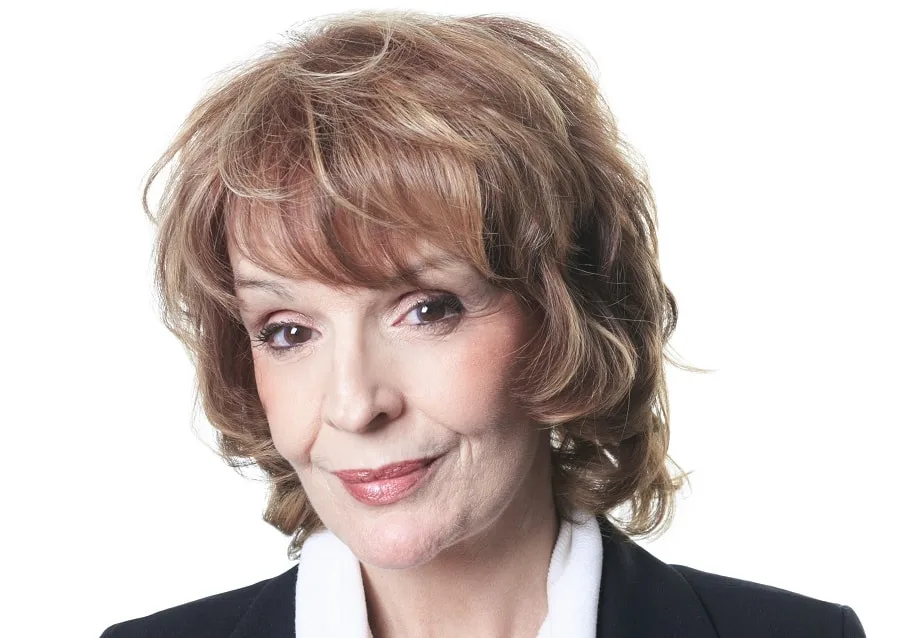 The second bixie on the list, this over-60 hairstyle has a lot of character while maintaining a highly professional feel.
The layered waves and bangs make it look approachable, but all the curls move inwards, making the overall look more structured.
8. Straight Blonde Bangs
This long bob has a slight curl at the end but a relaxed overall appearance. The straight, uneven bangs present a balance of fun and classy, and you can easily dress this look up or down.
9. Side Parted Bangs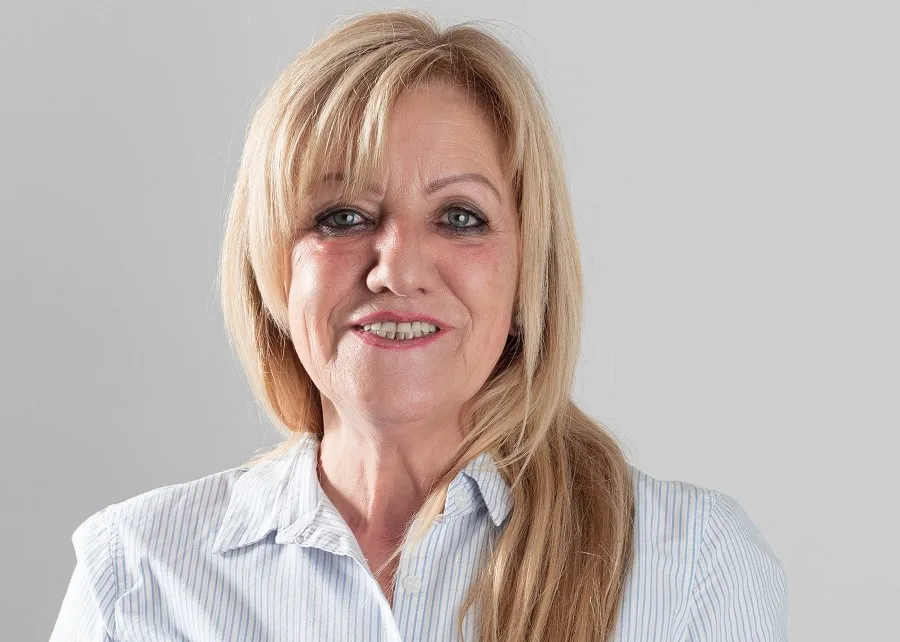 One-sided bangs are a bit daring, but they can accentuate your best features, especially if you have long straight hair.
In this style, the bangs are parted to the side and then fall on half of the forward, with longer hair wrapping around the same cheek.
10. Pixie Fluffy Bangs
Who says women above 60 can't have a bit of fun? This light pink hair is perfect for older women who want to make a statement.
The slightly curled bangs will help to frame your face, and the light pink will bring color to your cheeks.
11. Bun With Straight Bangs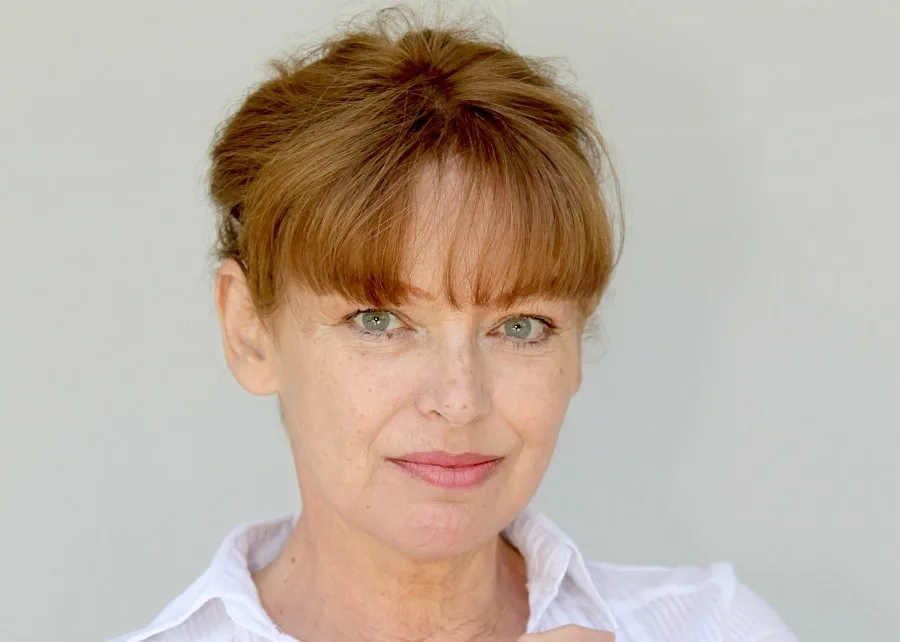 Sometimes a little goes a long way, and this simple, discreet bun highlights your facial features and draws attention to straight, well-cut bangs.
This look also draws attention to a heart-shaped face and pretty eyes.
12. Side Swoop Bangs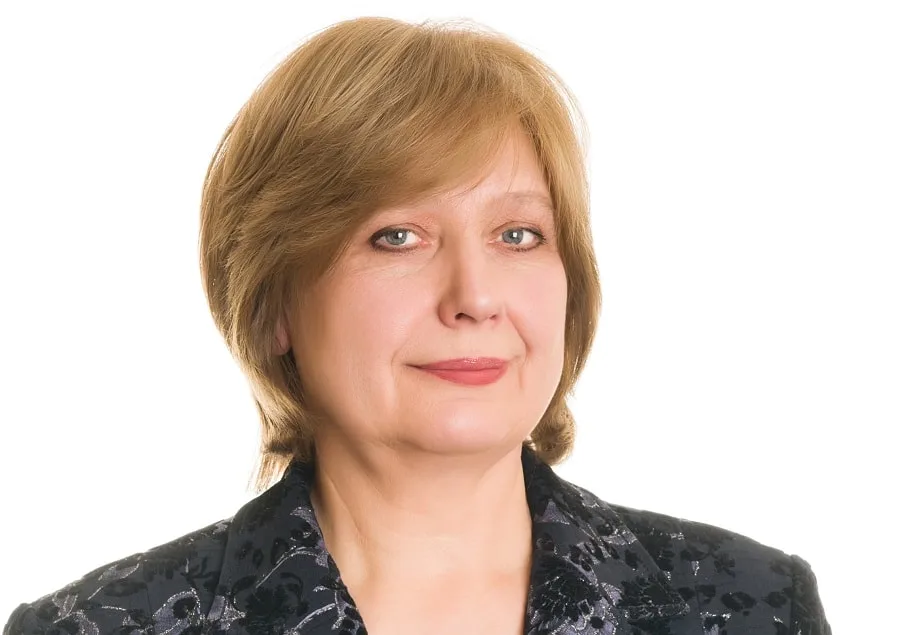 This bob's softness, fluff, and lightness highlight the facial features, and the bangs look great on mature women with round facial shapes as it complements their already soft features.
13. Feathered Bangs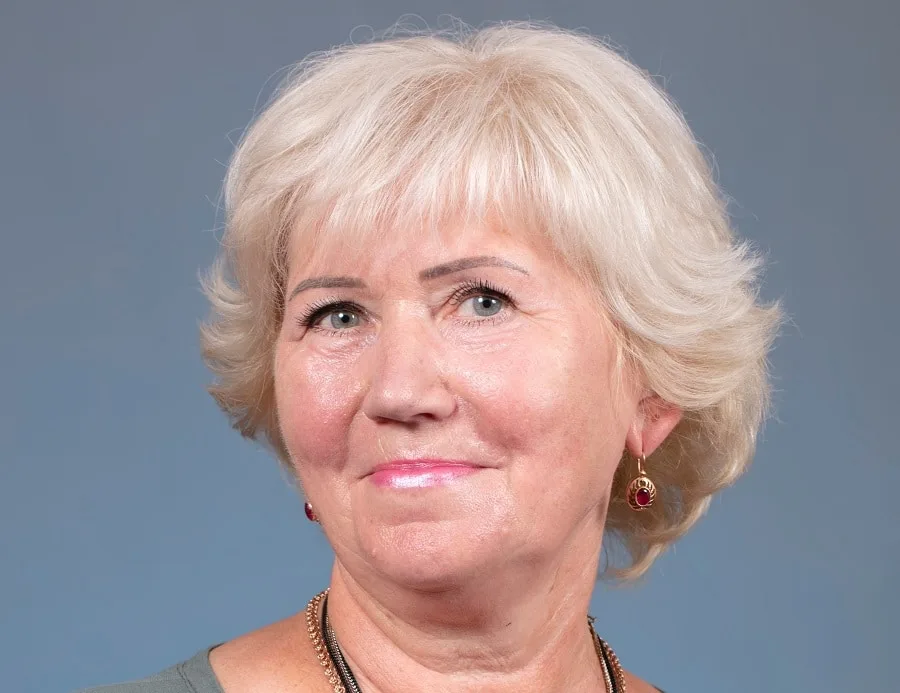 This look is simple on the surface but has just the right amount of flair and pizzazz. The layers in the bangs add depth and dimension, while the flipped-out sides give it personality.
This look is also ideal for round faces as it helps give the face more shape.
14. Pixie With Side-Swept Bangs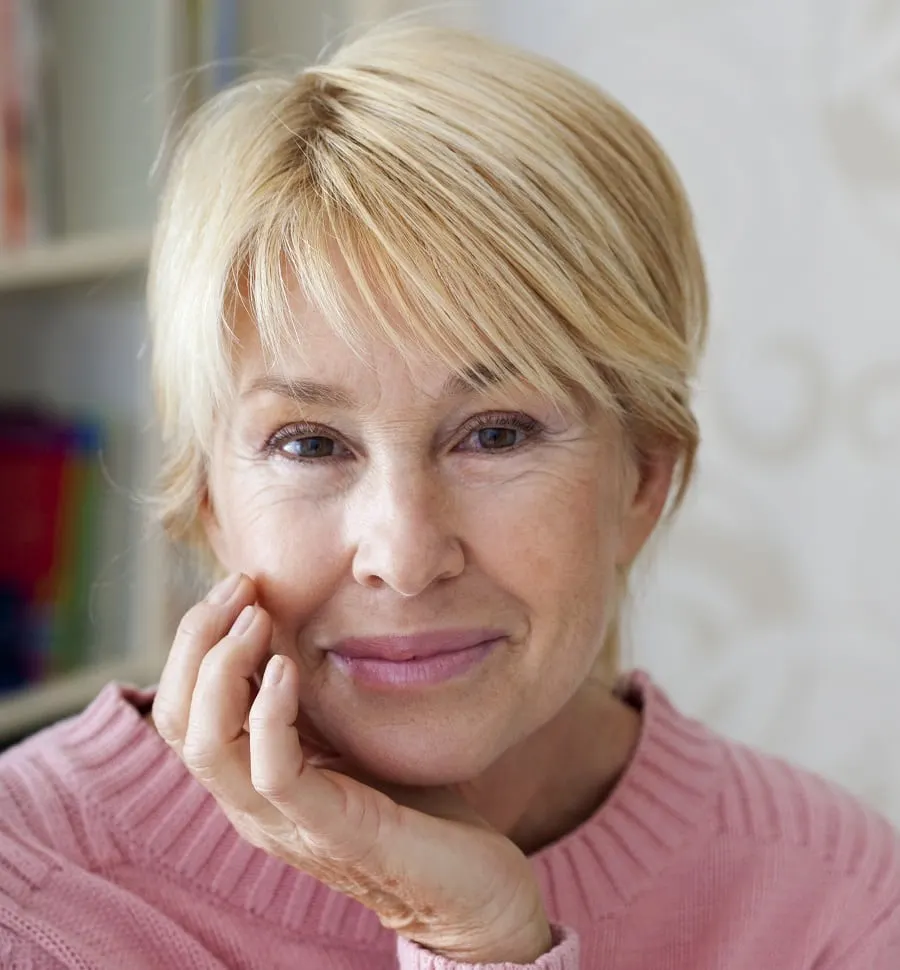 Side-swept bangs are a classic style that anyone can wear, but they look fantastic with a straight pixie on mature women over 60.
In this style, you can part the hair at the top of the head so you can sweep the full width of your bangs to the side.
15. Finger-Parted Bangs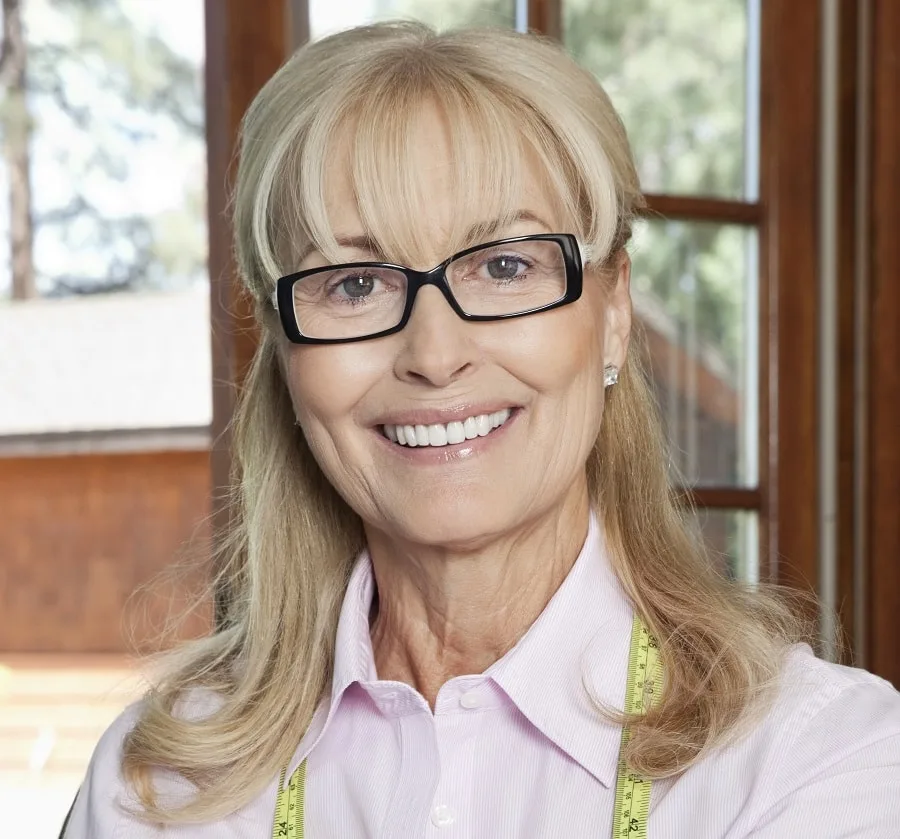 This last hairstyle may look similar to the first one, given the half-up-half-down style with slightly curled ends.
However, the full, finger-parted bangs are a more youthful bangs style for women above 60, which adds extra interest and youthfulness to your hairstyle and face.
As you can see in the fifteen examples above, plenty of bangs hairstyles for women above 60 look fantastic.
Whether you want to look sophisticated with straight bangs, professional with a bob-bangs combination, or playful with a pixie cut, there's a style here for you.
So don't be too nervous about experimenting with a new look. It's never too late to switch up your hairstyle! So, what's your favorite bangs hairstyle? Let us know in the comments below!