Women over 60 with a round face typically have one goal in mind when it comes to finding a trendy new hairstyle: making their face look more slender. Finding the right cut for a round face often includes curtain bangs and face-framing layers.
This is because both of these help to elongate the face. They perfectly trick the eye into not noticing the rounded angles of a woman's face.
If you're over 60 and a little confused about which hairstyle will best suit your round face shape, take comfort in the fact that we have a whole list of 40 beautiful looks for you to choose from!
Best Over 60 Hairstyles for Women with Round Faces
These 40 hairstyles will distract from your round face and make you feel both trendy and gorgeous!
1. Smooth Updo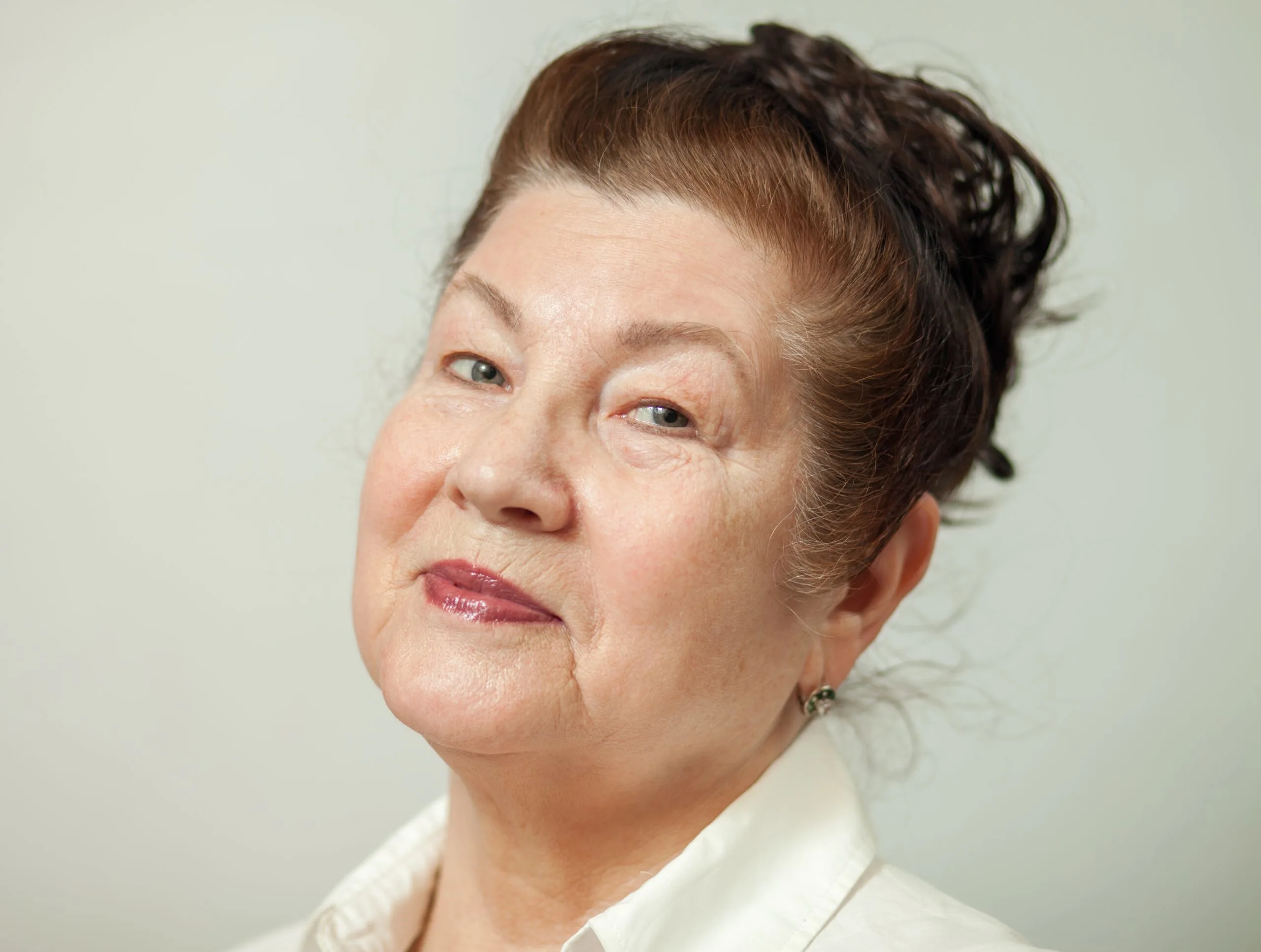 A sophisticated updo doesn't have to be completed and also nicely draws the eyes up and away from a round face.
How to Style: Use a comb to brush back your hair into a high ponytail, then wind it around the base and pin in place. Use a little product in the back to keep shorter hairs in place.
2. Short Layered Haircut

This adorable short haircut with soft side bangs is great for women with thicker hair. Ask your stylist for lots of short layers that will be easy to style with just your fingers.
How to Style: Avoid using a comb and use your fingers instead to comb in a little styling product for volume and the 'piecey' look.
3. Long Hair with Side Part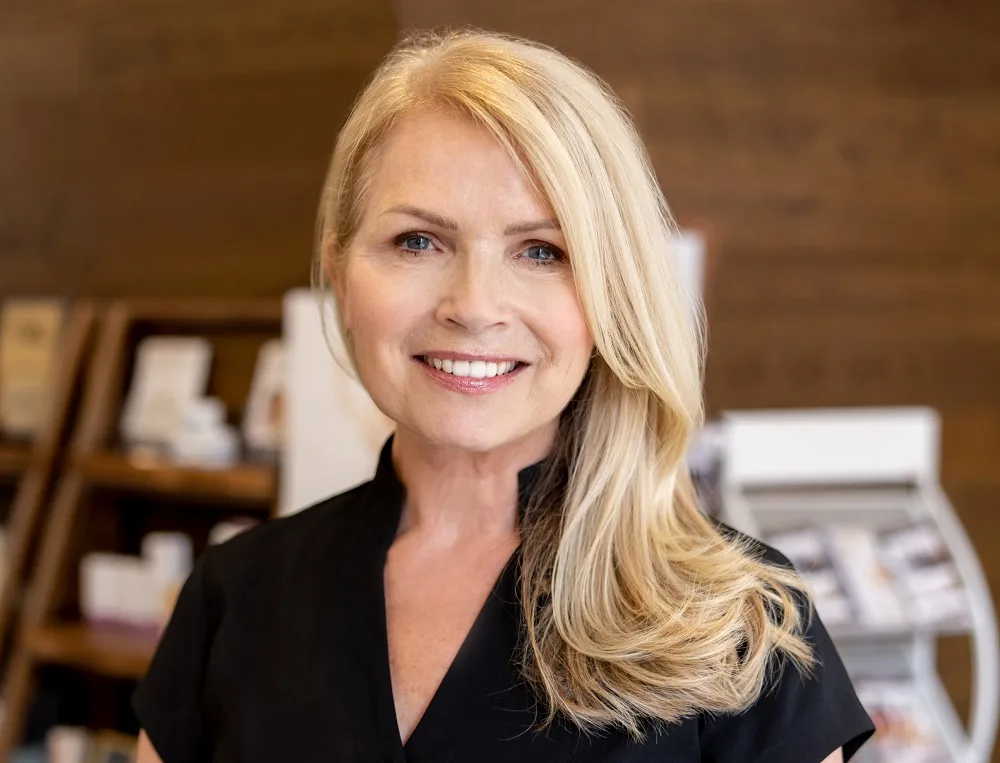 A side part is one of the easiest looks round-faced women over 60 can try. It only takes a minute to make this hairstyle convey sophistication and chicness!
How to Style: Use a comb to part hair off-center and above one eyebrow for the perfect line. Neatly brush the rest of your hair.
4. Thick Salt and Pepper Hair
If you're over 60 and still have gorgeous thick hair, you don't need to chop it off to distract from your round face.
How to Style: Ask your stylist for face-framing layers. Then use a wide-toothed comb, which prevents frizz, and make an off-center part before wearing your hair down.
5. Teased Hair with Undercut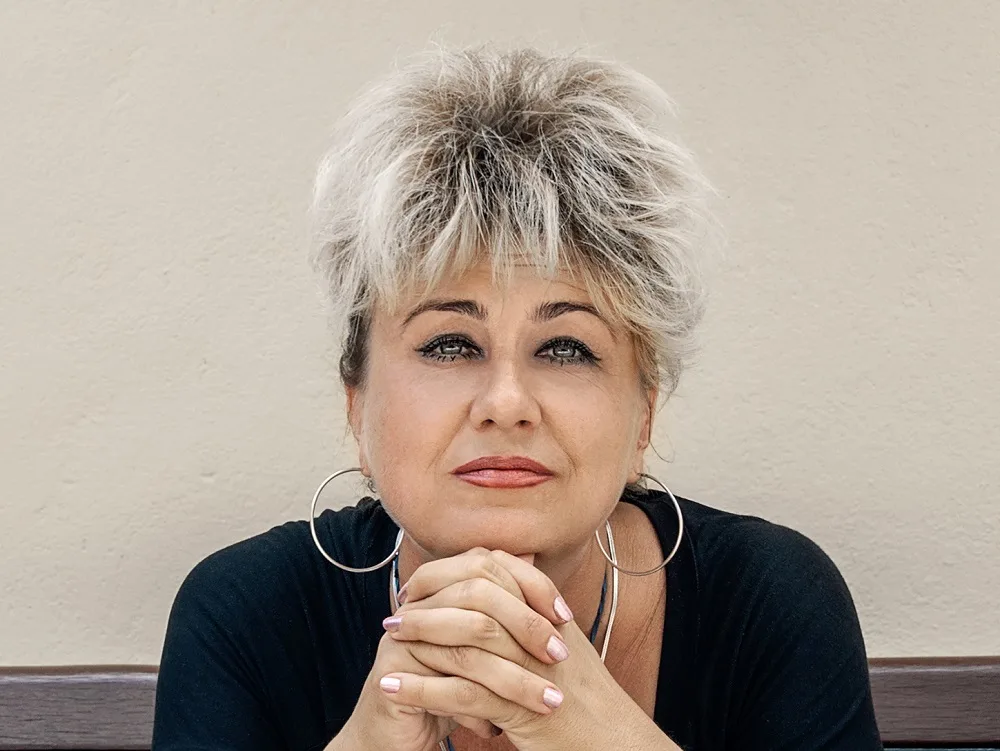 Even older women like to rock an edgier hairstyle. If that's you, consider this teased hairstyle.
How to Style: Have your hairstylist cut in an undercut for the edgy detail you love. Then tease the top area of your hair for volume and seal it with hairspray.
6. Short and Straight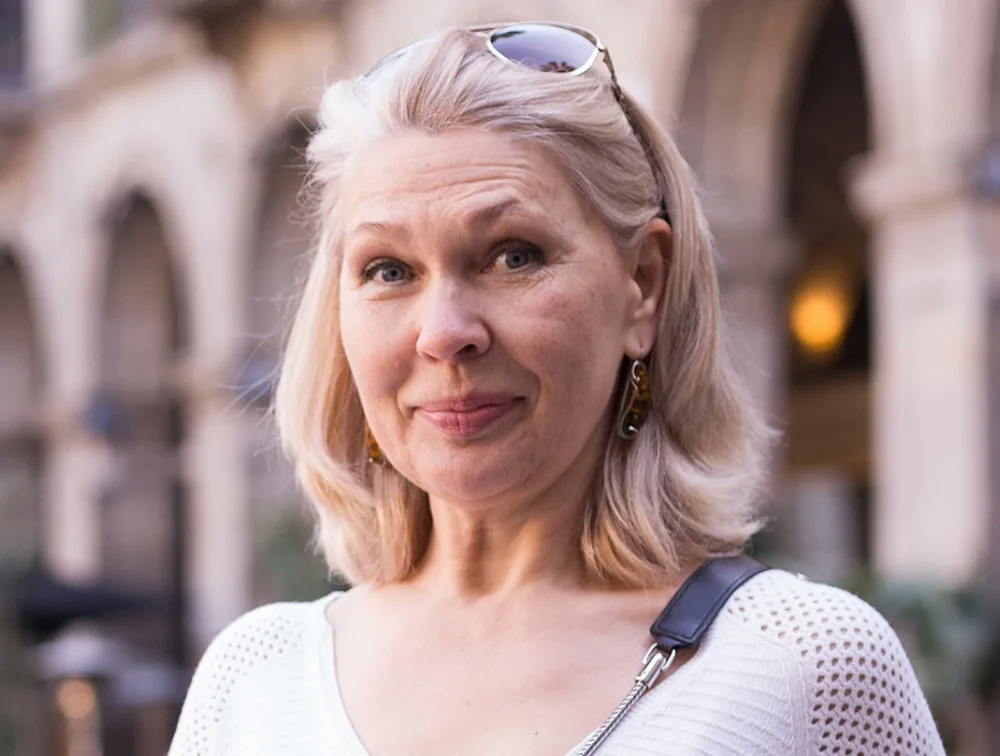 Is your hair naturally straight? A shoulder-length layered haircut is simple but classic in its minimalistic style.
How to Style: Ask your stylist for face-framing layers. Use fingers (or a comb for a neater look when going out) to brush the hair away from the face. Your sunnies will help tame locks when you're out and about.
7. Wavy Brown Hair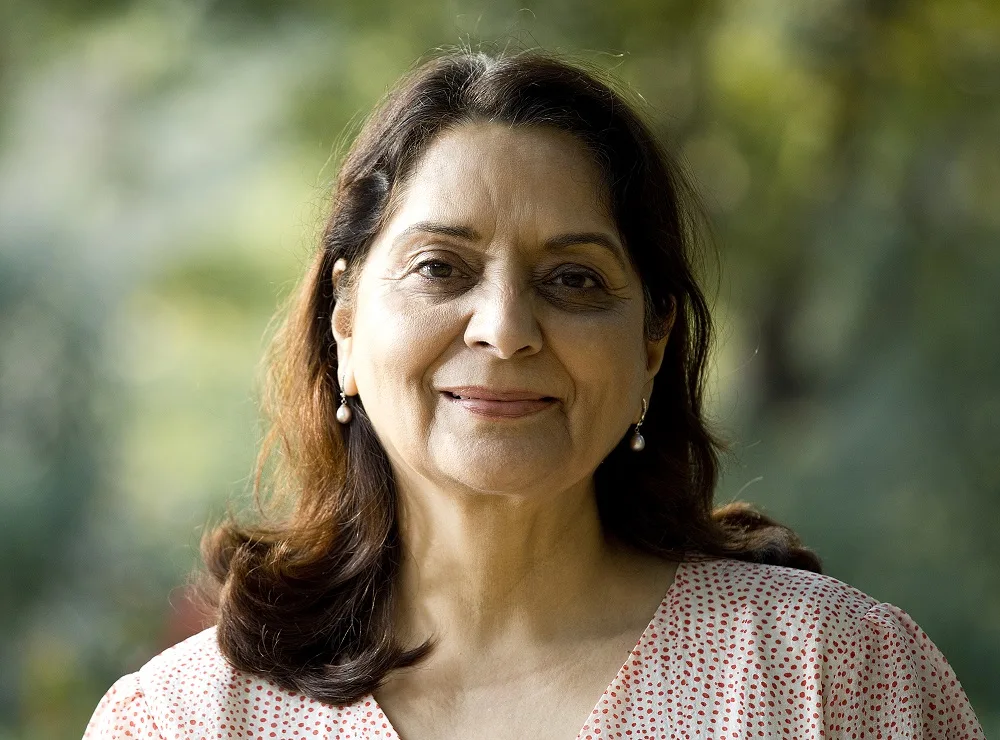 Don't want to cut off your long hair? There's no need to when you can use layers to complement your round face shape.
How to Style: Have your stylist add long layers and a short fringe that can be swept to the side. To bring out your natural texture, work in a little hair oil.
8. Thin Pixie for Asian Women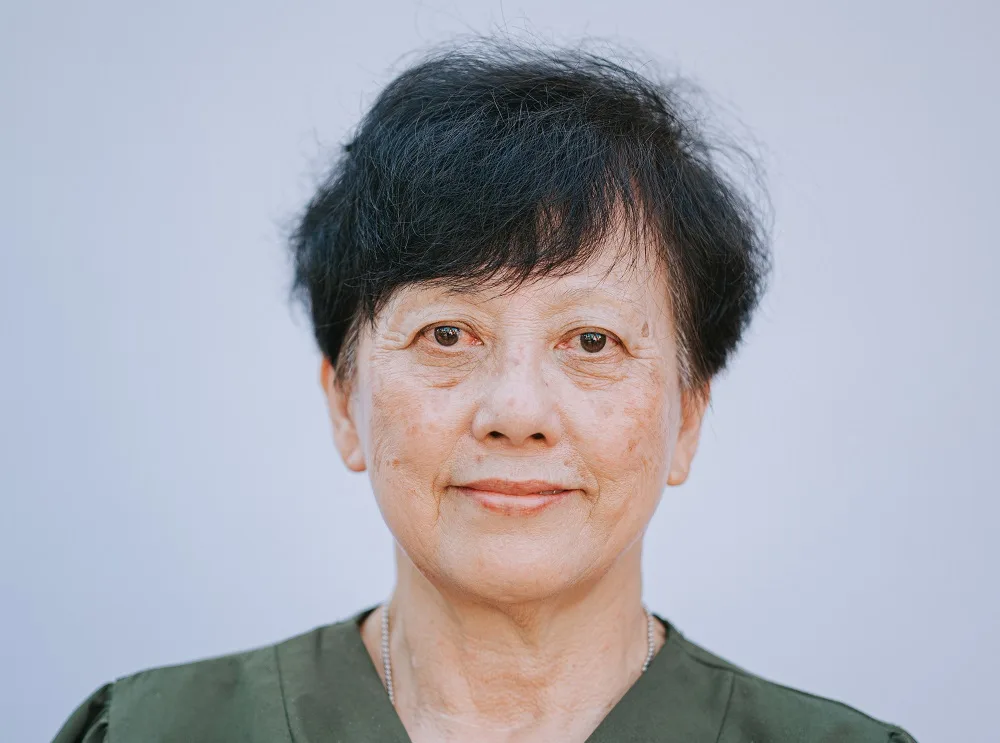 Many Asian women over 60 find their hair loses its fullness as they age. A pixie will hide this little problem also help to accentuate the round face shape.
How to Style: Once your hair is pixie-length, simply brush your hair into a side-parted style. Be sure some fringe covers the forehead to distract from round angles.
9. Red Asymmetrical Haircut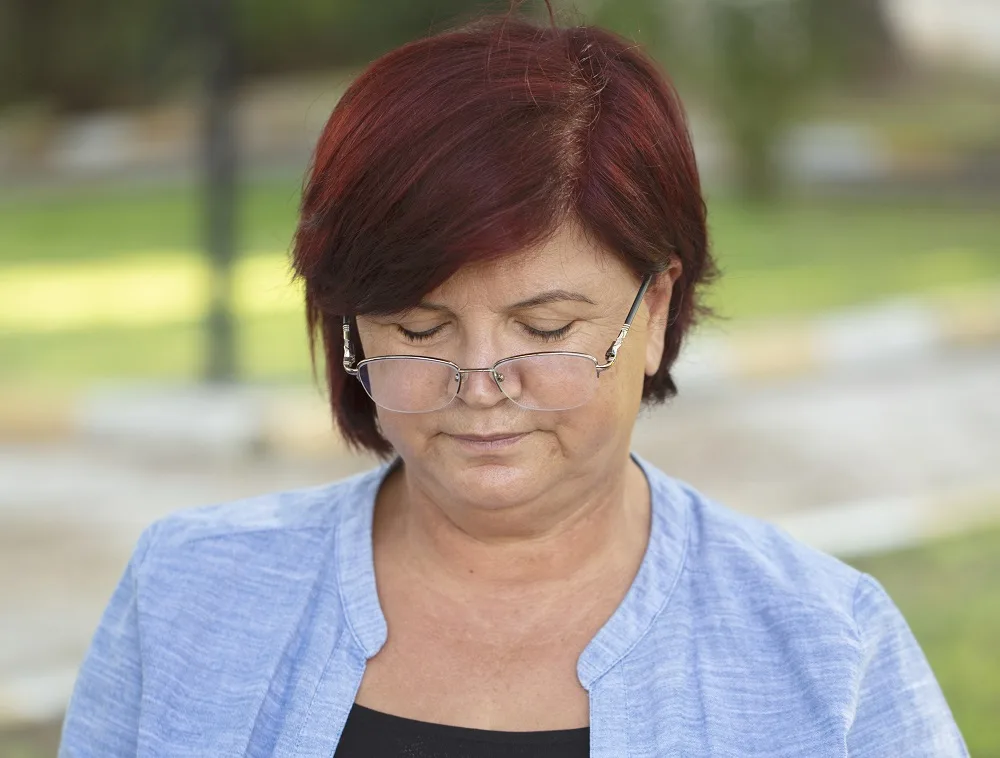 Do you love playing with bold hair colors? Pick a color to help your new short 'do stand out!
How to Style: Ask for a short asymmetrical haircut. This will make a built-in side bang to cut off those rounded angles. Straighten or smooth away frizz with the product.
10. Wavy White Hair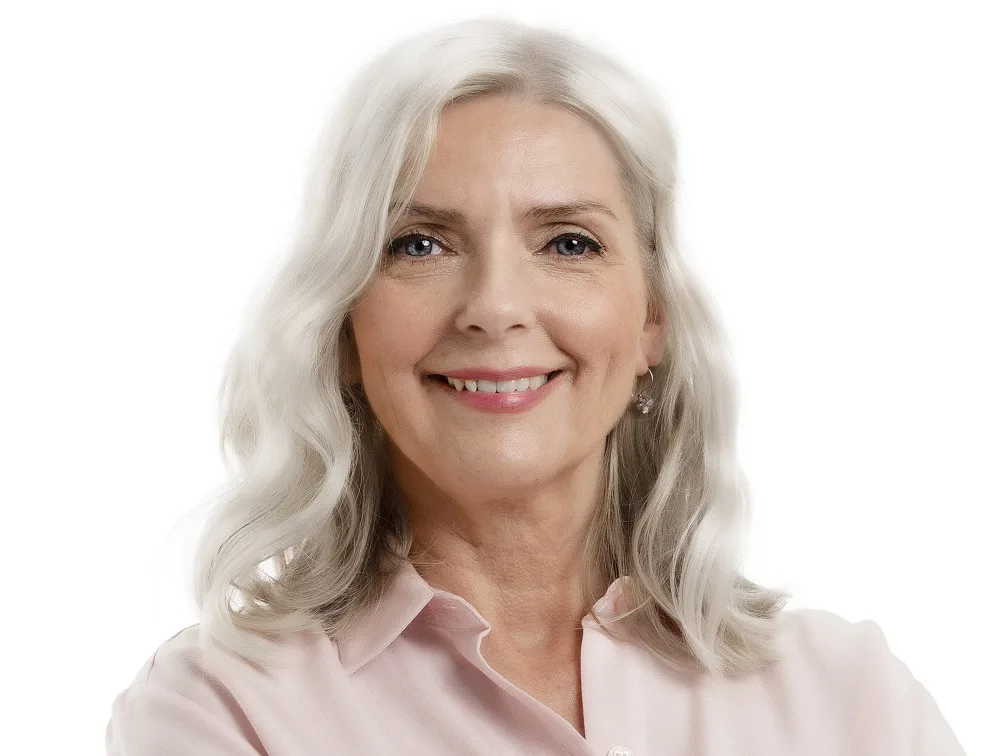 If your hair is completely white or you're just starting to see them take over your mane, let them shine in long wavy hair.
How to Style: Brush your hair free of tangles and leave it down and natural or pin back one side. If you want, you can use a curling wand to make waves throughout for a softer look.
11. Blunt Bob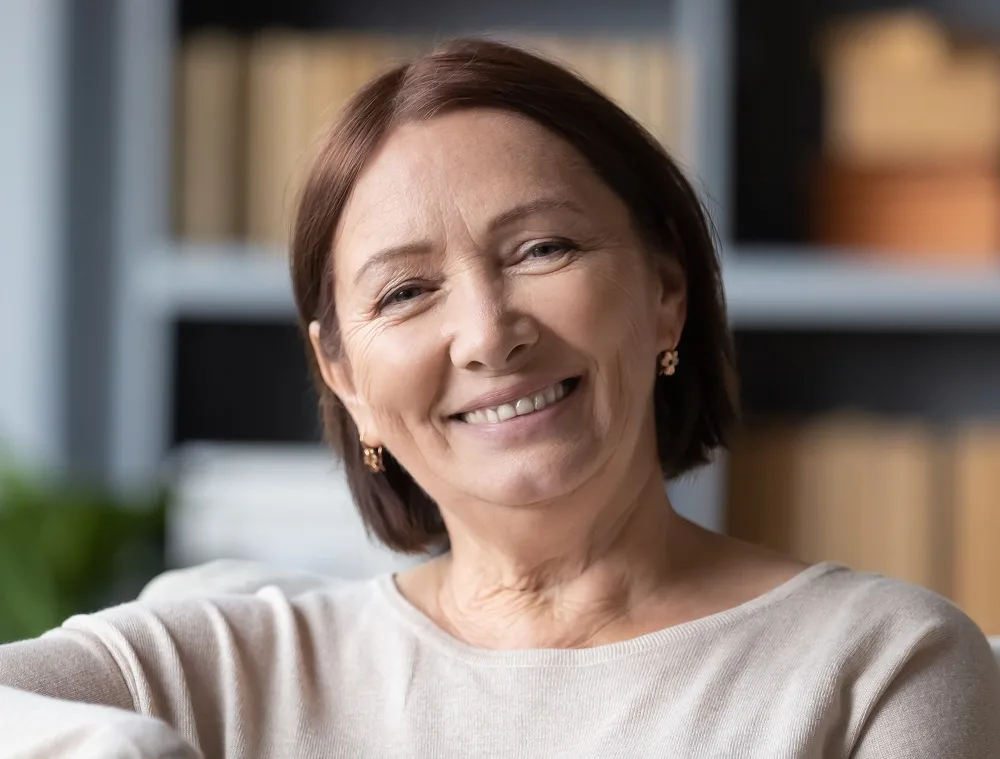 For women over 60 with straight hair and a round face, a bob is always chic and elegant, and the blunt cut is very edgy and modern.
How to Style: Cut hair to above the shoulders and part it in the middle.
12. Feathered Layers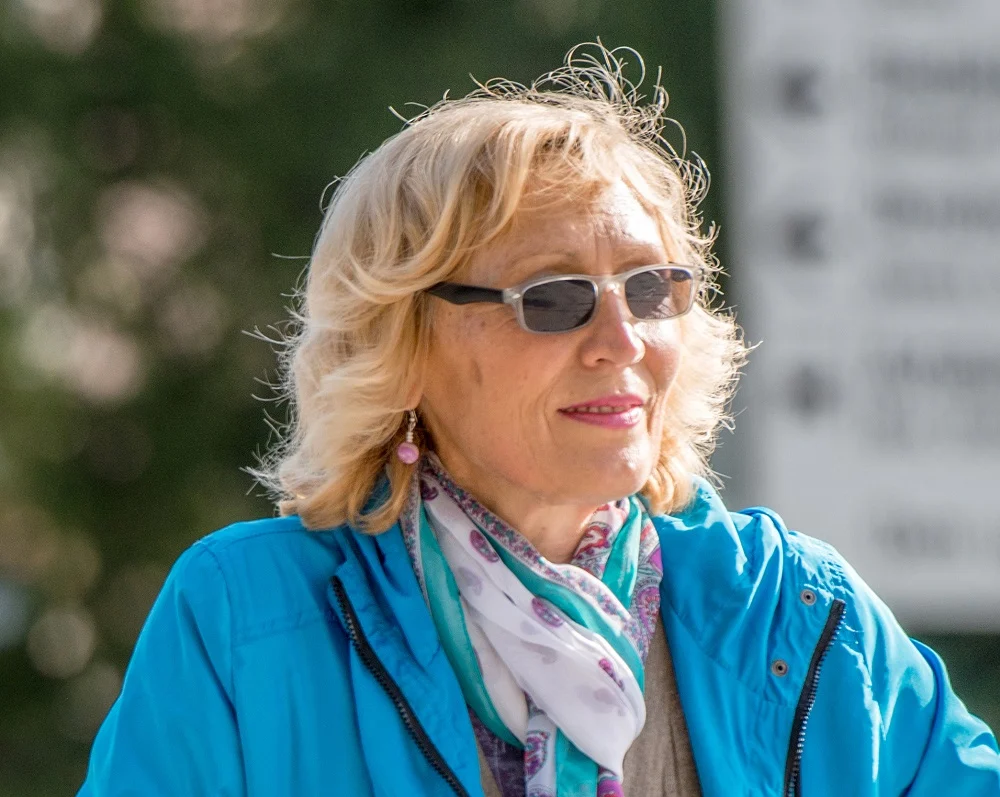 Layers create playful body you can easily style with fingers, while short fringe cuts off round angles and a wide forehead.
How to Style: Ask your stylist for a short haircut and feathered layers. Minimal fringe is best so as not to overwhelm the look.
13. Side Parted Hair for Round Face with Glasses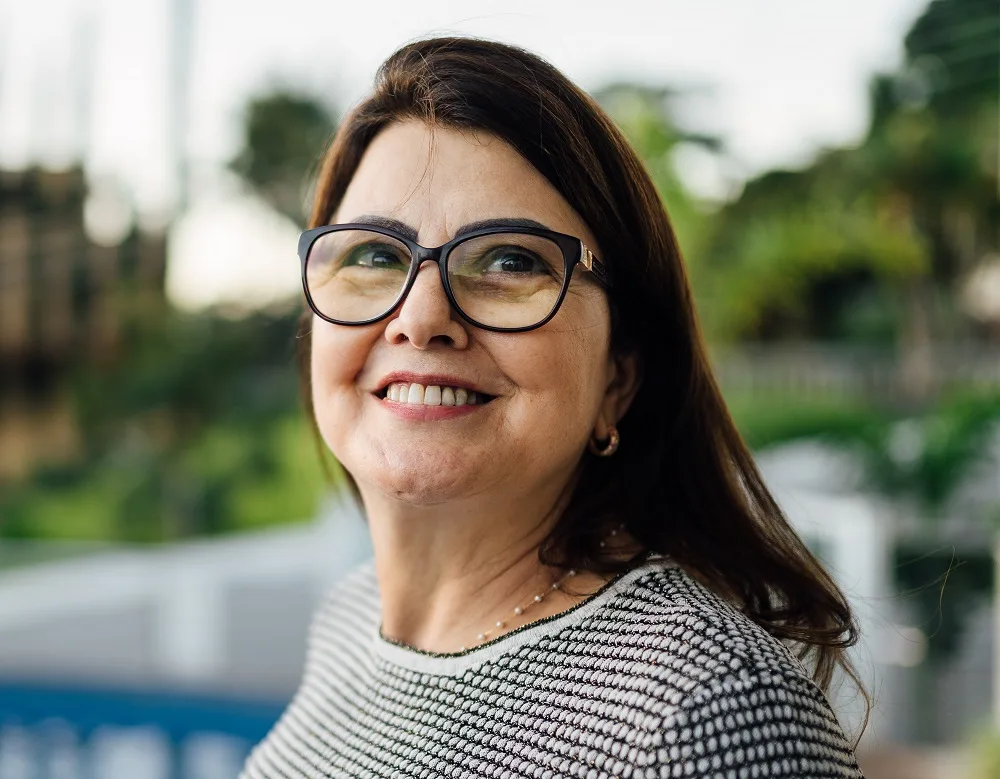 If you are a woman over 60 have both a round face and wear glasses, the easiest style is to part your hair off center to switch up face dimension.
How to Style: Brush your hair neatly, then comb in a side part and wear hair loose.
14. Blonde Bob with Bangs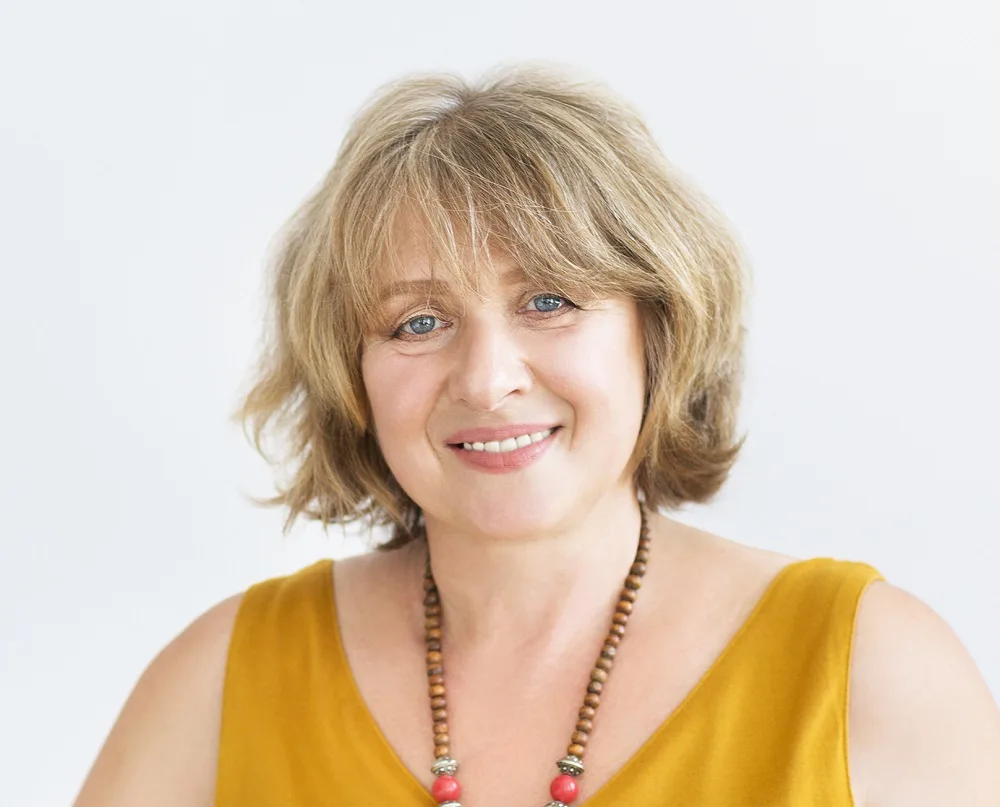 For women over 60 with a light skin tone and round face, we recommend blonde hair color on a cute bob with bangs.
How to Style: Cut hair to above the shoulders, color it a medium shade of blonde, and add in a long wispy bang with soft ends. Use your fingers to work in mousse and enhance natural waves or curls.
15. Bob for 3C Hair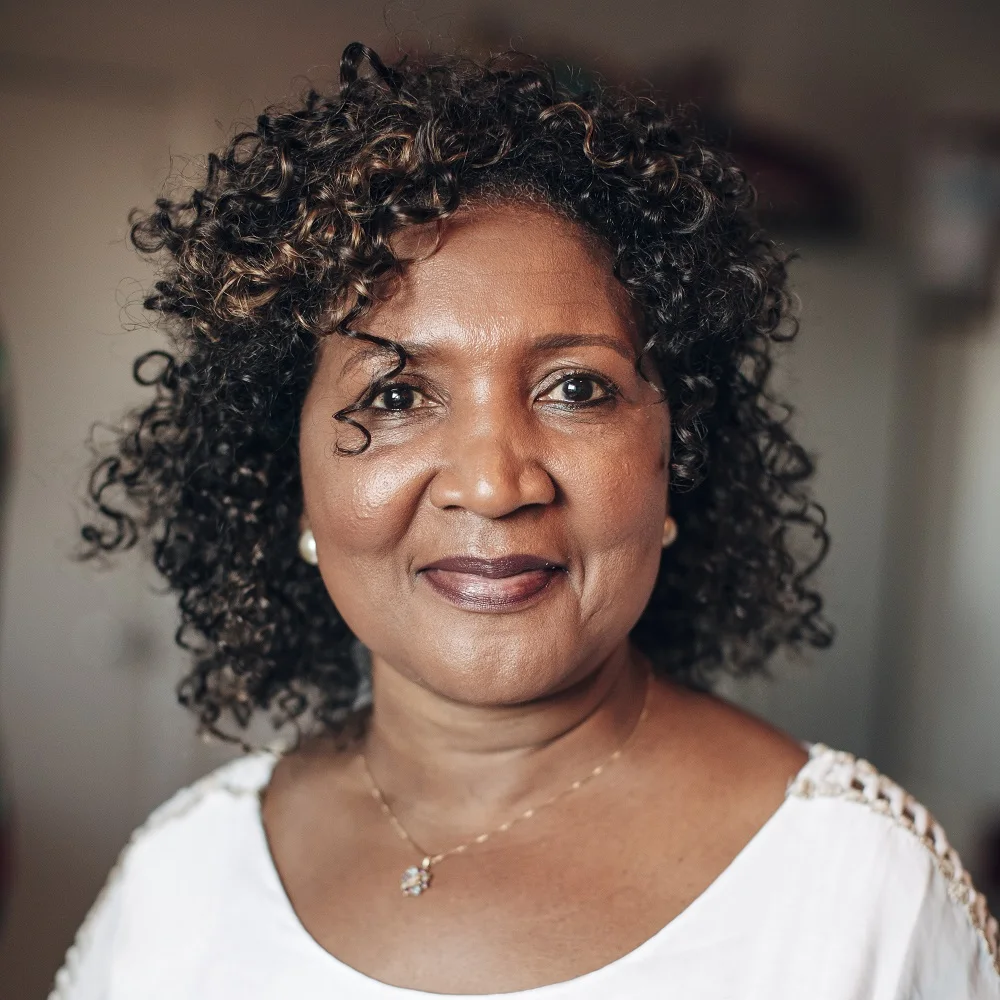 Black women over 60 with tight spirals (3C) hair will love how gorgeous they feel with a layered bob.
How to Style: Ask for short layers to showcase beautiful curls and face-framing layers or bangs that can be parted in the middle.
16. Half Up Hairdo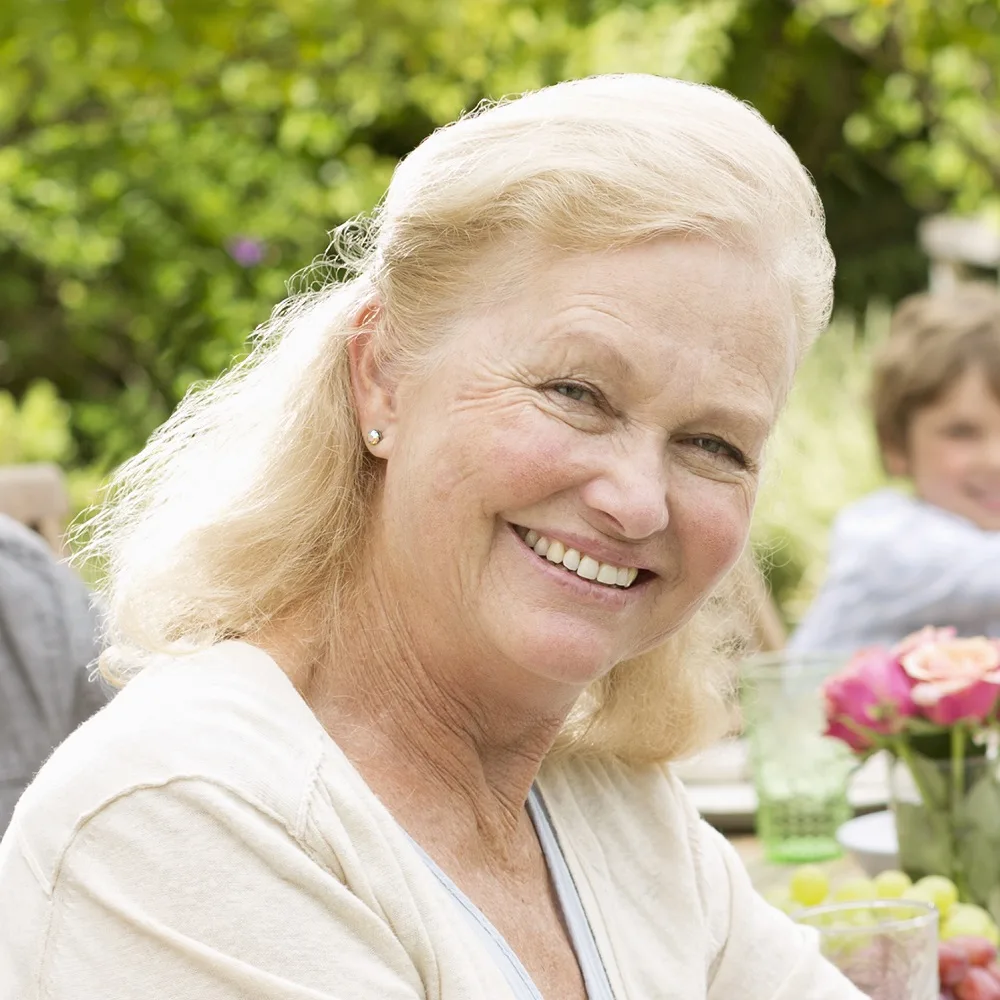 If you're an older lady who has chosen to stick with long hair, consider an updo that will flatter your round face shape.
How to Style: Neatly brush back the top half of your hair into a half ponytail, securing it low.
17. Bob with Wavy Side Bangs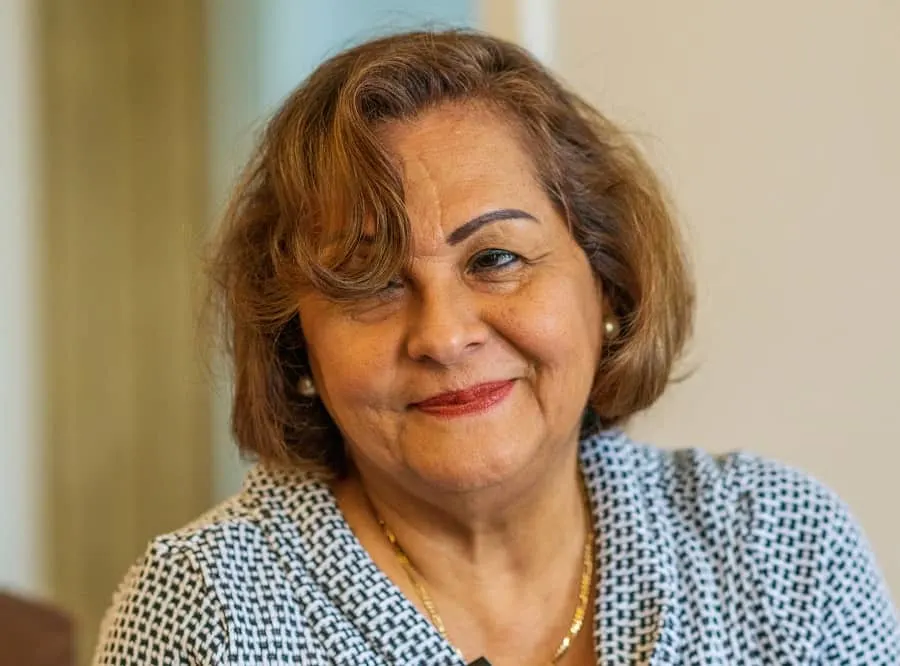 This bangs style is ideal for women over 60 who have naturally wavy hair.
How to Style: Cut hair to above the shoulders and part off-center. Leave the bang loose over one corner of your face.
18. Short Layered Waves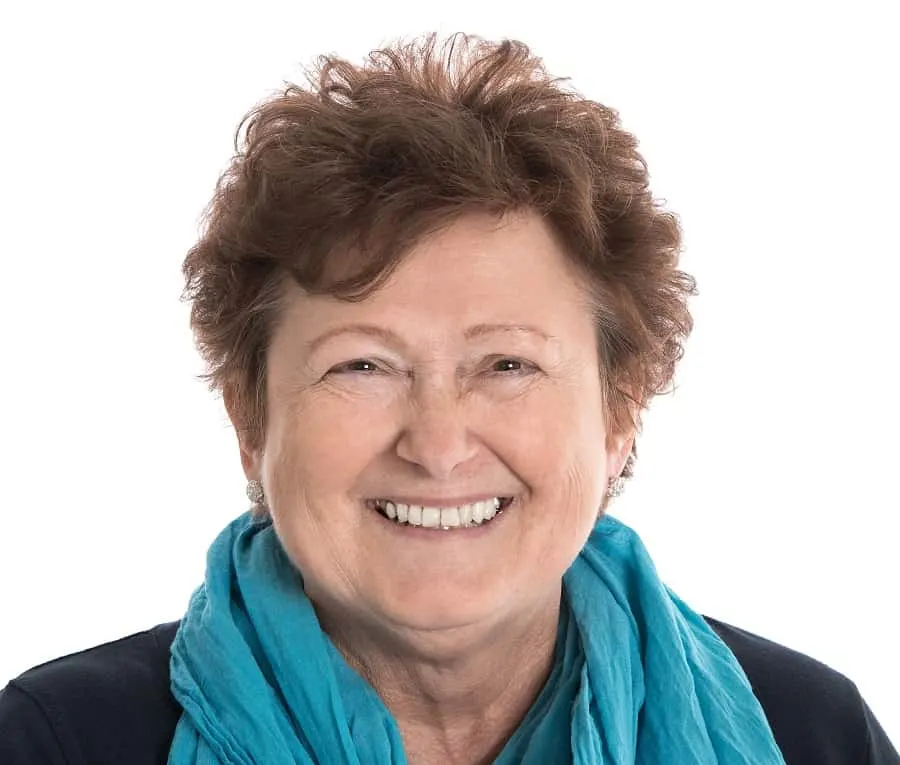 No one is a bigger fan of layered hair than us! Your over 60 self will love how this wavy short hairdo flatters a round face by using layers to provide shape.
How to Style: After hair is trimmed to the shorter length, use fingers to scrunch in mousse to enhance texture.
19. Low Side Braid Updo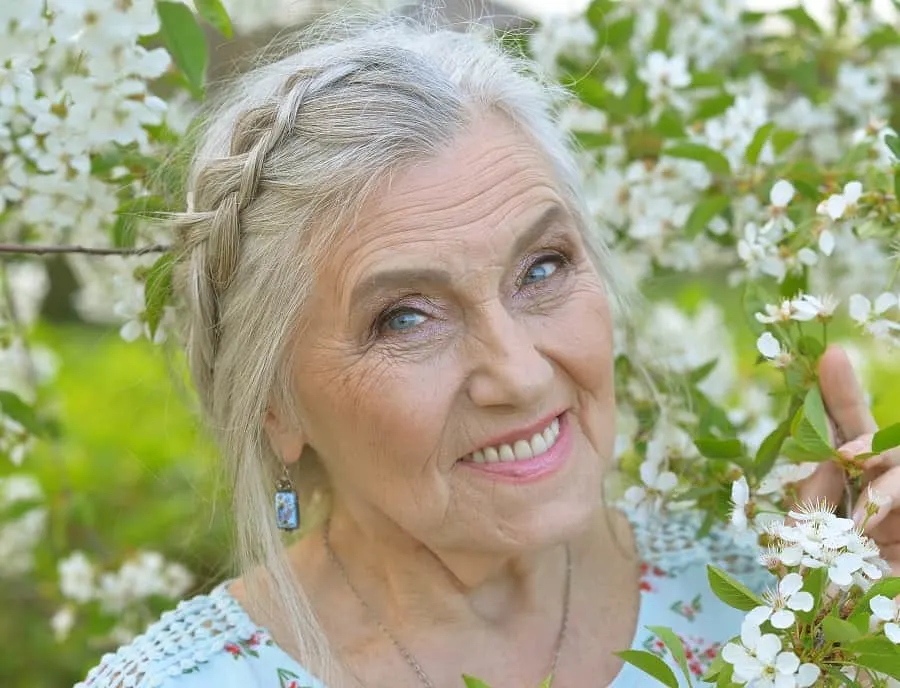 A soft, feminine hairstyle like this low bun accented with a side braid is very flattering on older women with round faces.
How to Style: Make a side braid and secure in back in a low bun. Pull a few tendrils loose to frame the face.
20. Long Pixie Fade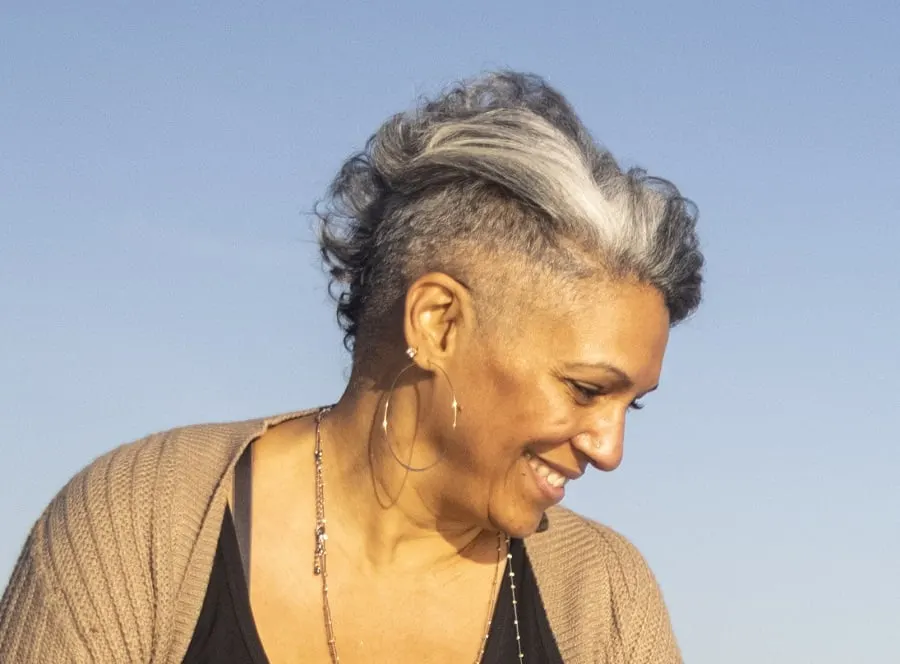 This hairstyle is both edgy and feminine for a round face.
How to Style: Cut hair to a pixie shape, shaving the sides short. Use mousse up top to enhance volume and shape.
21. Short, Thick & White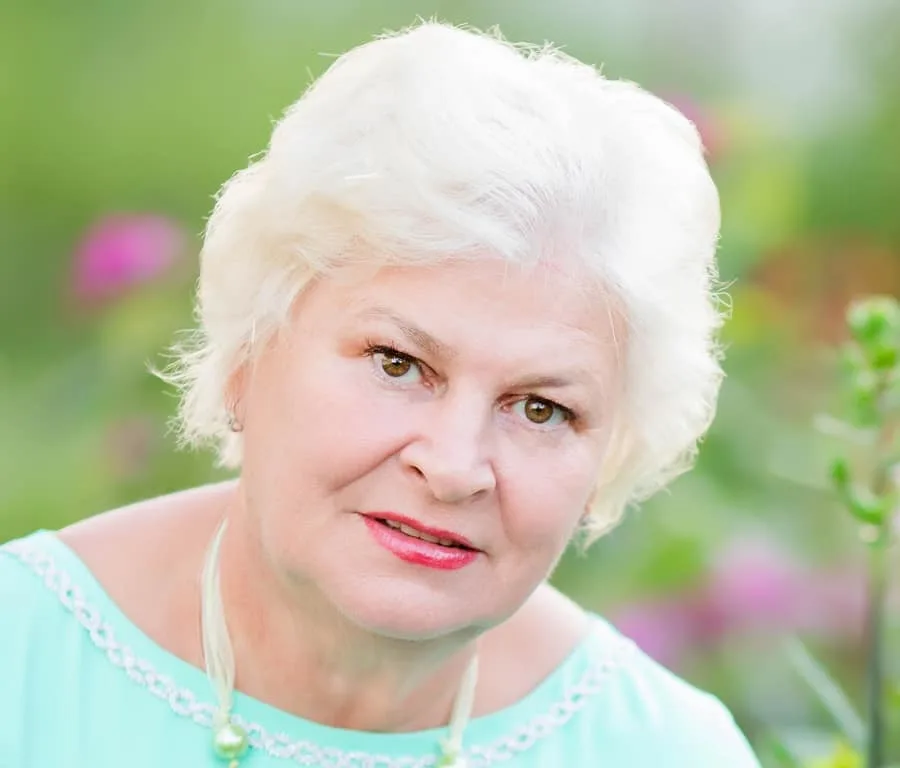 Women over 60 with round faces and white hair can be an instant golden girl just like icon Betty White.
How to Style: Cut your hair short and give it a blow out for enhanced thickness.
22. Wavy Maroon Red Hairstyle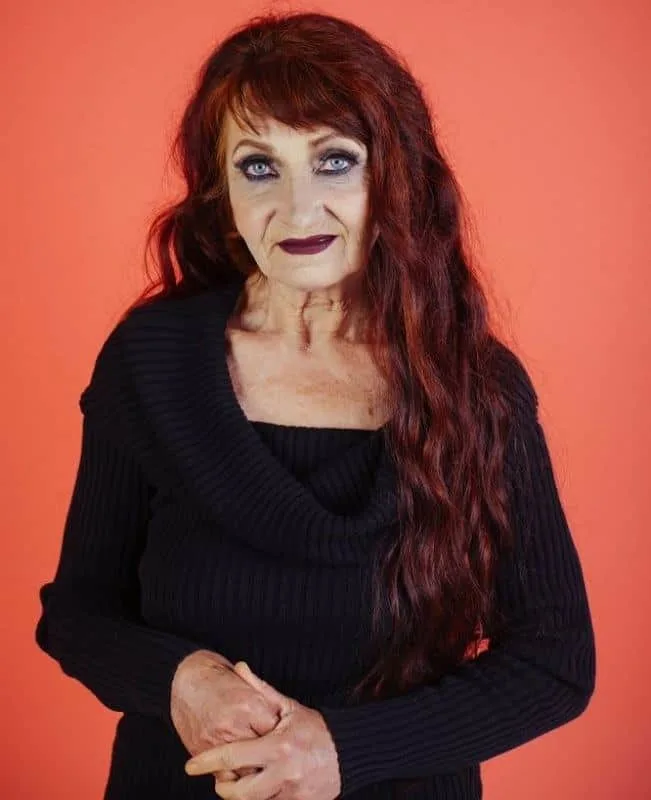 And what do you do if you don't really dig the idea of cutting your hair short? Leave it long and dramatic with a bold color.
How to Style: If you love your long hair dyed in a bright color, wear it proudly. Combine it with bold makeup to dress it up.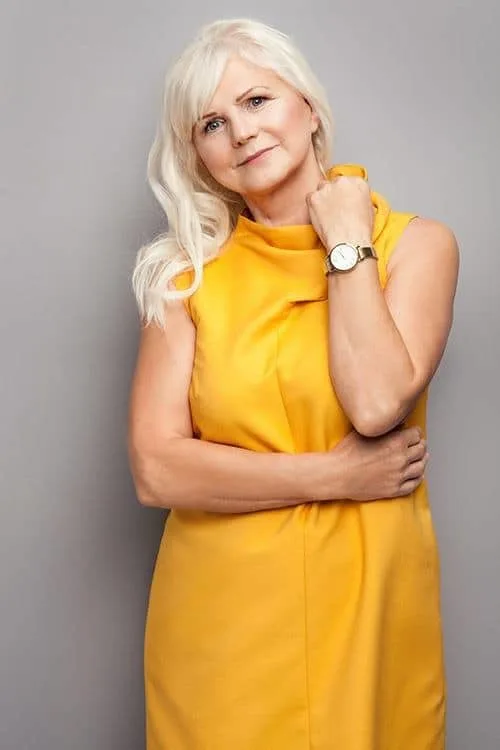 There is nothing more beautiful than seeing a gorgeous, mature woman embracing her femininity to the fullest. It's even easier if you have round face shape that gives you that naturally gentle note.
How to style: This hairstyle for over 60 round face with long white wavy hair and side-swept bangs is sure to take your breath away and change your mind for good.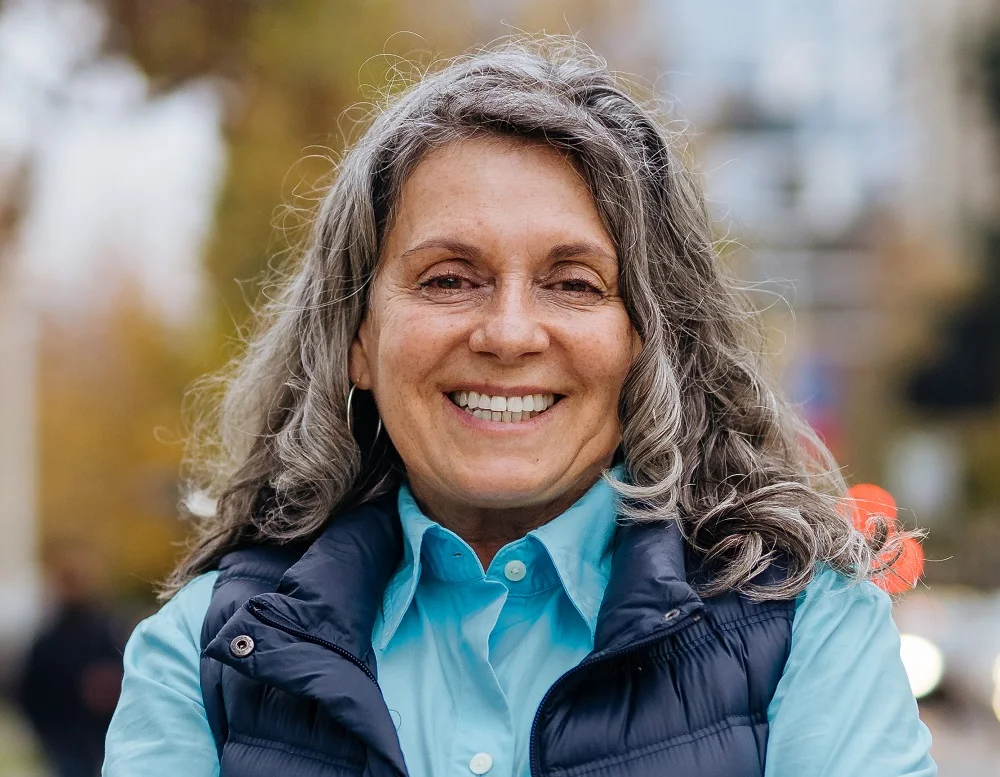 When it comes to styling hair for women over 60, there is no bigger synonym for sensuality than curls. And if the hair is long, the possibilities are vast.
How to style: Use rollers to create nice large curls and then try wearing them at the back so that they don't cover a lot of your round face.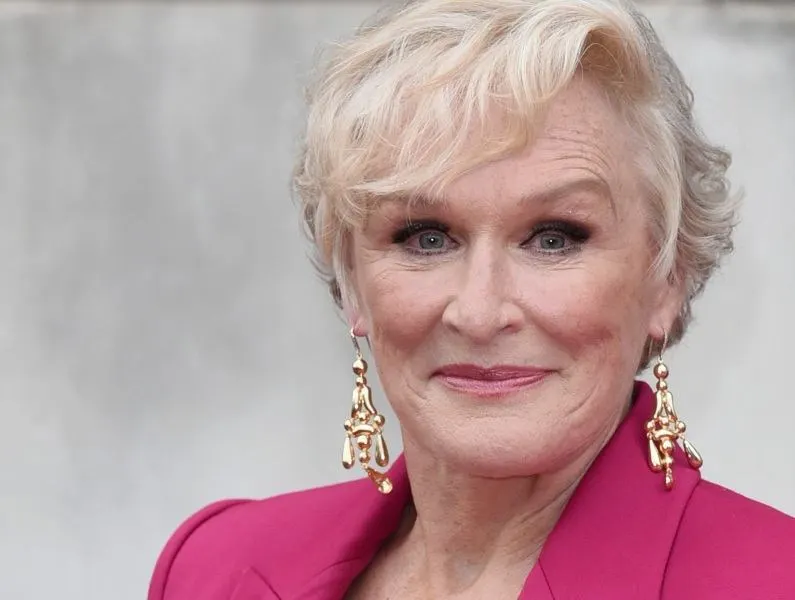 This short hairstyle for women over 60 with a round face is a little bit spiky and a lot of fun!
How to Style: Include side-swept bangs and a side part. An asymmetric style with a middle part would just enhance the roundness of the face, as opposed to asymmetric hairstyles that are more flattering for a round face shape.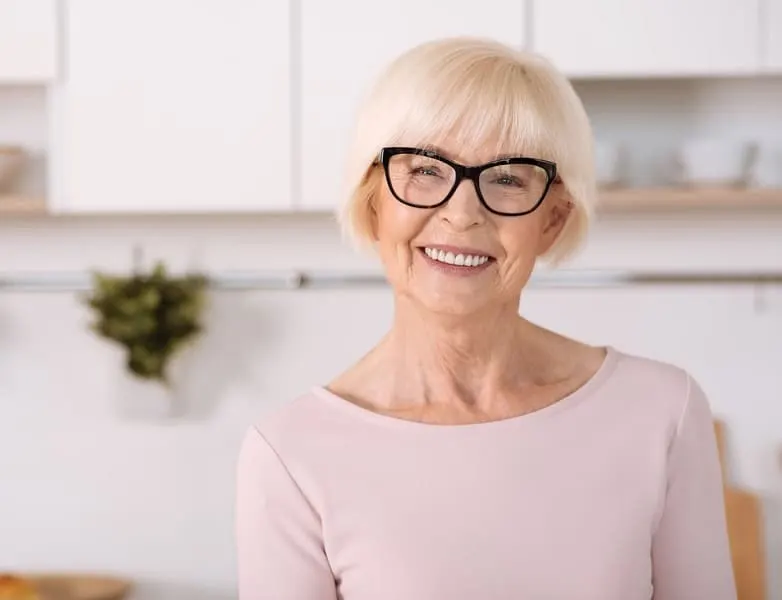 A short bob makes you look kind and endearing and that can't be a bad thing.
How to Style: As bobs have a naturally round shape, we suggest cutting the bangs.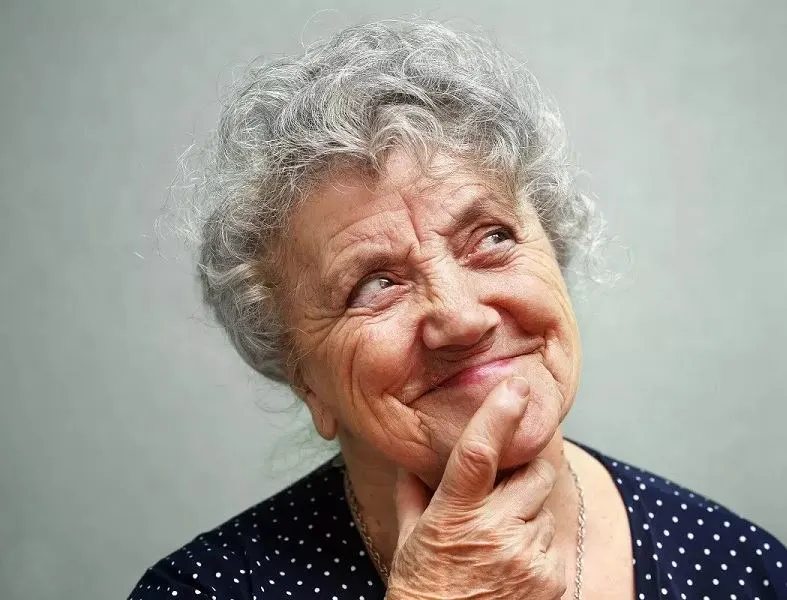 Have some natural curls and don't know what to do with them?
How to Style: For round-faced women over 60 who have naturally curly hair, wear them as they are. Long or short, it really doesn't matter!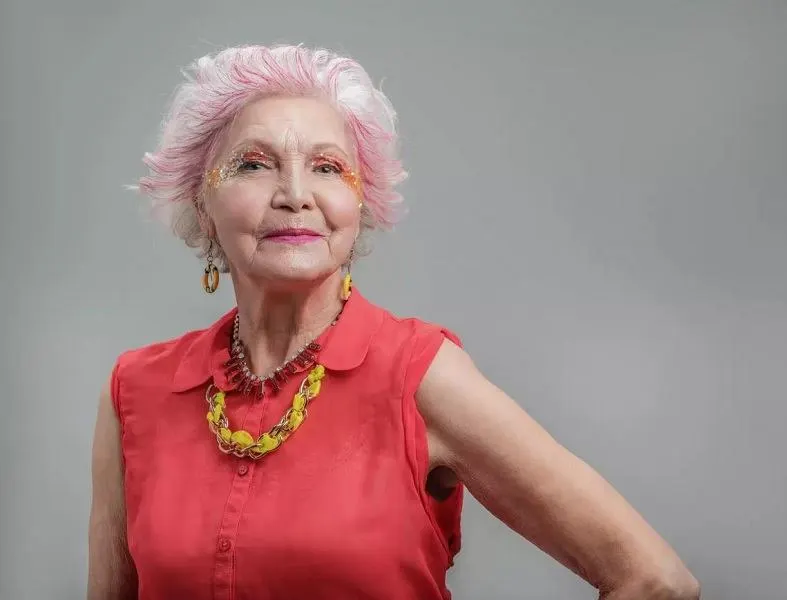 If you've turned 60, that doesn't mean that you have to turn to a typical grandma. On the contrary, spice that white hair up with some pink highlights and live your extra life.
How to Style: Do a nice blowout, curling your hair outwards.
29. Natural Smooth Short Hairstyle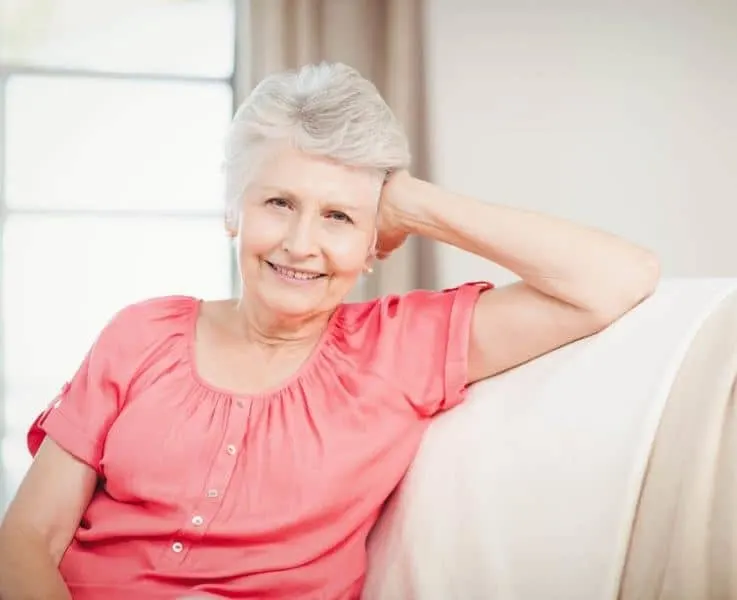 Simple and short is a great option for low maintenance style!
How to style: Part hair at the side and wear it straight and smooth.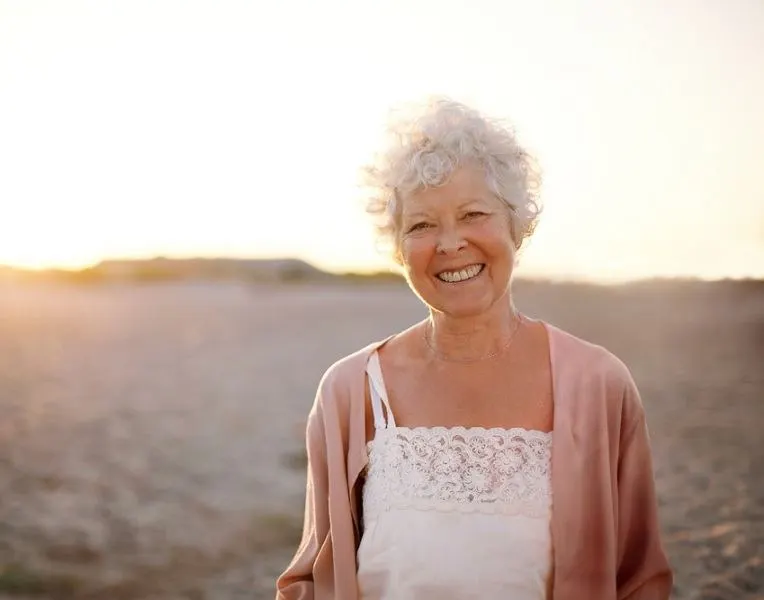 You've grown your natural gray hair out, but you still want to do something with it.
How to Style: A perm on hair that hasn't been dyed previously looks amazing and it doesn't damage the hair. It is a beautiful hairstyle for older women with round face and over 60 years old.
If you have wavy hair and you're a fan of the retro vibe, this is a perfect solution for all your problems.
How to Style: Wear this short hairstyle that still shows those natural waves that fall over the forehead.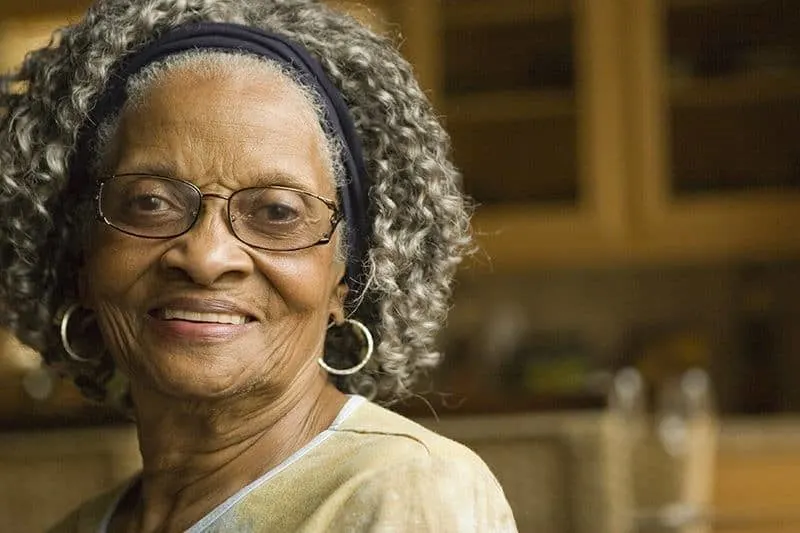 No matter how old you are, if you have a natural afro, wear it proudly.
How to Style: Get hair away from your face with a beautiful headband or clips. This short curly hairstyle for round face women over 60 is a good option.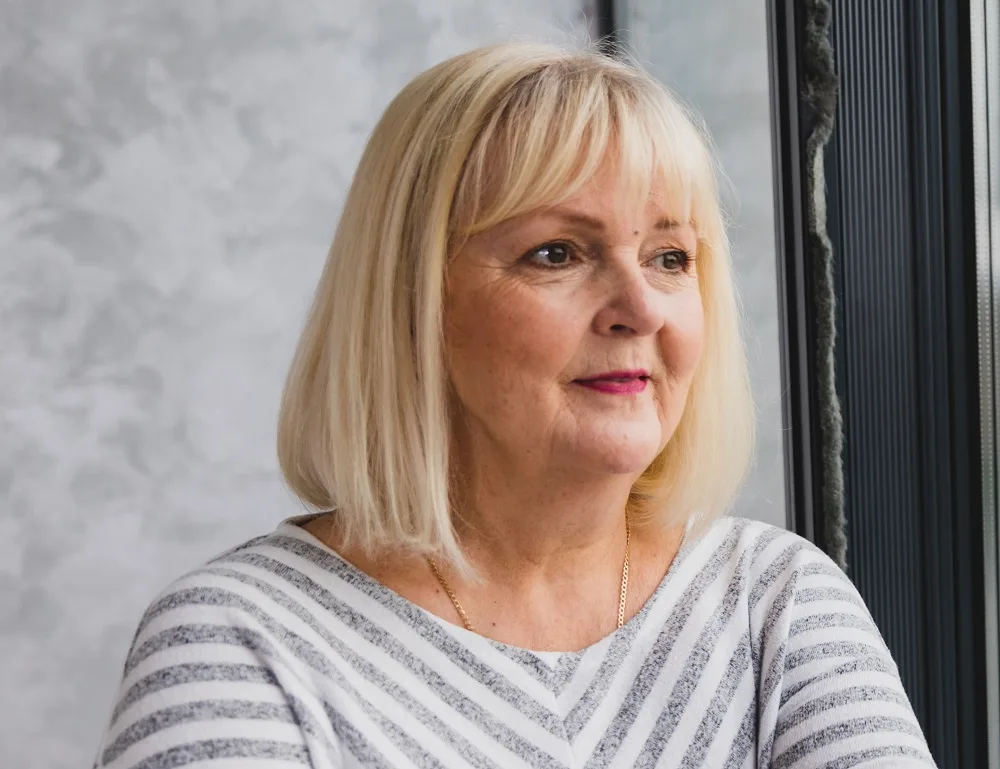 A completely straight bob with bangs will give your face more of a hard shape to contrast its natural round shape, and it works best for women whose hair is a little bit to the thinner side because it's easier to straighten.
How to Style: Straighten your hair with a styling brush or a hair straightener.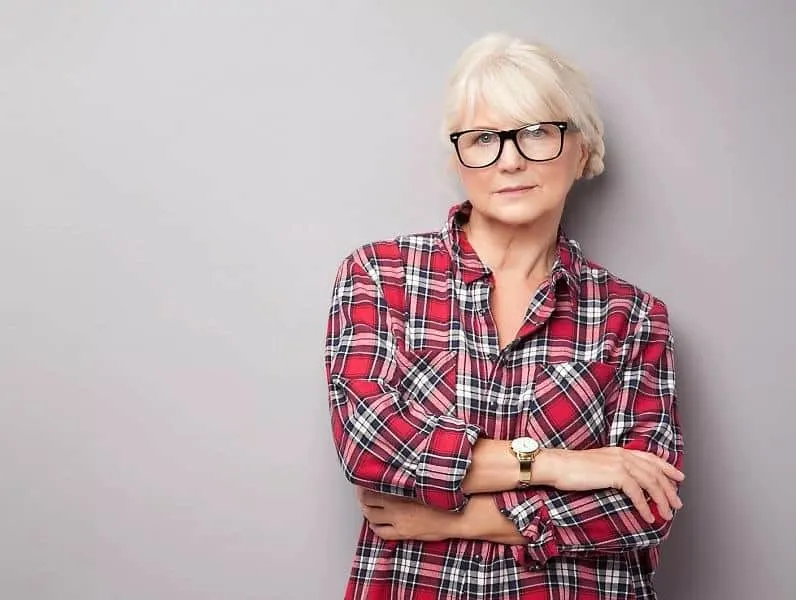 A hairstyle can say a lot about one's personality, and what a side updo and bangs say about you is that you are a fun and free-spirited person.
How to Style: Find a nice bun that you like. You can use a little bit of hair gel on your bangs.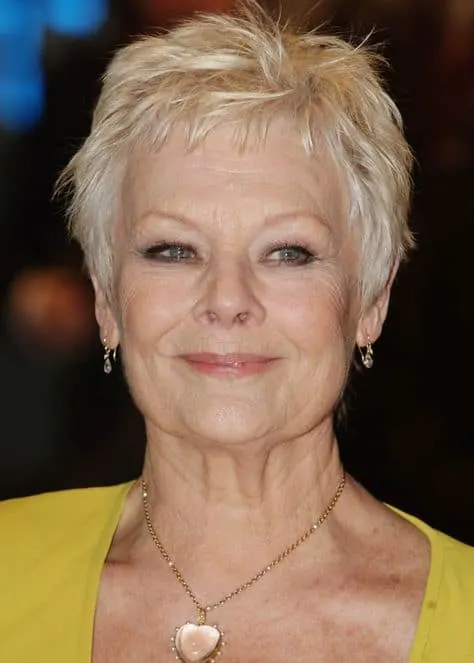 This hairstyle is one of our absolute favorite picks in terms of short haircuts, especially in terms of good hairstyles for older women over 60. Harsher lines of the hairstyle are a perfect match for the soft lines of the face.
How to Style: A good way to style a pixie haircut for women with round face and over 60 is to add some spikes and wear it messy.
36. Classic Elegant Updo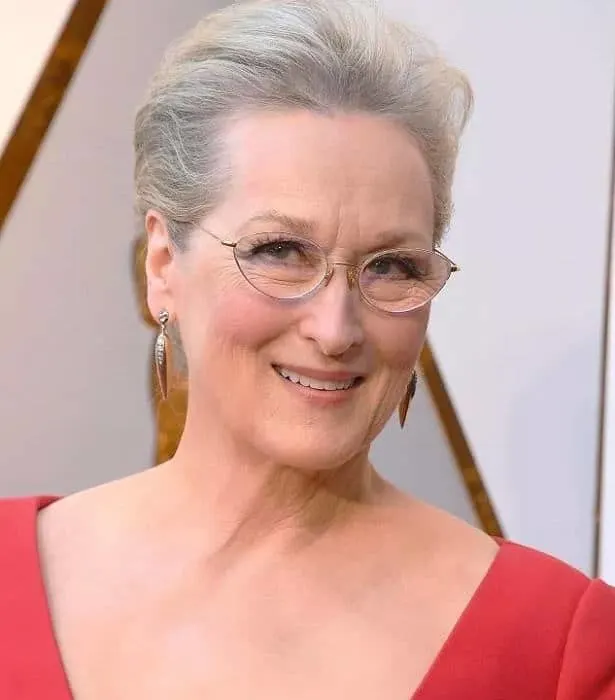 There are many reasons why Meryl Streep's 2018 Oscars look became iconic. Many would agree that she looked better than a lot of colleagues that are half her age.
How to Style: Pull your hair up into a beautiful tight updo, sleek on the sides and teased on top to elongate the face.
Isabella Rossellini has an unusual kind of beauty. And an important part of that is her round face and round lips.
How to Style: This pixie cut is a great example of how a pixie haircut should be styled on women over 60 with a round face. It should be sleek, a little bit shorter on the sides and the bangs should form a square shape as a contrast to the softer lines of the face.
38. Long Teased Waves
In the eyes of many men out there, Kim Basinger has always been somewhat of a fatal woman. Now she is 65 and not much has really changed.
How to Style: Her ashy blonde hair is still a trademark and the long, teased and a bit messy waves suit her amazingly.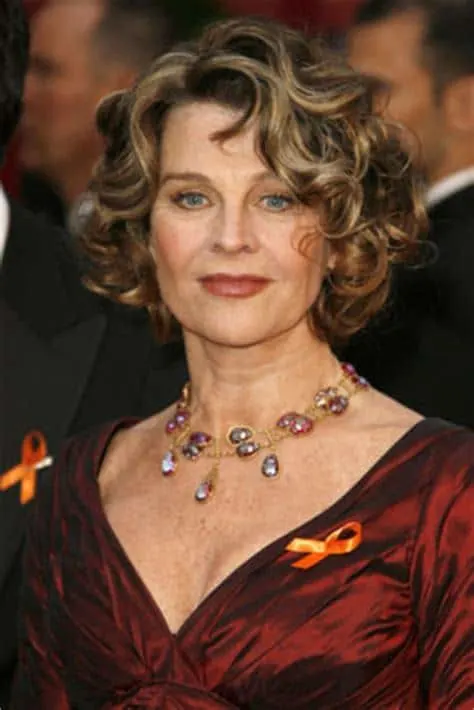 If you've tried this hairstyle when you were 20, you've probably felt that it made you look a lot older and that it didn't flatter you all that much. And you were right. But a good thing about this type of hairstyles is that after a woman has reached a certain age, they start to have a different effect.
How to Style: This bob hairstyle for over 60 with a round face looks great with large curls and blonde highlights. Get a similar look with a perm or a curling iron, using products that will help you get the desired shape.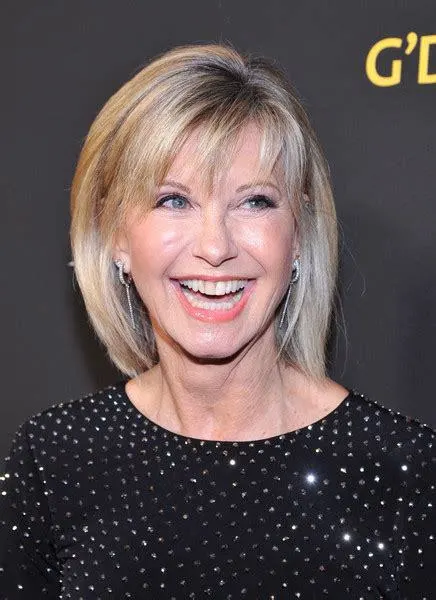 Beautiful women will shine brightly even if they don't wear a crazy haircut that screams for attention. And true ladies know that. Bangs for round face is a good option even for women over 60.
How to Style: Olivia Newton-John's lob hairstyle was straight and relaxed with side-swept short bangs tucked behind her ears.
Women with round faces can often be self-conscious and worry too much about what hairstyle suits them. We hope you've found inspiration among these 40 hairstyles for women over 60 with a round face!
FAQs
Short or long hair – which is better for over 60 round faces?
The length is a matter of personal preference – it's really all about how you style it. However, it's generally recommended your haircut is at least chin-length because you can do more with it to distract from a round face.
Will long hair make a round face slimmer for women over 60?
Yes, long hair is perfect for making a round face slimmer-looking. Asymmetrical cuts will also create sharper angles.