In this article, we have gathered our top 27 hairstyles for over 60 with round face women. Making this pick was very important for a few reasons.
When you were younger you've probably felt that there was nothing that you can't pull off. Whatever you would choose to wear looked amazing and you've probably already gone through that experimenting phase where you tried all the hair colors and hair lengths. Red, purple, brown, blonde, caramel, long, short, wavy, curly, bangs, perm – you've worn it all.
However, after you've reached a certain age, you probably started giving more thought what hairstyles, haircuts and hair colors best suit your personal style and your age.
One important factor to keep in mind when choosing the right hairstyle is the shape of your face. Not every hairstyle is appropriate for every face shape. If your face shape is round then you are at the right place.
Best Over 60 Hairstyles for Women with Round Faces
Check out our list of suitable hairstyles for women over 60 with round faces this season.
1. Bob with Wavy Side Bangs
Even if people do notice your round face, they'll be more enchanted by your chic short bob and its beautiful wavy side bangs. This style is ideal for women over 60 who have naturally wavy hair, but you can still get the texture with a curl cream.
2. Short Layered Waves
No one is a bigger fan of layered hair than us! Your over 60 self will love how this wavy short hairdo flatters a round face by using layers to provide shape.
3. Low Sidebraid Updo
For all the ladies out there who are over 60 and rocking beautiful long locks, more power to you for not immediately going short! A soft, feminine hairstyle like this low bun accented with a side braid is very flattering on round faces. Just make sure to pull a few tendrils loose to frame the face.
4. Long Pixie Fade
Searching for a hairstyle that's both edgy and feminine for your round face? You may be over 60, but you can still rock this stunning combination of straight hair and soft waves in black and white on a long pixie. The high fade helps to make this a low maintenance women's hairstyle as well.
5. Short, Thick & White
Is it us or does this women's hairstyle not remind you of the late icon Betty White? Women over 60 with round faces and white hair can be an instant golden girl just like Betty by cutting hair short and giving it a blow out for enhanced thickness.
6. Twist Updo for Black Women
To make black hair looks its most luminous on a special occasion, opt for thick twists that wind up into a tight coiled bun. This hairstyle will flatter the round face of any woman over 60.
7. Natural Looking Blowout on a Short Bob
Helen Mirren is 73 and still a gorgeous Hollywood icon. Part of the secret lies in her charming personality, but another part of it is in her outstanding fashion and hairstyle choices.
How to style: Now, to be more precise, when it comes to her hairstyle choices, she likes to keep things pretty simple. She usually has a gorgeous relaxed and a little bit messy blowout that flatters her face. She keeps the bangs a bit shorter and her naturally white hair has become one of her trademarks.
And what do you do if you don't really dig the idea of cutting your hair short and settling with your natural color or at least a neutral one? It is pretty simple – you don't. You've gone through so many things in your life to now feel obligated to conform to some standards.
How to style: If you love your long hair dyed in a bright color, wear it proudly. And if you like to combine it with bold makeup be sure that it is a great hairdo for women over 60 with round face!
With years and updo has become your favorite everyday hairstyle. And we completely understand why – it is appropriate for many occasions, the hair doesn't fall all over your face, it is elegant and sophisticated enough, and it looks good.
How to style: A trick to make that look a little less strict for round face older women over 60 is to cut your bangs. They shouldn't be too thick and too sharp so that you can casually sweep them to the side and they can frame your face nicely.
If you thought that long hair was inappropriate for women after they've reached 60, you are wrong. There is nothing more beautiful than seeing a gorgeous, mature woman embracing her femininity to the fullest. It's even easier if you have round face shape that gives you that naturally gentle note.
How to style: This hairstyle for over 60 round face with long white wavy hair and side-swept bangs is sure to take your breath away and change your mind for good.
When it comes to styling hair for women over 60, there is no bigger synonym for sensuality than curls. And if the hair is long, the possibilities are vast.
How to style: You can use rollers to create nice large curls and then try wearing them at the back so that they don't cover a lot of your round face. That way they will look gorgeous falling down your back.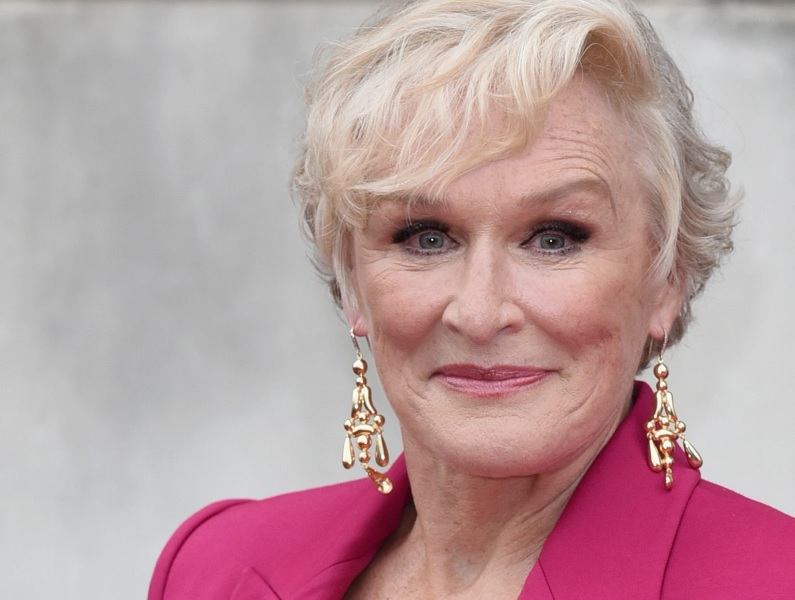 Short hairstyle for over 60 round face that is a little bit spiky and a little bit messy speaks for itself. And what it says is that you are outgoing and fun and that no one has the right to call you old!
How to style: This specific hairstyle and a good few other hairstyles in this article include side-swept bangs and a side part. And there is a good reason for that – asymmetric middle part would just enhance the roundness of the face, as opposed to asymmetric hairstyles that are more flattering for round face shape.
A short bob makes you look kind and endearing and that cannot possibly be a bad thing.
How to style: As bobs have a naturally round shape, we suggest cutting the bangs.
You have some natural curls and don't know what to do with them?
How to style: For round-faced women over 60 who have naturally curly hair a good tip would be to wear them as they are. Long or short, it really doesn't matter!
If you've turned 60, that doesn't mean that you have to turn to a typical grandma. On the contrary, spice that white hair up with some pink highlights and live your extra life.
How to style: Do a nice blowout curling your hair outwards.
16. Natural Smooth Short Hairstyle
You can't be bothered with hair anymore and you've decided to wear it short.
How to style: Part it on the side and wear it straight and smooth.
You've grown your natural gray hair out, but you still want to do something with it.
How to style: A perm on hair that hasn't been dyed previously looks amazing and it doesn't damage the hair. It is a beautiful hairstyle for older women with round face and over 60 years old.
If you have wavy hair and you're a fan of the retro vibe, this is a perfect solution for all your problems.
How to style: Wear this short hairstyle that still shows those natural waves that fall over the forehead.
No matter how old you are, if you have a natural afro, wear it proudly. As simple as that.
How to style: If you want to change something or get the hair away from your face, there is a wide range of hair accessories you can choose from. This short curly hairstyle for round face women over 60 is a good option.
A completely straight bob with bangs will give your face more of a hard shape to contrast its natural round shape, and it works best for women whose hair is a little bit to the thinner side because it's easier to straighten.
How to style: Straighten your hair either using a styling brush or a hair straightener.
A hairstyle can say a lot about one's personality, and what a side bun and bangs say about you is that you are a fun and free-spirited person. And good looking too!
How to style: Find a nice bun that you like and try and create it. You can use a little bit of hair gel on your bangs. This elegant hairstyle for 0ver 60 round face is so good.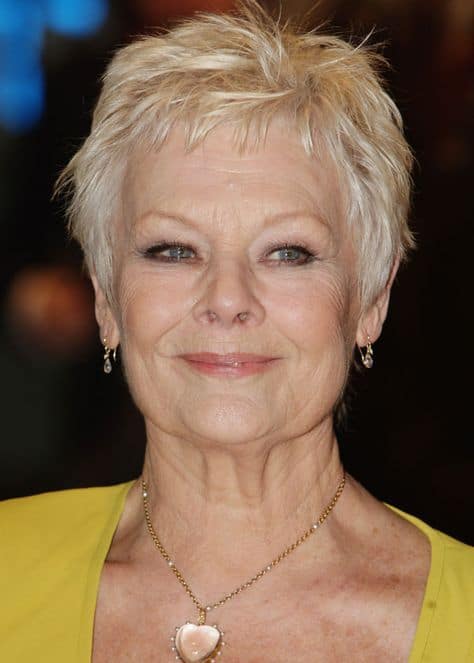 This hairstyle is not only one of our absolute favorite picks in terms of short haircuts, but also in terms of good hairstyles for older women over 60. Harsher lines of the hairstyle are a perfect match for the soft lines of the face.
How to style: That is why a good way to style a pixie haircut for women with round face and over 60 is to add some spikes and wear it messy.
23. Classic Elegant Updo
There are many reasons why Meryl Streep's 2018 Oscars look became iconic. Many would agree that she looked better than a lot of colleagues that are half her age. And everybody thought to themselves that they wish they looked just like that when they are her age.
How to style: A significant part of that iconic look was her hairstyle. She wore a beautiful simple updo that was tightened and sleek on the sides and teased on top, which is a great option to elongate the face.
Isabella Rossellini has an unusual kind of beauty. And an important part of that is her round face and round lips. Throughout her career, she wore a lot of short haircuts.
How to style: This pixie cut is one of her most recent ones and it's a great example of how a pixie haircut should be styled on women over 60 with a round face. It should be sleek, a little bit shorter on the sides and the bangs should form a square shape as a contrast to the softer lines of the face.
25. Long Teased Waves
In the eyes of many men out there, Kim Basinger has always been somewhat of a fatal woman. Now she is 65 and not much has really changed. She is still chic and modern and doesn't settle for a completely toned down look.
How to style: Her ashy blonde hair is still a trademark and the long, teased and a bit messy waves suit her amazingly.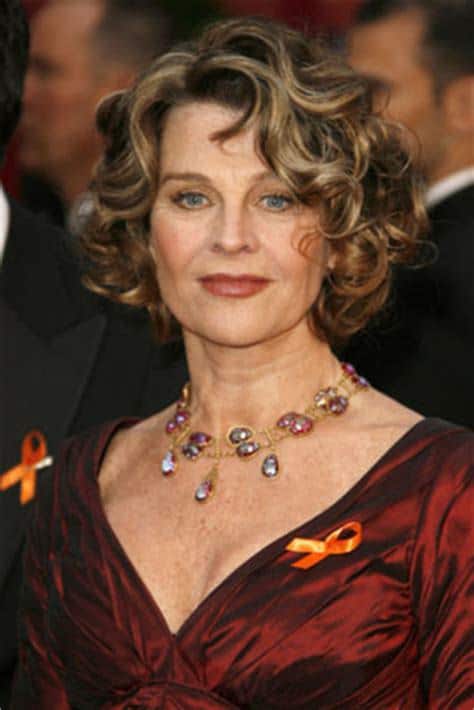 If you've tried this hairstyle when you were 20, you've probably felt that it made you look a lot older and that it didn't flatter you all that much. And you were right. But a good thing about this type of hairstyles is that after a woman has reached a certain age, they start to have a different effect.
How to style: This bob hairstyle for over 60 with round face looks great with large romantic curls and blonde highlights. You can get a similar look with a perm or a curling iron. Don't forget to use hair products that will help you get the desired shape.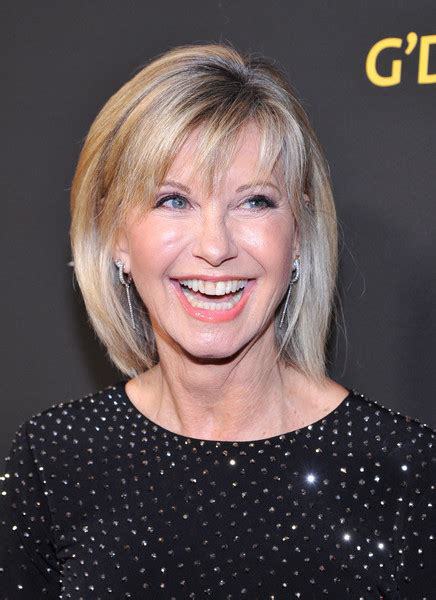 Beautiful women will shine brightly even if they don't wear a crazy haircut that screams for attention. And true ladies know that. Bangs for round face is a good option even for over 60 years old women.
How to style: A great example of that is Olivia Newton-John's lob hairstyle that she likes to wear straight and relaxed with side-swept short bangs and even tucked behind her ears. The blonde hair makes her eyes pop and her enchanting smile definitely completes this look.
Women with round faces can often be self-conscious and worry too much about what hairstyle suits them. We hope that among these 27 hairstyles for over 60 round faces you will find inspiration for your next hairstyle.