Whoever said you had to wear boring hairstyles once you're past your 40's, has not seen these short hairstyles for older women we put together especially for you.
Trust us, there are still many short haircuts and fun hairstyles over 60 women can try on, so sit down, and pay attention to some of the styles we're about to show you!
Short Hairstyles for Over 60: Things to Consider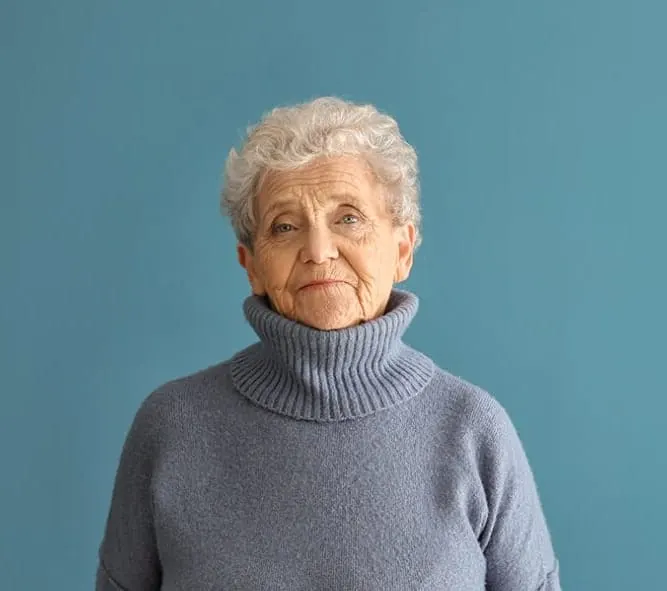 Like we just said, growing older doesn't mean you suddenly have to stop caring for your hair and playing around with it, actually, this is the time to do whatever you want with your own hair.
However, before you start trying out these different short haircuts for over 60 years old women, there are some things you should consider about your hair during this time in your life.
The first thing that you should know is that your hair isn't as strong as it used to be, and this is perfectly normal! Our hair, skin, and nails tend to lose strength as we get older, which means, we have to take care of them even more in order to keep them looking good and healthy.
That being said, you can still bleach and dye your hair if you want to, but make sure you're using proper hair care products that will help your hair recover from the damage being done.
It is also very important for you to find a hairstyle that accommodates you and suits you. In this lists, you'll find a lot of fun options to try out, but at the end of the day, you should go for the one that better suits your current style.
Last, but not least of the things you should consider, is that it's very likely your hair won't hold on onto curls/permanents or even straighteners, and that's okay and very common as well.
Which means, yes, you'll be able to try on these hairstyles, but they might not hold on for more than two days. So, please try to choose one that: One, looks good on you; and two, actually fits you.
Best Short Haircuts for Women Over 60
Have a look at these short hair ideas that women over 60 years old can try without hesitation!
1. Combed Back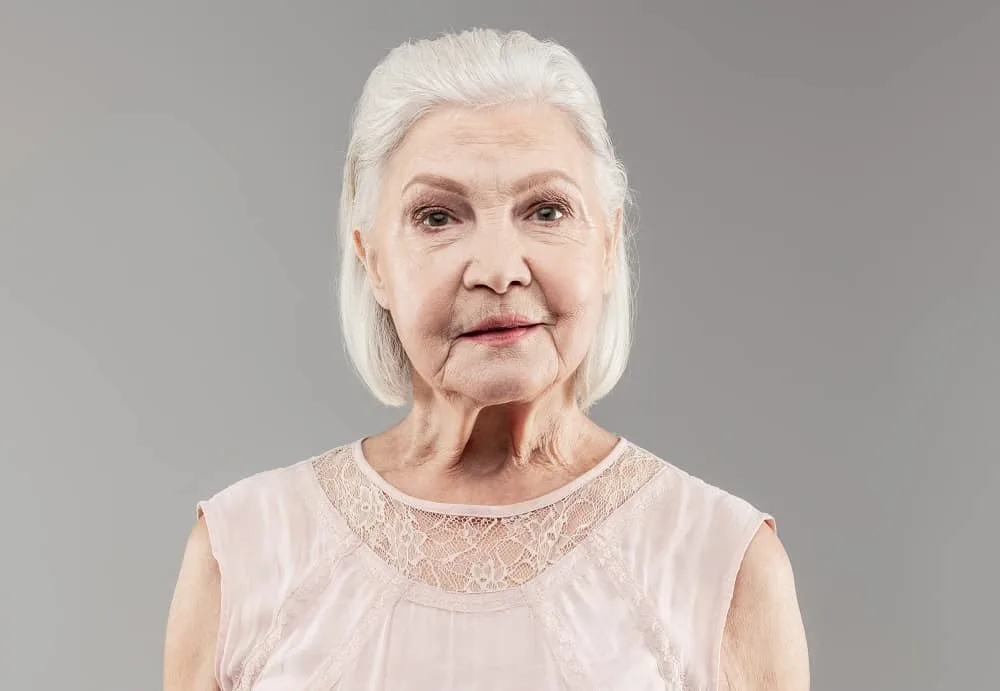 When you're older, you often look for easy hairstyles that take just a minute to style in the morning. This one is great for shorter hair – simply use a comb or your fingers and sweep the hair back away from your face with a little mousse.
2. Short Highlighted Hair
If you have short dark hair, warm it up with some thin blonde highlights. Concentrate them around the face to warm up your complexion as well. If you have a small face shape, opt for thin, short bangs.
3. Wavy Hair with Glasses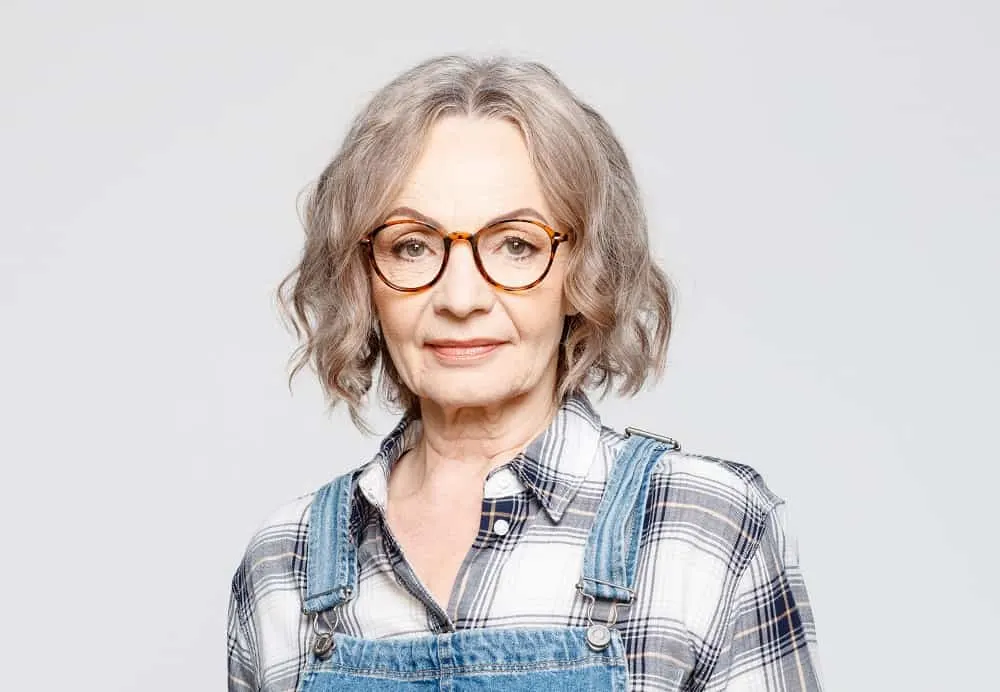 Another low maintenance hairstyle for women over 60 is a short bob. When you have lots of natural texture, you just need to part your hair down the middle and let it do the rest. Any pair of glasses will look adorable with this style.
4. Short Black Hair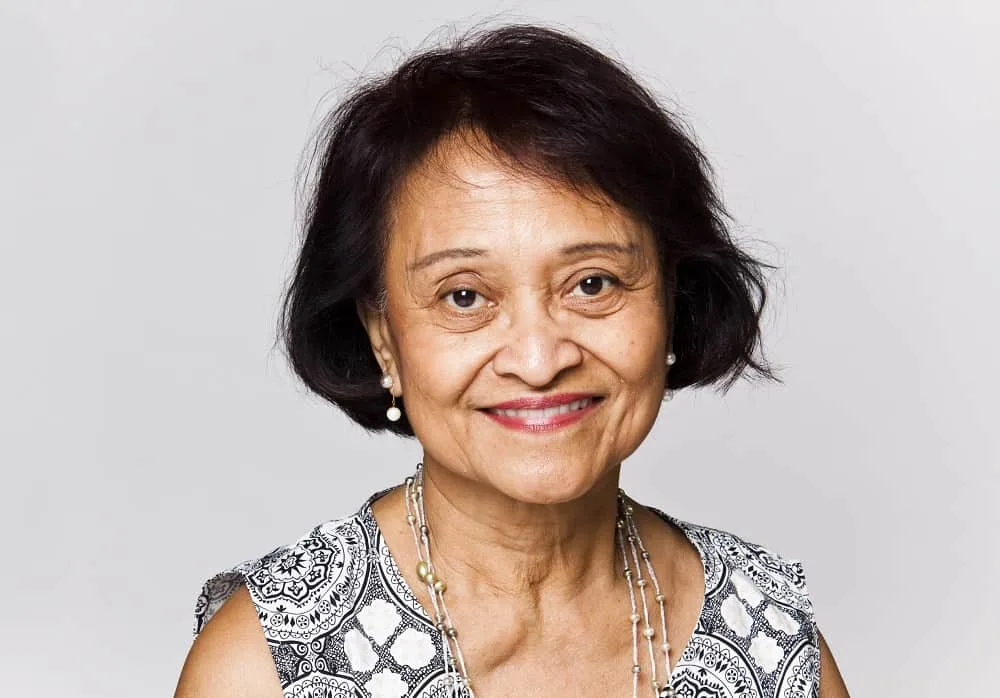 For a classier look for black hair, choose a chin-length bob. This short length doesn't require much framing, so you can get away with minimal fringe. Brush it softly to one side, letting it fan across your forehead.
5. Purple Pixie
We love a woman over 60 who likes unique hair colors. This light purple, for example, stuns on a short pixie with lots of texture and lift at the crown. Straighten bangs and keep their length to above the eyes for softness.
6. Short Ponytail
While running errands or hanging out at the house, put your hair up and out of your face. A simple ponytail is easy for any woman to do and it looks pretty with or without bangs.
7. Wavy Gray Bob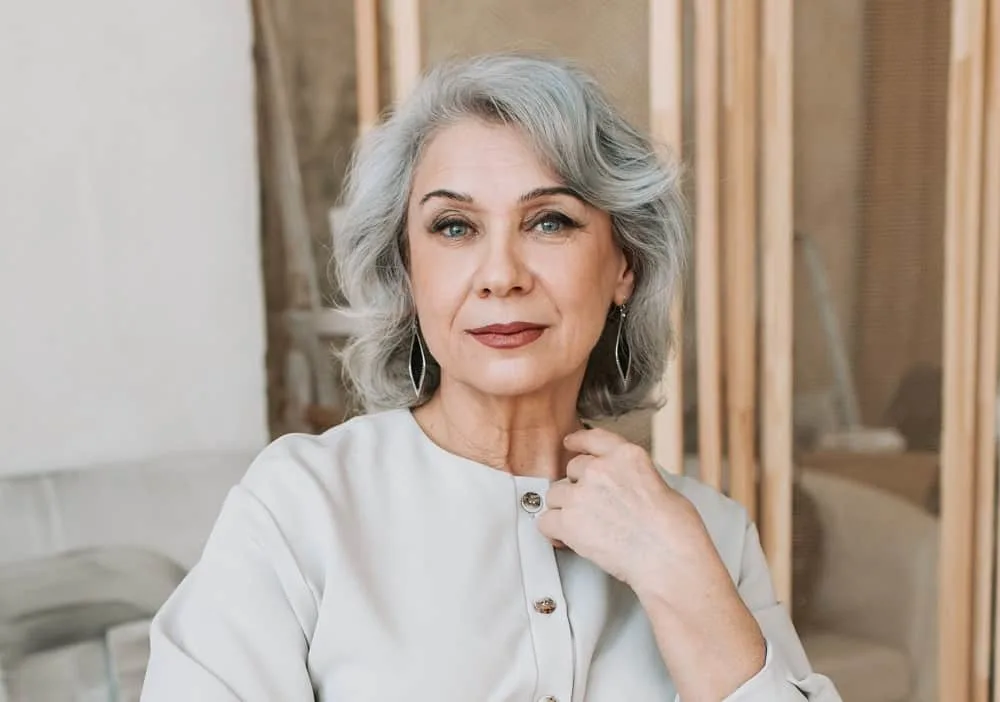 Gray hair has never looked prettier on women over 60 than in a shoulder-length haircut with waves and a thick side bang. Style it this way by using a blow dryer and a round brush. Then add your favorite earrings and a red lip.
8. Short Brown Curls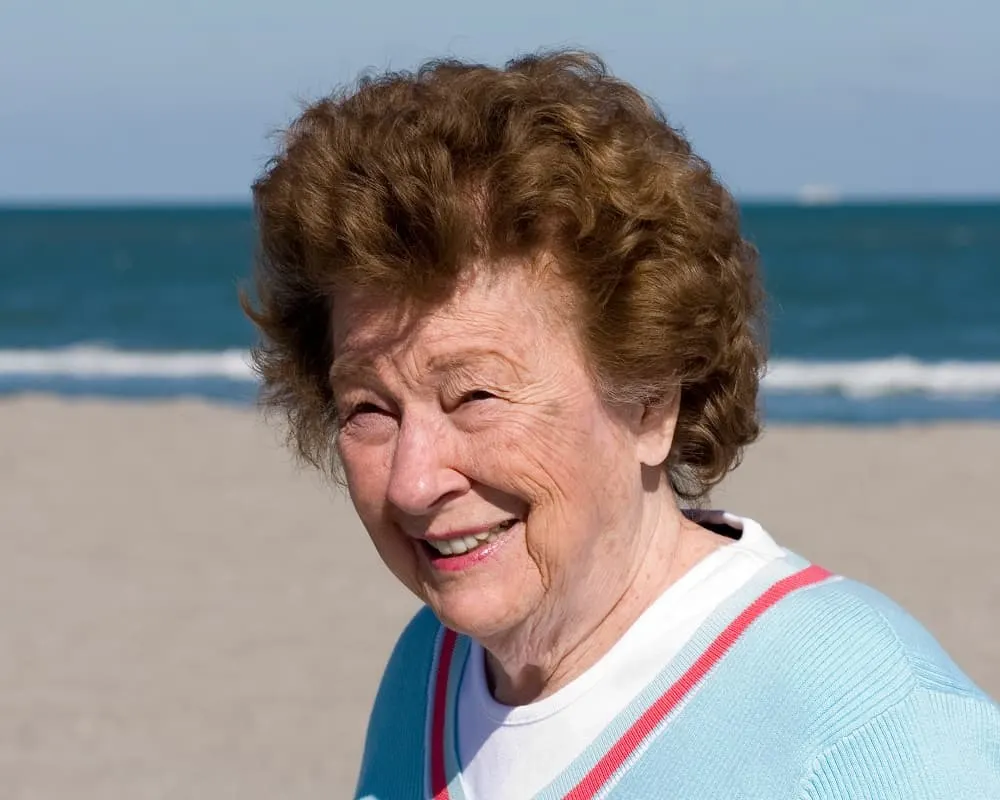 Do you have thick curly hair? A bob or shorter haircut will tame it into a stylish look. We recommend using a little hair product with your fingers to shape frizz-free texture so your curls stand out.
9. White Pompadour
A women's pompadour isn't too common on women over 60, so you're guaranteed to stand out. Let white or gray hair go natural in this edgy look. You'll love how the height and unusual shape gets you all the adoring glances.
10. Short and Messy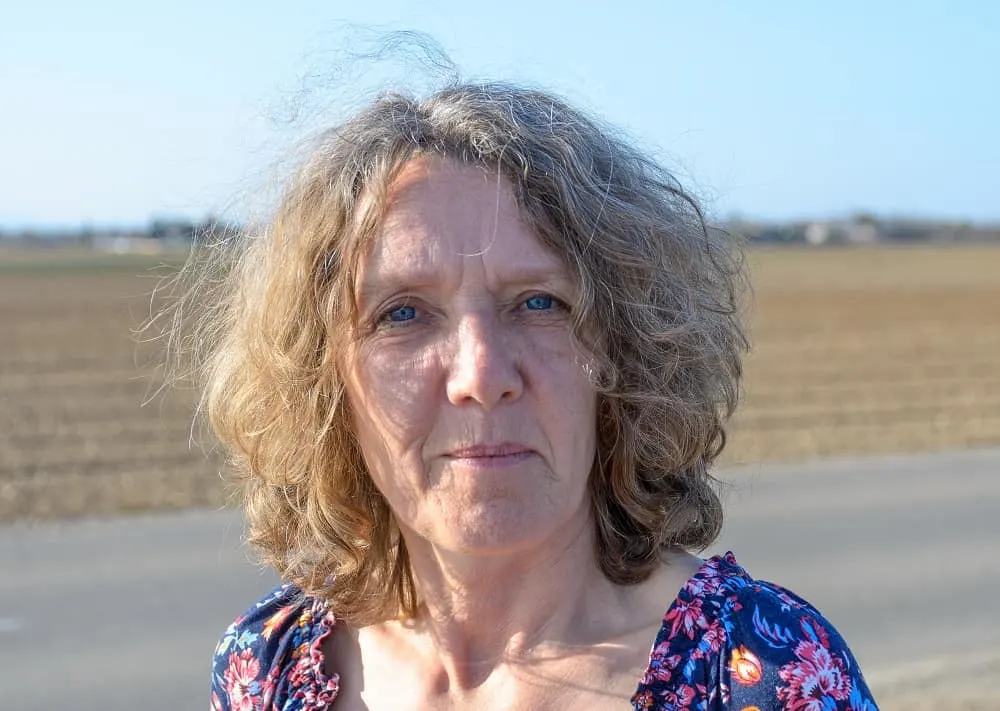 Looking for a casual everyday hairstyle? There's nothing more freeing when you're over 60 than letting hair go natural. Cut it short to shoulder-length, and if you do choose to put product in it, use a mousse or hair cream.
11. Short Golden Curls on Top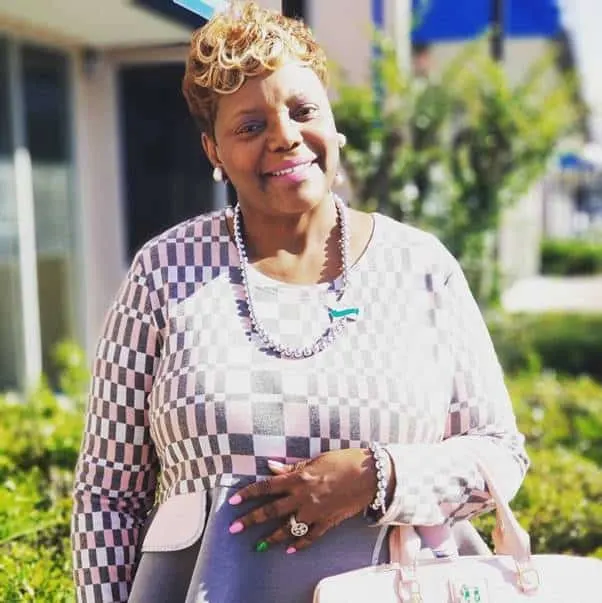 This is a very fun haircut any women can try on. It's a very classic curly haircut, with short sides and longer hair on top, you just have to curl down the top part of your hair and apply some hairspray to make it last as much as possible.
Also, if you have darker hair and want the effect of the golden curls, don't forget to dye it as well before styling it!
Best Hair Colors for Women Over 60 to Try
This is one of those bob haircuts that will just look good on over 60 old ladies. It's basically a medium to short bob styled down with just a regular Brazilian blowout!
This haircut will really help you make the most out of your natural gray hair, although you can always dye it to really bring out that bluish color you see on the picture.
13. Messy Classic Short Hair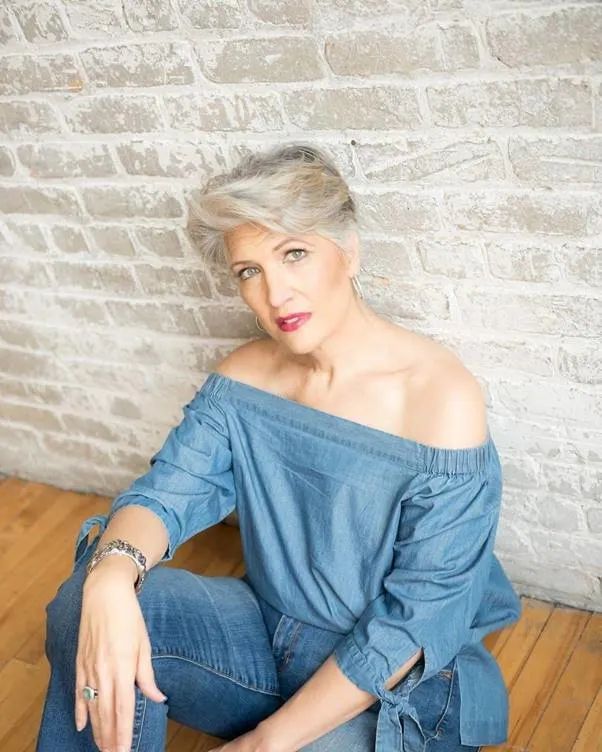 If you already have short hair and want to spice things up, this grey hairstyle for women over 60 is for you!
All you have to do is blow-dry the top part of your hair, and then with the help of a very tiny round comb style it to the back. Apply hair spray to finish it all up.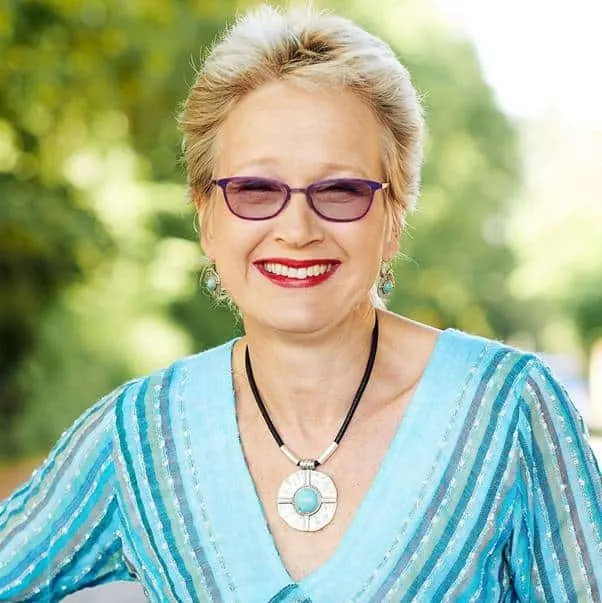 Another classic style in this over 60 haircuts lists, and it's also very easy to do! You'll have to ask your stylist to give you an even short haircut, and then blow dry your hair while pushing it to each side with a medium round comb.
You can run your fingers through your hair and let the strands fall naturally on the sides for a much more 'careless' look.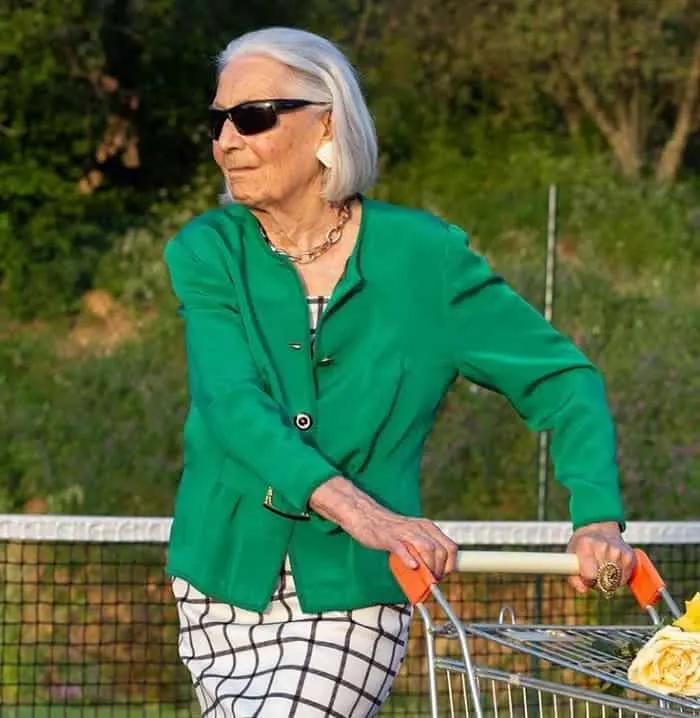 Who said women over 60 couldn't wear their hair down? This short white hairstyle is low maintenance and will allow you to show off your natural hair!
To get, simply wash your hair and slick it back with your own fingers and some hair gel or any post-shower hair product you like! Apply some heat with a blow dryer to make it stay like that and you're done.
To get this hairstyle you should cut your hair right by your ears (making sure to ask your stylist to also give you some blunt bangs), and then blow dry it upwards with a tiny round comb to get the 'wispy' style just like in the picture.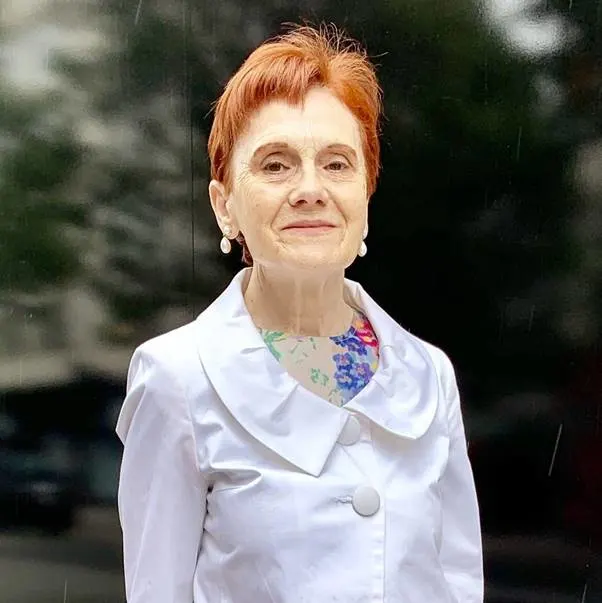 Like we said, short hairstyles for old women don't have to bore and this one proves it. Although your hair should be an equal length throughout, the top front part should be slightly longer on one side and shorter on the other! Also, the middle part of your hair should be parted on the side as well.
This particular hairstyle is for those women who want to have more hair. To get it, you should cut your hair down to your cheeks or right by your ear, and style it by pushing it back and tucking it behind your ear as well. Again, your middle part should be slightly off to one side of your head.
If you're looking for careless, fun, short hairstyles, this is the right one for you! Make sure to dye your hair a vibrant red if you aren't naturally a redhead, and then curl it with either heat curls or with a semi-permanent if you want to go with a much more low maintenance style.
20. Short Square Cut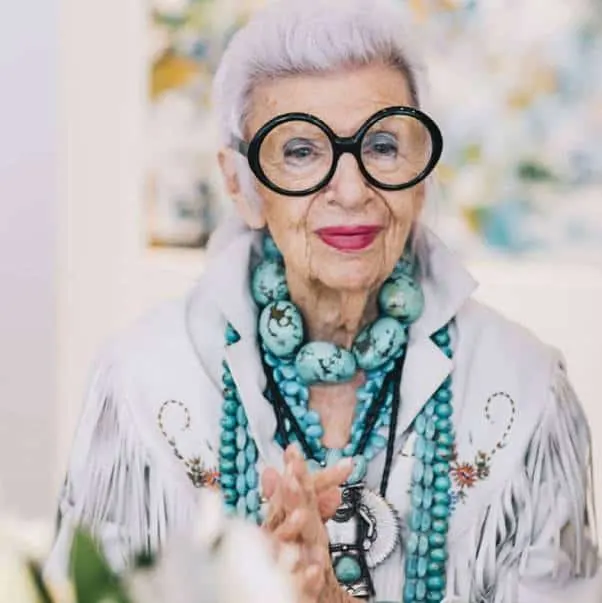 Not all square cuts are strictly for men! Women over 60 can also cut their natural hair very short, framing their faces, and style it to the back with the help of regular hair gel and a blow dryer as well!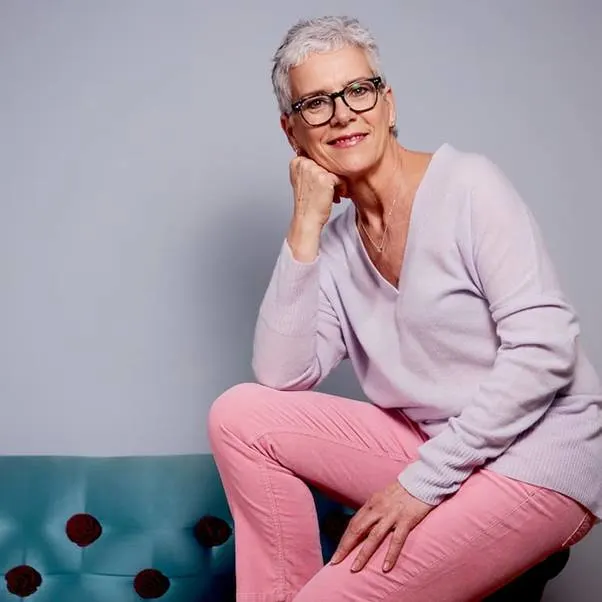 This is another classic short haircut for women over 60 with glasses, and it's very low maintenance as well! This time, instead of getting an even cut throughout, make sure to leave the top part with more hair so you can get natural waves just like in the picture.
Lovely Hairstyles Over 60 Women with Round Face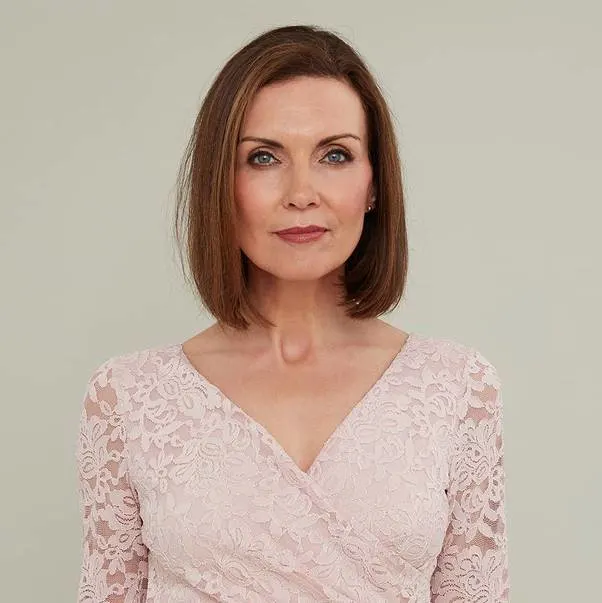 Another great option for women in their sixties or above who still want to maintain some hair on the head is a straight cut bob. You just need to ask your stylist to cut the hair right above your shoulders and give you a sided middle part and you're done.
Similar to the previous hairstyle we just showed you, this one is significantly shorter, and also you can add some side bangs to spice things up! Again, you should part your hair down the middle and then cut the bangs to fall down -and cover- your forehead.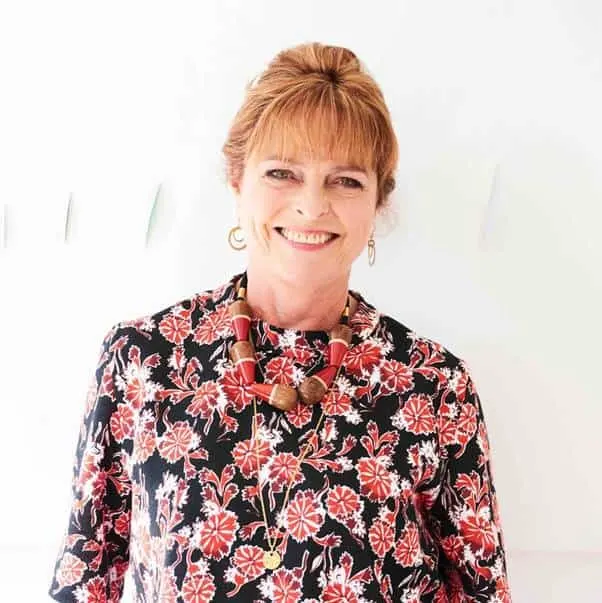 Older women have to try this classic one! You'll have to pull your short hair to the back and tie it up with either bobby pins or a hairband. Remember to pull out some strands of hair do it looks a little bit more careless.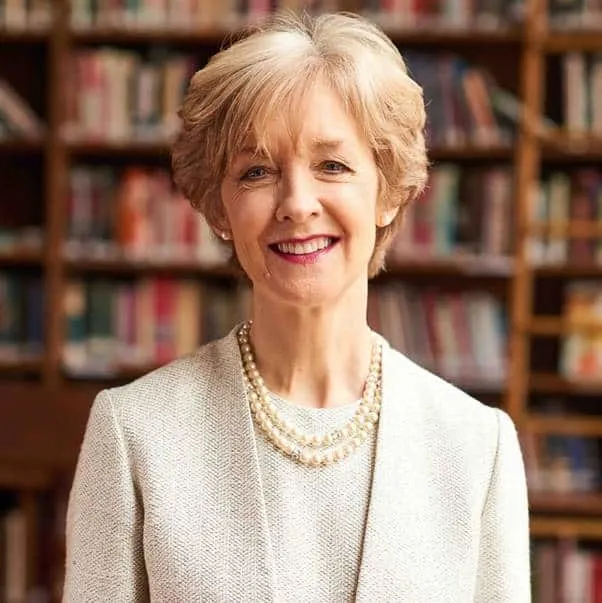 This one is a classic short haircut in every list for sure. Ask your stylist to cut down your hair shorter as it goes down your neck, leaving the top part significantly longer.
Then style it by parting down the sides -not the middle- and blowing it out with a round comb, always creating little waves to give it some shape and form.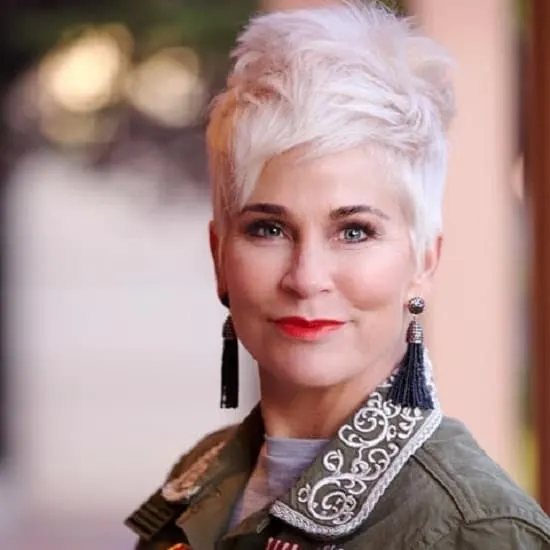 If you're looking for a bolder option, this one's for you! This time, your whole hair should be cut short and about the same length throughout, except for the top front part, which should be long enough that you can blow dry it and form tiny wisps with a special round comb. Make sure to apply hair spray when you're done!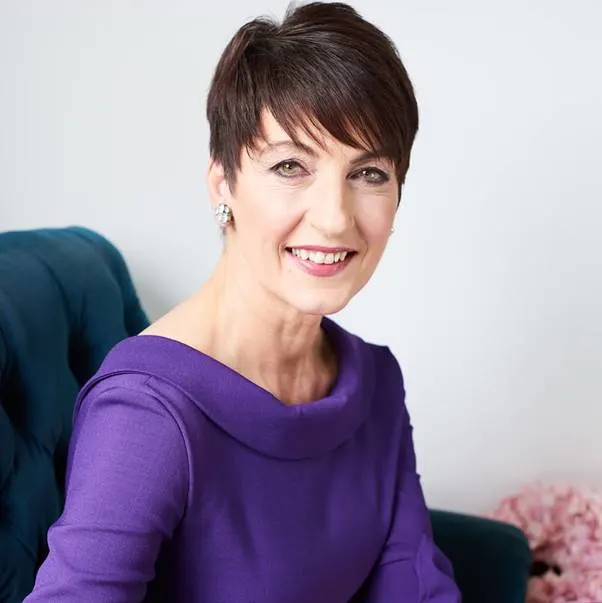 Think about this short haircut as a variation from the previous one. But this time, instead of pushing your hair up, you're going to bring the top part to the front of your face, creating almost like a wispy bangs illusion!
And this time, instead of applying hairspray, make sure to prep your hair instead with some hair cream for volume before you blow dry it.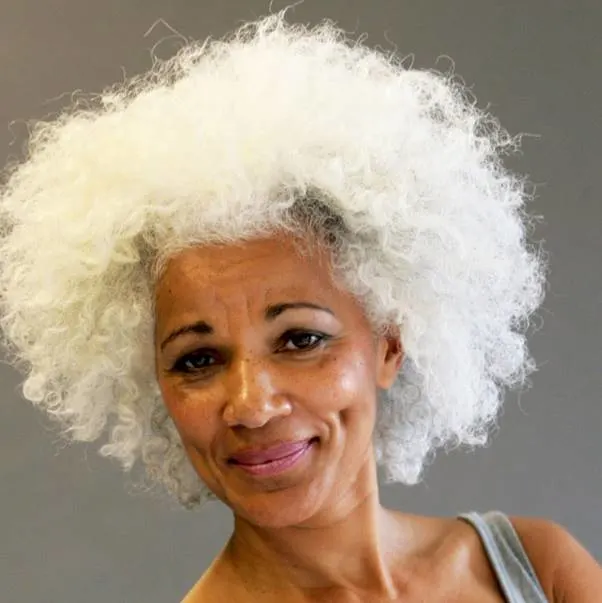 This is one is a great short hairstyle for curly-haired women over 60! Of course, to get your afro to look like the one in the picture you'll have to let it grow and buy a special afro comb that won't damage your short curls when you push them up to give your hair some form and shape.
Another option for women above 60 who love shag hairstyles! However, to get this particular haircut, you will have to ask your stylist to cut your hair into very subtle layers.
So when you blow dry it and style it with a tiny round comb you can get the same effect you see in the picture, and your hair can actually seem fuller.
Wonderful Hairstyles for Women Over 70
To get this over 60 hairstyle you'll have to cut down your hair to your cheeks and straight it down, but instead of letting it fall straight, curl the bottom of your hair to your face to recreate the same style.
Also, ask your stylist for wispy see-through bangs to go with the short haircut.
31. Pushed Up Short Haircut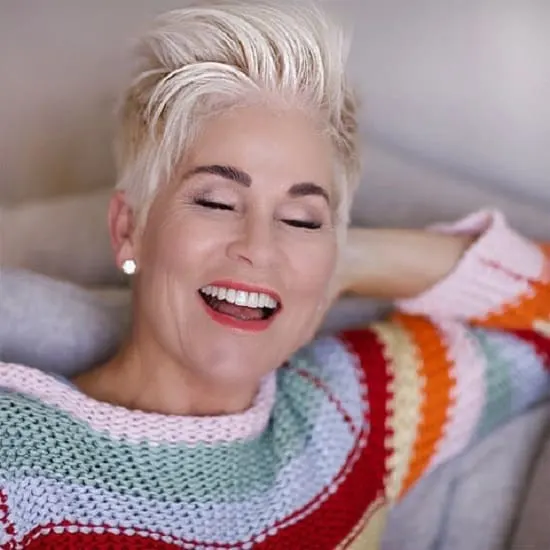 Continuing with our short haircuts for over 60, we've got another classic. Again, the sides and back of your hair should all be the same length, but the top part should be long enough that you can actually style it up with the help of a blow dryer, a comb and hair spray to help it stay in shape.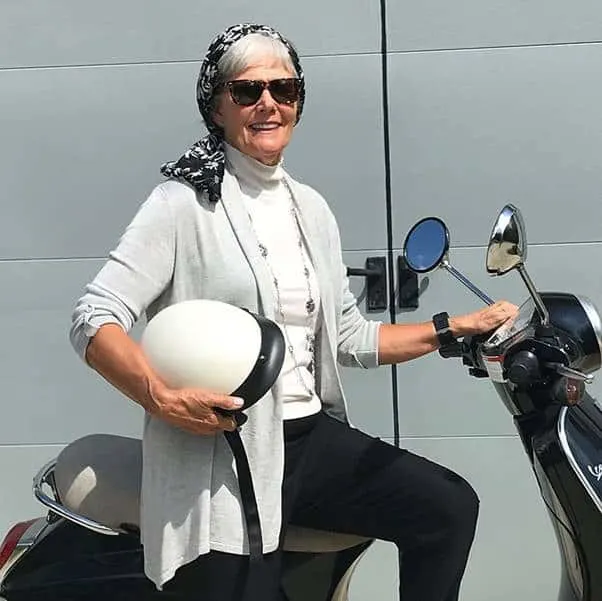 Hats aren't the only option you have to style these short hairstyles! Ask your stylist to cut down some short bangs and them simply tie up a bandana around your head, letting the tail fall down on your back and you're done recreating this look!
33. Completely Slick Back Haircut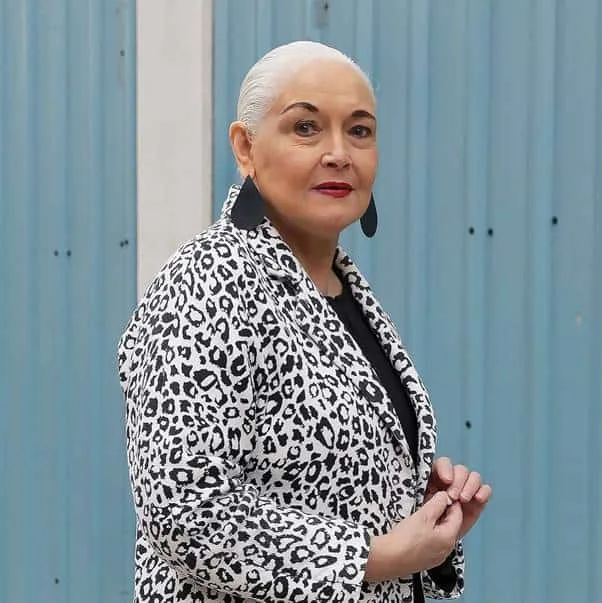 You can replicate this slick back hairstyle for women no matter how short or long your hair is, although it works best on shorter hair. We recommend you to wash your hair, and then with a wide comb and hair mousse slick it all the way back to your neck.
Make sure to apply some heat with a blow dryer to help it stay that way throughout the day.
Remember the square-cut we mentioned previously? This short permed hairstyle for over 60 is a variation of that hairstyle.
But this time, instead of cutting it short all the way, make sure to leave enough hair on the sides and the top part of your head to let your natural curls shine through.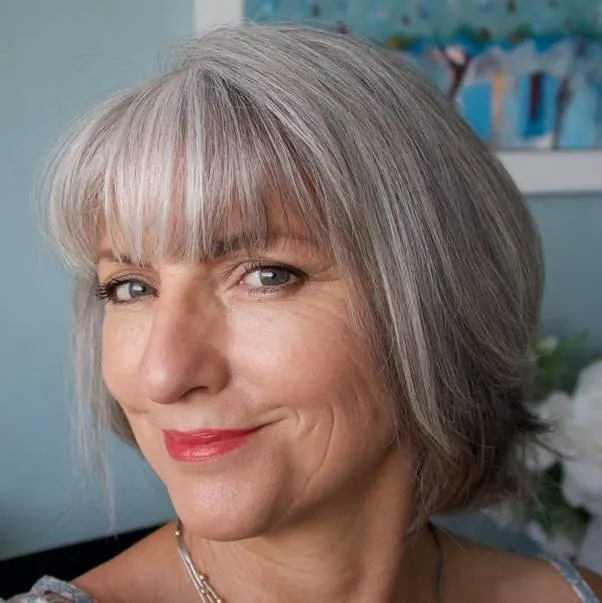 Let your grey hairs show off with this hairstyle! Simply cut your hair way pass your neck -almost reaching your cheeks- and cut down full-on bangs that cover up your forehead as well. Make sure to not dye your hair and let your natural grey hairs actually be part of this hairstyle.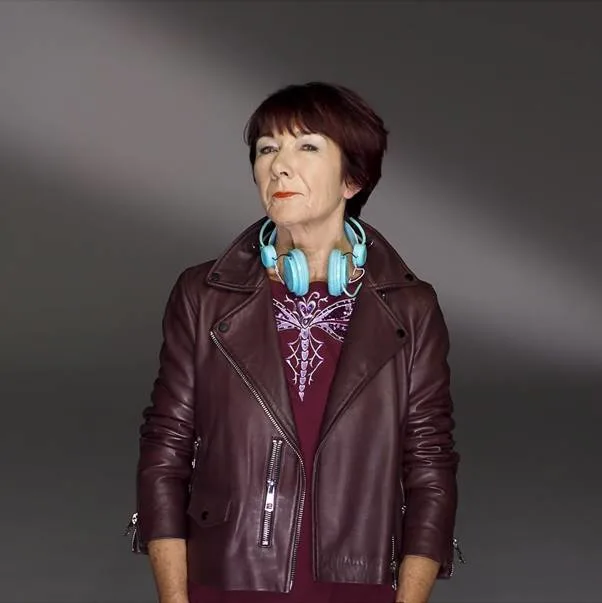 To get this hairstyle make sure to first dye your hair a dark chocolate brown first, then simply get a regular bowl cut that's slightly longer on the front and shorter on the back.
And make sure your bangs fall naturally into the longest part of your hair, framing your faces and enhancing your natural features. Any woman over 60 will rock this wedge hairstyle.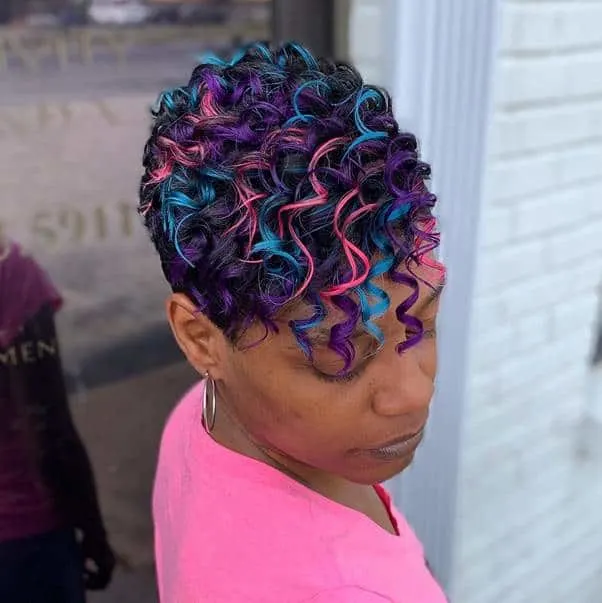 Like we said, not all hairstyles for over 60 years old have to be boring! You can cut down your hair, leaving only the top part long and curl it down + dying it some strands different colors for a fun, creative short hairstyle like this one.
Chic Short Hairstyles for Women Over 50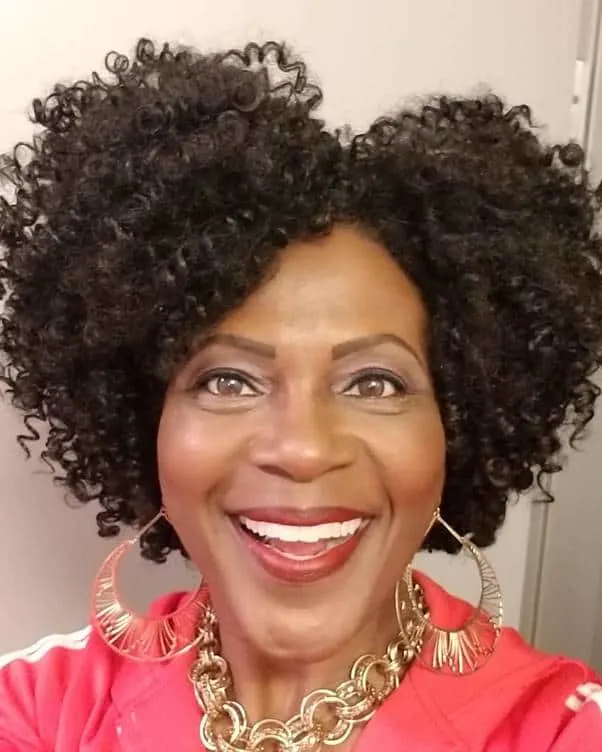 We showed you an afro hairstyle not too long ago in this list, but this one is actually a variation. You will still need to let your natural curls grow into an afro, but this time, make sure to part your hair in the middle and puff out the sides to recreate this style.
There's no better way than to show off your natural white/grey hair than with this hairstyle. It's basically a short, regular cut with a longer top part styled to the side.
But this time, instead of dying your hair dark brown all the way, make sure to leave a single big strand of hair all-natural right on the front of your face for some color contrast!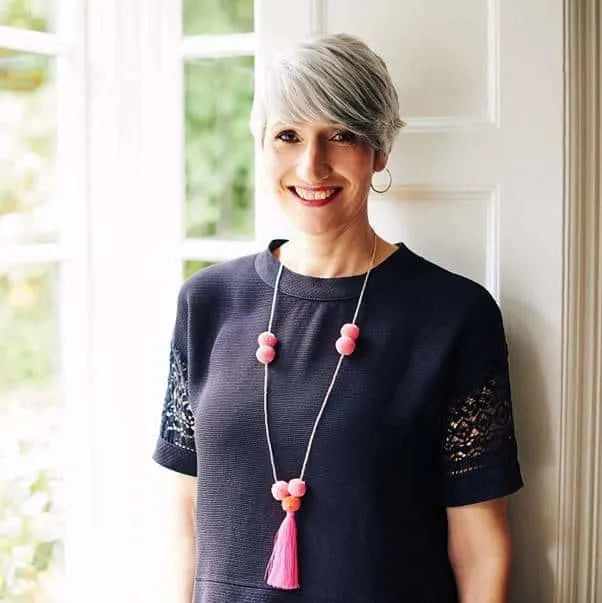 Last, but not least we've got another classic short haircut for women over 60. To get it, the sides and back of your hair should be really, really short, with the top part being long and styled to the front to create this 'bang' style that falls to one side, covering your forehead.