It's hard finding the right shampoo for dull hair with so much on the market to choose from. It's important to figure out what exactly your hair needs from the products you use.
Do you have dry, dull, shapeless hair? Have you always wanted to attain luscious, strong tresses? You're not alone. In a study conducted by InStyle, 55% of the global sample of women found dryness to be their most common hair problem.
Dry hair is a result of when your scalp doesn't produce enough oil to moisturize your hair. Not having enough oil or moisture means it's difficult to maintain its normal sheen, leaving behind dull, brittle hair.
So, what are the main reasons for dry and dull hair?
The reason for dry hair varies from person to person, but the most common ones are dry scalp, age, home hair care, environmental conditions, and health problems.
Dry Hair Savior – The Moisturizing Shampoo!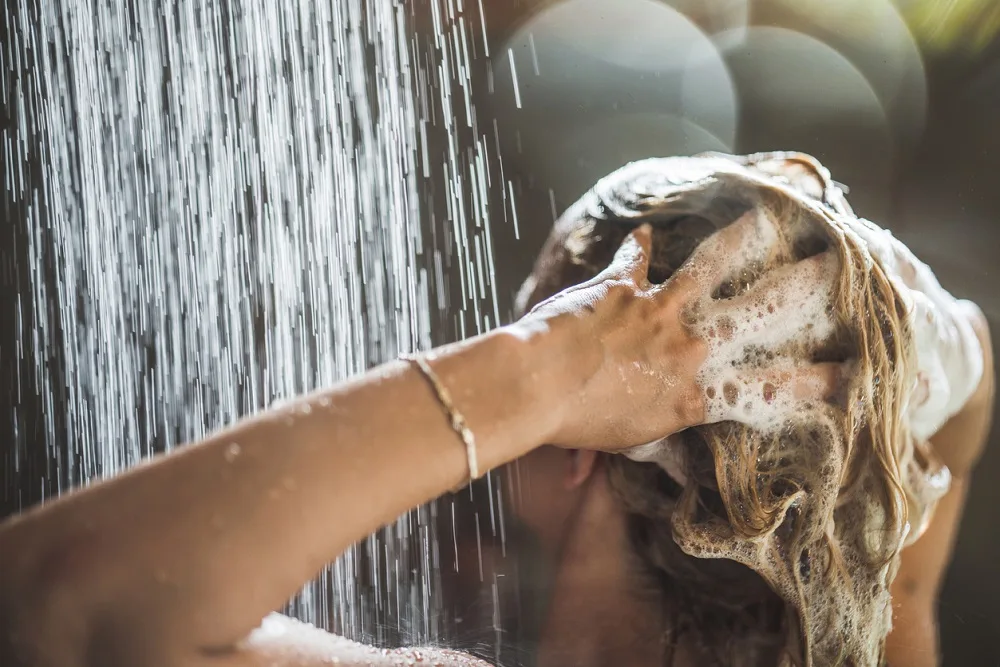 The way you shampoo your hair can make or (literally) break your hair! Shampoo is designed to remove dirt and odors from hair effectively.
But too much of it can be bad for dry hair because shampoos can also remove oil, which people with dry hair absolutely need. Knowing how much shampoo to use and choosing the right shampoo for your dry hair can be a real game-changer.
Experts recommend that you should only wash your hair every two to three days if you have dry hair. Dull, dry hair can be a result of using too much product or the wrong products.
Reading ingredients in the bottle to make sure it doesn't have any harsh chemicals and making sure the shampoo you buy is formulated especially for dry hair is key in achieving healthy, shiny hair. Also, pro tip: dry shampoos are a big no-no for people with dry hair. It soaks up oil and will make your hair look even duller.
Best Shampoos for Dry Hair
Picking out a shampoo that suits your hair type will restore hydration, give your hair a healthy glow, and will give you all the more confidence in yourself and your gorgeous mane.
So, if you're on the hunt at the moment for a shampoo that will drive away your dry, dull hair problems, you're right where you're supposed to be.
We've done the research and compiled a great list for those of you with dry hair. It contains our top 13 picks for dry hair and includes a side of pros and cons for each. Keep on reading to find the perfect new product for you and wave your dry hair goodbye.
1. OGX Extra Strength Damage Remedy + Coconut Miracle Oil Shampoo
This OGX shampoo is made for frizz control, dry, or coarse hair. It works deep into your roots and scalp, repairing your dry strands and turning coarse hair into soft silky perfection. It aims to maximize natural smoothness and leaves your dry hair with the perfect dose of moisture.
Created with hydrating ingredients such as coconut miracle oil, vanilla bean extract, and essence of tiare, OGX Coconut Miracle Oil shampoo is ultra-nourishing and will help soften and repair your dry hair.
Pros:
Calms frizz and flyaways
Adds shine to dull hair
Free of sulfates and parabens
Cons:
Not for fine, thin hair
Not for sensitive scalps
2. OGX Coconut Milk Shampoo
OGX Coconut Milk shampoo is suitable for all hair types, and it leaves your hair with an amazing shine and restored moisture that won't weigh down. It strengthens your hair with every wash, making your hair look healthy and glowing with every single wash.
This milky formula is created with pure coconut oil extracts – which add shine and softness – coconut milk to increase strength and elasticity, and egg white protein for healthier-looking hair.
Pros:
Suitable for all hair types
Soothes dry scalp
Adds healthy shine to dull hair
Cons:
May make the scalp greasy
Thick consistency
3. Moroccan Argan Oil Shampoo
This moisturizing shampoo is specifically formulated for dry, damaged, and frizzy hair. Moroccan Argan Oil shampoo deeply nourishes and gives hair a beautiful structure. It helps control brittle, frizzy hair, leaving it silky smooth and soft to touch.
Prepared with ingredients such as argan oil, Vitamin E, and wheat protein, this shampoo will intensely hydrate while restoring moisture levels to even the driest of hair.
Pros:
For all hair types – curly, wavy, fine or thick hair
Does not contain any sulfates, parabens, or gluten
Free from harsh chemicals
Cons:
Scent is slightly musty
Not organic
4. L'Oreal Paris Elvive Total Repair 5 Shampoo
Formulated with the sole reason to tackle damaged, dry hair, this shampoo fights split ends, weak, rough, dull, and dehydrated hair. Elvive Total Repair 5 shampoo locks in nourishment and rebuilds hair strength, leaving hair silkier and shinier with each use.
It's created with protein, ceramide, and sweet almond oil to help strengthen each strand and prevent breakage. It tackles all the problems that come with dry, damaged hair and is a popular pick to restore healthier hair.
Pros:
Will revive all forms of damaged hair – heat styling, dryness, or color processing
Boosts shine in very dull hair
Does not affect color-dyed hair
Cons:
Thick consistency
Not for thin, fine hair
5. Giovanni Smooth as Silk Deep Moisture Shampoo
Created for dry or damaged hair, this deep moisture shampoo will gently cleanse and leave hair soft, healthier, and frizz-free. Giovanni Deep Moisture shampoo hydrates at the scalp and nourishes dull hair to look smoother and easier to manage.
Infused with apple and aloe extracts, lavender, lemongrass, and other organic ingredients, this shampoo is recommended for all hair types and textures to add instant shine. This brand is also certified cruelty-free.
Pros:
Repairs chemically damaged hair
Prevents future hair breakage
Adds intense shine
Does not contain parabens, sulfates, or other harsh chemicals
Cons:
Not great for flake control
Some complaints about washing the color out of hair
6. Herbal Essences bio; renew Argan Oil of Morocco Shampoo
This shampoo is infused with moisturizing oils that will revive your dry hair and give you healthier hair days ahead. This Argan Oil shampoo will work deep into your hair strands and scalp, restoring moisture, leaving your hair soft to touch, all while smelling heavenly.
The ingredients in this Herbal Essences shampoo include natural argan oil, which is full of antioxidants and Vitamin E, aloe, and real botanicals. It promises limited processing and harsh chemicals.
Pros:
Suitable for all hair types
Leaves your hair soft after one use
Paraben, sulfate, and colorant free
Cons:
Hair may get oily quicker
The scent may be too strong for some
7. Matrix Biolage Ultra Hydrasource Shampoo
This shampoo is widely accepted as a staple for those with dry hair. Matrix Ultra Hydrasource shampoo not only hydrates your dry hair but also prevents breakage and frizz, leaving your hair soft and shiny. It revamps the level of moisture in your hair with every use.
It is created with aloe vera and cupuacu butter to optimize moisture balance in your hair. It reportedly gives up to 15x more moisturized hair after just one application.
Pros:
Detangles hair well
Hydrates flaky scalp
Deeply increases softness and manageability of hair
Paraben-free
Cons:
Not suitable for all hair types
Can weigh down hair
8. Moroccanoil Moisture Repair Shampoo
This reparative argan oil-infused shampoo is specifically designed for dry hair. Moroccanoil Moisture Repair shampoo deeply nourishes dehydrated, shapeless hair, renews and repairs damaged strands, restores elasticity, and is gentle enough to work on all hair types.
In a single-use, it will help improve hair manageability and moisture balance while boosting shine.
Formulated with argan oil, Vitamins A and E, fatty acids, and keratin protein, this shampoo is proven to work on restoring damaged hair with over-processing. The signature Morrocan oil scent is an exotic blend of spicy and sweet tones.
Pros:
Cons:
9. Olaplex No.4 Bond Maintenance Shampoo
This shampoo is an intensely moisturizing, reparative shampoo that leaves hair shinier and healthier with each wash. It has rave reviews about turning over processed lifeless hair into strong, healthy tresses.
Olaplex No.4 shampoo has to repair qualities that will fix bonds within the hair strand and eliminate dullness, looking salon-fresh for a very long time.
Formulated with proteins, sunflower seed oil, kernel oil, and rosemary, this shampoo will revitalize your dry hair, improving the texture and leaving a light, minty scent.
Pros:
For all hair types
Used by salons for color-treated hair
Reduces breakage
Cons:
10. Shu Uemura Ultimate Reset Shampoo
This product is a repair shampoo for damaged, dry hair. Shu Uemura Ultimate Reset Shampoo provides intense hydration and care without weighing hair down and leaving hair looking softer than before. It's made for all hair types and textures to restore shine and moisture.
Formulated with Japanese-sourced rice extract to deliver hydration and protection, Cocos Nucifera Oil, and coconut oil, this shampoo aims to repair any type of damaged hair.
Pros:
Adds volume
Lightweight
A little goes a long way
Cons:
Expensive
Scent may be strong to some
11. Pureology Hydrate Moisturizing Shampoo
This creamy vegan shampoo, which is packed with hydration, will gently cleanse, provide exceptional moisture, and leave your hair soft and sleek.
Pureology Hydrate Moisturizing shampoo is made for medium-to-thick hair, and particularly for dry, damaged, frizzy, or color-treated hair. The brand is sustainable and made for all hair types.
Made with moisture-rich ingredients such as jojoba oil, green tea, and sage, this shampoo is sure to hydrate dry and brittle hair. It has a blend of lavender, bergamot, and patchouli for a nice, aromatic experience.
Pros:
Deep hydration
Leaves hair soft after one use
Good on color-treated hair
Sustainable – 100% vegan free and no animal testing or products
Free from sulfates, parabens, and mineral oil
Cons:
12. Kevin Murphy Repair-Me Wash Shampoo
This salon-quality reconstructing shampoo helps to strengthen and repair dry, damaged, and color-treated hair.
Kevin Murphy Repair-Me Wash shampoo, though slightly more expensive than the others on this list, has rave ratings for its amazing results. It is recommended by top hairdressers and stylists.
Formulated with superfood protein, bamboo, silk, amino acids, and fruit enzymes, this hydrating shampoo will leave your hair glossy and healthy.
Pros:
Adds a significant shape to hair
Salon quality
Sulfate and paraben-free
Cons:
13. Redken All Soft Shampoo
The top pick from our research, Redken All Soft shampoo is a standout winner! This shampoo cleanses, moisturizes, and softens dry, lifeless hair. It provides intense hydration and shines for brittle tresses.
It will leave hair silky, soft, and incredibly moisturized. It's meant for normal-to-medium hair that is dry, frizzy, and damaged from chemical processing.
Crafted with Argan oil, amino acids, proteins, and kernel oil, this shampoo is salon-quality, providing amazing results.
Pros:
Highest reviews
Intense shine
Salon quality
Restorative quality to even the harshest-processed hair
Cons:
Expensive
Not best for color-treated hair
Dull, lifeless hair can be a thing of the past if you find the right type of hydrating shampoo for your hair type. Make sure to read the labels and ingredients so you can choose a shampoo that promises to deliver on your hair's needs.
Expensive shampoos contain high-quality ingredients that give the best results without any lingering side effects. But with the understanding that some people may have a lower budget, we recommend finding a mid-range shampoo brand that gives good results. Here's to happy, healthy, luscious hair days ahead.