When you buy through links on our site, we may earn an affiliate commission.
No hair type demands more tender loving care than 4C hair. If you have this hair type, you know how fragile it can be. 4C is typically thick with a tight zig-zag curl pattern. Because of these factors, 4C hair is the hardest to handle and maintain.
Despite being so dense, the 4C hair type is fragile and vulnerable to breakage, entanglements, and shrinkage. Heat and humidity are particularly harmful to this hair type, but applying the wrong hair care products can do even more significant damage.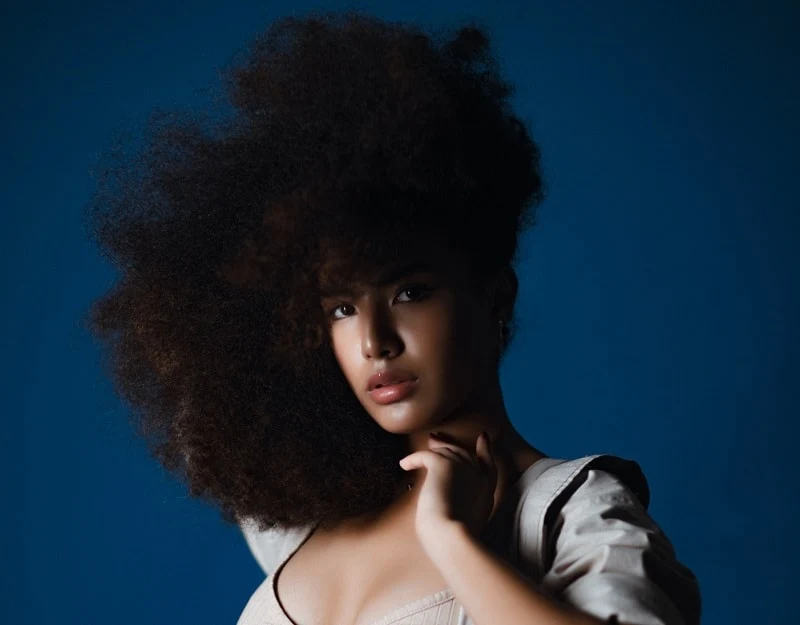 Although many women share the 4C curl pattern, their hair often differs in thickness, density, and absorption. These variations can cause different types of problems. So, there is no single best shampoo for 4C hair. But we have put together a list of top shampoos that will get the job done for you.
Best Shampoos for 4C Hair
We considered these factors as we compiled this top 10 list of expert-recommended shampoos to clean and treat the 4C hair type. Take a look.
Many shampoo makers put sulfate and harsh detergents in their products for stripping away dirt and oil from the hair. Since your healthy hair requires a small portion of oils and natural moisture, these chemicals can leave your hair dry and brittle, promoting split ends.
Tgin shampoo features a unique formula that cleans and preserves your hair's natural oils and moisture. It substitutes harsh chemicals with the natural cleansing power of coconut oil. Plus, it contains amla oil and vitamin B5 infusions to retain moisture and reduce breakages.
Cantu Shea Butter for Natural Hair has a gentle formula that produces a rich lather. It does an exceptional job of removing dirt and building up. Like Tgin, Cantu shampoo doesn't contain sulfate, paraffin, silicones, or other harsh ingredients. Instead, the formula primarily features shea butter.
Shea butter is the fat from nuts of the African shea tree. It has a smooth and creamy texture. With this potent material and other ingredients, Cantu Shea Butter Shampoo provides you with:
Soothing and effective removal of dirt and impurities from your hair
Protection from breakage
Creamy texture to your hair
A fresh citrusy smell
Since this shampoo's market base is primarily women with fine and dry hair, you might not think it's one of the best shampoos for 4C hair. However, it is a terrific shampoo for softening 4C type curls. Dryness can cause shrinkage in your type of hair. Carol's Daughter Shampoo's light moisture system restores your hair's volume and bouncy softness.
The best shampoo for natural hair delivers shine and fullness to your hair without sulfate, abrasive chemicals, or artificial colors. The main components are:
Cactus-flower extract
Rose-water
Biotin
Plus, Carol's Daughter Cactus Rose Water Shampoo thoroughly cleanses your hair without robbing it of essential oils and moisture.
This sulfate-free shampoo and conditioner contain grapeseed oil, apple cider vinegar, and aloe. Together, these ingredients help achieve:
Vital strength to your hair and scalp
Exfoliation to your hair follicles
Restored cuticles from accumulated damage
Increased volume and lively curls
Protection from destructive environmental elements
Aunt Jackie's Grapeseed Style Shampoo has the proper ph balance to effectively free your hair of dirt and grime without sacrificing its natural oils. At the same time, it fortifies your hair's infrastructure while promoting a soft texture and sheen. Although effective for all hair types, it is often considered one of the best shampoos for 4C hair specifically.
Although tangled hair is a problem for all hair types, it is especially bothersome for people with tightly wound 4C curls. With the help of its almond and avocado-based formula, this shampoo makes your curls soft and manageable by holding in moisture and evenly hydrating your hair strands.
Along with its detangling ability, this Design Essentials shampoo thoroughly cleanses your hair without the aid of sulfate and other potent chemical compounds. Plus, it preserves the natural oils in your hair. However, Design Essential may not be the best shampoo for women with oily scalps.
4C hair is very susceptible to damage from hair dryers, styling irons, air pollution, and excess oil. When your hair gets overly contaminated, you will need a clarifying shampoo to penetrate the damaging build-up and haul it away in the rinse. Wow is a superb clarifying shampoo that will deep clean your 4C hair type and leave it refreshed.
The apple cider vinegar in this clarifying shampoo revives your hair by:
Providing vital nutrients promote cleansing and hair rejuvenation
Combining with the other safe ingredients to form a potent detox formula for damaged 4C hair
Reviving the scalp by providing nourishment
ArtNaturals Organic Moroccan Argan Oil and Aloe Shampoo is a therapy for your 4C hair type. Set for both men and women, it can help restore the driest and brittlest hair to its natural beauty. With organic and safe ingredients, this shampoo fixes overstressed hair with hydrating minerals and oil.
The chief ingredient is Moroccan Argan Oil. Loaded with creamy and moisturizing properties, it has a reputation for restoring, enhancing, and growing 4C hair type. Plus, it is powerful enough to whisk away stubborn dirt and extra oils from your hair and scalp.
If hair loss is your primary concern, dermachange is the right shampoo choice. Its principal function is to halt hair loss and encourage new hair growth. With its unique formula, dermachange promotes healthy hair growth in the following ways.
It repairs damaged areas using argan oil, aloe vera, biotin, and coconut oil.
It uses these ingredients to alleviate dandruff and hydrate your scalp.
This shampoo detoxifies your hair and scalp with antioxidants.
It contains the Cassava root to provide primary nourishment for every part of the hair strand.
It clarifies and hydrates the properties of Cassava root to create a healthy growing environment for your hair.
Specifically designed for type 4C hair type, SheaMoisture Hydration Shampoo provides excellent antioxidant protection and deep masking for your curly hair. However, its main job is to provide nutrients that allow for maximum hydration. In doing so, it will help produce a healthy shine and more manageability to your hair.
Serving as the primary hydrating agent, the African Rock Fig is full of antioxidants. It also protects vulnerable hair from humidity and heat. Other vital ingredients include Certified Organic Shea Butter, Baobab, and assorted oils. Together, they work to relax and rejuvenate your hair.
This shampoo provides an answer to the problem of managing 4C hair. It uses potent moisturizing agents to convert your thick mass of curls into a softer and more controllable head of hair. The key ingredients that make this possible are:
Oribe Signature Complex: This formula of edelweiss flower, lychee, and watermelon preserves the natural keratin and hydration in the hair.
Polymer Complex: It detangles, conditions, and shines the hair.
Amber Extract: This antioxidant is great for strengthening and conditioning.
Sunflower Extract: It protects against fading hair color and drying from sun exposure.
Microemulsion Smoothing System: This system promotes softness, control, and deep conditioning.
Without the aid of powerful chemicals, Oribe also has an intense cleaning action that produces a creamy lather. It leaves your hair looking and smelling great.
Related topics: