Shag hairstyles are done by layering the hair into different lengths. It was first created by the famous barber Paul McGregor. In shag haircuts, the layers are generally done at the top and sides.
This hairstyle got popularity when many celebrities like Rod Stewart, Florence Henderson and Jane Fonda got different types of shag haircuts in the early 1970s.
This haircut also got public attention in the 1990s when Jennifer Aniston wore the famous "The Rachel" shag hairstyle. After that, Meg Ryan also styled a shag in 2000s then it became a trend for both smart girls and women.
Best Shag Haircuts and Hairstyles of Short Length
There are many women who are partial to hairstyles with a retro feel, others who like a more modern look. No matter in which group you are from these two, you'll definitely like the below 60 amazing short shag haircuts and styles.
#1: Straight and Wavy Shag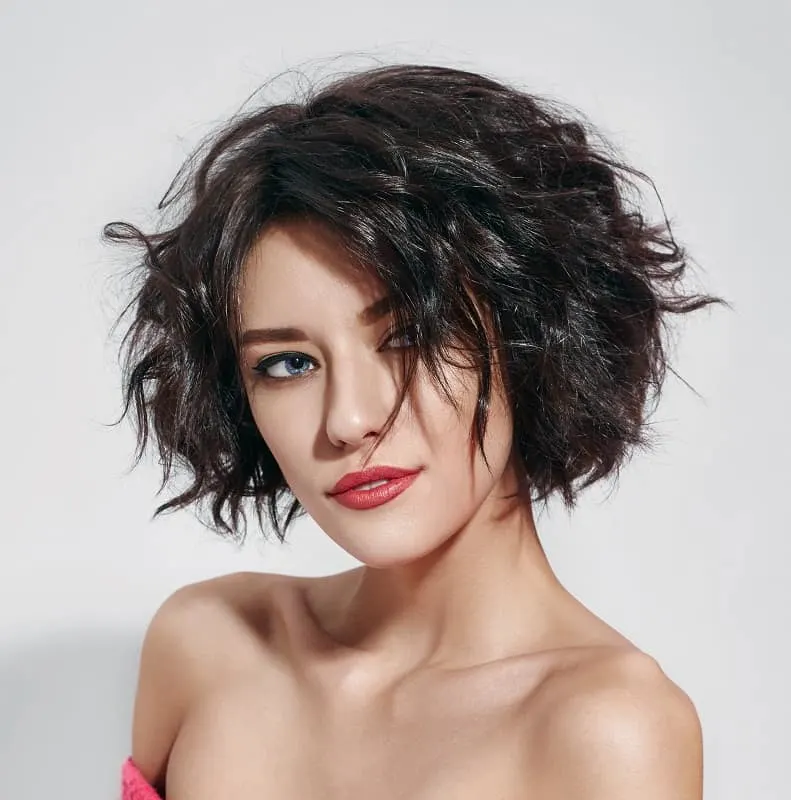 On a short shaggy bob, mix straight and wavy texture. You'll love the punch of volume and personality it adds. For date nights, choose a colorful hair pin to clip in up front.
#2: Piecey Pixie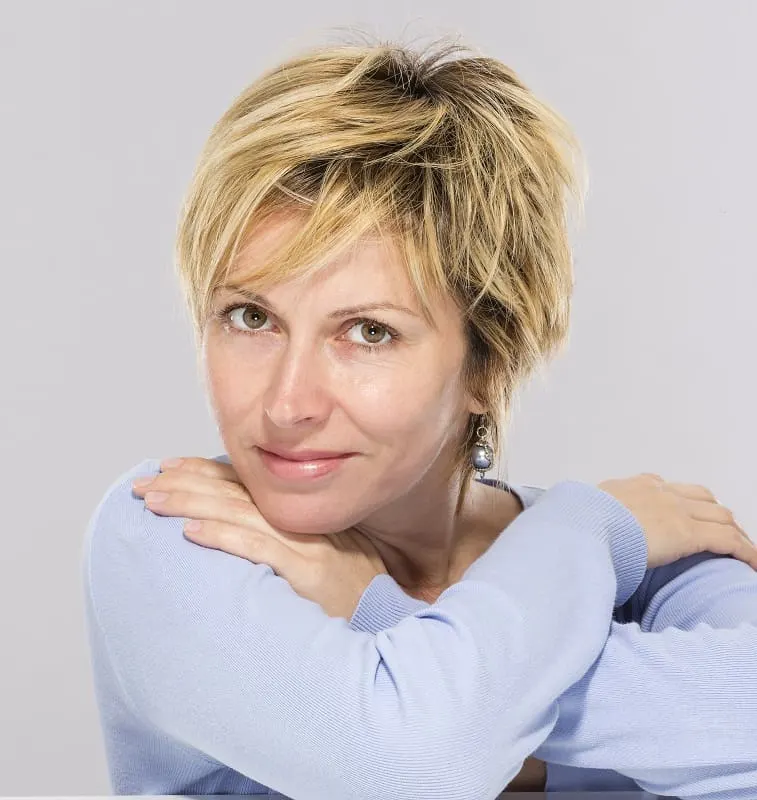 Do blondes really have more fun? Find out when you sport a piecey pixie with shaggy texture. The layers create flattering built-in lift and movement for minimal styling.
#3: Pop of Pink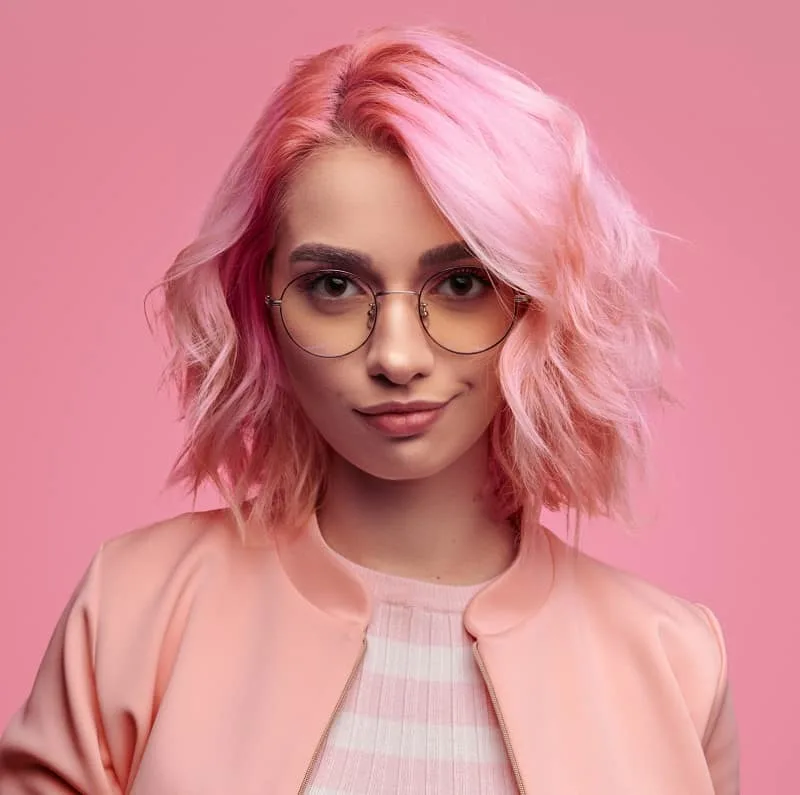 If pink isn't bold as a hair color, then we don't know what is! A short bob parted at the side and given layers stuns with the pop of peppy pink and beautiful waves.
#4: Asymmetrical Pixie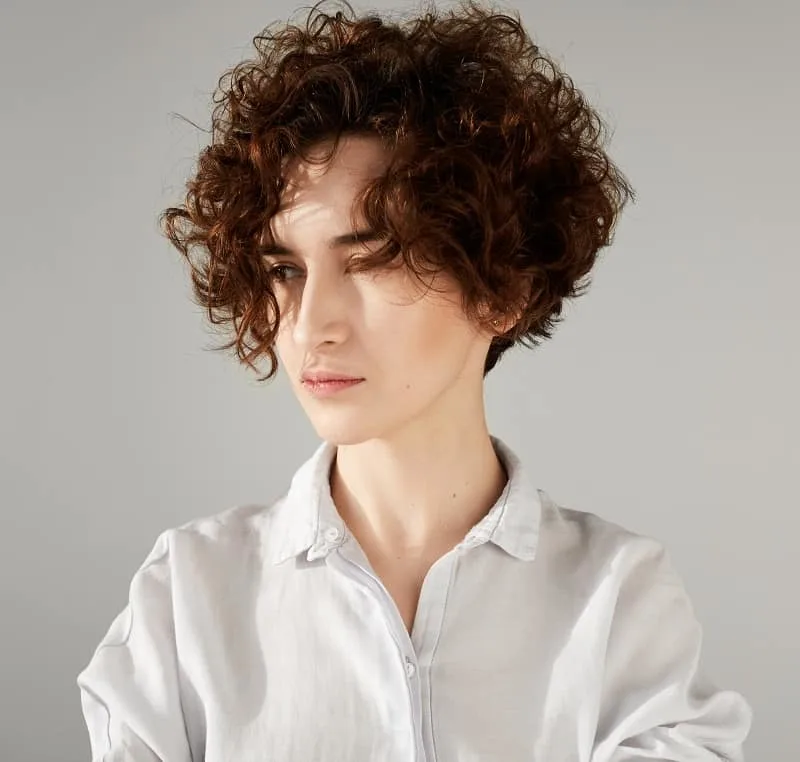 Short haircuts like asymmetrical pixies are perfect when you want to rock the shaggy style. Create these mod curls by scrunching in hair product with fingers.
#5: Thin Layers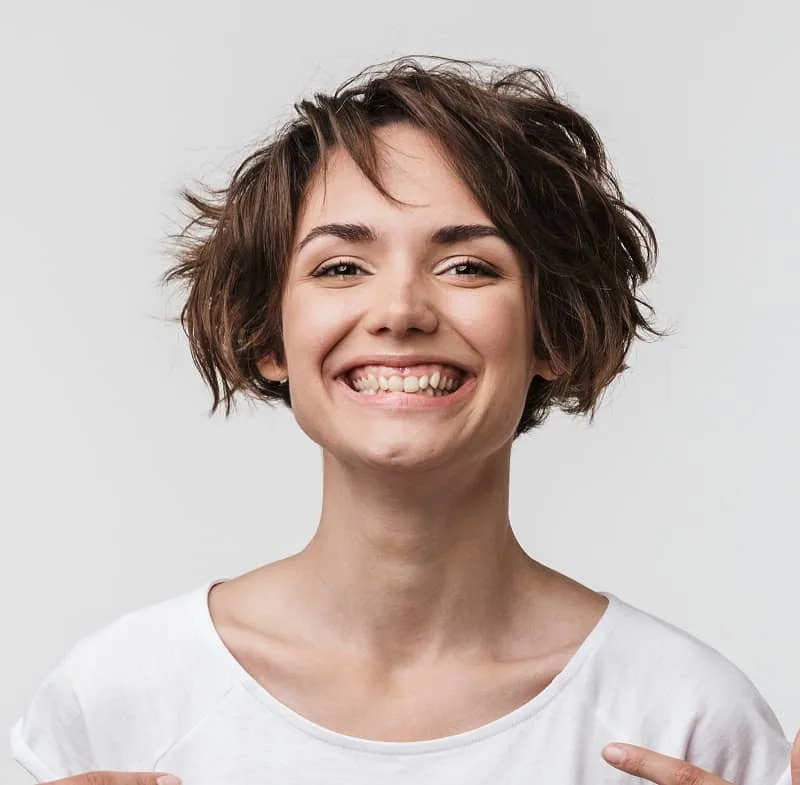 The quickest way to a bland shag haircut is by wearing it all one length. Nix that problem by asking your stylist for short layers, then use fingers to create a voluminous zig-zag part.
#6: Short and Wavy Blonde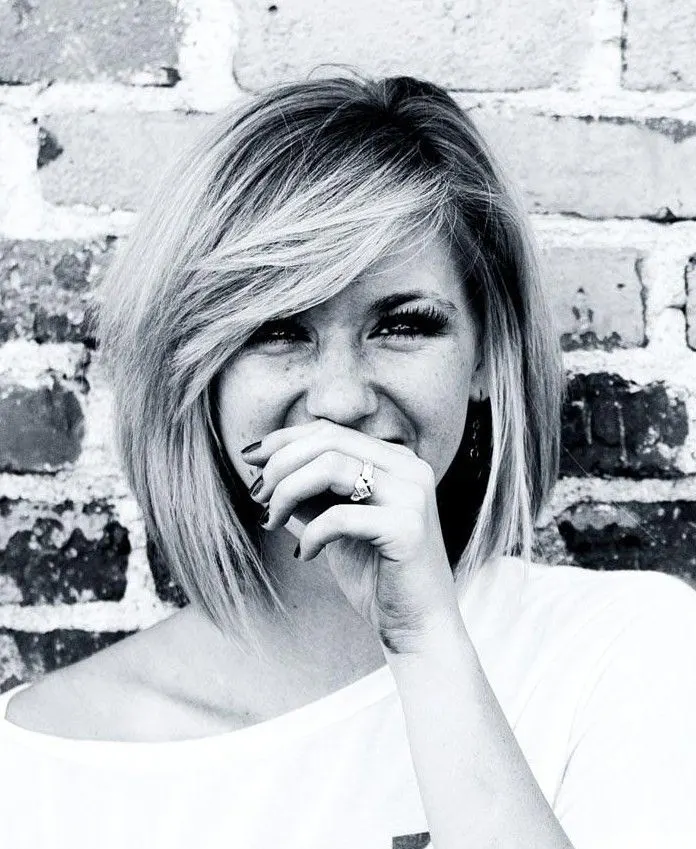 This shag hairstyle is very versatile because it can be mixed with other styles to create something great. You can see an example of unique creation in our next model. She has mixed this shag with a bob. She also is using highlights. This combination produces a look that communicates class and elegance.
#7: Messy Blonde Shaggy Bob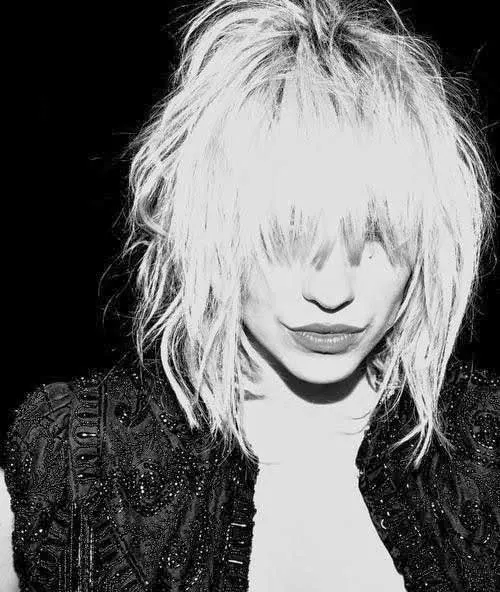 Are you looking for a style that will highlight your inner rocker? This is exactly what you find with this messy short shagging cut that is mixed with elements of a bob.
#8: Short and Wavy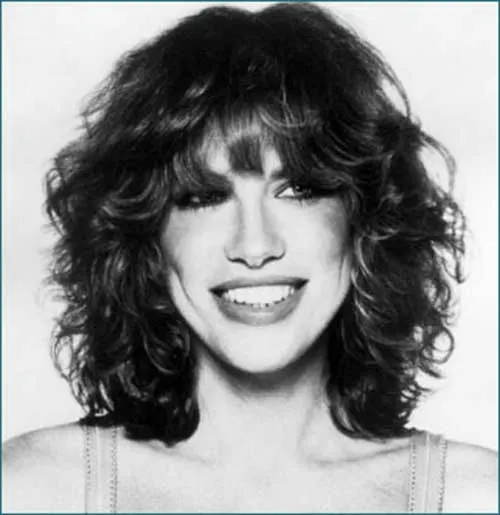 We provided one example of how this works well with short wavy hair. But, we wanted to illustrate one with extremely wavy hair. This model shows that this is a great hairstyle for women with hair that has many different levels of natural waviness.
#9: Short Shaggy Hairstyle on Alexa Chung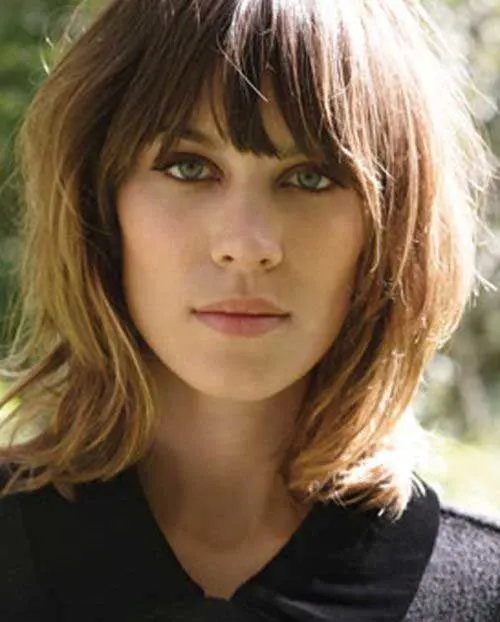 We spoke about how it is important for a hairstyle to illustrate your inner personality. Alexa Chung's style illustrates that well. She is using a little curl at the end to not only draw you to looking at her face but also to work with her natural personality.
#10: Short and Chic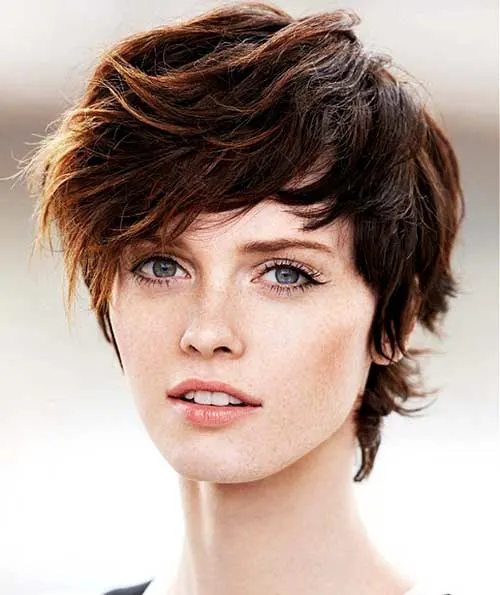 We mentioned at the beginning that this can create a very chic style. This model illustrates that well.
#11: Best One Yet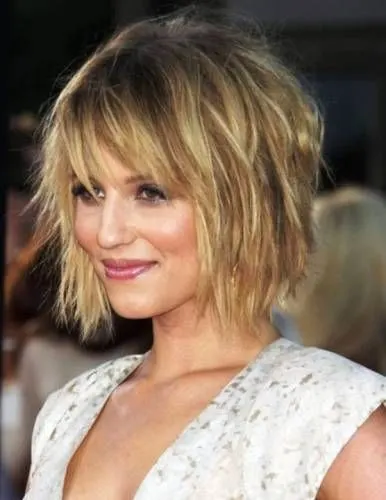 We consider this to be our best example yet. It is not because of the model. Although, she does illustrate it well. It is because of the way she is wearing it. She shows how truly attractive this hairstyle can be. It frames her face well.
Best Hairstyles for Women Above Age of 50
#12: Lisa Rinna's Short and Shaggy Style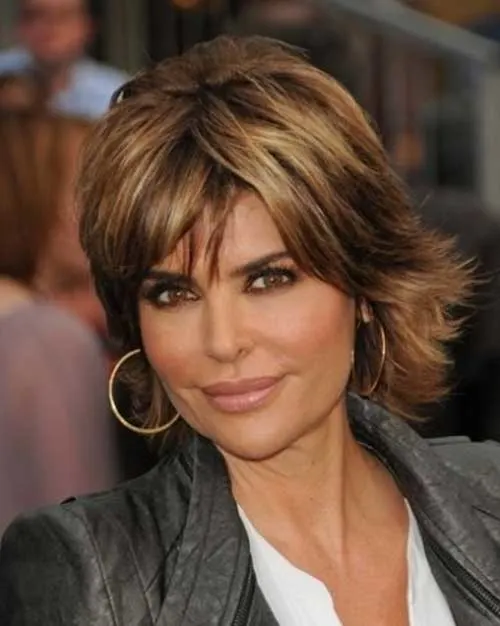 The sheer number of famous people using this shag hairstyle show that how extremely popular it has become. It also shows that it can fit into any lifestyle. We see this with Lisa Rinna's haircut. She is truly beautiful, glamorous, and professional.
#13: Short Shag Haircut on Dark Hair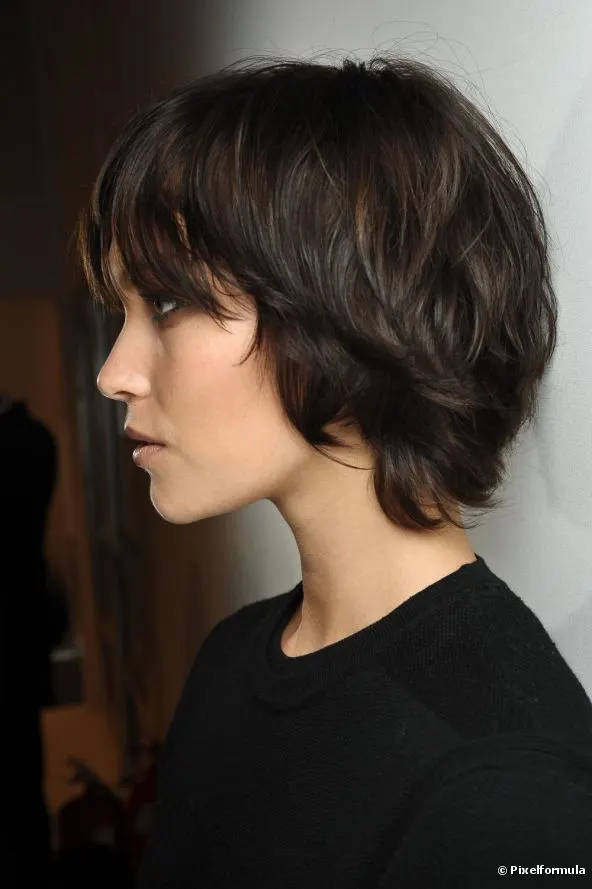 Every type of hair provides its own attributes that are seen in the type of haircut that you have. We mentioned in #6 that how the light hits the hair provides an appearance of full body.
This is seen in darker hair. Healthy, darker hair provides a natural shininess that intensifies the look of the body.
#14: Dramatic Look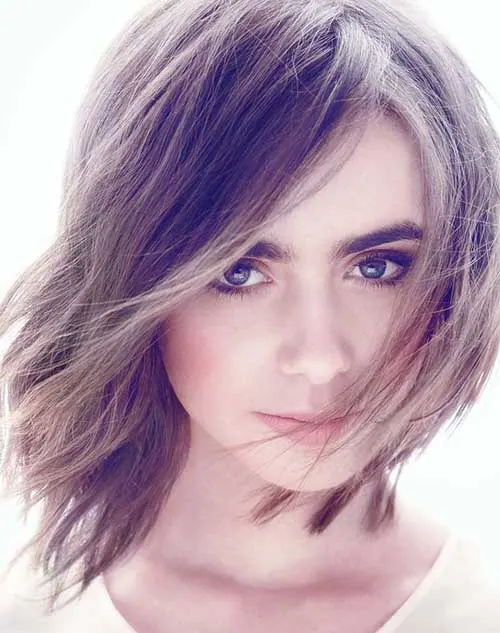 This model illustrates yet another look that can be achieved. She is using a slightly longer length with bangs of the same length as the sides and back to create a truly dramatic look.
#15: Another Shag Haircut with a Bob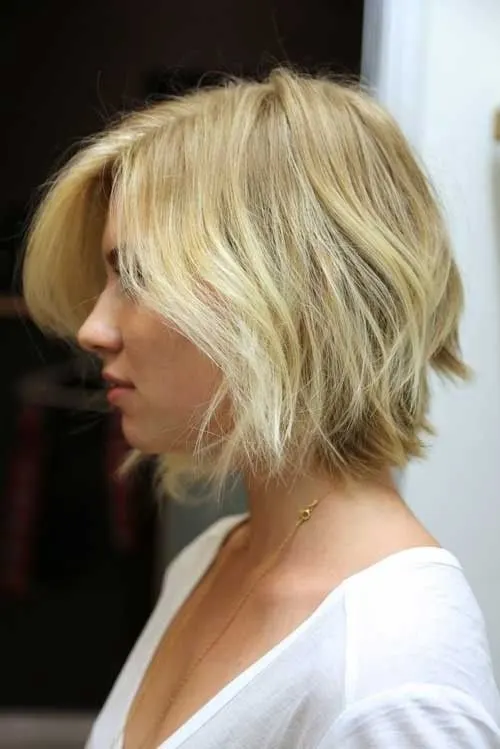 Here, we see another example of a short shaggy bob. But, we see it on a different type of hair. She is straight blonde with a little bit of curl. The side view also gives you a great look at how this produces a full body look. From the back, you get the look of a shoulder length cut.
#16: Thin with Bangs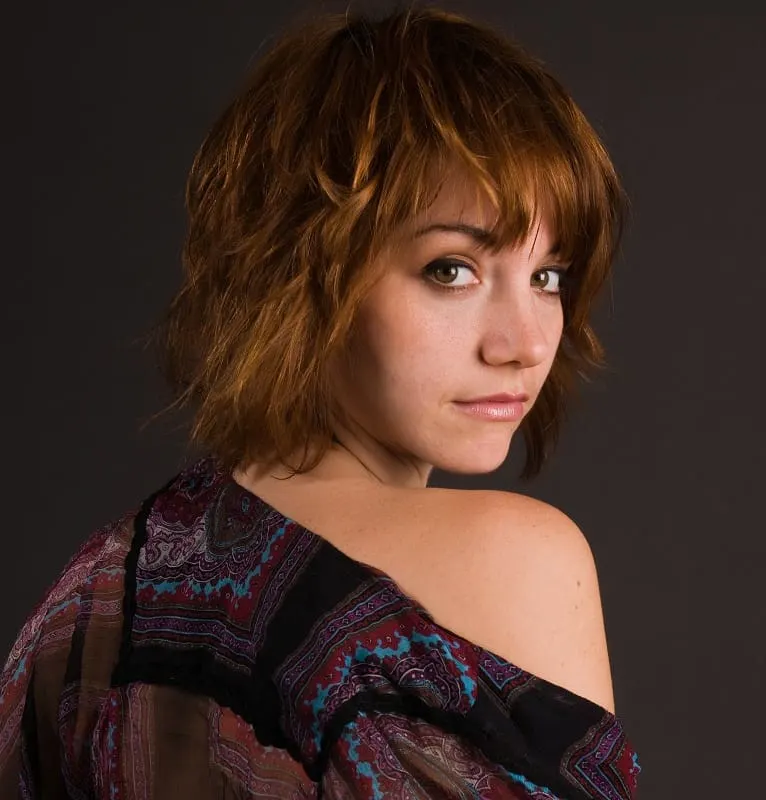 For women with thin hair, a short shag haircut with bangs is great for disguising it. Just add layers and feel free to play with different types of textures like straight and wavy.
#17: Side Bangs on Thin Hair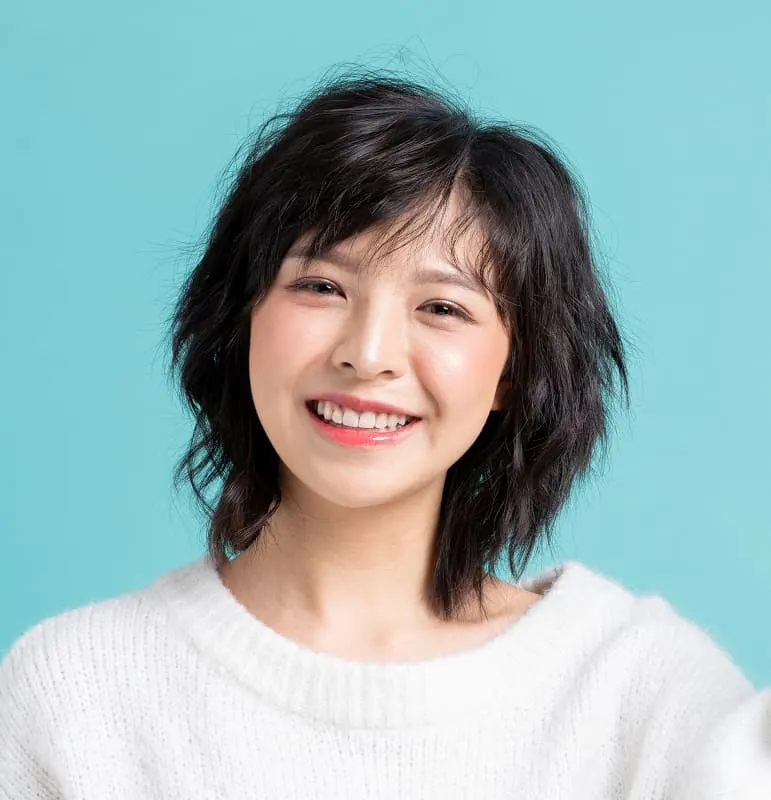 Many Asian women are born with thin hair. While they may wear it long and straight for the most part, shortening it to bob length and adding layers and a side bang is a much more stylish way to sport it.
#18: Messy Shag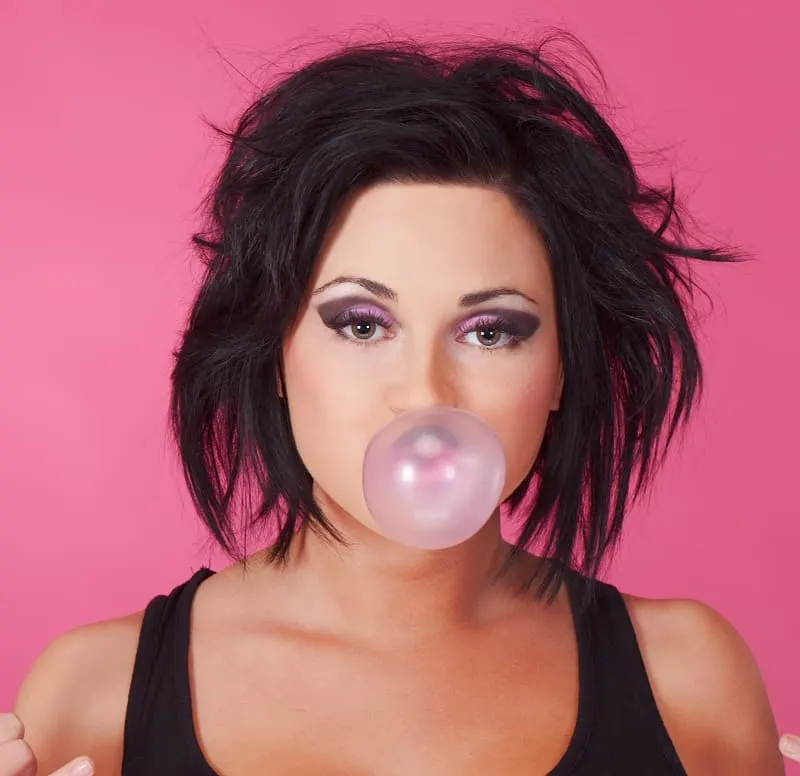 While the top part of this short shag haircut is messy and full of sexy texture, the bottom half features straightened locks. It's a detailed hairstyle you can't go wrong with!
#19: Blonde Waves
If blonde is your preferred color, give it new life and a new look with a short shag haircut. Try an a-line bob that'll show off your wavy long locks.
#20: Thick with Choppy Bangs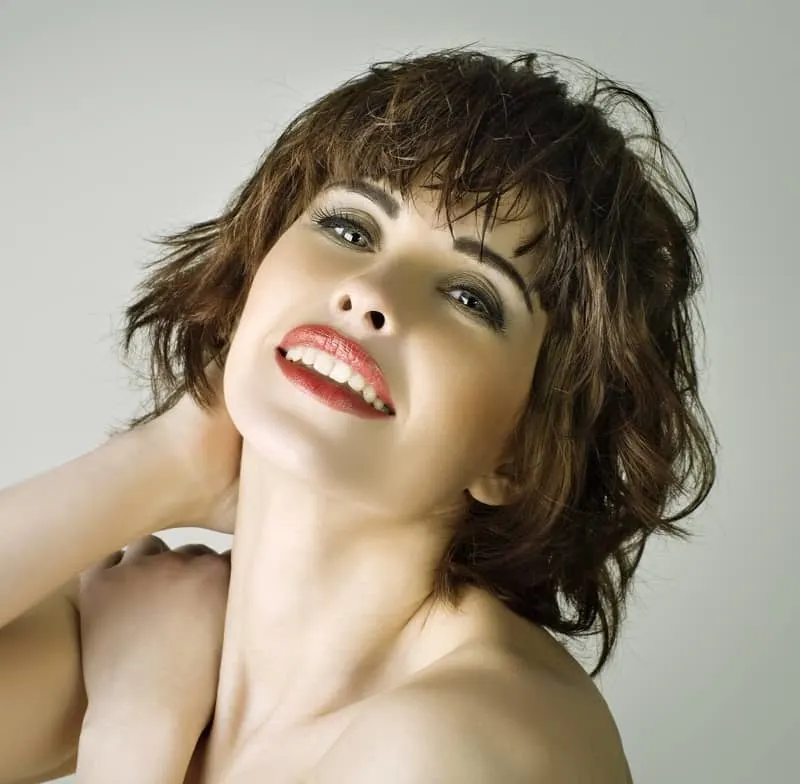 Choppy blunt-cut bangs add a very edgy twist to a shag haircut. The contrast of straight fringe with wavy body is a beautiful look.
#21: Short, Shaggy, and Glamorous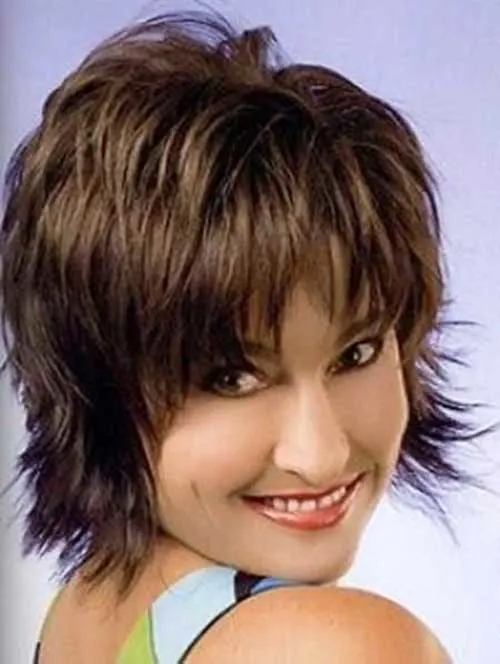 You can see how much body that this model pulls from this hairstyle. She uses it with her natural personality well. She produces an overall look that is simply glamorous. This is a look that any women would love to have.
#22: Sexy Short Shag Haircut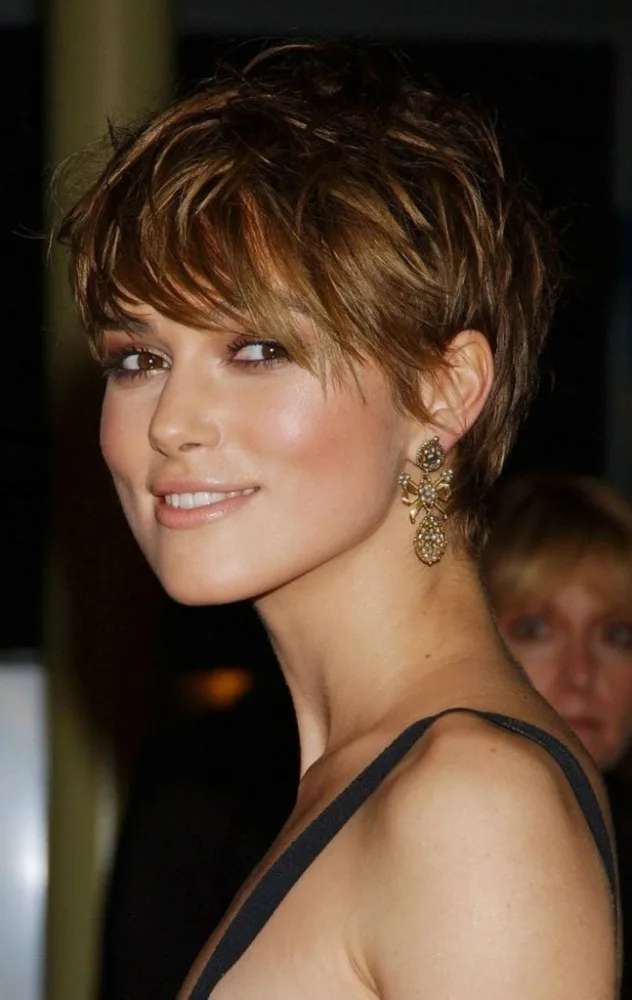 Yet another great example of the versatility of this style. This model is using a shorter version than some of the others. There are some that don't think short hair can also be sexy. This model illustrates that it is not the hair but the attitude that you bring to it.
#23: Medium Length and Bangs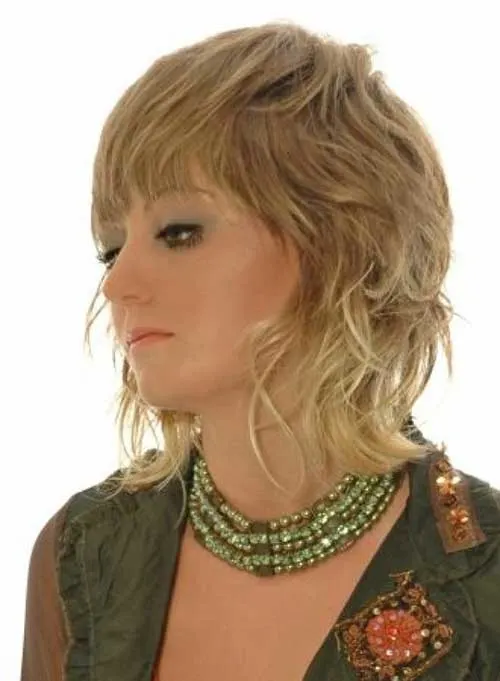 Yet another example of how you can use length in both the sides, back, and the bangs to create different looks. This model is using medium length with curl at the ends to create a truly attractive and classy look.
#24: Shaggy and Curly Bob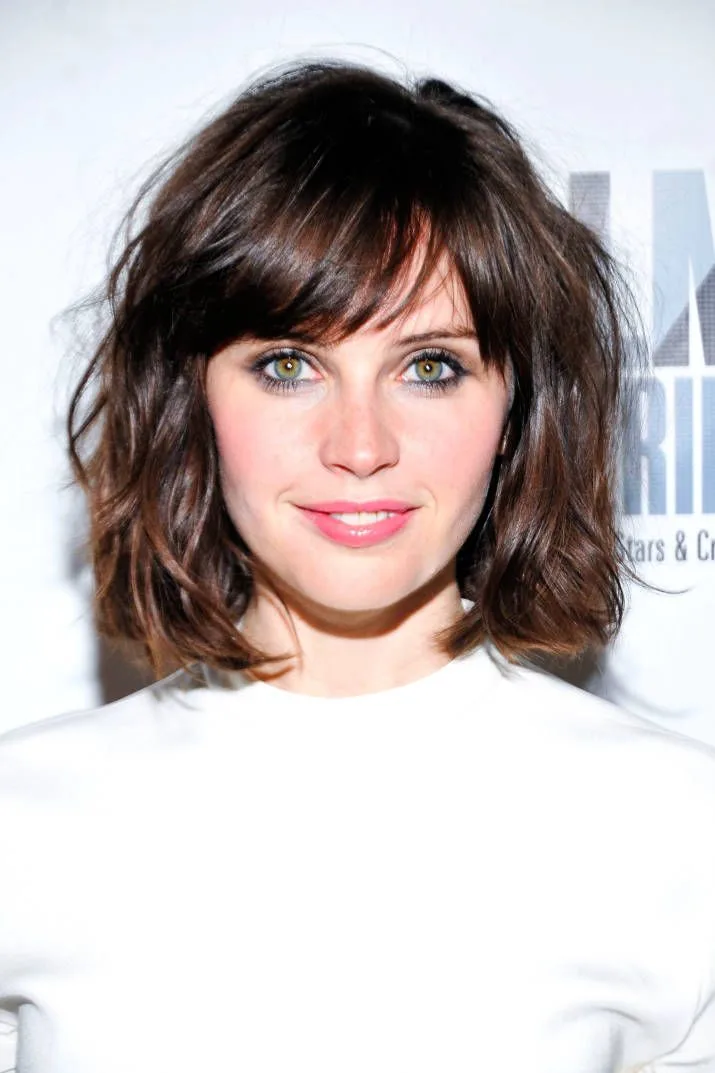 This model is mixing the styles from the last few models. She has darker hair that is also curly. By mixing the bob with this type of hairstyle, she has produced a very classy and elegant look.
She also has a hairstyle that is very low maintenance. She is able to roll out of bed in the morning and with little effort have a great look.
#25: Short, Shaggy and Gorgeous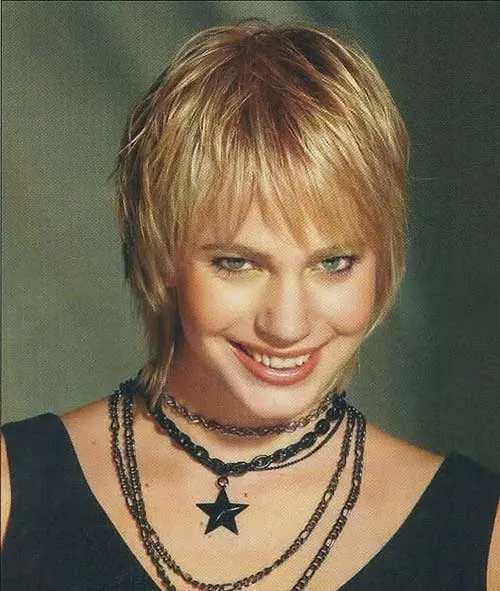 Here we see another example of the short and shaggy hairstyle used with a slight amount of length on the sides and back. This keeps the hair close to her face and again draws attention to her not her hair.
#26: Shag Haircut and Layers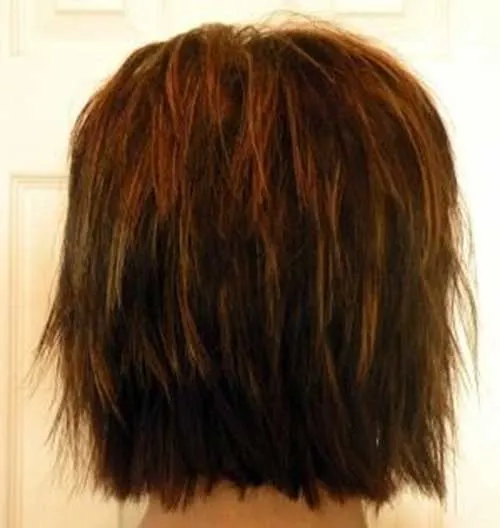 We have provided examples with blonde hair, dark hair, wavy hair, and now we look at yet another color. This model is a wonderful example of brunette hair. She also shows how using layers produces yet another look.
#27: Short, Shaggy, Messy, and Extremely Cute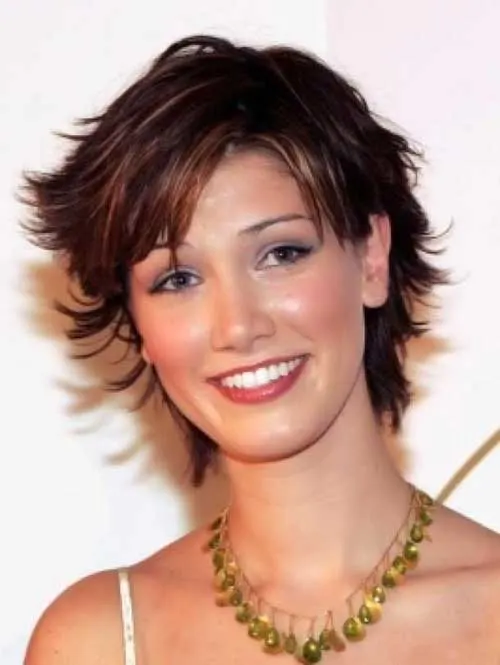 This model shows that the short and shag hairstyle can produce some extremely cut results. She uses it with curl and the ends to produce a huge amount of body.
She also uses shorter bangs and hair on the back to move the focus off of her hair and on to her. This all combines for a style that is also low maintenance.
Best Sew-In Haircuts for Black Women
#28: Age Doesn't Matter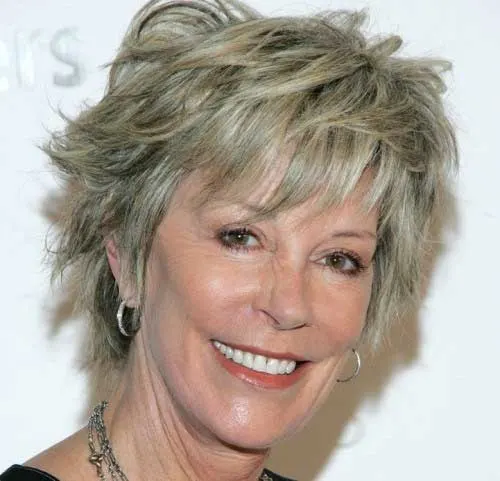 This example shows that age is simply a number with this type of hairstyle. This woman is in her 70s and still producing a very classy and attractive look with this type of style. It works for any women, no matter what your age.
#29: Dark and Colored Hair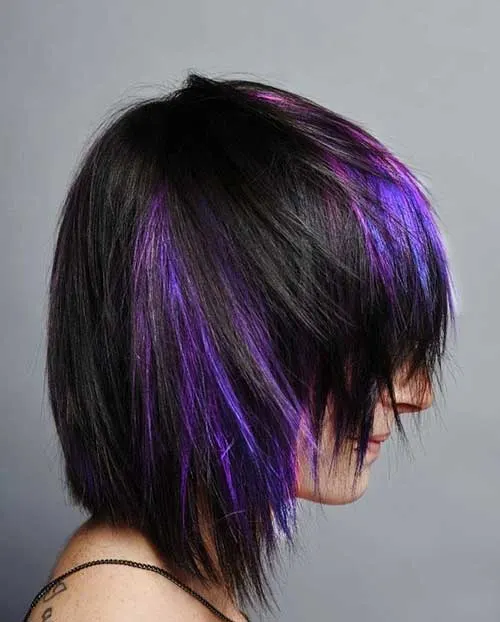 This hairstyle is able to work with many different colors. We have illustrated that multiple times. But, it doesn't have to just work with natural colors. This model illustrates how it can also work with colors such as purple. You get the sheen that provides a very full body look.
#30: Classic Short and Shaggy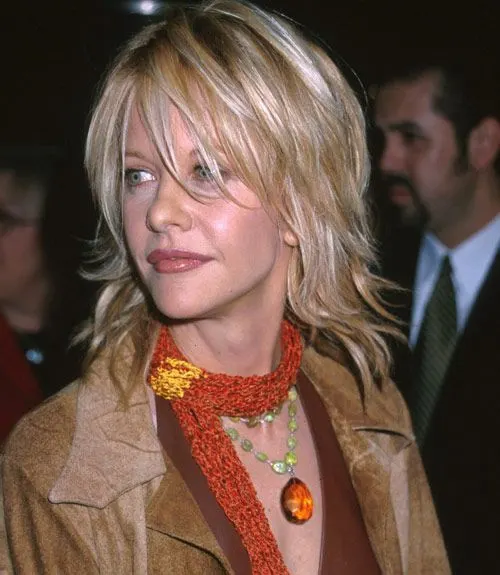 This next example is from one of the most famous movie actresses. She not only illustrates the professionalism and class that a short, shaggy hairstyle can provide but also shows that it always doesn't have to be extremely short.
She has left her bangs, side and back a little longer. This gives her a little more length and produces yet another look for this hairstyle.
#31: Curly Hair and Short Shaggy Style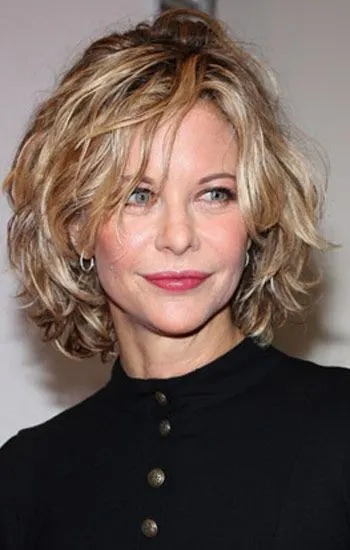 One of the great things about this type of hairstyle and one of the draws to it, is its ability to work with multiple different types of hair. It can be difficult to find styles that work well with curly hair.
This is one of those styles. This is due to the fact that curly hair only adds to the view of body that comes with the "shaggy" portion of this style.
#32: Short with Bangs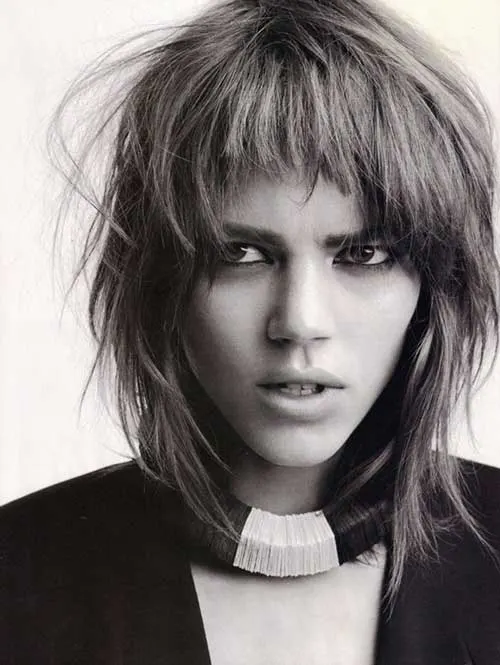 Here we see another example of the short and shaggy hairstyle with bangs. This model illustrates how this can be used with a more "triangular" shape face to frame the face well and draw attention to your natural beauty.
#33: Longer with Bangs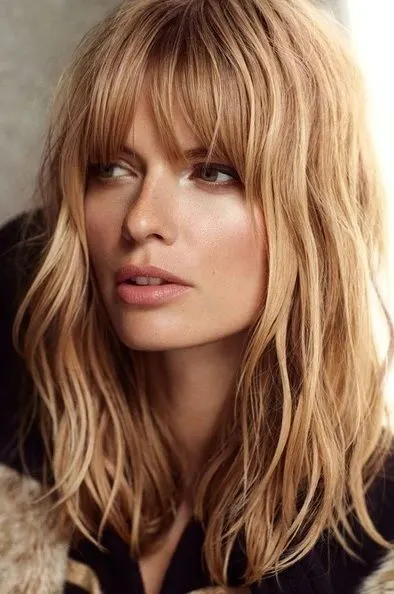 We have mentioned multiple times the versatility of this shag haircut. This model illustrates this well. She is using longer hair with this type of style to produce a truly glamorous and fun look.
#34: Shaggy Style with Layers and Medium Length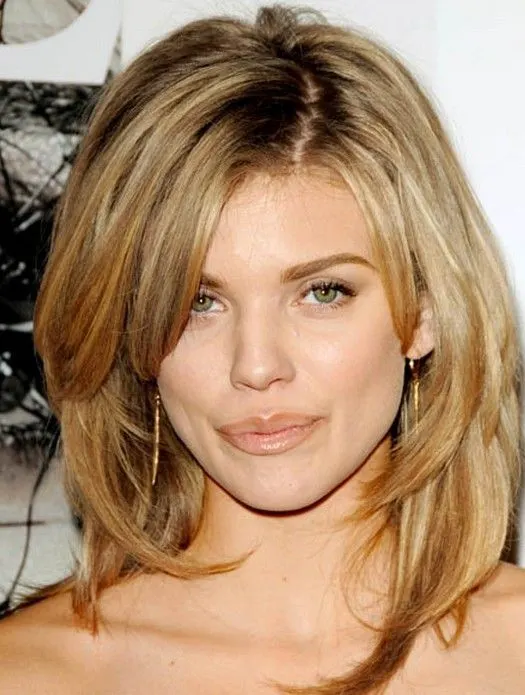 This model is illustrating how combining multiple different looks can create something new. She has medium length hair that is cut short and shaggy but also uses layers.
#35: Taylor Mom sen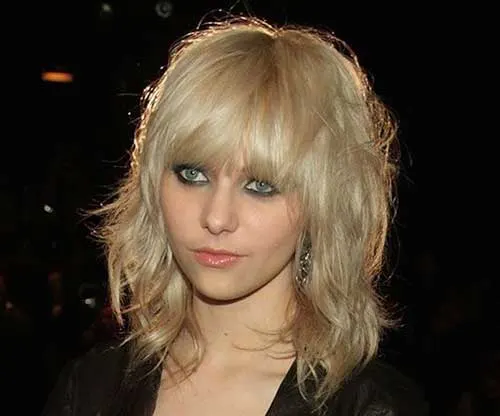 Have you seen how popular the short and shaggy hairstyle is? We have yet another celebrity example. Taylor Mom sen is using this cut a little differently than the other celebrities that we have seen. She is using slightly longer sides and bangs to pair with her beauty wonderfully.
#36: Bad Girl Shag Haircut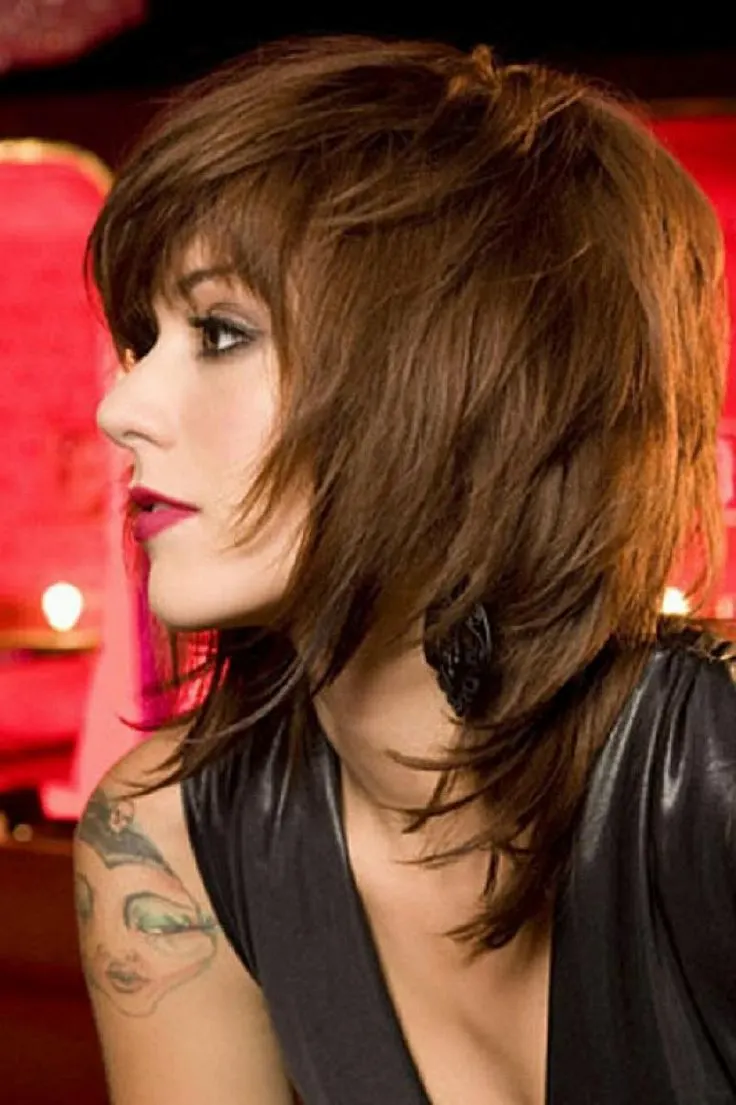 We all want a hairstyle that embodies our own personality. This is exactly what we see with this next model. She is using a longer cut with this style to illustrate her own personality.
#37: Blunt Bangs
We have seen this style work with no bangs, short bangs, and long bangs. We now see how it works with blunt bangs. These bangs stop just above her eyebrows and the overall cut, once again, work with her round face to produce a glamorous look.
#38: With Bangs for a Cute Look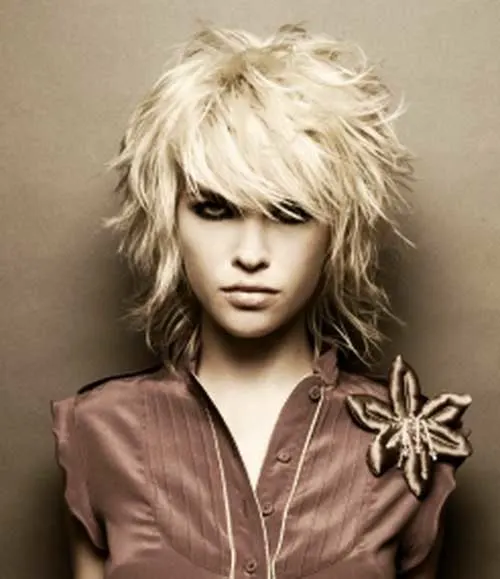 This model is using multiple different traits to create a very cute look. She is using medium length sides and bangs to create a very attractive look.
#39: Short Shaggy on Meg Ryan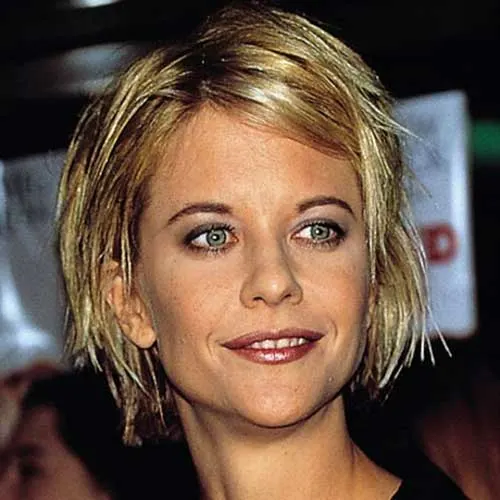 This is yet another famous actress that wears this style well. It is able to frame her naturally round face in a wonderful way.
#40: Full Body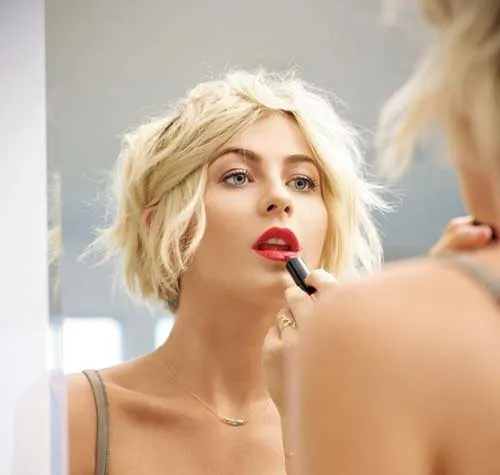 This model provides an example of how much body you can get from this style. She is using length that is just below her ears. Yet, she is able to get a huge amount of body from it.
#41: Another Example on Darker Hair

We provided one example of how this works with darker hair. But, we couldn't pass up including this one also because it is a wonderful example of the amount of body that this hairstyle can produce.
#42: Short, Shaggy with Ginger Hair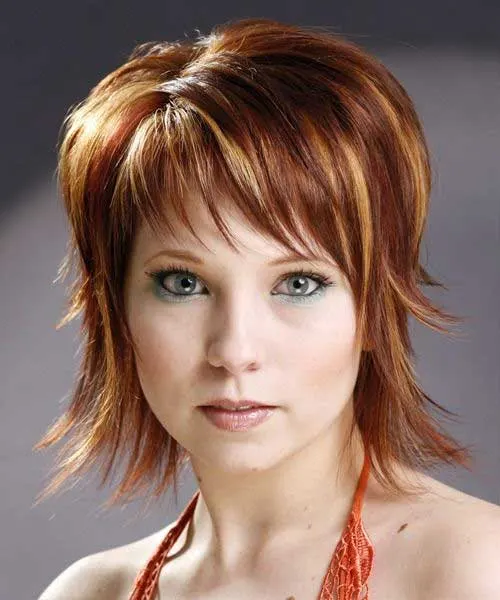 Ginger hair is a truly attractive color for many. This model illustrates that well. She also shows how this type of hairstyle can be used to highlight the natural color and the features of her face.
#43: Tiffani Thiesson's Short and Shaggy Cut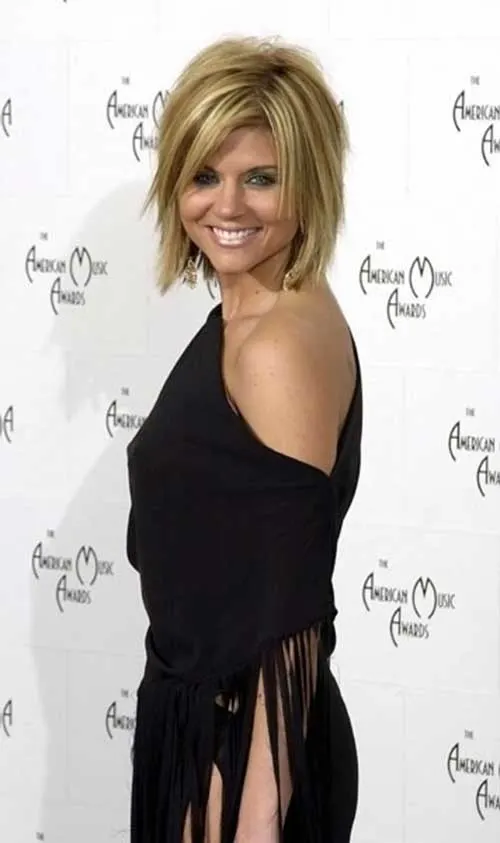 Tiffani Amber-Thiesson is one of the most well-known actresses. She first came from Saved By The Bell. She became the heartthrob of many young boys and the envy of many young women. She illustrates how this style can work with natural beauty and poise to create a truly attractive look.
#44: Short and Shaggy with Fine Hair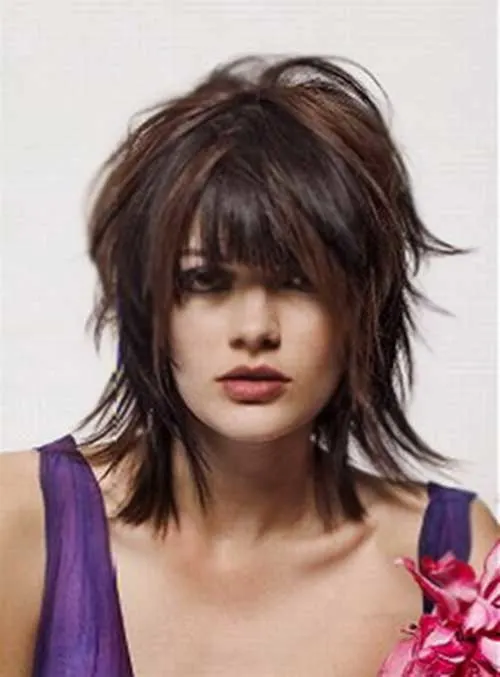 We mentioned that this cut works with all types of hair. We see that with this model. She has very fine hair but this cut creates a very classy look for her.
#45: Shag Haircut for Blonde Hair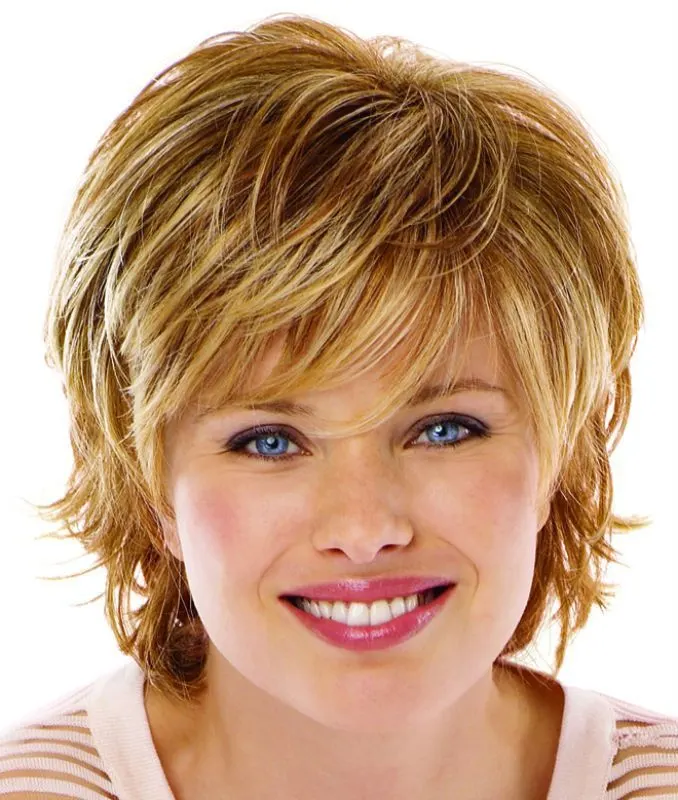 This one is short all around. It still provides a shoulder length look in the back. It works well for women that have blonde hair. You can see how the shaggy style allows light to hit the hair at multiple levels. This is what provides a full body appearance.
#46: Short, Shaggy, and Straight

We have seen many examples of this type of medium shag haircut used with some curl. Now, we see how it can work with straight hair. This model is using it with bangs and straightened hair.
She frames her face well and draws you into those alluring eyes. This is another great example of the extreme versatility that you can find with this hairstyle.
#47: Trend for 2023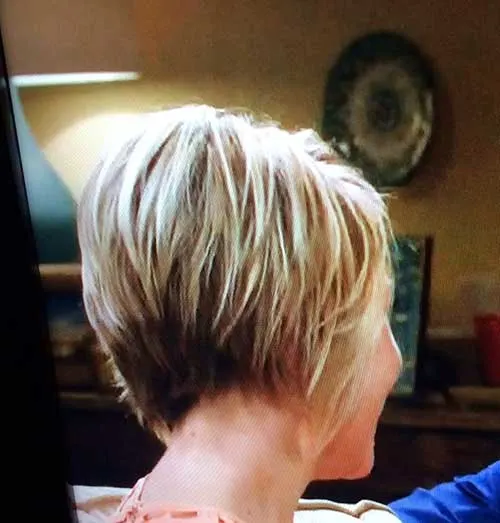 This model is illustrating the current trend in this type of cut. She has the back cut very short and the sides hand to past her eyes. This is producing a great look and one that is easy to take care of.
#48: Women Over 50 and the Short, Shaggy Hairstyle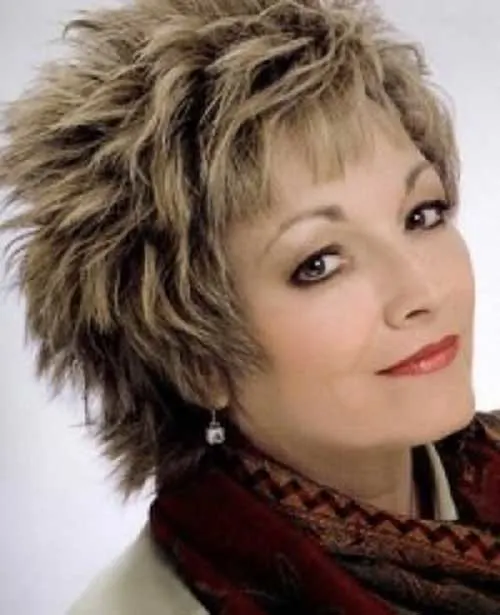 We showcased one older woman. We wanted to include another one. This model illustrates how this cut looks great on older women. She is over 50 and simply rocking this style.
#49: Short, Shaggy Hairstyle with Balayage Color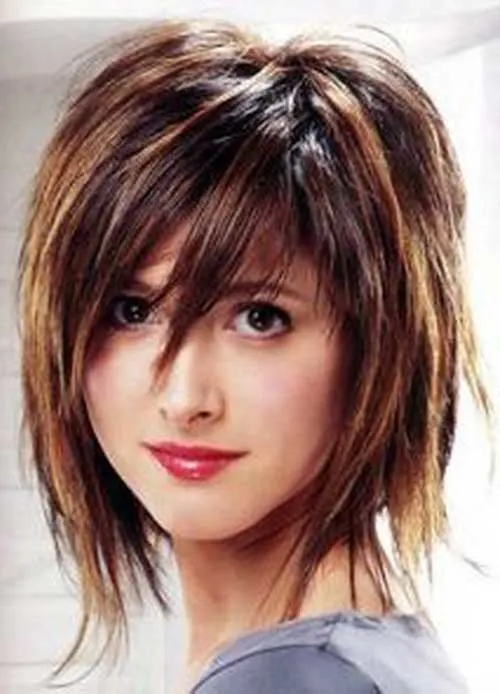 This hairstyle is extremely versatile with so many different colors. We see this yet again with this balayage colored, short and shaggy hairstyle. This model uses it to frame her face and the coloring simply adds to the overall look.
#50: Short, Shaggy Hairstyle for Older Women
This cut doesn't just have to be for the younger generation. This model shows how it can also work well and look glorious for older women.
#51: Shags for Oval Faces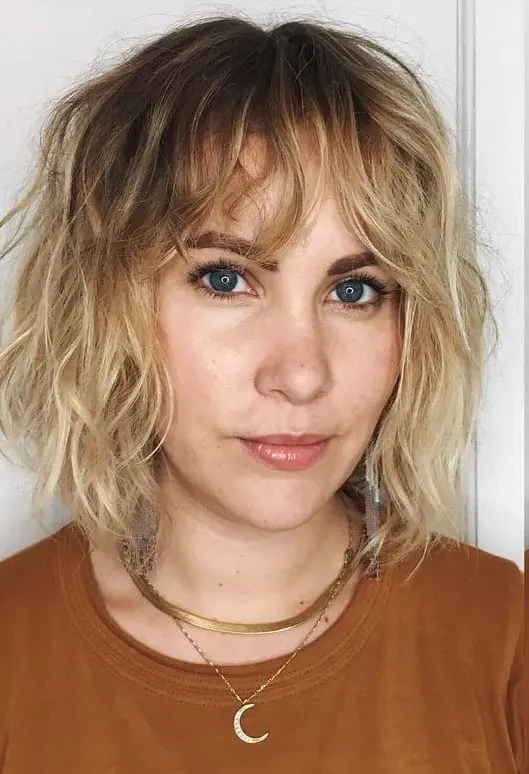 Put new framing on an oval face with wavy shag that comes just to shoulders. This look also features wavy bangs that aren't too thick.
#52: Voluminous Crown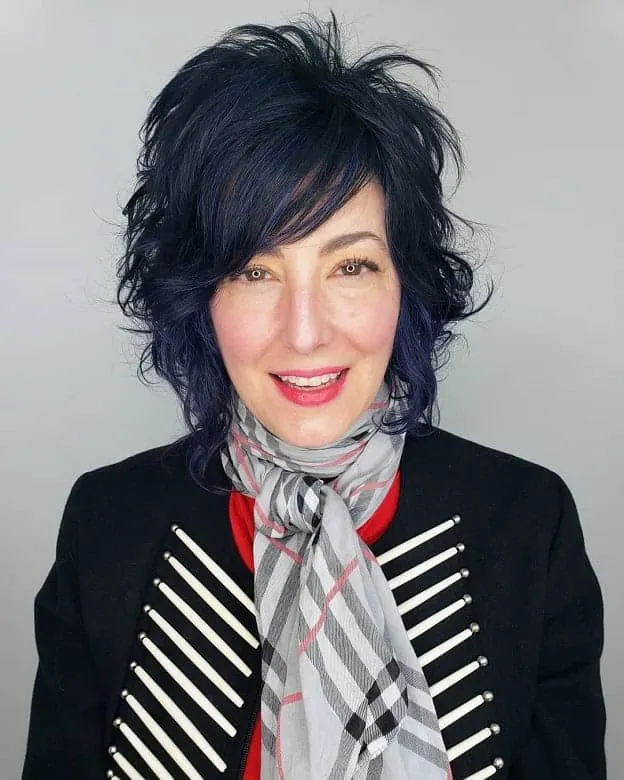 Even in older age women can rock an edgy short shag haircut. Just fill the crown of your hair with spiky texture, then straighten your side bang until it's perfectly smooth.
#53: Cropped Bangs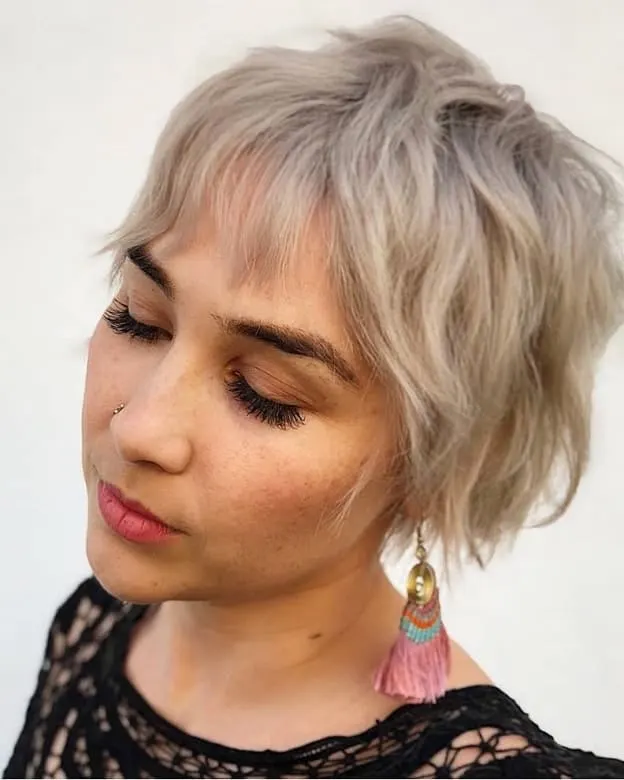 Not all shag haircuts have to come with long flirty side bangs. This one looks amazing with cropped bangs. They're straight but the body is full of soft waves.
#54: Uneven Layers
A mix of short and long layers on a shag haircut and short blunt bangs is a super easy way to add edge. A variety of rainbow colors also does the trick!
#55: Curvy Faces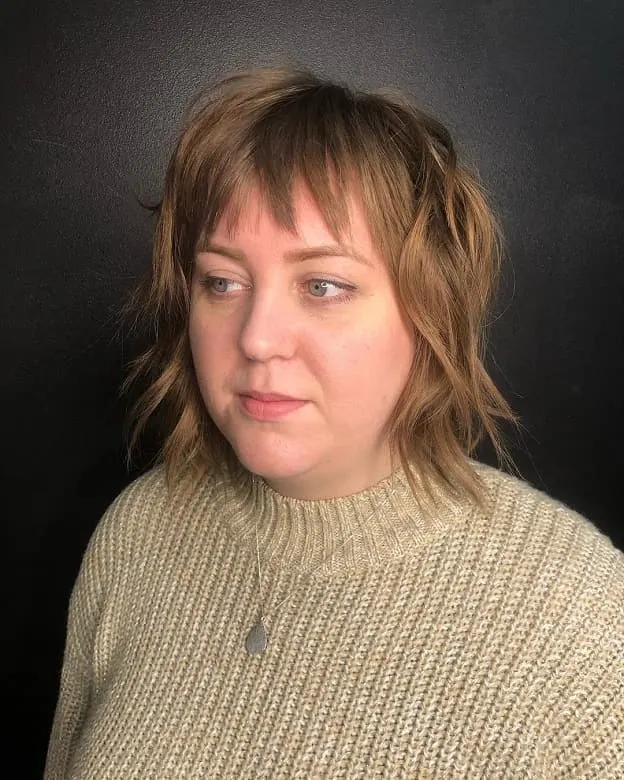 Not crazy about your curvy face? Take the focus off those rounded angles by trying out a short layered haircut and super short bangs. Wear it straight or wavy.
#56: Round Haircut with Curls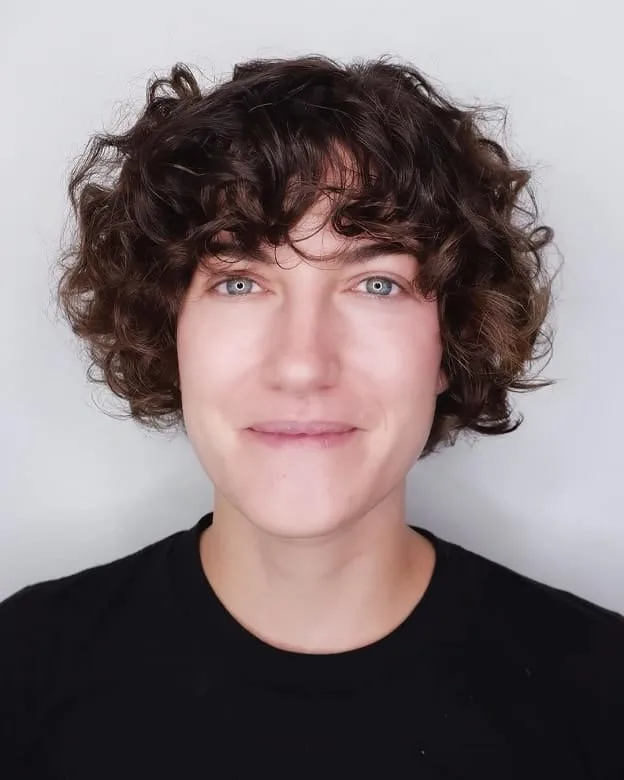 The mushroom haircut gets a feminine update when it features long curls and even longer length. All one length makes it easy to manage.
#57: Windblown Shag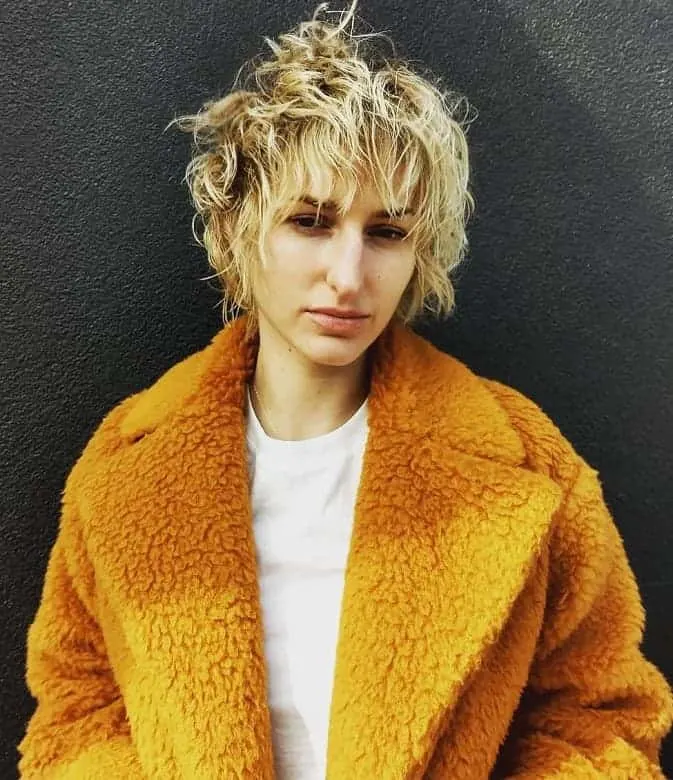 Even your shag will have shag when hair is chopped short with layers. Load up on the waves and maybe try a blonde color for that hot surfer chic vibe.
#58: Short Side Bangs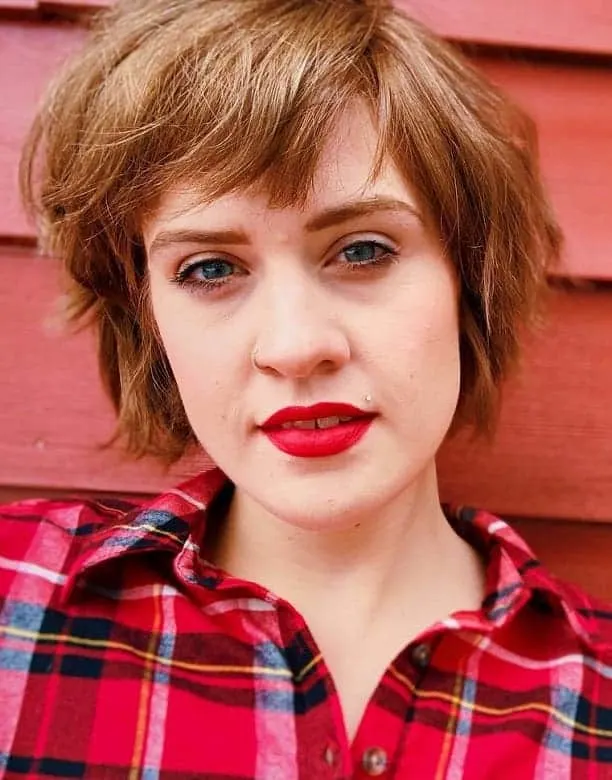 A short layered haircut deserves equally short side bangs. Put a whole new spin on your look by combing hair over your ears.
#59: Curtain Bangs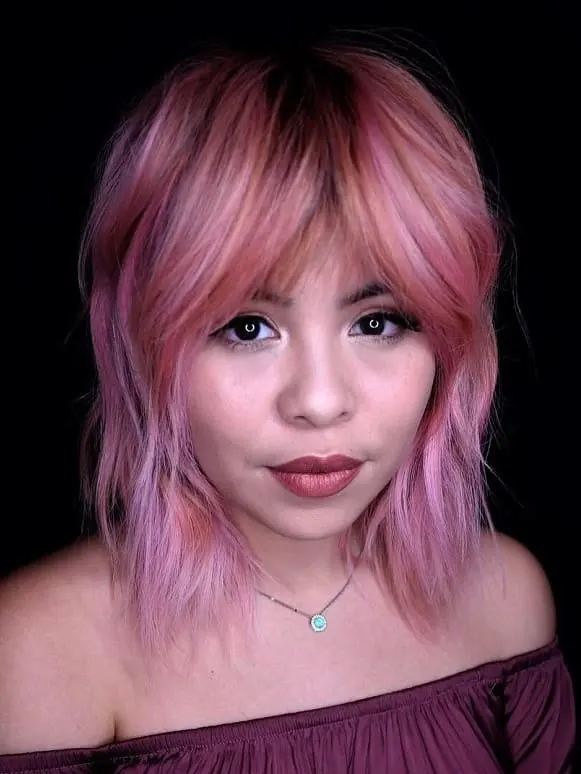 Even out a long wavy shag haircut with soft straight curtain bangs. Playful pink is the way to get your personality to come out, although an ombre will look just as gorgeous.
#60: The Cruella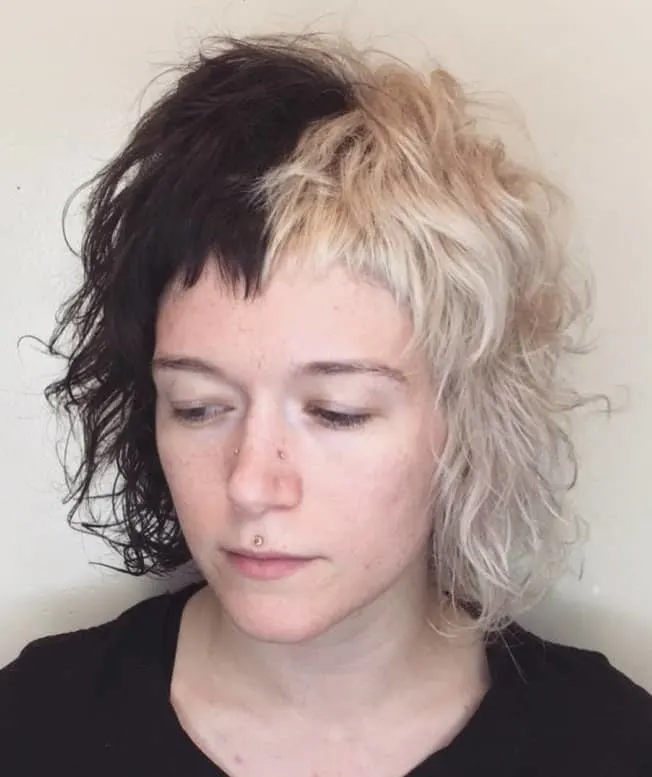 Cruella Deville would love this updated take on her short black and white hairdo. Combine super short bangs with soft waves.