Do you sometimes struggle to find the right words to describe your hair length? Often, general terms like short, medium, and long can seem ambiguous and can cause misunderstandings when describing your hair length to another person.
At the salon, you may end up with hair that's shorter or longer than you anticipated. The same applies to when purchasing hair extensions over the counter.
To help you avoid confusion, we've compiled a hair length chart to guide you on the different hair lengths for different hair types.
Hair Length Chart
How do you achieve perfect-looking hair? By getting the texture, style, and color right. However, of equal significance is getting the length right.
Hair length is detailed, and it takes more than just the terms short, medium, and long to best describe it. To get the best outcome, you must know the exact hair length when getting a haircut or purchasing a weave or hair extensions.
That's where a hair length chart comes in to help you best understand the differences in length and types.
The following are the primary uses of a hair length chart:
Salons use hair length charts as guides when styling your hair for a perfect outcome. That way, if you want your hair at chin-length, then by using a hair length chart, your hairdresser can style your hair to that specific length.
When purchasing hair extensions or weaves, a hair length chart will help you buy the right length for your hair type. It helps you avoid wasting time figuring out the right length. It also gives you an understanding of the different lengths according to different hair types, sparing you the agony of purchasing what you think is shoulder-length hair only for it to turn out to be shorter.
Whatever your hair type, you can apply this hair length chart to get a perfect outcome. Interestingly, your height dramatically impacts how the hair looks on you and should be a significant consideration when choosing the hair length.
For example, long hair that's teased or held up in a bun can add inches to your height, making you appear taller.
Different Hair Length Terms
Below are five standard terms used to describe hair length:
1. Ear-length
Ear-length is the shortest hair length. This very short hair touches the earlobe or further up the top of the ear. It measures 6 inches long for straight hair, 4 inches for wavy hair, and 2 inches for curly hair.
Some short hairstyles include buzz or pixie. Cropped hair above the ear or further up is also an excellent option if you prefer a bold look.
2. Chin-length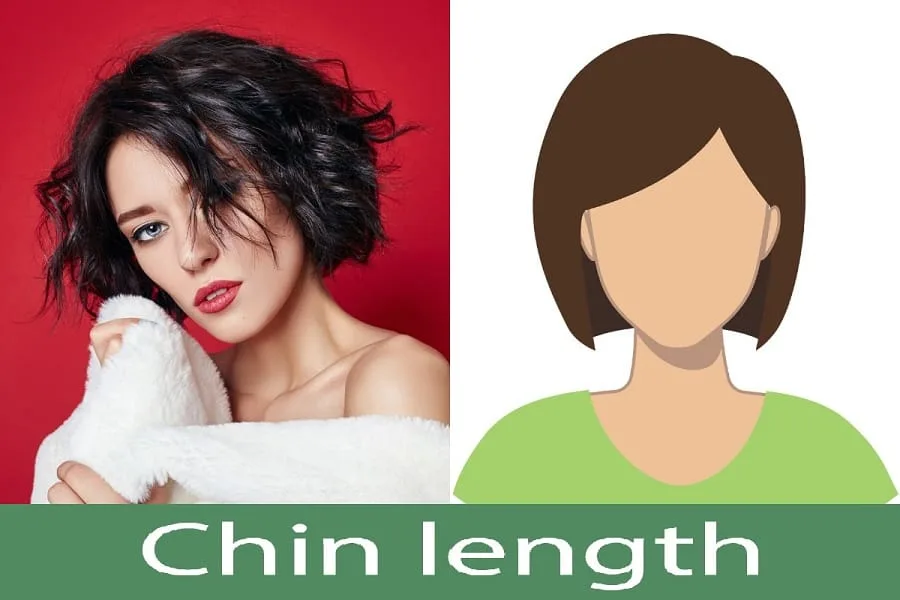 Chin-length hair reaches chin level and is also classified as short. It measures 8 inches long for straight hair, 6 inches for wavy hair, and 4 inches for curly hair. Layered chin-length hair gives a sophisticated look.
3. Shoulder-length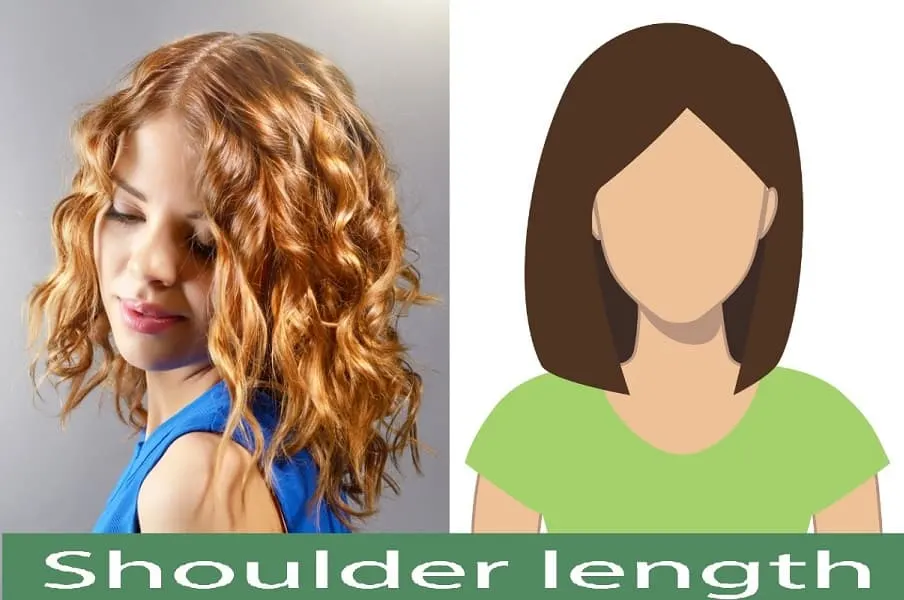 Shoulder-length hair is classified as medium-length hair, and it gives an accurate representation of medium. For straight hair, shoulder-length hair is 12 inches long, for wavy hair 14 inches long, and curly hair, 16 inches long.
Shoulder-length hair provides an excellent compromise if you want longer hair but without the weight. It's long enough for a ponytail, chignon, and all manner of updos and also looks great worn straight down.
4. Armpit-length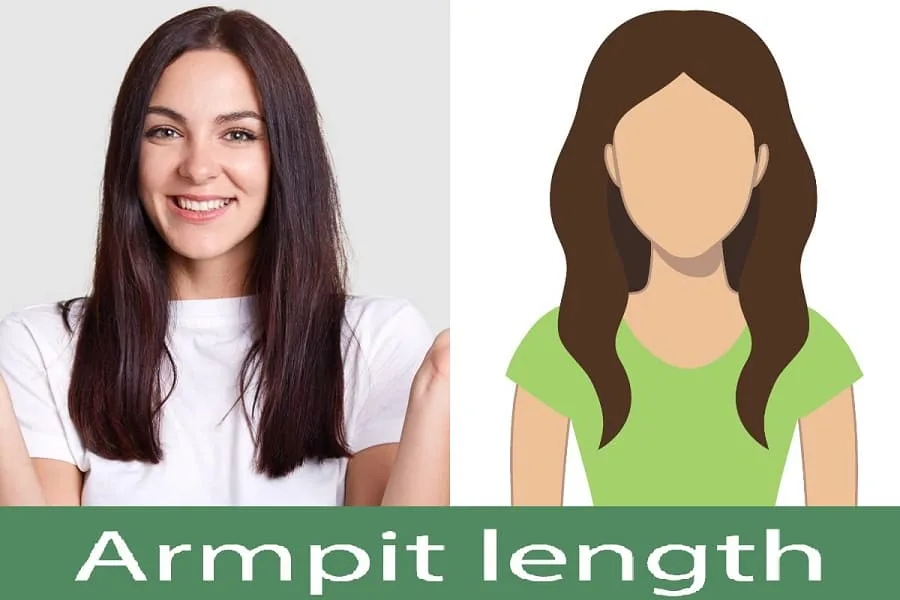 Armpit-length hair extends to the armpits and is classified as medium-long. It's 18 inches long for straight hair, 20 inches long for wavy hair, and 22 inches long for curly hair.
It's a length many women desire and looks glamorous worn in loose waves, deep layers, or a high ponytail.
5. Medium-back Length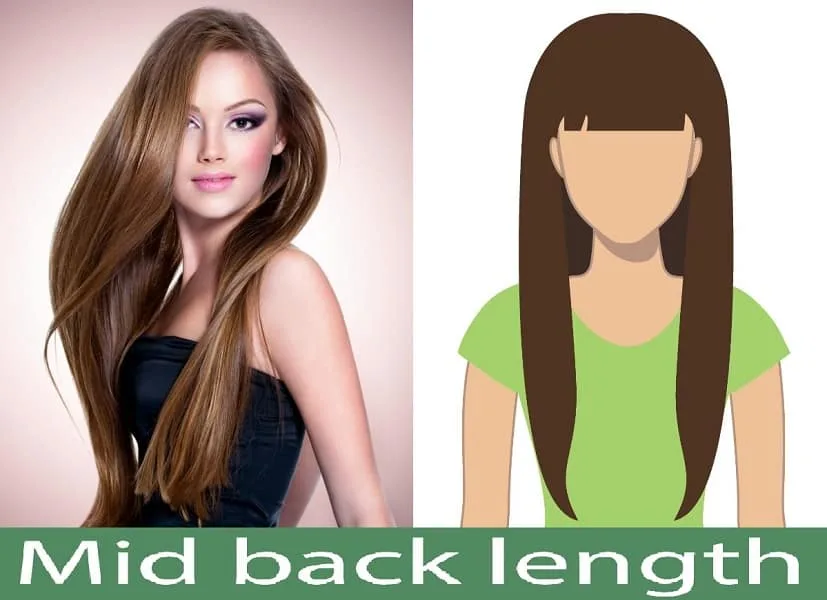 Medium-back length hair extends to the middle of your back and is categorized as very long hair.
For straight hair, medium back length measures 24 to 26 inches long, for wavy hair 26 to 28 inches, and curly hair 28 to 30 inches. Medium-back length hair left free in curls or tied up in a bun gives a classy look.
Hair Length Comparison Table
Straight, wavy, and curly hair measure differently in the hair length chart
| | | | |
| --- | --- | --- | --- |
| HAIR LENGTH | STRAIGHT HAIR | WAVY HAIR | CURLY HAIR |
| Ear Length | 6 inches | 4 inches | 2 inches |
| Chin-length | 8 inches | 6 inches | 4 inches |
| Shoulder-length | 12 inches | 14 inches | 16 inches |
| Armpit-length | 18 inches | 20 inches | 22 inches |
| Mid-back Length | 24 inches | 26 inches | 28 inches |
You may wonder why the difference in length between the different hair types. To understand this, say you hold a straight piece of thin wire. You'd be able to see its entire length. But if you twist, coil, or fold that wire, it will appear shorter.
The same principle applies to hair. Although it may measure the same when straight, the length differs when wavy or curly. And the curlier the hair, the tighter and the more the kinks, meaning the shorter it is.
The Difference Between Straight, Wavy, and Curly Hair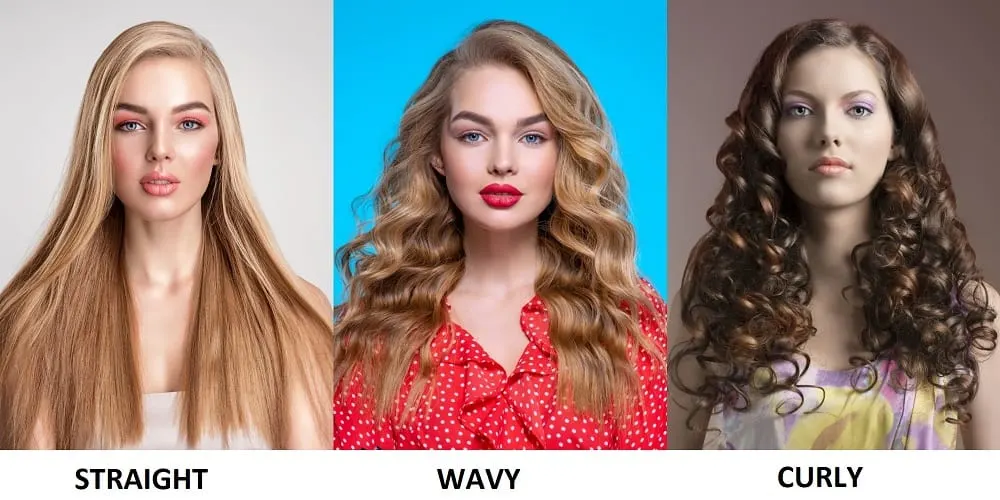 These are the main differences between the various hair textures
This hair appears in its actual length because it has no coiled or folded parts to keep it from hanging straight. So 18 inches of straight hair will fall to the level of your armpit, as opposed to the same 18 inches of wavy or curly hair.
Wavy hair
This hair appears a little shorter than its real length because of the waves. Therefore, wavy hair that's 18 inches long will fall to above the armpit level – somewhere between the shoulder and the armpit.
Curly hair
Because of the coils throughout curly hair, it will appear even shorter than wavy hair, and the curlier the hair, the shorter it will be. If you have 18 inches of curly hair, it will fall on your shoulder.
FAQs
Here are the most frequently asked questions regarding hair length
How can I choose the most suitable hair length?
Different haircuts suit different people, depending on the following:

● Hair texture: Not all hairstyles suit every hair texture. For example, a beautiful feathered haircut looks great on slightly wavy hair and not on curly hair. To play it safe and avoid disappointment, seek professional advice, or wear a wig before you cut your hair.
● Facial shape: Your face shape and structure plays a significant part in your overall look. Some hairstyles on a round face look great, while others look more flattering on heart-shaped faces. If you are a woman with an oval face, you can get an easier time choosing haircut because most hair lengths and textures will look good on you.
How often should I get my hair cut?
It depends on your situation. For example, if you're trying to grow your hair but want to keep it healthy with regular trims, you'll need to trim it every 3 to 4 months.

If, on the other hand, you just got a fresh new haircut you love and want to keep that length, then you should get a haircut every six to eight weeks.

Why? On average, hair grows by 1cm every four weeks, meaning within three to four months, your hair will be about 4 inches longer, and trimming it will leave 2cm to 3cm of hair that's grown since your last haircut.

Similarly, within six to eight weeks, your hair grows by 1.5cm to 2cm. This new growth may seem insignificant, but if you intend to maintain your new haircut's length, you'll need to get your hair cut.
Is there a way to grow hair faster?
Some over-the-counter supplements make hair grow much faster and are available in drugstores. They're not overnight fixes, but Viviscal, for example, is tried and tested as a safe supplement that helps trigger hair growth.
Can I get rid of split ends without losing hair length?
If you're not ready to let your hairdresser cut your hair to fix split ends, the solution is dusting. Every 10 to 12 weeks, ask your stylist to trim only the split ends.

Many products claim to repair split ends, but most tend to be heavy, leaving your hair greasy. Rubbing a little leave-in cream over your split ends is your best option to hold your split ends temporarily.
I'm trying to look younger. Should I cut my hair?
Many people hold a common misconception that cutting hair makes a person look younger. On the contrary, short hair tends to mature a person, and so does wearing your hair the same way daily.

Rather than cutting your hair, go for shoulder length hair with long layers. You'll be able to change the way you wear your hair by pulling it into a ponytail sometimes.

Bangs are also a great idea because they not only hide wrinkles on the forehead but make you appear more youthful. Go for a long side-swept fringe for more versatility.
Get It Right With a Hair Length Chart
There you have it. Now you know exactly how to describe your hair length.
You also no longer have to waste time trying to determine the correct hair length when purchasing an extension or weave or suffer the disappointment of buying one only to find later that it's longer or shorter than you want. Use our guide to hair length to avoid any regrets.
You May Also Like