For women over the age of 50, hairstyles are part of showing personality. You should choose a haircut depending on what look you want to achieve. Is that you want to look cool and respectful or prefer to get a glamorous and hot appearance. So it's your choice to select a perfect hairstyle that will suit your over 50 age.
Amazing Hairstyles for Women Over 50
Turning 50 can be very depressing for many women due to the visible signs of growing old. But reaching that age doesn't mean you should stop trying different haircuts and hairstyles to look glamorous.
We have collected some awesome haircuts which will fit good with women in this age range. Below is a list of 121 most respectful and glamorous hairstyles for women over 50.
#1: Long Waves
One of the greatest ways to keep a youthful look is to let your hair be longer and style it in a simple but beautiful way. This is how we often see Sarah Jessica Parker even on the red carpet. Who can believe that she is over 50?
#2: Mid-length
Our favorite character Phoebe from Friends is now a mature woman who has chosen a mid-length hairstyle. It is easy to maintain and promotes healthy look overall because it helps the hair to grow also in volume and not only in length.
#3: Centered-parted Lob
If you are looking for presidential style, Michelle Obama's centered-parted lob may be the right solution to you. Feel like the First Lady every time you look in the mirror – classy and majestic.
One of the all-time favorites best hairstyles for women after 50 is the glorious bob. The amazing bit about it is that it goes perfectly even with gray hair. You don't have to continue dying your grays, simply embrace aging with this gorgeous look.
Older on paper but younger in spirit? You go, girl, keep that feeling in your hair too! Go for a spiky and short cut and prove once again that age is just a number. A great inspiration for your transformation can be the gorgeous Halle Berry. What a woman!
#6: Wispy Pixie
Style like one of the most influential mature women in the entertainment business – Kris Jenner. The mother of the Kardashian-Jenner clan has been rocking a wispy pixie for years now and she definitely makes it work. So why not get a thousand bucks look?
#7: Medium and Layered with Side Swept Bangs
Jessica Lang is an everlasting symbol of style for mature women. Her look is always impeccable and her hair looks simply amazing. Her medium layered hair with side swept bangs is one of the iconic hairstyles for women over 50.
#8: Shoulder-length
The great thing about having shoulder-length hair is that you can style it in any way you want. You can curl it, straighten it or put it up – it will look fantastic. Some days you may be going for the more effortless look and sometimes when you are in the mood you can easily bring the glam up.
#9: Freeze mid-waves
Natural look with a red carpet twist – this is what freezy mid-wave hairstyles will do for you. Feel like a classy beautiful woman that you are. All you need is a wide curling wand and not too strong hair spray that will let the curls fall and form naturally.
#10: Natural Curls
There is nothing better than embracing your true look at any period of your life. If you have gorgeous curly or wavy hair just let it be the way it is. Even if your curls are not all in place that will only enhance the beauty of your natural look.
#11: Short Back with Long Bangs
Another hairstyle that will perfectly emphasize on your facial features and joyful spirit is the short back cut with long bangs on both sides. It really does have a Hollywood hairstyle worth and you deserve to try it.
#12: Flipped Edges
This is another super popular hairstyle for women over 50. Flipped edges bring freshness and quirkiness to your appearance. It is a great way to keep an energetic and classy look at the same time.
#13: Long and Straight
Who is not crazy about Diem Moore's brilliant look? Even though she is over 50 she is still playing with her appearance from head to toe. Her long flat hair is a goal many young girls have and being able to pull it off as a mature woman is truly a sign of excellence.
#14: Long Layers
The Queen of Pop definitely knows how to look stunning and has chosen a long layers hairstyle, which is very suitable for older women who are not ready lose the glamorous high fashion look.
#15: The Shag
Jane Fonda has made the modern shag one of the most chosen hairstyles for women after 50. When Jane first appeared with it looked different and trendy. Today it is a classic example of a beautiful mature woman's hairstyle.
#16: Bombshell Blowout
The absolute iconic hairstyle for older women adopted by politicians, actresses, TV presenters, and other influential figures is the bombshell blowout. It is chic and classy and would make you feel like a superstar.
#17: Side-parted Wave
A fine lady like Nicole Kidman will surely pick a hairstyle that fits her class and personality. The side-parted wave looks very simple but is full of character and stunning beauty.
#18: Highlighted Tendrils
Highlighted tendrils is a perfect hairstyle for more voluptuous women. It is cute and playful and fine highlights make it very interesting, especially under sunlight. America's most loved TV personality Oprah Winfrey is proudly rocking the look.
#19: Long Shag
The long shag was popular in some part of the 80s and a few years ago some versions of it were adopted by teenagers all over the world. Jennifer Garner, however, makes it look amazing on women in their 50s.
#20: Mane
The mane is a fantastic hairstyle for mature women because it comes in many variations but it brings class, edge, and glam all in one. It is a popular choice for public figures, singers and even aristocrats.
#21. Roots and Tips
Dye your hair but leave your roots and tips as your natural color. Alternatively, put a darker color into your hair at the roots and tips. This can make your hairstyle look thicker and more alive.
#22. Bob Hair with Parted Bangs
A chin-length bob hairstyle is great for people over the age of 50 because shorter haircuts are easier to maintain. Parted bangs will give you the opportunity to try to add volume to your style around your face.
#23: Pixie Crop
A short hairstyle like this is perfect for women who are over 50. It is both glamorous and very low maintenance. With this women's haircut, you can dye your style or you can choose to grow old gracefully.
#24: Side Crown
Manipulate your hairstyle so that the crown and parting sit at the side of your hair. Doing this can help you to get extra volume into your look. A side parting and crown looks great with straight, wavy and curly hairstyles.
#25: Curly Queen
Use a diffuser when you blow dry your hair to give a curly hairstyle with lots of little distinct curls. Put a blob of curling mousse into the palm of your hand and then scrunch a handful of your hair. Repeat until you have worked through the whole hairstyle.
#26: Short and Curly
Natural Afro-textured hairstyles for older ladies are often short or medium length because they are easier to maintain. A short-medium hairstyle like this one looks really glamorous and is perfect for a special occasion.
#27: Sleek Chin Length Bob
Bob hairstyles are great for over 50's. Sleek styles are easy to maintain and look best on women who have thinner hair. All that you need to do is blow dry your hair straight once you have gotten out of the shower.
Short Hairstyles for 50 Years Old Women With Thin Fine Hair
#28: Layered Cut with Side Swept Fringe
Layering around your face is a good hairstyle for women over 50 because it can help you to looks younger. Sweeping your fringe to the side can allow you to introduce thickness and volume into your hair.
#29: Red Alert
For a cooler hairstyle for over 50's, try dyeing your hair an amazing shade of deep red. Although this color is quite intense, it is quite a fun shade as well which looks really good with shorter women's hairstyles.
#30: Waves and Curls
Being over 50 doesn't stop you from having gorgeous hair. Completely curl each section of your hairstyle to give full curls, then run a brush through the top section to give soft waves. If you only run the brush through the top, then the bottom should stay wavy.
#31: Curly Bob
A curly bob cut is very favorable. The weight and bounce of your hair when it is in this style can help you to stay feeling confident about your hairstyle all day long.
#32: Show your Roots
Dark colored roots can actually help your hair to look healthier. If your natural color is not dark, or if your hair is starting to go gray, you can actually dye your roots a darker color to create this illusion.
#33: Purple-Red
Why grow old gracefully when you can do something much more fun instead? A funky purple-red color, such as that which is sported by Sharon Osbourne, will help to show off your personality.
#34: Curly Bob with Half Bangs
These voluminous curls are great if you want to make a big impression. A slight side parting will allow you to style your hair with "half bangs" to make your face look brighter.
#35: Graduated Sleek Bob
A sleek bob style looks really professional and it is easy to manage hairstyle for women over 50. Cut the style to chin length at the front and then slope the style upwards slightly towards the back of the head.
#36: Side Parted Style with A Long Fringe
Keeping your fringe long can help you to highlight the features that you like whilst hiding the features that you don't. The wonderful side-parted style gives you the chance to add the illusion of more volume to your hair.
Women Aged Over 50: Hairstyles for Thick Hair
#37: Androgynous Charm
Breaking gender stereotypes can be done by any woman of any age. There are loads of cool androgenic hairstyles for women over 50 to rock every day. Ellen Degeneres is a brilliant role model if you like these mixed hairstyles.
#38: Ice Queen
Platinum blonde hairstyles are amazingly vivid. They are so bright and full of life. These colors look really good with green or blue eye colors.
#39: Feathered Bob with Layers
Feathering was really popular in the 1970s and early 1980s, so this look can act as a throwback to your younger years. Curl the sides of your style out away from your face using feathering techniques. This can help to open up your face and keep it looking brighter.
#40: Subtle Highlights and Lowlights
Subtle dark and light streaks in your hair can help to give your hairstyle texture and depth. Whatever type of women's hairstyle that you choose, you can change it up a level by choosing highlights and lowlights to complement your style.
#41: Choppy Bob
Choppy styles are always a little bit flirty and fun. Start off by cutting your hair to a uniform length and then cut in some shorter sections. Leave these sections straight or flick them out to give your hair a little more texture.
#42: Choppy Long Crop
For a funky hairstyle for over 50's, choose this choppy crop look. This is a more extreme version of the choppy bob. Cut your hair to lots of different lengths and then flick each section out to give a unique layered look.
#43: Short Rounded Bob
Shorter bobs are really flattering for people who are over the age of 50. Round the bob off so that your hair points inwards towards your cheekbones. This can help to enhance your bone structure.
#44: Glamorous Big Curls
Over 50's can still look really glamorous and big curly hairstyles are definitely still an option for older women. It is easier to maintain curls like this when your hair still contains a lot of moisture, so make sure that you condition your hair regularly with a curl-friendly product.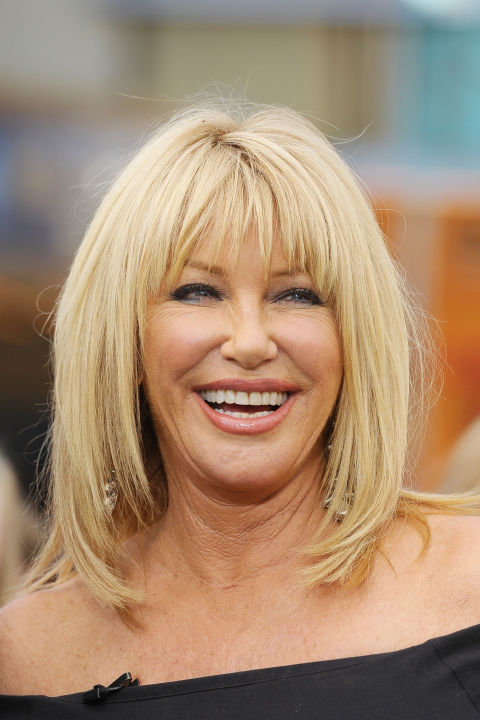 Layered hairstyles like these really help to frame your face, especially if you gently curl the front pieces under so that they follow the shape of your face. Wispy bangs will also help to draw attention to your gorgeous eyes. A zigzag parting will give your hairstyle the extra edge. If you're plus-size, check these hairstyles for overweight women over 50.
#46: Cute Bob with Bangs

A cute bob hairstyle with bangs is a timeless hairstyle which looks great on women of all ages. Keep your hair sleek so that the style looks absolutely flawless. Curl the ends underneath your chin to frame your face.
#47: Short Bob with Professional Waves

Subtle waves look amazing as part of a professional or business hairstyle. Integrate them into a short bob hairstyle and you will find a women's hairstyle that you can wear every day to the office whilst stills looking super glamorous.
#48: Simple highlighted bob
This simply highlighted bob is exactly what you need to look young and stylish. No maintenance, no hassle, no problem! This is a great choice for women whose hair is thinning.
#49: Low ombre
When you are over 50, it's a great time to experiment. There are so many styling techniques out there that you haven't tried yet! Start with a low ombre and then go on to more complicated options, such as balayage which is great for graying hair.
#50: Neat waves
No matter how old you are, wavy hair is always in style. It's an easy way to make a simple haircut impressive and festive. Slightly neat waves create the effect you need to for any special occasion.
Hopefully, we were able to help you find the perfect hairstyle for women over 50. Whether you like your hair short or long, classy or edgy, we are sure you will look gorgeous because a real woman is beautiful through every stage of her life.