Short wavy hairstyles are one of the most popular when it comes to women's hair. And it's not just because they're always in fashion. A short haircut that shows off your wavy texture is chic, sophisticated, and easy to maintain. It's also a great way to tame thick hair. It would be a disservice not to check out these 45 cute looks.
Short Wavy Hairstyles
These 45 short wavy hairstyles are the best of the best when it comes to chic style.
1. Short Thick Wavy Hair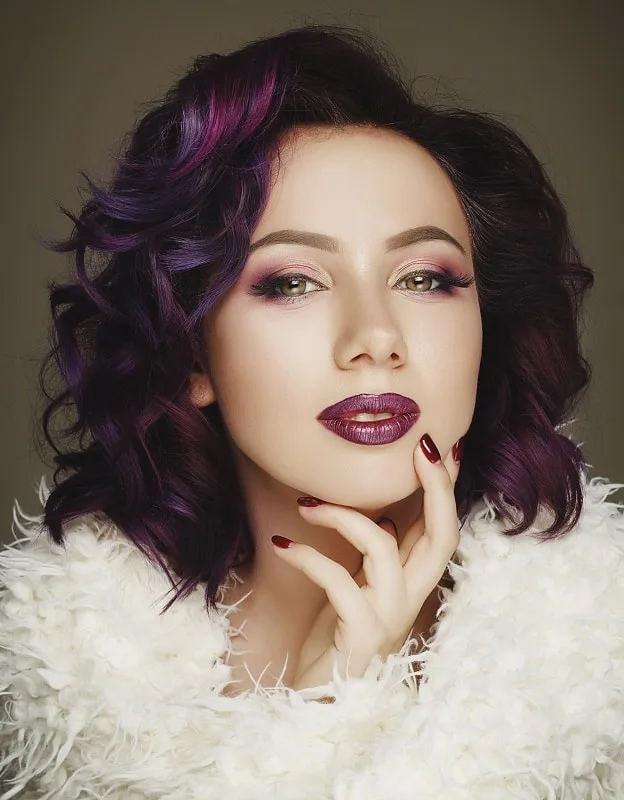 With the pin-up girl vibes this short cut is giving off, you'll be the sexiest woman in the room. Fill your hair with thick waves and try out a deep purple shade of highlights to level up your look.
2. Short Wavy Hair with Bangs
If summer's heat is hitting you hard, keep your hair out of the way yet still stylish with a short wavy haircut with straight bangs. It's also the perfect time to go blonde and try out those cute new sunnies you bought.
3. Wavy Short Layered hair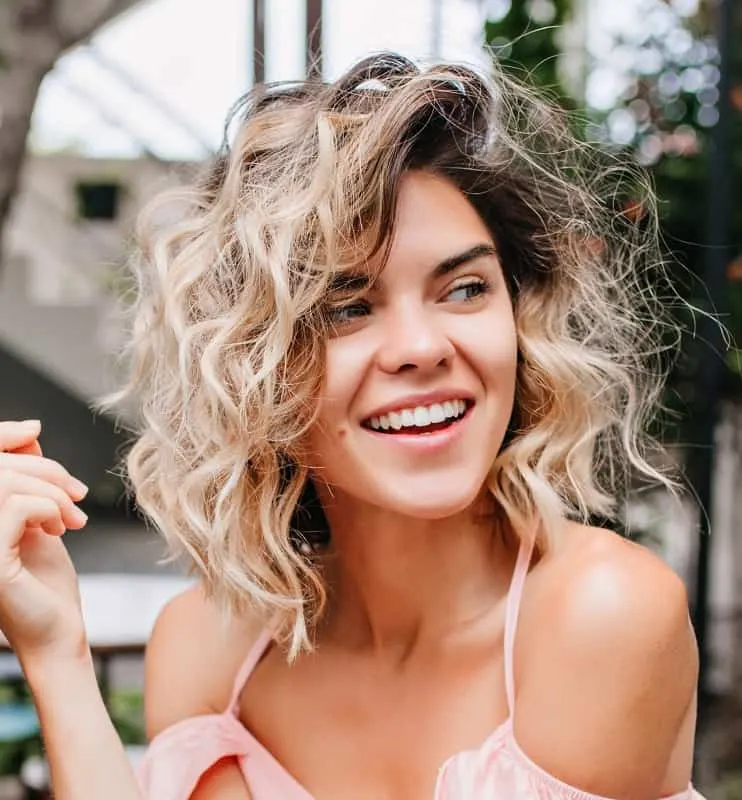 Bedhead is sexed up with a short wavy haircut parted at the side. With its soft layered waves teased with just a bit of hairspray, this haircut is particularly flattering for women with thick hair.
4. Short Wavy Bob
The way the ends are cut on this layered bob, combined with an uneven center part, add subtle style. Make sure the waves hold on your haircut with a couple spritzes of hairspray.
5. Short Wavy Permed Hair
Prefer to keep hair off the shoulders? Go for this super chic permed pixie. Its length reaches the ears so you can still style it up while the blonde body packs all the punch you need to feel like a queen.
6. Funky Fauxhawk
Bold ladies can express their wild side with a funky fauxhawk hairstyle. It features an undercut along the sides with a zigzag design carved into it. The wavy top is dyed in a bright aqua blue shade and falls on one side of the face with a single braid along the other side.
7. Modern Mullet
Show off those natural wavy tresses with a mullet haircut. The sides are buzzed with a short fringe at the front while the back is kept the longest. This look is low-maintenance as it can be styled with mere a hand-tousle leaving the strands to bend in whatever direction.
8. Platinum Love
Can't take your eyes off right? Fair-skinned ladies can recreate this frosty look by dying their hair in an icy platinum hue. The strands are chopped into a medium-length bob with tight curly waves. There is no need to fret about the emerging dark roots as they add up to the look.
9. Natural Beauty
Those getting on in years can embrace their natural gray hairs with confidence by cutting their hair into a layered bob dangling above the shoulders. Let the grays shine through the tresses for a carefree appeal or spice up the look further with gray highlights. The messier, the better!
10. Play with Pastels
Soft, magical, and playful! This short wavy hairstyle is sure to be loved by many girls. Try a choppy bob where the pastel orange at the top transitions into a pastel pink hue midway to the ends resulting in a subtle two-toned look that will turn around many heads.
11. Side-Tousled
Get noticed from a distance with an asymmetrical hairstyle. Buzz one side while side-tousling the remaining hair to reach the chin. If you are not sure about this look try it first by pinning back one side of the long bob with the remaining waves falling over on the opposite side of the face.
12. Dusty Rose Waves
Natural waves are a true blessing from God. Show them off with a short haircut while dying them in a gorgeous dusty rose shade for a mystic allure. Those who don't have naturally wavy hair can recreate this look by adding curls and finger-brushing them. Top off with a chic headband.
13. Chunky Money Pieces
Money pieces are in fashion this year and are ideal for brightening any face. They are inexpensive and can be achieved easily at home. Dye the short hair in a light golden brown hue with blonde face-framing chunks at the front. Effortlessly chic!
14. Short Wavy Hairstyle for Thin Locks
Adding volume to thin hair can be tricky at times for women, particularly elder ladies. The best way is keeping such hair short and adding as many layers as possible. Finish off with bouncy waves and there you have lively voluminous blonde locks that won't be ignored.
15. Retro Finger Waves
Finger waves are the classic flat S-shaped waves from the 90's that are still worn by many celebrities today. Spice up a short bob or pixie haircut with a middle or side parting using hair mousse, a comb, and your fingers to create S-shaped curves on the head.
16. Boyish Appeal
The shorter the hair is the easier it becomes to style. Start fresh with a boy cut defined by trimmed sides and back with a long top. Apply pomade on the fingers before sweeping the hair on one side with the front strands falling on the face as chic bangs.
17. Midnight Blue Mane
Nothing can go wrong with blue! It is a versatile color with many shades to choose from. Mix some indigo with a midnight blue hair shade and cover the tresses from roots to tips. Add waves, if not natural, and tousle them for an undone look. Tada!
18. Pink Ombre
A touch of pink surely won't hurt. Check out this layered blonde bob with soft waves. The pink tinge emerges midway and concentrates towards the ends creating a dichromatic appeal. Crimp the hair before adding waves to enhance the overall volume. Not enough? Dye the brows pink too!
19. Highlighted Wavy Bob
Straight-cut bobs are a huge trend this season. Rock the look with blonde highlights contrasting against a light brown base. Create waves using a straightener and spare the front strands to frame the face while braiding the side locks to be pinned at the back.
20. Wedding Vibes
There is no need to complicate a hairstyle when a simple look like this does the job. Brides-to-be can surprise everyone on their special day by going for a short layered bob with gorgeous waves. Top off with an embellished hair comb.
21. Floral Headband
This simple short wavy hairstyle is ideal for a romantic date. Add curls to a layered bob and brush them out creating stunning waves. Complete the look with soft makeup and a floral headband matching the outfit. Adorable isn't it?
22. Short Wavy Blonde Hair
The shortness of this wavy hair evens out the wideness of the forehead, making for the perfect mix of cute and sexy.
23. Short Wavy Fine Hair
To disguise the appearance of fine hair, take a curling wand and make it do all the work for you. With or without layers, the waves will help hair billow out in soft shape; it's one amazing look paired with a summer hat.
24. Short Wavy Hair for Black Women
For your dark skin, go for a brown or black short haircut asymmetrical in style. The uneven balance flatters an oval face and takes only minutes to style up in the morning.
25. Short Wavy Hair for Women Over 50
As you age into your golden years, you need a haircut that will help retain your youthful personality. Fill your hair with textured waves and use fingers to get a slightly messy feel.
26. Finger Waves for Short Hair
It may take about 90 minutes to get a 1920s-inspired hairstyle, but the timeless, classy result is worth it when you get this showstopping look for your short wavy hair.
27. Very Short Wavy Hair
You can get a whole new look by cutting fine or thin hair to a couple inches in length like this short pixie. Fluffed up texture and blonde hair color will make you a bombshell.
28. Balayage Center Part Cut
Just by adding blonde balayage to your short wavy hair, you can create a whole new look. Keep the hair straight from roots to mid-shaft, then load up the ends with luscious waves.
29. The Vintage Diva
Try this smoking hot short wavy haircut and you'll look stunning for sure! The very complicated wave and the entire image are inspired by hairstyles of some decades ago. Presently, vintage appearance are seen as individuals and it is loved and refined by most ladies.
30. Retro Waves
This is another amazing short wavy haircut that gives you a new look. These Retro waves are soft- flowing and form a unique hairstyle that is roundish in shape, thus, emphasizing your beautiful facial qualities and femininity.
31. The Short Wavy Hairstyles
This is a nice hairstyle that can be worn at any event or occasion. The waves are wet, breezy and sexy, and they can be obedient to wind only. These golden glares are capable of putting a brighter look at your image, and it can go hand-in-hand with golden accessories. This look is mesmerizing with its exotic beauty.
Want to try curls? Try these brilliant Ringlet Curls
32. You look awesome Bob!
This short wavy hairstyle is best-fit for dense or thick hair. All that is required for this amazing hairstyle is a normal wave with a little mousse. It has a copper color that looks gorgeous and can be excellent on you if it matches your complexion.
Short haircuts for women with thick hair
33. Scrambled Waves
This is kind of similar to the big bouncy wave except that it appears shorter. This hairstyle has a chaos texture with a contrast in the perfection of view. It gives a kind of weird impression as if your hair was whirled by the tornado.
34. Very Short Wavy Haircut
It doesn't really matter how long your hair is, waves can be awesome even on short hair. Wave them and leave long bangs as shown in the picture. This hairdo is perfect for both slim and plump ladies.
35. Gentle Sea
Most ladies don't fancy strongly pronounced waves on dwarf hair. This hairstyle shows very light waves, reminding of gentle waters and the elegant sandy beach somewhere around the Maldives. This amazing texture is obtained due to layering.
36. A Glamorously Shaped Hairdo from Victoria
Victoria Beckham unveiled a glamorously shaped wavy hairstyle. This heavy bang gracefully opens her face, straight tresses, with a beautiful jawline. This hairstyle is suitable for tall and slim ladies with a diamond-shaped countenance.
37. Messy Bob
This is a hairstyle you would really like to rock. Jaimie Alexander wore this wavy hairstyle when she did an advertisement for Viva Mag. Her fabulous wavy bob with a random design disarms with the exclusive spontaneity and shagginess. The face-framing lock is absolutely fantastic.
38. Extremely Short Wavy Hairstyle
It is well known to us that coming up with waves on shorter hair is kind of difficult. Jamie Alexander's pixie cut has grown in such a way that it has been fashioned to boost her hair texture. Even if complete waves was not achieved, Alexander can be proud of a unique short hairstyle that have defined pieces similar to light waves.
39. The Wispy Blonde Chamomile Waves
Blue-eyed blonde Wanamaker Milan looks gorgeous on her bunch of collar bone hairstyles, special for its long front pieces. She improves the delicacy and tenderness of her look by styling her hair wavy.
40. Strawberry Blonde Bob
This beautiful short wavy bob haircut was rocked by Kate Mara at the 66th Prime time Emmy. The color of this style is very complimenting and gorgeous to the eyes.
41. Ombre Messy Wavy Bob
This ombre wavy bob is gorgeous and enjoyable to rock. It has an off-centered line and disconnected edges that brings out awesome finish and texture.
42. The Greek Wavy Undo
This is a Greek Hairstyle that was rocked by Hayden Panettiere. Her short blonde form a reasonable volume and fun wavy texture.
More Short Wavy Hairstyles to Pick
Textured tips, wavy bobs, and twisted side bangs are perfect ideas if you are thinking of getting a new haircut. And since women with thick hair often think about how to style their hair, these stylish short hairstyles below will help you employ the texture you have been blessed with into your own benefit.
43. The Versatility Of Wavy Hair Designs
Even when you have got naturally curly hair, yet you want to go for wavy hair ideas, you are blessed with another option. Therefore, in order to please your wavy hair craving mood, all you need to do is:
Use a smoothing balm for damp hair.
Blow dry your locks using a round bristle brush to achieve perfect waves.
Flatiron until you get the texture you desire.
44. Pixie Cut
Pixie cuts are the kind of hair designs we recommend for girls who wish to express their strong feminine traits throughout their hardcore look. And since they make up an invincible combination when you pair them up with waves and twists, then they should definitely be next on your next hair trial list.
45. Chaotic Waves
Loose waves look very showy in nowadays trendy hairstyles. And that is why, chaotic waves that scream "bed head" are the next big thing in the wavy hair-styling world. Thus, go ahead and try this new technique to save both time and effort in your future.