Wooden hairbrushes are popular for 2023 and with good reason. They are eco-friendly and effective for detangling your strands. They reduce static and, by default, frizz, and they help you style salon-worthy looks at home.
There are many brushes and combs available on the market. It is worth taking the time to find the right wooden hairbrush for you.
The options found on Amazon in the list below will give you insight into the variety of products and their benefits for your tresses. The majority are fully eco-friendly, right down to their packaging, and have bonus products to try.
Here are our top six picks for wooden hairbrushes in 2023:
Top Pick: Nipoo Wooden Paddle Hair Brush
An Amazon Choice, this brush and bristles are made from 100% bamboo. It comes with a free mini brush, a great bonus if you have kids with unruly hair.
It has an oval-shaped paddle and an air ventilation hole for scalp massaging and less static. A great choice at a reasonable price, including the bonus gift of the mini brush.
Size: 9 in x 3.2 in
The Ultimate Combo Set: MRD Bamboo Hair Brush and Comb Set
Sale
MRD Hair Brush Set, Natural Bamboo Comb Paddle Detangling Hairbrush, Wide-tooth...
🌟ECO-Friendly: The set comes with 1pcs standard brush, 1pcs mini brush, and 2pcs hair combs. These hairbrushes are made of...
🌟For All Hair Types: Suitable for women mens kids with long short thick thin curly straight natural dry or wet hair, for...
🌟2 Different Sizes Brushes: Massage made by rounded ends stimulates blood flow to the scalp and boosts hair growth....
This full set includes a Round Paddle Standard-Size Brush, a Mini Brush, a Wide Tooth Comb, and a Rat Tail Comb for your diverse styling needs.
Suitable for all hair types and a great gift idea! It allows you to try out the different types for an affordable price.
Size: 9.06 in in x 3.27 in (Standard), 5.5 in x 2.36 in (Mini), 2.56 in x 2.44 in (Wide Tooth), 8.78 in x 0.95 in (Rat-tail)
Best Wooden Hair Brush for Men: PERFEHAIR Vented Hair Brush
A classic type for men or to help the heat circulate with a blow-drying style, this beechwood vented brush has nine rows and is great for short to mid-length hair.
The bristles are made from nylon, which gives you maximum lift from the root. This lightweight brush is an alternative to the other types listed.
Size: 8.3 in in x 1.3 in
Most Ergonomic Design: Bestool Wooden Hair Brush
Hair Brush, BESTOOL Wooden Hair Brushes for Women Men Kid, Detangler Brush for...
🍀 THIS HAIR BRUSH features a creative wooden paddle & an ergonomic lightweight handle. Routine Brush for all long short...
🍀 WOODEN BRISTLE planted in a flexible cushion made the hairbrush detangling with less pull, pain or damage while give a...
🍀 ONE Of THE MOST popular head massager hair brushes for women men who with hair loss, greasy or itching. Effortless...
With an ergonomic and lightweight handle, this brush features grooves in the wooden design that are unique and comfortable in your hand when styling.
Included in the purchase are a brush cleaner and a travel bag. It comes in a biodegradable cardboard box. Bestool also offers a three-month return period. It is best recommended for thin hair.
Size: 8.5 in in x 2.8 in
The Scented Bonus: PureGlo Natural Wooden Hair Brush
Natural Wooden Hair Brush [Gift Box] - Best Detangling Hairbrush for Curly Wavy...
SHINY AND SMOOTH HAIR: Natural wooden bristles easily take your scalp oils and apportion it over the hair. Your hair will...
NATURAL HAIR CONDITIONING: Pure wood bristles spread natural oils over the hair and cause less frizz. Daily use helps prevent...
NO MORE KNOTS AND TANGLES: Detangle all hair types easily! Wet or dry, thick or thin, straight or curly. Best for smoothing...
Made from rich green sandalwood, this wooden hairbrush holds its natural fragrance, much like the essential oil used in perfumes and colognes. The bristles are also sandalwood, with a rubber base.
The product also combats dandruff by balancing out your scalp's oil production, adding moisture from the sandalwood with each stroke.
Size: 8.3 in x 2.2 in
The Most Eco-Friendly: Boodboo Natural Wooden Paddle Brush
This square-shaped bamboo bristle brush for detangling is made from 100% biodegradable materials and is suitable for all hair types.
Delivered to you in a convenient cotton drawstring bag, along with a bonus wooden comb, this would also make a great gift or travel companion.
Brushing and combing your hair daily with a bamboo styler is like a little moment of luxury packed with health benefits.
Size: 9.8 in x 3.3 in
Benefits of Wooden Hair Brush
Swapping out your plastic hair brush for a wooden one might seem like a pointless change, but it could be better for your head and the environment. These are the major benefits of making the switch.
Wood Brushes are Gentle on Your Hair and Scalp
The wood bristles gently detangle your hair while stimulating the hair follicles and spreading natural oils evenly through the strands. Using a wooden brush reduces the amount of buildup around your scalp and encourages hair growth.
Plus, wooden brushes don't create static like their plastic counterparts, meaning you have less frizziness and stringiness. Dealing with static in your hair? Run a wooden brush through it to dispel that unwanted energy.
They Are More Durable and Eco-Friendly Than Plastic
Plastic hairbrushes don't last long, especially if you have thick, coarse, or long hair. Most plastic brushes last less than a year. That's a lot! Plus, tossing those plastic brushes in the trash can means they end up in the overflowing landfills.
Wooden hair brushes are more durable and eco-friendly. They tend to last longer, and most wooden hair brushes are usually recyclable. Many wooden hair brushes are made from biodegradable wood like bamboo, making it a sustainable investment.
How To Clean a Wooden Hair Brush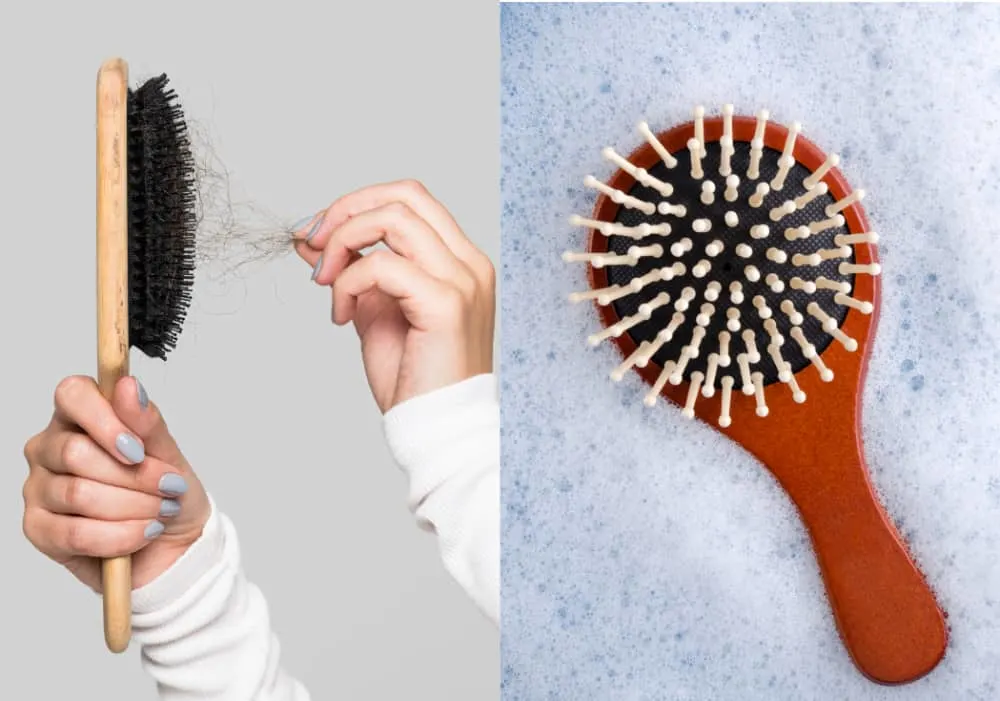 Wooden hair brushes effectively distribute natural oils and products, meaning they get dirty fast. Unwashed hairbrushes could add extra buildup to your scalp and ends. Here is the best way to clean a wooden hair brush.
Remove excess hair from the brush using your fingers or any pointed object, like a pencil or the end of a comb.
Fill your sink or a bowl with warm water and one or two teaspoons of shampoo.
Stir the water until soap suds form.
Do not submerge the entire brush. Water will damage the wood. Only dip the bristled section into the water.
Dip the bristles and shake them out five times, removing oils and buildup.
If the brush is still dirty, use a toothbrush dipped in soapy water and scrub the bristles.
Rinse your bristle pad with cold water, then leave it to dry with the bristles facing down.
FAQs
Here are the answers to some commonly asked questions about wooden hair brushes.
Wooden hair brush vs. plastic — which should I pick?
Wooden brushes promote healthier hair compared to plastic brushes. A wooden brush evenly distributes natural scalp oils, coating each strand.

These oils stick to the plastic brush bristles, causing buildup and dull hair. Using a wooden brush creates healthy and shiny hair.

These brushes also last longer than plastic brushes. Wood is much stronger and more durable than plastic. Plastic brushes may be cheaper and more accessible, but they do not last.
Will wooden brushes aid in hair growth?
Wooden brushes help stimulate hair growth. When you brush your hair, sturdy bristles gently massage your scalp. This massage increases blood flow and circulation to your scalp, providing more nutrients for hair follicles.

Wooden bristles also maintain the scalp's natural oil production and distribution, meaning your hair grows healthy without weighing it down.
Why shouldn't I use a wood brush on wet hair?
Wooden brushes and combs are not optimal for wet hair like any other brush. Brushing damp hair could lead to hair damage.

When hair becomes saturated with water, it is softer and more elastic. This elasticity makes your hair susceptible to extra breakage or uprooting.

Excessive water may also damage the brush. They risk warping and damage with too much contact with water. Wait for your hair to dry before using a brush.
Wooden hair brush vs. boar bristles — which is better for hair?
Wooden and boar bristle brushes are both excellent alternatives to plastic hair brushes. While they have many similarities, each is better for different scenarios.

Boar bristles are much softer and more compact than wooden brush bristles. For this reason, boar bristles are not ideal for detangling hair. Most wooden brushes are vegan and cruelty-free, while boar bristles come from animals.

If you avoid animal-based products, choose a wooden one. If you have wavy or curly hair, boar bristles gently eliminate frizz while maintaining your natural texture.
Are wooden brushes good for frizzy hair?
Wooden brushes eliminate static and reduce frizz. Wooden bristles are gentler compared to plastic brushes. It is an ideal option for damaged hair because it does not encourage any more breakage.
The products listed above are all great choices depending on your particular hair type and styling needs.
The bonus is that a few of them also come with wooden combs, which are great tools and come with slim or broad teeth. Much like brushes, you can find some great options but start with a combo pack to see what works for you.