We're living in an era where moms with curly kids finally have enough options to choose from when it comes to curly hairstyles for kids, instead of going for the same hairstyle over and over.
We have put together a long list of the best 35 kids curly hairstyles for you to check out and get some inspiration from, but before we jump into it, let's talk about curly hair in kids for a bit!
How to Make Toddler Hair Curly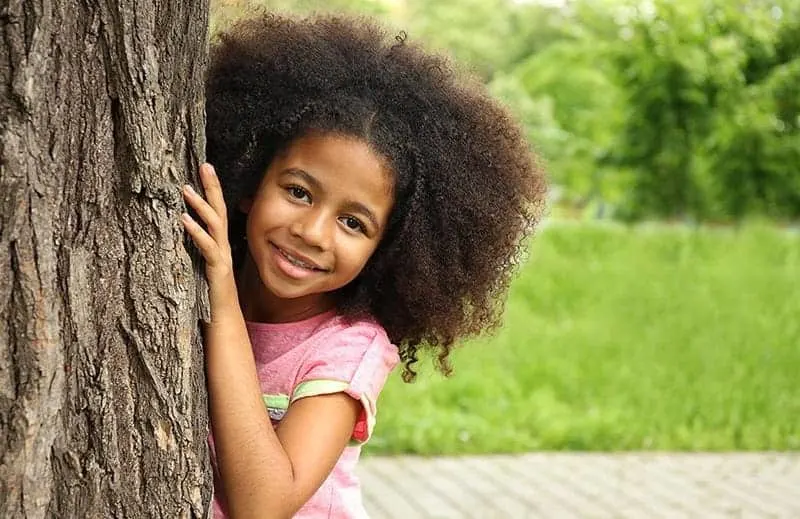 You can't simply "make" your baby has curly hair; it's a genetic thing. If you, or their other parent, have curly hair, then it's most likely your baby will also have curly hair.
But keep in mind, even if you are blessed with a toddler with curly hair, chances are they might have a completely different type of curly hair than yours… Theirs might be curlier or have a softer curl than you have, and you need to be prepared to deal with that.
However, there's no natural way to make your toddler's hair curly if they are not born with naturally textured hair. You can, of course, use curly irons or non-heat methods to bring some waves and curl into your kid's hair, but this effect will only be temporary.
How to Style Your Kid's Curly Hair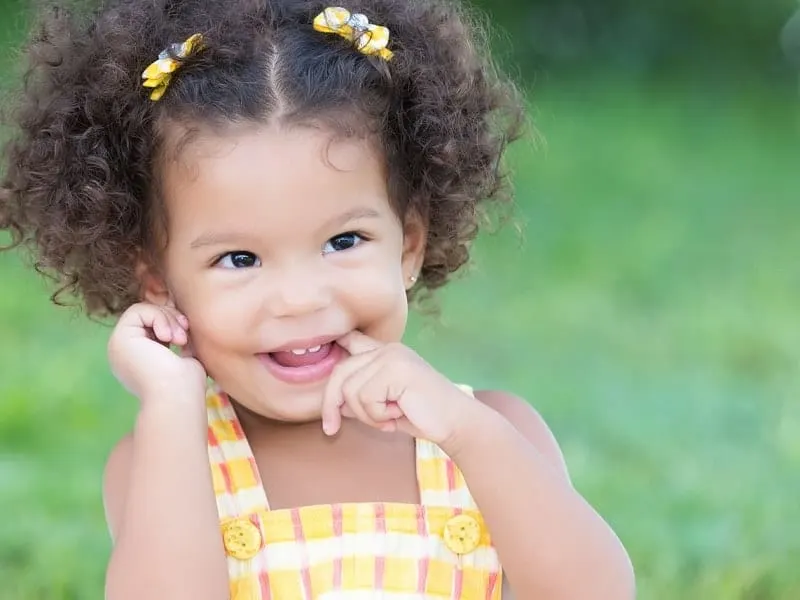 Styling curly hair for kids is nothing similar to styling straight hair since curly kids require a lot of care and previous treatments to keep their hair soft and nice.
As a parent, you need to know which type of curly hair your kids have, since depending on the structure of the curl, you'll need to apply special-made products for them.
For example, the tighter the curl is, the more moisturizing and hair oils you'll have to incorporate into their hairstyle routine.
This is because curly hair kids -and just curly hair in general- is very dry and tends to frizz and break super quickly, so it's always in need of proper care.
If you're looking to play around with these curly hairstyles for kids we have put together for you, then we recommend you do the following things in advance:
Buy curly hair products for your kid: From shampoo to hair conditioner, to moisturizing to hair cream… Everything has to be specially done for curly hair!
Create a hair care routine: Like we said, taking care of curly hair is a constant battle, and you have to start creating a routine for your kid in which you carefully wash their hair, properly moisturize it and find the best way to comb it and dry it.
Adorable Curly Hairstyles for Kids
These are the cutest kids' curly hairstyles that you can try on your children!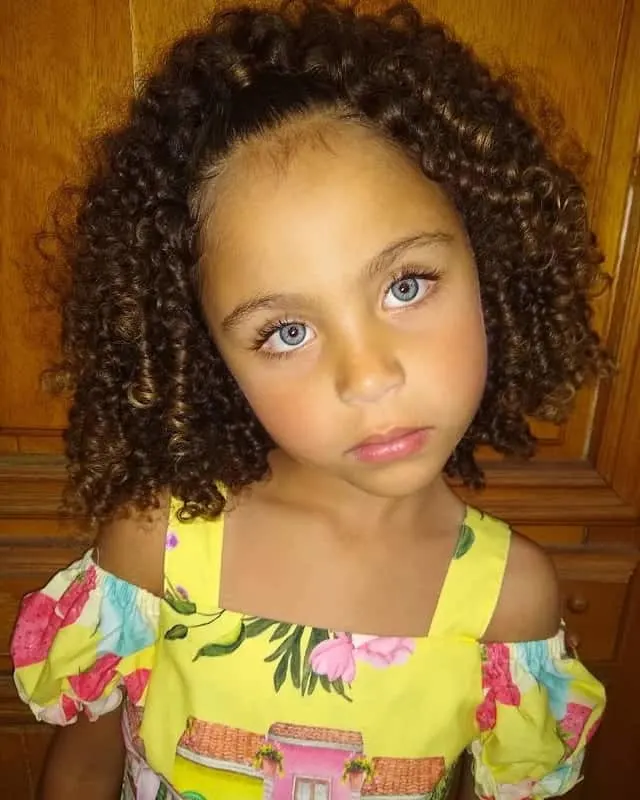 Think about this hairstyle as a ponytail but without actually parting your girls curly hair in half, and just a tiny part in the front of their hair.
Pull the hair back and make sure to tie it around tight enough so it won't slip and then curl the hairs that stick out to make it blend with the rest of their natural hair (make sure to properly curl their whole hair as well to avoid tangles!)
Amongst our favorite kids curly hairstyle for curly kids has to be this one! It's really simple to make, and can tame any bad curly hair days, making your baby's curls look in control in a matter of seconds.
Simply let their hair loose from the middle part to the ends but slightly push back their hair in the front, pushing it a little bit to the back before placing the turban in place.
If you're scared because you don't know how to make the top bum on the turban don't worry, they already come with it.
3. Long Curly Hair with Center Part
With long hair, a little girl can rock all sorts of hairstyles, including this long beachy waved one. Top it with a flowered crown or headband!
4. Baby Afro with Flowers
If you don't want to or don't feel ready to try more complicated curly hairstyles for kids, you can always let your baby's natural curls loose and slightly puff them into an afro.
To keep their hair out of their faces and avoid any tangled mess, slightly push their front hair back and place a flower band to keep it all in place. It's a very simple hairstyle and yet looks really cute.
5. Medium Curly Hair with Short Bangs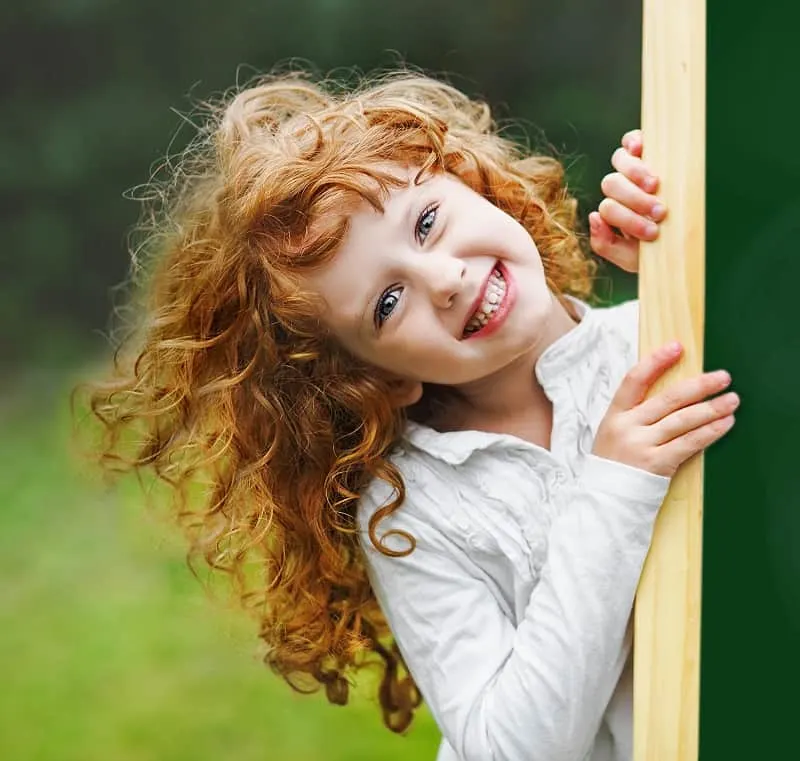 Long thick curls are super adorable when left to their own devices. Run a bit of leave-in conditioner to have her curls looking sweet all day!
6. Baby Bun with Cornrows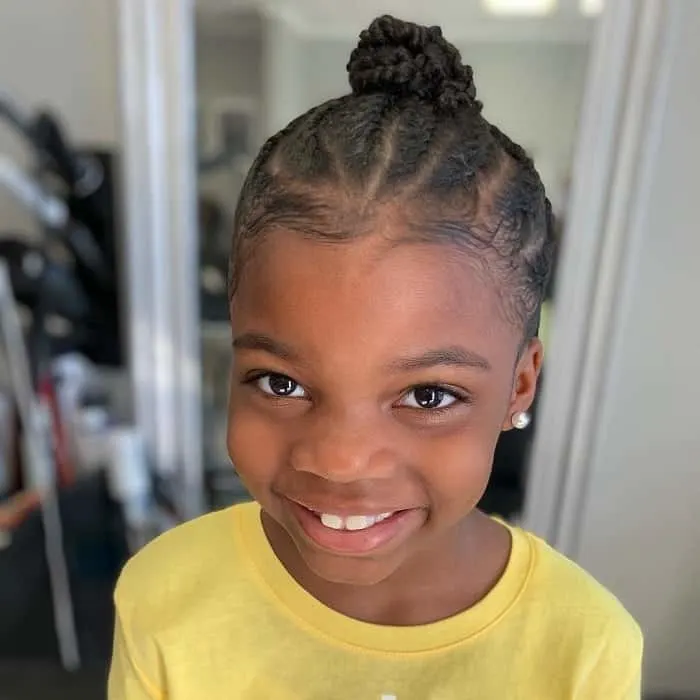 Cornrows are the perfect style for curly hair kids because one, it keeps all their hair safe, and two, you can play with the cornrows and turn them into different styles, like this one.
First, braid your kid's hair entirely, leaving the baby hairs out in the front to later style them. Once you've done this, simply put the cornrows in a high bun at the back of their hair and you're done.
7. Side Cornrow Ponytail for Natural Hair
For natural black hair on little girls, start with cornrows. Braid them halfway toward the far side of the head, then gather them into a side poofy pontail.
8. Thick Springy Curls with Side Part
This little girl's curly hair are tight ringlets. For picture day or holiday photos, scrunch them up to wake up the texture and part the hair at the side.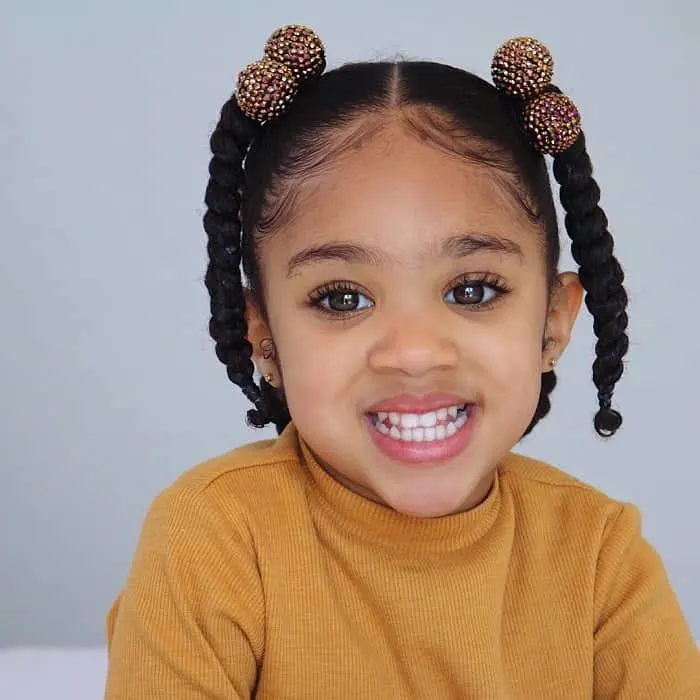 It's time to play around with kids curly hairstyles, which is why we bring you this particular middle part braids. To do it, first, part your kid's hair in half, and then each half in two.
After you've done this, simply braid each part you've sectioned (it can be a simple braid, don't worry), tight it up with invisible hair bands and add some cute hair accessories on the top.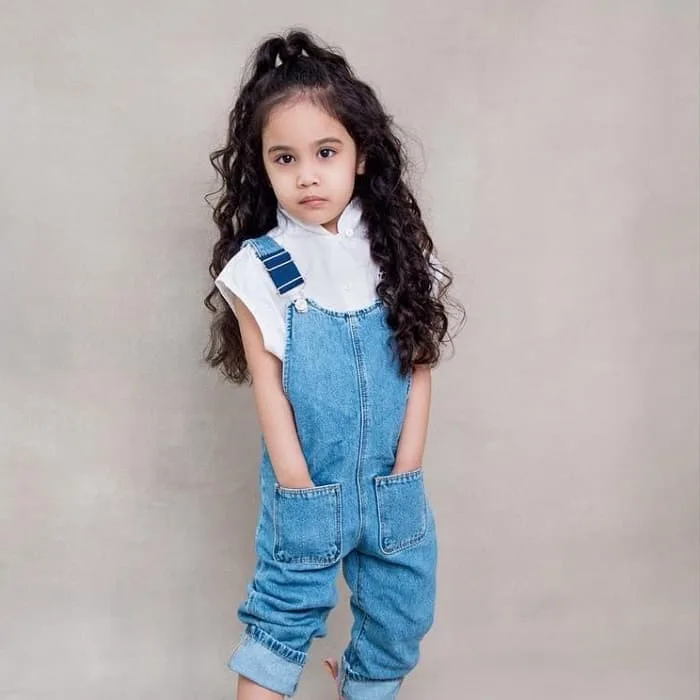 This particular hairstyle works in both kids with softer curly hair and kids with very tight ones. All you have to do is take the front-middle part of their hair and put in a ponytail.
To really make it stand out, take a piece of hair and wrap it around the hairband so it won't show, also, take the hair coming out of the ponytail and part it in half or puff it out for a better end result.
11. Short Thin Curly Hair
For a little girl with thin curly hair, you can let her wear it down in a simple center part, or try a half updo with a ponytail or braid.
Sometimes curly kids just want to have their hair natural hair out in the loose, and that's okay! Of course, this particular curly hairstyle for kids is very easy, however, you do have to take care of the curls before letting them loose.
Remember to wash the hair and carefully curl each curl one by one with special products and then let it dry (remember to part the hair in half first), and that's it.
13. Thick Natural Hair with Curls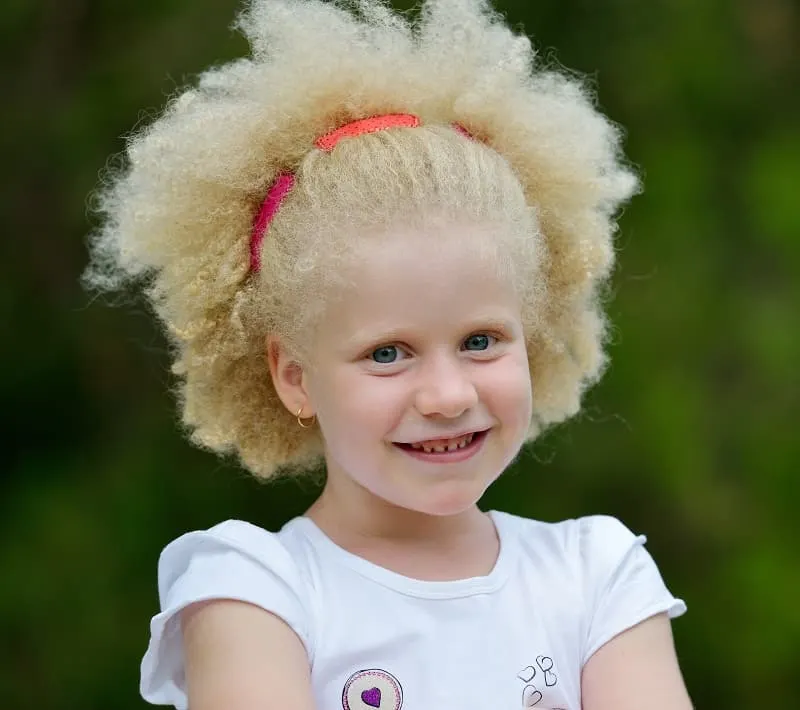 This little girl's hair is afro-like, but it's blonde. Avoid poofing it out but using hair oil to seal the hair cuticle, then slide back a colorful headband to pull hair off the face.
14. Short Curls with Half Pony

While a toddler probably won't be able to keep her curly hair looking this perfect all day, it'll look great for school photos or other occasions. It's parted at the side and secured in a small pony wrapped in red ribbon.
Another very easy hairstyle to do for your curly hair kids. All you have to do is part their hairs in the middle and then tie a hairband in the low part of their hair, creating two pigtails on each side.
If you want to make the pigtails look extra puffy you can add hair texturizing and push the curl up to give them more volume and definition.
Remember we told you cornrows are extremely versatile? Well, this is another example of how you can style curly hair cornrows for kids into a different style.
This time, braid your kid's hair up instead of down and don't braid it completely, making sure the ends of the braids are loose so you can tight them up into a hair bun at the top and them puff the curls out.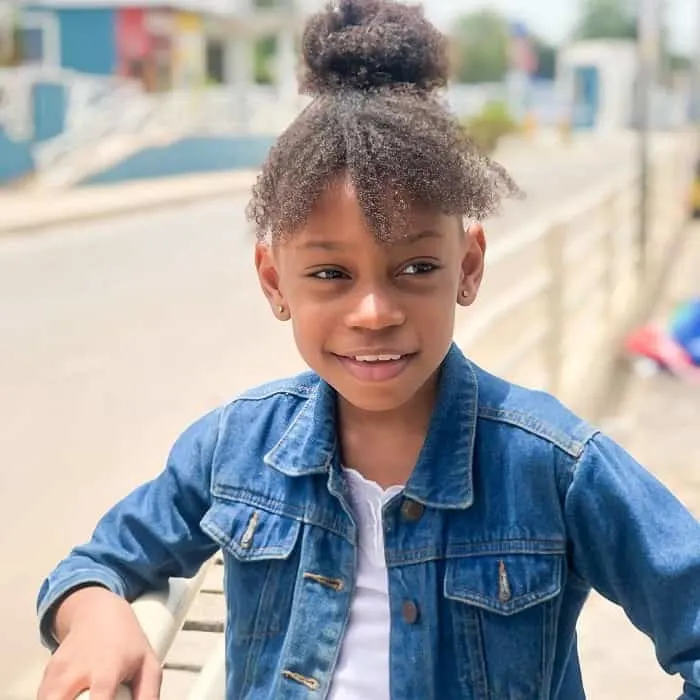 People think bangs are only for straight hair, and they're wrong! Cut some bangs for your curly hair kid but remember to leave them a little bit longer than usual (remember curly hair will tend to shrink down, so don't cut too much), and then, with your fingers, comb the hair up until it's ready to be put in a soft high bun.
18. Short Curls with Side Barrette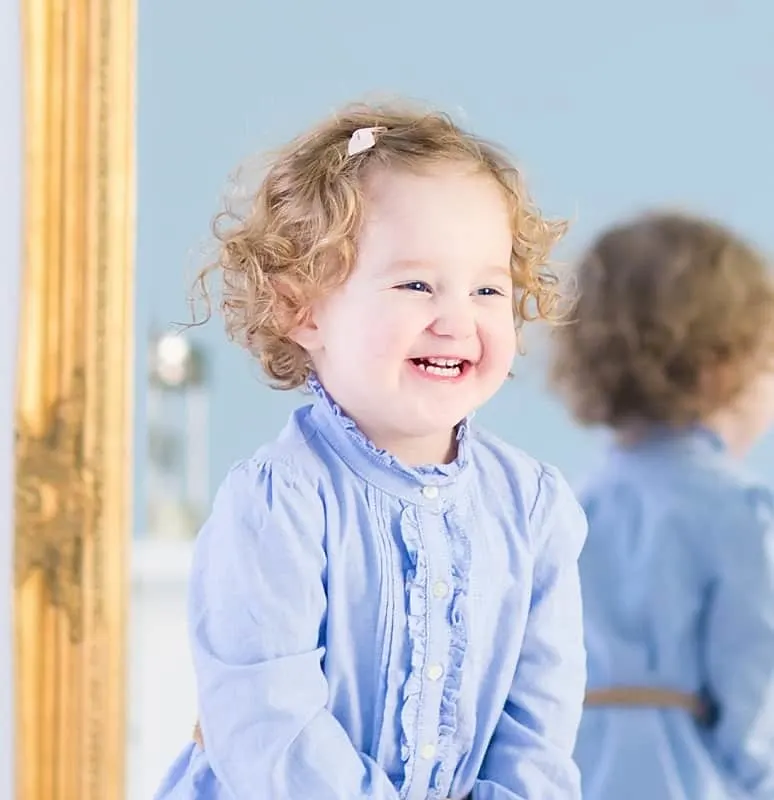 Simple yet to the point, this little girl's curly hairstyle uses a cute barrette to pin back the hair on one side of the face.
Again, this kids curly hairstyle works for all types of curls, not only for toddlers with soft curls, and replicate it is actually very easy to do. First, make sure to deeply hydrate your kid's hair the night before so the ponytail won't hurt their natural curls.
Then, all you have to do is put the hair up in a high ponytail, grab a string of hair to cover up the hairband with it, and then simply let the curls fall both sides of the ponytail.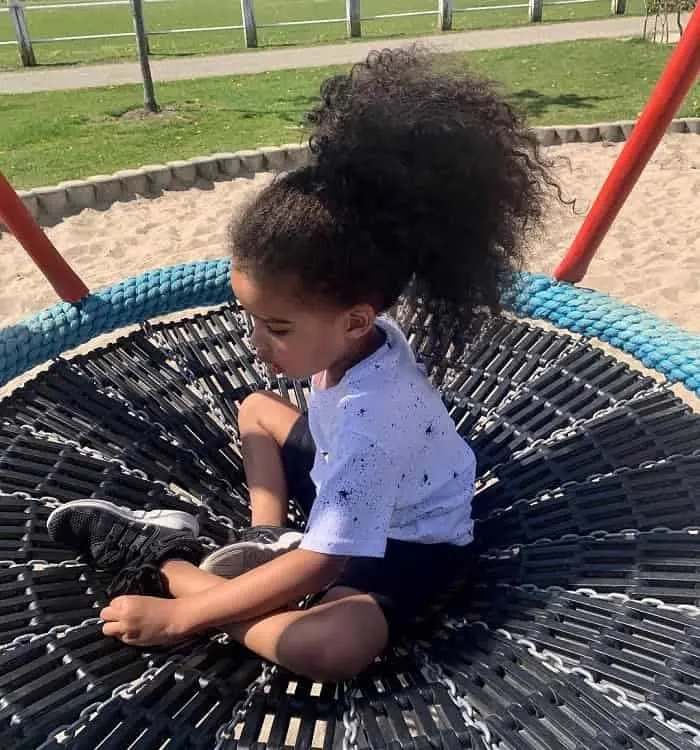 This is a variation of the previous style we just showed you, and it works great for curly kids with very tight curls. This time, you're also going to take the hair up in a ponytail, but instead of letting the curls fall down, you're going to pff them up.
To do this, make sure to grab the right comb hair and simply puff up the hair without breaking the curl apart! Remember, you don't want to damage the hair in any way.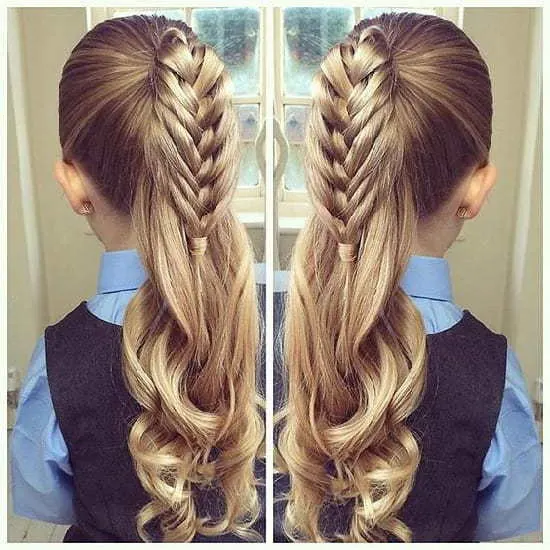 If your little one has long curly hair and she wants them to be tied away from the face, then this hairstyle would be the perfect one.
Tie a nice high ponytail and make a regular 3 strand braid in her ponytail. Now she is all set to go for a productive day out in school.
If the hair is naturally coiled or swirled, then this would just be the right hairstyle for her curly hair.
All you need to do is, make lots of small and tight braids in her hair and add colorful beads along those braids to give an innocent and playful look to your little girl like the one shown in the picture below.
23. Big Bow and Curls
This particular style is perfect for children with curly hairs since it's one of the very few hairstyles that won't damage their natural hair and also looks very cute.
To achieve this look all you have to do is curl one by one the curls on your baby's hair and then place a bow on top, facing the front. Arrange the pieces of hair to slightly poke out of the bow and you're done!
If you want a simple and quick hairstyle for kids curly hair that can resist through the day and won't fall apart this is the one.
First, carefully hydrate and comb the hair to the side, leaving just the baby hairs out. After you're done, put the hair in a semi bun and let the top of the curls stick out, just like in the pic.
An amazing hairstyle for a little girl with curly hair. If you have a wedding coming ahead to attend and your little one has been given the honor of being the flower girl for the bride, then this hairstyle would be the right one.
The curls in her hair have already blessed her for the look, so all you need to do is pin them up into three sections and add small flower clips to cover up the pins. There you have, a cute princess ready to throw flowers down the aisle.
This is a really cute hairstyle for curly hair kids, but it's a little complicated to do. First, you'll have to moisturize and hydrate the hair to prepare it for the tight braids.
Make sure to braid it in half and make the braids slightly chunky and add the hair beans to the end of each one. Once you've braided the whole hair you can put them into a ponytail on one side and leave the other part loose!
If you're afraid to pull too hard or damage your kid's curly hair you can always go for baby buns. They are very easy to do and just required you to part the hair on different parts (depending on how many buns you want) and loosely tight them up with invisible hair bands.
Pro tip: Use coconut oil to comb and separate the hair, it makes this ten times easier.
28. Zigzag Braids with Double Ponytails
This hairstyle for curly hair can last all day, especially for those little girls who have afro hair. For this look, Part the hair into two sections with a zigzag parting at the back and make criss-cross braids on top and tie them up into two ponytails.
Again, another super quick curly hairstyle for kids. First, moisturize and separate the hair with coconut oil in two, leaving the hair part right in the middle.
Then twist the hair into little baby buns and secure them with invisible hair bands and you're done! You can also puff the buns if you want but that's up to you.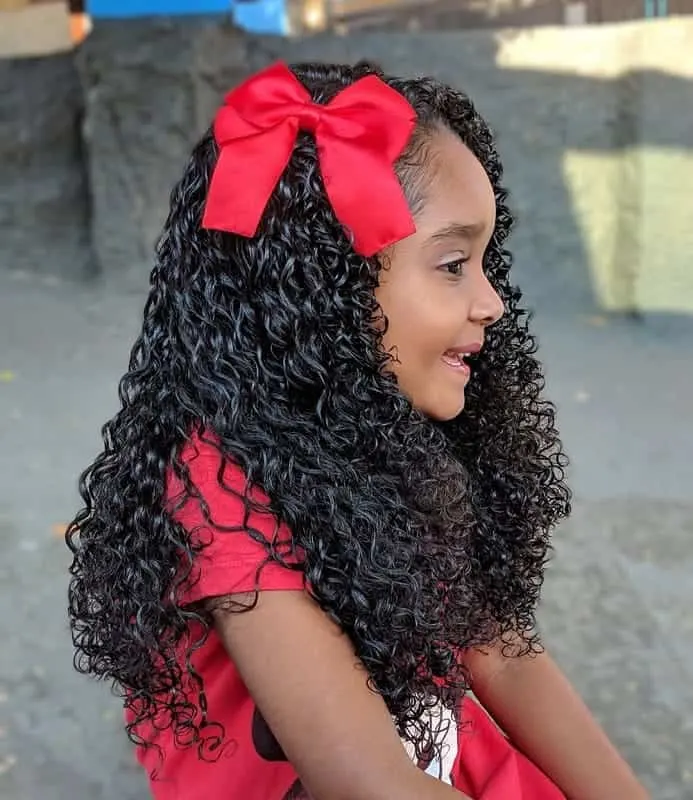 This is probably one of the best hairstyles for kids with curly hair, it's simple and looks really good! First, wash your kid's hair and properly hydrate it, curling the hair with your fingers to give it more definition.
Then simply part in half and put a big bow on either side you want. As we said, it's quick and easy and won't hurt your baby's hair at all.
31. Long and Curly with Headband
For a casual day at home, if your little girl likes her hair open, but you worry she'll mess them up or get something stuck in them, then simply just put a head band in her hair to avoid it from falling on her face.
If you have a baby or toddler with short hair, this is the perfect hairstyle for them. This time, you won't comb their whole hair, since it's probably too short yet.
Instead, take two little amounts and with tight them around with very soft scrunchies, of course, don't forget to hydrate these buns once you're combing the hair to assure they won't get hurt.
If you want to achieve a lot of volume on this hairstyle just like the pic remember to moisturize the hair before hairstyling it!
Once you've done this, grab a section on the top part and twist it into a bun, leaving the rest of the hair loose on the back.
Push the curls up with hair texture specially made for curly hairs and let them fall close to your baby's face and you're done.
A classic pushed back afro, perfect for curly hair kids! Leave your kid's natural hair shine and puff it a little to achieve the afro look.
Then, push it back -help yourself with some coconut oil- and place it together with a very thin hairband to make sure it stays in place.
35. Half Up Curly Hairstyle with Mini Pigtails
For a sporty event at school, make your little girl's hair into mini pigtails, so that she can be active and run around freely without having to mess and get her hair dirty during the activities.
FAQs on Curly Hairstyles for Kids
My daughter has curly frizzy hair, what can I do?
Hydrate, moisturize and repeat. We have been saying this all across the article for one reason: Curly hair needs constant care if you want to get rid off the frizz and maintain its form!

So educate yourself on what are the best curly hair products for your daughter and create a hair care routine for her.
Which hairstyles are in-trend for black toddlers with curly hair?
If you checked out our list, we mentioned 35 one of the most trendy hairstyle for black toddlers with curly hair you can try on your baby yourself. But if you want a quick answer: Buns, cornrows and turbans are very in-trend right now.
As you might have been able to notice, taking care of curly kids hair takes a lot of time and effort, but it's worthy once you see your kid being happy with their natural hair.
Just take a little bit of your time to really make sure their hair isn't getting any damage from the hairstyles and continue to constantly hydrate it and you -and your kid's curly hair!- will be just fine.