Many guys hate spending too much time taking care of their hair. That's why men's medium hairstyles are not as popular as the short ones. However, there are a lot of men out there who are ready to make some sacrifices to look fantastic.
Short hair has its appeal but medium haircuts can look much more impressive. Everyone knows that the more time we spend on our hair, the more amazing it looks. There are a lot of different shortcuts but you can't go against the obvious factors. Guys who love medium hairstyles make a great impression on girls. So, if your hair is getting longish, don't run to cut it off. Consider some other interesting options and perhaps you will learn to love your new and improved image.
Amazing Medium Hairstyles For Men Who Hate Short Hair
Making a medium hairstyle might seem like a serious hassle when you are just starting out. However, as time passes and you gain some good experience, you will find that taking care of such a cut is becoming easier.
Knowing how to maintain medium haircuts is a skill every guy should possess. It's no secret that the longer the hair is, the more romantic a guy can look. So, if you are not afraid of hair challenges, you can choose a medium hairstyle to suit you best. We prepared a short list of popular medium haircuts and hairstyles for men to consider and enjoy.
1. Windblown pompadour
Pompadours have been popular for a while. In the old times, they use to be sleek and low. Nowadays guys like making windblown hairstyles. Keep the sides short and leave the top to be about 7 inches long (or even more if you are brave enough). Brush it upwards and secure with some hair spray.
Greatest Fohawk Haircuts & Hairstyles for MEN
2. Side swept pompadour
A side-swept pompadour will look great if your hair is thick and textured. If you leave the hair on top about 3 -5 inches long then it will look more as a high comb over. If you grow it longer then you'll get an amazing medium hairstyle.
3. Messy bob
Bobs look amazing on men with romantic natures. The best part about such a bob is that you don't have to make it look neat. You can allow some strands of hair to hang in front and stick out in the back. Just make sure to keep your mane clean!
4. Voluminous pixie
Don't let the word "pixie" scare you. While this haircut will be considered short for women, it can be called "medium" for men. Allow the hair on top to stay high. This way you will add it some volume. The ears can be covered with some side strands.
5. High comb over
Comb over can become a great medium hairstyle for men who hate wet looks. It's absolutely unnecessary to apply a load of gel to your comb over. Just brush the top part backwards and use some hairspray.
6. Wet bangs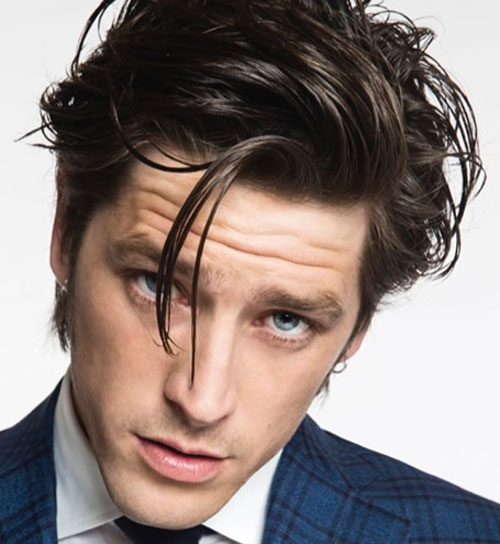 If you opted for a voluminous pixie but want some diversity, you can apply a lot of hair gel and shape it any way you like. You can add your hairstyle some zest by letting a couple of strands fall down your forehead. It will definitely turn some pretty heads your way.
7. High and neat
If you are into neat haircuts but are not ready to make your hair short, you can combine the two options. Keep your medium hairstyle neat by combing it up and backwards and applying some hair gel. Don't overdo the gel. Otherwise, you will get a "greaser" look.
8. Layers
If you have thick hair that is hard to manage but is not ready to get rid of it, consider making layers. Layers are great for shaping any hairstyle. They will also allow you to style your mane easily. If you have curly hair, the layers might not be as obvious.
Men's Stunning Crew Cuts You Can Copy
9. Side swept bangs
Taking care of bangs is not an easy job. But once it becomes a habit, you will barely notice it. Bangs is a perfect tool that can help guys with long faces and high foreheads. They also do a great job covering forehead wrinkles.
10. Sleek and chic
If you are opting for a medium hairstyle but need to look neat, make sure to take care of the front part of your hair. Consider making a side part and brushing your hair upwards and to the side. Secure it with some hair gel.
11. Color experiments
If you are bold enough to grow medium-length hair then you are surely open to some experiments. Think about dyeing your locks a different color. If your hair looks grey and dull, consider something bright and impressive to change your image.
12. Asymmetrical bangs
Long asymmetrical bangs look really stylish. Not every man will allow himself such a hairstyle since it requires careful daily maintenance. If you have long hair, try this haircut at least once. You might really get to love it.
13. Spikes
Spikes look perfect on short haircuts but they seem even more amazing on medium-length locks. The longer your hair is, the more impressive your spikes will be. Get some hair gel and start experimenting. You will really stand out of the crowd.
14. Neat bob with long bangs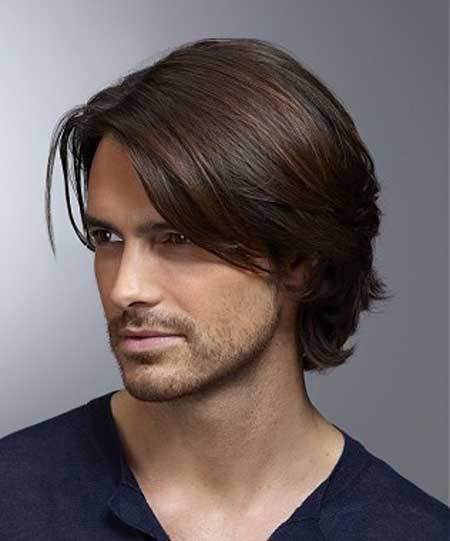 If your hair is straight, consider making this neat bob with long bangs. The hair on the sides should end near the ear line. This medium hairstyle will need to be brushed on a regular basis. But the result will look really stunning and is surely worth the effort.
15. High and textured
Lateral comb overs are a hit with guys whose hair is long on top. There is so much room for imagination! Apply some hair gel on your fingers and run it through your mane. You can create any shape you like.
16. Cute and curly
If you have curly hair, you know everything about tough styling. But it doesn't mean you need to cut it off. Medium curly hairstyles look amazingly cute and any girl will love running her hands through your long and soft curls.
17. The longer the better
Medium hairstyle doesn't necessarily mean long locks in front. You can leave the front short and allow your hair to grow long in the back. Such haircuts are easier to maintain and still make a great impression. Give one a try!
18. Long and wispy bangs
If you have fine hair, you can consider making long and wispy bangs. They will look truly impressive and won't require too much maintenance because of their windblown look. Keep the back and the sides short.
19. Highlights
If you are ready for a change but don't want to do any cutting, consider getting highlights. Well-chosen colors will make your hairstyle look brighter and more alluring. If your hair is dark, start with some light brown and dark blond shades.
20. High bangs
If you like the way your bangs look but need some diversity, you can style them upwards. If your hair is thick enough, all you'll need is a bit of hair gel. Allow one strand to carelessly fall down your forehead to make your image more romantic.
21. Textured and dyed
Medium hair leaves a lot of room for men to use their imagination. You can ask your hairstylist for textured locks and brush them forward to create long and thick bangs. Add some color and your image will change immediately.
22. Soft curls
If your hair is fine and curly, it would be a crime to cut it off. Soft curls are very romantic and look especially well as bangs. Keep the rest of your hairstyle short, just leave some curls on top and in front. This medium hairstyle is a sure hit with the girls.
We hope you got inspired after going through these amazing medium hairstyles for men. You can find the right hairstyle depending on your hair type and the amount of time you have for styling. Whatever you choose, we are sure it will look stunning!