You hear a lot from people who think they show their boldness through their hairstyles by picking something unique. But it's hard to beat the boldness of bowl cut mullet haircuts for men.
This is a combination of two different styles: bowl cut + mullet. Both of these haircuts are quite unique and unorthodox and you will be noticeable even in a room full of people.
Since you're here, we already know you are brave enough to try this hairstyle. So, we will provide you with much-needed tips and inspiration for bowl-cut mullets to keep you on track.
What Is Bowl Cut Mullet Haircut?
A bowl cut mullet is a mix of hairstyles that combines the classic bowl cut and mullet. If you want to get this haircut, it's necessary to understand these two styles first.
As the name suggests, a bowl cut creates a 'bowl' shape around the head. The hair on the top and sides is cut to the same length which looks like placing a bowl on the head and trimming the visible hair. Bowl cut is more popular among Asians than mullet.
On the other hand, mullet is known for its shorter hair on the top and front, with longer hair at the back. It has been popular in the USA since the 80s mullet trend.
So, you have to cut your hair at the top and front in a bowl shape and leave it longer at the back like a mullet to rock bowl cut mullets.
Creative Bowl Cut Mullet Haircut Ideas for Guys
Now you know what bowl cut mullets are, but is that enough to choose your next hairstyle? Nope, we don't think so. That's why we've selected the best bowl cut mullet haircuts for you. Let's take a look.
1. Floating Sideburns with Modern Mullet
This style combines a modern mullet and a bowl cut that has floating sideburns. Notably, the thick hair almost touches the shoulder at the back and the eyebrows at the front.
2. Short Fringe with Wavy Mullet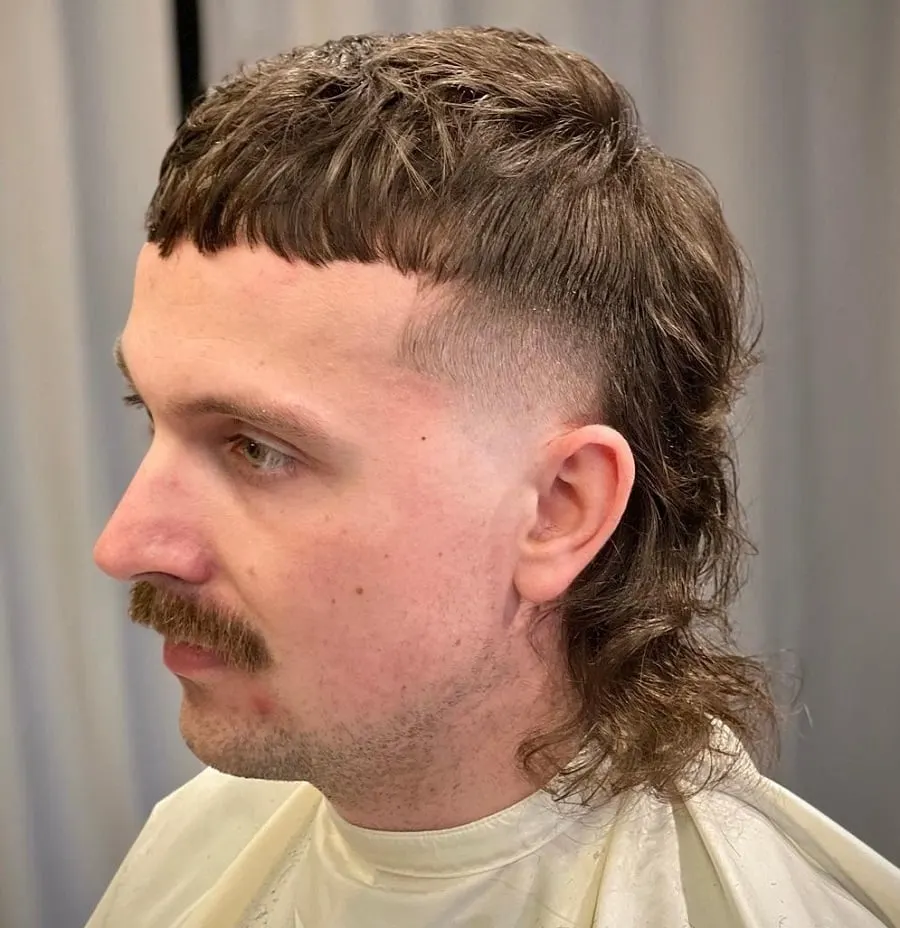 The most noticeable part of this bowl cut mullet is the short fringe, which covers only a small portion of the forehead. The mullet in the back is wavy and slightly spread, so it's peeking from the sides.
You'll have to shave the sides of your head in order for your mullet to be noticeable when someone looks at you from the front.
3. Short Front with Short Back
You probably won't have a problem choosing this haircut even if you are a professional because of the size of the mullet and the hair on top. The short hair makes this style quite office-friendly. The temples have been completely shaved to make this style look neat and decent.
4. Messy Bowl Cut Mullet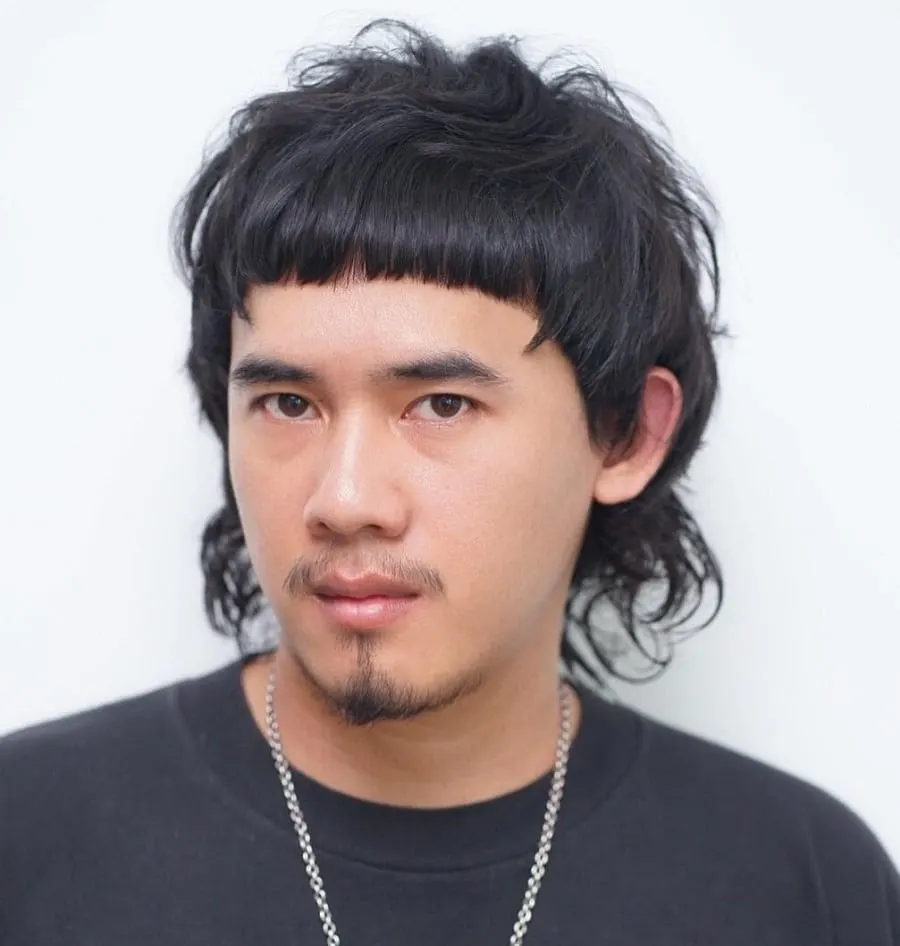 This bowl cut mullet is definitely not for corporates as it gives a messy appearance for the mullet, but if you are into sports like soccer, basketball, etc., you can definitely try this style.
The fringes on the front are kept short so it doesn't fall over the eyes to block the view, so you do not have to use a hair band to keep it in place while you are playing.
5. Undercuts with Mullet
What are the most important things you notice about this haircut? One, the mullet is wavy and long. Two, there's consistency between the faded sides of the head and the beard.
The most noticeable part is the undercut below the bowl. This is a risky haircut to try because everyone may not look good with it and it may appear like an ugly mullet.
6. Layered Top with Straightened Back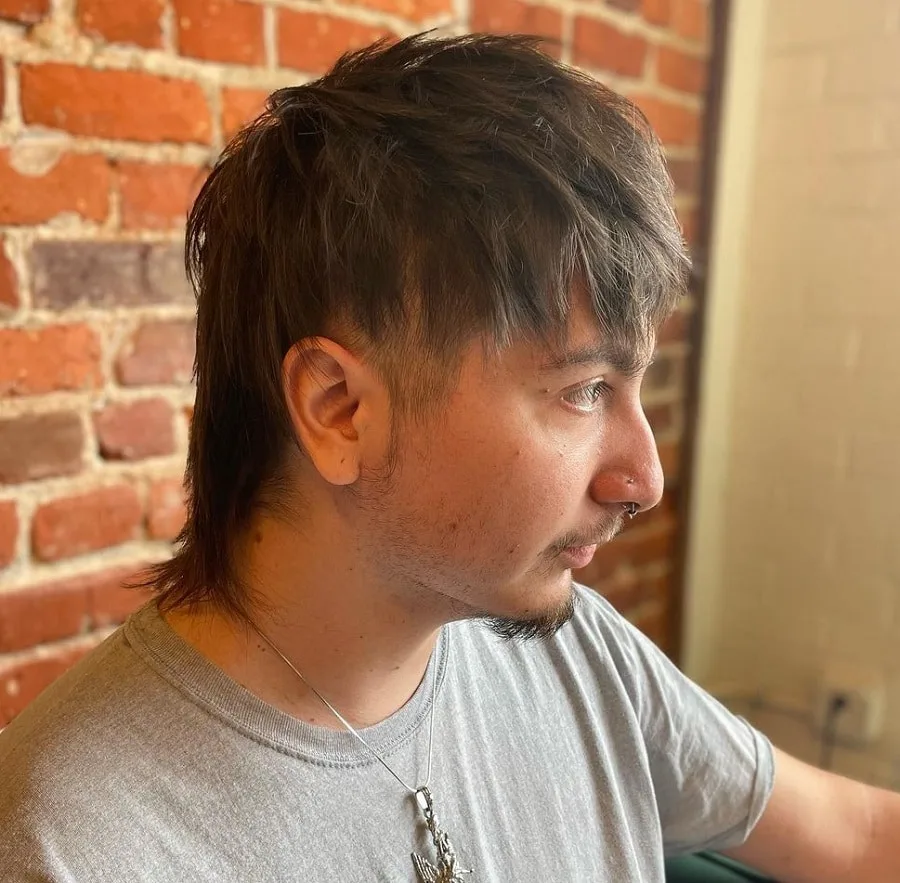 Are you the lucky one with silky smooth and straight hair? If yes then this haircut is for you. As you can see, the mullet goes down straight with no waves or curls. Add some layering to your top hair else this style might look too flat.
7. Tapered Temples with Spiky Mullet
For this look, you have to keep your focus on the mullet rather than the hair on top and front. The mullet looks stylish with its spiky shark fins that are projecting downward as well as sideways.
The front of the haircut is a perfect bowl with slightly tapered temples. Compared with the back, the front side looks very simple without any exclusive styling.
8. Temple Fade Bowl with Very Long Back Hair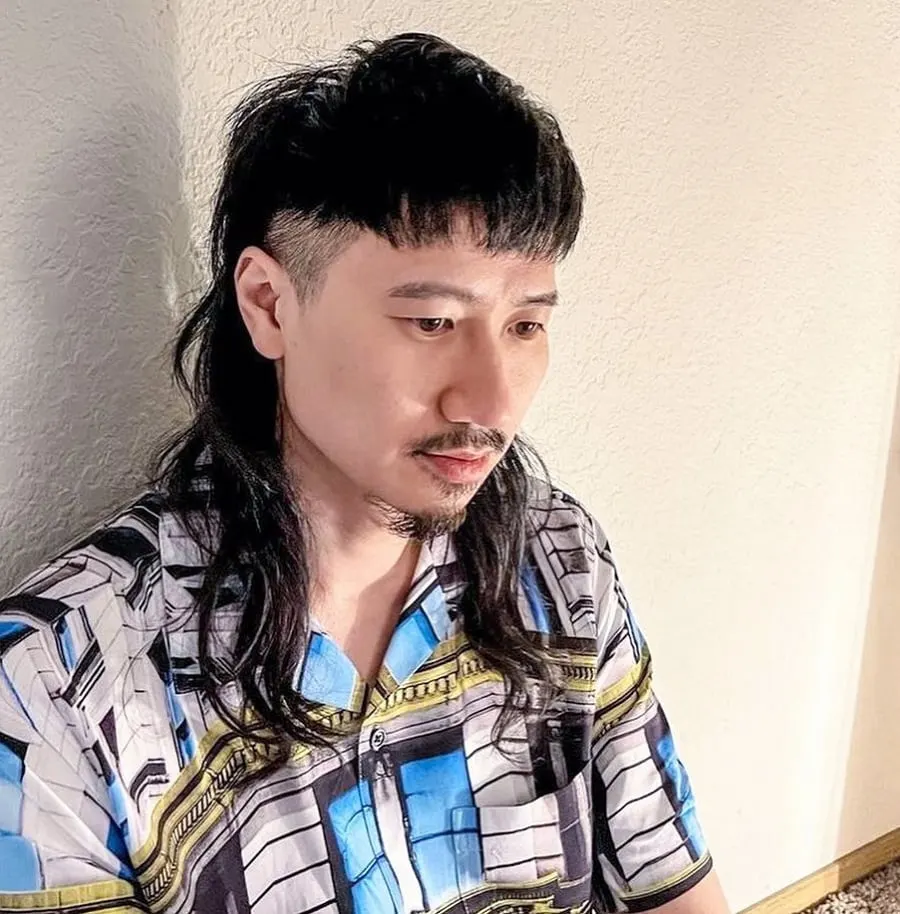 Here is a bowl cut with a long mullet, which might not even seem like a mullet to many. However, the temple fade bowl cut definitely highlights the mullet haircut. It makes it clearly visible that you have a long mullet and not regular long hair.
9. Textured Haircut with Bald Fade
This is a great haircut for men who have blonde hair, as it allows them to have a great textured outlook. The high bald fade on the sides only adds to the uniqueness of this style.
10. Short Fringe with Blunt Cut Sides
This one's yet another take on the modern mullet, which is subdued and tamed. The back of the hair is thin and it almost looks like a ducktail.
The blunt cut sides with completely shaved temples really set this style apart. It's made even better with rounded sides.
11. Long Feathered Mullet with Tapered Sides
Now you have another bowl cut mullet for men who like to have long hair. The feathered mullet hangs several inches down from the neck and the sides are tapered at a medium height.
However, if you still don't find this style interesting enough, how about you wear a pair of fancy shield sunglasses?
12. Multi Colored Mullet Bowl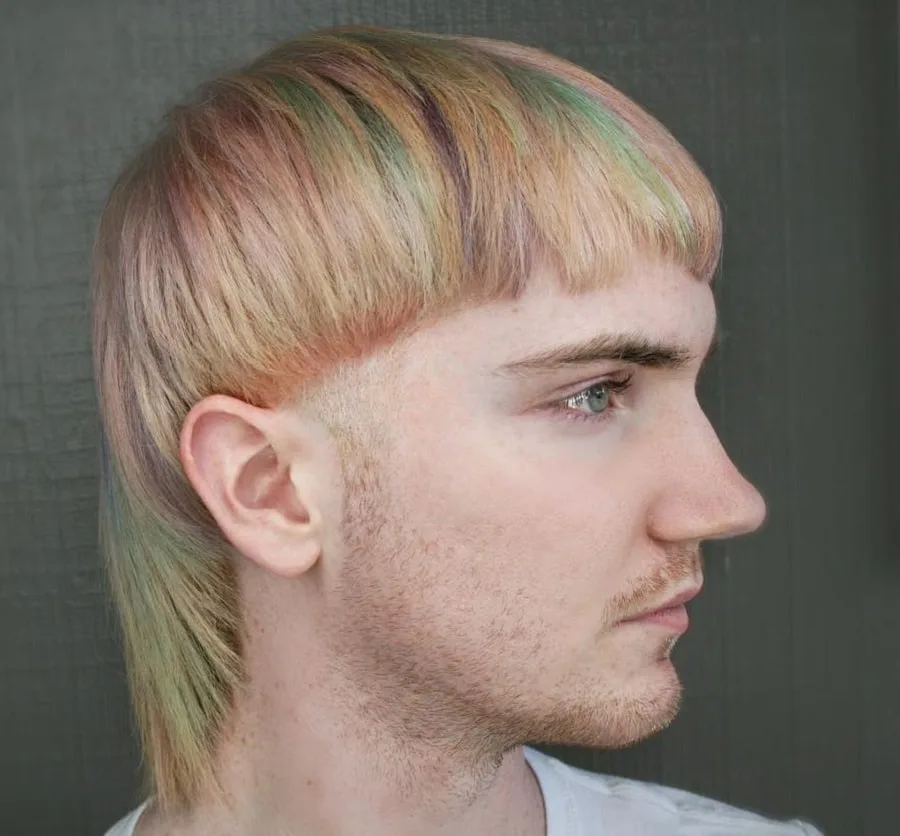 Straighten your hair and shape your top like a perfect bowl. Then trim your mullet in a "U" shape. Get your hair dyed blonde and add highlights over it. Don't hold back from picking all the colors of the rainbow.
13. Curly Bowl Cut Mullet
Bring two classics together if you love the old days. This one's a classic mullet with a thick bowl cover of hair on top and a long and curly mullet that looks thinner at the end.
Grow a beautiful walrus mustache that covers your upper lip and a heavy stubble beard to make this look manlier.
14. Salt and Pepper Mullet with Burst Fade
What does the salt and pepper effect do to your bowl cut? It makes you look more noticeable. Grow a mullet and it will make you look stunning.
Still doesn't look trendy enough? Complement it with a burst fade to make your textured bowl-cut mullet stand out more.
15. Short Uneven Fringe with Skin Fade
How your temples are cut makes a huge contribution to what your mullet looks like. The mullet isn't too long here, so it is styled with skin-fading the temples that make it stand out.
The fringe hairstyle in the front is short and purposefully uneven. Avoid growing a big beard if you want this style to become noticeable.
Hope you have found the bowl cut mullet haircuts you were looking for. You can also improvise the bowl cuts and mullets according to your styling needs.