Men who can pull off having a curly mullet usually have a great sense of style. Some people aren't that keen on the mullet hairstyle, while others are obsessed with it!
However, we can all agree that it's an iconic hairdo. The trend started in the 80s when everyone had crazy and unique hairstyles. Some of the most popular rock stars from that era used to have insanely voluminous curly mullets.
Nowadays men turn to mullet styles only when they are trying to express their bold & unique sense of style. If you are thinking about rocking a curly mullet, you are at the right place!
How to Style Mullet with Curly Hair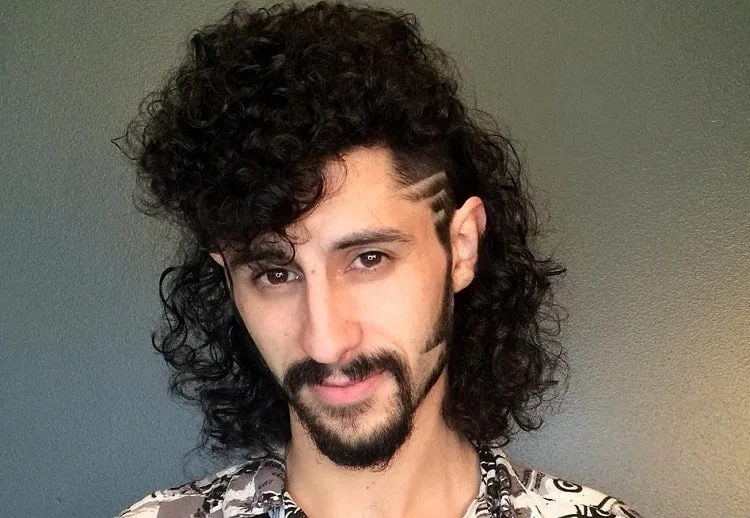 Styling a curly mullet for men is much easier than people might think. Here are some simple steps that everyone can easily follow:
Depending on the length of your fringe, comb the top of your hair forward or backward. If your fringe is shorter then comb it forwards, and if it's longer comb it backward and away from your face.
Apply a pomade or a gel on the sides of your head so that the hairstyle stays put. A curly mullet is best styled with stronger pomades and gels.
To enhance your curls, use some hair gel on the rest of your hair as well. Put the hair gel on your hand, and comb it through the hair. Lastly, lightly push the strands of your hair upwards by making crunching motions.
Curly Mullet for Men
Below are 20 unique curly mullet hairstyles for men we would love to recommend. Go through these styles to adopt an iconic hairstyle with your curls.
1. Ultra Curly Mullet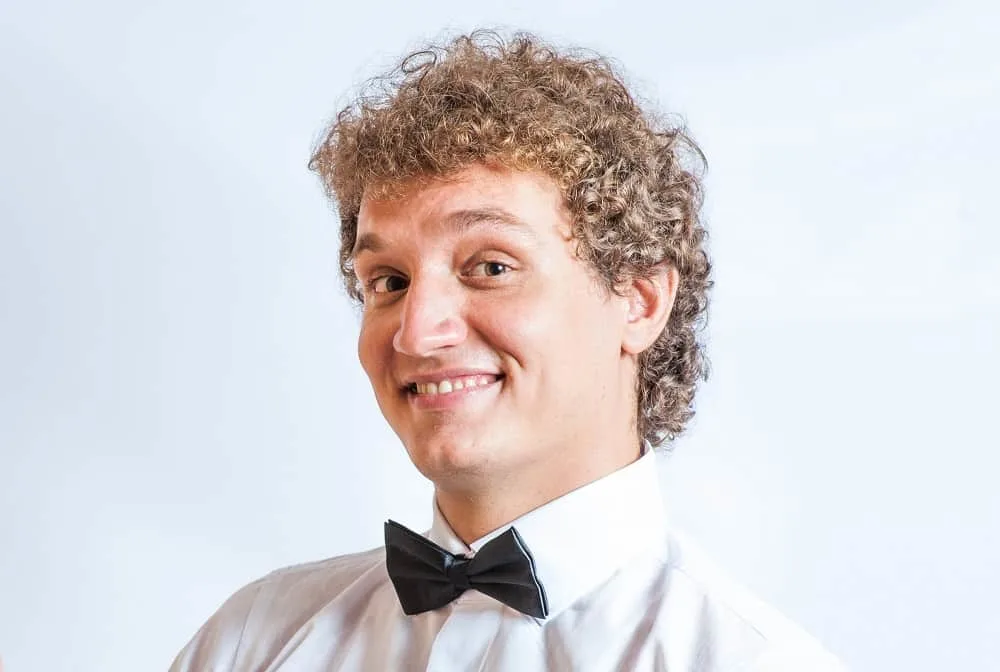 As a man with such hair texture, a mullet is the best choice to highlight those tight ringlets. Innovate this hairstyle by keeping the forehead and nape tresses longer. You can style the ringlets however you please. Use a pomade to obtain that gorgeous shine and luster.
2. Curly Pony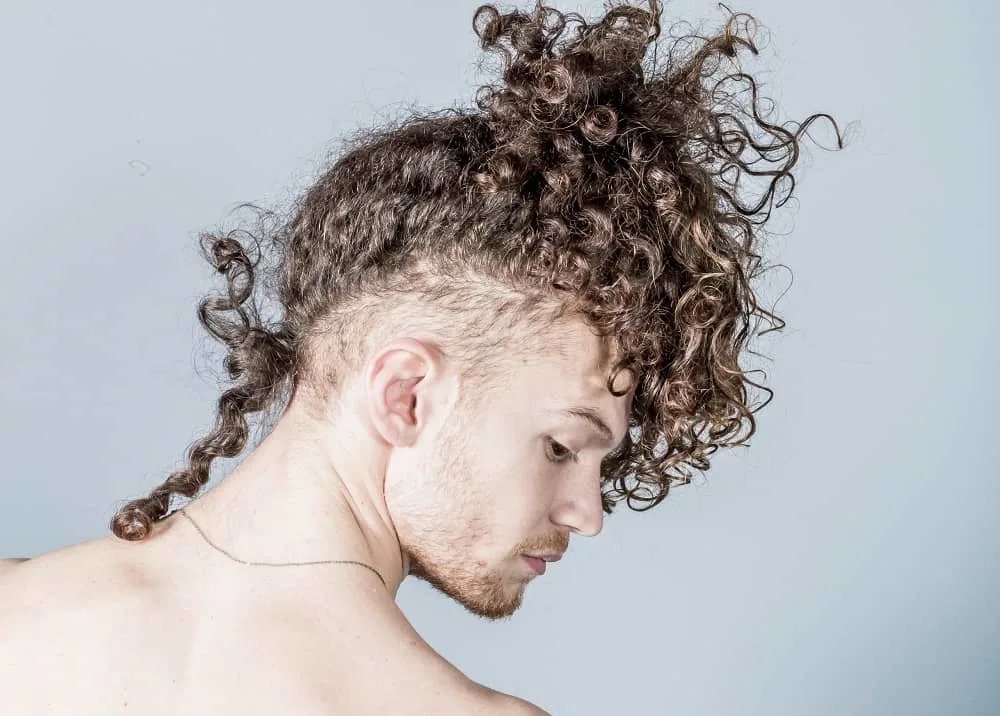 Curly mullets not only look amazing when kept loose but also when pinned in a bun or a pony, on top of the head. Keep the forehead ringlets messily styled and reveal those shaved laterals. For the back, spare a few strands that will fall carelessly on the nape.
3. Mullet with Bandana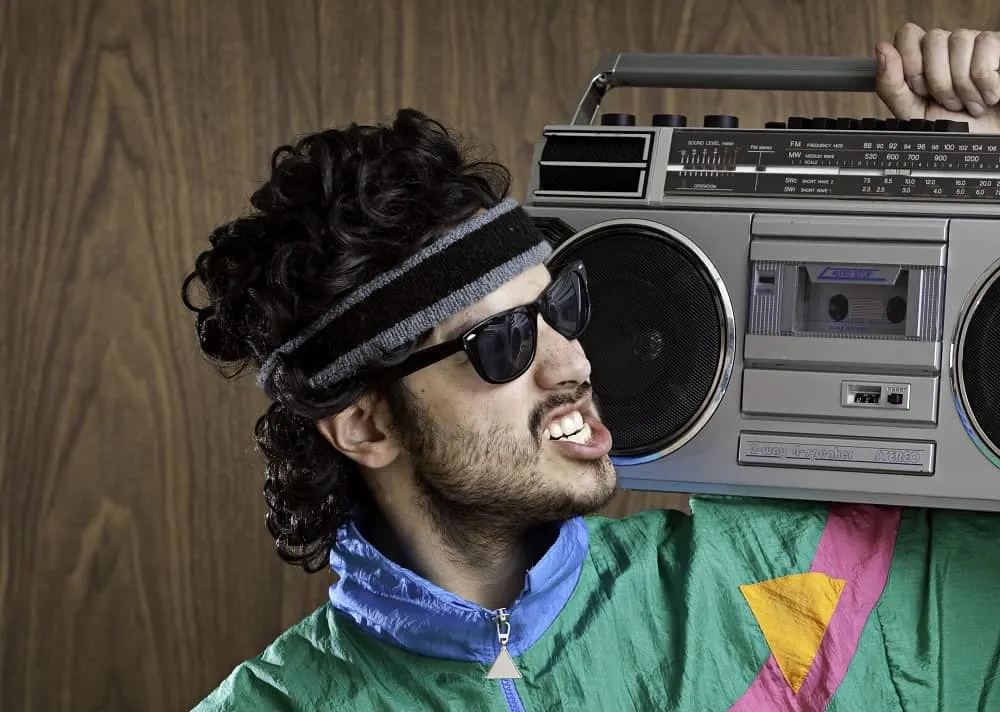 The 80s trends are back in fashion and we're not talking only about colors and style but also mullets. Get this look by trimming the sides and growing your curls from the top and lower back. Grab a pair of glasses and place a bandana on your forehead to recreate that retro vibe.
4. Modern Curly Mullet
If you want to grow a mullet that is trendy, curly mullets are hitting the mainstream looks. It presents loads of layers that fall all over the place. The longer length provides texture, allowing the waves and curls to form. Also, wear a pair of colored glasses and keep a medium beard with a mustache.
5. Mullet for Men with Chubby Face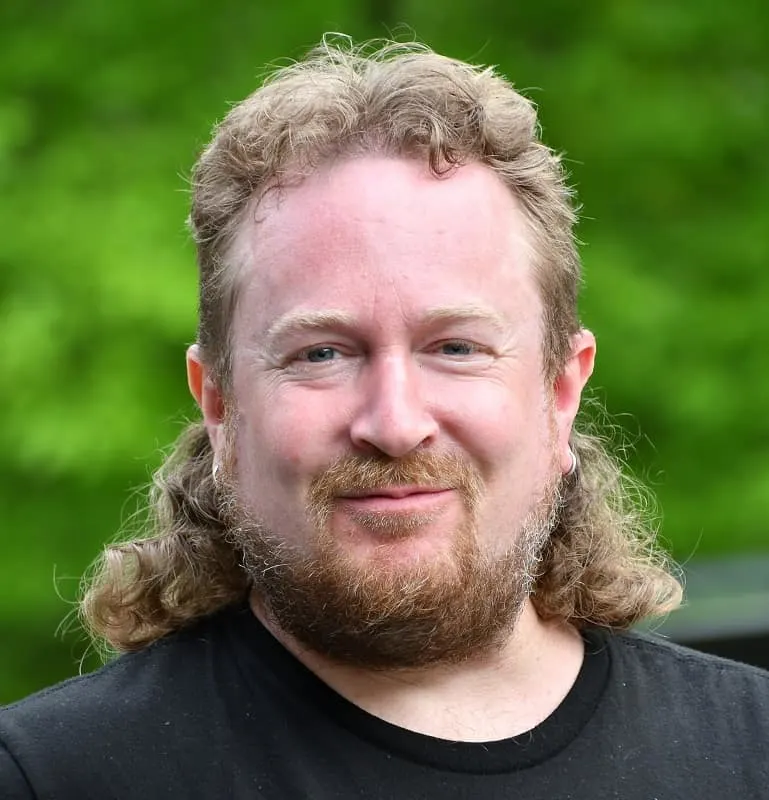 When you fancy a redneck hairstyle, a brown curly mullet is perfect for men who have chubby faces. This hairstyle elongates the face and makes it look slimmer thanks to that high top. For this particular case, you can focus on the lower curls.
6. Mullet with Glasses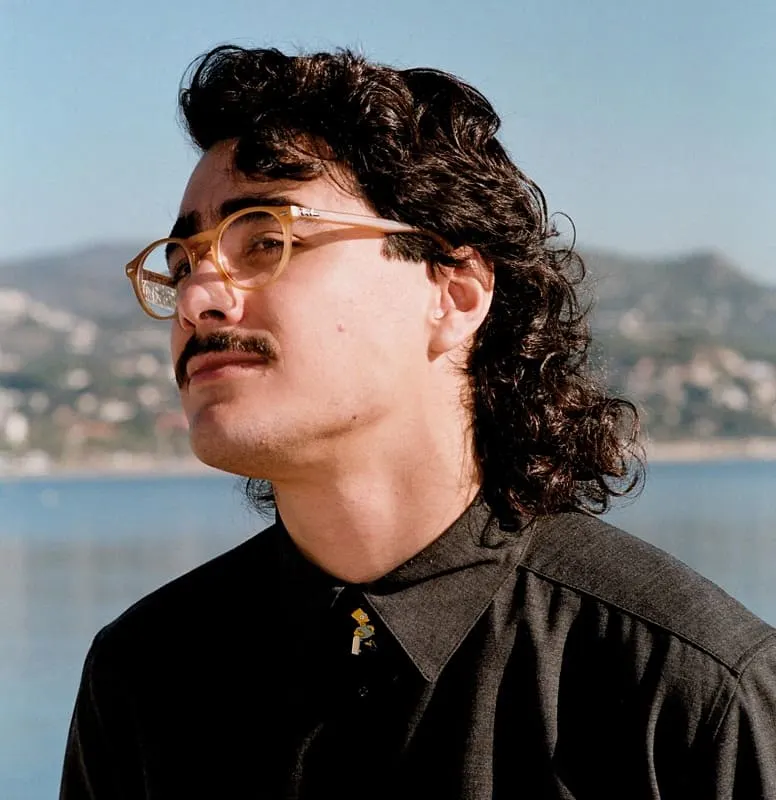 Glasses are one of the centerpieces of this curly Mexican mullet. They have a fashionable rounded shape that transforms this hairdo into a great hairdo. Enhance the top and back by keeping the hair longer and with dimension.
7. Black Men Mullet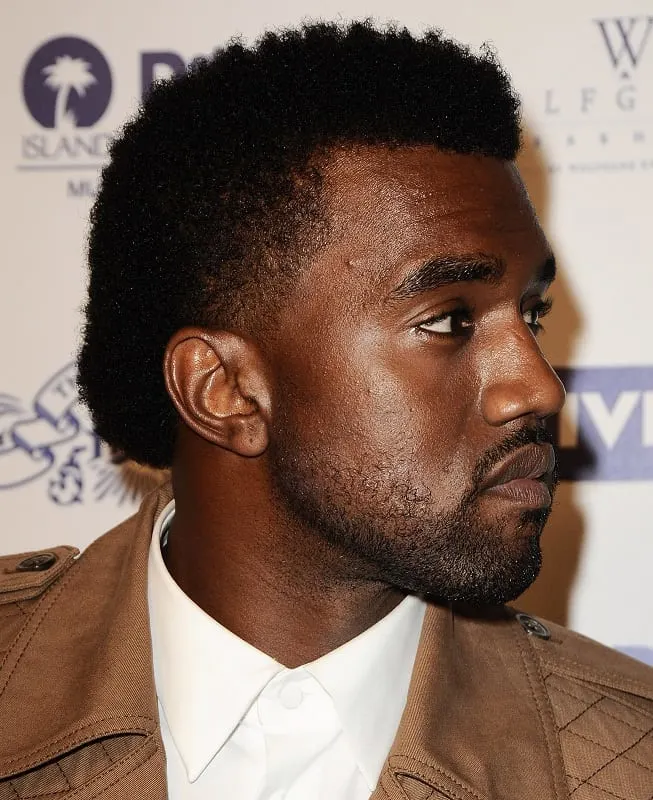 Who said black men can't get a mullet? It is ideal for coarse hair because it requires less styling if kept short. Use your fav jam to give those coils better definition and texture, and you're ready to go.
8. Dark Fuchsia Mullet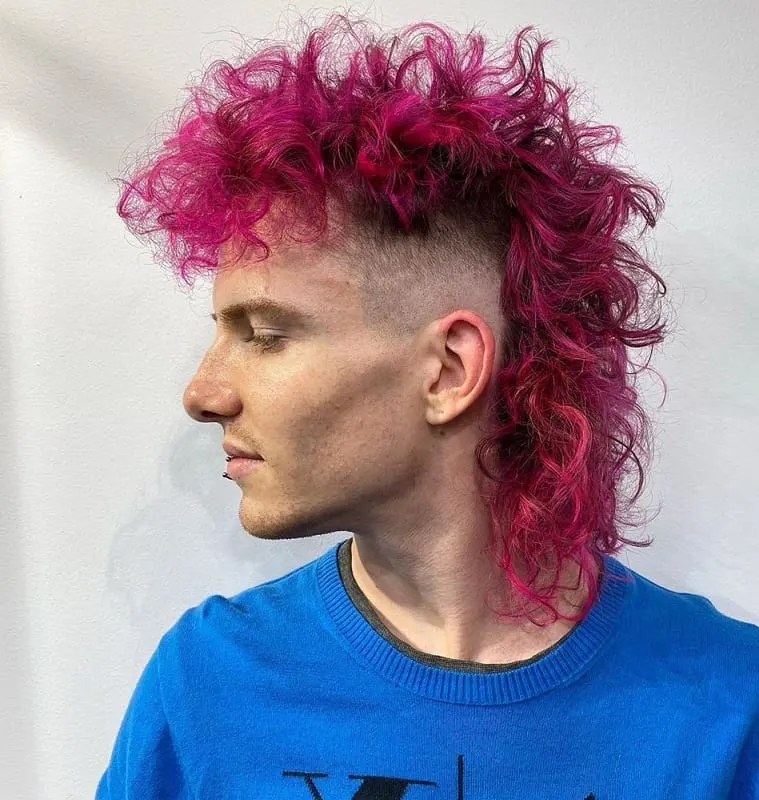 Styling a high taper fade on a mullet is the best way to make the curly hairdo look more modern. If you love punk rock styles and music, consider dyeing your ringlets in an electric nuance. You can also keep the roots darker to create an amazing contrast.
9. Curly Mullet with Bangs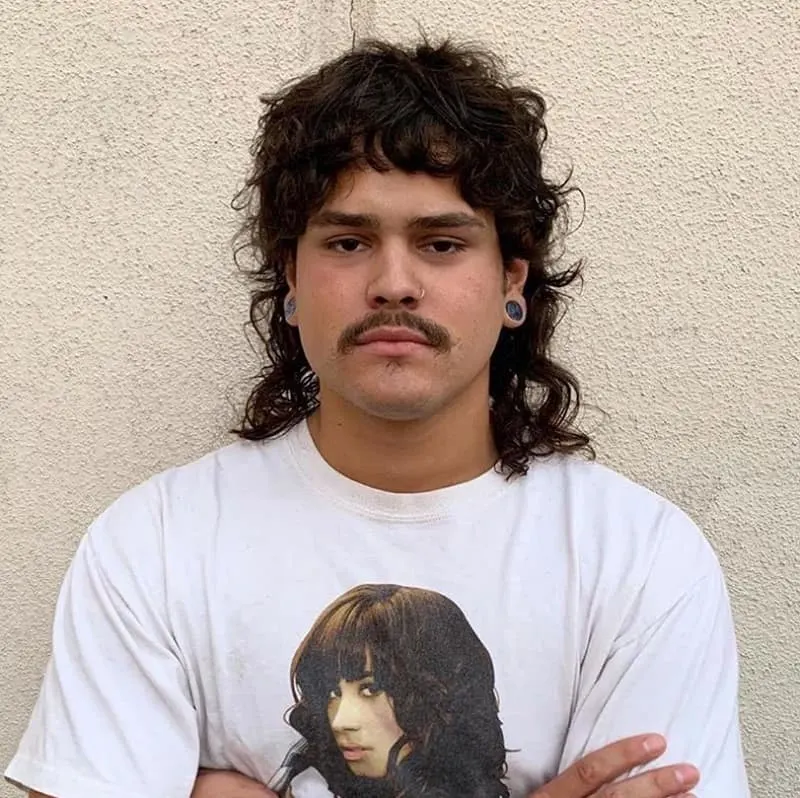 Curly mullets with fringe are quite fashionable among teens and young guys. They transformed this hairstyle into a real trend by adding short rounded bangs. However, it's all about personal charisma and overall outfit with this cut.
10. Curly Mullet with Shaved Sides
Mullets with beards are men's favorite when they want a cool look inspired by those retro times. To adapt the hairstyle to 2022, completely shave the sides and use a pomade or a hair mousse to give those curls more texture.
11. Messy Mullet
If you're a laid back kind of a guy, then this curly mullet hairstyle might be a perfect hairstyle for you.
Letting your curly hair air dry is a great idea here because this look is all about looking natural. Going along with this style, you can have a full beard or a bit longer than usual.
12. Mullet with Enhanced Curls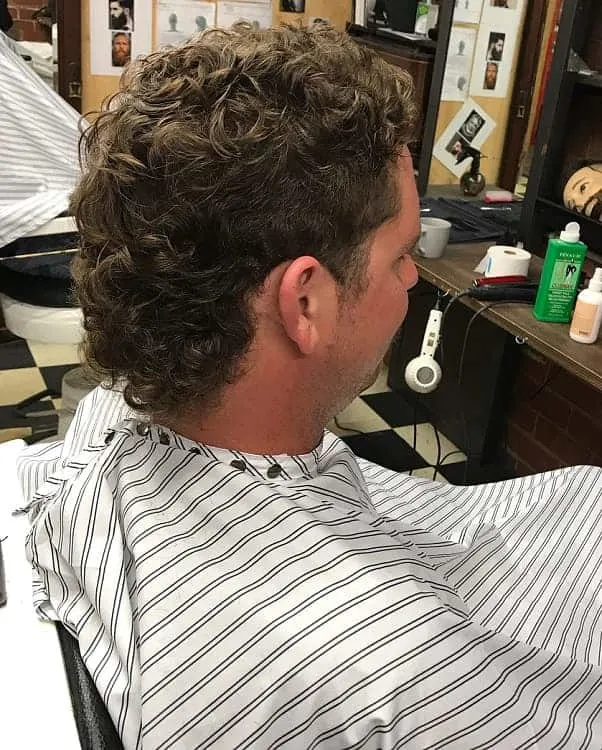 Men who enjoy looking well put-together will love this mullet hairstyle with curls. If you already have curls, you can easily enhance them by using a hair gel designed for curly hair.
Since the focal point of your look is this stupefying curly hair mullet it's a good idea to shave off your beard.
13. Mullet with High Fade
Combining the curly high top fade trend with a classic mullet hairstyle is a very creative idea. Men who enjoy modern fashion will enjoy this hair and beard combo.
If you want to maintain this look, you should shave both your head & facial hair regularly. If you're not precise enough, you might want to visit a barber.
14. Mullet with Short Bangs
If you want to express your unique personality throughout your hairstyle, then a curly mullet with short bangs is the way to do it.
You will have to regularly maintain the front part of the hair and keep it short, but it's totally worth it in the end.
Ideal Short Hair and Beard Combination for Men
15. High Volume Mullet
This hairstyle with stubble beard is for men who want to look smart and professional while rocking their mullet.
Even though mullets are usually chosen by more rebellious men, this doesn't mean that only they should rock it. A high volume of curly hair mullet can make a nerdy guy look very unique and interesting.
16. 80s Curly Mullet
80's curly mullets were so cool and rebellious. They featured short sides with a long top, crown, and back hair. Guys also added extended sideburns and used to pull off a shaved face or a mustache.
17. Curly Blonde Mullet
In general, mullets can be considered outdated hairstyles. But that doesn't mean you can't take this old hairdo and adapt it to your style, personality, and hair type.
Shave the sides and dye the curls in a blonde nuance, keeping the natural color for the roots.
18. Long Curls + Mullet
Mullets for men are the best way to highlight those amazing, beautifully shaped ringlet curls. It is certainly a way to stand out in any crowd and make a huge difference. This example should suit you like a glove if you love old-school looks.
19. Undercut Mullet with Highlights
This style is an excellent choice for those with longer, wavy curly hair who want to add a more modern twist to their look.
Start with wet hair, and once your hair is clean and dry, use a diffuser to blow dry your hair, focusing on the ends to give them extra volume. Then, use a pomade or wax to give your hair texture while forward sweeping the fringe.
20. Loose Ringlets + Blonde Splits
Begin curling the hair with a small barrel curling iron and direct the curls towards the back and side of the head. Once you have finished curling, scrunch and separate the curls with your fingers to create a more relaxed, voluminous look.
You may add blonde hair color in the middle from front to back, while the curly mullet keeps the look fun and playful.
Frequently Asked Questions on Curly Mullet
Can women also try a mullet hairstyle?
Of course, they can! These days more and more women are trying out different mullet styles. In fact, a curly mullet hairstyle is more common among women than among men.

Just remember that there are many variations of a mullet hairstyle, so you'll be able to find the one that suits your personal style.
Why it is called a mullet?
The word "mullet" describes a family of edible spiny-finned fish. When the mullet hairstyle became popular, some people were joking around that it looked like they had fish on their heads.

Finally, the name "mullet" became official when Beastie Boys released their song "Mullet Head" in 1994
Mohawk Mullet – Unique Styling Ideas for 2023
Those classic and plain mullet hairstyles from the 80s are not that common anymore since they have had many changes over the years. Nowadays we have improved the classic hairstyle with our stylish curly mullet haircuts for both men and women.