Your hairstyle is one of the most important things that draw your entire personality. For that one should be extremely careful and choosy while selecting their hairstyle.
Nowadays half-shaved head hairstyles are trending among young girls. We see many celebs are going for the wildest and sexy styles and one of which is half-shaved head hairstyles.
Bold and Beautiful Half Shaved Hairstyles
Half-shaved heads are although stunning but this hairstyle also gives a very dynamic, hardcore look to the people. The styles show how risk taker and adventurous you are to play with different styles and to carry them all entirely along with your auspicious personality. Check out the dandiest looks of half shaved head hairstyles to give you bold and blunt personality.
1. Long Hair with Purple Color
With a leather jacket and purple lip, long hair parted off-center with purple on platinum hair color and a shaved side is super edgy and dramatic.
2. Half Shaved Head with Blonde Hair
The shaved side on this hairstyle is practically bald. With long blonde hair full of textured waves, you'll still have plenty of ways you can wear this look.
3. Half Shaved Head with Ponytail
There's obviously more than one way to do a half shaved head hairstyle. This one shaves both sides and leaves a mohawk strip of dark red and black hair gathered in a messy ponytail.
4. Half Shaved Head Hairstyle for Round Face
To make your half shaved hairstyle a little bit feminine and a little bit edgy, make one side completely bald and add flirty light pink to the long hair.
5. Half Shaved Head Hairstyle with Bangs
Try out the half shaved style on your long hair by just shaving in a patch on one side. Add light blonde and black with blunt straight bangs and you've got a statement look.
6. Half Shaved Head with Box Braids
Black box braids decorate the long side of this half shaved hairstyle. White braids are interspersed for classy contrast. Wear with a bold pair of dangle earrings and you're golden.
7. Chocolate Brown Half Shaved Hairstyle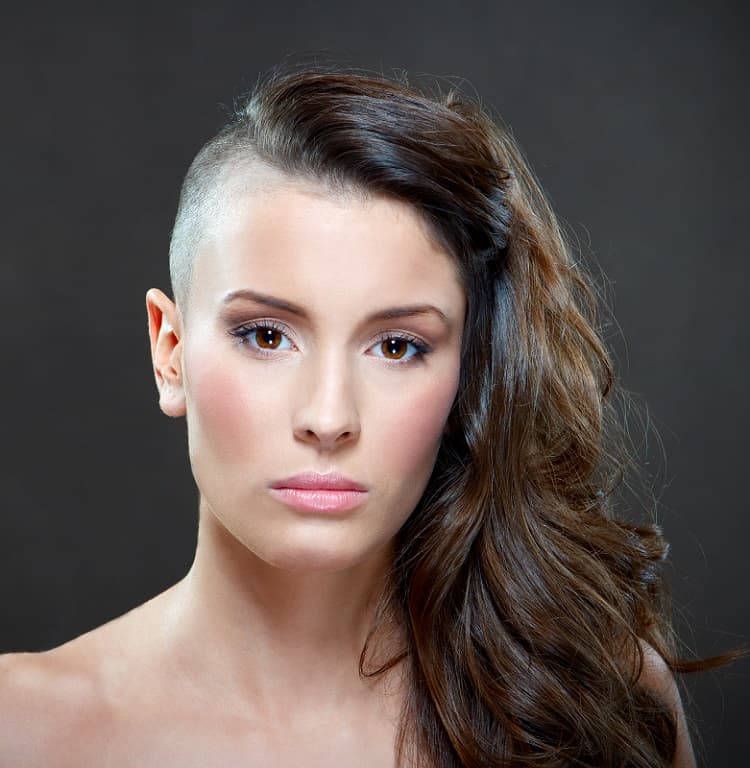 To make your hairstyle classy and keep its feminine touches, color the non-shaved side with chocolate brown. Worn straight or slightly wavy, you'll love the mix of edge and sophistication.
8. Layered Pixie Half Shaved Style
Do you already have a long pixie hairstyle you love going on? Add layers to it, wear it straight, and shave one side for a style no one else will have.
9. Wavy Hair with Shaved Lines Hairstyle
One of the ways to liven up your long wavy brown shaved hairstyle is by shaving in lines or special patterns. You can use designs to express your personality.
10. Red Highlighted Shaved Hairstyle
Instead of shaving an entire side, pick just one part of the head to shave to make it a standout feature. Dark red highlights look beautiful on ginger hair.
11. Updo Shaved Hairstyle
By shaving both sides of your head, you can create this gorgeous bun updo with long hair. When it's not up, wear it down and just a peek of the shaved parts will show.
12. Bald Fade Ombre Pixie
An inch-wide bald fade is small but makes a big impact on this voluminous pixie. For blonde hair, add a light pink ombre to express your girly side.
13. Asymmetrical Half Shaved Hairstyle
What would normally be just an asymmetrical bob with straight locks becomes a completely different hairstyle with a shaved side. Light pink decorates the sides of a mostly blonde look.
14. Blue Balayage Half Shaved Hairstyle
To put a twist on black hair, try a half-shaved hairstyle and add dark blue balayage. The two dark colors are slightly gothic and super edgy.
15. Half Shaved Hairstyle for Black Women
While letting your naturally curly hair grow out, you can have a little fun by shaving one side. Not only will your face take on all new dimension, but the curls will stand out even more.
16. Mermaid Half Shaved Hairstyle
Now you can combine the mermaid waves you love with edgy contrast by trying a half shaved hairstyle. Fill the hair with platinum hair color and use brushed out curls to create this amazing look.
17. Rainbow Half Shaved Hairstyle
If playing with color is your thing, try mixing red, green, yellow, and orange highlights on a half shaved hairstyle. Top it off with curls and your look is one of a kind.
18. Partial Half Shaved Hairstyle
A medium shade of blue is a flattering base color for many skin shades. Add a shaved patch up front by the temple and a few colorful highlights to make the blue pop.
19. Half Shaved Mandala Hairstyle
A shaved mandala design above the ear is a great way to make your half-shaved hairstyle unique. On the side with long hair, try a bold shade of red for ombre or balayage.
20. Half Shaved Head Dreads
Since dreads are quickly becoming a popular hairstyle choice for women, experiment with your own version by adding rainbow hair color, beads, and a shaved side.
21. Pointed Layers
This style is totally a beautiful madness of layers giving a very elusive yet subtle touch to your beauty. This look has a slight shade of burgundy that molds the complete look altogether giving an extreme edge to your personality.
22. Black Cascade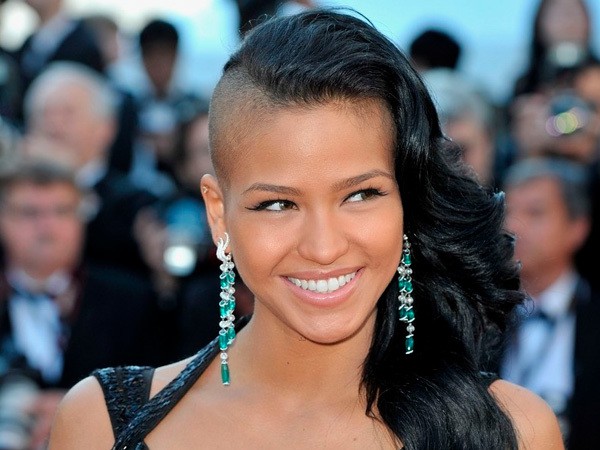 Although nowadays there is an ongoing fashion of dyeing your hair in distinct colors but Black is the reigning king of all. The charm and attraction of black hair have no match to any other. In this particular style, there's a beautiful cascade of shiny black hair and with an addition of half shaved head, it seems even more alluring.
23. Elegance Overloaded
This typical style is one of the most adorable ones. This style suits all of the hair texture and all of the face cuts make a practically dynamic look. Adding a hint of highlights on the front layers gives it an incomparable look.
24. Edged Layers
Another look from X-Factor star Cher Lloyd giving out an actual mesmerizing appearance. To get this look just add some mousse to your hair to make an extreme edge to your layers.
Check our list of trendy bangs styles
25. Braided Look
This particular look gives you the best of both worlds; you can have side braid to give a glance of half shaved head and to put the rest of hair on the other shoulder, or you can get rid of side braid giving you hair all over your head. The best thing about it is that you don't even have to shave half of your hair.
26. Half Shaved Bob Cut
This style looks more elegance and alluring when combined with highlights. It is a classic bob cut with an alteration of the half-shaved head that gives a sexy look to your personality with a hint of cuteness.
27. Glorious Waves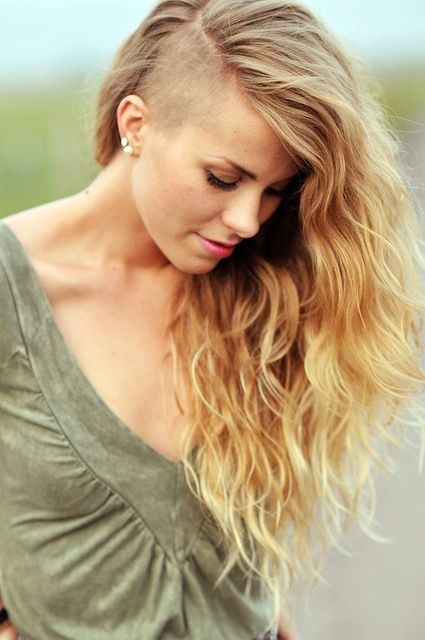 Blonde hair with a bit of highlight gives a radiant look. Here the shaved head gets blended with the whole softer image of your personality and make it look very delicate and elegant.
28. Shaded Look
This style is the ultimate fusion of black and blonde with a slightly shaved side. The shorter layers on the back give your hair a volume and fuller look.
29. Violet Spectrum
This style is perfectly portrayed by the style Diva Demi Lovato with the perfect violet shades. So if you are a Lovatic, you better be looking forward to this style.
30. Designed Illuminati
If you are a fan or promoter Illuminati, then this can be then this style must be the best option for you. It gives you nice groove as well as your favorite fictitious occult party.
31. Blonde Black Fusion
It is a typical braided look of Africans, but it also has a dramatic effect combining the blonde and black colors into one hairdo. It also forms a Faux Hawk to give a much spectacular sight.
32. Half Pixie Cut
An elegant and soft look, when merged with half shaved head style, gives a very edgy look. This style mostly suits the girls with long and thin face cut, as it gives your face a very clear outline and a broader look at it.
33. Short Hair with Highlights
Demi Lovato again is portraying a dynamic yet strong and confident look with one of the trendiest hairstyles. It shows that shaved hairstyle looks good even on medium or short length hair, adding a bit of a highlight on the end give it a wilder look.
34. Long Layered Look
It is an incredibly sexy look; it has the perfect edge and attraction in just one style. So if you are looking forward to having a half-shaved style, this might be the one you should prefer. It also suits all face shapes.
35. Tempting Hairstyle
A hairstyle with a little curl, half-shaved head with the perfection of the layered cut, gives the whole style a breathtaking appearance. So if you have a good volume of hair, then this is the look for you.
36. Long Hairstyle with an Undercut
Sometimes a half shaved hairstyle looks most effective when it is part of a long haircut. The contrast between the two lengths looks truly amazing. If you want to hide the shaved section you can easily sweep your hair back over to the other side.
37. Black Beauty
Black hairstyles are really intense. Slightly layered cuts with a half shaved patch can help to stop the hairstyle from seeming too morbid. Black and layered is a really cool look for a punky women's hairstyle.
38. Cascading Curls
From one side, this cascading curly hairstyle would look like the perfect feminine girl's hairstyle, but the shaved area on the other side of the head twists this around. It is a great look for women who want to challenge traditional Western gender stereotypes.
39. Rainbow Warrior
Brighten up your look with a splash of brilliant colour. Bleach your hair so that it takes intense colours well, and then choose a mixture of different hair dyes. The colours that you choose for this shaved hairstyle will help you to express your individuality.
40. Orange and Black
A fiery intense orange hairstyle can be contrasted really well by leaving your half shaved area as your natural hair color. Alternatively, dye your shaved patch a dark black color to enhance the contrast between the two areas of this super cool hairstyle.
41. Hearts and Flowers
Using hair art in your hair is a fun way to make your half shaved style look even more individual. Shaved hairstyles for women can be adapted to meet any style if you are careful with your razor. This woman has chosen hearts and flowers to express her individuality.
42. Glamazon
This Glamazon style is both fierce and glamorous. Part of the hairstyle looks like it would be ready for a classic beauty pageant, whereas the shaved section looks as though it would be ready for a punk rock party. Mixing up two styles like this is an amazing idea for women's hairstyles.
43. Super Simple Undercut
A super simple undercut hairstyle for women is a nice choice if you want something subtle and do not want to make too much of a statement. These undercuts can easily be covered up if you work in an environment that is a little bit stricter about your hairstyle choices.
44. Barely There Babe
'Barely there' styles are ones where there is little to no hair present in the shaved area. A barely-there shaved area requires a lot of maintenance and you might have to shave your head every single morning to keep things looking silky smooth.
45. Lady Pompadour
Shave both sides of your hair whilst keeping the middle sections long, so that you can fashion your hair into a faux hawk style or a lady pompadour. Use a comb and some styling gel to run your hair up into a perfect pomp hairstyle for women.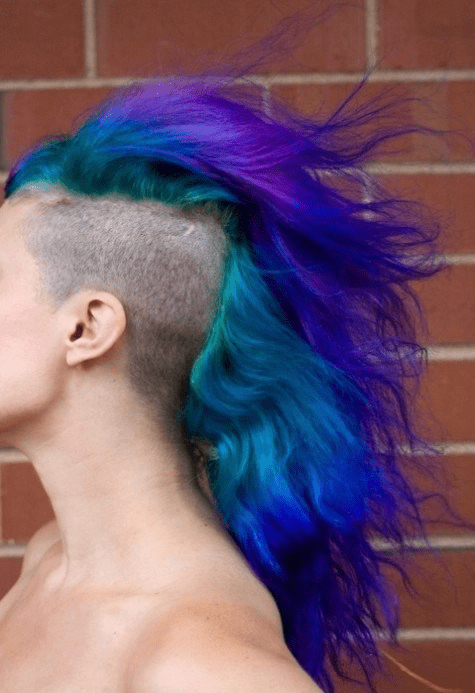 Half-shaved heads once when came in fashion seemed unusual but with time when many actresses adopted the style, it looked not only acceptable but the trendiest fashion of all. So if you are looking forward to a venturous haircut, then you better give a look to our collection and let us know which one you liked and want to adopt.