Shaved haircuts on African American women or women, in general, are often seen as something radical because there's the notion that women are supposed to have long hair that cascades down their backs, maybe not that long but never as short as what would be considered a man's haircut.
But all of that is baseless because black women can and do in fact look good in shaved haircuts and we have this list to prove it to you. If you are wondering if these would look good on white women too, the answer is yes.
For the sake of this list, the styles are shown are ones worn by black women but most of these can be replicated on white women, save for some that are peculiar to the natural hair texture of African American women.
How to Do Side Shaved Hairstyles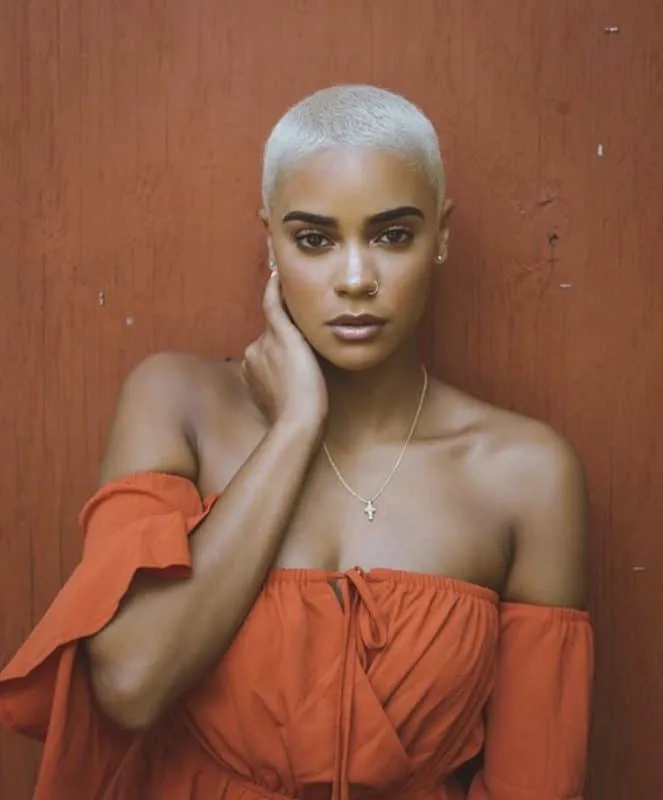 Once you find the style from the lists that speaks to you, you'd want to bookmark this page and show it to your barber if you're not experienced. A barber, particularly one who's experienced with cutting female hair is the best option for getting your full or half shaved head hairstyle to look as good or even better than these pictures.
Also, some of these styles cannot be achieved without the use of certain tools that only professionals own. If you're willing to invest in these tools, then that's fine, but you could save your money or rather, spend it on getting the whole experience professionally done.
Watch The Following Video on How to Do Side Shaved Hair
Best Shaved Haircuts for Afro-American Women
We've compiled 41 great looking shaved hairstyles that would flatter any black woman or girls, some are long and others are quite short.
Some would suit the most daring women and there are also style options for the women who love to play it safe and keep their hair looks understated. The point is, regardless of what your style preferences are, there's a shaven hairstyle for you on this list.
1. Shaved Sides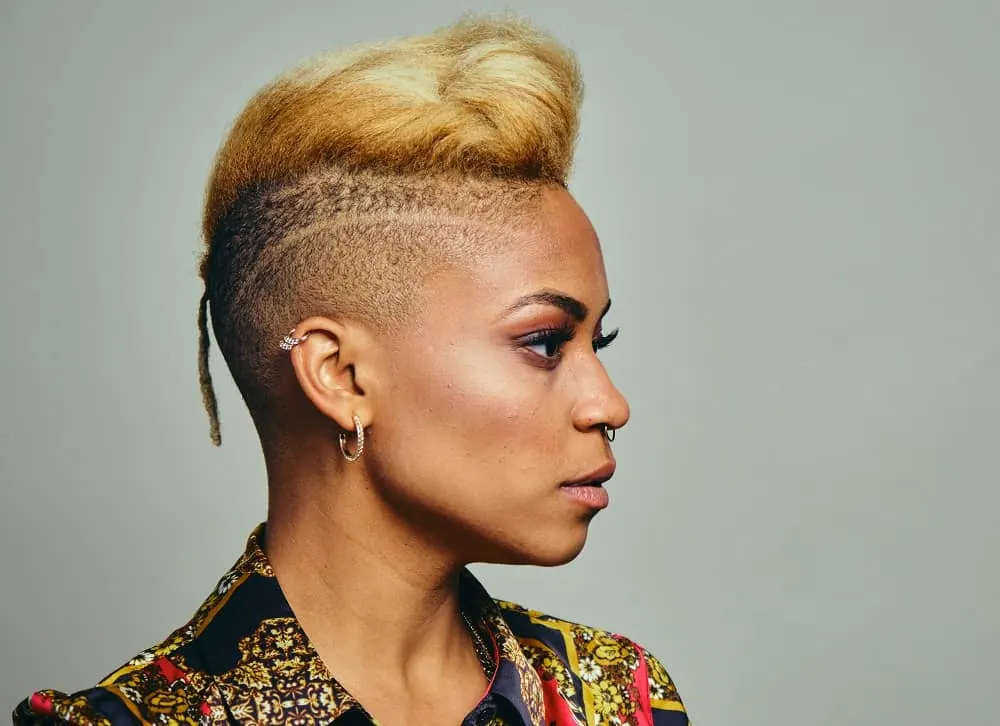 You can find your hairstyling inspiration everywhere, even in men's hairstyling. Shave the sides and back and dye the longer top in a warm honey blonde. On each side, complete the look with an arched line. Mark your hairdo with a small dread in the back.
2. Full Shave
Shaving your head is certainly a bold action! But nobody tells you how practical this choice can be! You can kiss goodbye to all that time spent in the mirror and money spent on expensive hair care products.
3. Undercut and Braids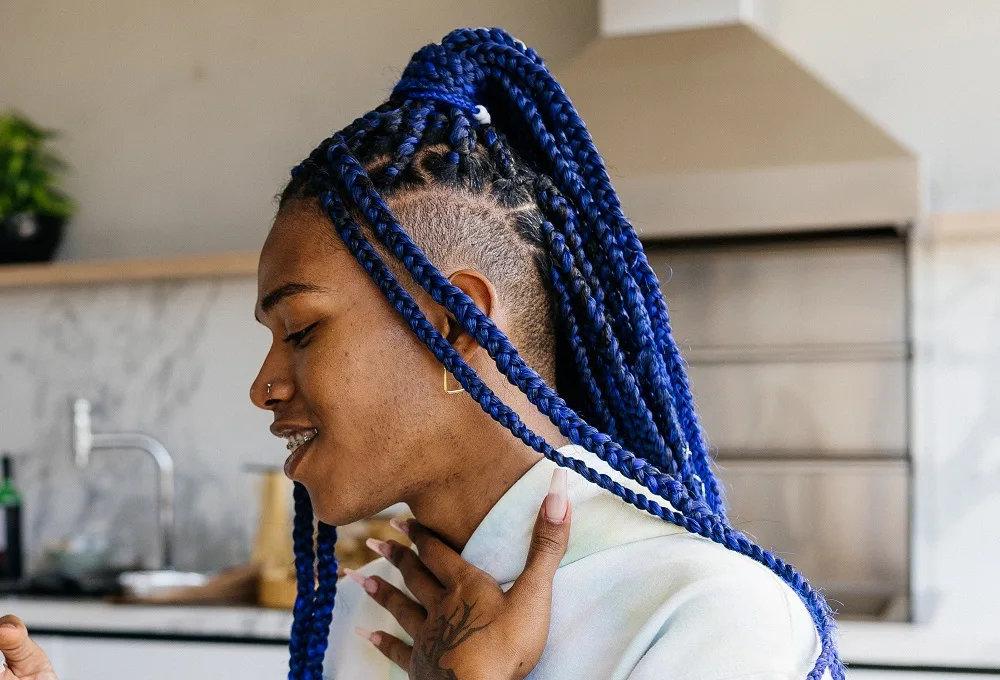 You don't need a tutorial on how to look fierce, you just need a hairstyle that inspires greatness. Create a short arched trim around the ears. Part the top in small sections to create box braids. Use blue Jumbo hair to make this shaved hairstyle for women look glorious.
4. Blonde Brown Front Top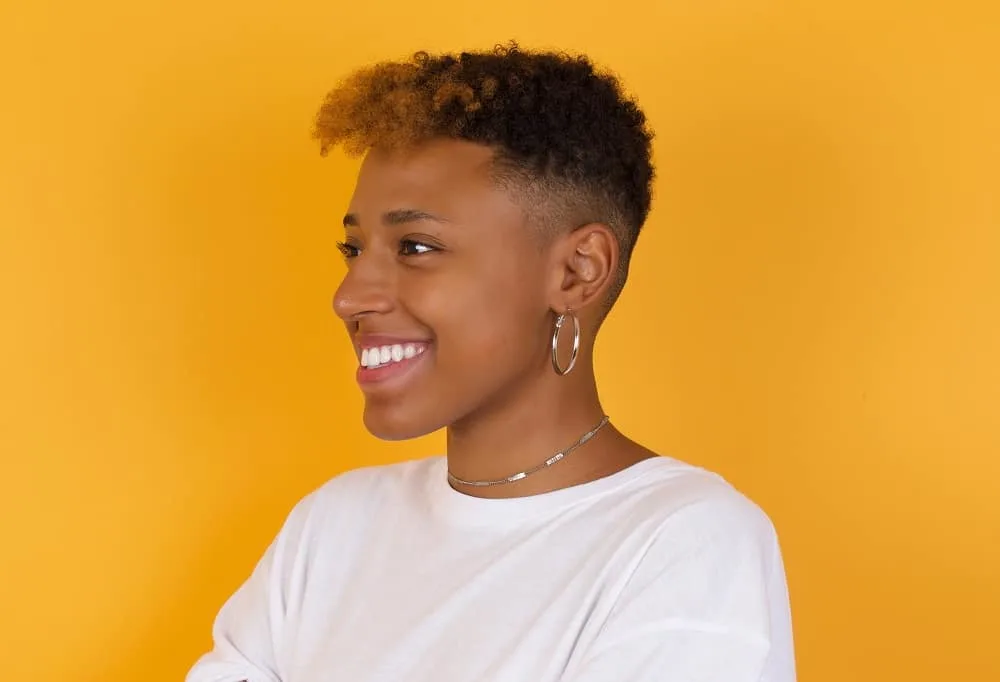 Let's face it, you can't ignore this ultra-cute tomboy look with shaved sides, mid fades and a rich top. The hairstyle is a fabulous way to highlight your face figure and top add a pop of color. That blonde brown will certainly become the center of attention.
5. Temple Shave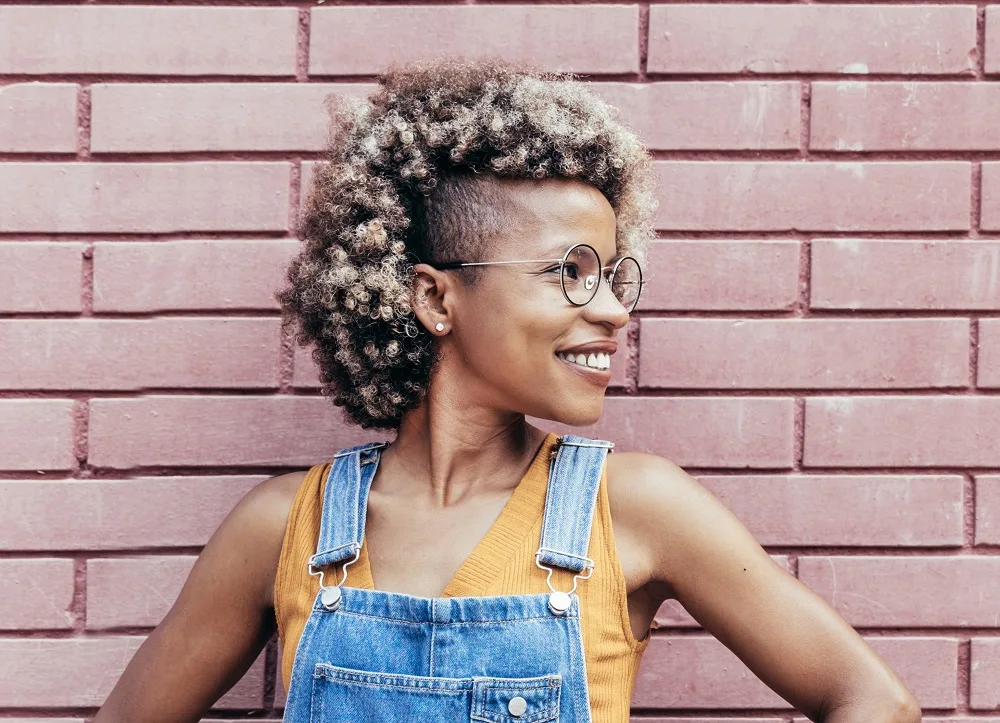 Searching for a shaved hairstyle for black women that will make those coils stand out? We have the perfect example for you. Shave the temple on one side and bleach the tips of your curls. After that, dye the ends in platinum blonde nuance.
6. Very Short Blonde Hair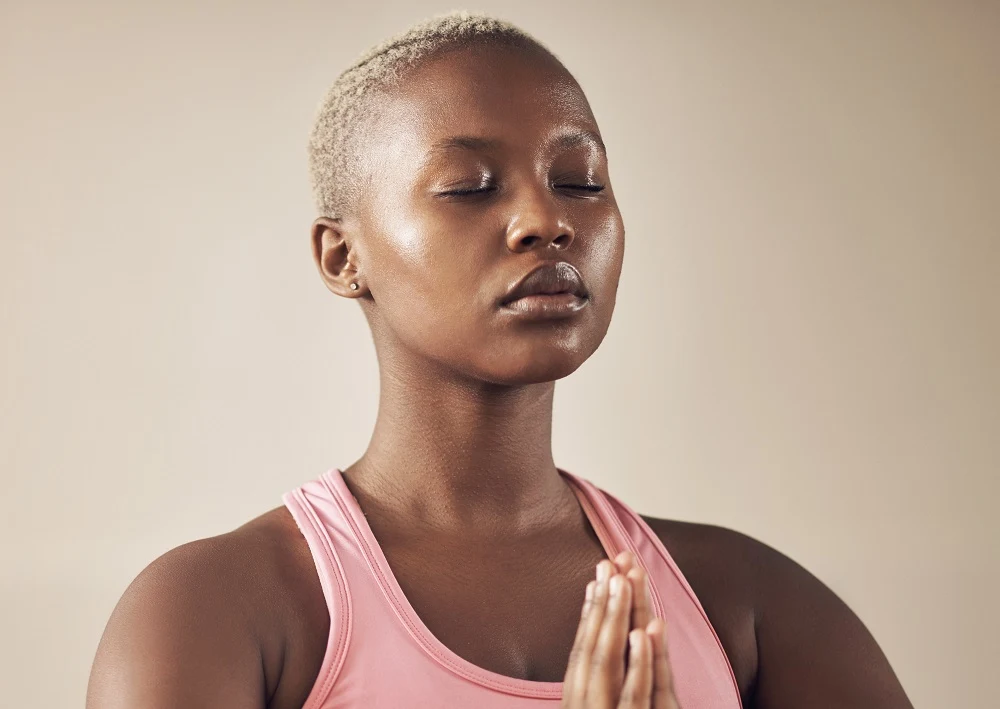 We must accept that making such a dramatic change is not something you see every day. But that doesn't mean that from time to time, you can't style this ultra-short hair. It has even less than an inch you so can dye it just the way you want.
7. Short Cut With Side Shave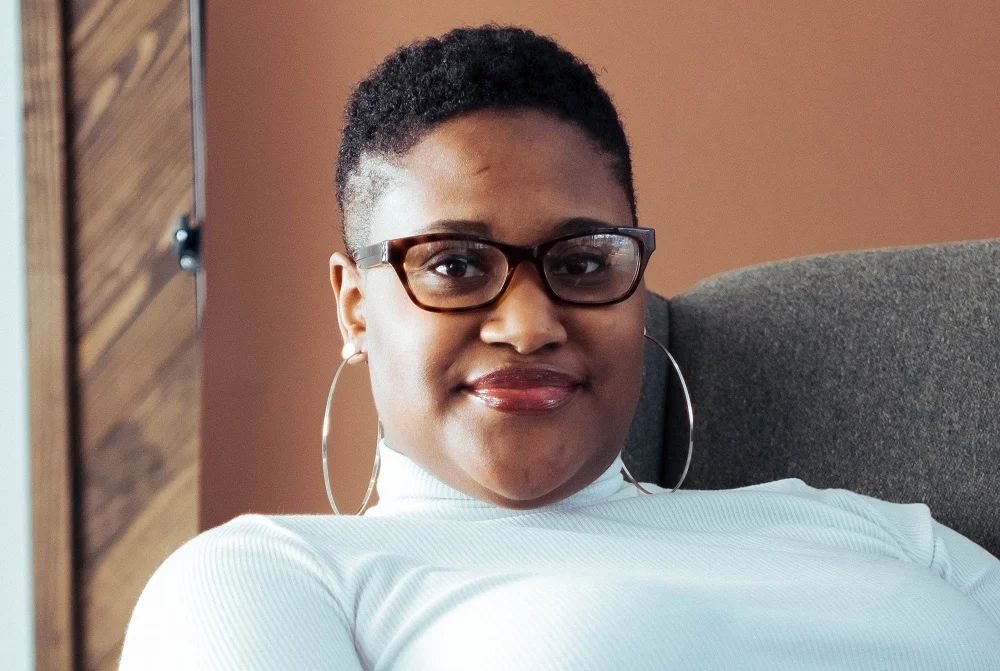 Women are certainly practical, and those who sport short hairstyles like this really prove this statement. Also, they are the best example that being feminine doesn't mean you need long princess hair. So, get your trimming machine and recreate this cute short haircut with a one-side fade.
8. Braided Bun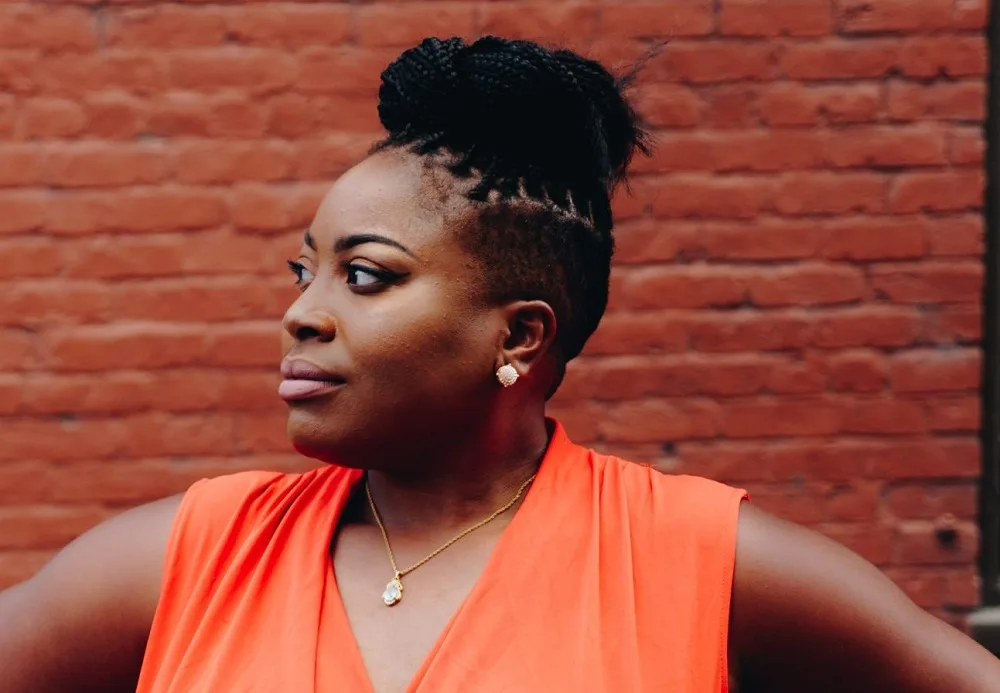 Black women are known for their sass and strengths, so they don't step aside when sporting undercuts and funky shaved hairstyles. Also, if you love this sort of mix and match, create box braids for the top and roll them all in a big bun.
9. Curly Top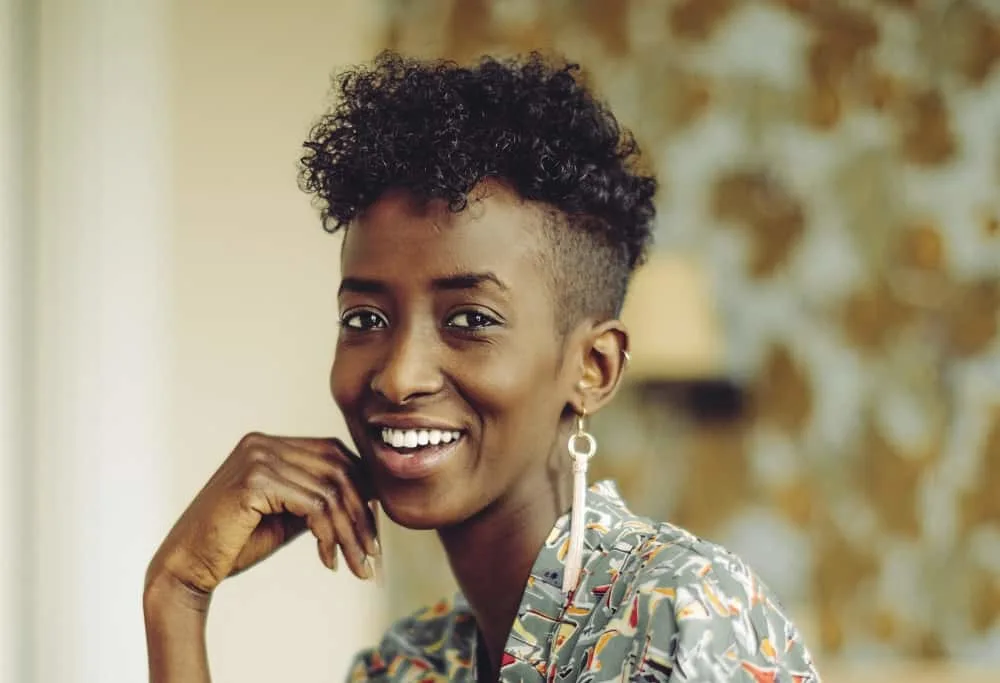 A shaved hairstyle for a black woman can certainly add value to those awesome curly locks. By trimming the sides, the top will have more volume. Also, you can dye the top and create stunning wet looks like the one above.
10. White Short Hair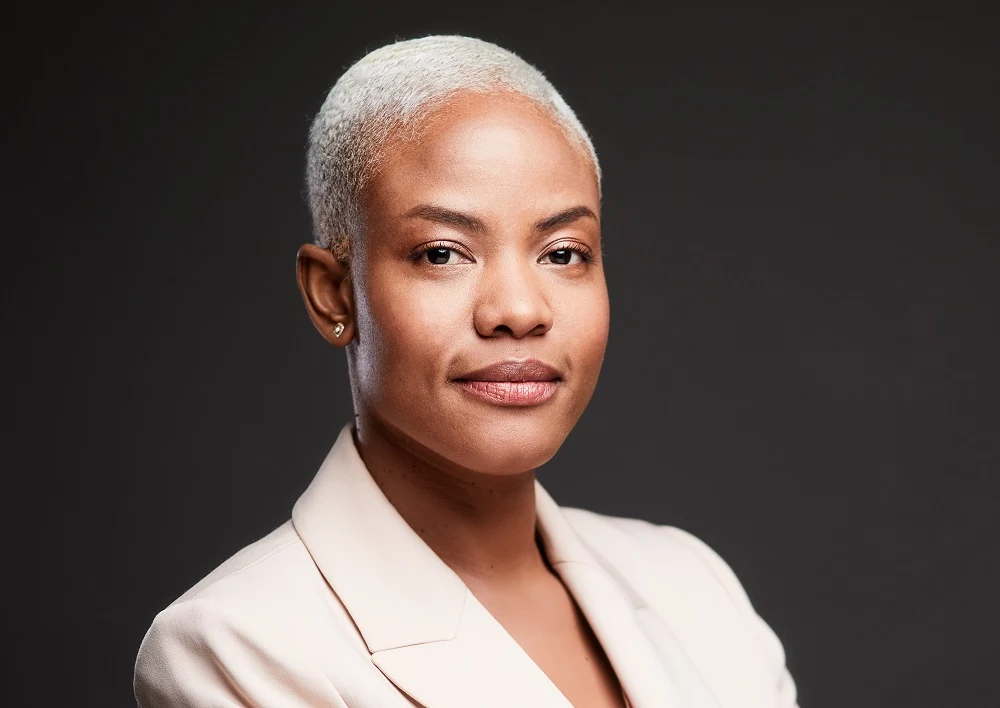 One of the perks of having such short hair is. First, it's low-maintenance. Moreover, if the hair grows, you can always cut it down and sport another color. Also, you don't need a visit to the salon, and you can use the trimming machine at home.
11. Side Shaved Design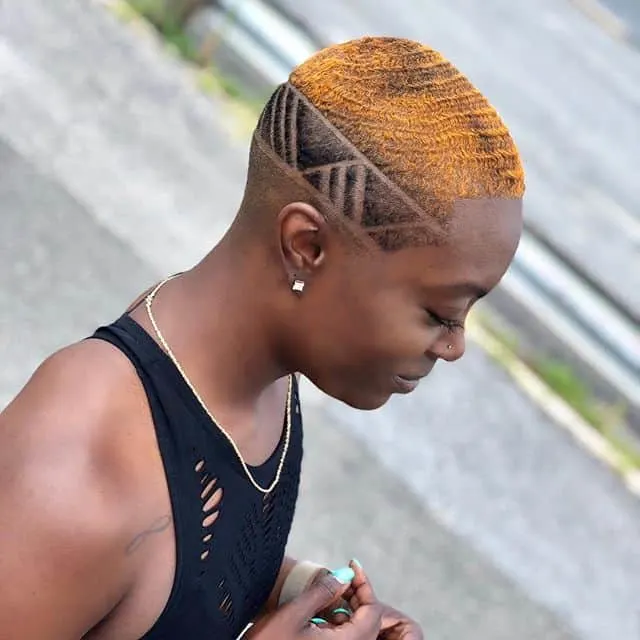 Patterns and designs look amazing on the textile so why not apply this unique cut on your hair? The combination of both patterns and the dye job makes this shaved hairstyle look stunning. This is surely going to be a head-turner, regardless of whatever event you attend.
Business in the front, party in the back! That's the message this hairstyle communicates. And if you're one who is bold enough and love the vibe it gives off, you'd certainly love doing this haircut.
Having the under bits shaved will give you the same feeling of having your whole head shaved. And if you do cut it but feel shy, you could cover it with the longer bits of your hair until you feel confident to show it off.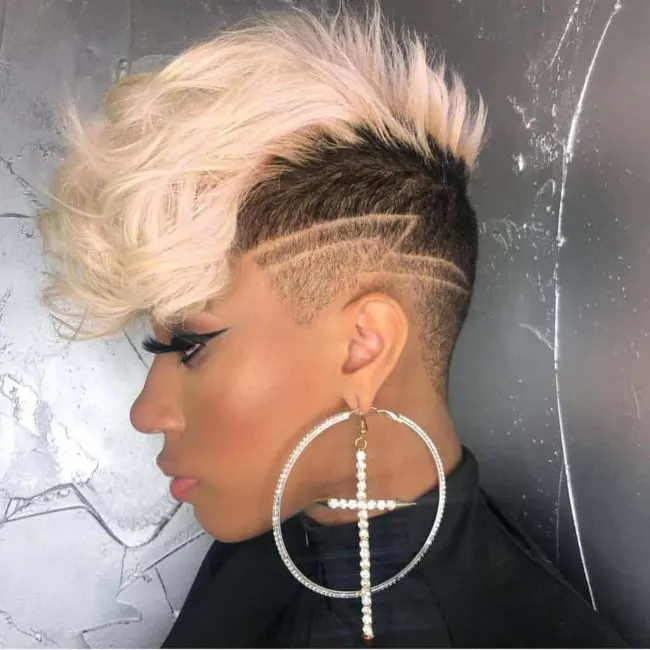 This long blonde top paired with dark shaven sides is reminiscent of the RnB singer, Kerry Hilson, during her breakout year and the award-winning singer, Mary J Blige who sported the black women with blonde hairstyle, way before it became so popular. This is reason enough to consider giving this a shot.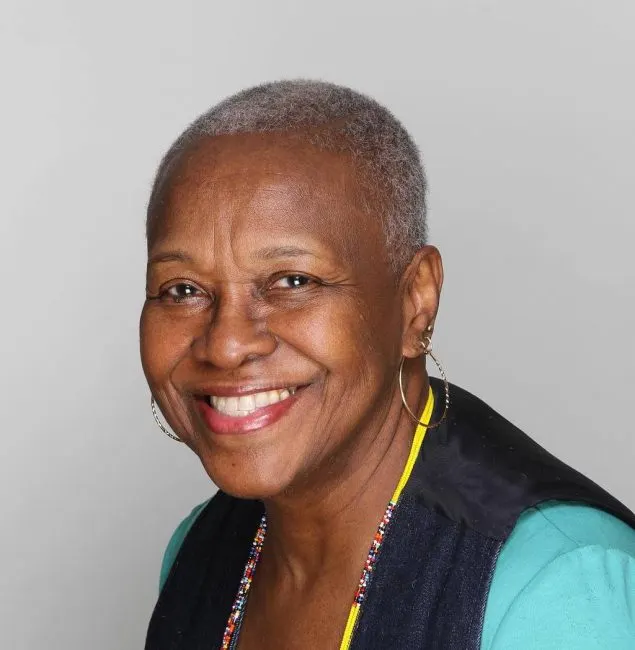 Shaved haircuts look good on black women of all ages including older women, especially this full shaven look. The gray hair on this senior citizen adds some flair to it, making it edgier and revealing her beautiful facial features.
To add even more flair, add a single line part to the cut with a clipper. This can be done on both relaxed and natural hair types.
15. Faux Gray Haircut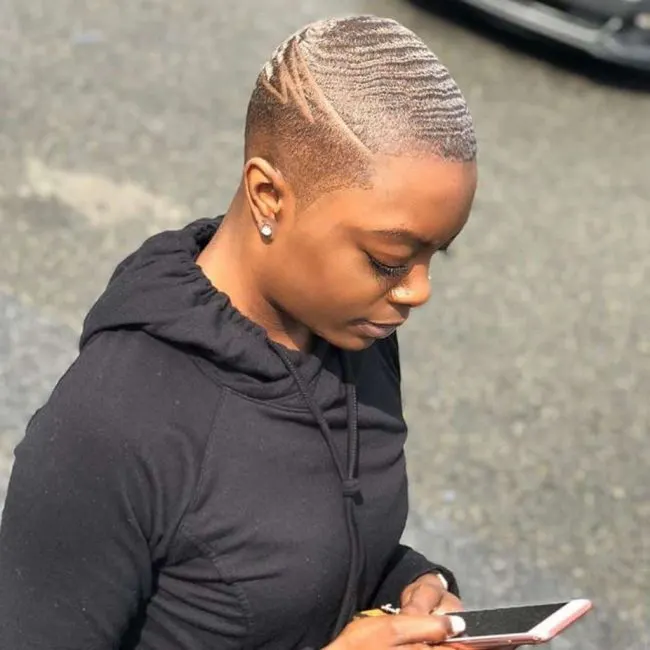 You know what they say, "if you don't have it, fake it till you make it." The ashy gray-colored haircut is chic for all ages, definitely not limited to senior citizens and the myth that gray makes one look older is just that– a myth. This faux gray look can be achieved by bleaching and coloring your hair platinum or gray.
Low shaven haircuts look equally great on round chubby faces. Shave some fun patterns on one side or both sides to make it even chicer.
Red is that one color that looks great on all shades of black women. To achieve this colorful side shaved haircut, you need to have natural curls or you could use curl-enhancing tools like a mini-sized roller. You could also do twist outs or use the sponge brush to achieve something similar.
Instead of dying your whole head burgundy, opt for leaving the bottom parts black, this creates a sombre effect that would make any shaved hairstyle for black women pop.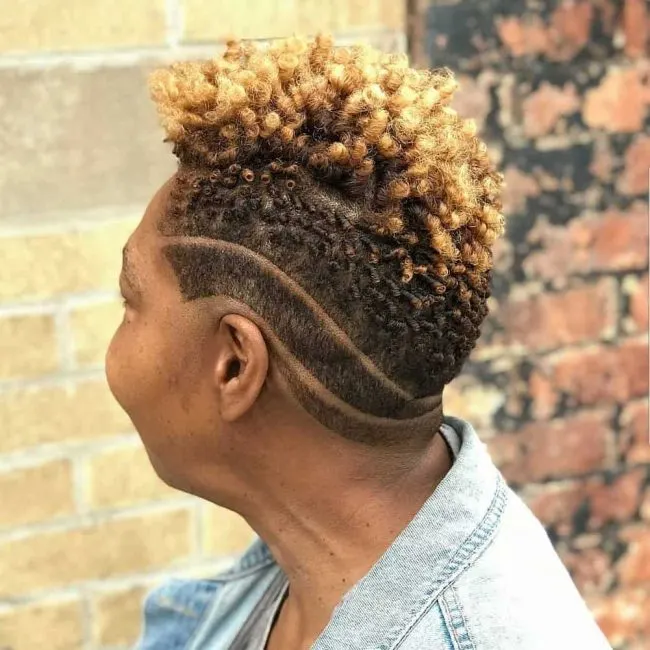 You must have noticed that shaved hair and colors really go hand in hand. These short blonde curls with a shaved undercut is the proof.
Unlike the little curls in the burgundy cut, these ringlets are the result of the finger curling technique. The little ringlet curls surrounding the bigger ones take the whole look from basic to fabulous.
This cool black haircut is for the simple laid back lady who doesn't like a lot of fuss. If you're the type who doesn't like the idea of coloring your hair or wearing colored extensions, and you also do not fancy getting those trendy patterns, then this is for you.
The simplicity of this shaven cut would make you look amazing without trying so hard.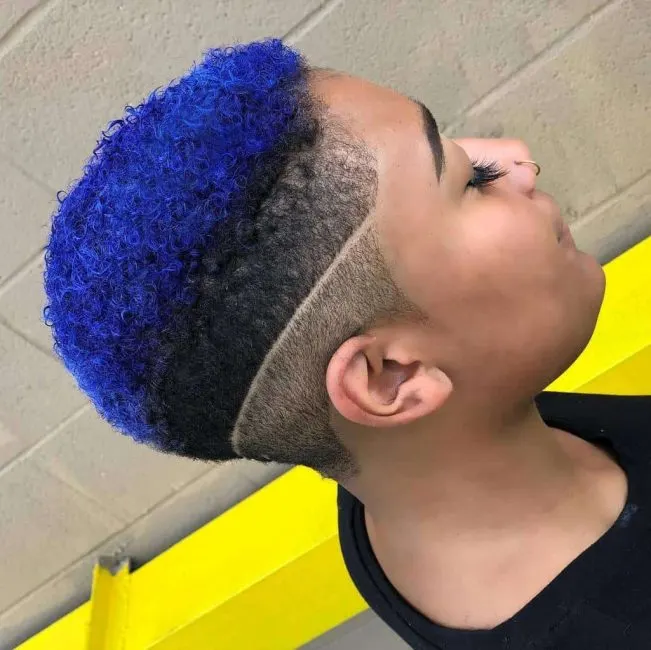 This shade of blue is a head turner, so if you're feeling this look and don't mind the attention it's sure to attract, then by all means go for it.
This light ginger haircut is vibrant yet also laid back. If you want to tone it down, you could opt for an ombre effect by dying the roots chestnut brown.
22. Shaved Fro-Hawk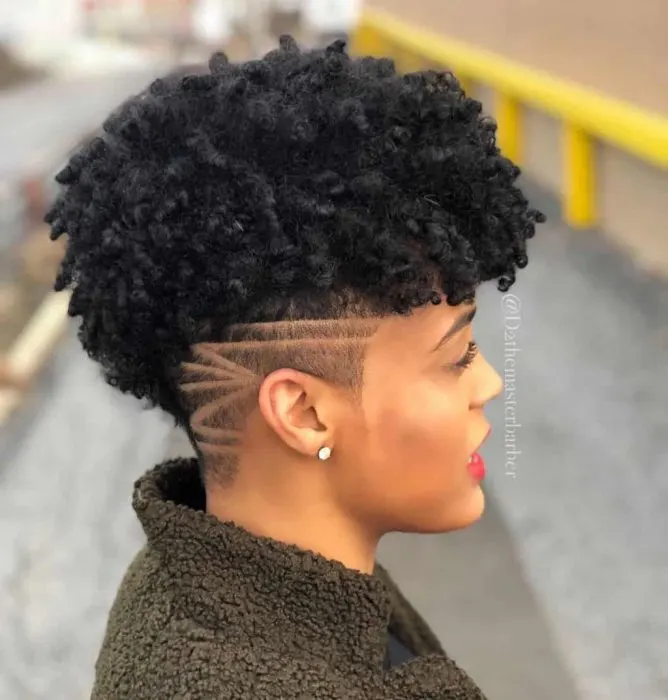 The cool thing about shaved hairstyles for black women is that they can be versatile, despite what many think, and this edgy fro-hawk is a good example.
If you still plan on growing out your natural hair, you'd find that you can eat your cake and have it with this style. If your hair is relaxed, you can achieve this by fixing a curly sew-in right on top.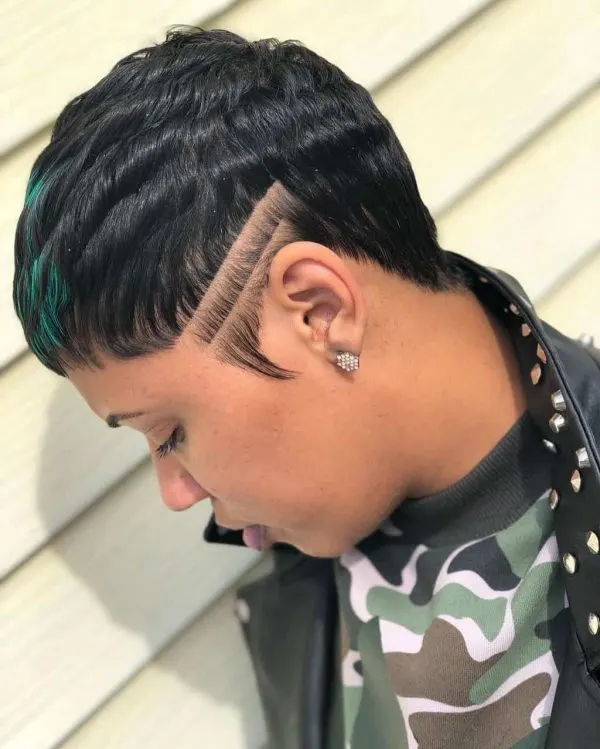 Pixie cuts are one of the cutest short hairstyles on women of all ages because they display all the beautiful facial features on a woman that would have otherwise been hidden under longer hair.
And if you're looking to add some flair to your next pixie, shave a little of both sides to make it better.
Red and burgundy are great, but this fiery orange look is even better. The color is reminiscent of the mythical Phoenix bird, which never dies but rises from the ashes of its predecessor.
You could opt to get this color on your next shaven haircut as a sort of poetical homage to your grit and determination in life.
25. 360 Waves + Shaved Pattern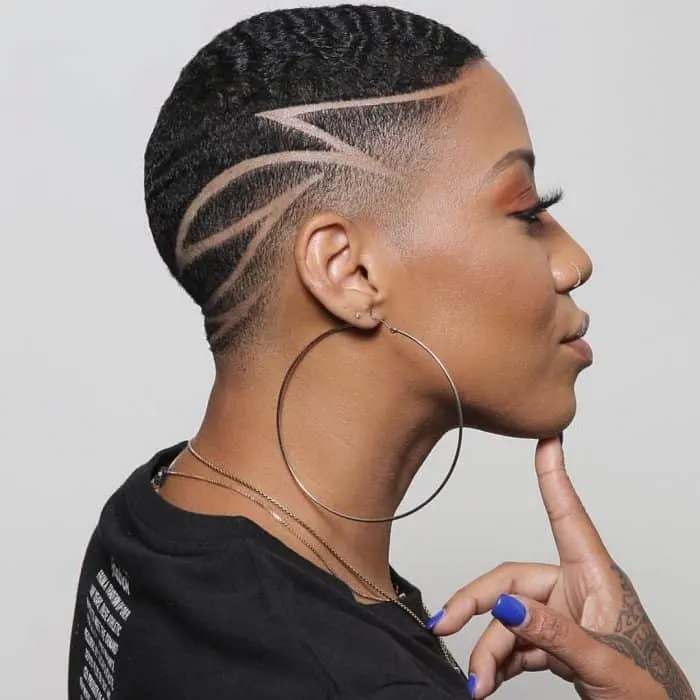 Another edgy but no fuss shaved hairstyle that African-American women can opt for is this all-black cut that has been jazzed up by swirling patterns.
If you're thinking of coloring your haircut but looking for something subtle yet vibrant, you could try this blue hue, it's just perfect. Also, to achieve those slight waves, a special relaxer will be used to achieve the look,.
However an alternative for naturalistas can be done with this color, once you're in the hands of a pro, they'd be able to nail something similar without resorting to relaxing it.
27. Pastel Colors For The Win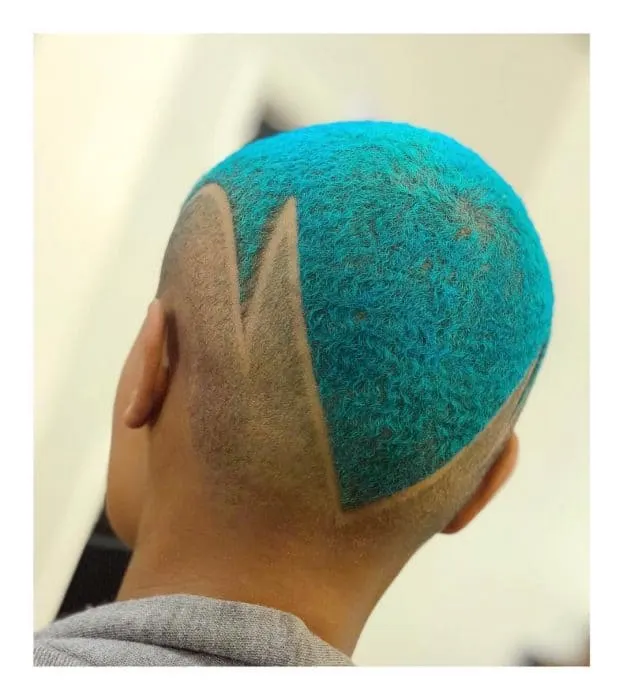 Pastel hair colors are perfect for spring and summer when colors come alive everywhere. If you're panicking over the thought of supposedly damaging your hair by coloring it, you could try using safer alternatives.
Some safer coloring alternatives include: pastel-colored chalk, liquid chalk, semi-permanent dyes, and spray-on dyes. They are all the fun without any of the bleaching damage.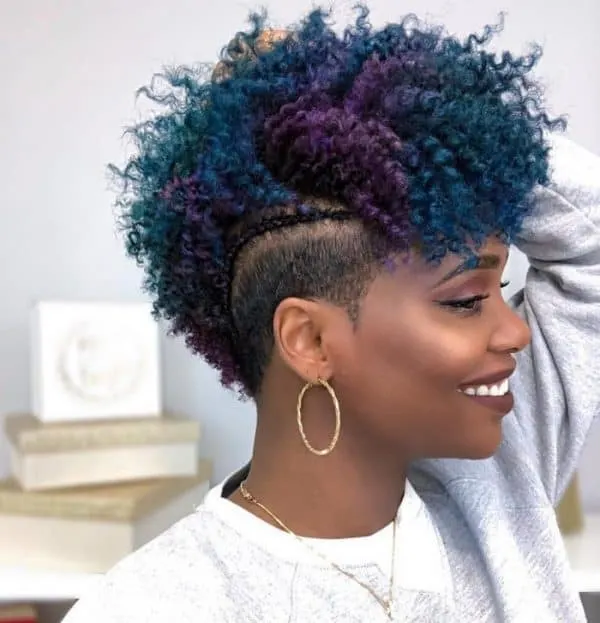 If you've learned anything from following this list so far, it should be that colors can transform the most basic haircut for black women. This fro-hawk incorporated a single cornrow on both sides to give it a stylish look.
The curls on this can also be achieved through a curly crotchet braid, a natural wash-and-go, or a braid/ twist-out. And everything goes perfectly well with this shaved cut.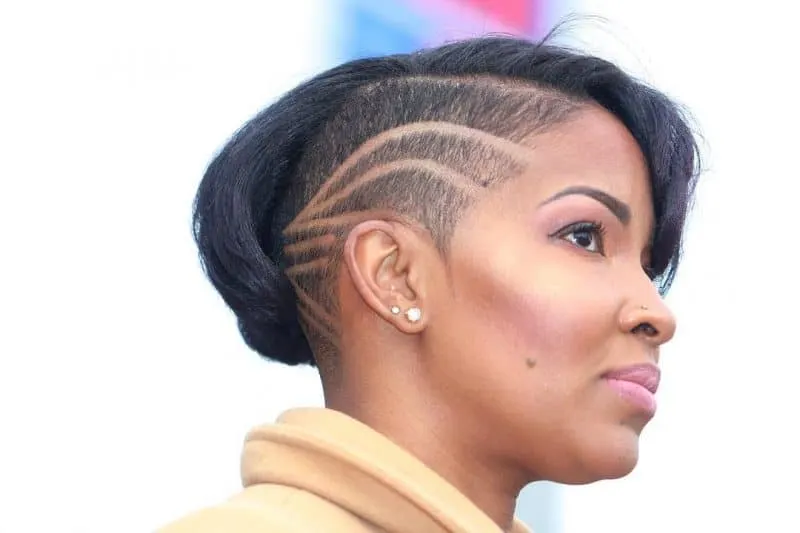 Now if you were thinking you can only have fun with these shaven hairstyles if you cut your hair really low, you're wrong. This edgy undercut bob is proof that shaved haircuts don't have to really short.
This look can be tried on both relaxed and natural hair. The black natural hair would have to be straightened to achieve this bob with bangs.
30. Classic Flat Top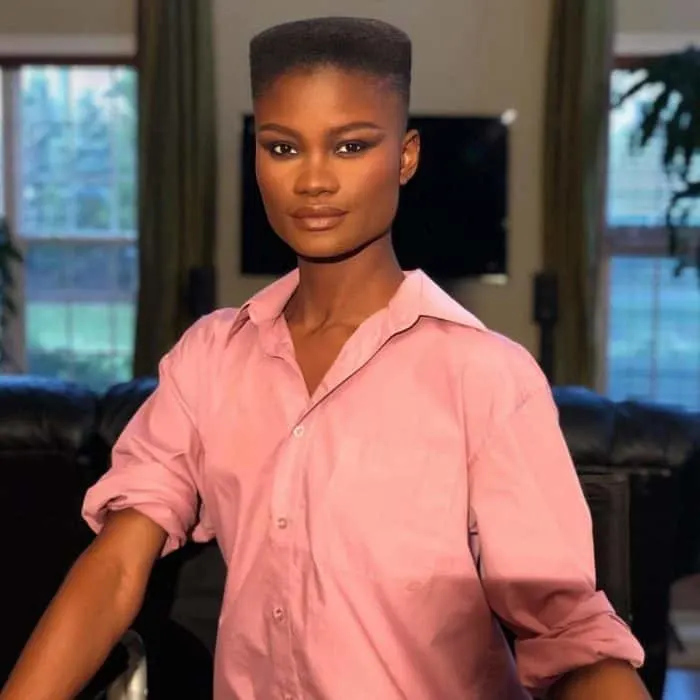 Black women can rock flat tops too. This haircut shouldn't be left for men alone. Girls can rock this and wear it beautifully well.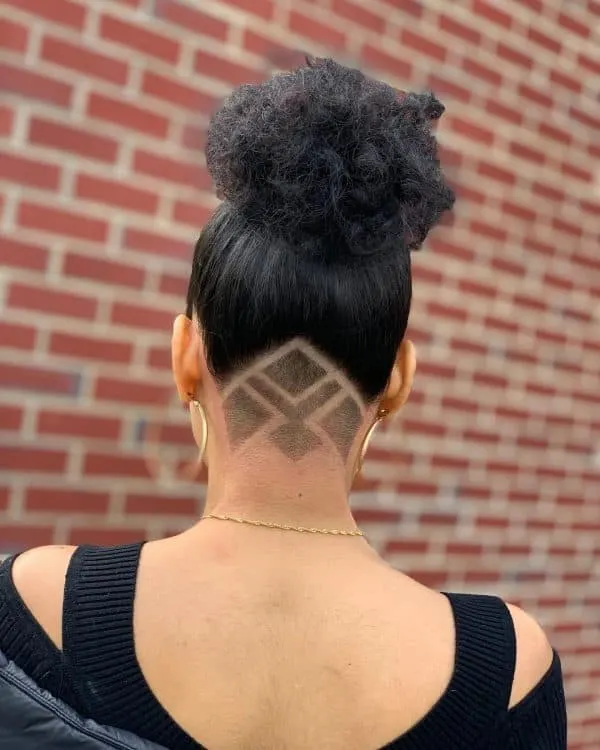 A haircut like this is bound to be a great conversation starter. Not only that, it's safe for theblack ladies who are too scared to take the plunge to shave off their entire head.
A hair cut like this can offer the best of both worlds while they decide if they are bold enough to rock a fully-shaved haircut.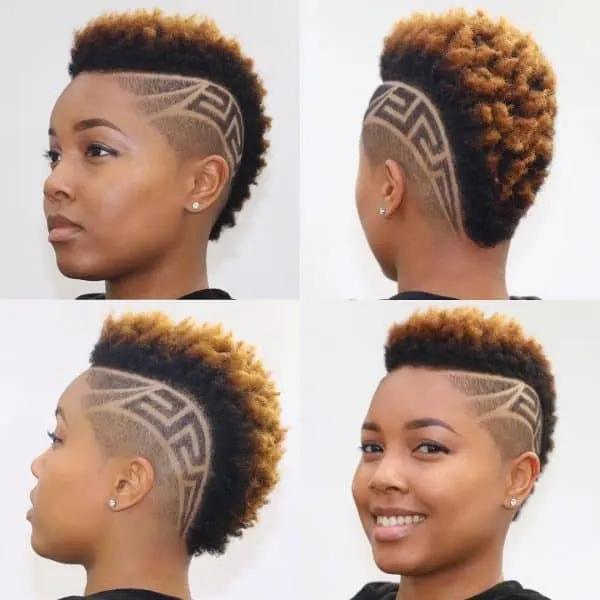 Now, this is quite the bold hairstyle for black women. The ombre Mohawk screams confidence and beauty. It combines the different elements of what makes a haircut great to create this custom look.
To achieve this, you need to start on natural hair, shave both sides, spiced up with the featured lines. After this, bleach the tips of the hair, then dye it honey blonde after washing off and drying. To add finishing touches, use a sponge brush on the section with some hair out to create some curl definition.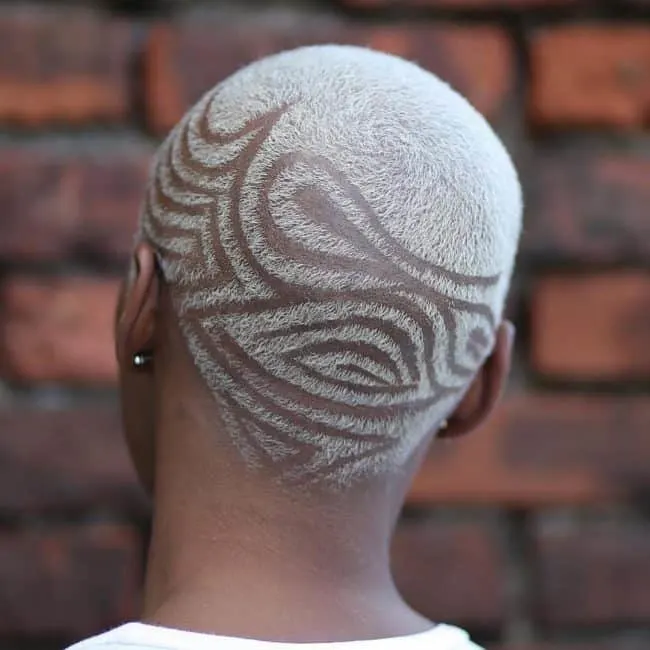 This platinum blonde has proven to be an ideal shaven hairstyle for black women since Amber Rose made it popular.
34. Long Hair Undercut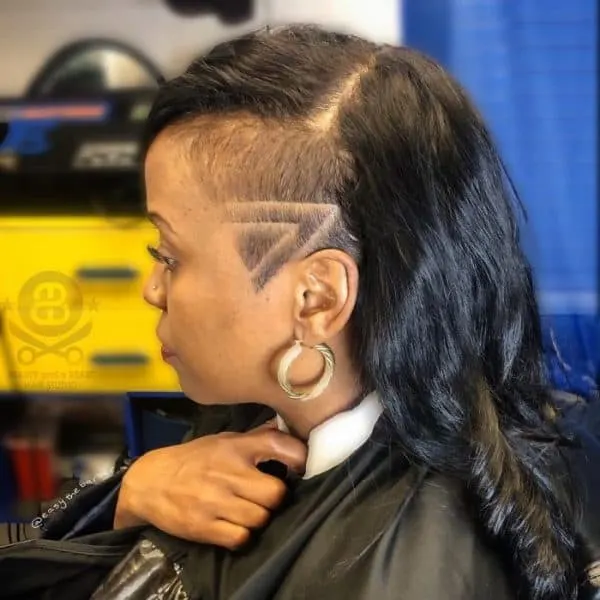 This women's long undercut look is quite similar to the Mohawk, only that the shaved bit doesn't go longer than ear length.
This can be a simple way to jazz up your long hair if you're feeling up to it. This is best done on relaxed hair. If you have natural hair, you can do a sew-in or recreate the look with curly hair.
Last but not the least is this simple haircut for the no-fuss black women.
More Amazing Shaved Sides Hairstyles for Black Women
We hope you liked the ideas. This list of shaved hairstyles has all the proof and evidence that black women and women in general, can wear these bold hairstyles and look good in it.