What is a bronde hair color? It's a combination of brown and blonde. You can take brownish hues as a base and create beautiful blonde highlights to brighten up the look or vice versa.
The mix of brown and blond and timeless. No matter how hard you try, you won't find anything that suits absolutely any occasion more than blonde and brown.
Thankfully, there are so many shades of these colors, that the results can be completely outrageous. If you don't like to settle for ordinary options, there is a bronde hair color out there that will suit your tastes.
Who Should Try Bronde Hair?
All women are welcome to try this versatile hair color that allows the combination of different color tones and can be adapted by to various skin types – from light to dark, straight to curly and no matter what your hair length is.
You should pick a color shade that matches your skin and natural hair color. Professional hairstylists say that dark brown-haired women look good with honey tones as it gives a more natural look. For women with light brown hair, dark blonde is the best option as it gives a more natural look to them.
Bronde hair color technique is intended for brunettes, that the fact. That never means blond women can't go for it. Bronde can reduce the contrast between hair color and skin tone if it is tanned and darker than the hair. Whatever, it depends on what individuals are trying to achieve and what they are doing!
How to Do Bronde Hair?
Here is a step by step video tutorial that'll help you understand the overall procedure.
Trendy Bronde Hair Ideas
To help you out of the confusion, we handpicked 50 bronde hair color ideas. When you take a look at what other women have done with the mix of two, three, or even four colors, you'll definitely be inspired for a change.
An image change is always wonderful. Bronde hair color change is absolutely superb. Such a color combination suits all face types and shades. Give it a try!
1. Ash Bronde Bob Hairstyle
Ash bronde hair surprises with warm tones that make your mane get more dimension. If styled with waves, the bob will highlight your strands, making your hairstyle reek sophistication.
2. Bronde Balayage
A bronde balayage will look ravishing on straight hair because it will provide a gradual beautiful transformation. You don't need to pick a side anymore; now you can be a blonde and a brunette at the same time.
3. Bronde Bob for Thick Hair
A thick bronde bob is an excellent option for women with fair skin and green eyes. Create a blunt cut to obtain that most-wanted thickness and wear the bangs on one side.
4. Long Bronde Curls
You love both blonde and brown shades, and you don't know which one to pick for your new look? You don't need to! Pull off a long bronde hair that makes a gorgeous blend between the two hues, and you will obtain a mindblowing glow.
5. Bronde Hair for Fair Skin
A bronde hair color will mesmerizingly flatter women with fair skin. The shade plays an essential role in your transformation, so if you have long hair, it will gorgeously complete your look.
6. Long Bronde Straight Hair
Bronde straight hair looks so flawless! Layers the tips to create a V-shape and wear your long mane on your back. Make sure you use a heat protection spray before you grab your straightening iron.
7. Half Up Half Down Bronde Hairstyle
If you love natural, simple looks, you'll totally nail it with this hairdo. Let the bronde deal with the texture while you split your mane into two sections. Pin the upper part with a hair clip, and you are ready to go.
8. Brond Highlights on Dark Hair
Create a dark base for your inverted bob hairstyle and apply wide blonde highlights. If you also style a couple of loose waves for the longer bangs, you will instantly become the girl everyone sees first.
9. Bronde Wavy Hairstyle
Go for a bronde and lighten the whole hairstyle with wide gorgeous blonde highlights. Split the bangs in two, roll each section and meet the twists in the back where you will secure them with a few bobby pins.
10. Silver Bronde Hairstyle
To recreate this look, you will have to style a diffused and soft shade. You can get that by using a paintbrush instead of a regular tool. You will have dimension, texture, and those waves will provide a lot of volume.
11. Bronde Ombre
Bronde ombres are phenomenal because they can make your hair look so natural, and they create that glowing sun-kissed effect. If you want to build waves, roll your hair and pin it in a bun.
12. Bronde Highlights and Lowlights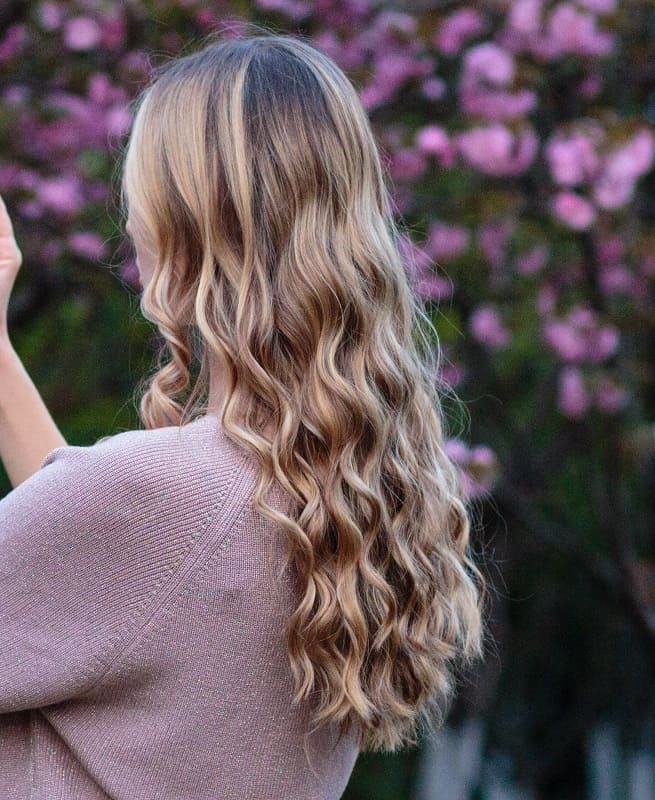 Brunette hair looks fantastic, but if you create lowlights and highlights, you're definitely taking your hairstyling game to a whole new level, girl! The mix will look astonishing, and if you use a triple waver, you'll become a real hair queen!
13. Bronde Braid
For this hairstyle, the texture is as important as the color, and you can gain it by mixing more shades. A caramel blonde and a brown hue will perfectly fit. That loose braid makes the two nuances mesmerizingly blend. Now imagine how good it will look on you!
14. Bronde Layered Hair
A bronde sombre is exactly what you've been searching for if you adore natural looks. Create layers and part your bangs in the middle if you want a mindblowing look that suits all skin colors.
15. Natural Bronde Hair
An ashy silver bronde will marvelously suit ladies with fair skin. Keep the roots darker and maintain the eyebrows in the same color. A pair of rounded sunglasses will make you look so cool and chic.
16. Bronde Textured Bob Hairstyle
Your bright blue eyes will shine like never before if you go for a bronde hair. A bob will make the look even more ravishing because it will frame your face, and the waves will provide texture and dimension.
17. Messy Bronde Hairdo
This is a shade for girls who adore variety and low maintenance hairstyles. Maintain the roots in their natural shade and gradually lighten the hair until your ends are bronde. Style waves and give it a tousle to pull off a messy gorgeous look.
18. Curly Bronde Hair
When you style a bronde hair color, remember that it will look jaw-dropping with waves and curls. If you don't want to damage your hair daily with the iron, try braiding and rolling your strands into buns overnight.
19. Bronde Highlights and Waves
Glowing sprays can make miracles for your bronde balayage. Opt for a blunt cut and crate thin blonde highlights to obtain that mesmerizing warmth. Wave the mane for a glamorous, elegant touch.
20. Dark Bronde for Long Hair
A dark bronde sombre looks natural and cool, and you can use it to draw all the attention on your mind-blowing blue eyes. Wave only the tips, where the hue lightens up if you want more dimension.
21. Light brown and honey blonde
Light brown and honey blond combination is always a magnificent choice. In fact, this is a great way to create the most natural hair color. These two shades work great together to lighten up your image.
22. Dark brown and sandy blonde
This approach creates something similar to an ombre. You can keep the sandy blonde highlights sparse on the top and make the bottom completely sandy blonde. The result will be truly stunning.
23. Auburn brown and golden blonde
This bronde hair color will make you look like a stunning redhead. The more golden blonde you add, the lighter the overall image will be. If you want to make the shade closer to red, leave more auburn.
24. Unexpected hues
If you want to make a statement with your blonde hairstyle, why not go for some crazy shades? A strand or two dyed some outrageous color such as green or blue will give your hair an fiery oomph.
25. Reddish ombre
The ombre approach is the most appealing when it comes to bronding. You can keep the top part of your head any color you want and the lower part should be highlighted. This bold hairstyle with reddish top and a bronde bottom is great!
26. Platinum blonde and gray highlights
Gray hair color is conquering the world and it made its way into bronding. Platinum bleached blonde locks mixed with gray highlights is an interesting approach to the new fashion.
27. Platinum blonde and auburn brown
Balayage is a wonderful hair coloring technique that can make bronding even more impressive. If your hair is auburn brown, you can choose from any blonde hair color. Whatever you do, you'll look fantastic.
28. Three-color mix

Bronde hair color doesn't necessarily mean that it's a mix of two shades. You can use as many hues as you like. If your natural locks are dark brown, consider adding some honey and platinum blonde.
29. Subtle bronding

If your stylist is a real professional, he or she can use the subtle bronding technique which will result in absolutely natural hair color. In order for the bronding to look natural, use shades that are close on the color chart.
30. Reddish blonde and medium brown

If your hair is medium brown, light blonde colors won't look as natural as reddish blonde hues. Create a beautiful auburn shade by adding reddish blonde to medium brown. You'll love the result!
31. Dark brown and glazed strawberry blonde

If you like yellowish blonde hues, this bronde hair color is for you. Glazed strawberry blonde coupled with dark brown creates a more or less naturally looking hair shade that you can enjoy.
32. Sandy blonde shades

Sandy blonde shades are often the favorite among the blondes. However, they can be hard to achieve and the dark roots might ruin the picture. Mix sandy blonde with dark brown highlights and the results will be stunning.
33.Platinum blonde

If you love the way you look as a platinum blonde but don't want to get your hair dyed every month, consider bronding. It might take some brightness out of your hair color but the hassle will go with it.
34. Ginger blonde and light brown

Ginger blonde is a wonderful hue for bronding. Just like auburn brown, it looks great with all the other hair colors. Ginger blonde and light brown mix will create a soft yet sparkling color you'll appreciate.
35. Partial bronding

Bronding is usually associated with highlighting. However, partial bronding is a real find. You can highlight your brown bangs blonde and dye the frontal strands while leaving the rest of your hair brown.
36. Unusual bronding

Bronde hair color can look unexpected if you mix light brown with yellowish blonde. The lighter your natural hair is, the brighter the effect will be. Unfortunately, the frequent touch-ups are a must.
37. Subtle highlights

If your own hair is dark blonde, you can add lighter blonde colors without being afraid of roots showing too much. Instead of using too much dye to color all of your locks, consider partial highlights.
38. Ginger brown and honey blonde

Ginger brown and honey blonde look perfect together. If your natural color is ginger brown, you are lucky enough to be able to experiment with all types of bronding. Just go down the blonde shade list and try them all.
39. Auburn and platinum blonde

Even if your natural hair is black, you can take advantage of bronde hair color. Choose your favorite shades and work with them. As long as one of them is rather dark, you'll have a great style.
40. Natural bronding

The initial goal of bronding is to brighten up the hair color. Look at the color chart and find a dye two shades lighter than your natural hair. Such an approach will make your locks look 100% natural.
41. Sightly bronde

If you have black hair, full-blown bronding might look unattractive. Consider using the balayage technique with two different shades, one of which is closer to your natural color and the other is blonde.
42. Ash blonde

Bronde hair color will look terrific if you mix light brown hair with ash blonde. Ash blonde is an attractive shade that will make your hair truly shine. So if you want to look different, go for these hues.
43. Brown, honey, and platinum

3-color bronding is always a great choice for your hairstyle. The mix of three similar colors makes your locks appear bright and attractive. Meanwhile, keep the darkest shades closer to your roots to reduce maintenance.
44. Honey brown and golden blonde

Bronde hair color will really shine if you mix the honey and golden hues. These shades are often hard to keep bright, that's why they look the best if your natural hair is closer to golden. Give it a try!
45. Classic bronding

This is a classical bronding option. The light brown hair is slightly improved by adding blonde highlights. If you want to change your image without making too big of a statement, classic bronde hair color is the way to go.
46. Black and blonde

While bronding looks best when it involves mixing brown and blonde shades, black and blonde can also look good. In order not to make the contrast too obvious, the blonde highlights should prevail.
47. Brown and ginger hues

Ginger blonde is easy to work with and it often creates the best results when mixed with brown. So if your natural locks are any shade of brown, adding ginger blonde is a perfect decision.
48. The lighter the better

The lighter your natural brown color is, the more natural the bronde hair color will look on your locks. Be careful not to overdo the blonde or your own hair will get lost in the background.
49. Low bronding

This smart approach to the bronding technique is not popular but you can take advantage of it. Only the upper layers of your hair are dyed blonde so the brown locks only peak through when you toss your tresses.
Brilliant Brown Hair Color Ideas with Caramel Highlights
50. Dark brown and walnut mist blonde

Dark brown locks are hard to brighten up in a unique way. But this hair color can be truly magnificent. Walnut mist blonde mixed with brown creates a special shade that's hard to copy.
Bronde hair color is a wonderful way out for any woman who is looking for subtle or outrageous changing for her hair. We hope these options gave you a good idea of what to demand from your stylist the next time you pay the barber shop a visit.