You'll be surprised at how many ways you can go about creating chestnut brown hair color. While it might seem nondescript at first, this color actually has many different guises. Blonde might be the most popular hair color, but actually, it's brown that should be crowned the king of hair shades.
If you are still at a loss about how a chestnut brown color can diversify your image, we would recommend taking a close look at the collection of Chesnut brown photos to get fresh inspiration. So if you are contemplating the chestnut brown, shade, these options will make you feel that you've made the right choice.
What Does Chestnut Brown Hair Look Like?
Chestnut brown hair is a new raging fashion and women around the globe are going for different shades of this color. Before going into detail of what kind of styles and fashion updates are in trend, let's first see what color chestnut brown hair is.
Chestnut brown color is basically the lovely color of the nut of the chestnut tree. It is a brownish-red color with a rich chocolate appearance. It is a lovely color for your hair as it looks natural, elegant and impressive with its rich shade and texture.
Which Shade of Chestnut Brown Color Will Suit You?
Chestnut brown color has a lot of shades all of which are attractive and beautiful. However, not all of them are for every skin tone. This means that you have to keep some things into consideration when you want to go for a chestnut brown hair.
To determine a shade of chestnut brown color for you, you have to identify the kind of undertones that your skin has. First, flip your wrist and observe the color of the veins in your wrist. If the veins appear green then you are most likely to have warm undertones whereas if they seem blue then your undertones are most likely cool. However, if you think that the veins are of a mixture of green and blue color then your undertones must be neutral.
You can determine your undertones by the color of your eyes too. If your eyes are green or blue then your undertones are cool while the presence of golden specks in them means that you have warm undertones. Once you have determined the kind of undertones that you have, you can proceed to find the shade of chestnut brown hair color which will suit the most.
Now comes the cool part. Just remember that for warm undertones you have to choose cool shades of chestnut brown hair color while for cool undertones the warmer shades of chestnut brown are perfect. Neutral undertones go equally well with both the warm and cool shades so you can go for any shade that you like.
How to Get Chestnut Brown Hair?
Chestnut brown is a natural color for which you do not need to de-color or bleach your hair prior to dying. All you need to do is to follow these instructions to get your dream chestnut brown hair:
Consider the type, color, and condition of your hair critically as these will affect the dye that you want on your hair.
Make sure that your hair is clean and it does not stay dirty for too long before dying it.
Put a skin-protecting product on the front of your scalp so that the color does not appear on the skin too. You can use a lip balm for this purpose too as it will be available and is easy to remove too.
Do a patch test on either a small portion of your hair or trim off some hair and apply color to it. If the color is what you really want then feel free to go all in.
Make sure that your face and hands remain free of the hair color to avoid coloring them unintentionally.
Use a hair color brush to dye your hair and always begin from the top.
Choose a nice chestnut brown hair color which is of a trusted and reliable brand.
Keep an extra package of the hair color to make sure that you do not run out of the dye while applying it. If any of this is leftover then you can use it to touch-up your roots later on.
Shampoo and condition your hair after dying it, so that your chestnut brown hair appears more lush and fresh.
Maintenance
Getting the perfect chestnut brown hair color is the easy part, the hard part begins when you have to maintain it. To retain the lovely color and texture of your chestnut brown hair you should follow these easy tips.
Use specific products for dyed hair
You should stop using the regular shampoo and conditioner that you have been using in past. Replace them with products formulated for dyed hair to preserve the color and natural softness of your hair.
Turn down the dial while you are showering
Hot water robs your hair of its natural moisture hence leaves it looking dull and dry. Turning down your dial can help you retain the natural shine and softness of your hair. So, it's better to use lukewarm water instead.
Use a heat protectant on your hair
Want to style your chestnut brown hair in lovely curls or smooth straight bangs? Go for it, but make sure that you use a heat protectant on your hair before blow drying, curling or straightening it. This way the color will stay for a longer time and your hair will stay safe from any damage caused by the heat.
Rock the natural texture of your hair
It is good to curl your hair, but you should do it on special occasions only. For regular days just flaunt your natural hair texture as it will get damaged on constant exposure to heating and curlers.
The Best Chestnut Brown Hair Ideas
Whether you've got chestnut brown hair color naturally or are planning to get it, these options will give you some ideas of how to go about further dyeing.
The main advantage of this color is that it can suit absolutely any skin tone. There are plenty of hue variations that are created to be absolutely multi-purpose. There is no need to worry that this color will look dull or unattractive. Just the opposite. Once the dyeing is over, you'll be pleasantly surprised at the result.
Here are 60 light and dark chestnut brown hair colors you can try.
1. Medium Chestnut Brown Hair
For a hairstyle just a little longer than shoulders, color it chestnut brown and add blunt piecey bangs that stop above eyebrows.
2. Long Curly Brown Hair
A basic brown is a good choice for long curly hair. Light brown highlights add light, especially if you concentrate the color around the face.
3. Dark Brown High Bun
In dark brown with soft light chestnut brown highlights, a high bun is gorgeous. Leave out a few wisps of hair to keep the look soft and delicate.
4. Light Chestnut Brown Hair
Braid your light chestnut brown hair into a low side ponytail for a formal hairstyle. Start two braids at the center part of your head to make hair look thicker.
5. Dark Chestnut Brown Ponytail and Bangs
For dark chestnut brown like Dakota Johnson's, gather hair into a loose medium or high ponytail. Keep bangs straight and slightly wispy at the sides.
6. Chestnut Brown Braid Crown
A crown braid in chestnut brown hair color is just the hairstyle for a formal occasion, like a wedding or date. Use shiny pins or flowered barrettes to secure it to the top.
7. Inverted Chestnut Brown Bob
Short layers up top and long pieces of hair up front around the face are just the style to make chestnut brown hair look gorgeous.
8. Dark Chestnut Brown Half Updo
Long straight dark brown hair always looks classy in a half updo. Pull just the two front side sections back and secure or all of the top half for great style when topped with a patterned scrunchie.
9. Rounded Braided Bun in Brown
The only thing that makes a rounded chunky brown bun more pretty is when you gloss the ends with a dark purple.
10. Medium Brown Chignon
Another great hairstyle for fancy occasions? Medium chestnut brown hair in a chignon. Nix frizz for the perfect sleek hairdo.
11. Soft hues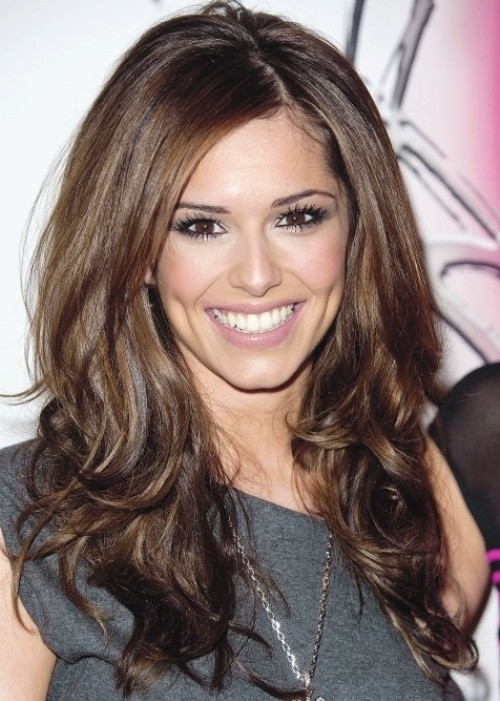 Chestnut brown hues can go from striking to soft. If you are not ready for a too bright of an image, you can go for soft hues. You can make them even more appealing by adding highlights.
Light Brown Highlights On Dark Brown Hair
12. Closer to auburn
Chestnut brown hair color looks great when mixed with auburn brown shades. If you want to get a redhead image, you will need to lean toward auburn more but keep some chestnut shade as well.
13. Uniform covering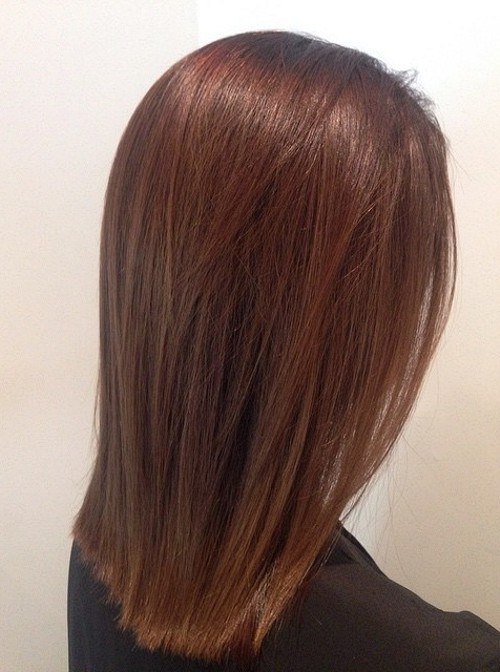 Chestnut is a shade of brown that looks good without anything extra. So you can leave the idea of an ombre or highlights behind and enjoy the richness of the full uniform color.
14. Waves and highlights
If you are into a-line bobs, you will love the way chestnut highlights look on your hair. Chestnut and auburn shades are amazing together. If your hair is wavy, you can enjoy them even more.
15. Double shading
Subtle highlights are not easy to achieve, especially when it comes to brown hues. If you want to lighten up your chestnut brown hair color, you will need to go for golden brown highlights.
16. Rich and creamy
If mixed with golden brown and honey blonde, chestnut brown creates a rich and creamy color that reminds you of milk chocolate. Do the color mixing right and you will love the results.
17. Carrot top
Mixed with auburn brown, the chestnut hair color can give a slightly red shade. If you are planning to become a redhead, you might want to ask your hairstylist for this subtle approach.
18. Amazing ombre
Brown shades look great when they are part of an ombre. There are so many hues you can play around with. Start with the darkest brown and go down to auburn, honey and chestnut.
19. Partial highlights
If you want to brighten up your auburn or cherry brown locks, light chestnut brown hair color can do the trick. Try the partial highlights first. If it's not enough, go further to highlight all your locks.
20. Chestnut mix
Chestnut brown looks especially alluring when mixed with different shades of blonde. Don't be afraid to experiment with blonde highlights on your chestnut brown hair. You'll love the way it looks!
21. Ombre highlights
Highlighting just the lower part of your ombre will make your hair look fantastic. So if you are looking for a good color to brighten up your chestnut brown, go for golden brown or blonde.
22. Dark chestnut brown
Dark chestnut brown hair color might not suit everyone. It's closer to black but has a silvery hue to it. If you think that such a color is too dull for you, go for auburn highlights.
23. The brown mix
If you are a fan of color experiments, you'll appreciate this amazing mix of all brown shades. Take a dark shade like cherry as a base and go further to add brown and chestnut highlights.
24. One of the few
Chestnut brown is a good color for any occasion. You can use it to brighten up dark hair or to subdue very light colors. It looks great as highlights and makes an impression as a sole shade.
25. The natural look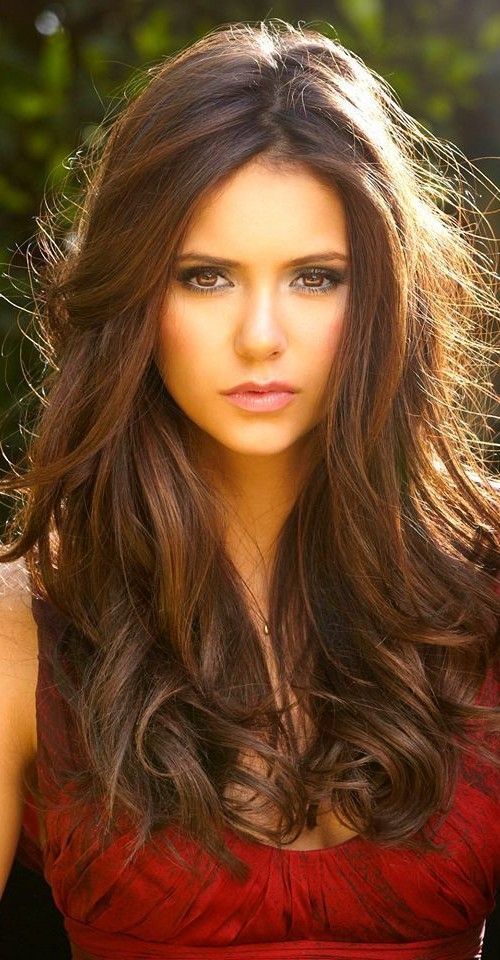 If chestnut brown is your natural hair color and you are looking for a change, you can emphasize the brightness by adding some light highlights. Go for honey or golden brown or dark blonde.
26. The helper
Throwing some chestnut brown hair color in the mix when you are making highlights will allow you to forget about maintenance for a while. Let your dark roots grow, they will blend in.
27. Ashy chestnut
The mix of ash and chestnut brown can be truly fabulous. Just remember that it won't look that good on all hair. If your locks are naturally dark, such results will be pretty hard to reach.
28. Sun-kissed and beautiful
If you have chestnut brown locks, make them look as if the sun did some work on them by brightening the color with the use of some well-chosen highlights. Ask your stylist for advice.
29. Don't stop
Don't stop at just one or two colors. Mixing and matching brown and blond shades will help you create a unique hair color. When you are ready to do highlights, make sure you choose at least 3 hues.
30. Short ombre
Chestnut brown looks great as part of an ombre especially when it's used only on the very top. Allow the rest of your locks to be much brighter by turning to auburn or light brown.
31. Messy compact rings of hair
This is a fun and youthful style where you have your hair curled naturally into small compact rings. To color such hair, go for a softer shade of chestnut brown as it suits the texture more and brings out the natural details more precisely.
32. Straight rich chestnut brown hair
If your hair is naturally straight and you want to have it dyed chestnut brown then go for a darker and richer shade. This is one of the hairstyles that looks great with chocolate hair as it has a lovely feel to it.
33. Long caramel ombre
You can nail this lovely ombre shade with extra-long hair. Usually chestnut brown isn't for such long hair, but this soft tone looks lovelier on it.
34. Chestnut brown with highlights
You can have highlights of different shades of chestnut brown hair color on a brown base. This way you can go for more than one shade that you love and look pretty while doing so.
35. Twin lowlights
You can keep your natural hair as the base and go for twin colored chestnut brown lowlights to stun everyone with your beautiful hair.
36. Loose waves
You can have your natural loose wavy hair parted to one side and styled into an effortless and natural hairstyle such as this one.
37. Short bob with bangs
You can rock this lovely shade of brown color with a short bob and slick bangs. This is a cool and bold style for confident ladies.
38. Medium bangs
This hairstyle keeps things simple and nice with the dyed hair cut to a medium length. The front is cropped short to bring about an air of innocence.
39. Ombre lowlights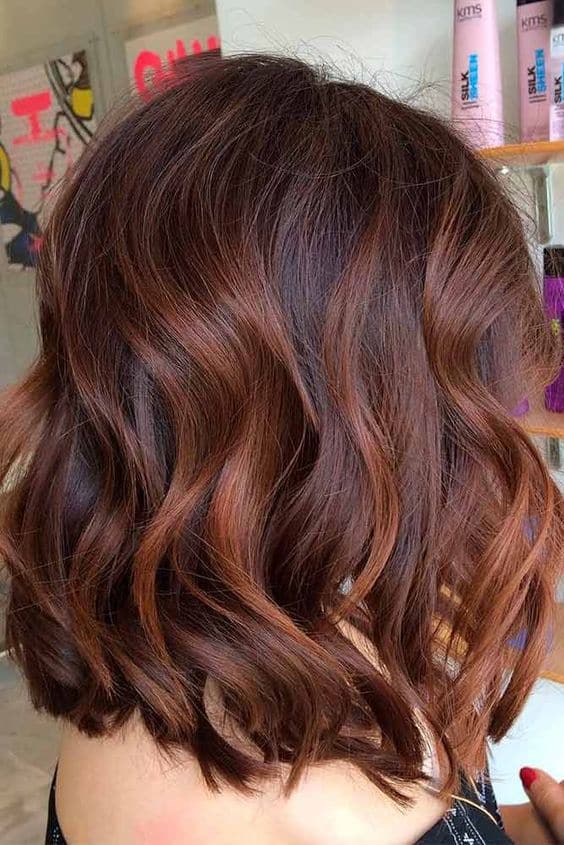 Chestnut brown hair with ombre lowlights are great not only because they look exquisite, but also because they remind of rich creamy chocolate.
40. Long wavy hair
You can have your chestnut brown hair parted from the middle gently falling down your shoulders to give a young and carefree look.
41. Neat twists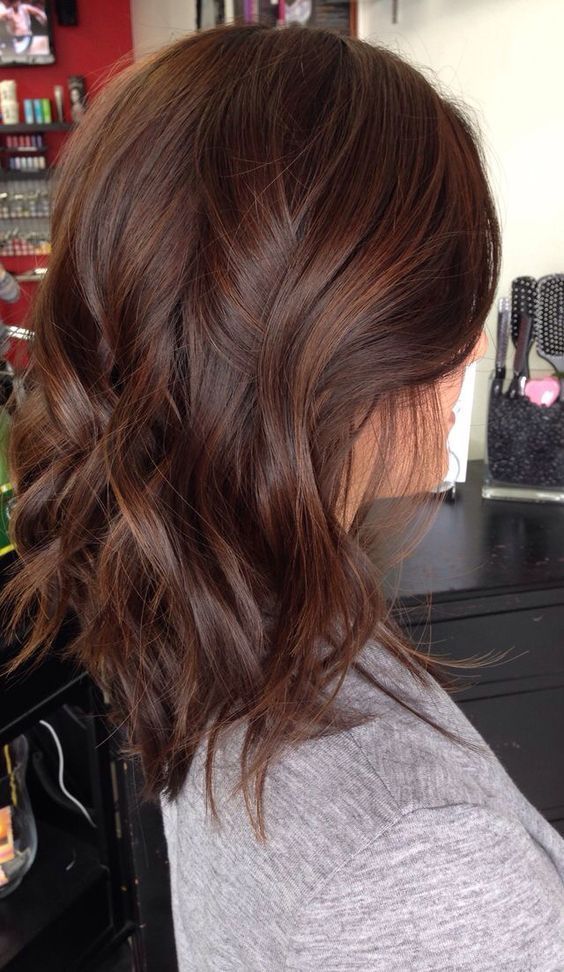 You can have your chestnut brown hair cut short and gently twisting around itself like this to look fashionable and trendy.
42. Lovely lower curls
Who said that the softer tones of chestnut brown are meant to be straight or all curly? It can be a mixture of both with loose curls at the ends of straight hair.
43. Brown lowlights on black
These beach waves with chestnut brown color lowlights on basic black hair are a nice and stylish way of impressing others.
44. Soft brown ombre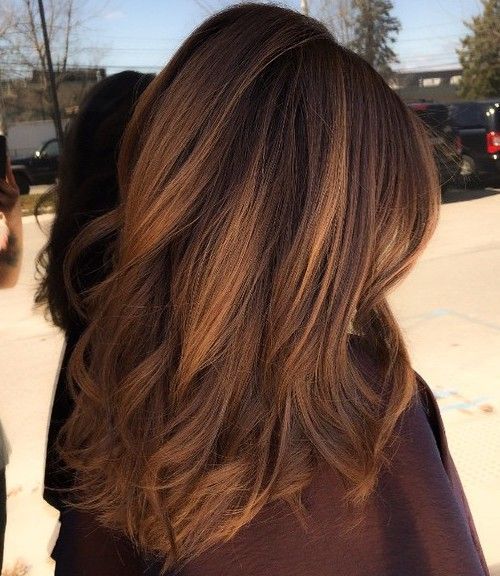 Ombre has a natural tendency to make your hair look soft and silky. This soft brown hairstyle is a perfect example of this.
45. Short at the front, long at back hair
You can have this unique way of rocking both a short and long hairstyle with the front cut in short bangs and the back with long chestnut brown hair.
46. Chestnut brown base with golden lowlights
Chestnut brown is a nice option for base color, especially when it comes to golden lowlights as both of these merges so well.
47. Dark and loose waves
This is a great way of rocking your hair if you have a dark chestnut brown hair color. This way you can look more stylish in your natural hair zone.
48. Dark base with lowlights
This is a lovely hairstyle with different shades of chestnut brown. The base is of a rich dark brown while the lowlights are of a lighter and more prominent color which makes it more attractive and stylish.
49. Lovely chestnut brown ombre
This style makes you look younger and prettier as the chestnut brown ombre stands out more in the loose waves of short hair swept to a side. The hair grows longer at the front and is cropped short at the back to attain a modern vibe.
50. Natural curly hair
This is an unconventional style when it comes to chestnut brown hair, but the end result is so attractive and appealing that we can't really complain. You can have a go at it too if you feel like trying a new and unique combination.
51. Golden caramel highlights
The dark brown chestnut hair base is all you need to experiment with different shades highlighting it. You can have any other shade of brown to complement it too, but a caramel highlighting with golden touches can be really nice and attractive, so you should consider trying it too.
52. Long bangs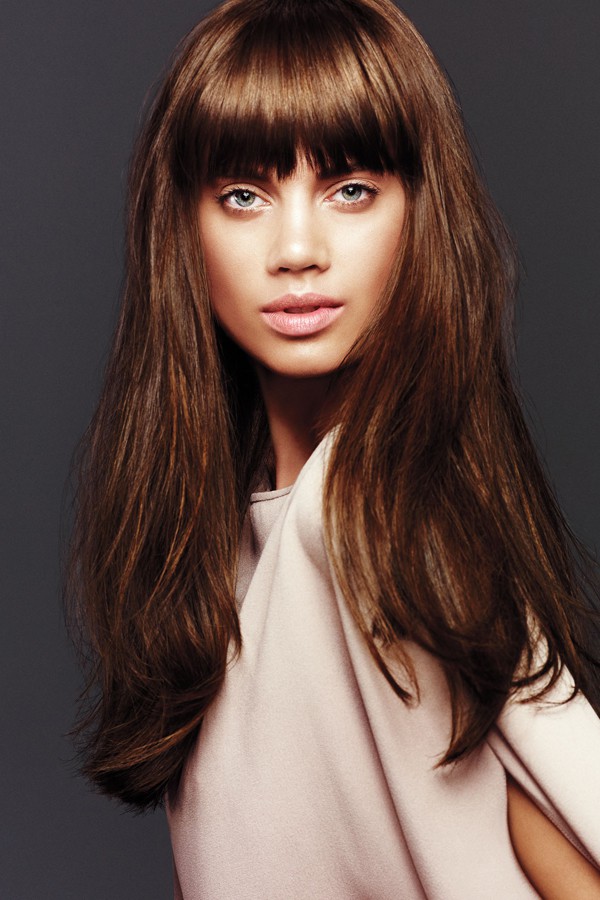 Long brown bangs look as lovely and adorable as the short ones, if not more. You can have the front cut short to give it a carefree and naïve feel while growing the sides long. This is a great style for teenage girls and young women as they look more youthful and innocent with this one.
53. Brown and golden ombre
This is one of the prettiest combinations of brown and golden as both the colors have an individual identity as well as a nice combined form in it. You can opt it especially if you have medium length or slightly long hair as they get to have a greater area to display this impressive style. You should try this one if you want to go for an entirely new look this season and surprise your friends.
54. Differently shaded lowlights
Why have a single shade of lowlights when you can have multiple shades of chestnut brown to dye your ringed curls? You can take inspiration from this fun and natural way of lowlighting your hair in different shades of chestnut brown color, with each shade lowlighting a horizontal section of your hair.
55. Chestnut brown balayage bangs
Going for a stylish balayage is a nice way to embrace chestnut brown color for your hair as it subtly makes many transitions and highlights of different shades of brown. The side swept sleek and modern bang is the cherry on the top for this exquisite and impressive style. Just do not forget to put some edgy layers to it and see how well you pull off your short chestnut brown hair.
56. Sleek layered balayage bob
This is the style for bold and beautiful ladies who know that they can kill any style. Different dark shades of chestnut brown are used to create a balayage of highlights which mixes so perfectly that the overall look is one compact mixture of all the lovely browns in there. The sleek layered bob makes it hotter and more appealing, so you must consider this as your next fashion statement.
57. Soft caramel chocolate waves
These natural loose waves are made for soft chestnut brown hair color which strongly reminds of a cascading chocolate and caramel fountain. The lush waves are parted from middle and given a light blow-dry to attain this stylish and pretty look. No matter your age or the kind of place you work at, you can wear this hairstyle every day and make sure that you outshine your fellow workers when it comes to being fashionable and trendy.
58. Sweet honey waves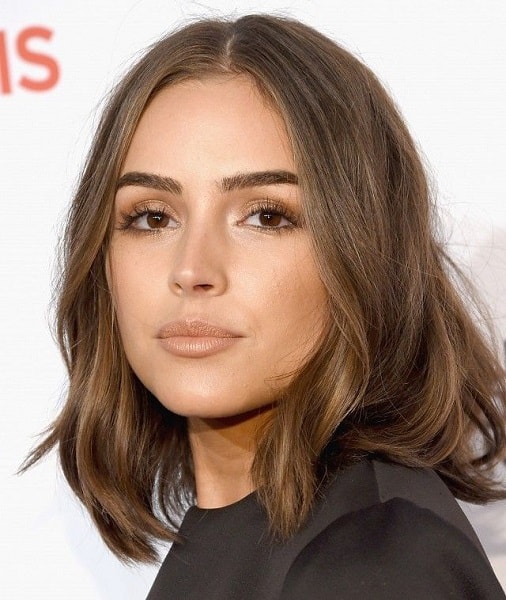 This is a look especially for young adult women who love a soft and lovely look. The hair is given a honey hue to enhance the youthful charisma of the wearer in a way that no other color can. This is going to be one of the hottest trends soon, so go ahead and try it before others do!
59. Dark chestnut brown hair with lowlights
This is a natural and lively combination as both the base and the lowlights merge and complement each other so well that there is no need of any further styling. Just a little brushing and you are good to go out and meet the challenges hands-on.
60. Soft highlights with a natural base
No matter if you are a brunette or have black hair, you can keep it as a base and have the high lights of different soft and rich shades of chestnut brown and golden. This is a nice way of going all in when it comes to dying your hair all shades of brown.
Now you are absolutely sure that chestnut brown hair color can be played around with as much as you wish. So we recommend you to take a moment to go over these options one more time and pick the one you like best.