You'll be surprised at how many ways you can go about creating chestnut brown hair color. While it might seem nondescript at first, this color actually has many different guises. Blonde might be the most popular hair color, but actually, it's brown that should be crowned the king of hair shades.
If you are still at a loss about how a chestnut brown color can diversify your image, we would recommend taking a close look at the collection of Chesnut brown photos to get fresh inspiration. So if you are contemplating the chestnut brown, shade, these options will make you feel that you've made the right choice.
What Color Is Chestnut Brown Hair?
Chestnut brown hair is a new raging fashion and women around the globe are going for different shades of this color. Before going into detail of what kind of styles and fashion updates are in trend, let's first see what color chestnut brown hair is. Chestnut brown color is basically the lovely color of the nut of the chestnut tree. It is a brownish red color with a rich chocolate appearance. It is a lovely color for your hair as it looks natural, elegant and impressive with its rich shade and texture.
Which Shade of Chestnut Brown Color Will Suit You?
Chestnut brown color has a lot of shades all of which are attractive and beautiful. However, not all of them are for every skin tone. This means that you have to keep some things into consideration when you want to go for a chestnut brown hair.
To determine a shade of chestnut brown color for you, you have to identify the kind of undertones that your skin has. First, flip your wrist and observe the color of the veins in your wrist. If the veins appear green then you are most likely to have warm undertones whereas if they seem blue then your undertones are most likely cool. However, if you think that the veins are of a mixture of green and blue color then your undertones must be neutral.
You can determine your undertones by the color of your eyes too. If your eyes are green or blue then your undertones are cool while the presence of golden specks in them means that you have warm undertones. Once you have determined the kind of undertones that you have, you can proceed to find the shade of chestnut brown hair color which will suit the most.
Now comes the cool part. Just remember that for warm undertones you have to choose cool shades of chestnut brown hair color while for cool undertones the warmer shades of chestnut brown are perfect. Neutral undertones go equally well with both the warm and cool shades so you can go for any shade that you like.
How to Get Chestnut Brown Hair?
Chestnut brown is a natural color for which you do not need to de-color or bleach your hair prior to dying it. All you need to do is to follow these instructions to get your dream chestnut brown hair:
Consider the type, color, and condition of your hair critically as these will affect the dye that you want on your hair.
Make sure that your hair is clean and it does not stay dirty for too long before dying it.
Put a skin protecting product on the front of your scalp so that the color does not appear on skin too. You can use a lip balm for this purpose too as it will be available and is easy to remove too.
Do a patch test on either a small portion of your hair or trim off some hair and apply color to it. If the color is what you really want then feel free to go all in.
Make sure that your face and hands remain free of the hair color to avoid coloring them unintentionally.
Use a hair color brush to dye your hair and always begin from the top.
Choose a nice chestnut brown hair color which is of a trusted and reliable brand.
Keep an extra package of the hair color to make sure that you do not run out of the dye while applying it. If any of this is left over then you can use it to touch up on your roots later on.
Shampoo and condition your hair after dying it, so that your chestnut brown hair appear more lush and fresh.
How to Maintain The Chestnut Brown Hair Color
Getting the perfect chestnut brown hair color is the easy part, the hard part begins when you have to maintain it. To retain the lovely color and texture of your chestnut brown hair you should follow these easy tips.
Use specific products for dyed hair
You should stop using the regular shampoo and conditioner that you have been using in past. Replace them with products formulated for dyed hair to preserve the color and natural softness of your hair.
Turn down the dial while you are showering
Hot water robs your hair of its natural moisture hence leaves it looking dull and dry. Turning down your dial can help you retain the natural shine and softness of your hair. So, it's better to use lukewarm water instead.
Use a heat protectant on your hair
Want to style your chestnut brown hair in lovely curls or smooth straight bangs? Go for it, but make sure that you use a heat protectant on your hair before blow drying, curling or straightening it. This way the color will stay for a longer time and your hair will stay safe from any damage caused by the heat.
Rock the natural texture of your hair
It is good to curl your hair, but you should do it on special occasions only. For regular days just flaunt your natural hair texture as it will get damaged on constant exposure to heating and curlers.
Chestnut Brown Hair Colors to Try
Whether you've got chestnut brown hair color naturally or are planning to get it, these options will give you some ideas of how to go about further dyeing. The main advantage of this color is that it can suit absolutely any skin tone. There are plenty of hue variations that are created to be absolutely multi-purpose. There is no need to worry that this color will look dull or unattractive. Just the opposite. Once the dyeing it over, you'll be pleasantly surprised at the result. Here are 50 light and dark chestnut brown hair colors you can try.
1. Soft hues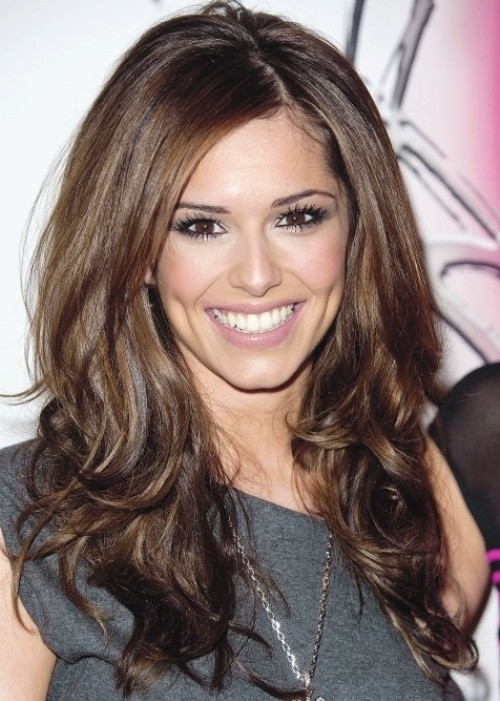 Chestnut brown hues can go from striking to soft. If you are not ready for a too bright of an image, you can go for soft hues. You can make them even more appealing by adding highlights.
Light Brown Highlights on Dark Brown Hair
2. Closer to auburn
Chestnut brown hair color looks great when mixed with auburn brown shades. If you want to get a redhead image, you will need to lean toward auburn more but keep some chestnut shade as well.
3. Uniform covering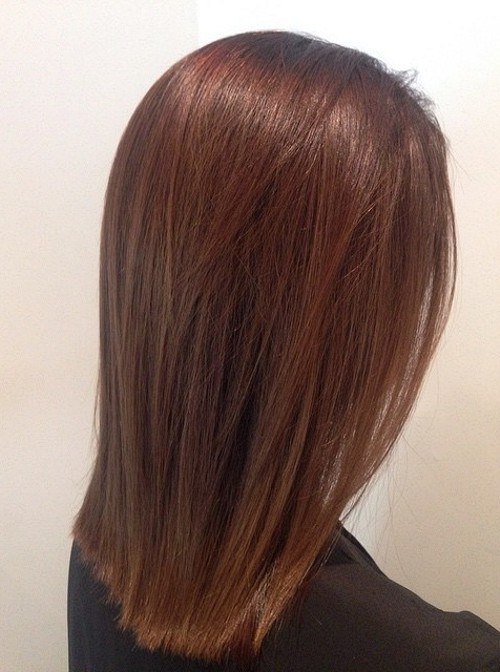 Chestnut is a shade of brown that looks good without anything extra. So you can leave the idea of an ombre or highlights behind and enjoy the richness of the full uniform color.
4. Waves and highlights
If you are into a-line bobs, you will love the way chestnut highlights look on your hair. Chestnut and auburn shades are amazing together. If your hair is wavy, you can enjoy them even more.
5. Double shading
Subtle highlights are not easy to achieve, especially when it comes to brown hues. If you want to lighten up your chestnut brown hair color, you will need to go for golden brown highlights.