Chocolate brown hair may look smooth and luscious, but it can get too strict and serious when worn on its own. Luckily, this is one issue that caramel highlights can fix!
Only a few shades lighter, caramel highlights bring subtle softness and brightness and create the natural dimensional look chocolate brown hair needs. On top of that, it's less aggressive than lighter blonde highlights, so it's healthier and less damaging.
And as the perfect in-between shade, you can use it for all types of highlights, from moneypiece to balayage and many more.
If you're overwhelmed with the endless possibilities, don't worry. We've rounded up some of the best ways to wear chocolate brown hair with caramel highlights below.
Chocolate Brown Hair with Caramel Highlights
With these ideas for chocolate brown hair with caramel highlights, you can say goodbye to your plain brown hair and hello to a more stylish one.
1. Light Chocolate Brown Hair + Caramel Balayage
Adding caramel balayage to your chocolate brown hair can draw attention downwards, making your hair look longer. With this simple technique, you can not just make your hair look more interesting but also create the illusion of a slimmer face, which is perfect for women with round faces.
2. Curly Hair + Caramel Sombre
Sombre stands for subtle ombre and is the perfect option for you if you're just looking to add a subtle color to your look. To achieve this look, ask your stylist to dye only the tips of your hair. You may also want to dye the front part for a beautiful face-framing effect.
3. Dark Chocolate Brown Pixie + Caramel Tips
Give your edgy pixie cut a fun and playful twist by dyeing the tips a beautiful shade of caramel. If possible, go for both a light and dark shade of caramel to give your brown hair more dimension and texture.
4. Medium Wavy Hair + Subtle Caramel Highlights
Here's another amazing way to subtly incorporate caramel highlights into your look. Instead of going for a subtle ombre wherein the tips are only at the ends, go for subtle highlights which involve coloring the entire hair strand from the top to the roots.
To achieve this, ask your stylist to add only a few thinly highlighted strands.
5. Brown High Bun+ Caramel Balayage
There's no better way to show off your beautiful chocolate brown hair with caramel highlights than pulling it off in a bun. This is a great way to show the stark contrast between chocolate brown's richness and caramel's warmth.
6. Wavy Hair + Caramel Moneypiece Highlights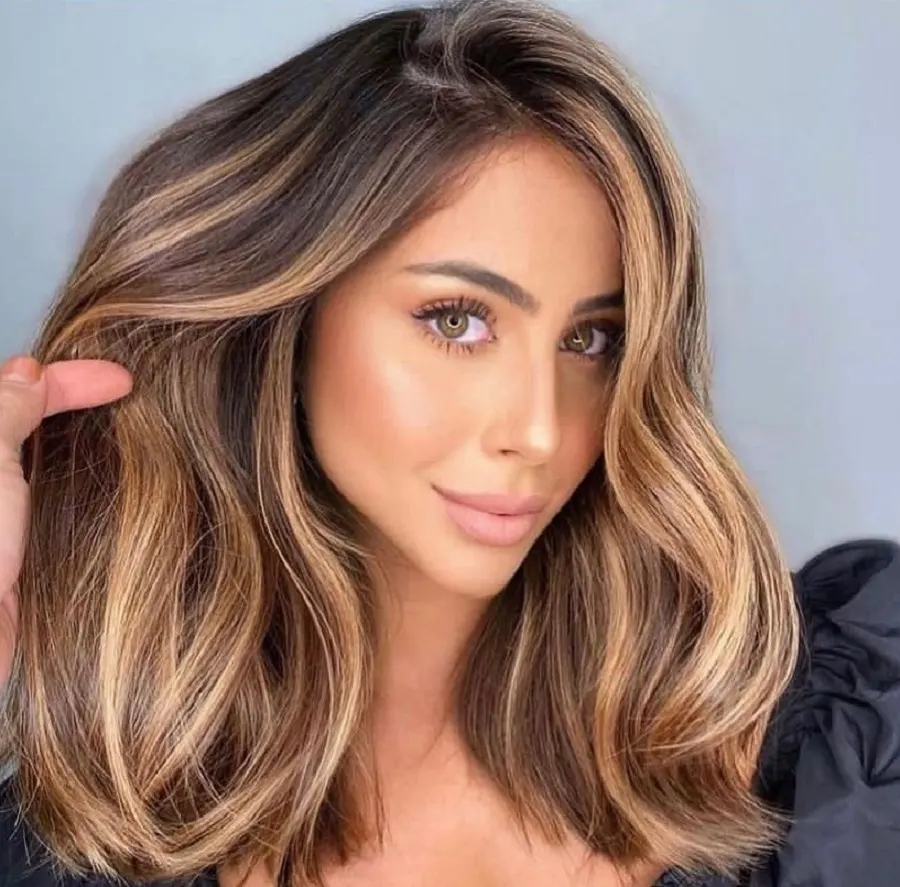 If you want to add face-framing features to your look, money piece highlight is the way to go. The brightly colored strands at the front of your hair are designed to not just frame your face but brighten your complexion as well.
For best results, incorporate blonde and dark caramel shades to boost the dimension of your hair.
7. A-Line Bob + Chunky Highlights
When it comes to making thin hair look more voluminous, chunky highlights are your best bet. These highlights are about 1 inch wide and deliver a high-contrast and bold look. Pair these volumizing highlights with an A-line bob to get the maximum illusion of thickness.
8. Face-framing Layers + Bronze Caramel Strands
Maintain your chocolate brown hair's warmth by going for caramel highlights with a reddish tint. Instead of going for a blonde hue, choose a bronze caramel shade that will perfectly complement your olive and neutral skin tone.
9. Wavy Long Bob + Reddish Caramel Blonde Highlights
If you can't choose between blonde or bronze, then a reddish caramel blonde hue is the perfect option for you. To emphasize the waves on your hair in a subtle way, go for a mix of balayage and ombre techniques.
10. Caramel Coffee Balayage
Brighten up your chocolate brown hair with caramel highlights in a subtle dark shade. By incorporating caramel coffee balayage into your look, you get to add a sunkissed glow to your hair without deviating from its original shade.
11. Full Copper Caramel Highlights on Short Wavy Hair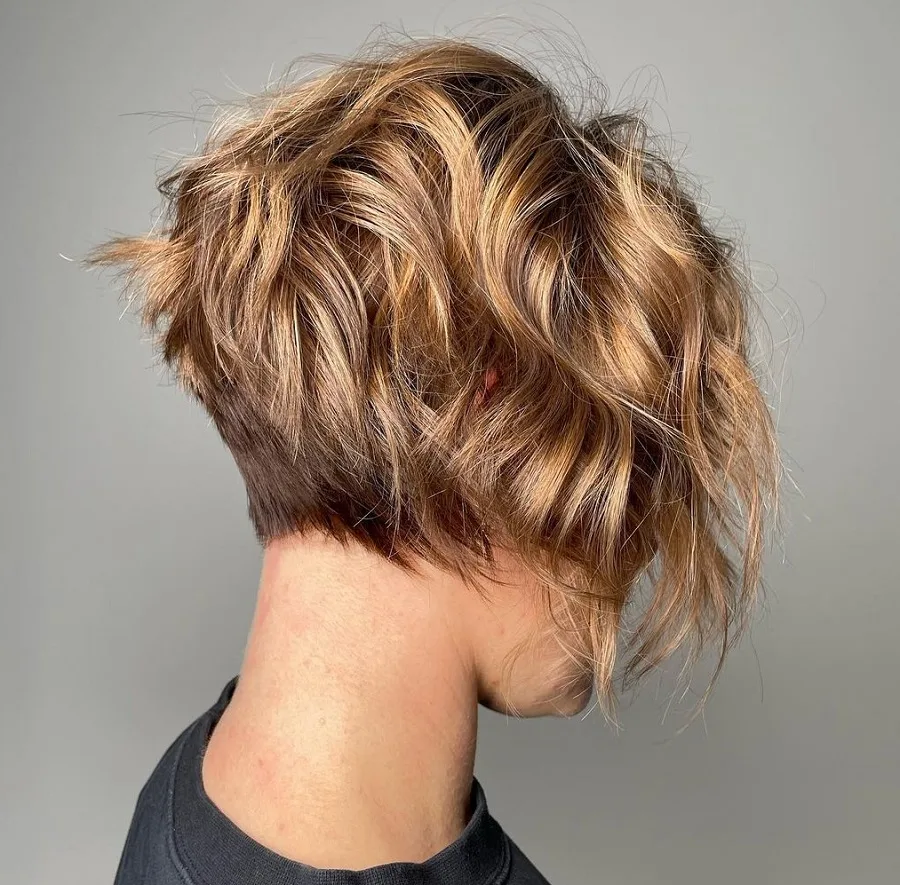 Create a dramatic change on your chocolate brown hair by adding full copper caramel highlights to it. This would involve incorporating lightened strands (from roots to tips) all over your head.
The copper caramel shade has the warmth of red shade with the shine of blonde color, so you get the best of both worlds.
12. Wavy Hair + Warm Caramel Chunky Highlights
Chunky highlights are what you need if you want chocolate brown hair with caramel highlights that are both edgy and dramatic. Aside from making your hair look multidimensional, these can also create the illusion of bigger and bolder waves.
13. Soft Caramel Blonde Moneypiece + Balayage
If you want the brightening effect of blonde highlights but in a more subdued manner, try soft caramel blonde. Since this shade has more brown hues, it will create a more natural look.
The soft caramel shade softens your features and gives your hair a more feminine touch.
14. Bangs + Caramel Auburn Highlights
With caramel auburn highlights, you can harness the warmth of the auburn reddish shade without deviating far from your brown hair. Since they both have reddish hues, this shade would look best on cherry chocolate brown hair.
15. Creamy and Light Caramel Blonde Highlights
The key to multidimensional chocolate brown hair with caramel highlights is to play with colors. Instead of just sticking to one shade of caramel, go for at least two hues.
You can achieve this sophisticated look by using a mix of light caramel and creamy caramel blonde for your highlights.
16. Full Caramel Blonde Highlights
Caramel blonde highlights would bring a breath of fresh hair to your plain brown hair. By adding thinly colored strands all around your hair, you can achieve a sunkissed glow on your hair with a soft and delicate twist.
17. Long Wavy Hair + Butterscotch Caramel Moneypiece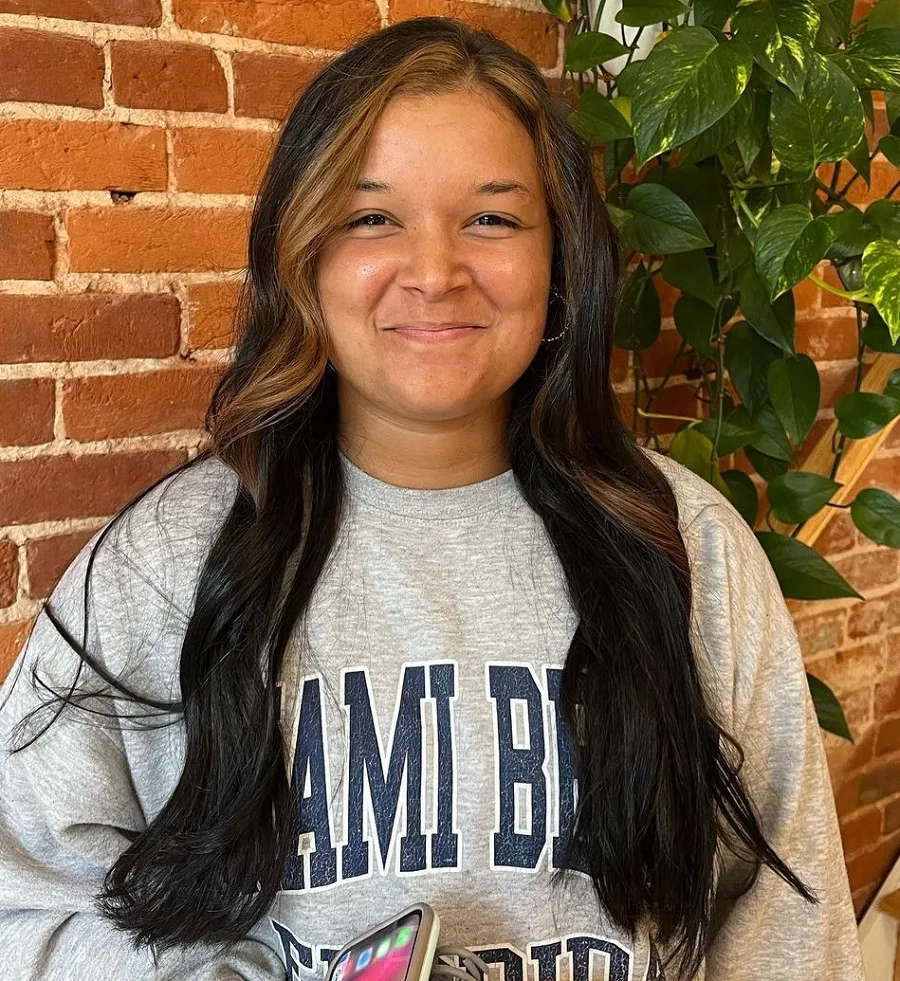 If you wish to keep your look sweet and simple, ditch the all-over highlights and stick to a money-piece highlight. This simple addition will turn your drab-looking hair into a fabulous one!
The best part about this shade is that it brings out the brown in your eyes, making it look extra magnetic.
18. Soft Chocolate Wavy Lob + Thin Highlights
The secret to choosing the right hue of caramel highlights is to match it with the richness of your chocolate brown hair. As a rule of thumb, a lighter caramel shade or one with a blondish tint is the best option for soft chocolate hair.
19. Milk Chocolate Brown Hair + Babylights
Milk chocolate is the most sophisticated shade of chocolate brown that you can try. This rich and warm shade falls right between the spectrum of chocolate brown hair and a rich caramel hue. The result is a textured and dimensional shade that shows off the beauty of both your favorite shades.
20. Loose Curls + Caramel Balayage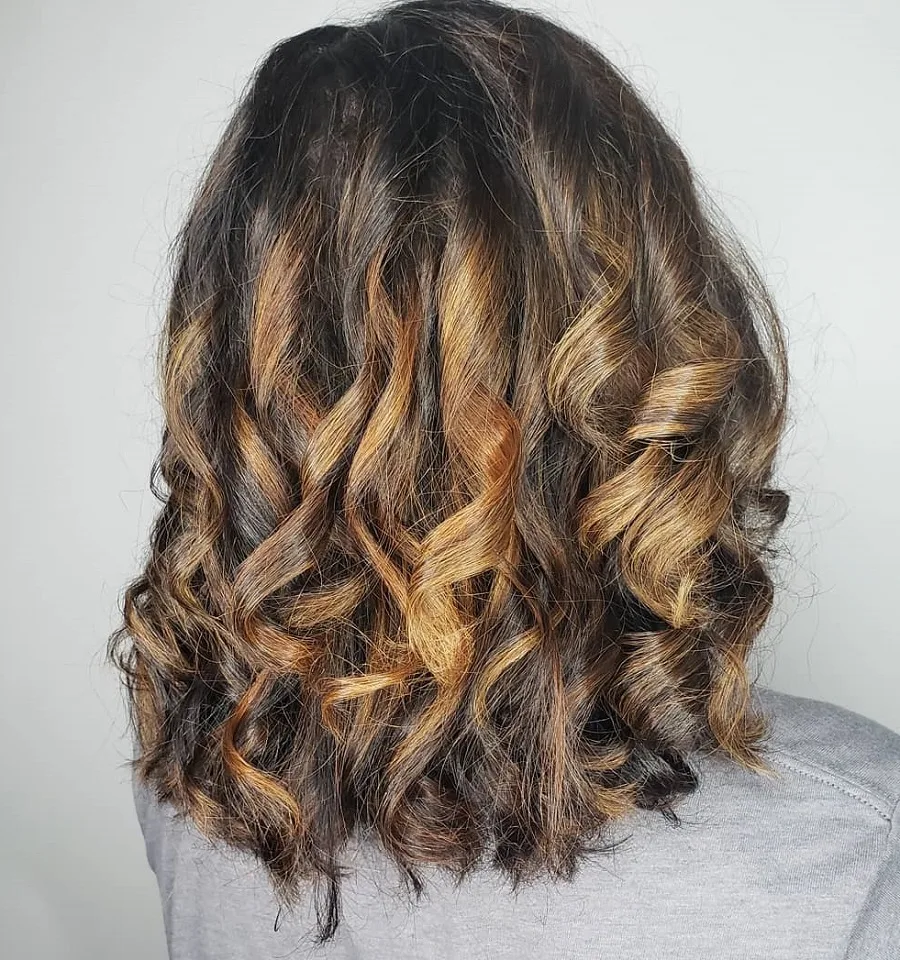 The best way to make your curls come to life is to dye them in a bright and warm caramel shade. The deep contrast between the dark brown base and the lighter highlights emphasized the curls, making it look bouncier.
Chocolate brown is already an elegant and charming hair color, but you can make it look more sophisticated with caramel highlights. Lucky for you, there are many ideas for chocolate brown hair with caramel highlights that you can choose from.